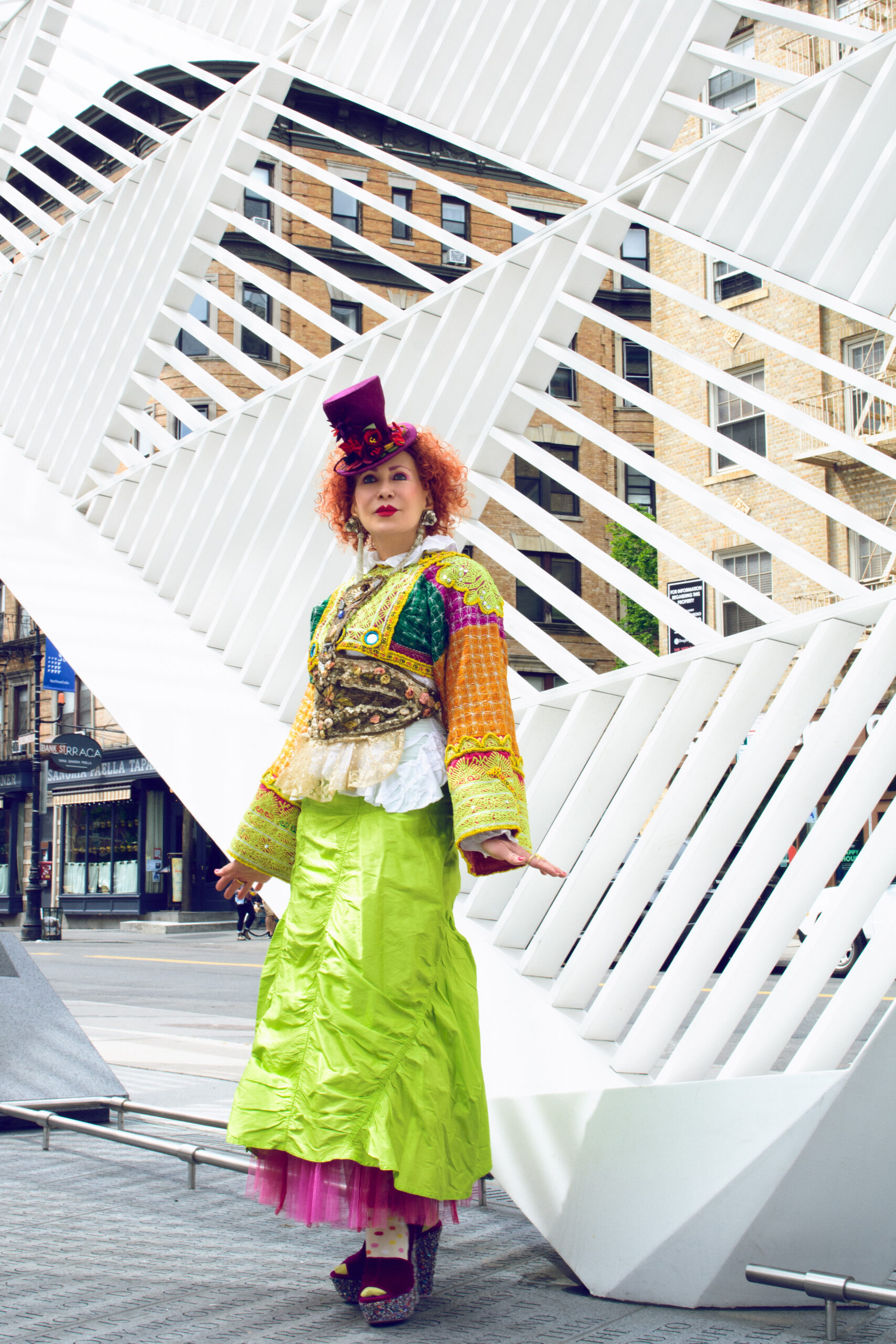 NYC Apartment Tour of New York Advanced Style & Assembly Artisan – Purely Patricia Fox
Who is Purely Patricia Fox? Meet Purely Patricia & Her NYC Apartment Tour
Meet New York Interior Designer Purely Patricia Fox, Model & Face of Advanced Style w/ Iris Apfel and Covergirl for Project (RED)
There aren't too many people that will tell 92-year old fashion icon, Iris Apfel, to "move over…this isn't about you." Nope! There's only one – PURELY PATRICA FOX! And a pure, well-spoken foxy New Yorker she is. Extremely graceful, she surprises listeners when she explodes with hilarious one-liners. Her comical demeanor keeps her friends engaged, and the audience entertained. The "Purely Patricia" name fits her well. Her advanced style is thought-provoking and mindful. Her style reminds me of the beautiful masquerade masks and costumes at Carnival Di Venezia.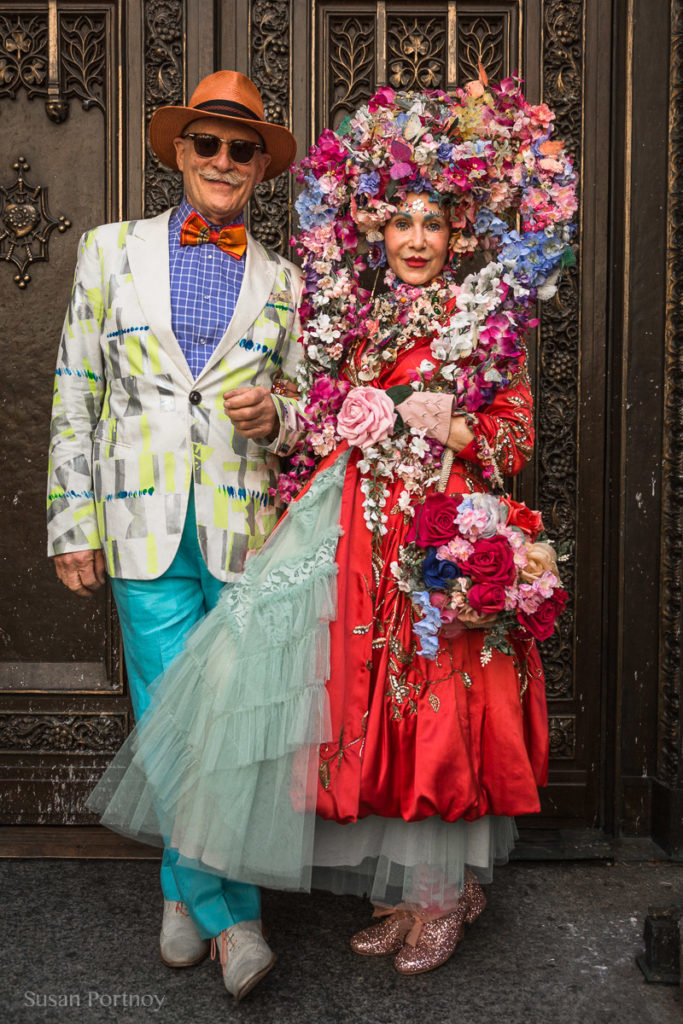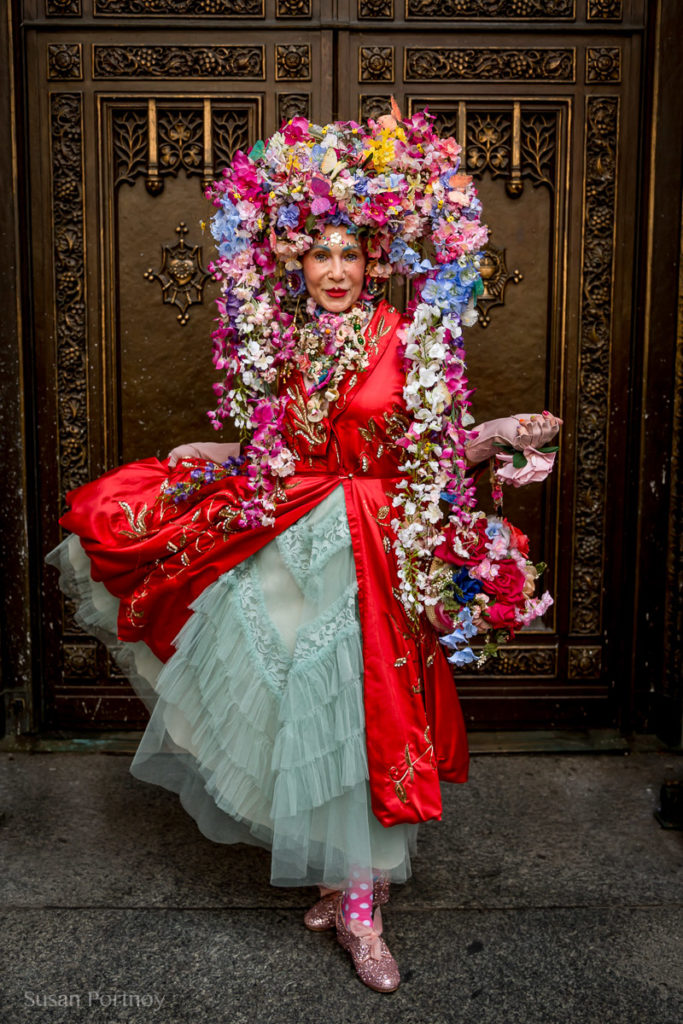 Inside Purely Patricia's World of Fashion & Design
From the hats to assembling the most exquisite "victodern" (my term for modernly victorian) outfits one can find, on a recent trip to New York, I met Patricia. I had one request for the meeting – I wanted to see her New York apartment. And take you, my ROCKstars inside!
Purely Patricia Fox x Iris Apfel in Advanced Style & T, the New York Times style magazine
Before I take you in her apartment, you may be wondering why Purely Patricia Fox looks so familiar. She is the cover girl for Project (RED) to revolution education. She sat beside Iris Apfel in a feature in T,  the New York Times Style Magazine
For those of you who don't shop at Target and are not familiar with Iris Apfel, "New York's most exotic fashion creatures to compare plumage," said T. Patricia said she entered the photoshoot area where Iris Apfel directed everyone to gather around her. She quickly grabbed a chair and a seat next to the fashion maven. Here's proof that Iris Apfel did "move over" and shared the spotlight with Purely Patricia.  I presume Iris felt she was "minding her elders" since no one knows how old Purely Patricia is. No, not even me or her best of friends. Patricia firmly foxified the style icon, kindly letting Iris know that this shoot was NOT about her.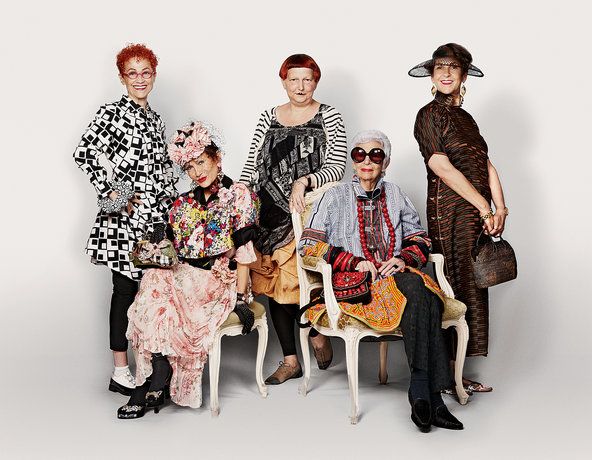 Picture caption: Photograph by Danielle Levitt for T Magazine; Photographed at the Carlyle, a Rosewood hotel CLOTHES ENCOUNTER From left: Suzanne Golden, Patricia Fox, Lynn Yaeger, Iris Apfel, and Tziporah Salamon.
Taking New York streets and its swarm of photographers by storm, Purely Patricia poses as if it's for the front cover of Vogue. She's bright, she's bold, and she's colorful – inside and out. The best part is – she turns, twirls, and walks for the camera.
Two years after having lunch with her, having her to my Miami home, aka Casa Wynwood, I can vouch for her uplifting spirit. Her energy is contagious \energy. Everyone who meets her has the same reaction, including photographer and author Ari Seth Cohen, who paid homage to her in his Advanced Style" project. My friend and sister from another mister, Maria Rock captured these images of Patricia at Casa Wynwood during Art Basel Miami Beach 2017:
NYC Apartment Tour | The Interior Design of Purely Patricia's New York Apartment
Let's go inside Purely Patricia's New York Jewel Box!!! Her two-bedroom New York apartment located steps away from Grand Central Park. And – it is so Purely, Patricia!!!
Remember I told you earlier, Patricia asked what restaurant I'd like to meet in to discuss her business. I value my time, and those of you who know me, you know – I am nosey! I only want to eat at restaurants with either extremely great food or the decor needs to be off the chain! Otherwise, I would much rather see how others live.
In Purely Patricia's case – I reallly wanted to get a look inside her closet. I gracefully asked to meet in her New York apartment instead of a restaurant. Afterward, I was certainly glad that I did!
The Living Room Interior Design of Purely Patricia's New York Apartment
I Ubered directly from JFK Airport to the Purely Patricia private jewel box. Immediately found myself lost in a layered world of details upon hidden details, many humorous and engaging.  The apartment was decorated right up my alley in epic Victoria McKenzie Childs looking wares. Tastefully decorated with passementerie trimmings, fabulous flea market finds, and decadent dinnerware; Patricia's apartment is uniquely ahhhhmazing! Like her outfits, everything assembled in perfect harmony. The attention to detail is a feast to my eyes. Patricia created a remarkably comfortable and function space that completely fits her lifestyle.
Most things are original and custom-designed. Even the MacKenzie Childs style dinnerware and teacups were custom colored by Patricia and hand-painted by her dear artesian friend.
Every inch is filled with curated treasures; some of them refinished or altered, others left in their original state.
Inside Purely Patricia's New York Guest Bedroom aka. Her Closet
As Patricia served our afternoon tea, I couldn't refrain from snapping pictures. Fortunately, she's used to the sound of the camera.
She's a lover and designer of hats and headpieces, so they are everywhere throughout the closet and NYC apartment tour.
What Does Purely Patricia Look Like In Real Life?
When I see photos of people I wonder, will they look like plastic in person? Have their photos been so retouched that they may be unrecognizable in real life? Or are they as they appear? When it comes to Purely Patricia Fox – it only gets better! She looks even better than her photos, and she's even more fun than the images themselves!
How Purely Patricia Maintains Health & Beauty
Patricia Fox religiously exercises daily, including a Pilates strength training workout, and maintains an alcohol-free diet. She lives near Central Park and frequently walks her dog, Ruby Rose. Sadly, I had to decline her offer to join her. New York was brutally cold that day, and I was coming from the warm temperatures of Miami, which didn't help the chill in my bones.
Success In a Sentance: Dress for Success Every Day
And yes, every day she dresses for success, and as the saying goes, she has never met a stranger. Unless you count a tourist named Tea, an award-winning documentary filmmaker who is enamored with Patricia. Tea follows Patricia around capturing footage for a documentary – not as a paid assignment, but rather as a hobby. Does that tell you how enjoyable this truly foxy lady's life is?
The night before I met Patricia, I knew that I had to go deep into my closet. I needed to bring out the old me. Something some might consider tacky. Something I love! I can't say that my red True Religions and Doc Marten Diva high heeled boots came close to comparing with Purely Patricia. My circa 2010  with my Desigual herringbone direct from Paris worked out for both day and night in the March chill of New York. (Photos in the gallery below). It's true – we hit it off so well that we went to my Maison & OBJET event together later that evening. Thankfully, Purely, Patricia pulled an outfit out to coordinate with me.
And do watch Iris Apfel's documentary Iris, which was recently released on Netflix to learn more about her. She is a feisty, stylish woman who admired for many things, including living past 90! She's now 96! Being a lover of documentaries and a wishful fashion whore [eeck!], I watched it in awe. She true talent of being a curated hoarder complete with a storage unit in New York that she had been paying storage fees on for years!
Part of me saw in her my mother who recently moved out of her historic home after 25 years to travel the world –click here to read about her travels! I can't imagine being Iris's daughter and cleaning out her space. Fortunately, Patricia is v organized and detailed than Iris appears. BUT, if you're 90-something, WHO CARES?
A Lady Should Never Tell Your Age
According to Patricia, we should never tell our age. Ande….she doesn't. GUESS HER AGE! Comment below with your guess!
XOGO ✈️ Be sure to subscribe to receive my weekly to your inbox.
Christi
P.S. Join our @PSthisRocks Facebook to ask our community questions or comment below.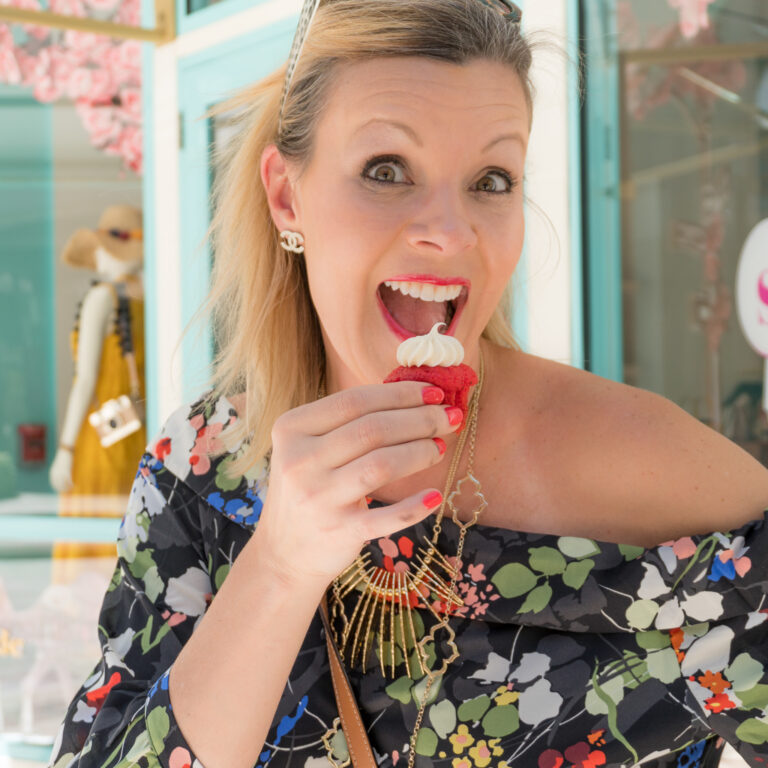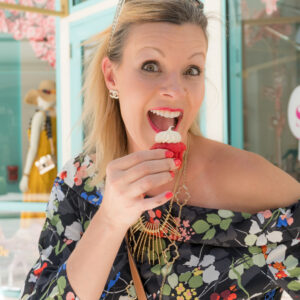 Christi Tasker
I'm Christi Tasker, serial globetrotter, product & interior designer, Glamma Gaga, NBC social media correspondent, podcaster, freedom fighter, brand & business consultant, entrepreneur's best friend, artist & multi-business owner.
Enter your details for my free travel tips, exclusive recipes, home decor inspiration & lifestyle hacks
my fashion & home decor store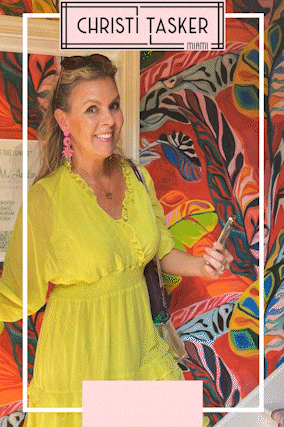 My Miami Condos

Couples Getaways

Honeymoon Ideas

Senior Travel Ideas

Overwater Bungalows

Loo Reviews

Family Vacation Ideas

Single Female Travel Ideas

How To Travel For Free
our branding, design & content management agency