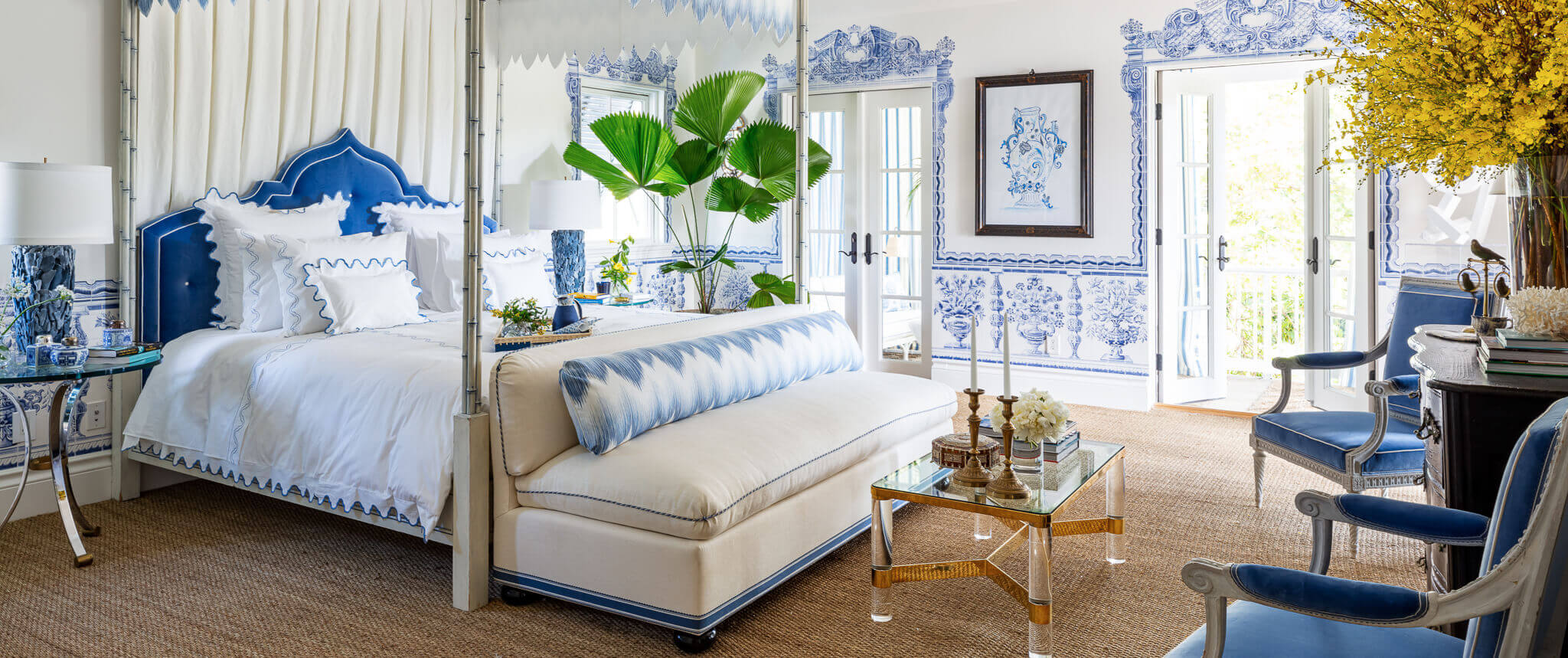 25 Inspirational Tropical Design Ideas From Kips Bay Palm Beach Decorator Showhouse | 2020 Interior Design Ideas
The 2020 Kips Bay Designer Showhouse Palm Beach Decorator  Home Tour
​The third annual Kips Bay Decorator Show House in Palm Beach, Florida, is open for the public to tour. Each tour ticket benefits both the Kips Bay Boys & Girls Club and Palm Beach County Boys & Girls Clubs. Featuring 19 of the nation's most prominent interior designers and design firms, the Show House — owned by famed interior designer Lars Bolander — is open now through Sunday, March 1.
"The Kips Bay Decorator Show House Palm Beach has become a highly anticipated event since first opening its doors in 2017, and we are thrilled to return for the third year," said James Druckman, President and CEO of the New York Design Center, and President of the Board of the Kips Bay Boys & Girls Club. "This year's incredible talent comprises local, national, and international designers. We are so grateful for their support in raising critical programming funds for the 17,000 children served by both organizations."
19 New York & Palm Beach Interior Designers Transform One 8,751 Square Feet In Three Short Months
In just under three months, nineteen talented designers completely transformed each room of the historic 8,751-square-foot home inspired by South African and Dutch architecture. Affectionately dubbed "Bamboo Hill," the residence is located at 260 Palmetto Lane in West Palm Beach's South End neighborhood. You'll find fantastic interior design ideas from the four bedrooms, five bathrooms, a great room with vaulted ceilings and french doors that open up to an expansive loggia, and a spacious kitchen with an adjacent outdoor dining terrace. The home's large main suite offers sprawling garden and pool views of the landscape architecture. The estate has two guest houses, a pool house, and a gorgeous architectural private backyard ​with lush tropical palms and flora for the ultimate outdoor living and entertaining experience.
The Landscape Architecture | 2020 Kips Bay Palm Beach Decorator Showhouse
The front-drive is understated with propped gray shutters and a white exterior.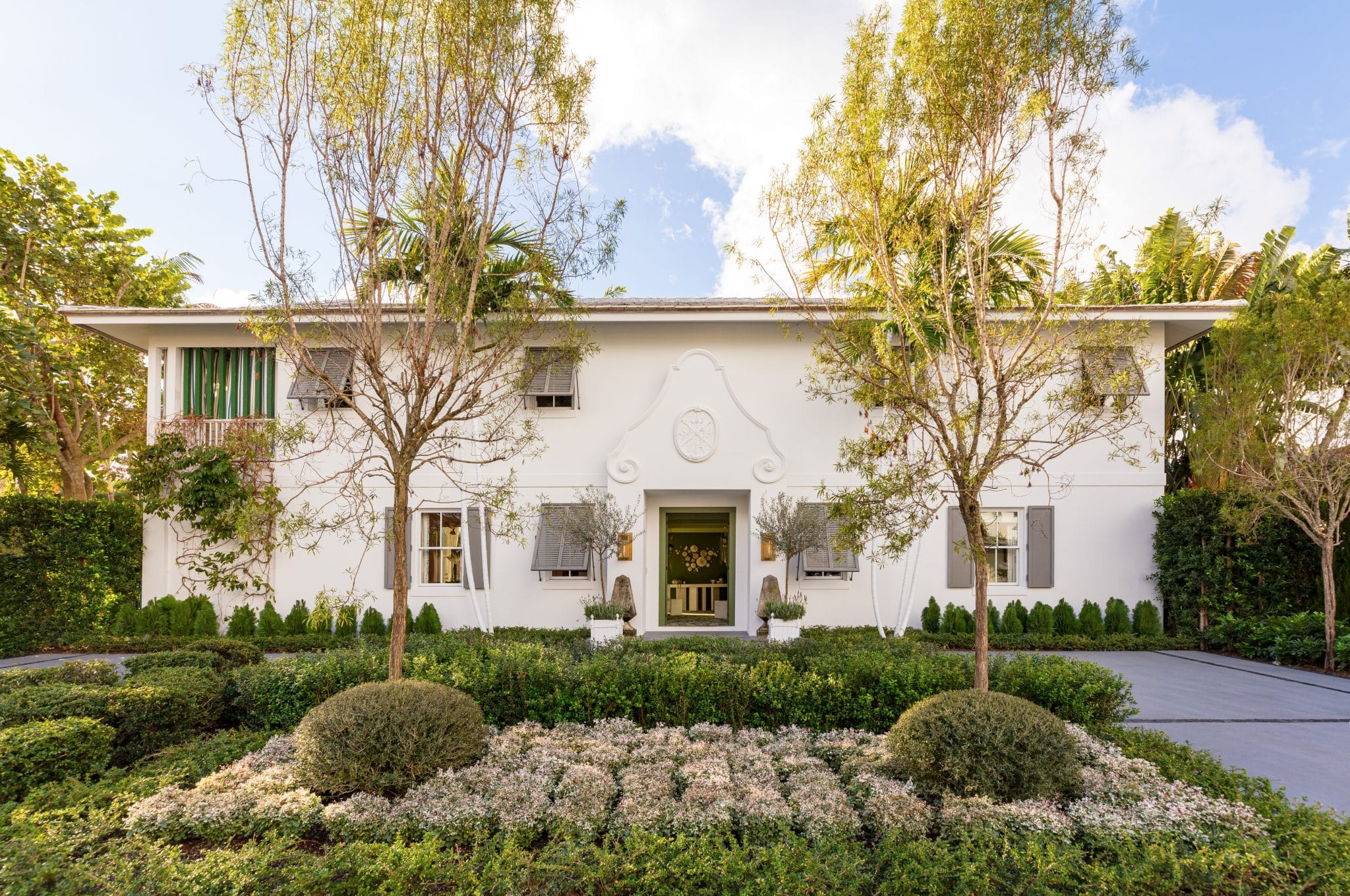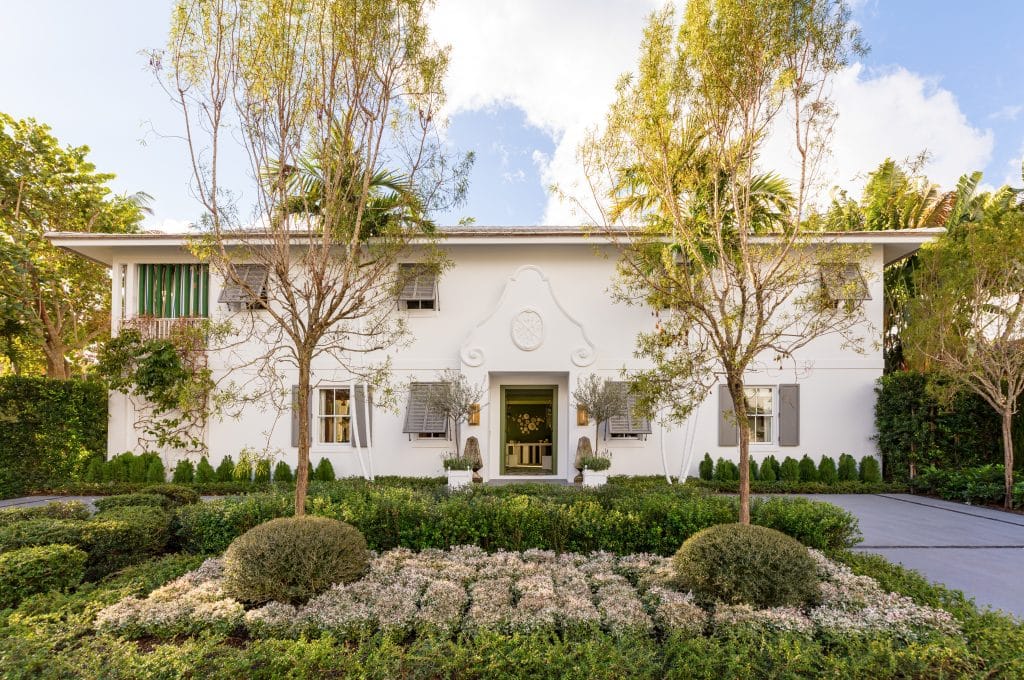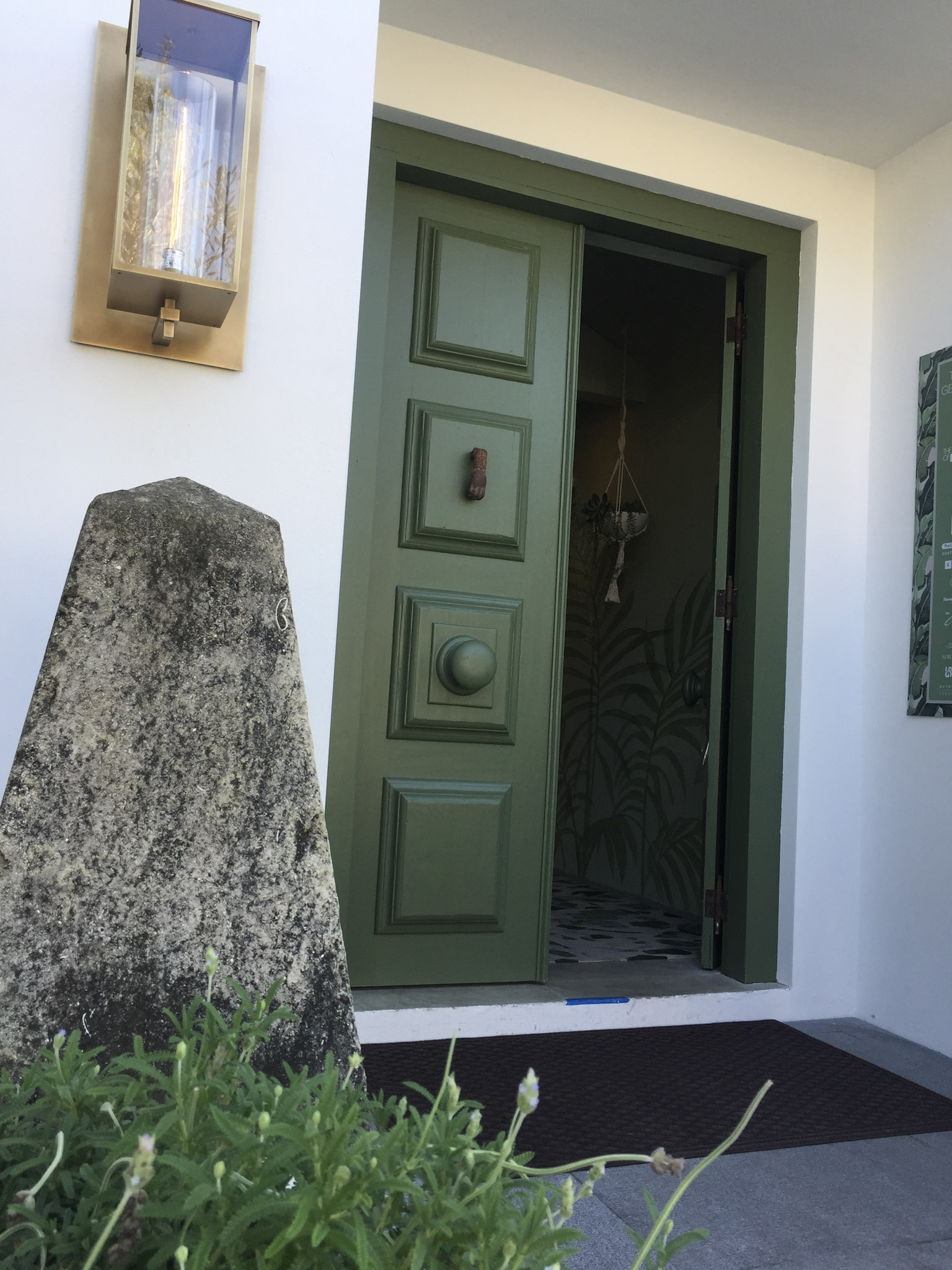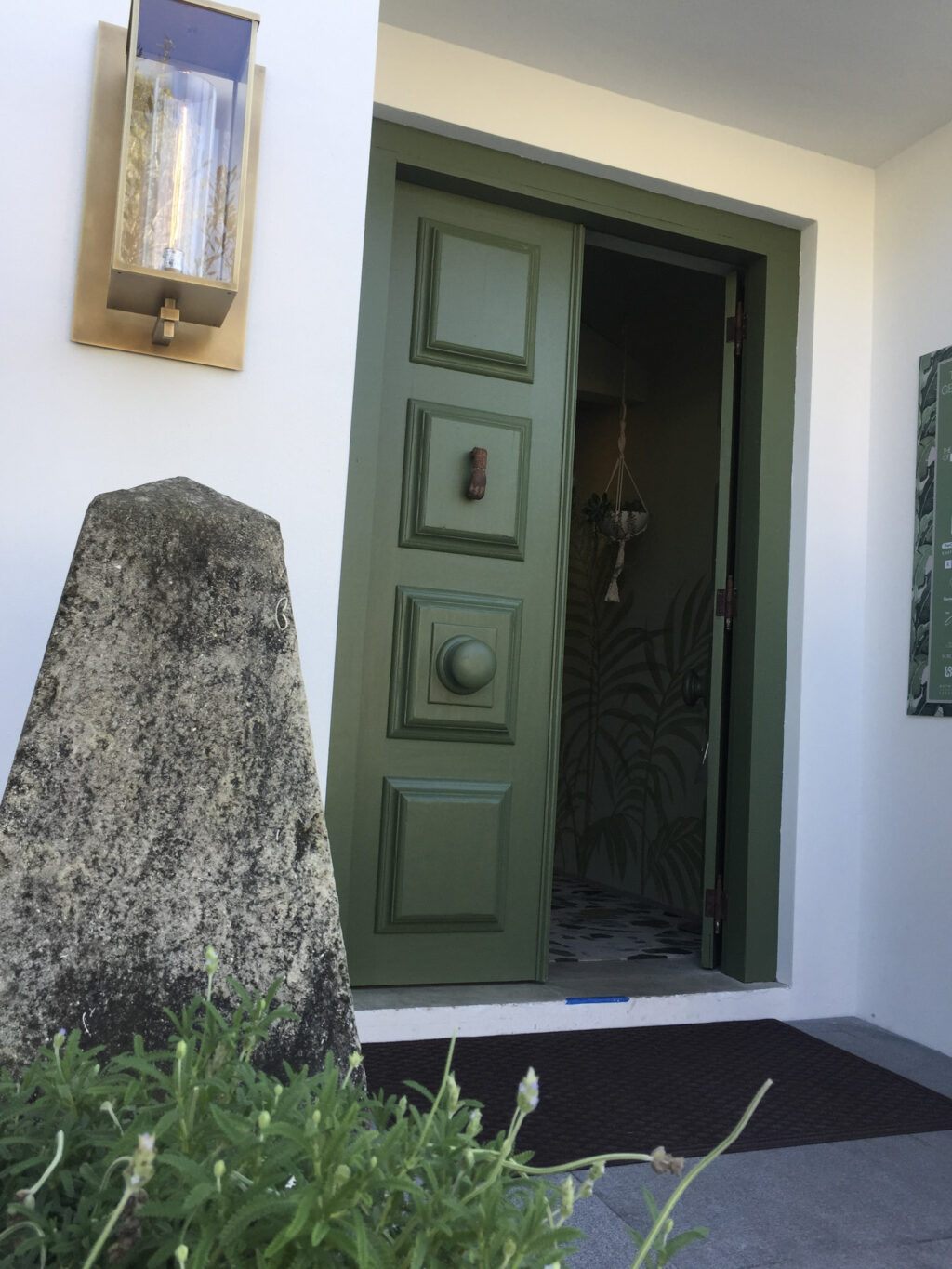 The Light On White Alizee Brion Foyer |  2020 Kips Bay Palm Beach Decorator Showhouse
Entrance designed by Alizee Brion from Light On White Design Studio
Alizee Brion​ , a Miami-based ​interior designer from the design studio Light On White, ​makes a powerful first impression upon entering the home. "Le Jardin" ​celebrates the home's ​blurred boundaries between the exterior and interior, with the lush outdoors as the inspiration for the tropical garden design. Natural elements, textures, and materials, including ​hanging ​planters with draping succulents floored by a custom terrazzo rug. The tailored pleat drapery by ​The Shade Store​ is in Sunbrella® Alma White with a custom tassel trim that is hard to see in this photo; I'll post more detailed shots later. Be sure to subscribe to receive the link when I post the entire blog post.
A hand-painted bamboo leaf mural by Miami artist Austin Kerr lines the entrance while ​an eye-catching porcelain floral installation by ​Valéria Nascimento
Adorns the back wall. Curated pieces from Light On White's debut custom furniture collection are featured. Carved from blocks of various white marble, the bold geometric furniture forms contrast against the enchanting tropical backdrop's softness.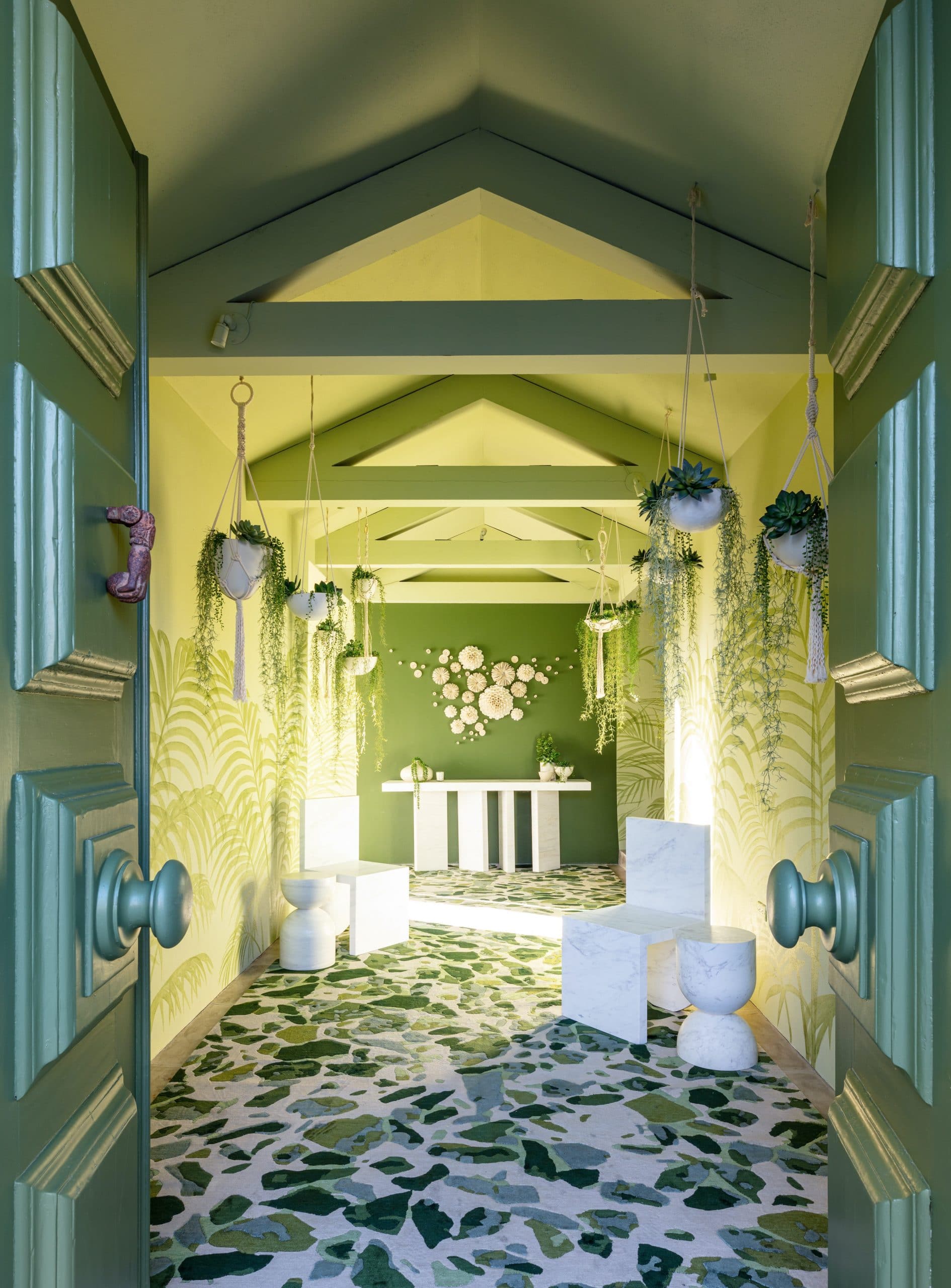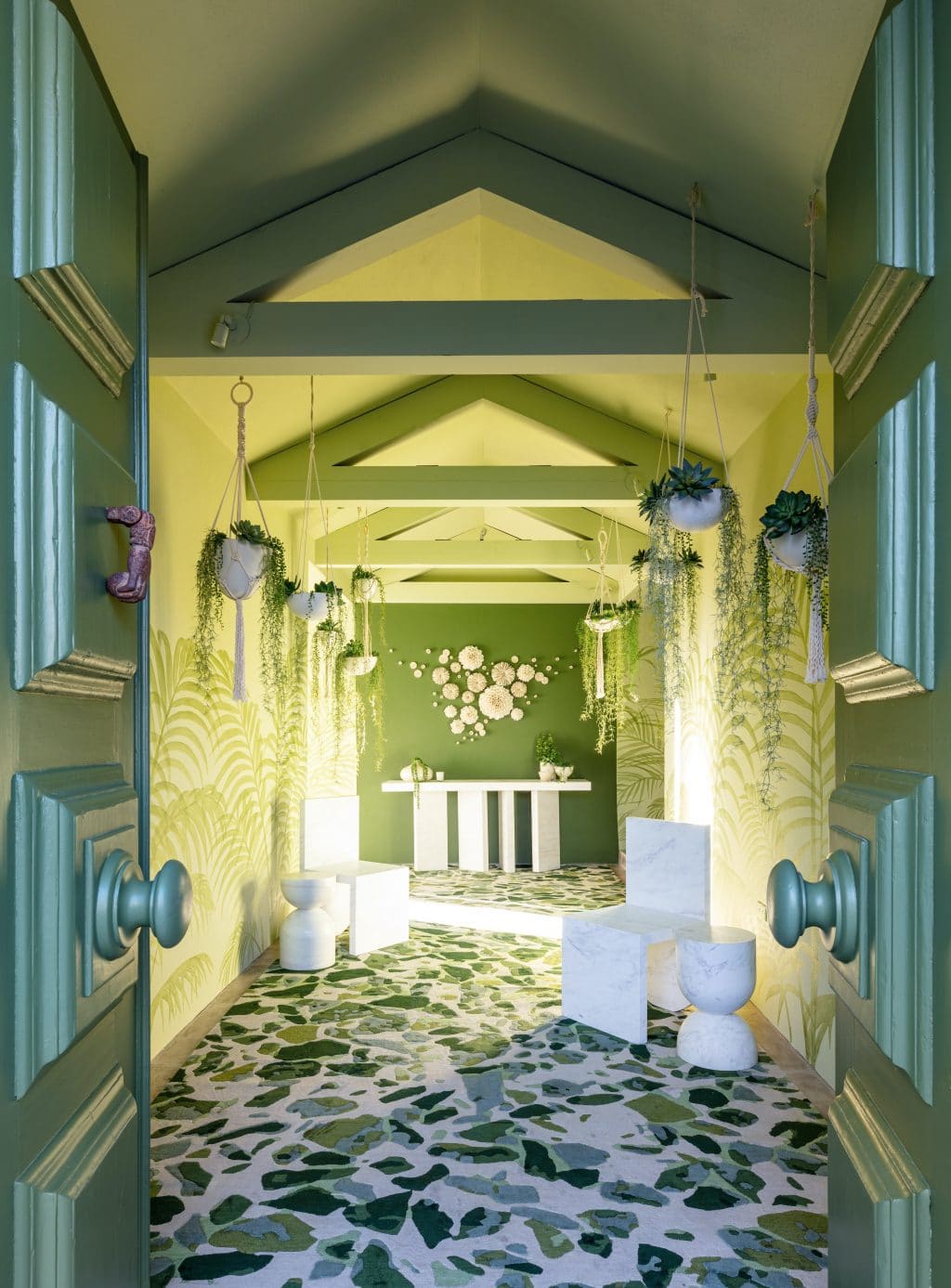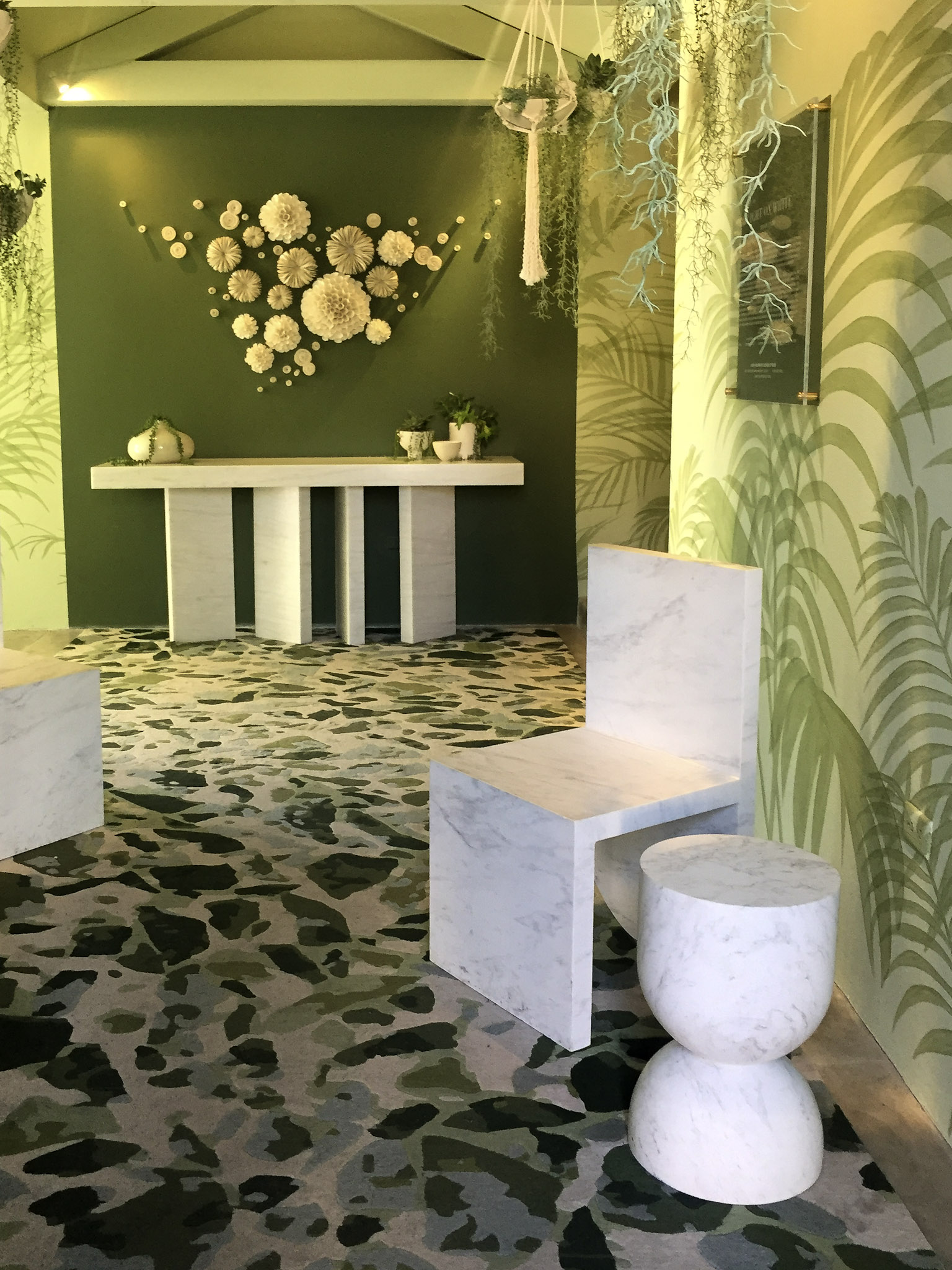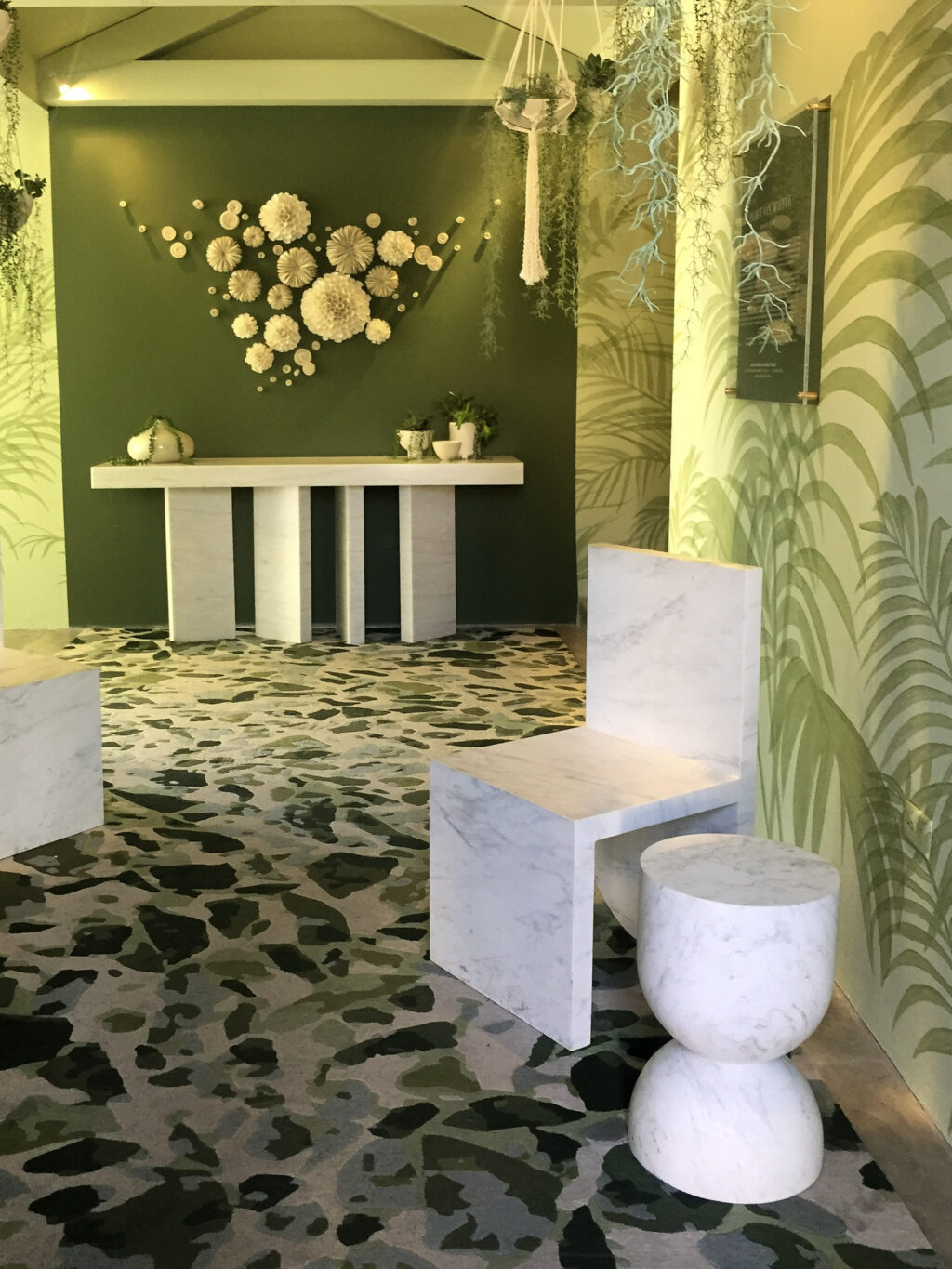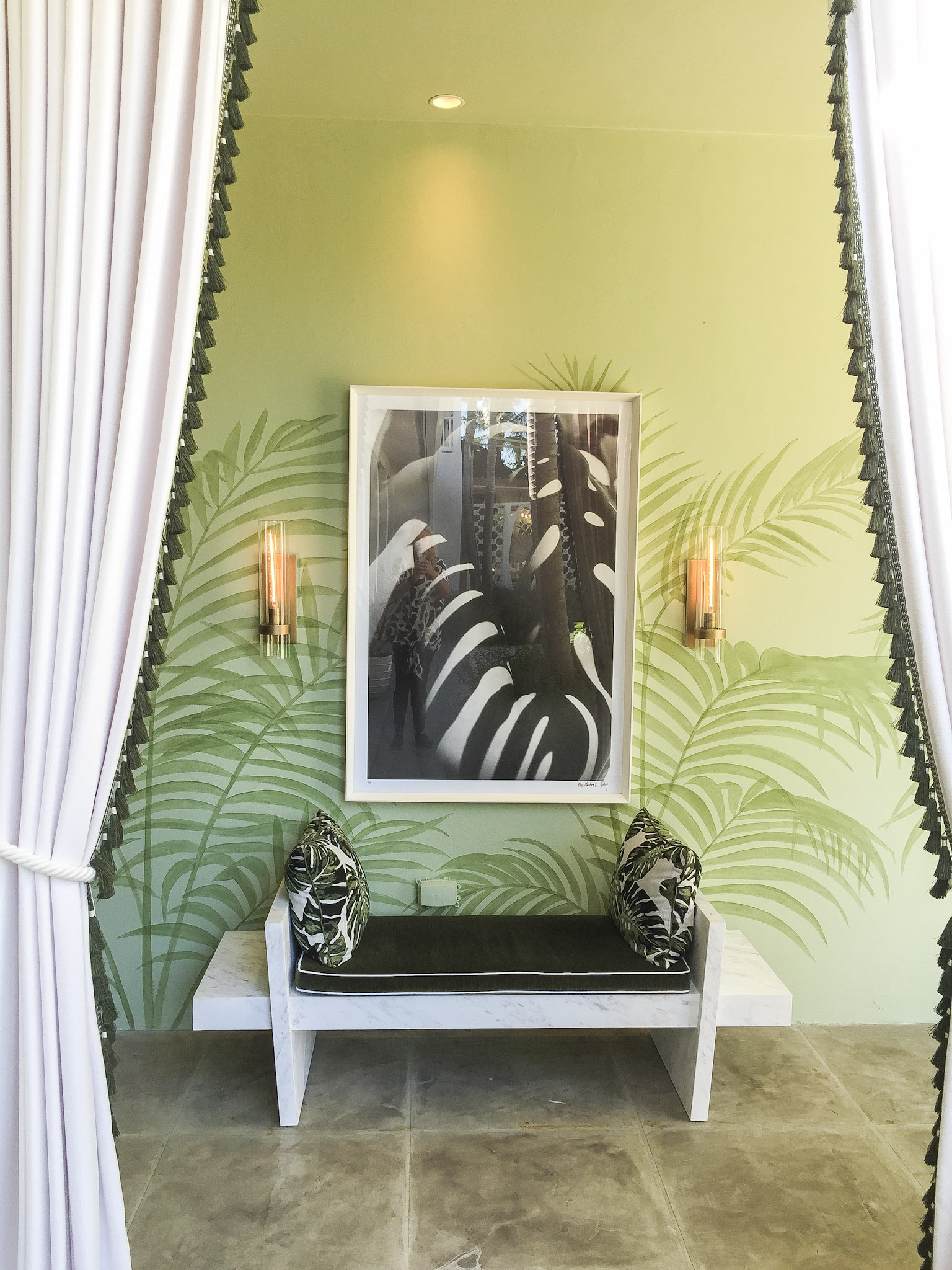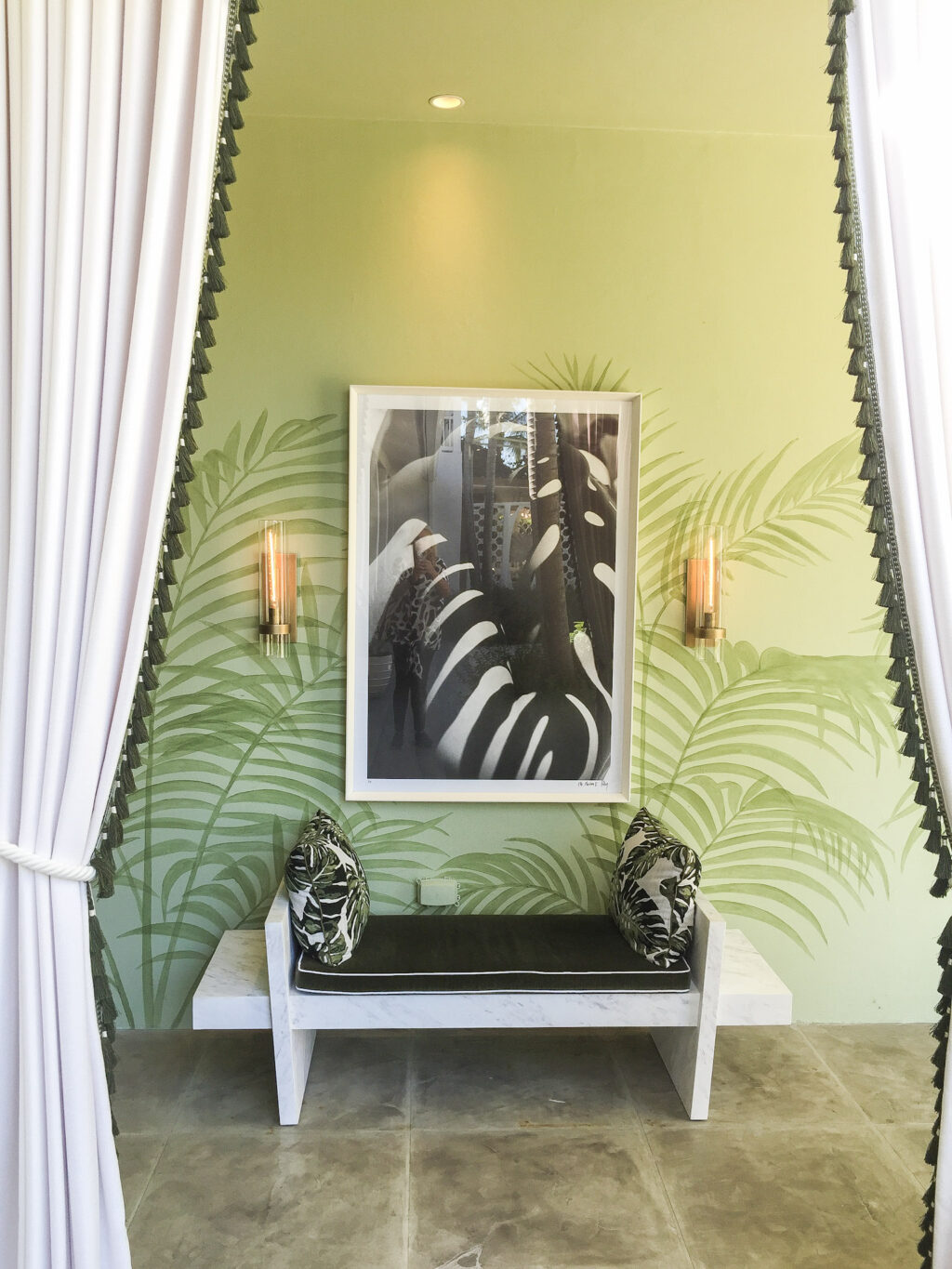 Brian & Alexandra Brady Entry Sitting Foyer & Library Design Ideas |  2020 Kips Bay Palm Beach Decorator Showhouse
Brian ​and​ Alexandra Brady ​of​ Southhampton-based​ interior design firm Brady Design ​made their father-daughter debut with a classically inspired foyer sitting room. The moldings are triumph l'eoil style hand-painted art instead of moldings, which creates the depth of real moldings. Upon entering the Kips Bay Decorators Showhouse home, visitors are greeted with sophisticated whimsy with the hand-painted pilasters bridges that transition indoors and outdoors. The Brady duo chose a selection of beautiful classic antiques and a more modern sectional sofa to fill the room nicely. They kept the chandelier more art deco and included handmade all-white vases on the library shelves instead of books.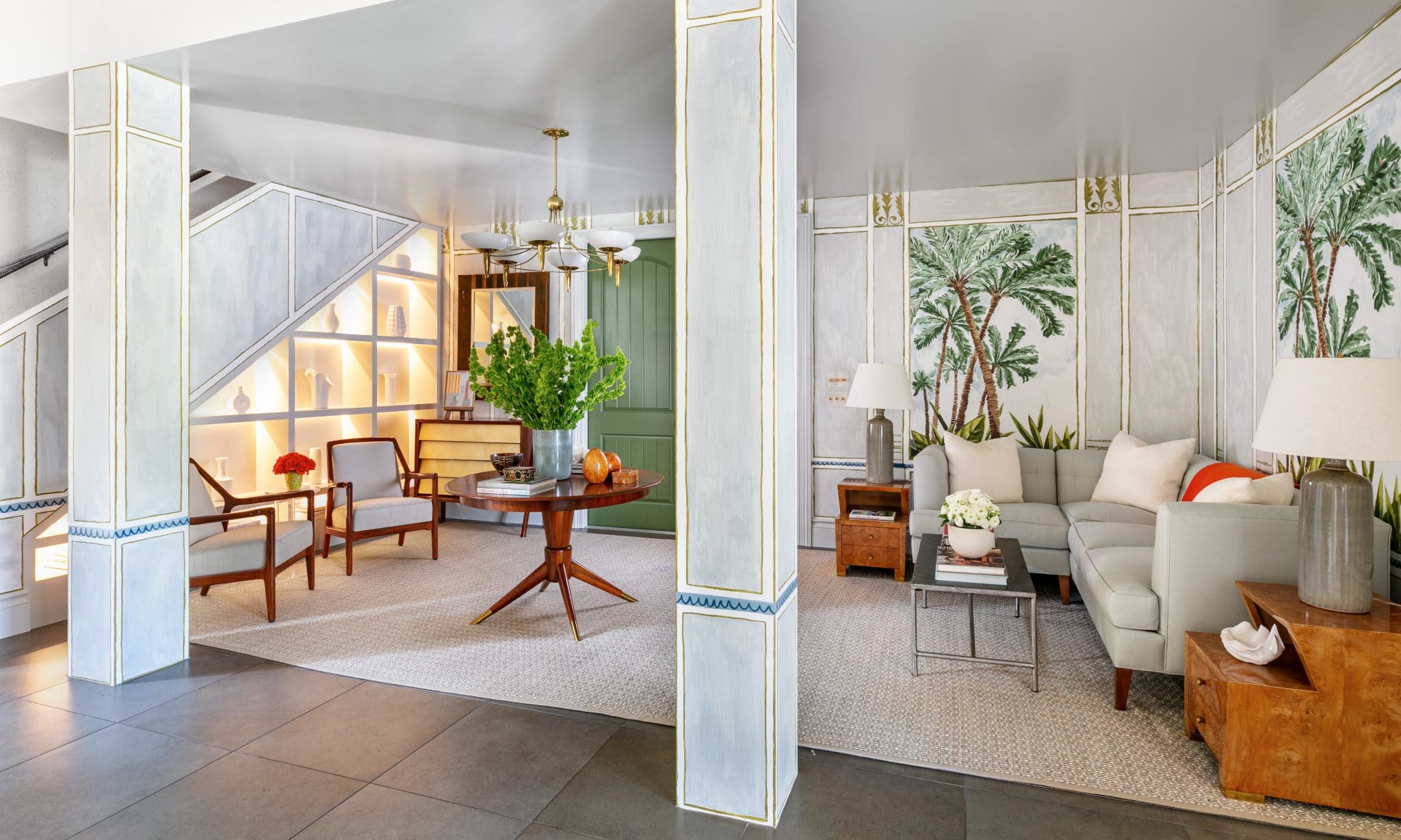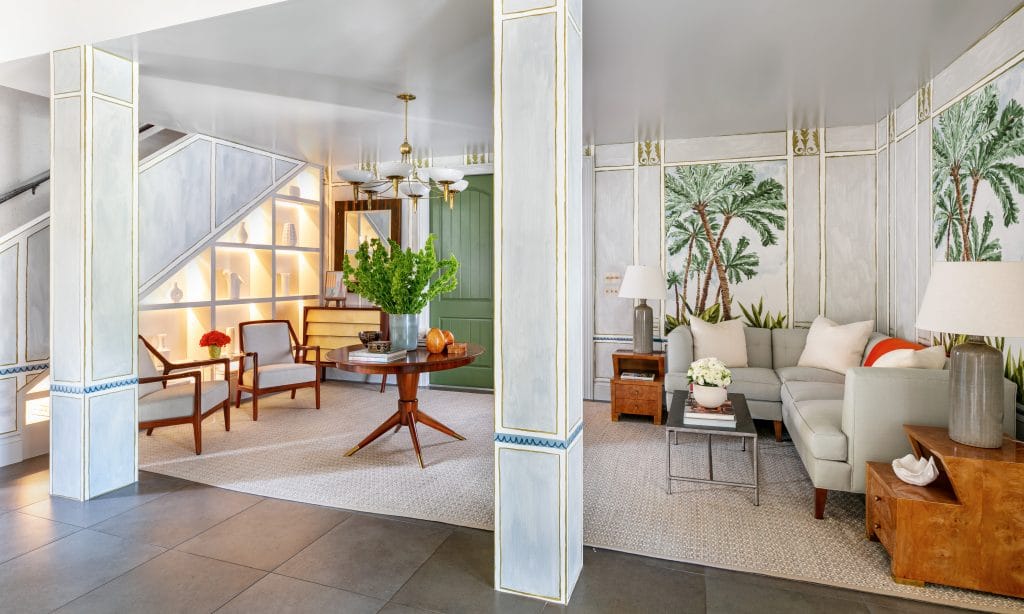 2020 © Nickolas Sargent Photography | 2020 Kips Bay Palm Beach Decorator Showhouse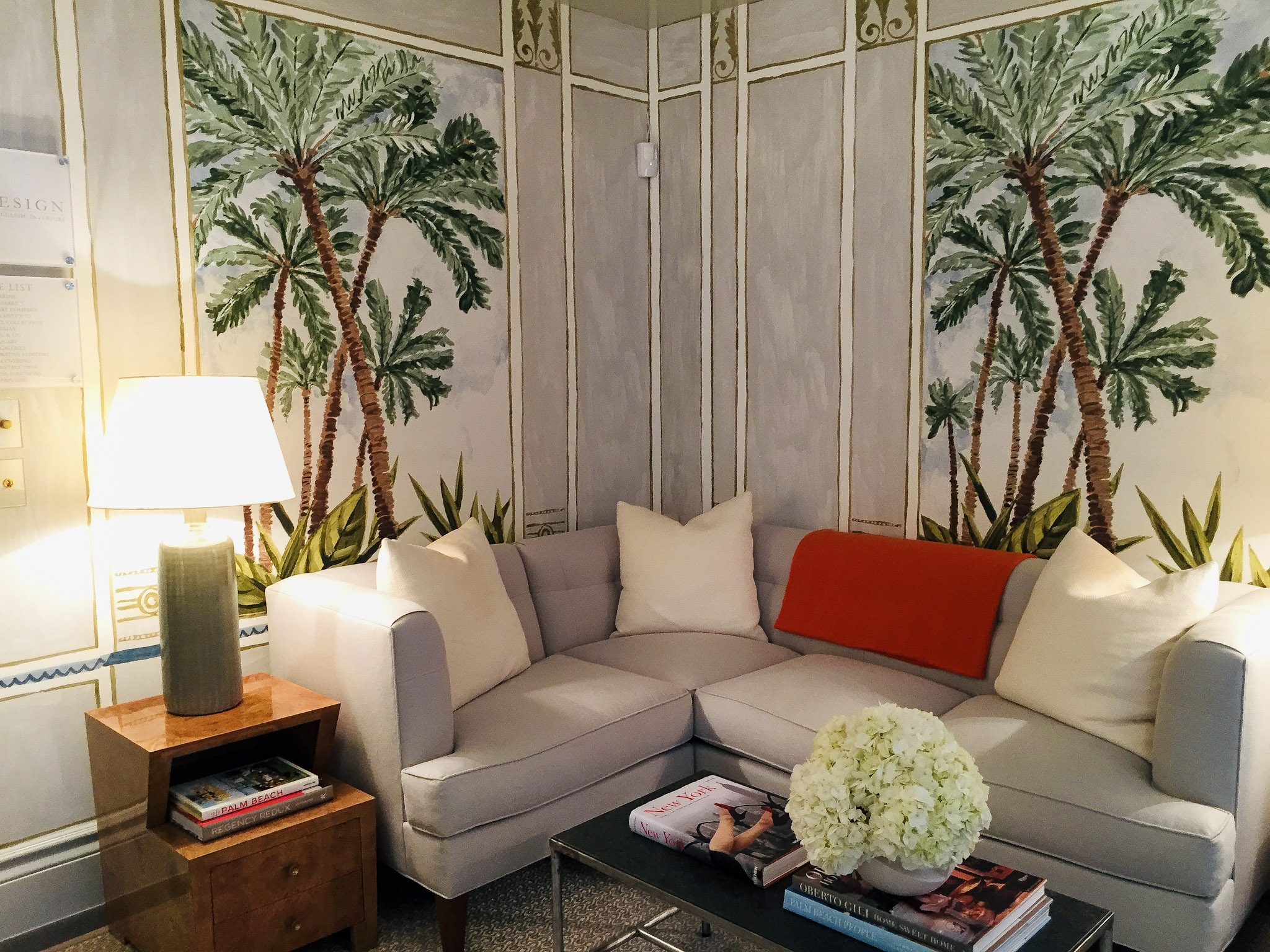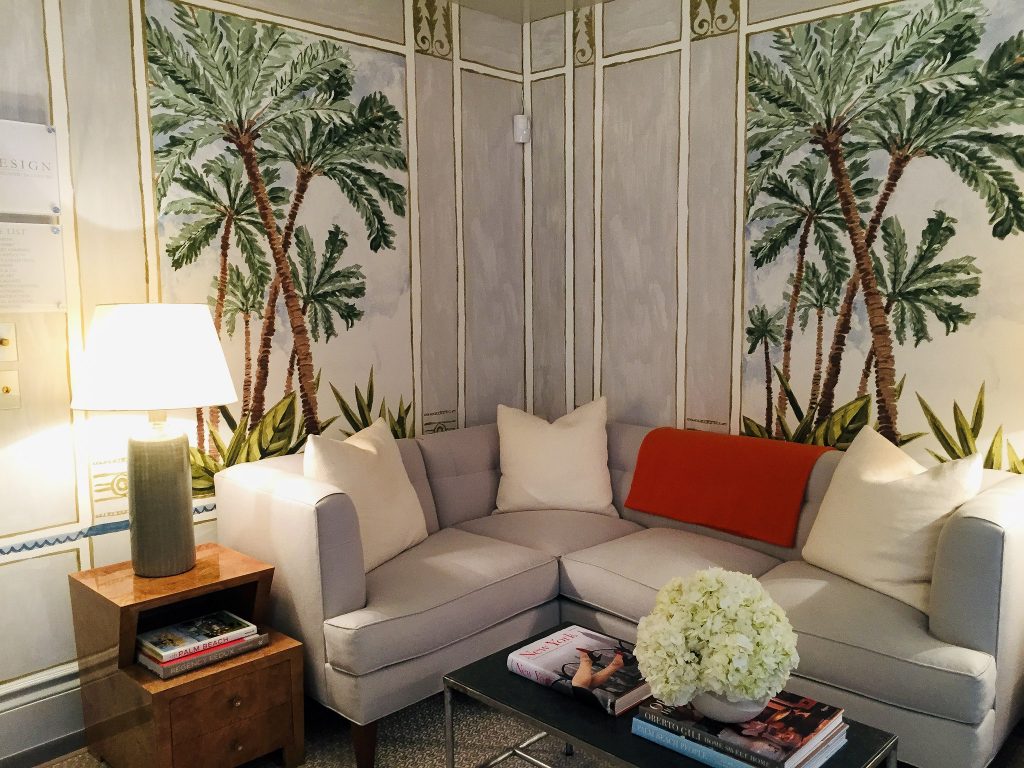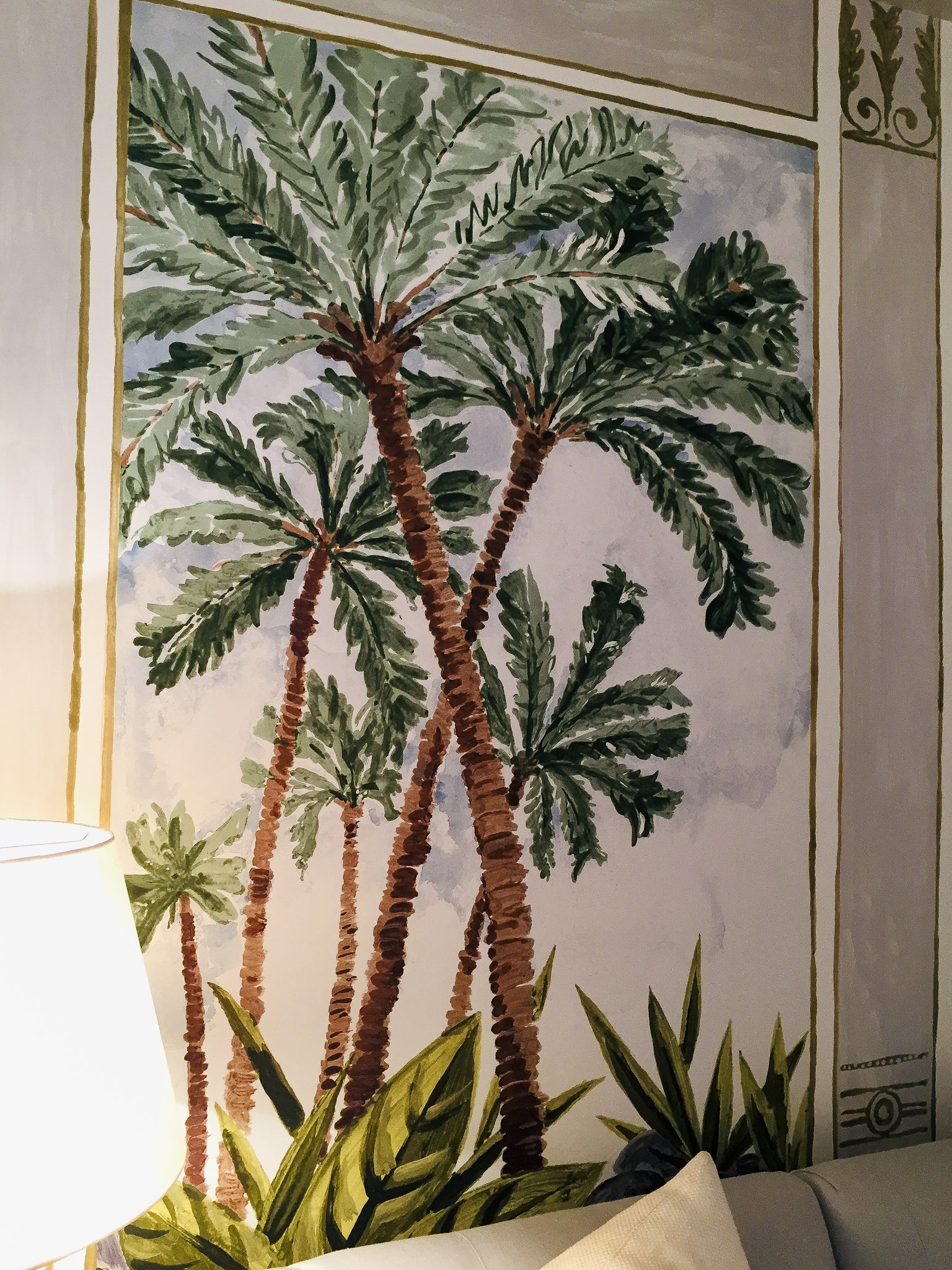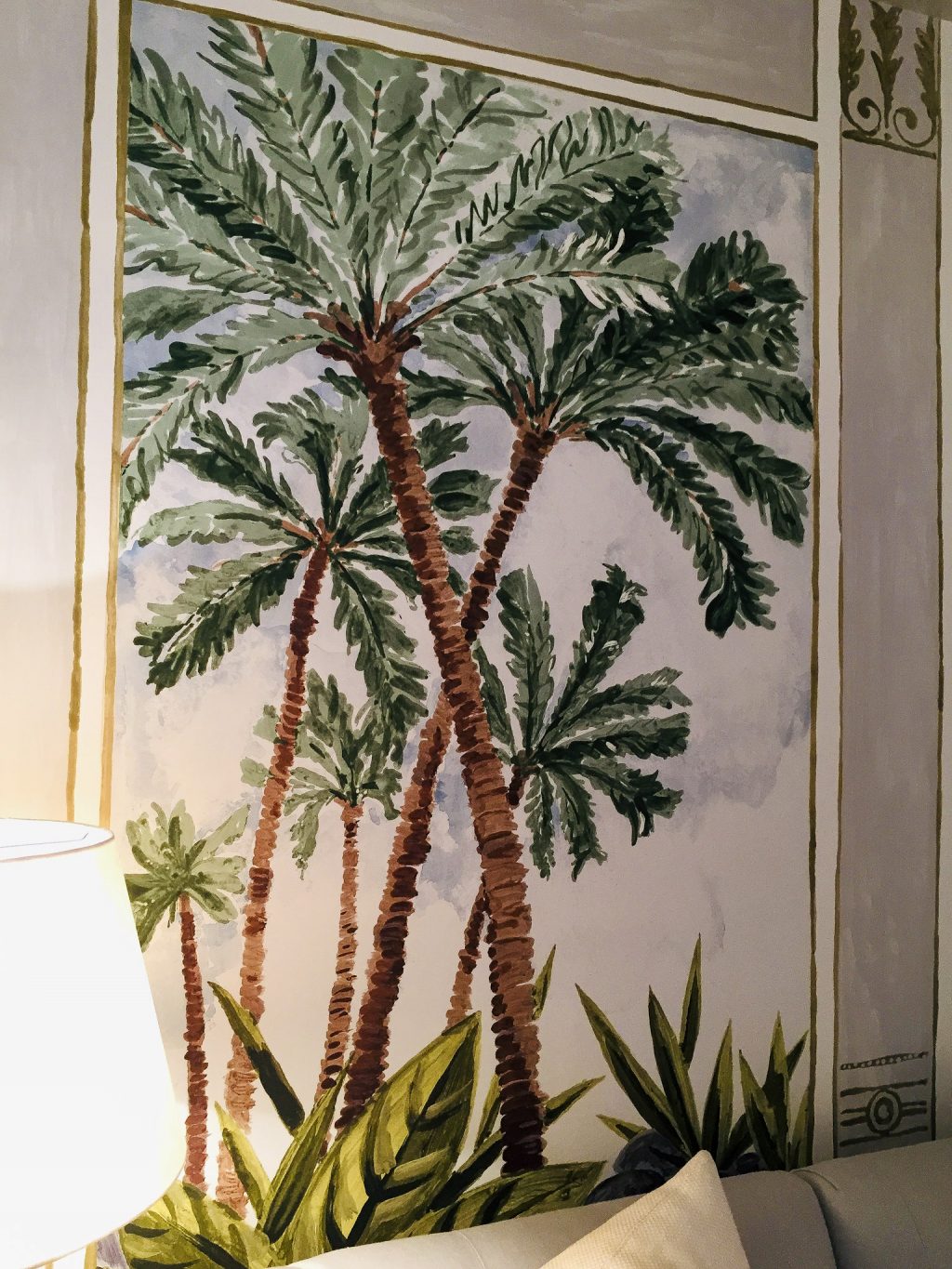 Suzanne Kasler Pink Great Room Design Ideas |  2020 Kips Bay Palm Beach Decorator Showhouse
"Edited Style" ​was designed by an awesome Atlanta-based ​Suzanne Kasler​ of Suzanne Kasler Interiors, built on a quintessential Palm Beach strong pink color palette with whites and soft tones of watercolors. The great room selections are fantastic and very Palm Beach. Suzanne Kasler did a tremendous job of mixing rattan, linen, and natural materials to create an outstanding texture balance. The Great Room has stunning views of the outdoor logia, garden, and swimming pool. You all know that high gloss and pink are my favorite combination! I love the built-in bookcases in ​Benjamin Moore's​ Custis Salmon stretch across an entire wall, housing several books and white sculptures. The stunning hand-painted wallcovering sets the scene for a stylish living room with edited details and timeless sensibility, just as Suzanne Kasler and I like it!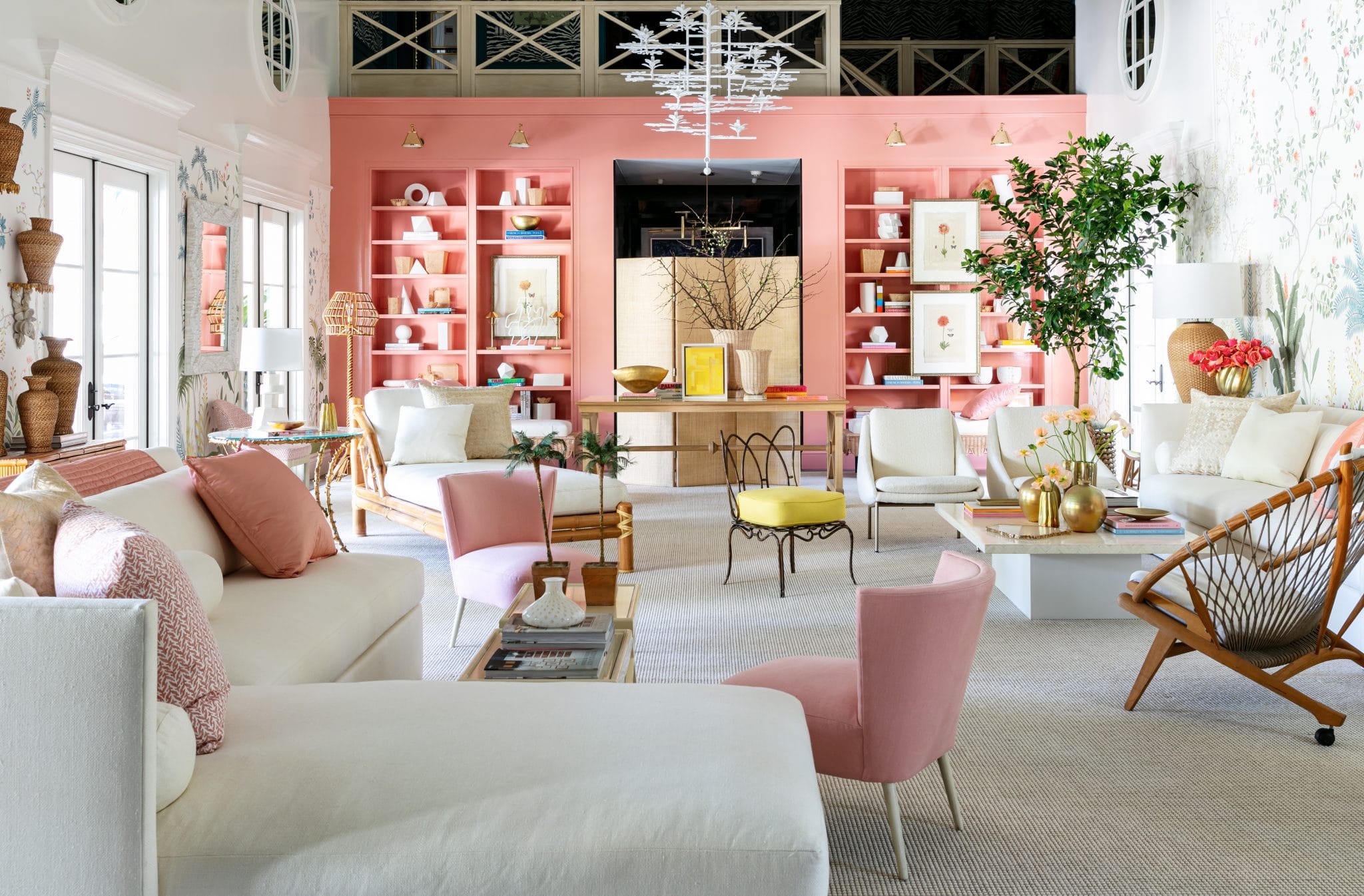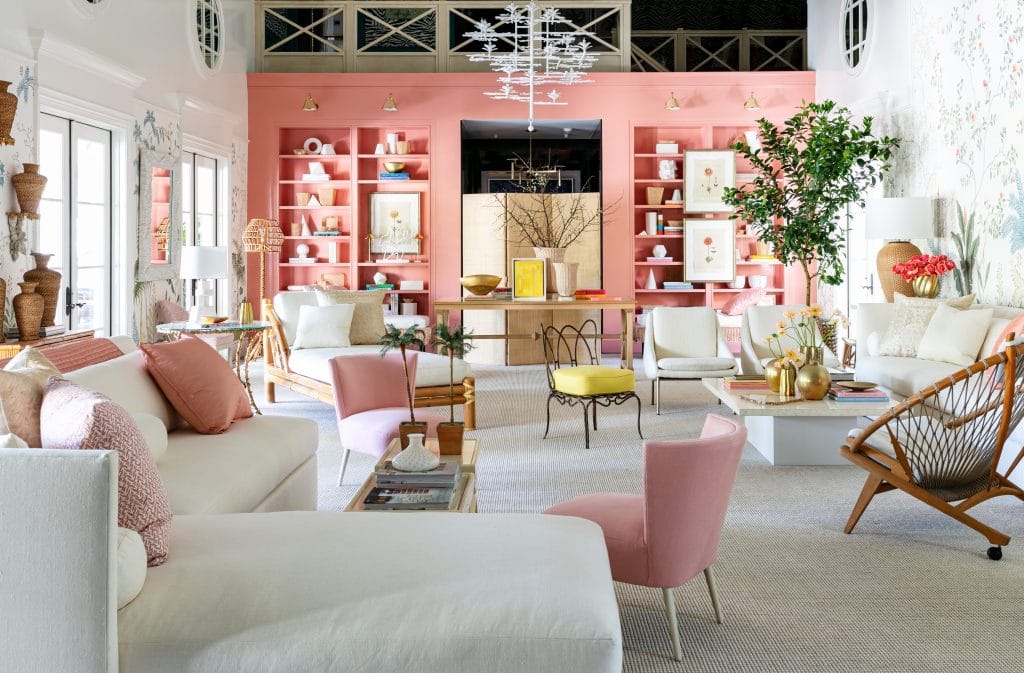 Leta Austin Foster Zebra Wallcovering Study Interior Design Ideas |  2020 Kips Bay Palm Beach Decorator Showhouse
Jungle-inspired patterns and Asian influences are captured in Palm Beach-based ​Leta Austin Foster ​of Leta Austin Foster & Associate's "Tropical Study." ​China Seas "Nairobi" is the beautiful zebra patterned wallpaper by Quadrille in a custom teal colorway that covers the walls with whimsy. Wood blinds by ​The Shade Store​ provide privacy and a rustic feel. Decorative Asian elements include Chinese porcelain and a collection of books in the study. Leta showcases the dwelling of an eccentric yet sophisticated seasoned traveler who picks up things here and there, yet they all play nicely together.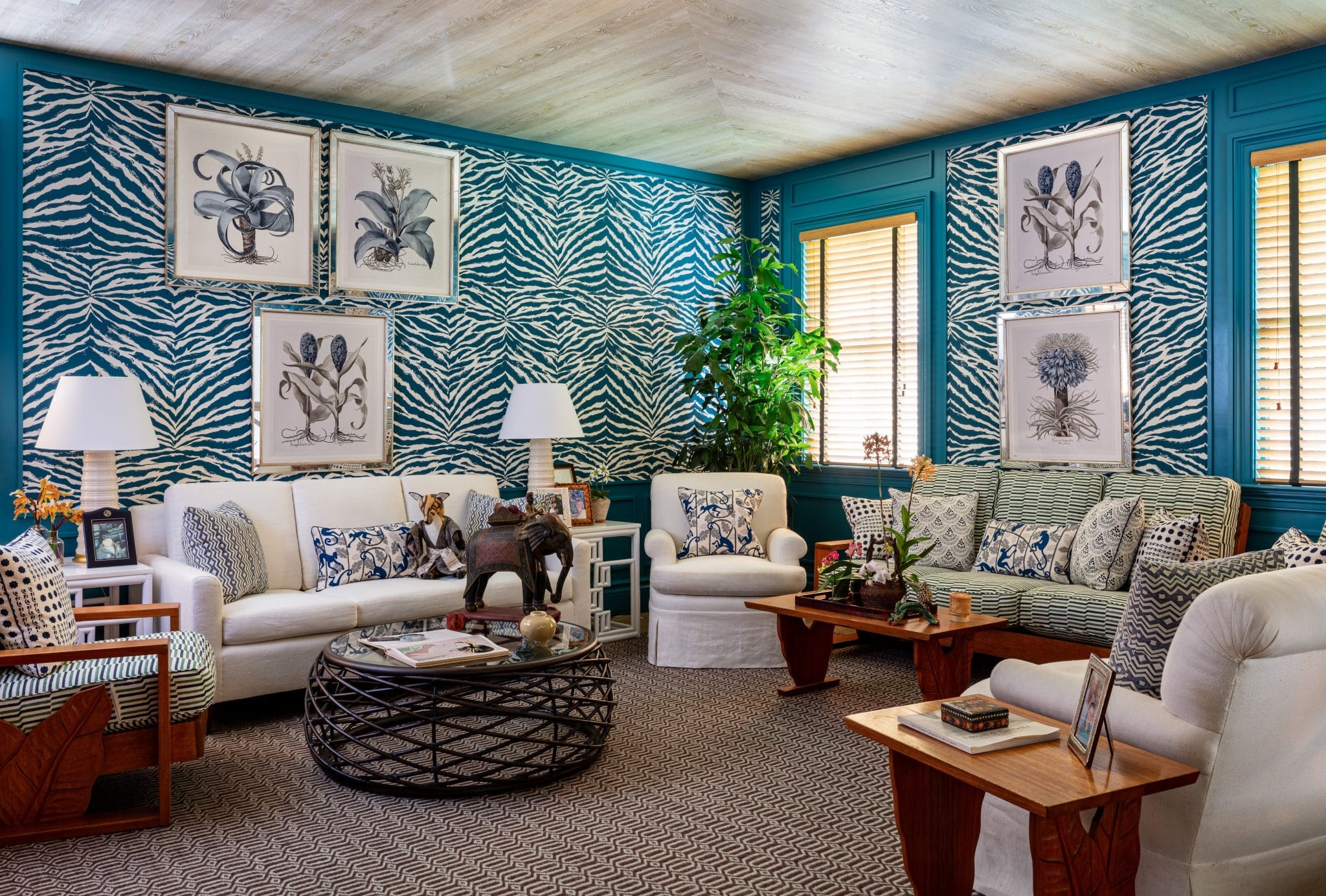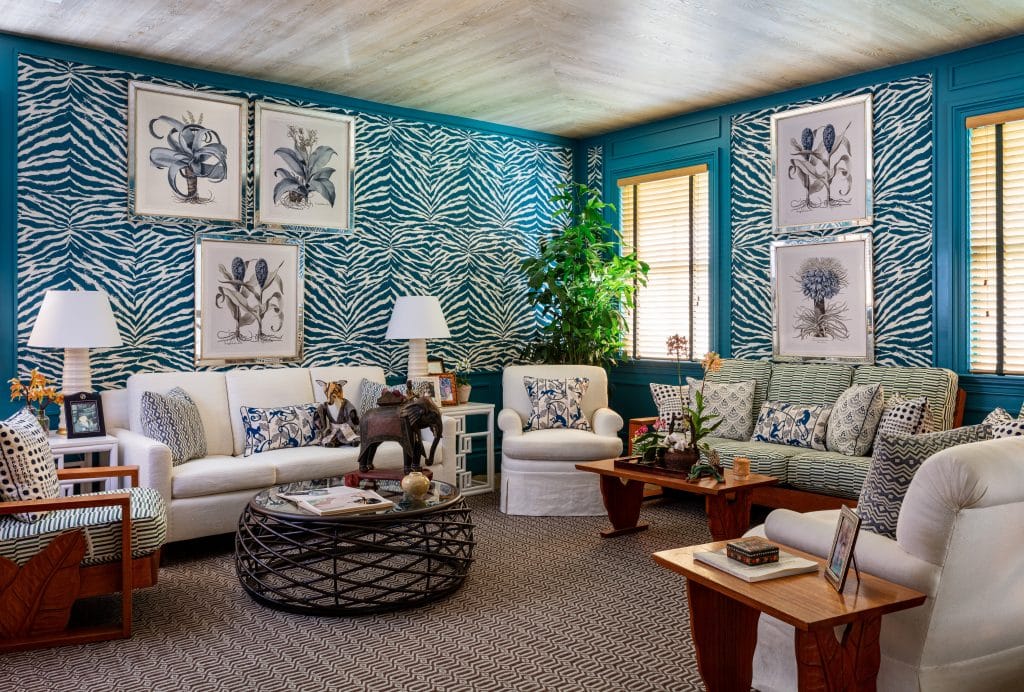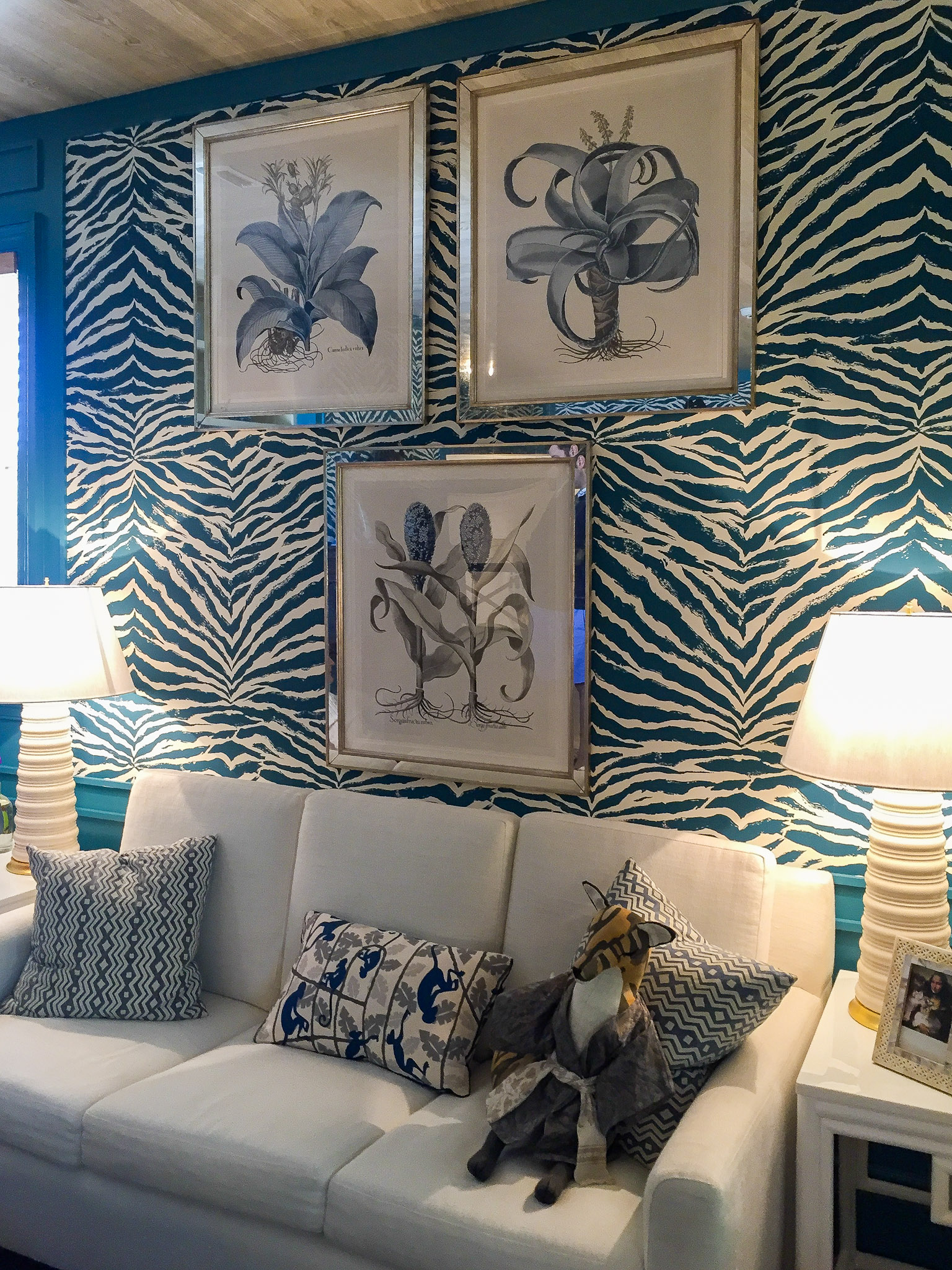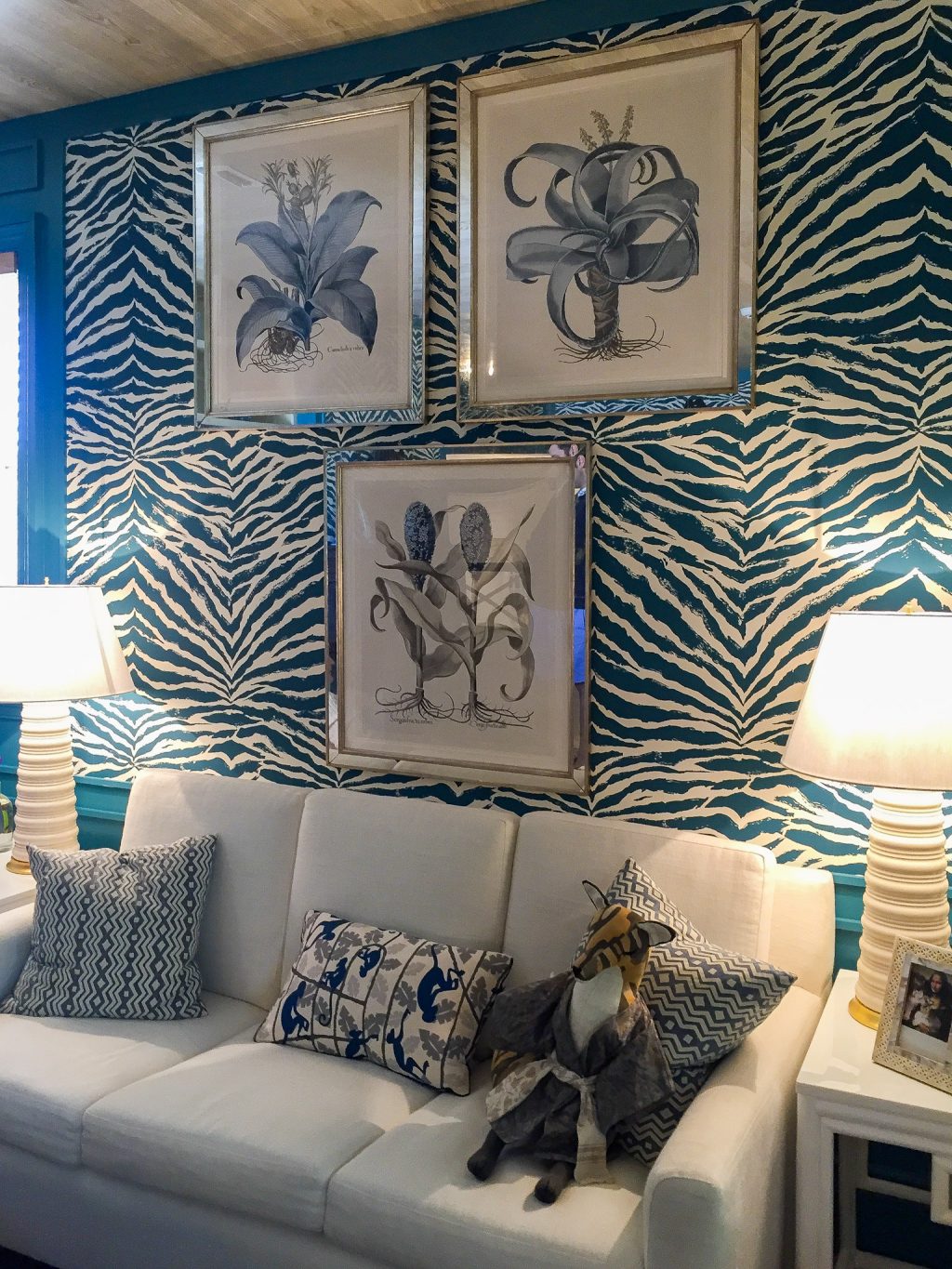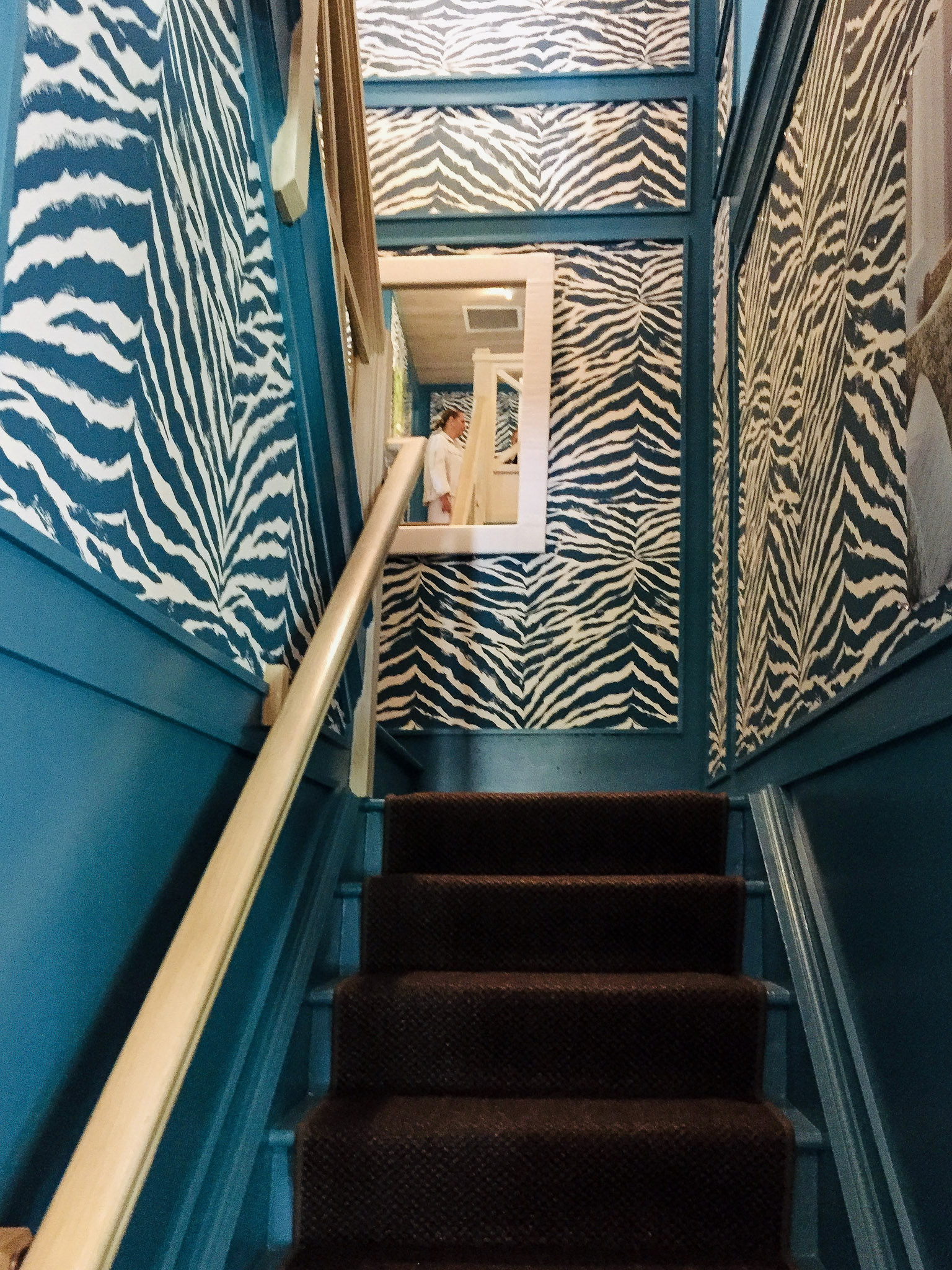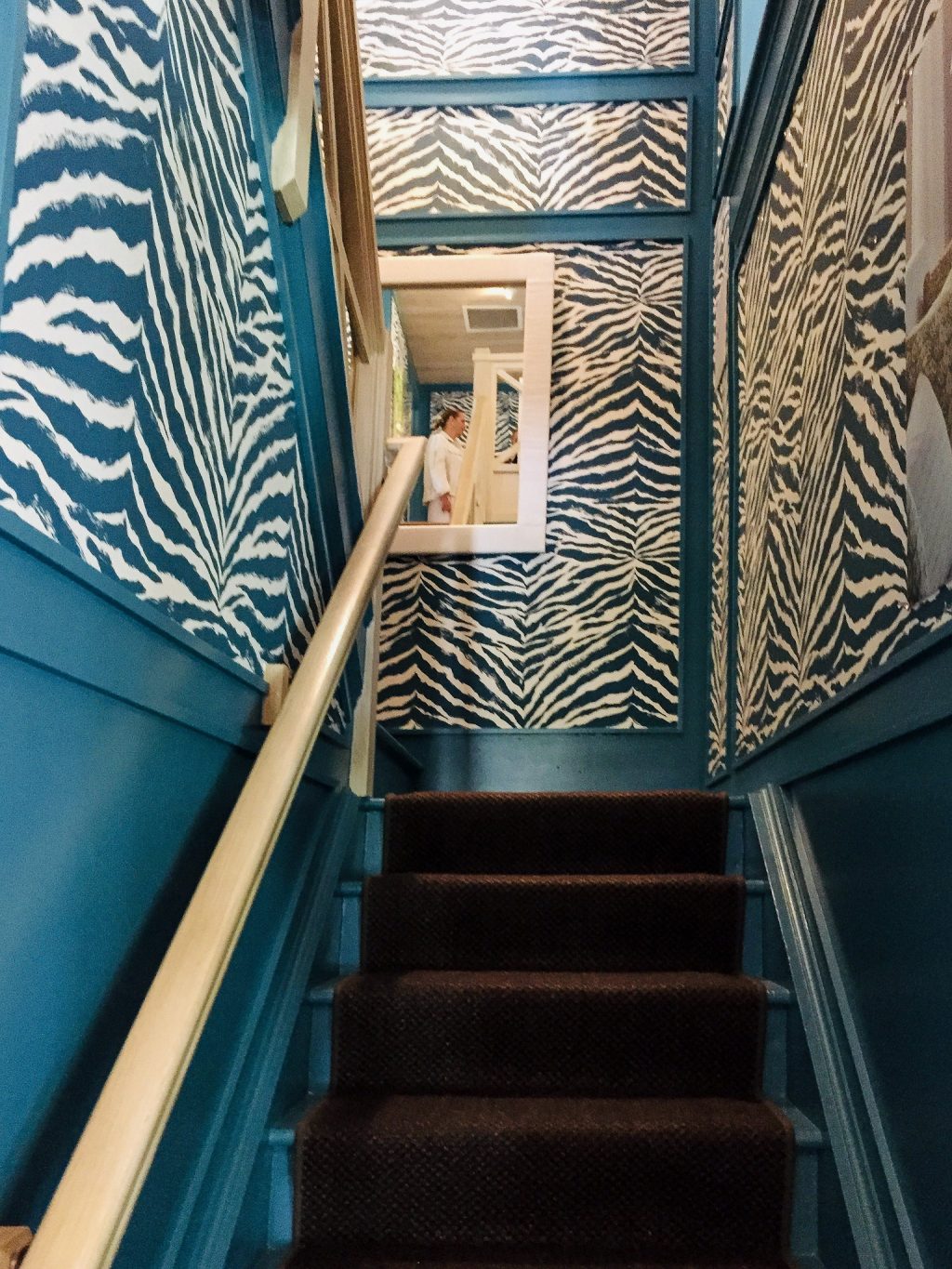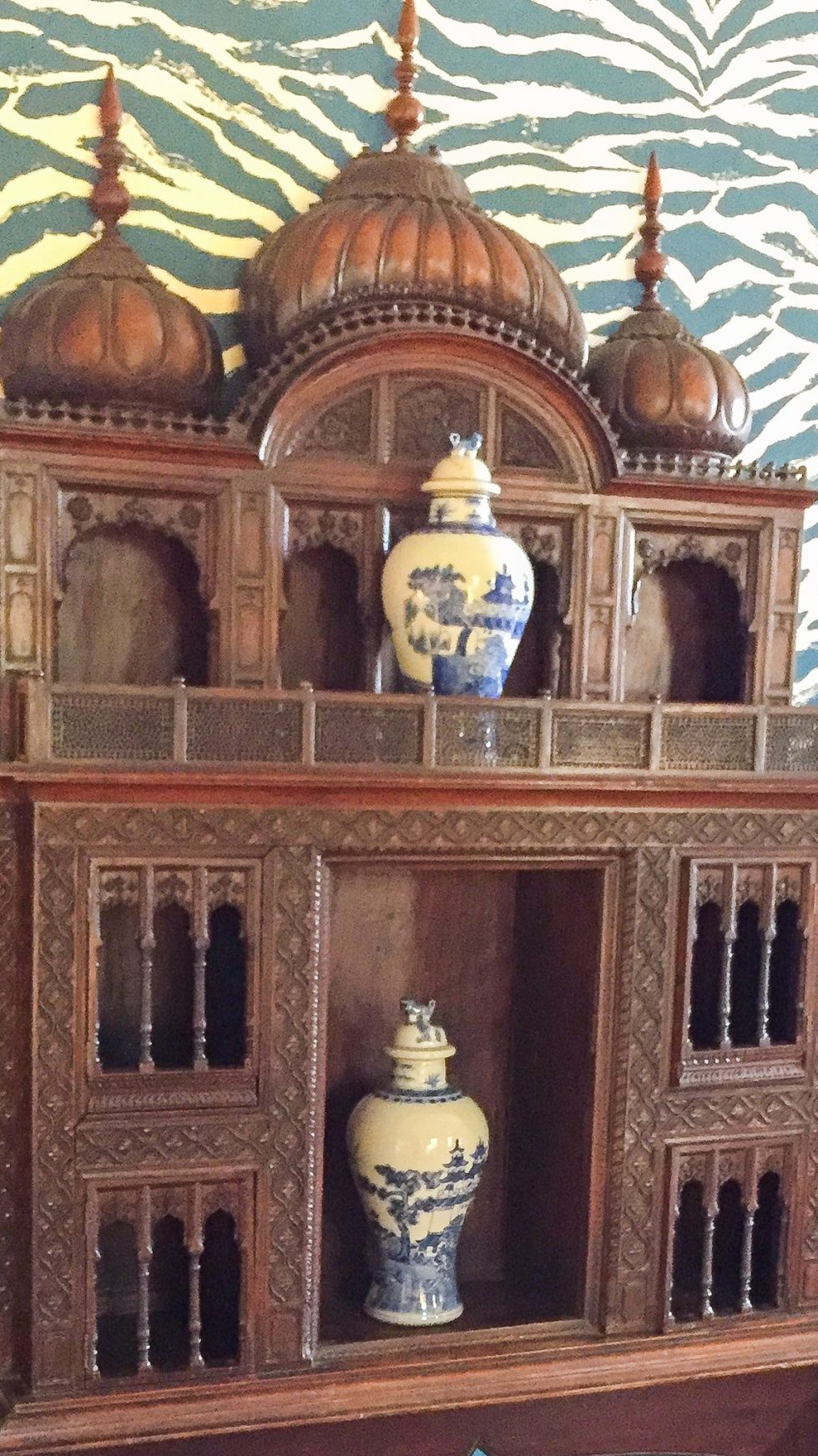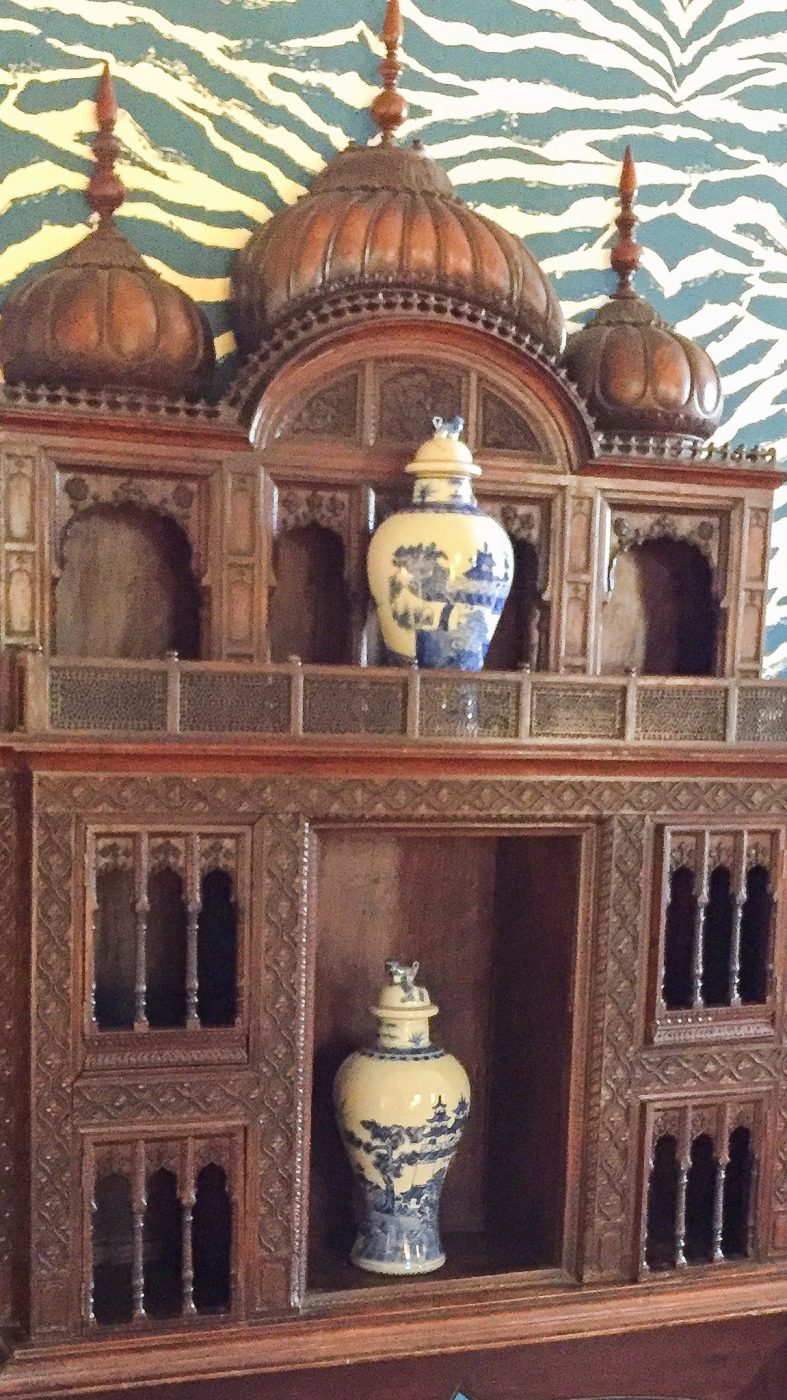 Sarah Blank Interior Design Ideas |  2020 Kips Bay Palm Beach Decorator Showhouse
Inspired by classic architecture, Connecticut-based ​interior designer, Sarah Blank​ of ​Sarah Blank Design Studio​ created a timeless periwinkle blue kitchen. Her goal was to offer a relaxing and refreshing gathering place for all. The kitchen focal point is the periwinkle color anchored by a hood vent over a Thermador​ range. The sink is by my personal favorite plumbing manufacturer – ​KOHLER. Sarah paired the Simplice faucet with the ​Poise Stainless Steel Kitchen Sink; both by KOHLER in a smaller version is the one I selected for my Miami Condo which will be revealed on social under the hashtag: #MyMiamiCondo The sink is surrounded by one of my other favorites, beautiful ​Dekton by Cosentino​ countertops which can be seen in my CASA Wynwood project.
The wine cellar and large stained island blend traditional style with fun tropical living function. The periwinkle blue custom cabinets and millwork are, yes, custom. The linen-like ​Fabricut​ wallcovering adds texture. The selection of tropical seabirds, coral artwork, and topiary fruit trees pays homage to the home's South Florida, Palm Beach location.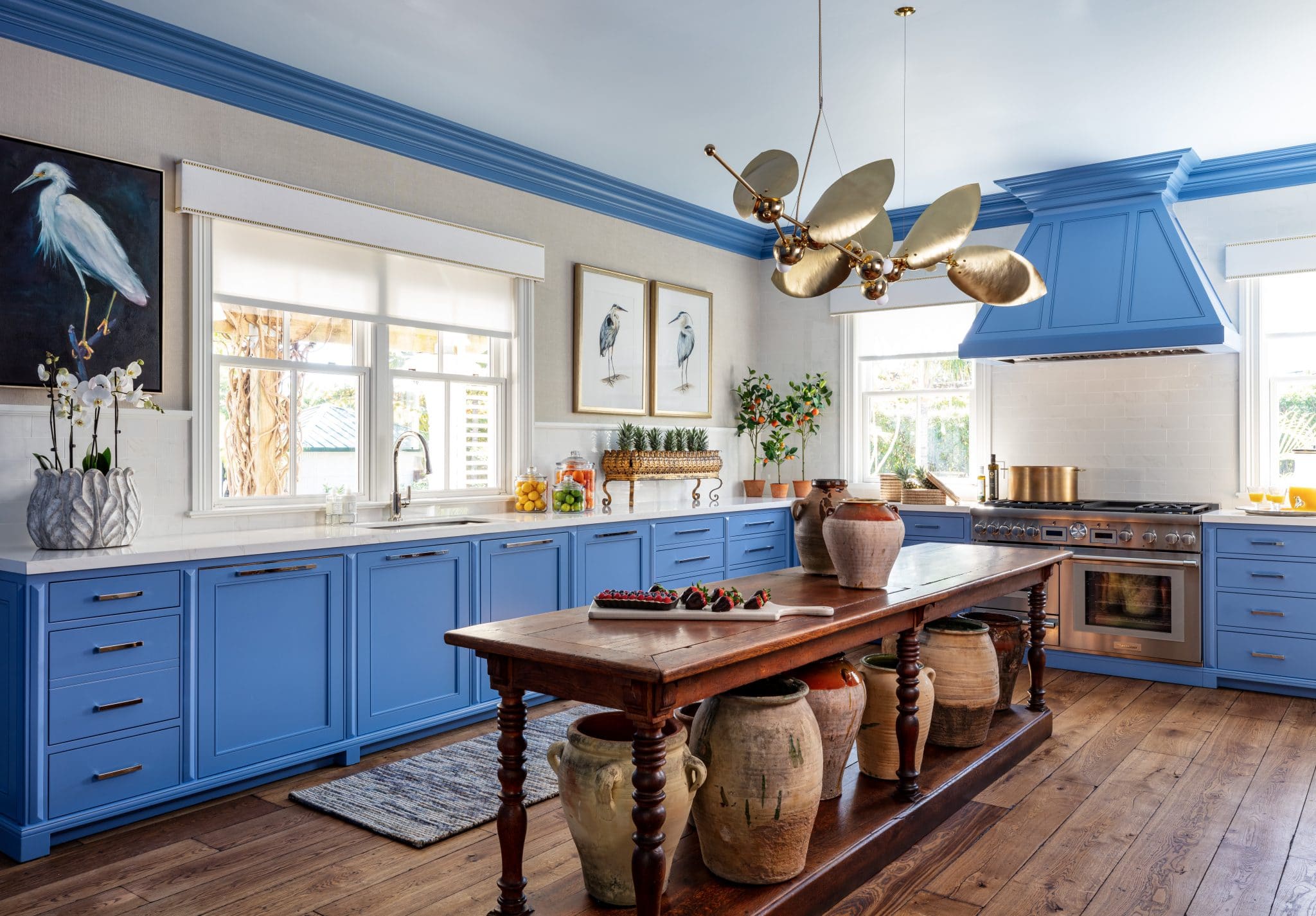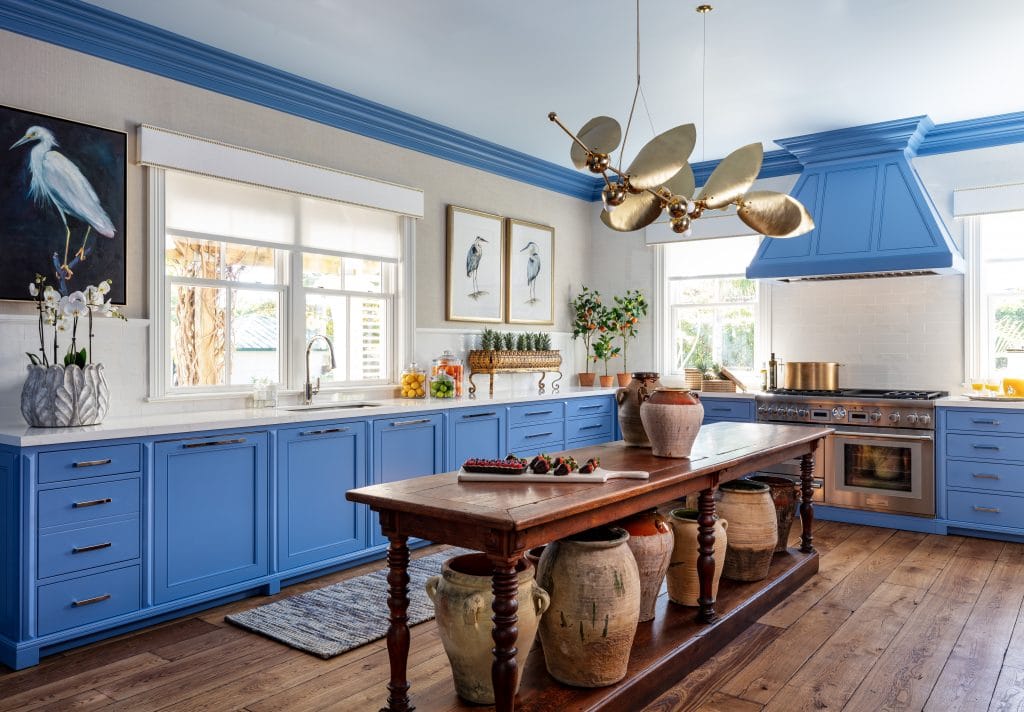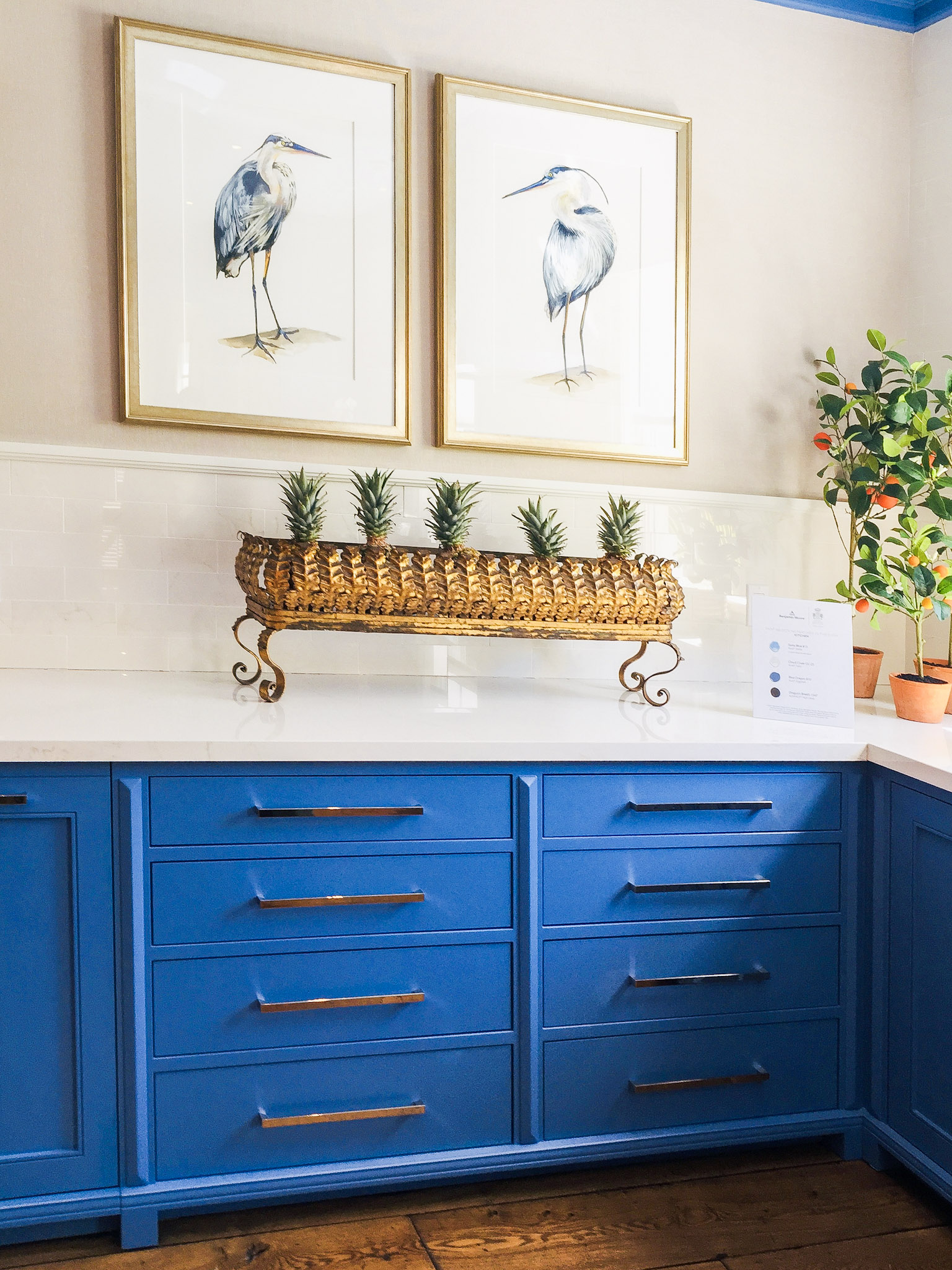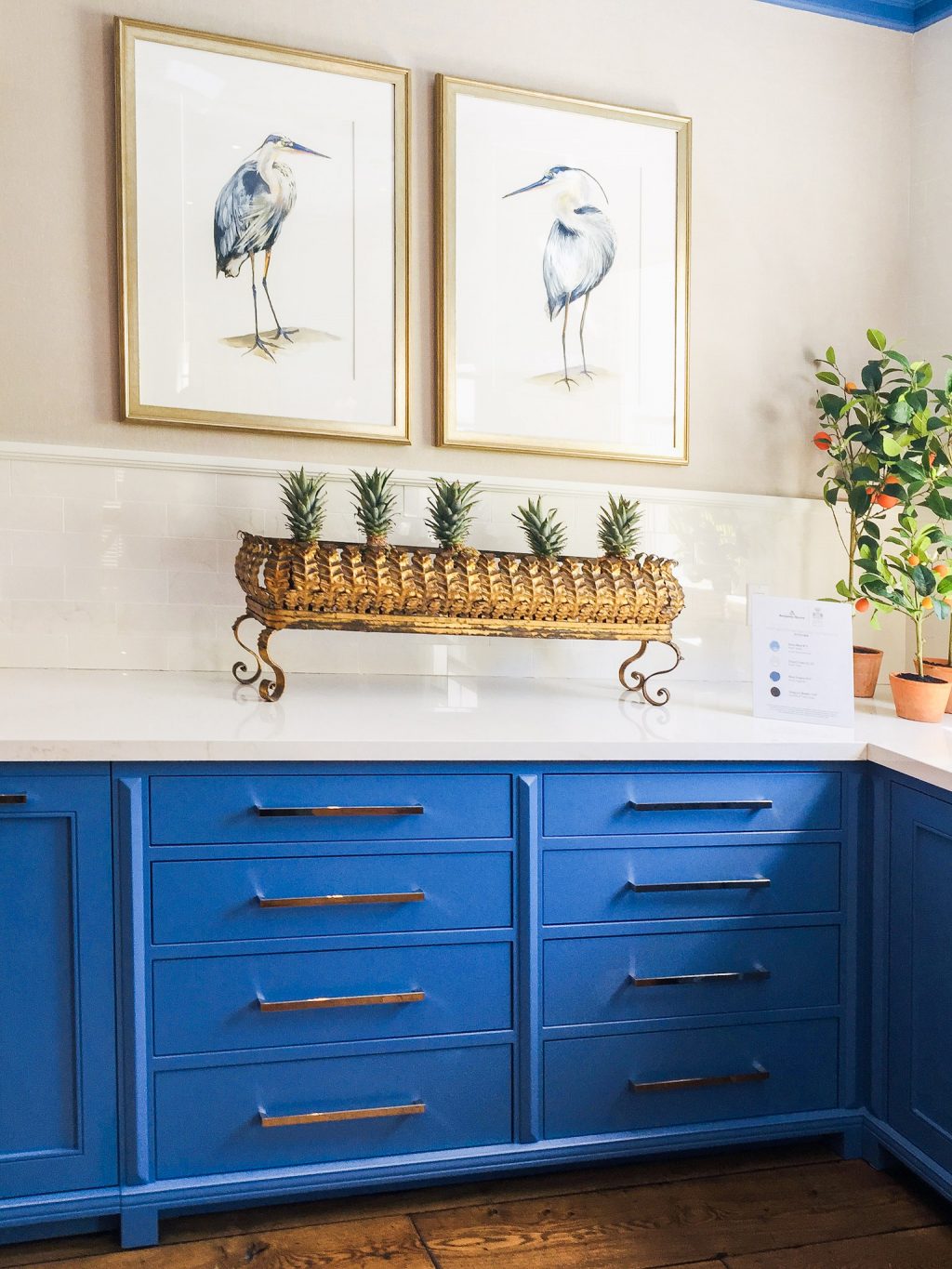 Alessandra Branca Master Bedroom Interior Design Ideas |  2020 Kips Bay Palm Beach Decorator Showhouse
One of my favorites from this year's Kips Bay Palm Beach Showhouse is the comfortable, chic master bedroom exudes the taste of Portuguese travels. If you've followed me for long, you know traveling inspires almost everything I design for my projects and my own fashion accessories & home decor collection. 
This master suite is designed by New York-based interior designer ​Alessandra Branca. Alessandra outdid herself with South Florida style in the Portuguese-inspired Master Bedroom. Portugal is one of Alessandra's favorite countries. She chose to tout blue-and-white wallpaper resembling Portuguese tile. The statement piece in the master bedroom is the vintage bed with electric cobalt blue upholstery. As a girl from my own heart, Branca also incorporated pieces from her namesake furniture line, Casa Branca. On the terrace, floor-to-ceiling custom window treatments by ​The Shade Store​ frame the sweeping views overlooking the gorgeous architectural garden and pool.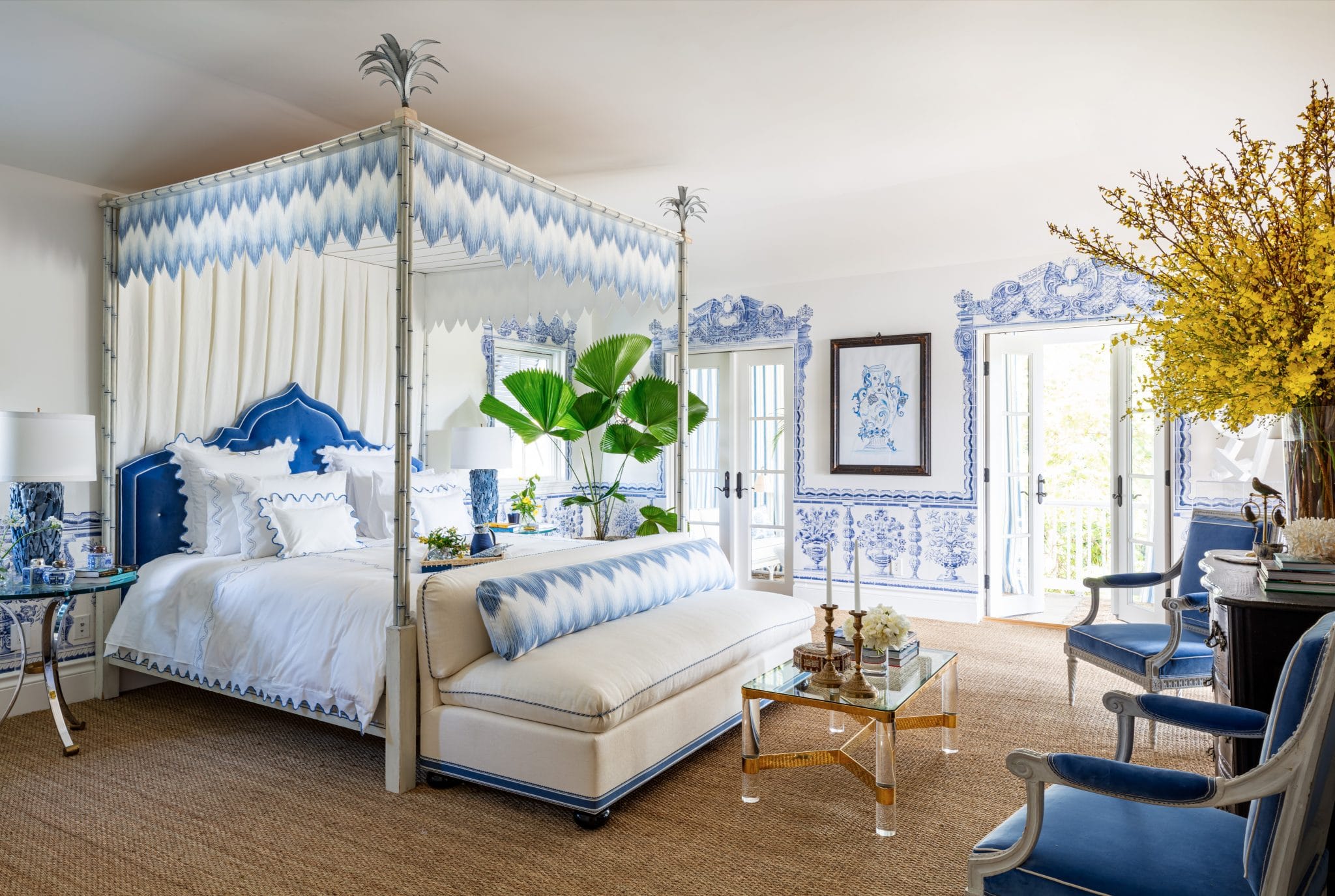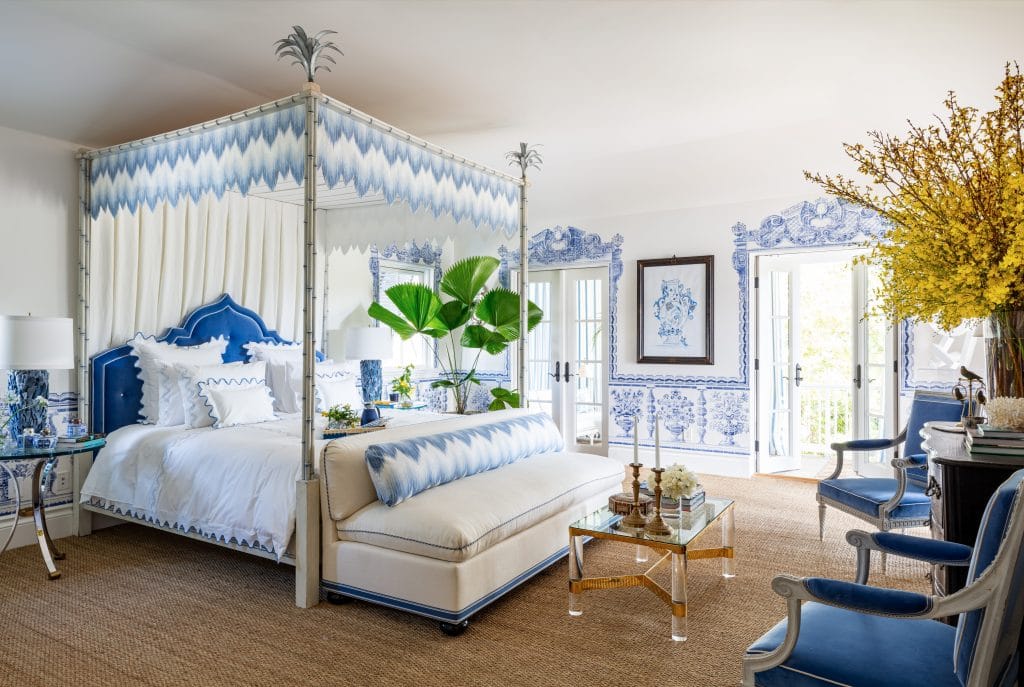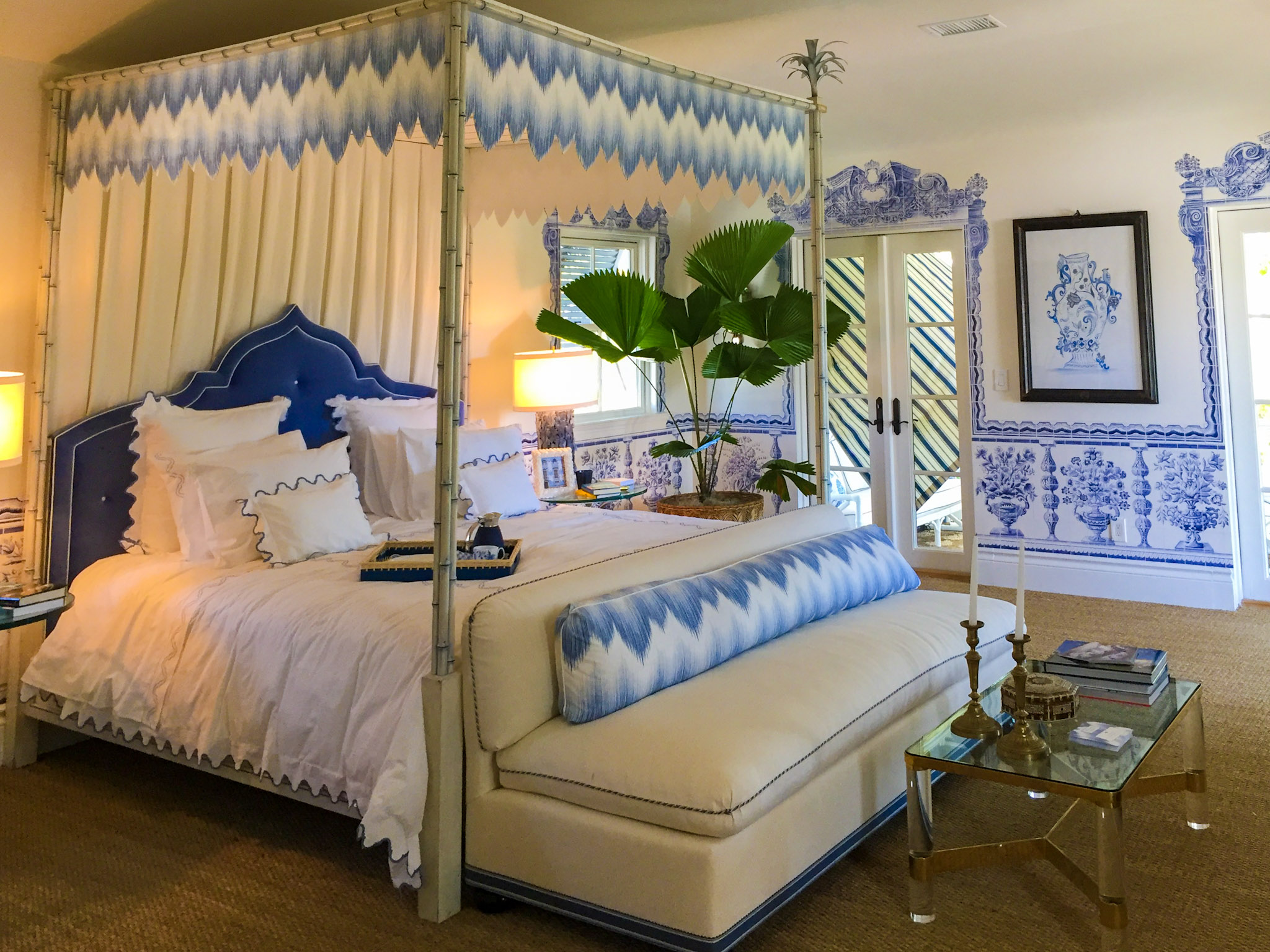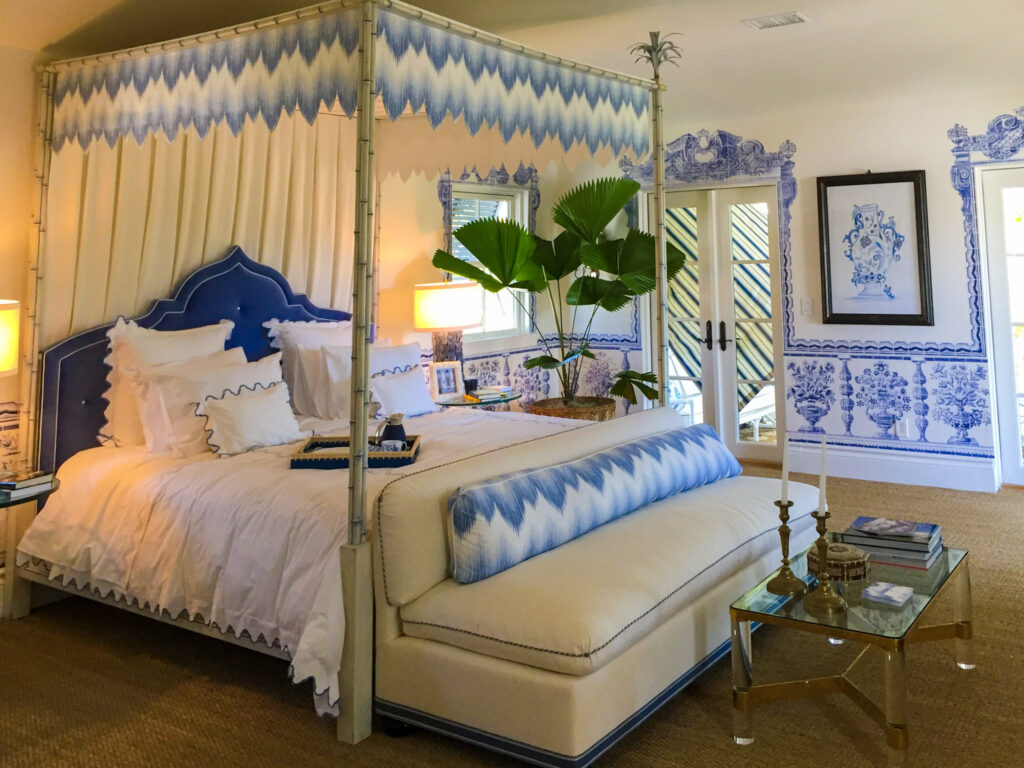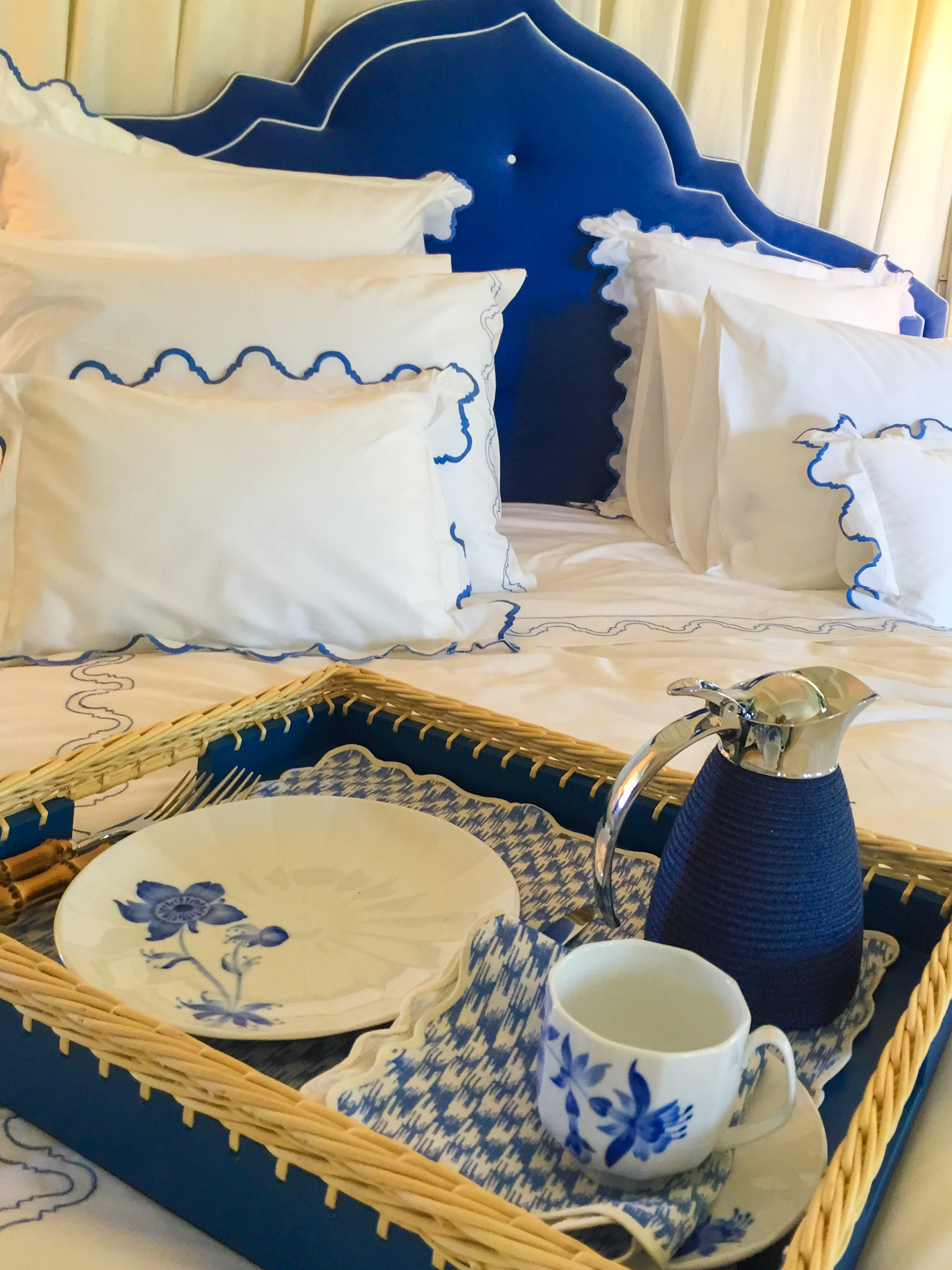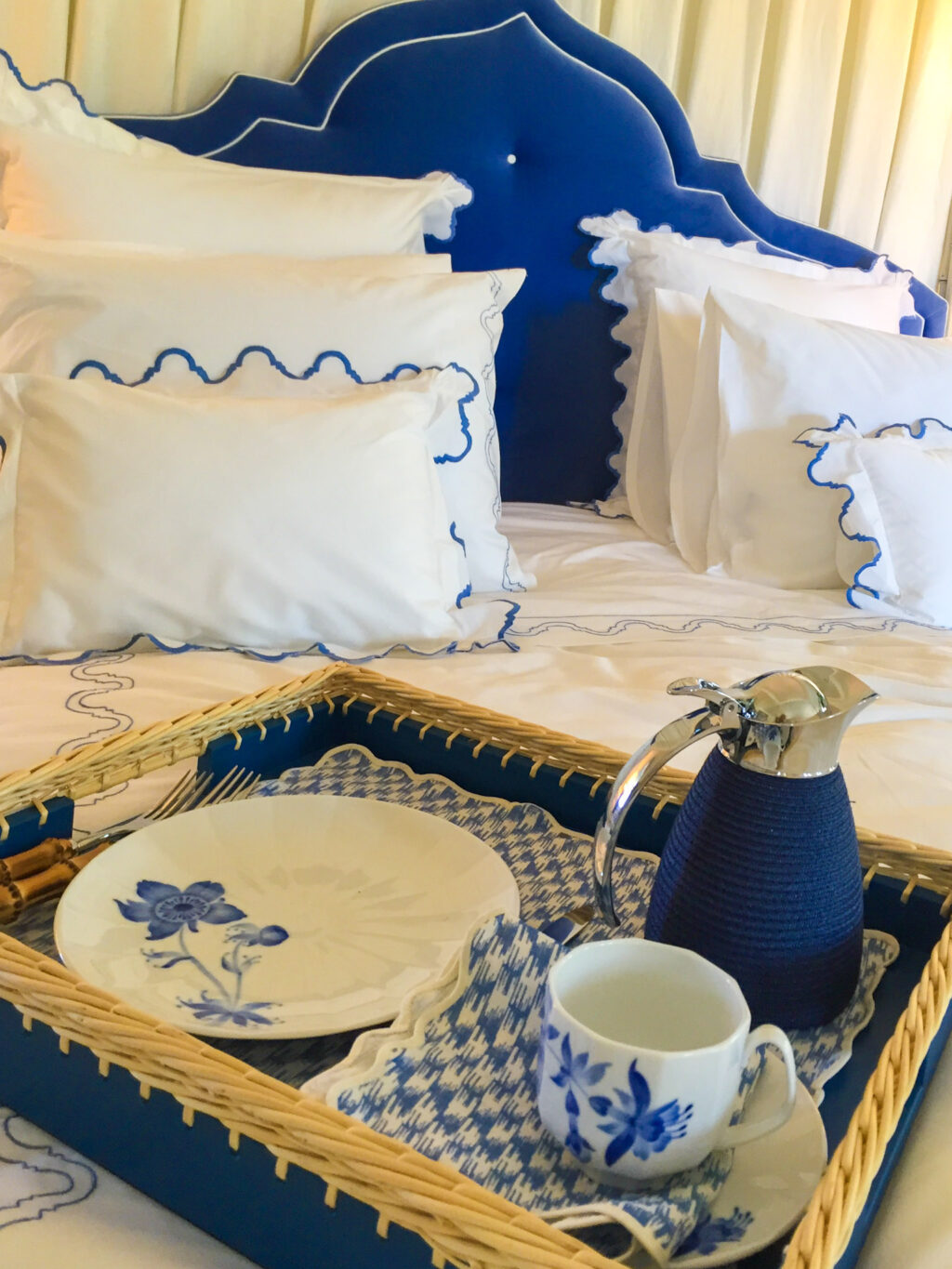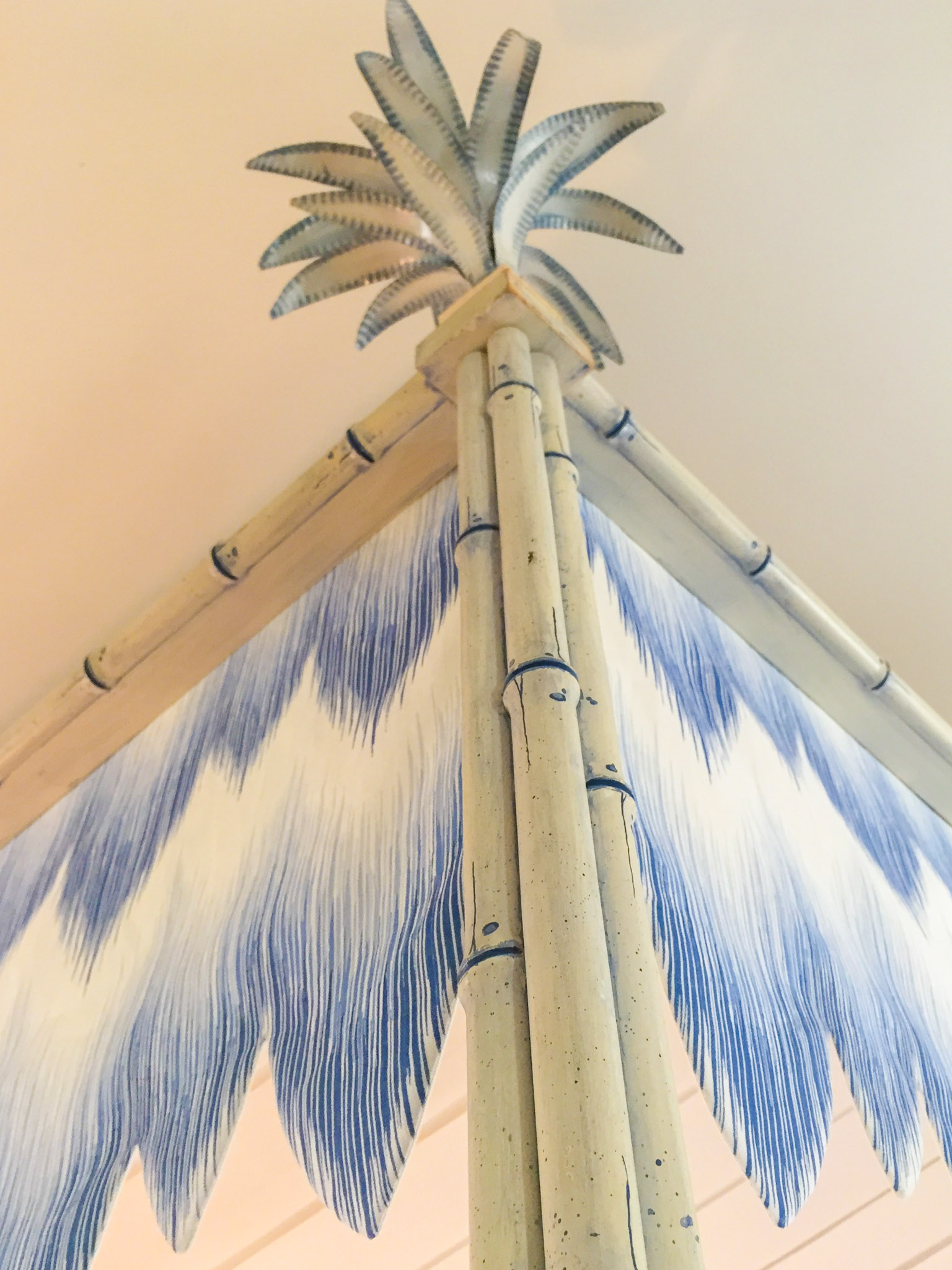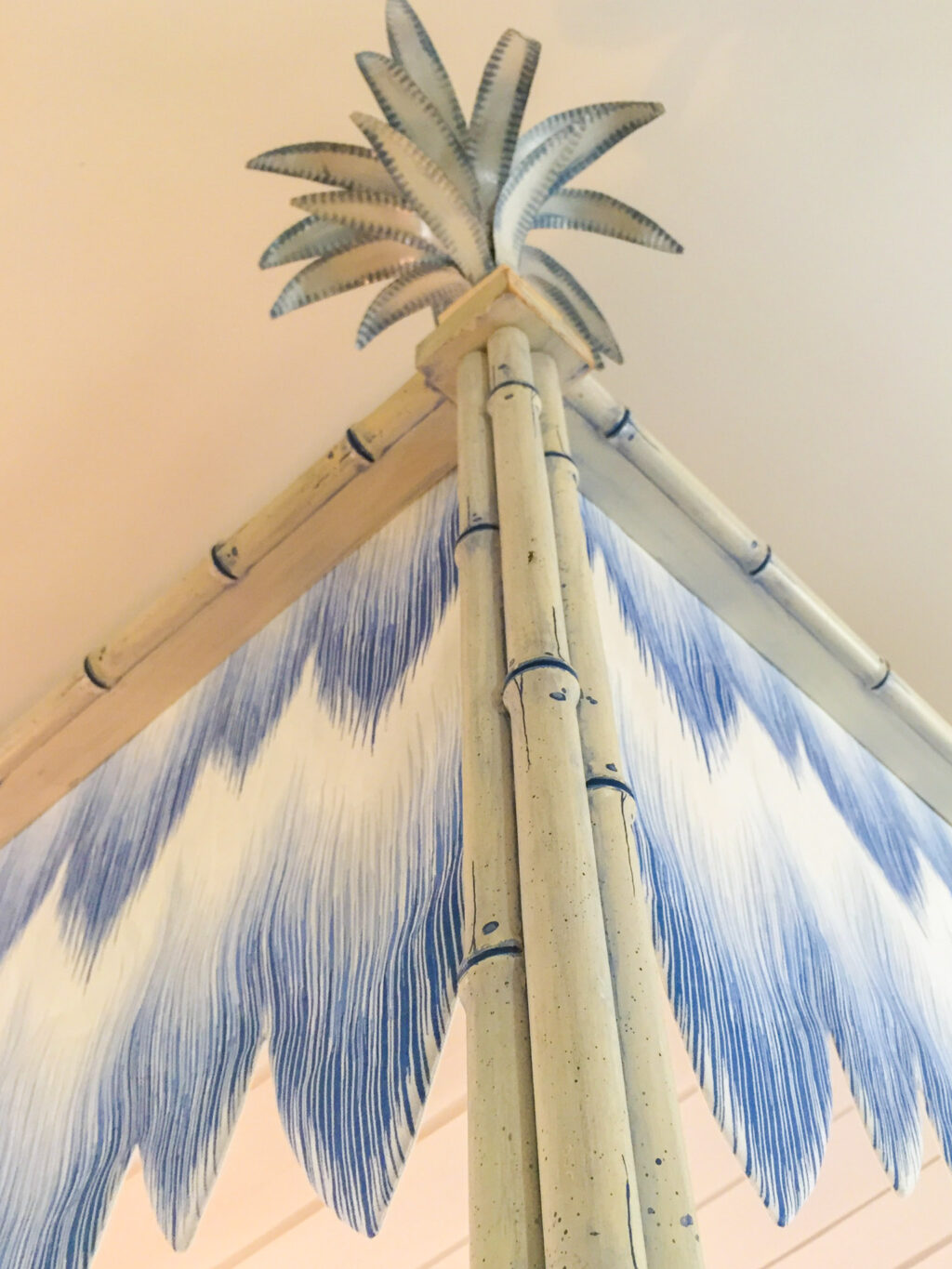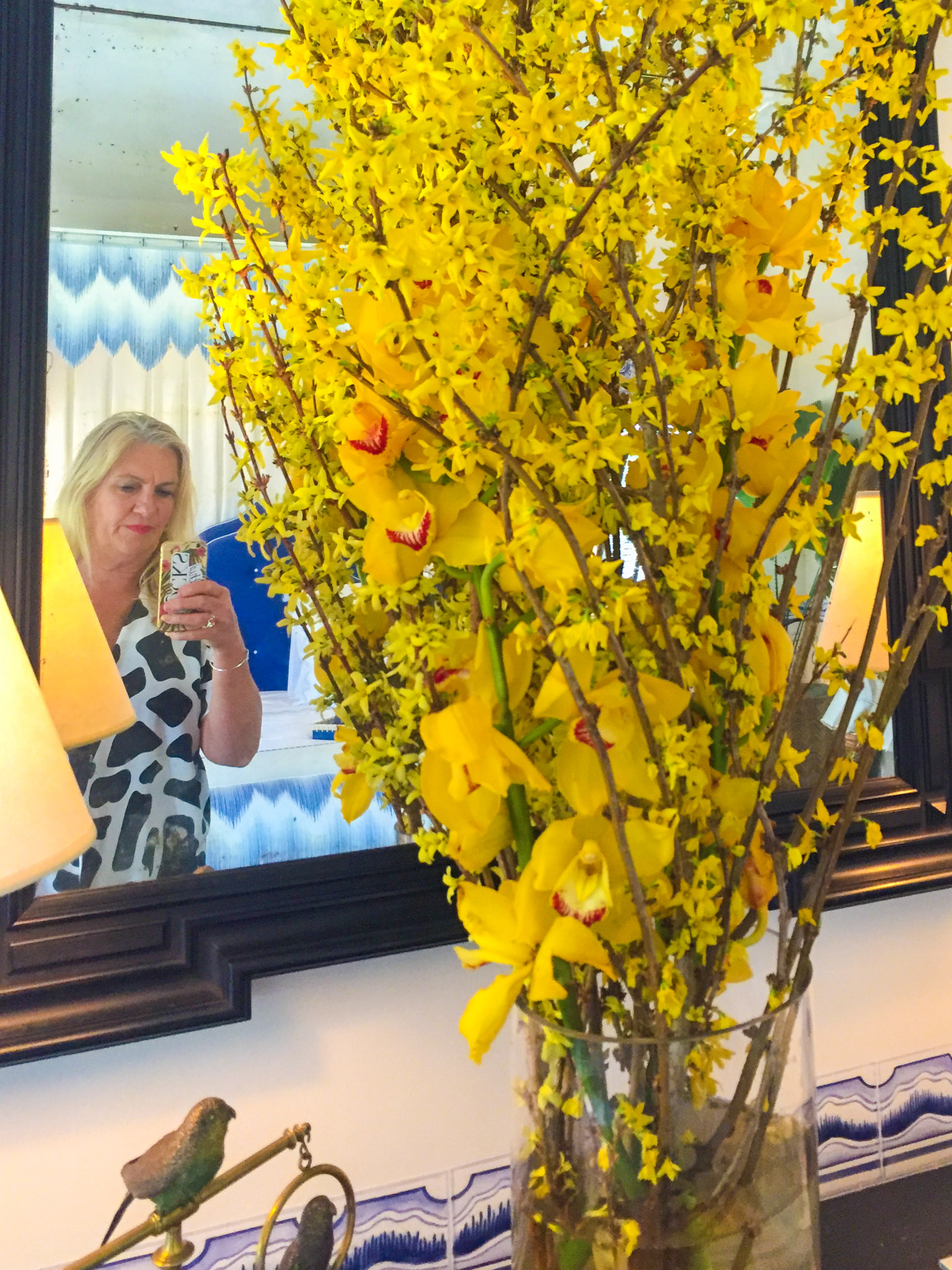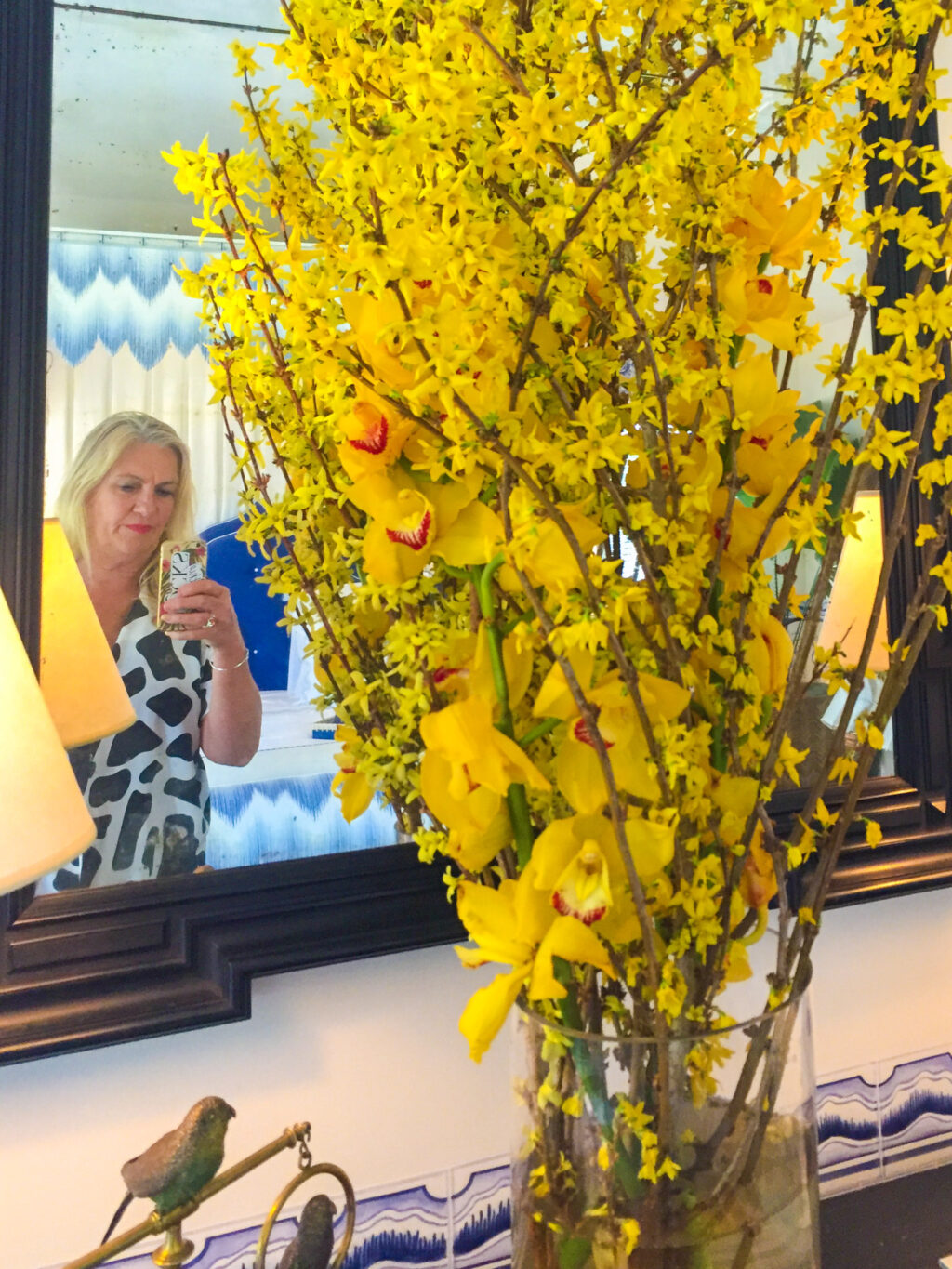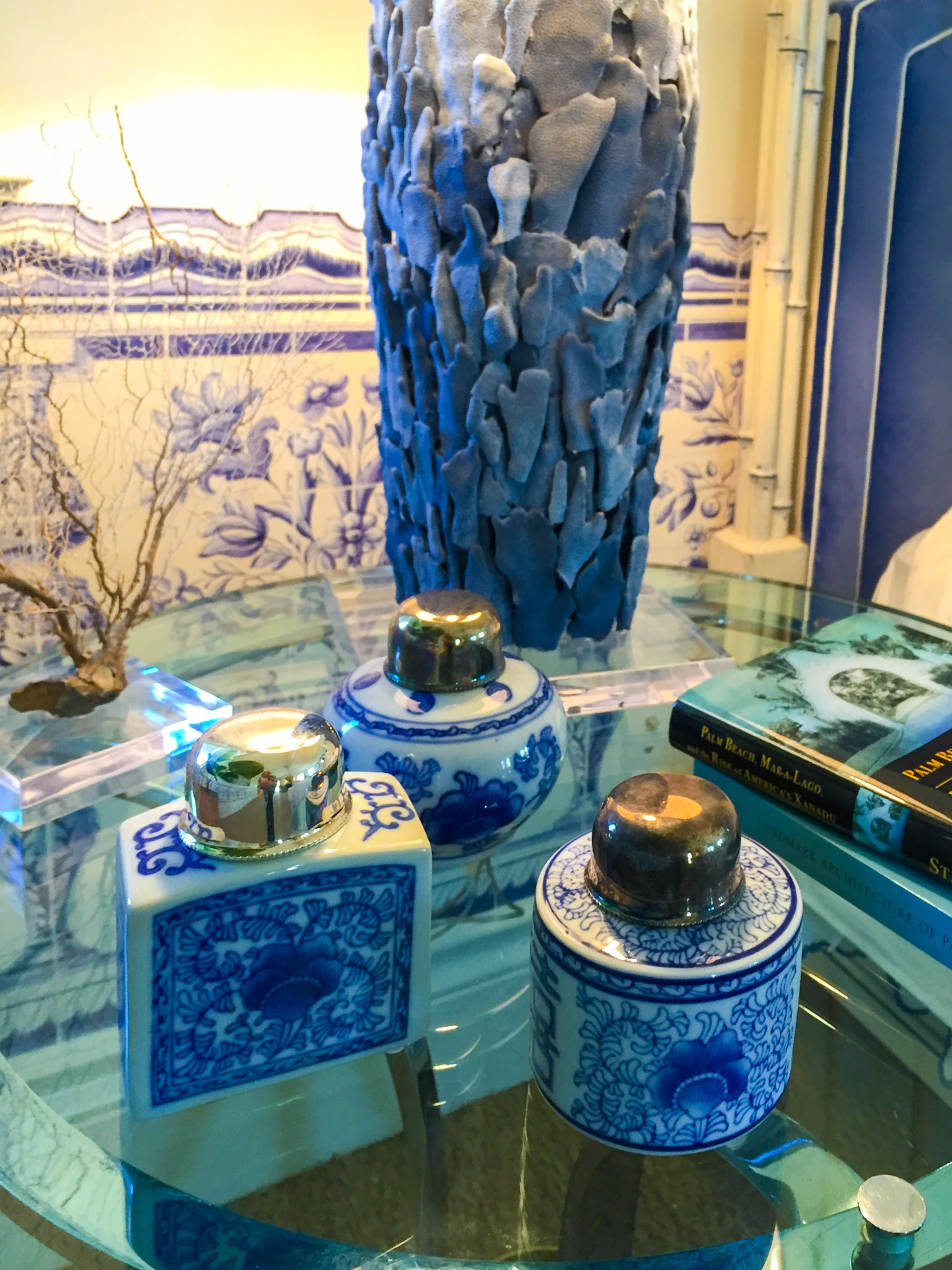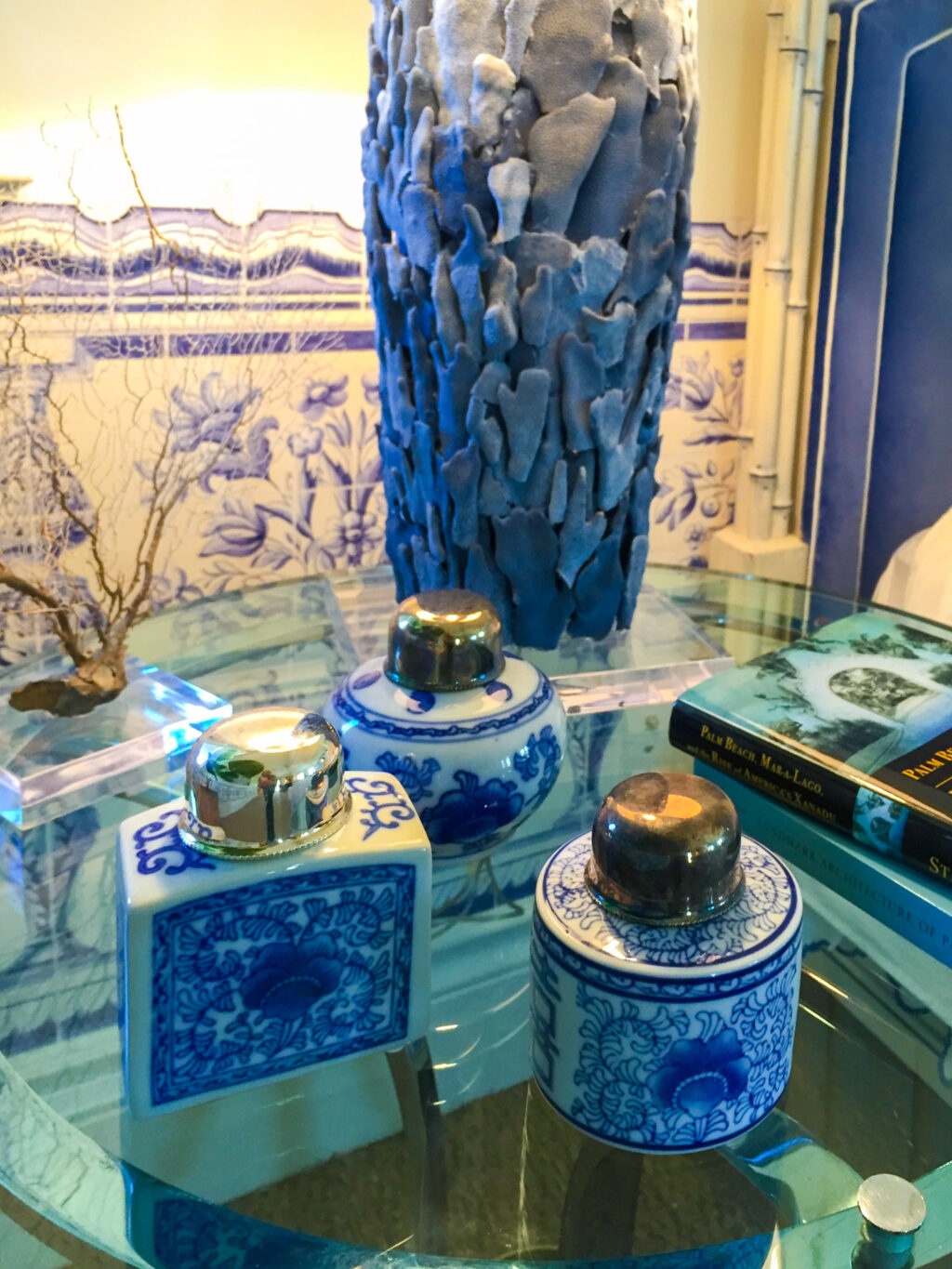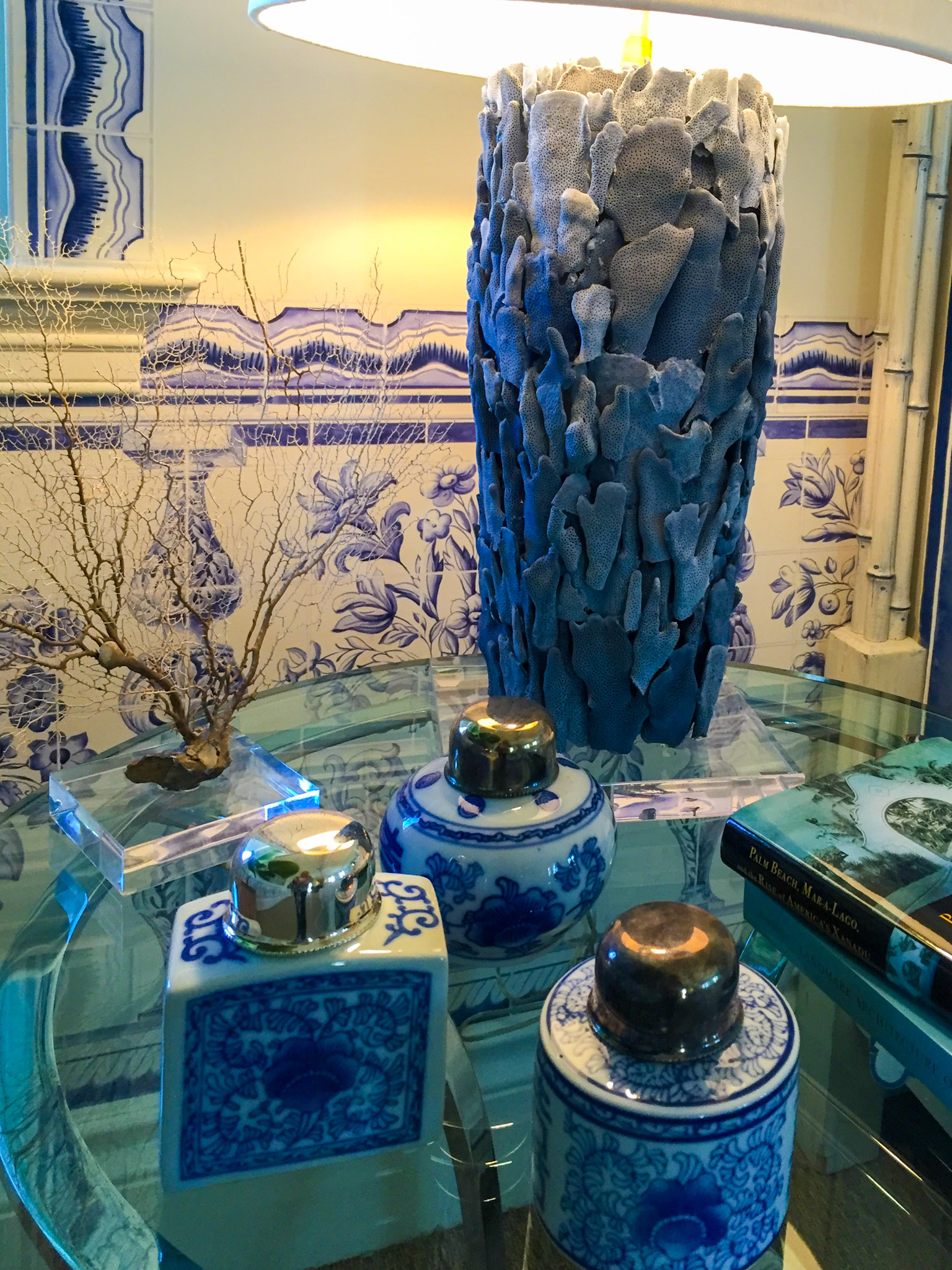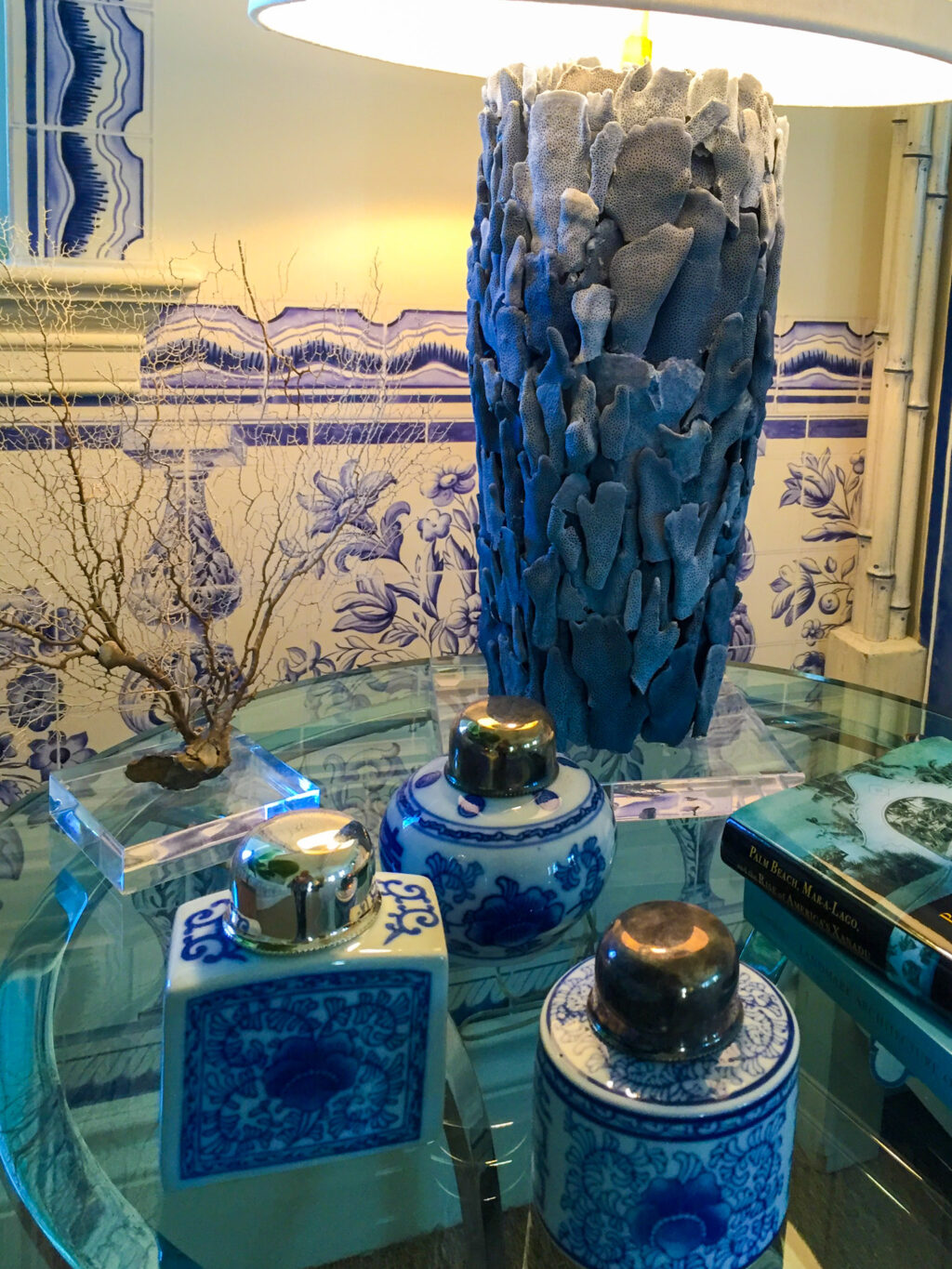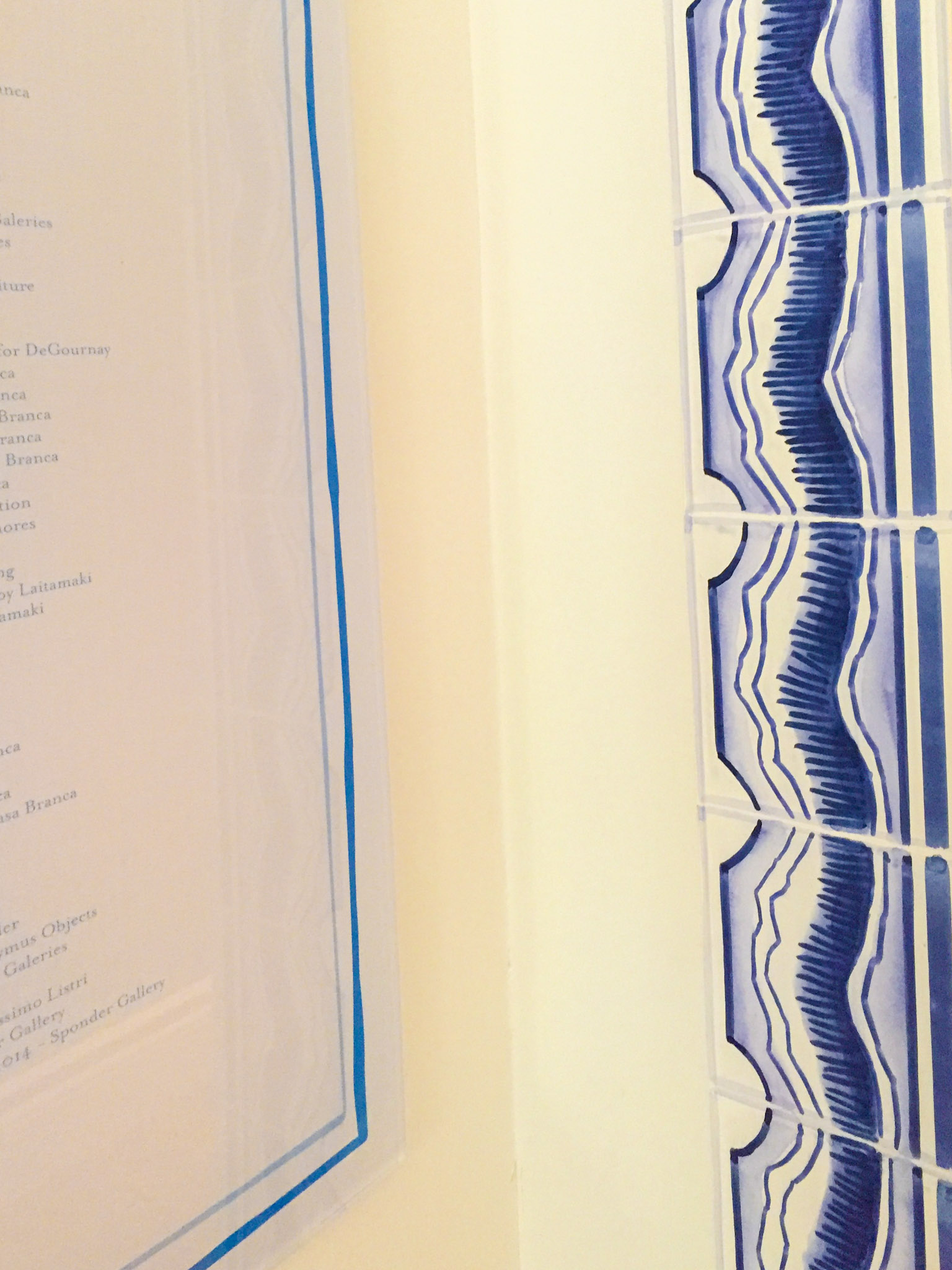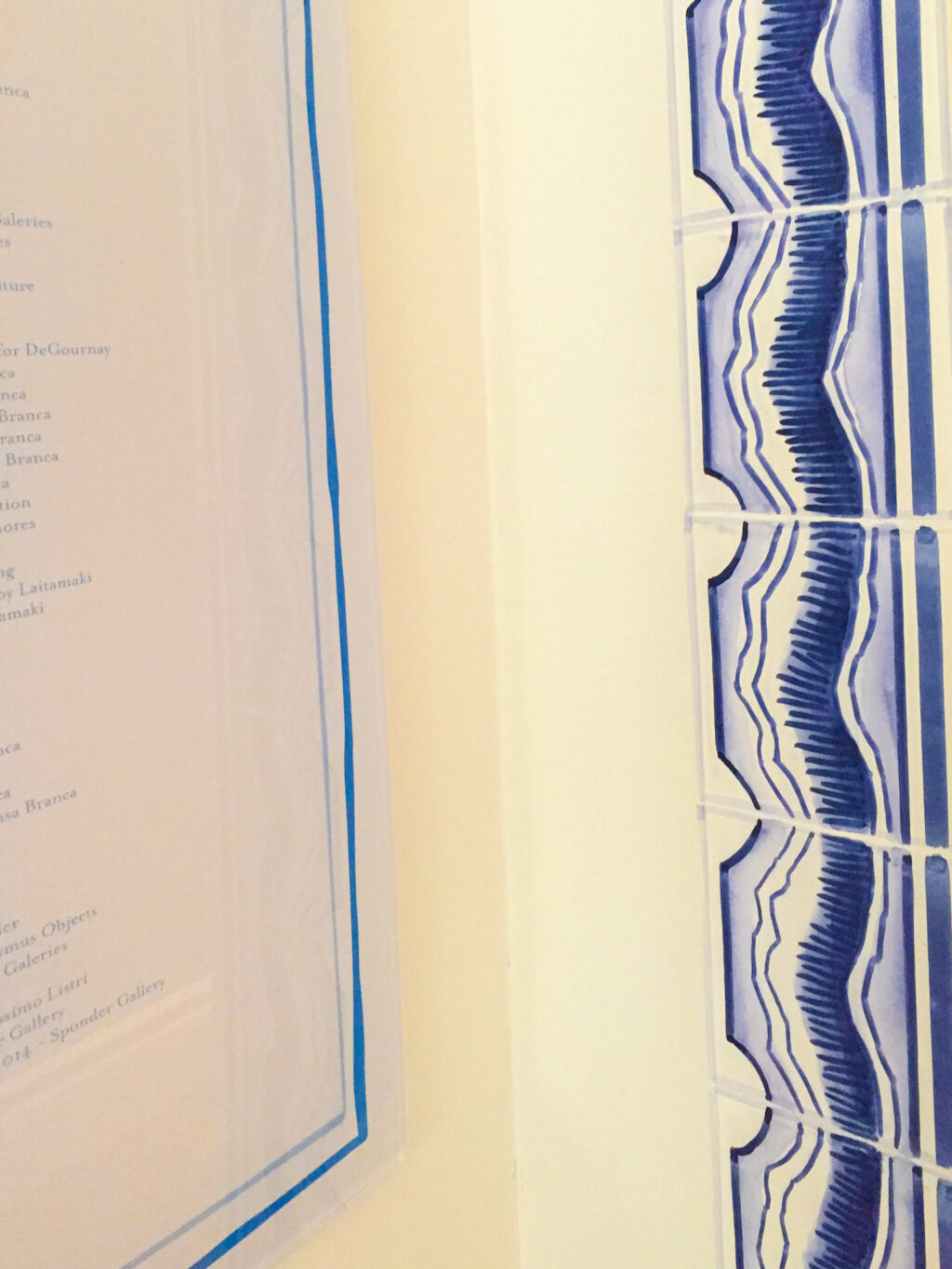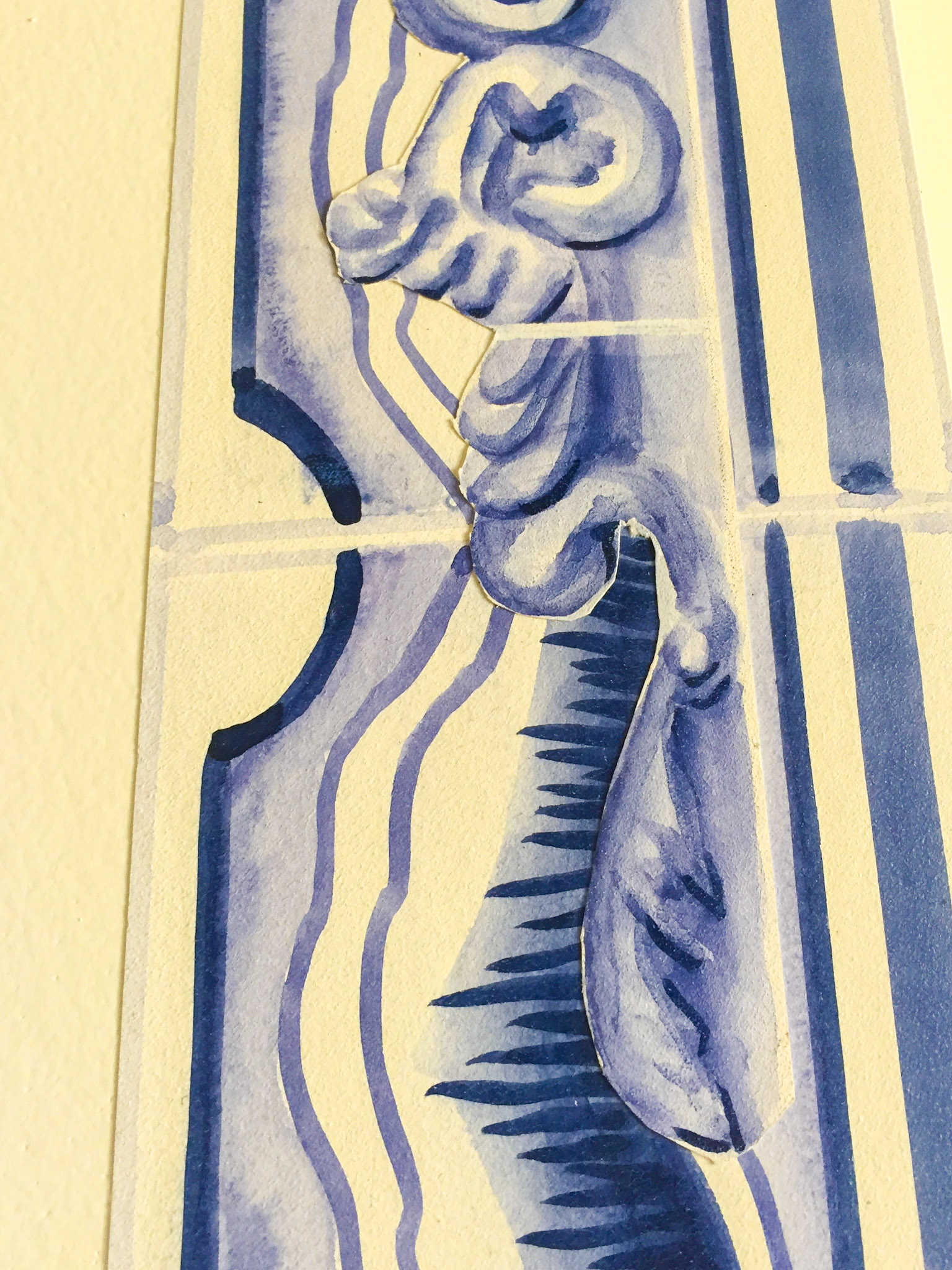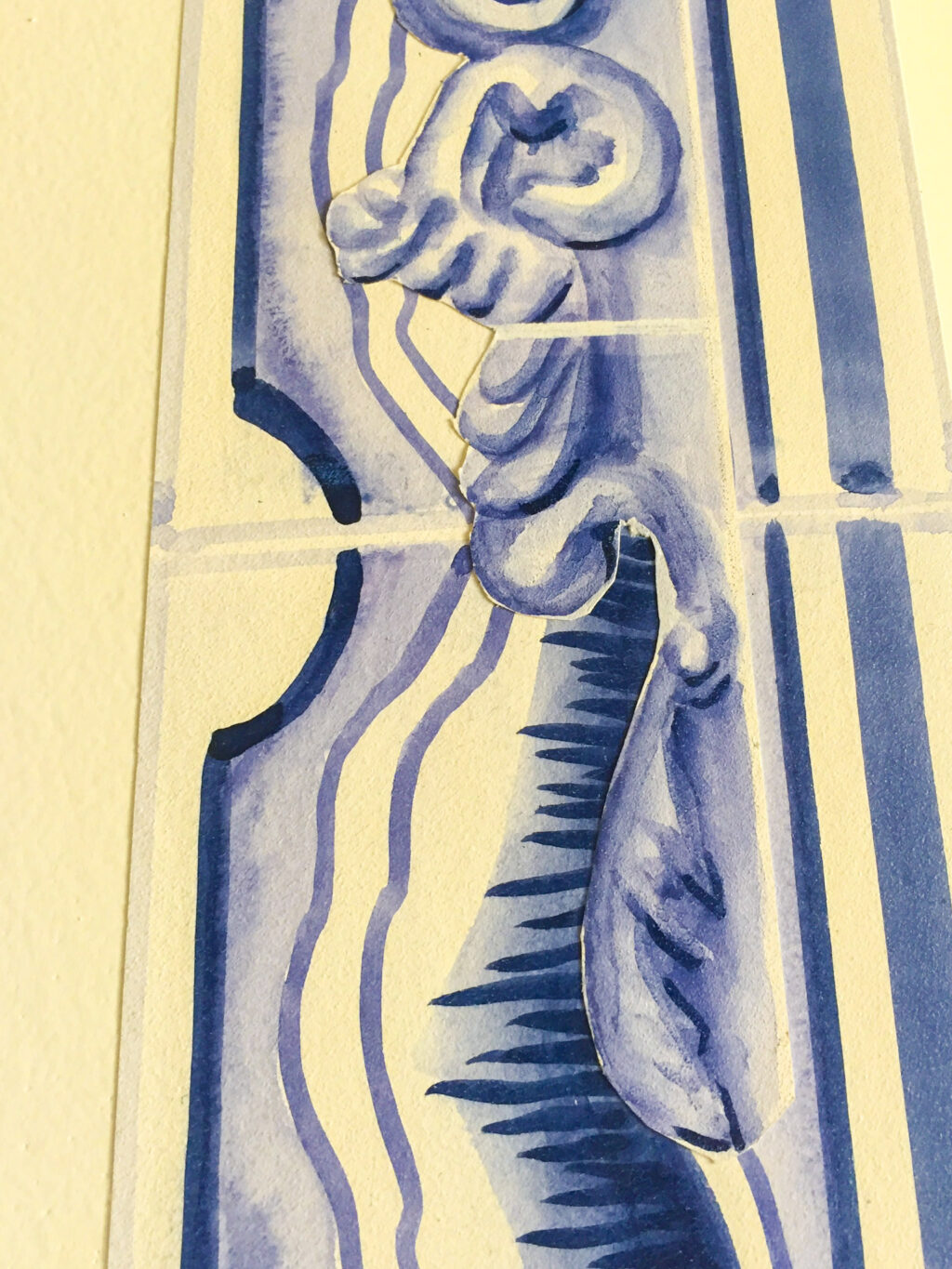 Kevin Isbell's Writer's Retreat Interior Design Ideas |  2020 Kips Bay Palm Beach Decorator Showhouse
Joining the East Coast interior designers from LA, aka. Los Angeles, ​Kevin Isbell​ of ​Kevin Isbell Interiors​ transformed the second guest suite and bath by dubbing it​ "A Writer's Retreat." ​Designed with the worldly traveler in mind, the guest suite is anchored by an oversized pagoda-shaped daybed set against a high gloss floating wall lacquered deep eggplant. Bright abstract artwork provides a dose of contemporary to otherwise classic decor. The black and white ceramic tiger from ​Eleish Van Breems Home​ reminds me of the infamous Seigfried & Roy white tigers. The tropical palm scenery is a hand-painted tropical mural wrapping the walls that are ideal at home in South Florida. Around the corner from Kevin Isabell's writer's retreat lies a new closet system by ​The Container Store​ , which holds books and accessories.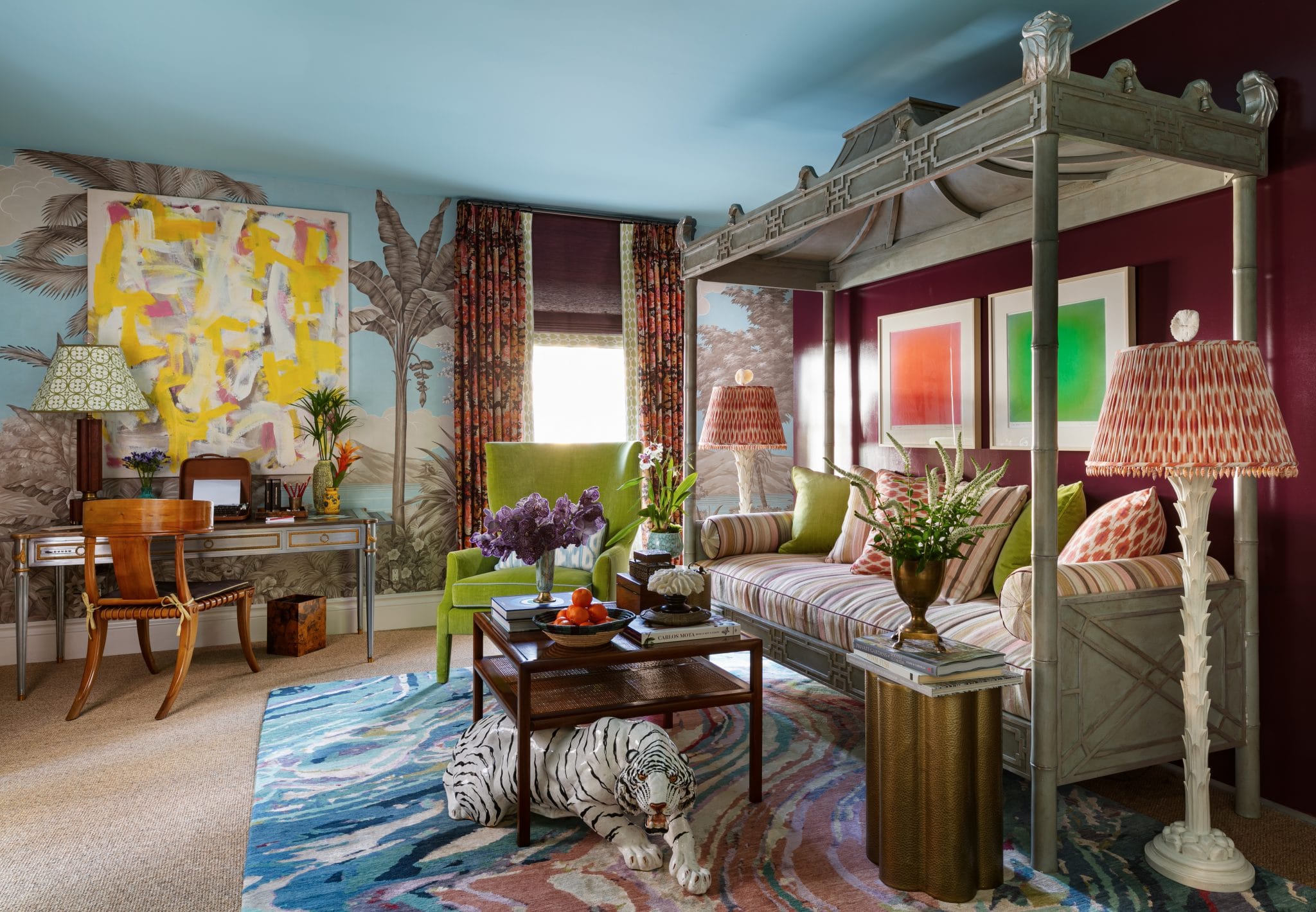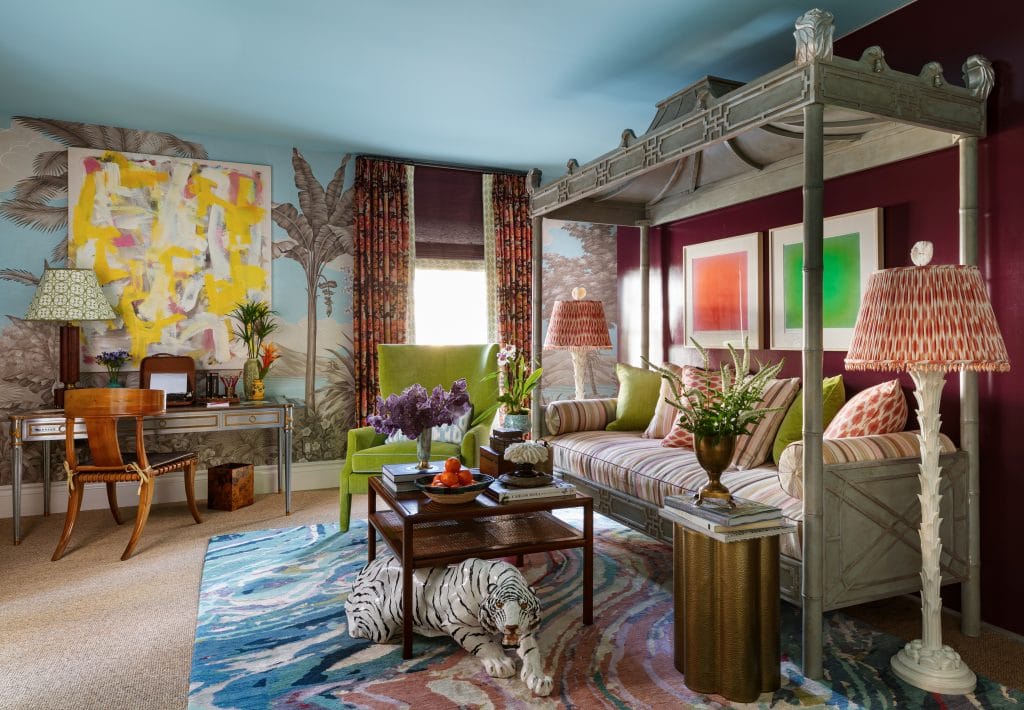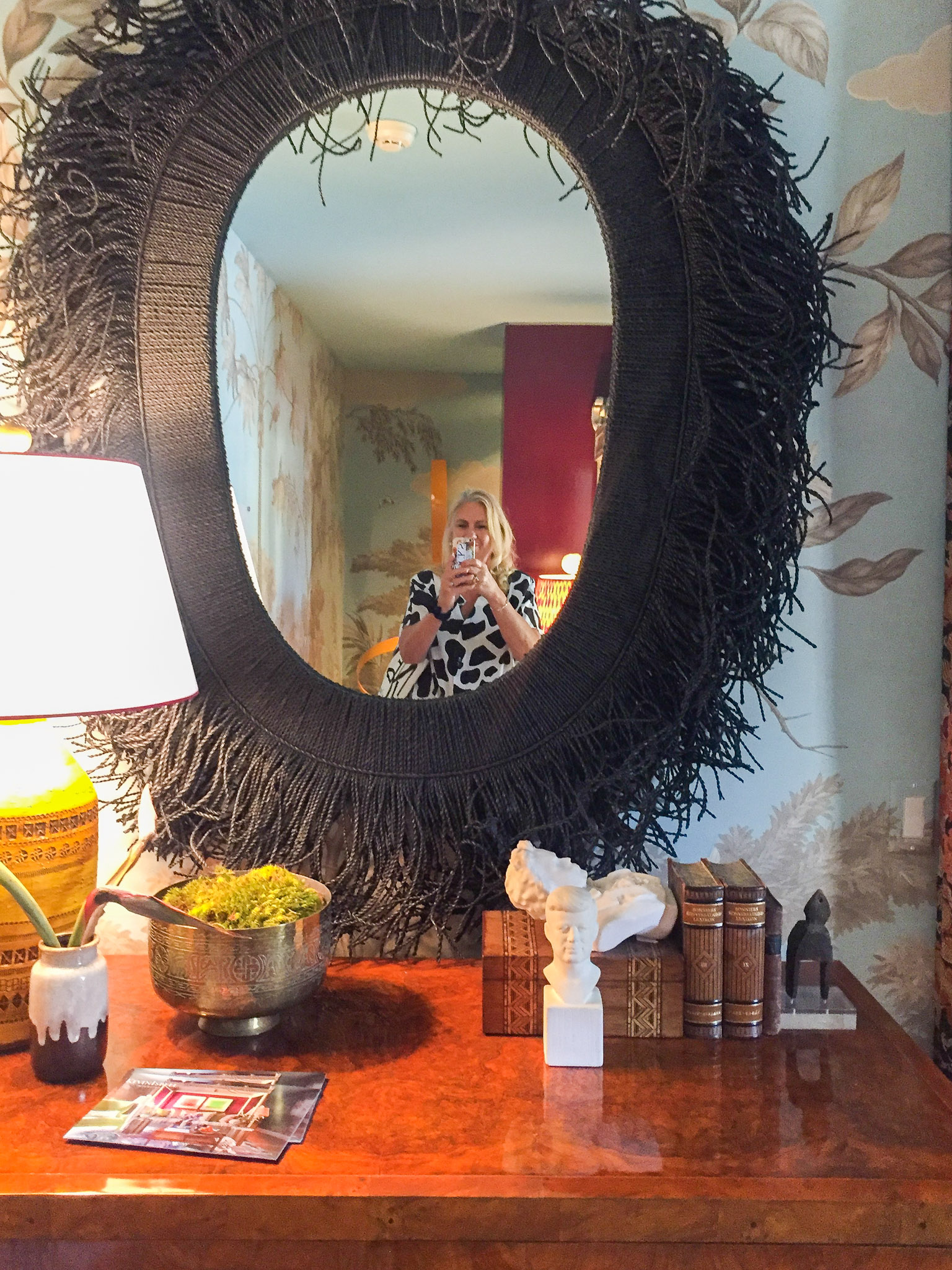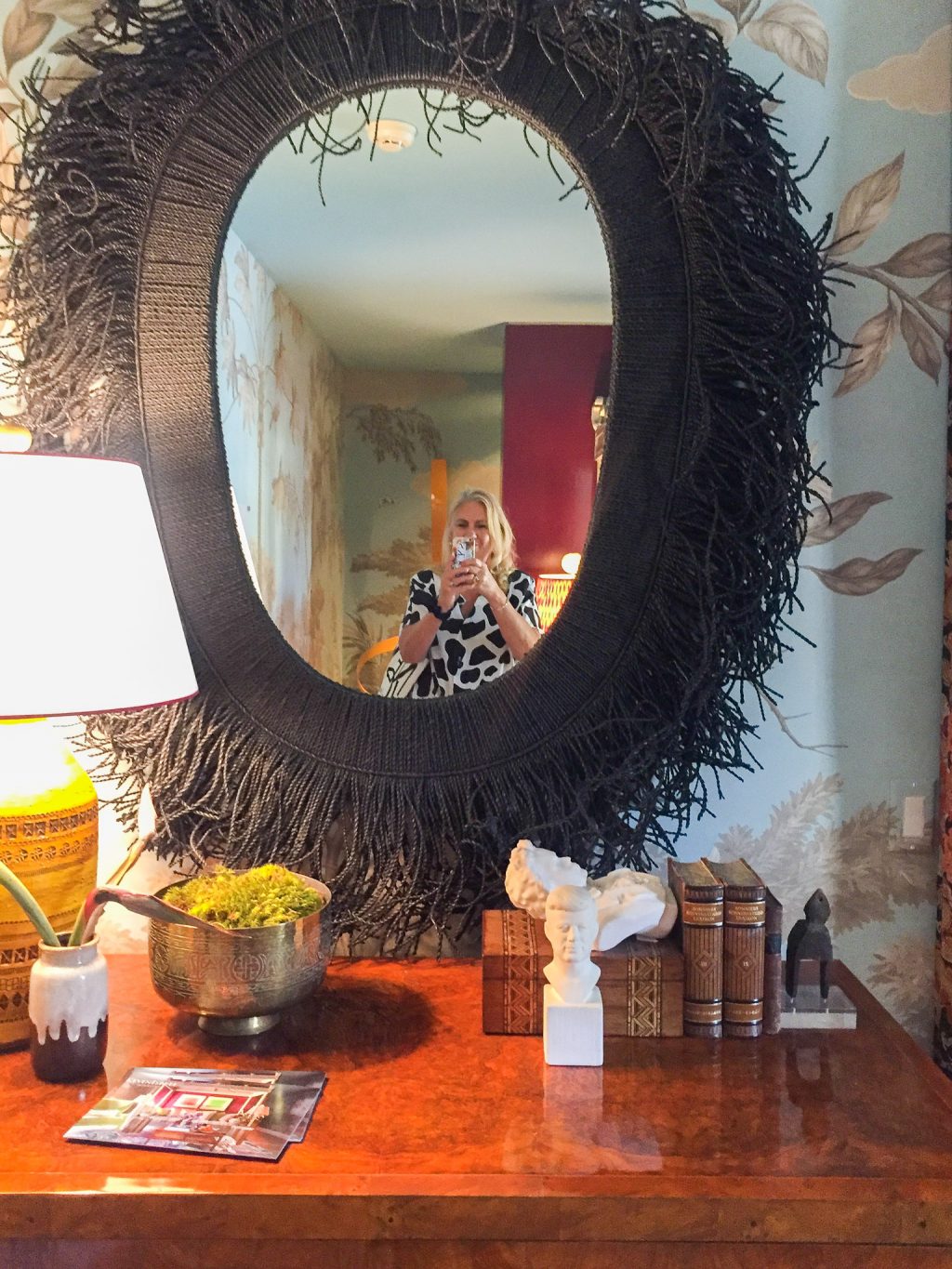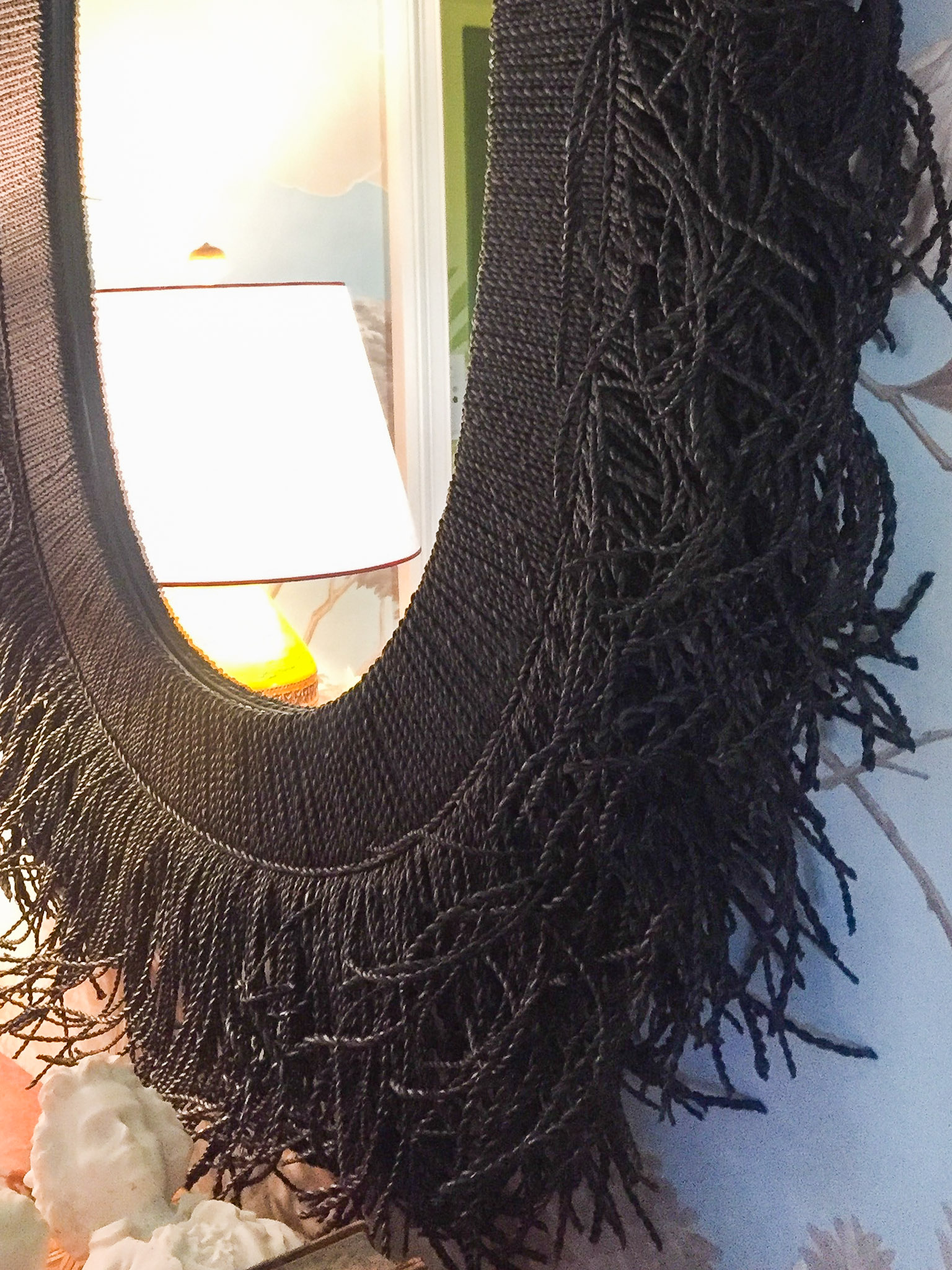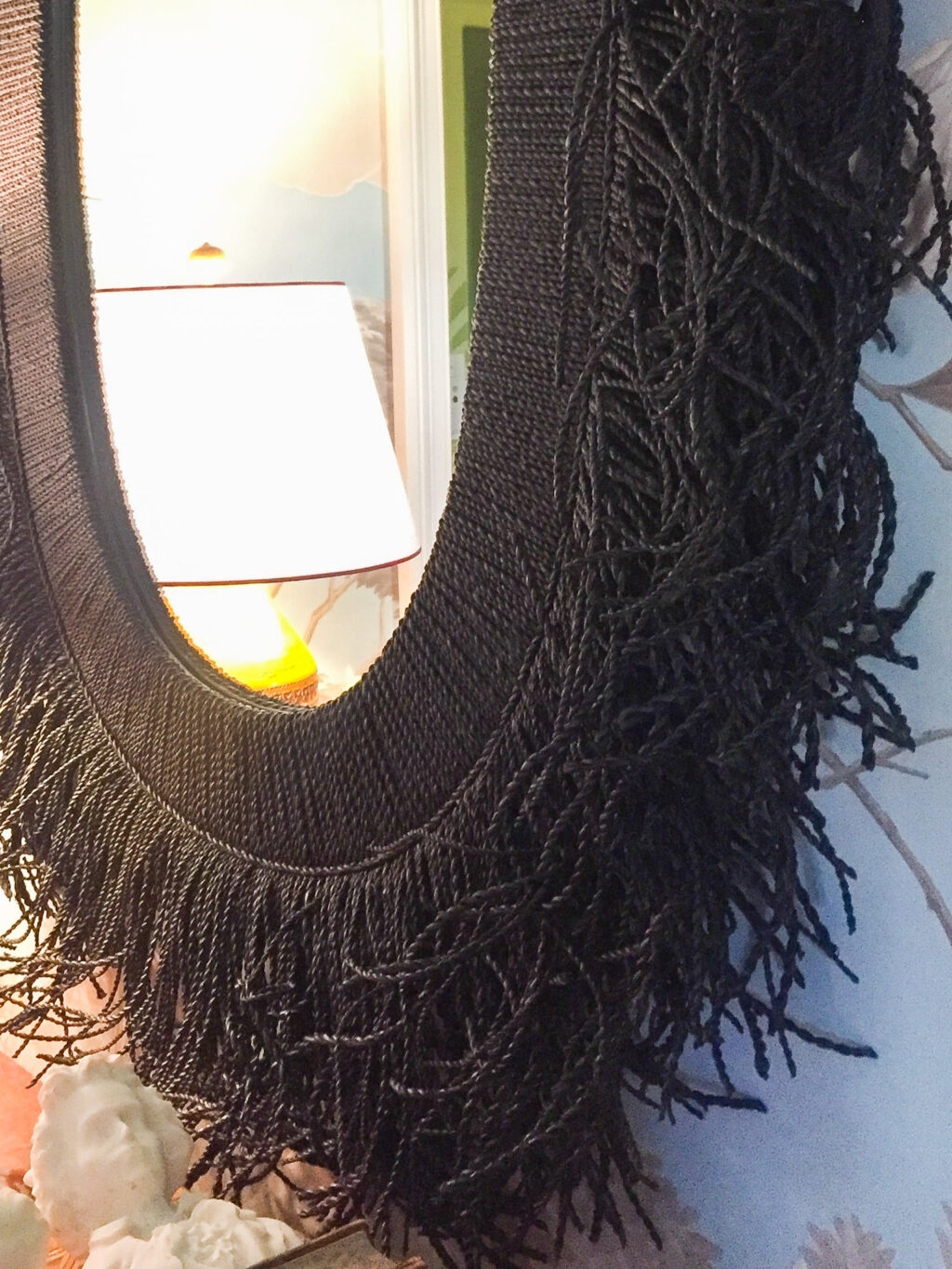 Betsy Wentz & Tom Kirchoff His & Her Bathroom & Closet Interior Design Ideas | 2020 Kips Bay Palm Beach Decorator Showhouse
Using bold pops of color and patterns are on display in the master his and her bathrooms and closets. Using strong focal Florida gators oranged, the next few closet and master bathroom photos are by Palm Beach-based ​Tom Kirchhoff​ of ​Kirchhoff & Associates Architects​ and Pittsburgh-based, and House Beautiful featured ​interior designer Betsy Wentz​. 
My favorite part of this fabric and wallcovering mix is the most understated in this image – look closely at the bench back covered in F. Schumacher's Robert Burns multi-colored typography.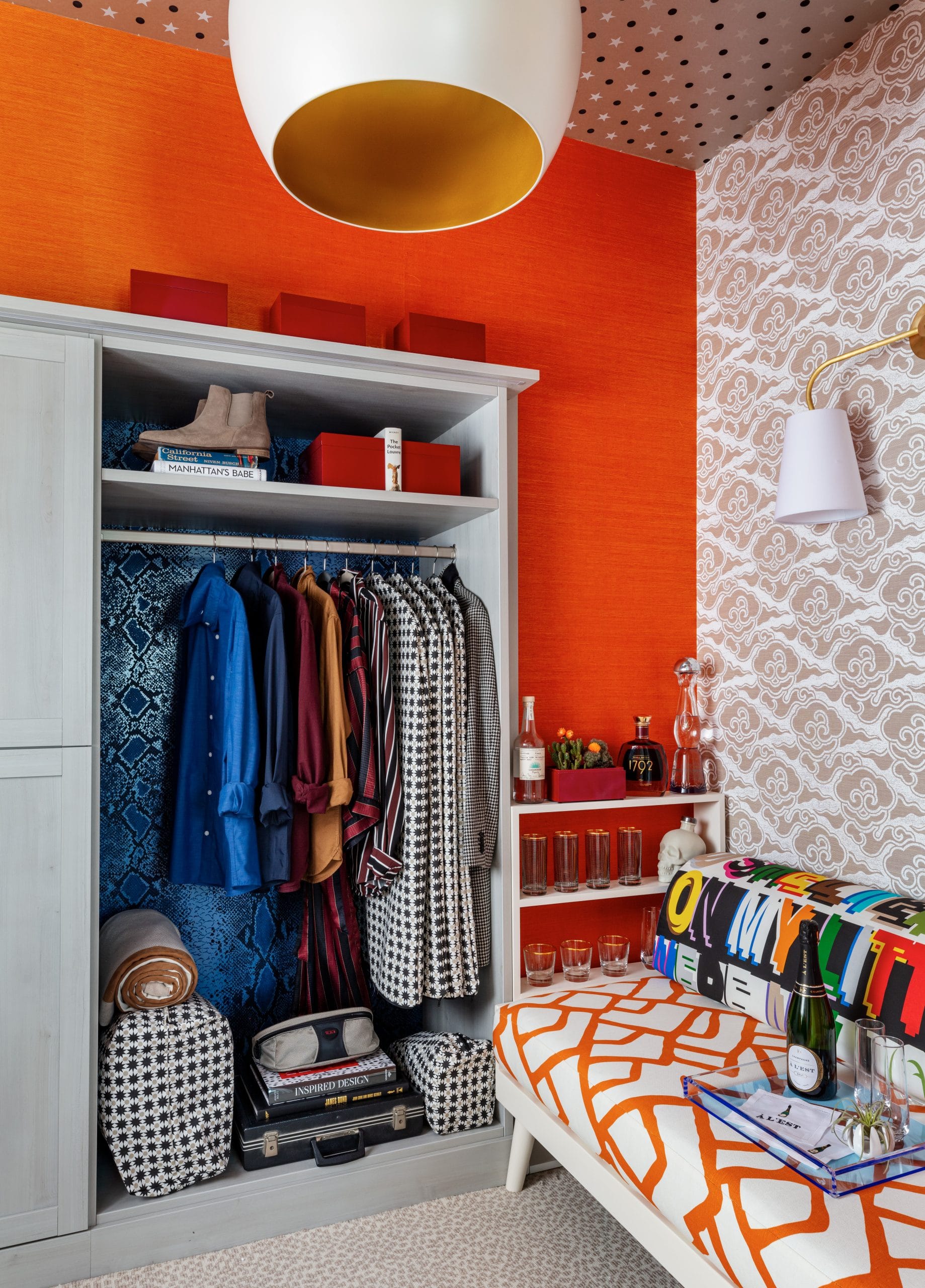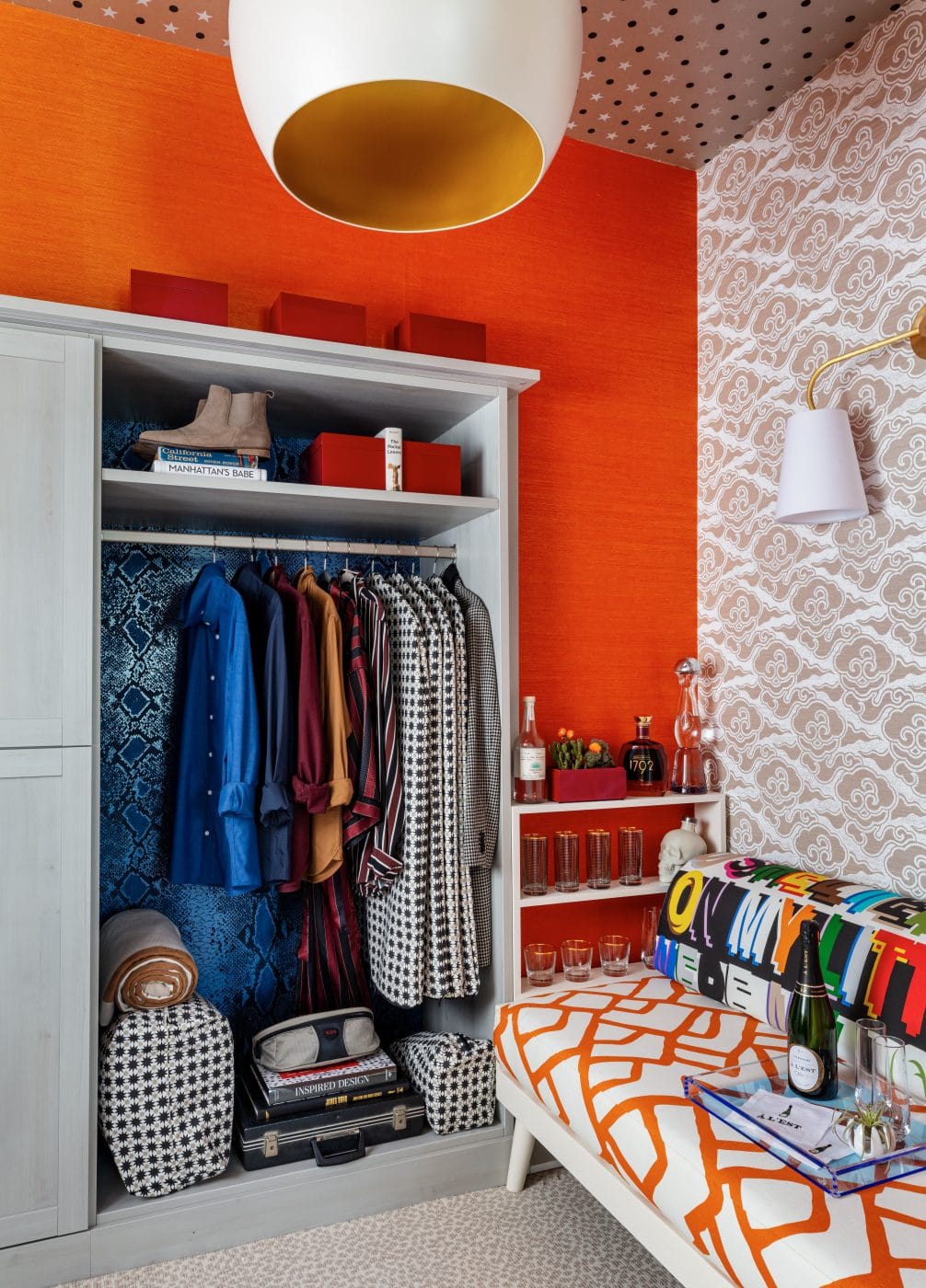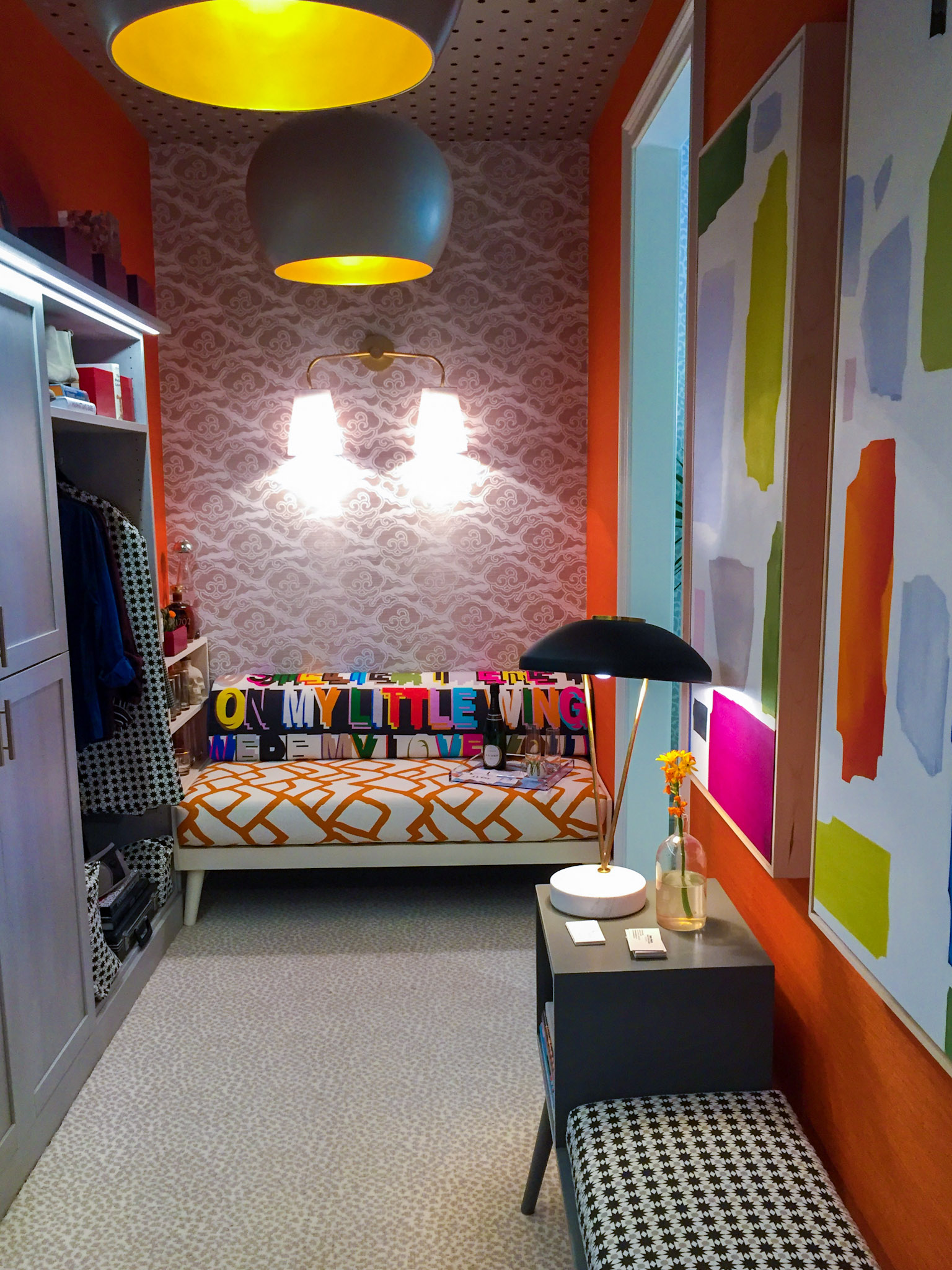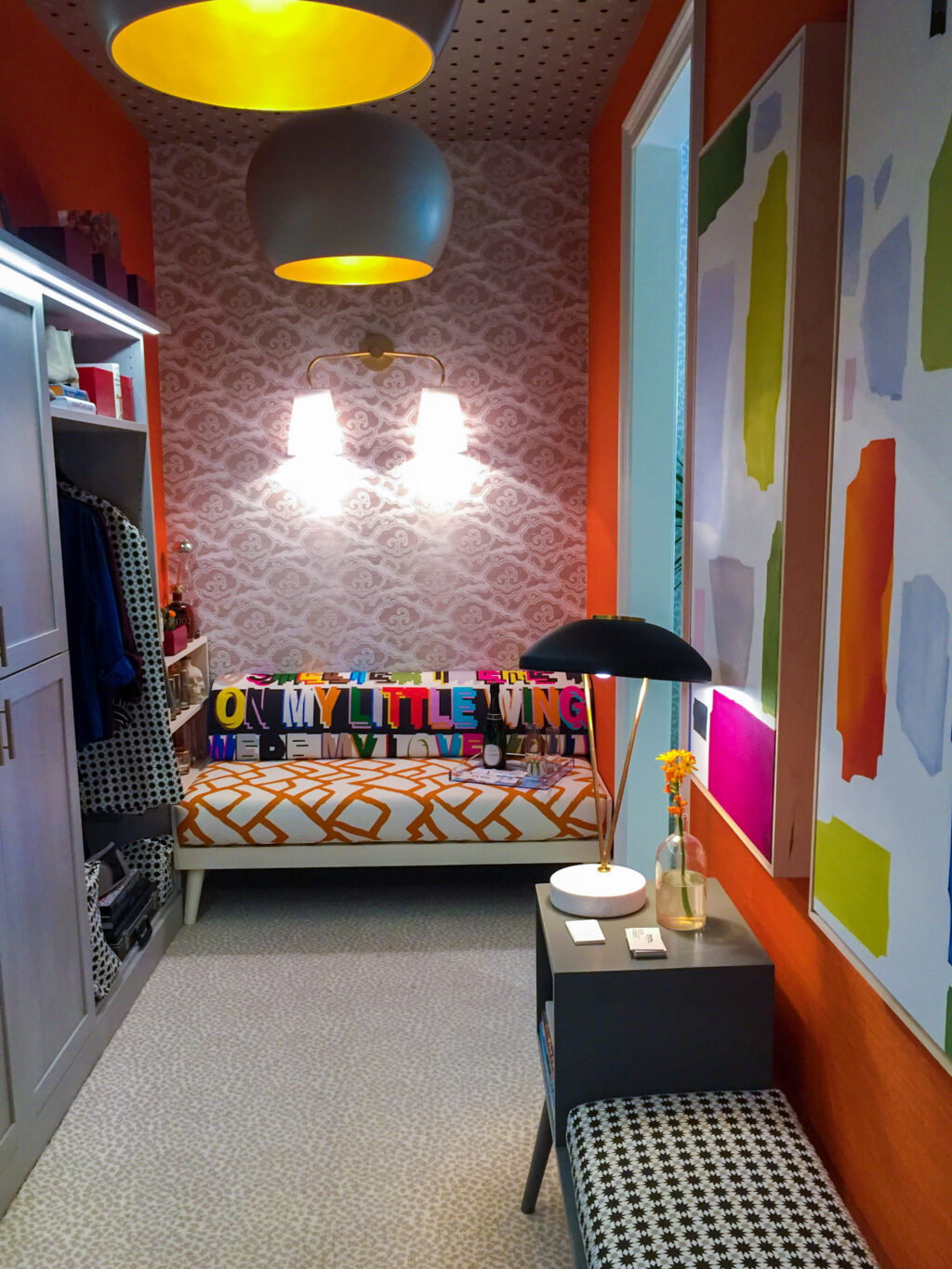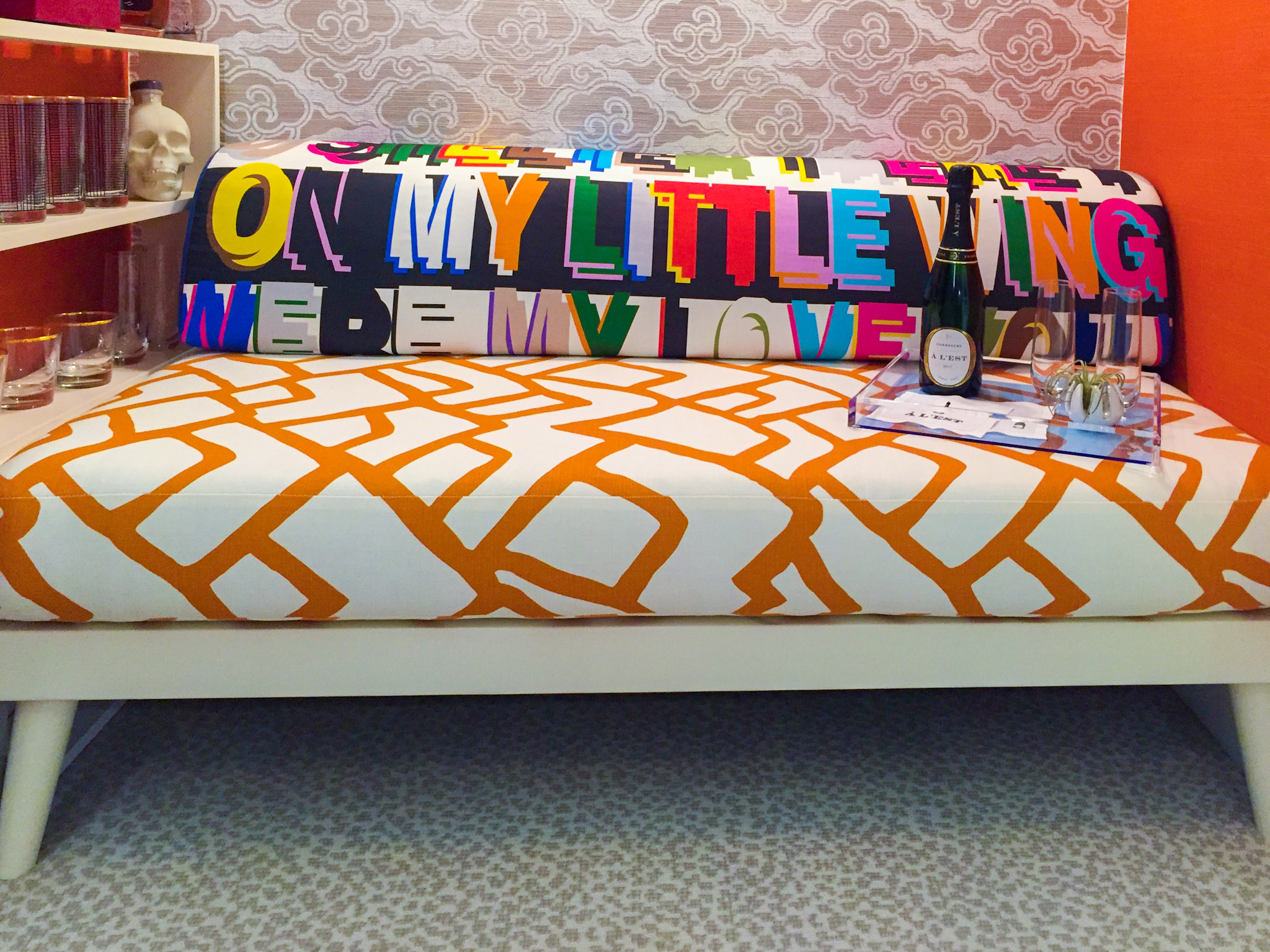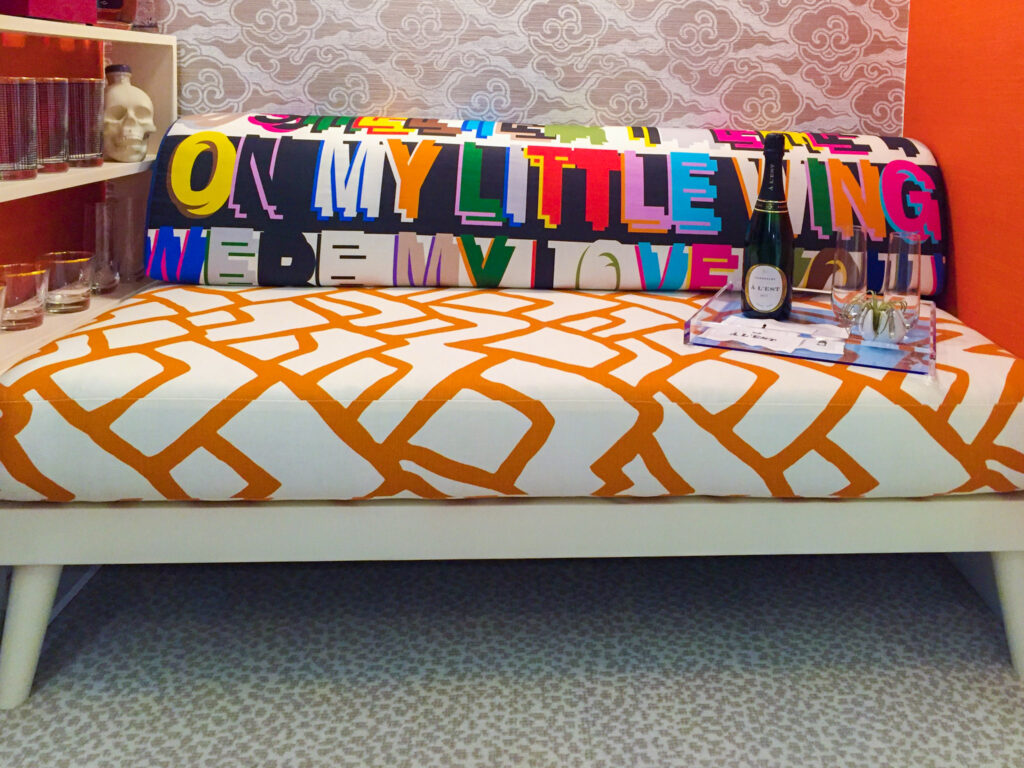 Interior Design Ideas |  2020 Kips Bay Palm Beach Decorator Showhouse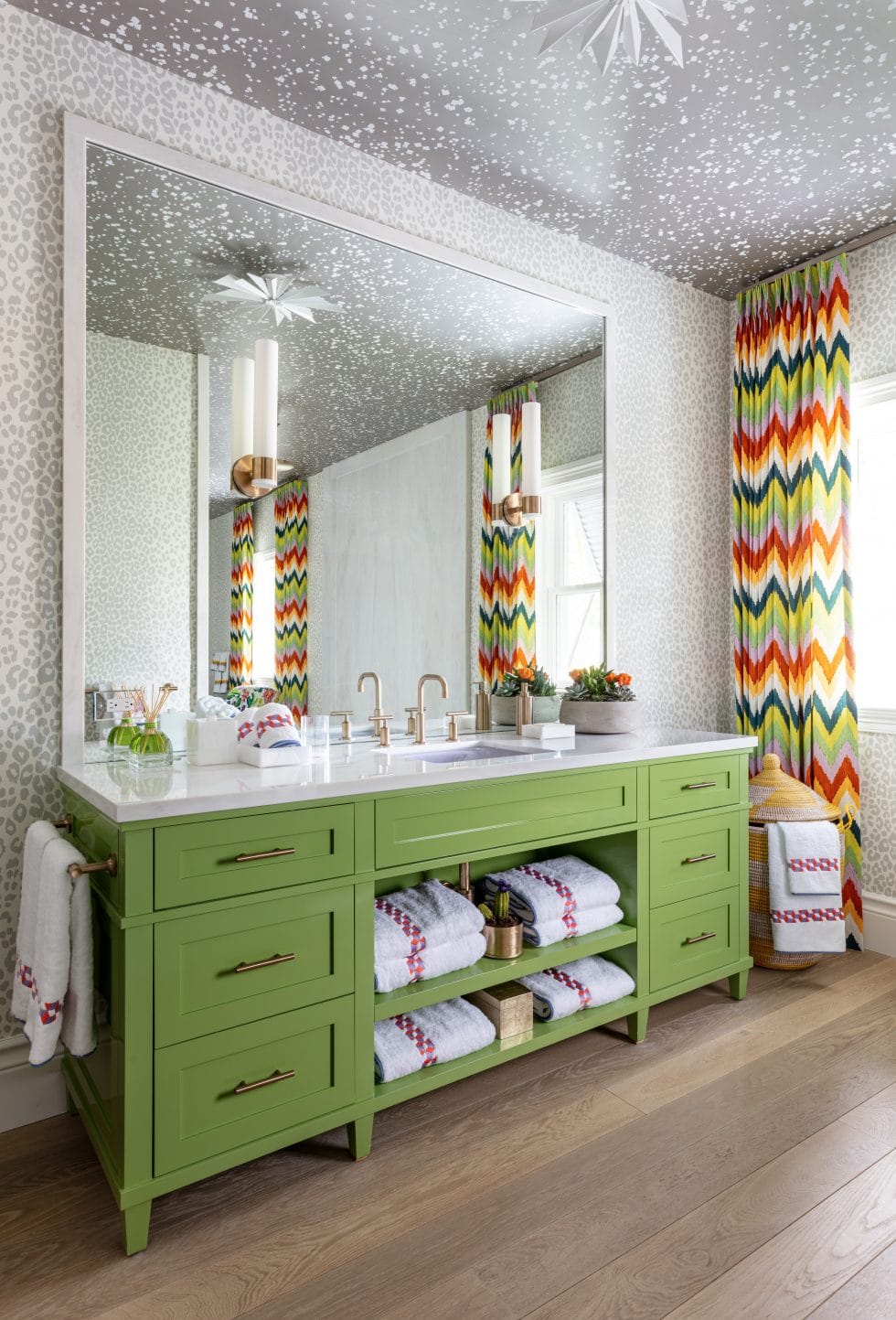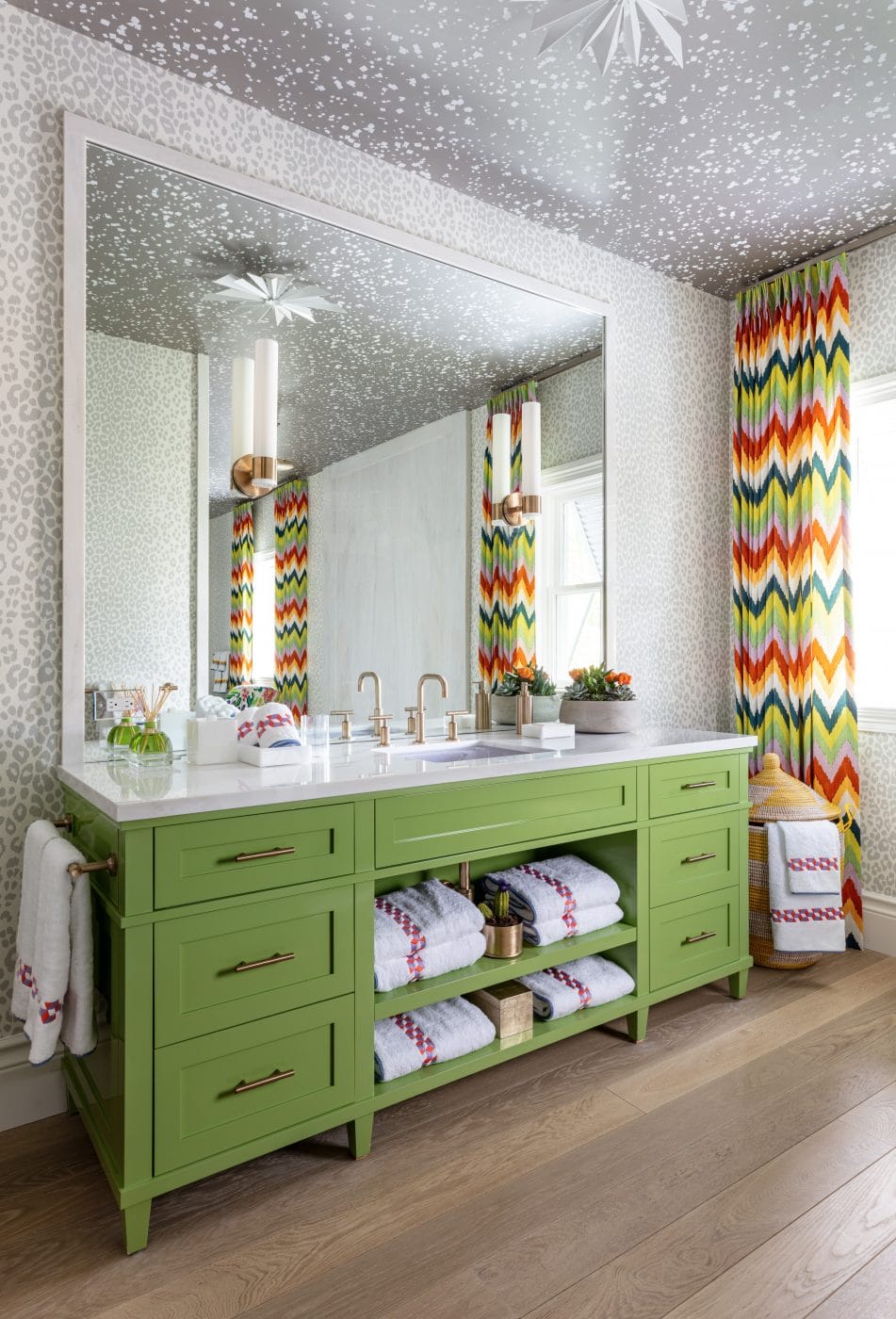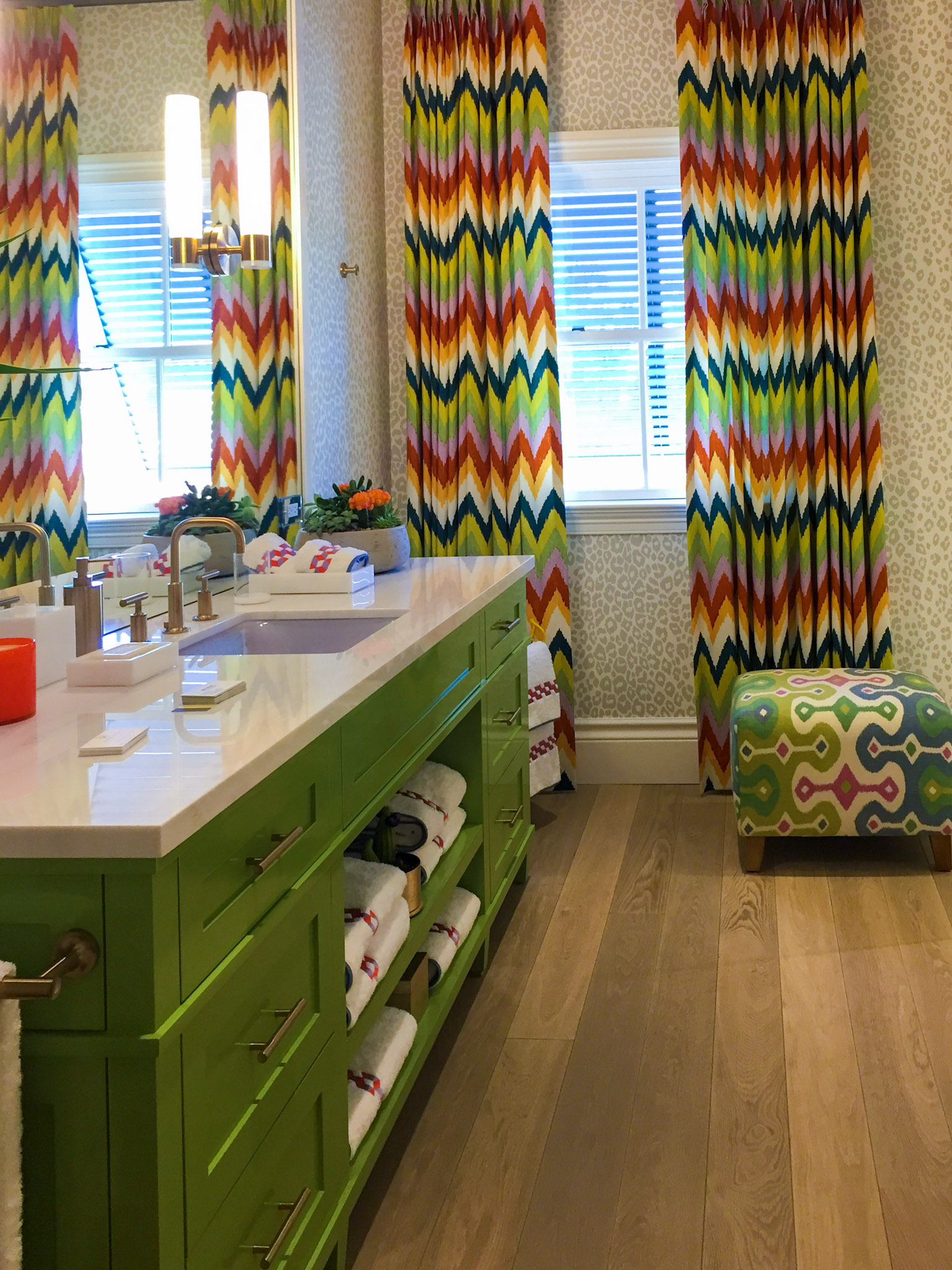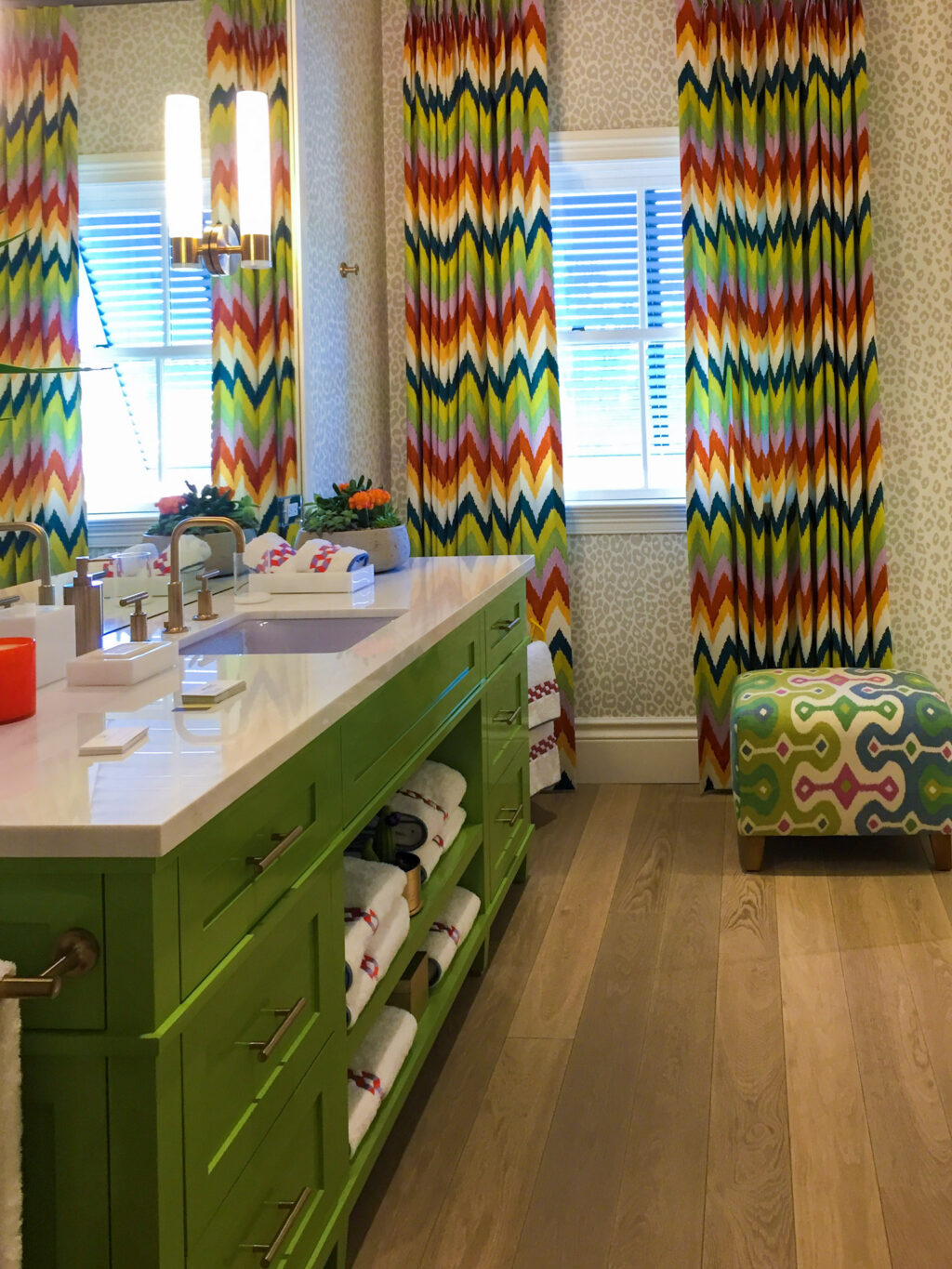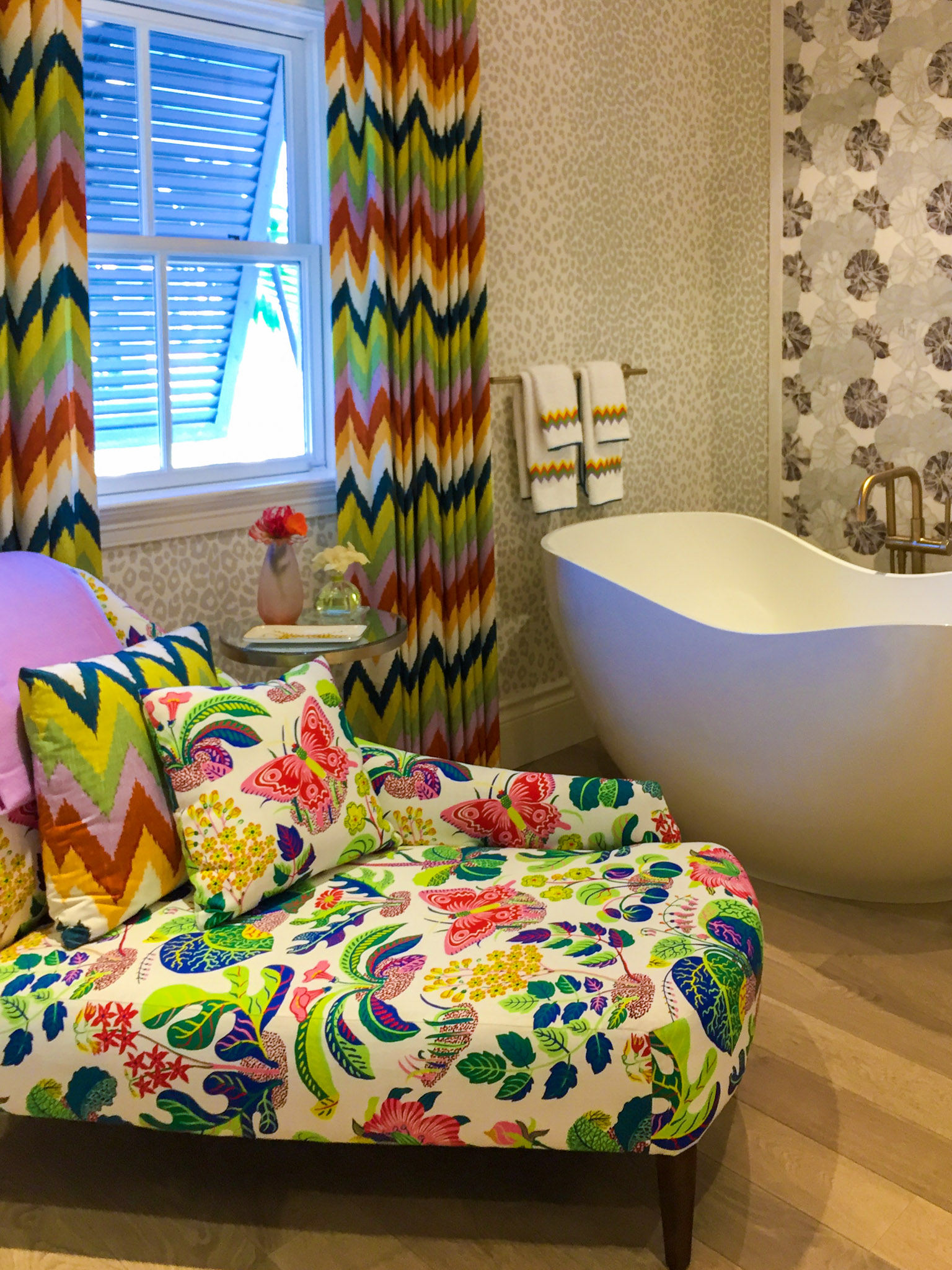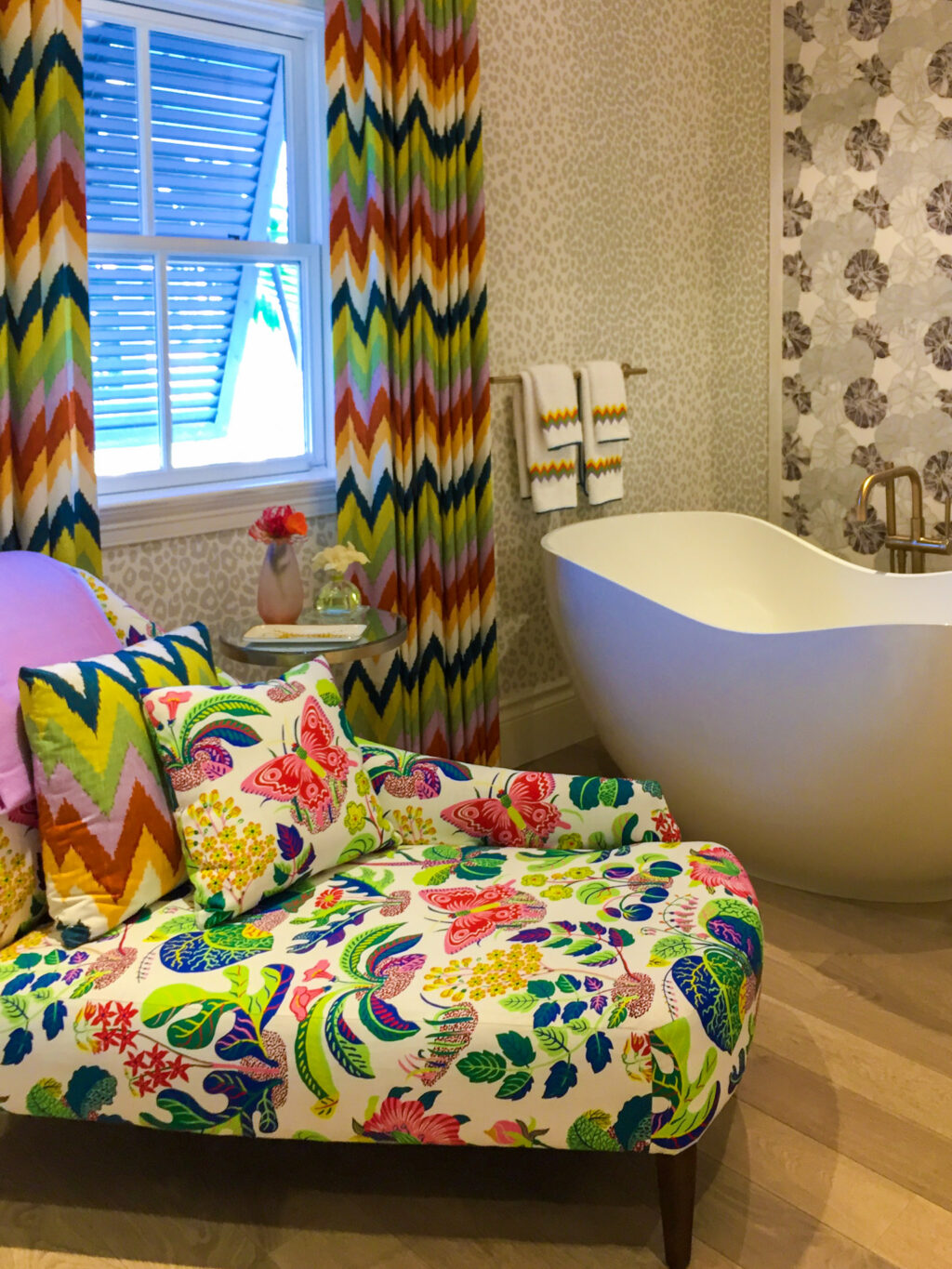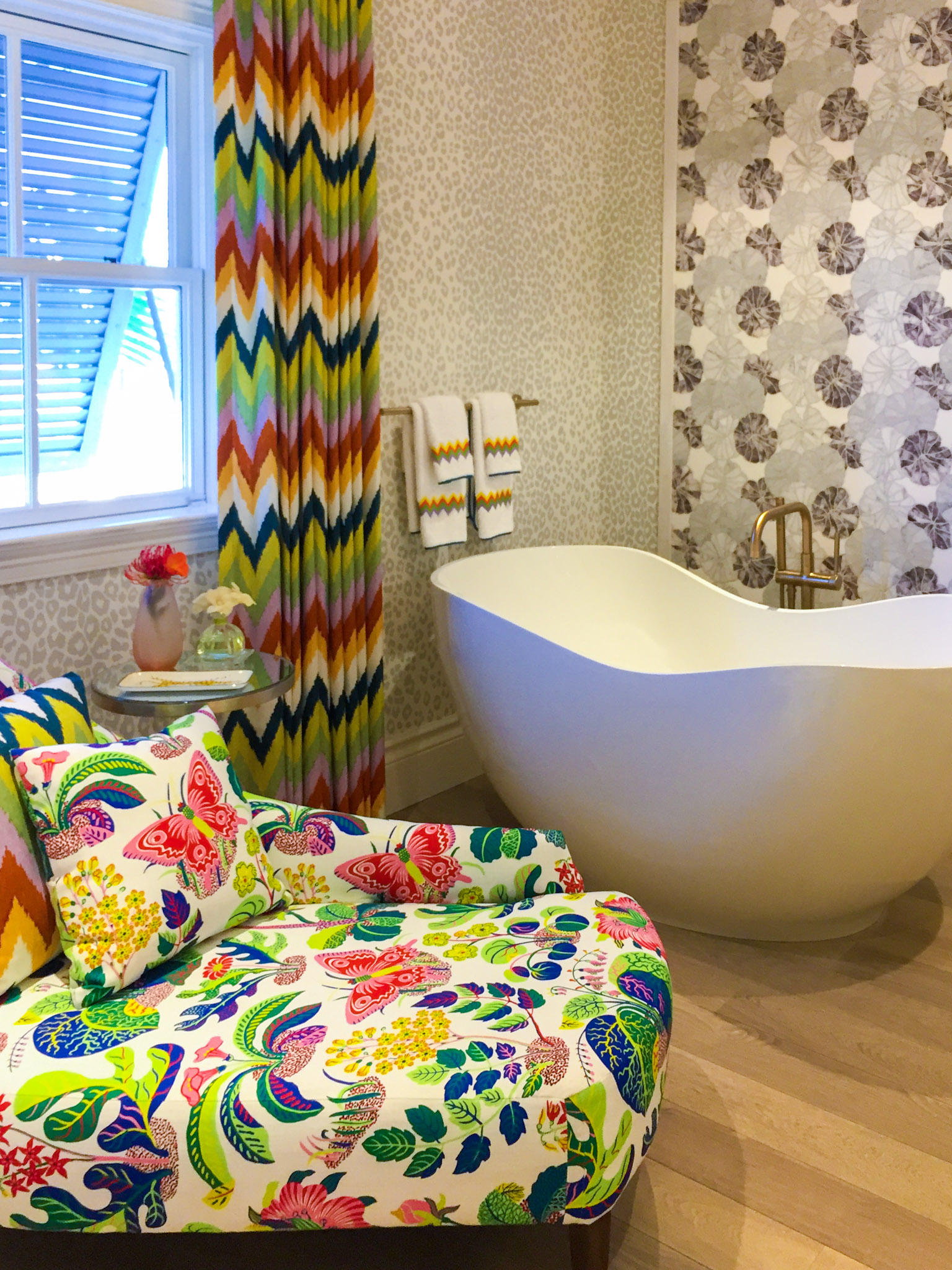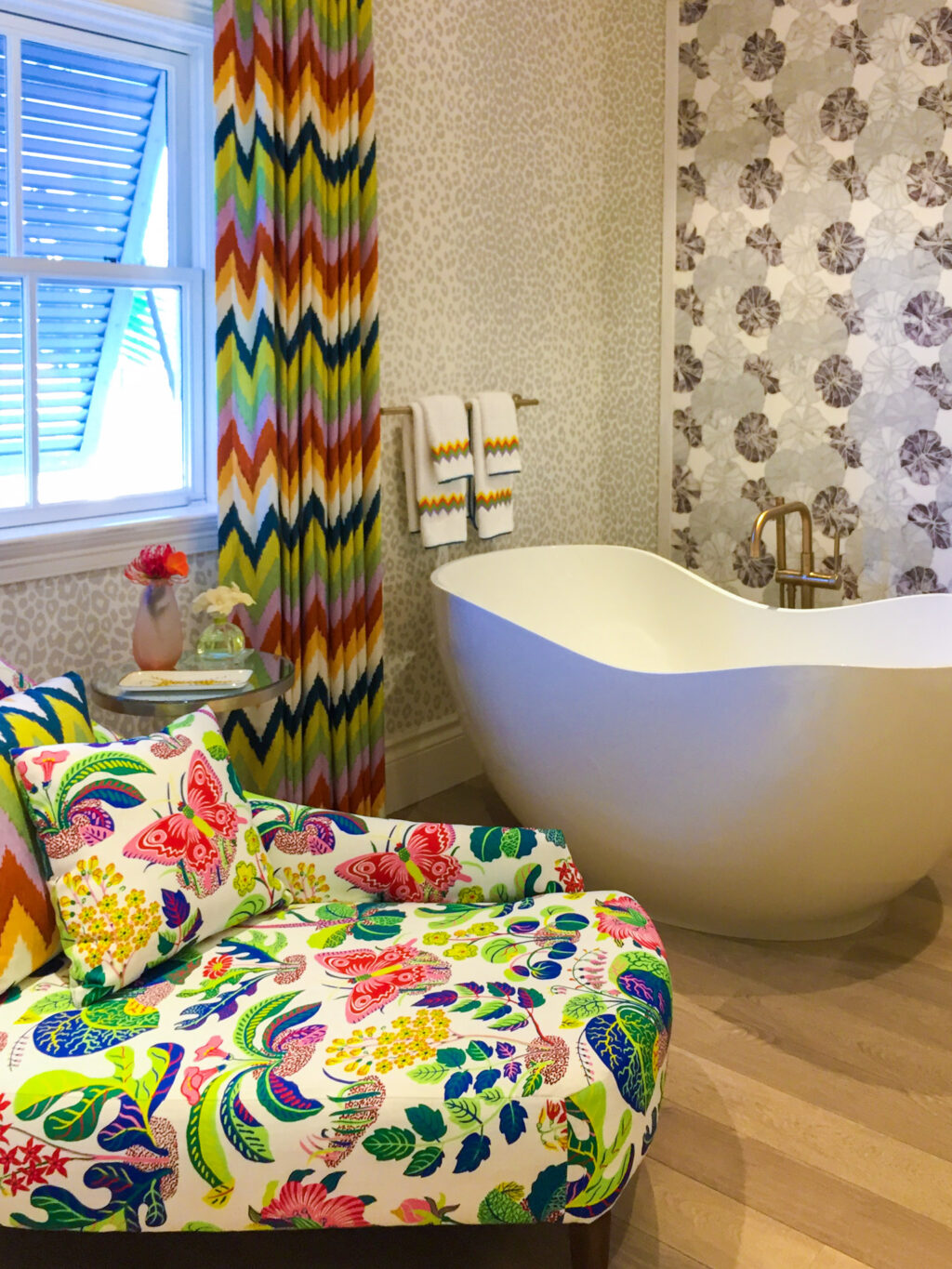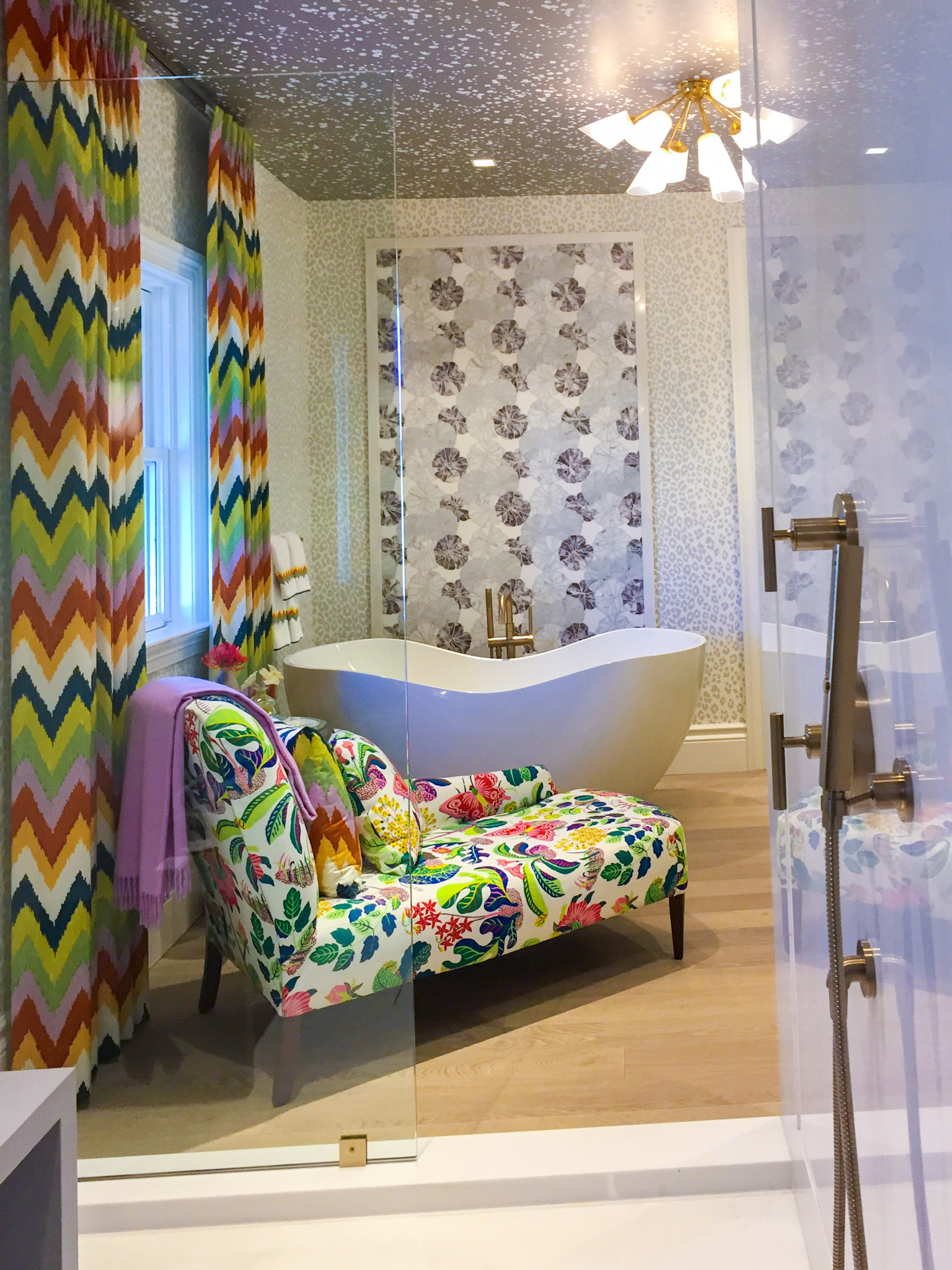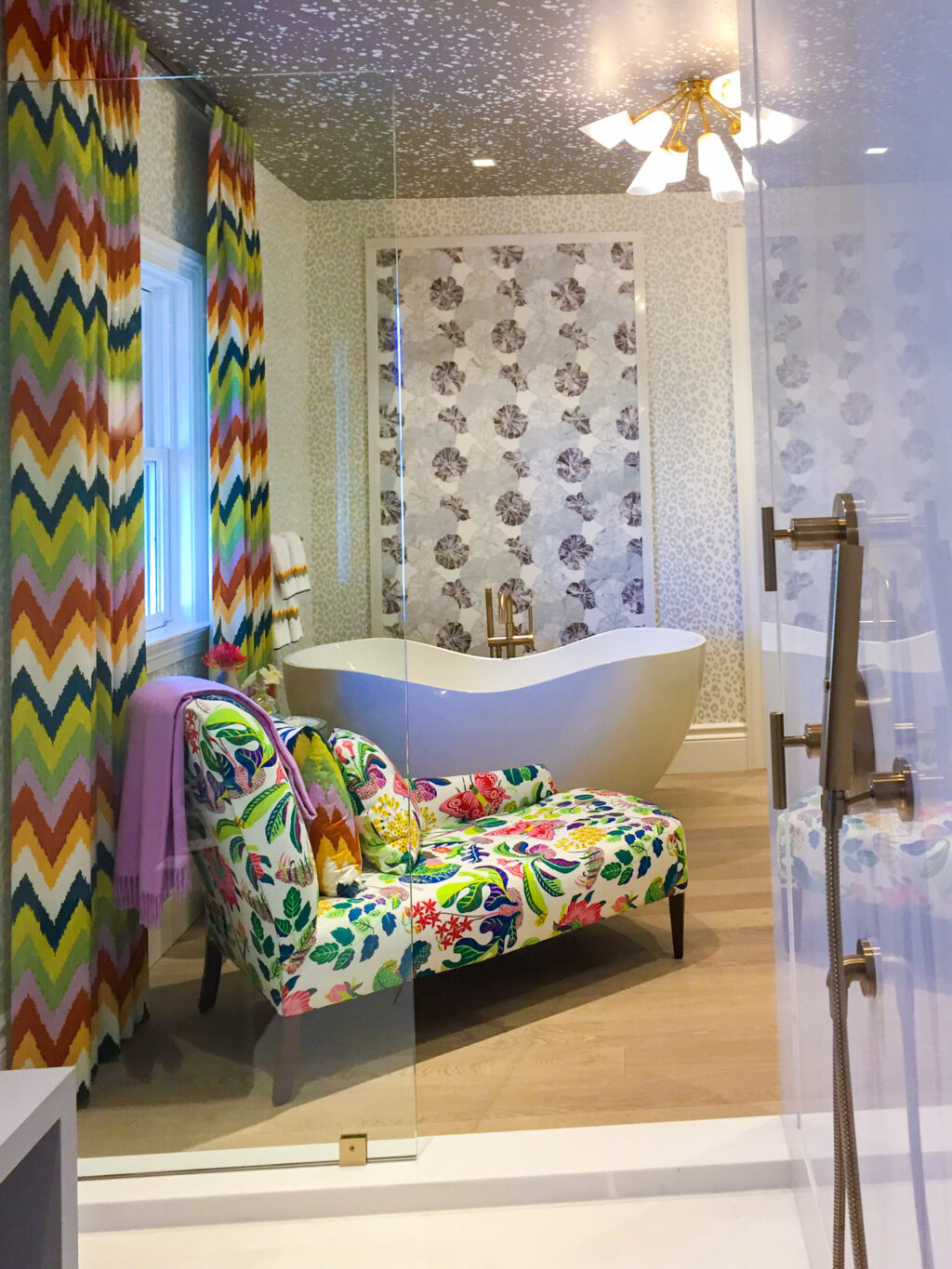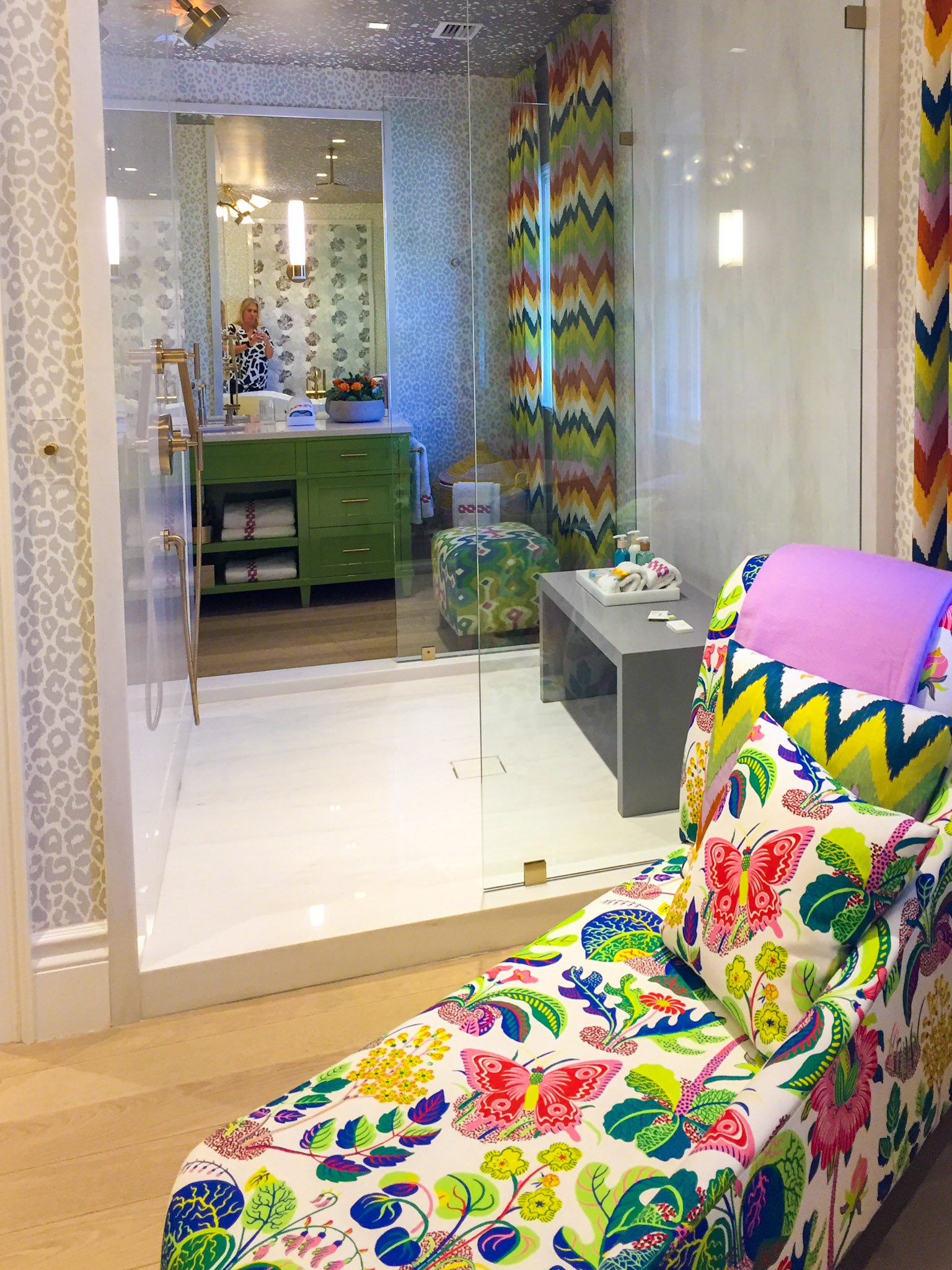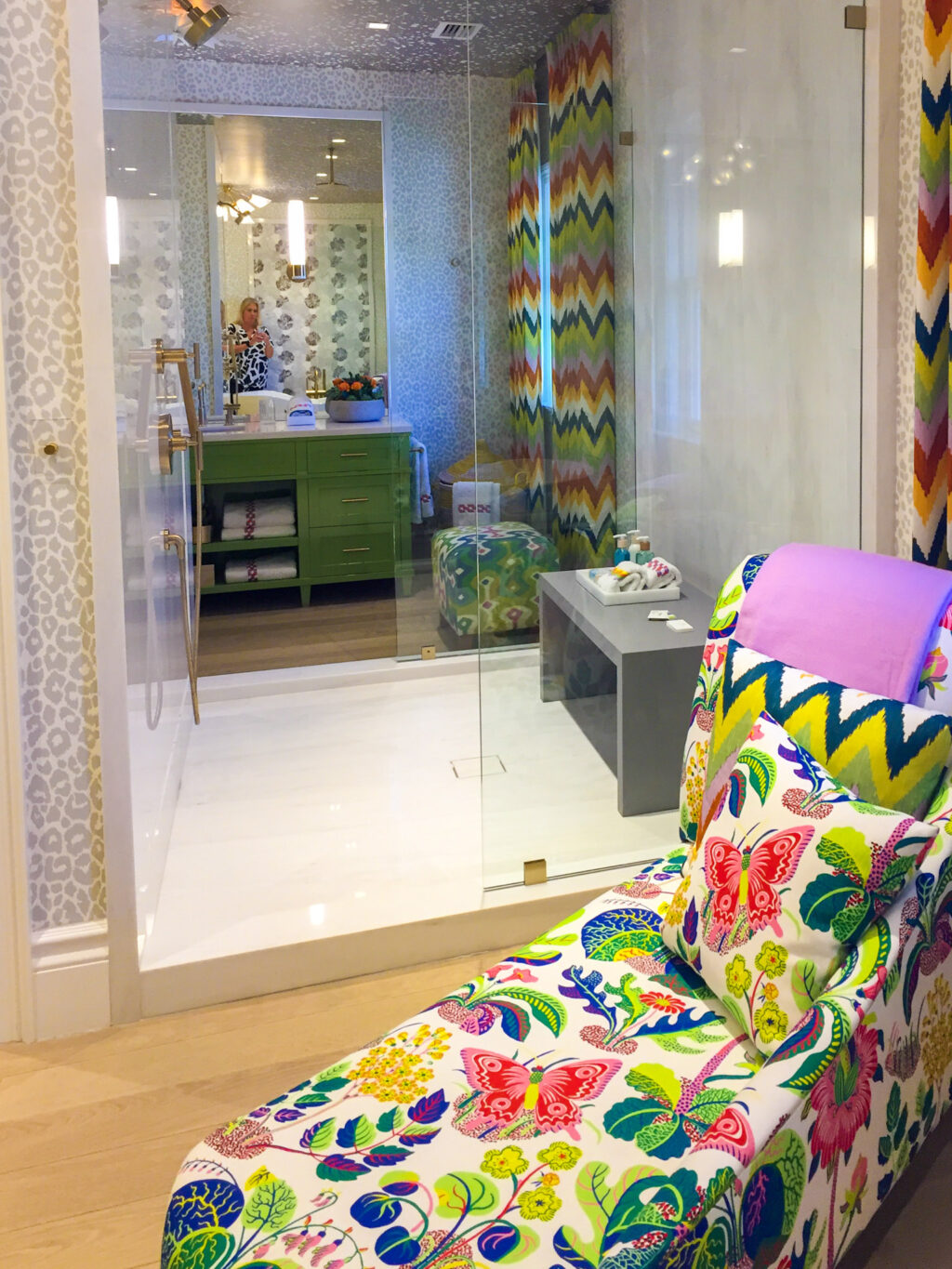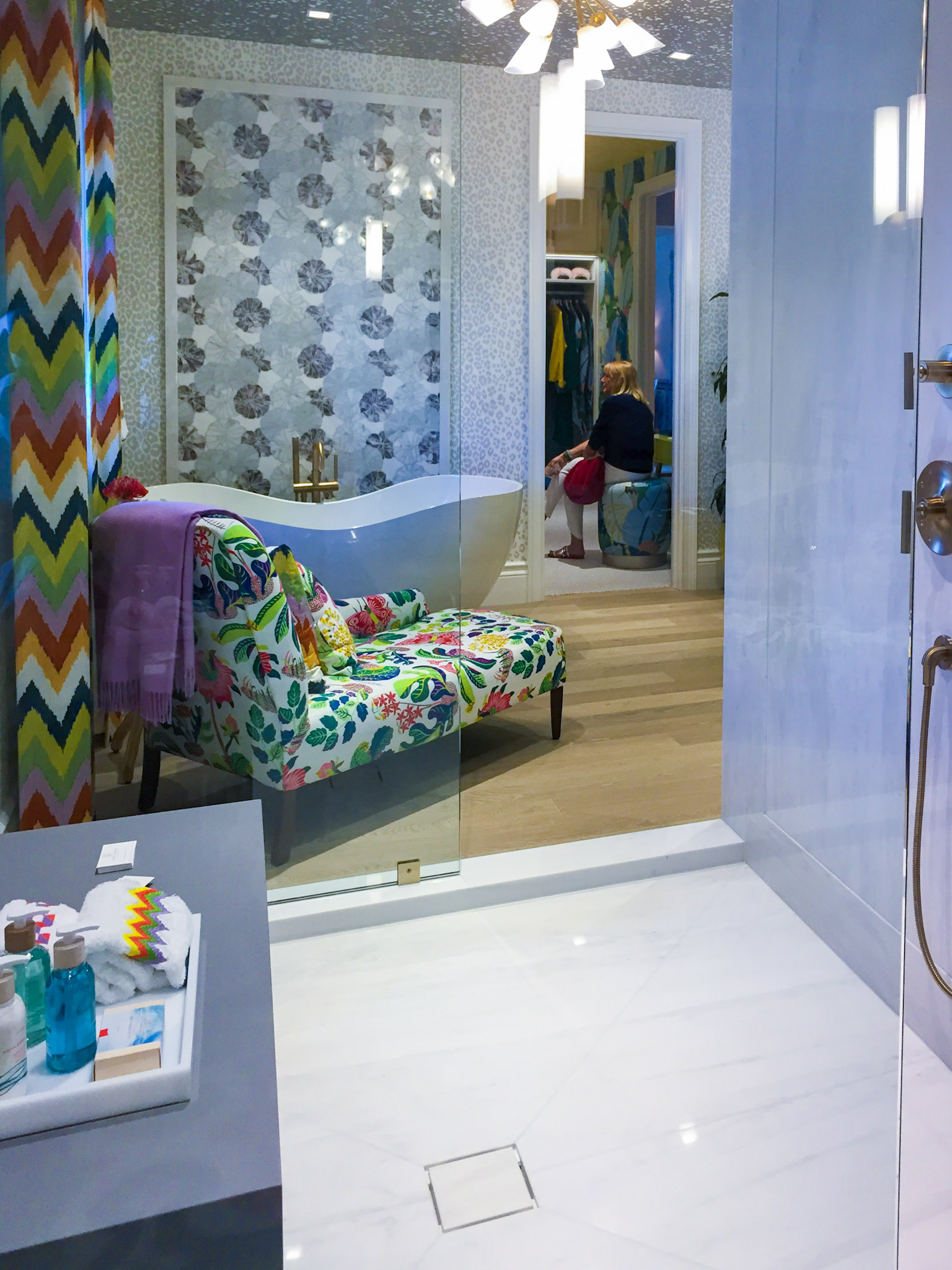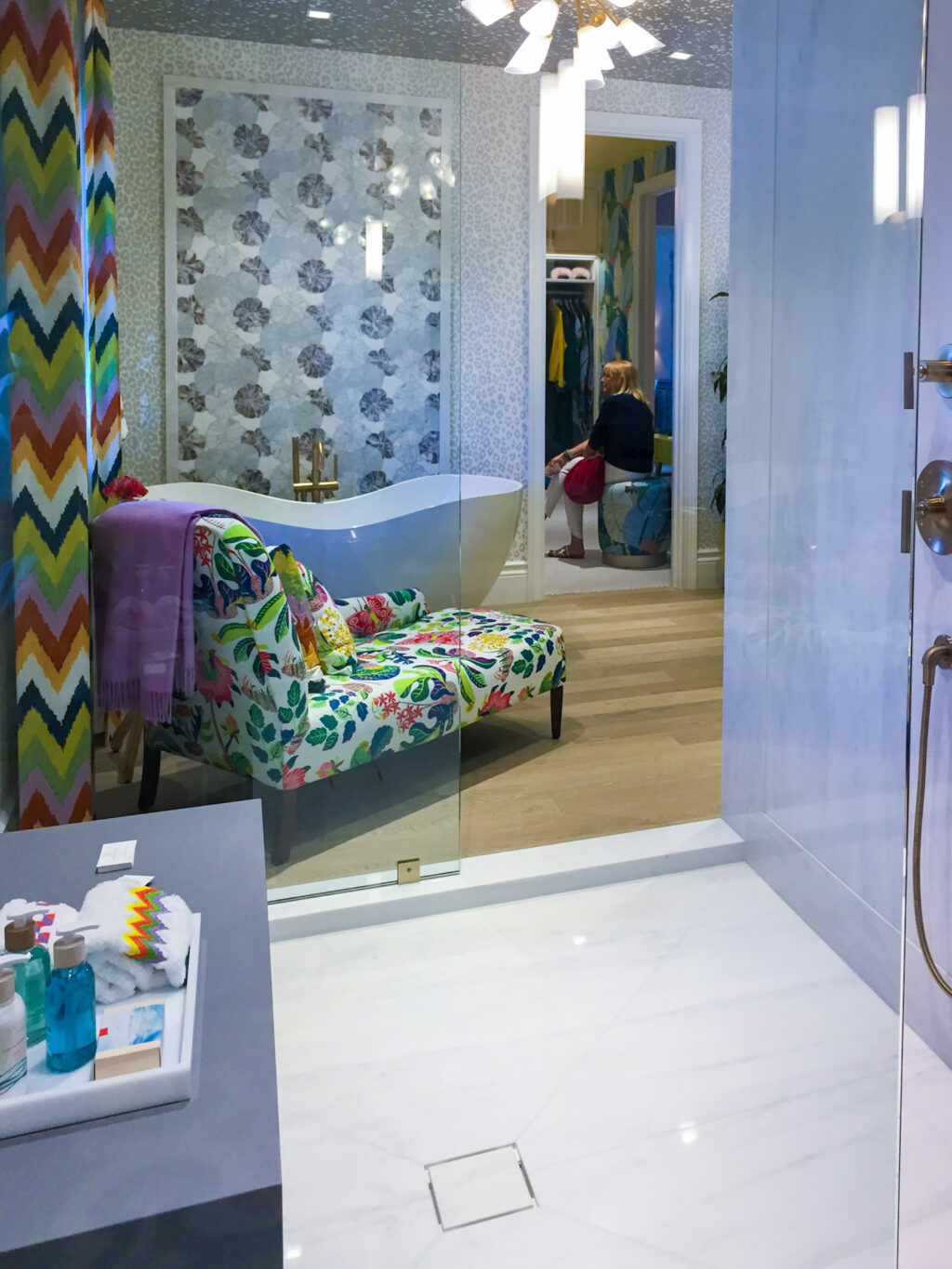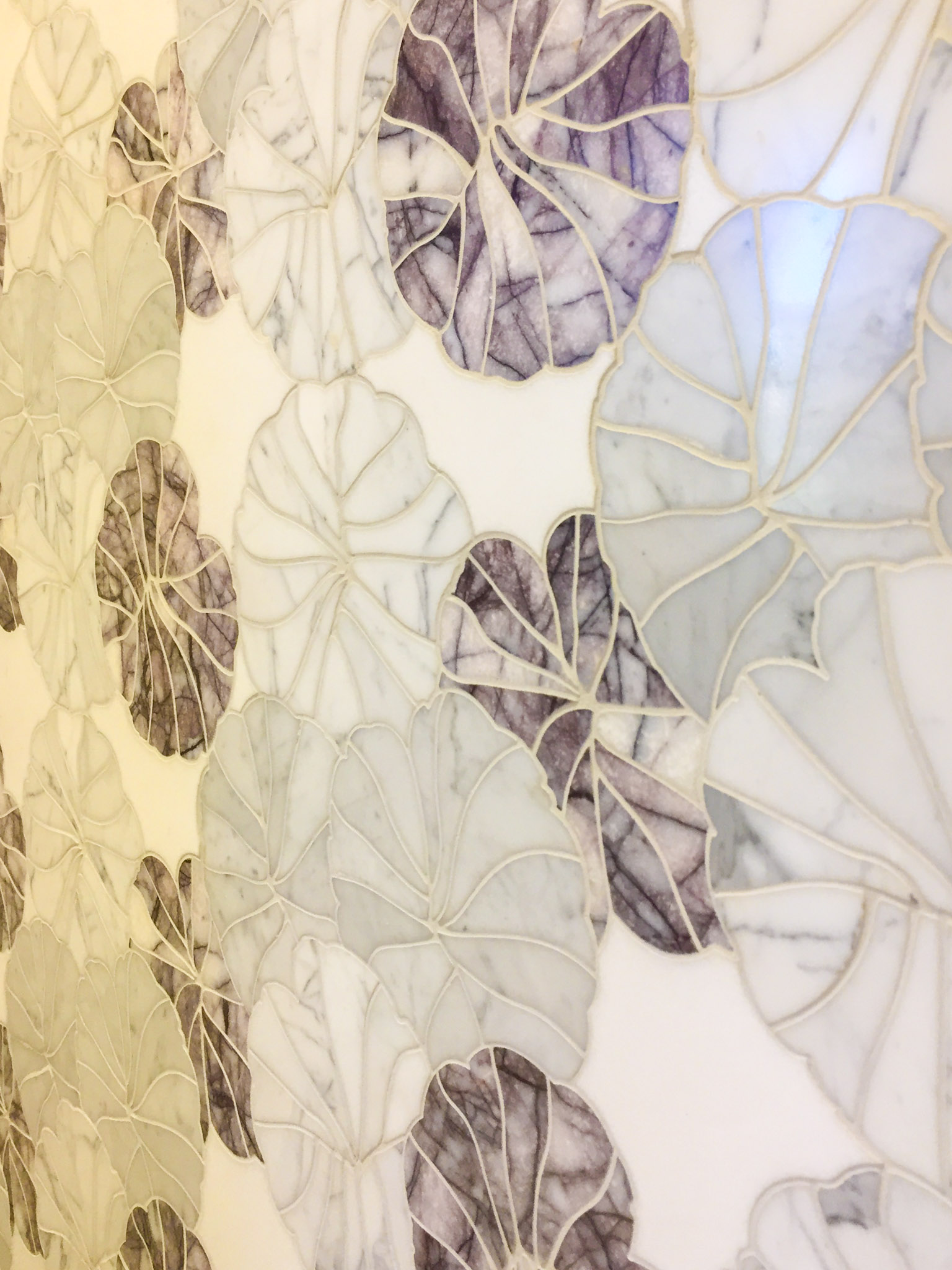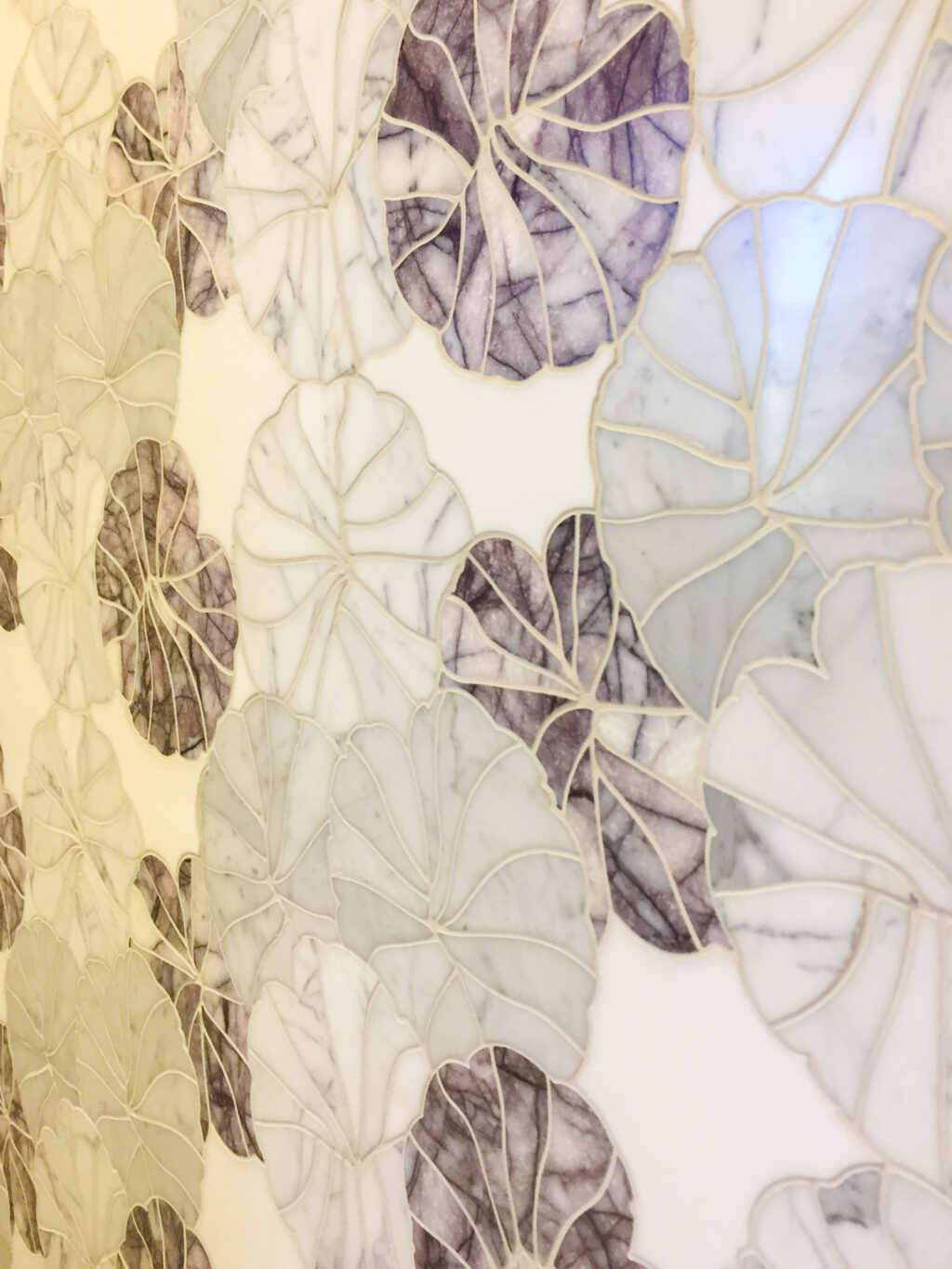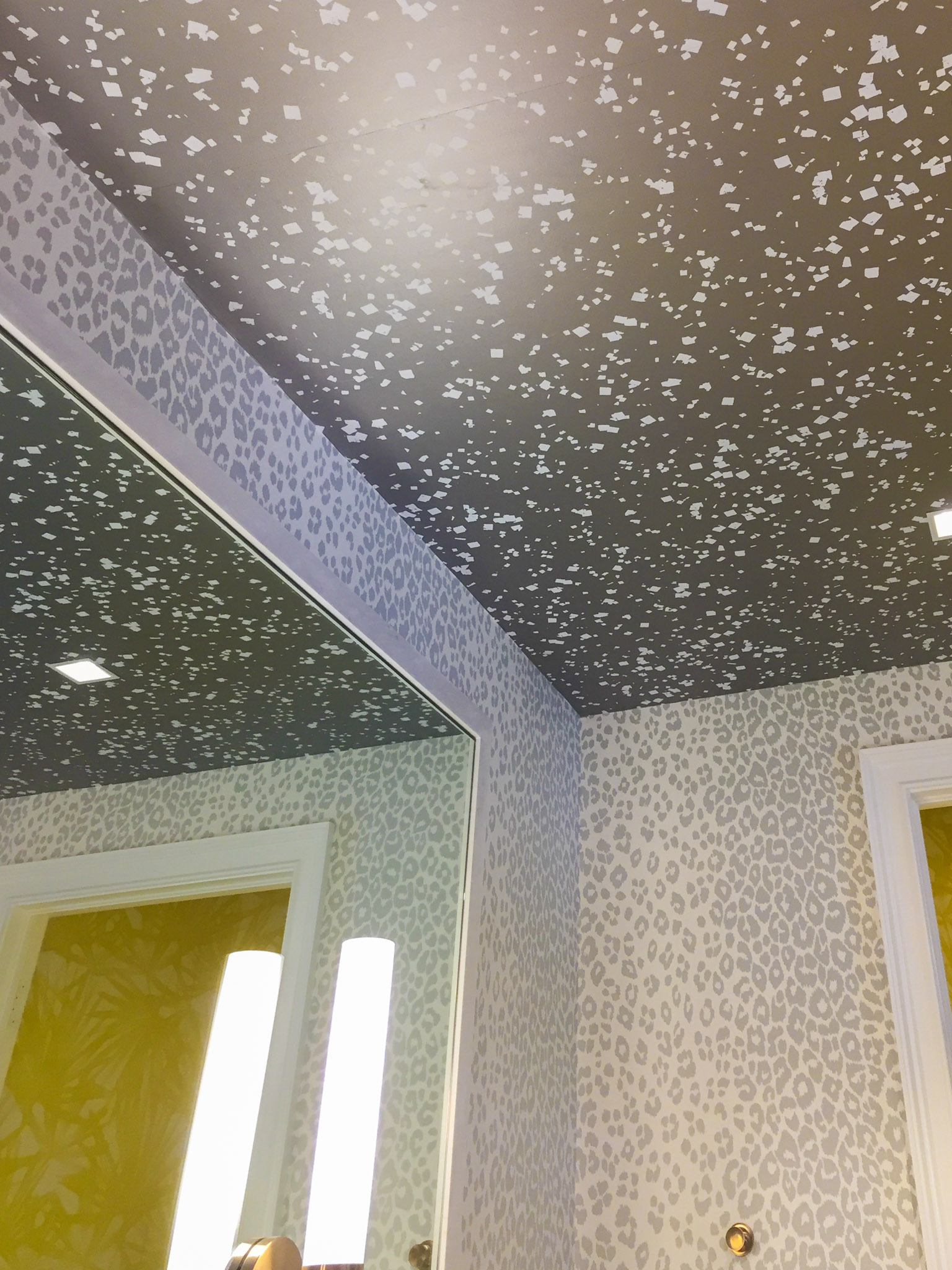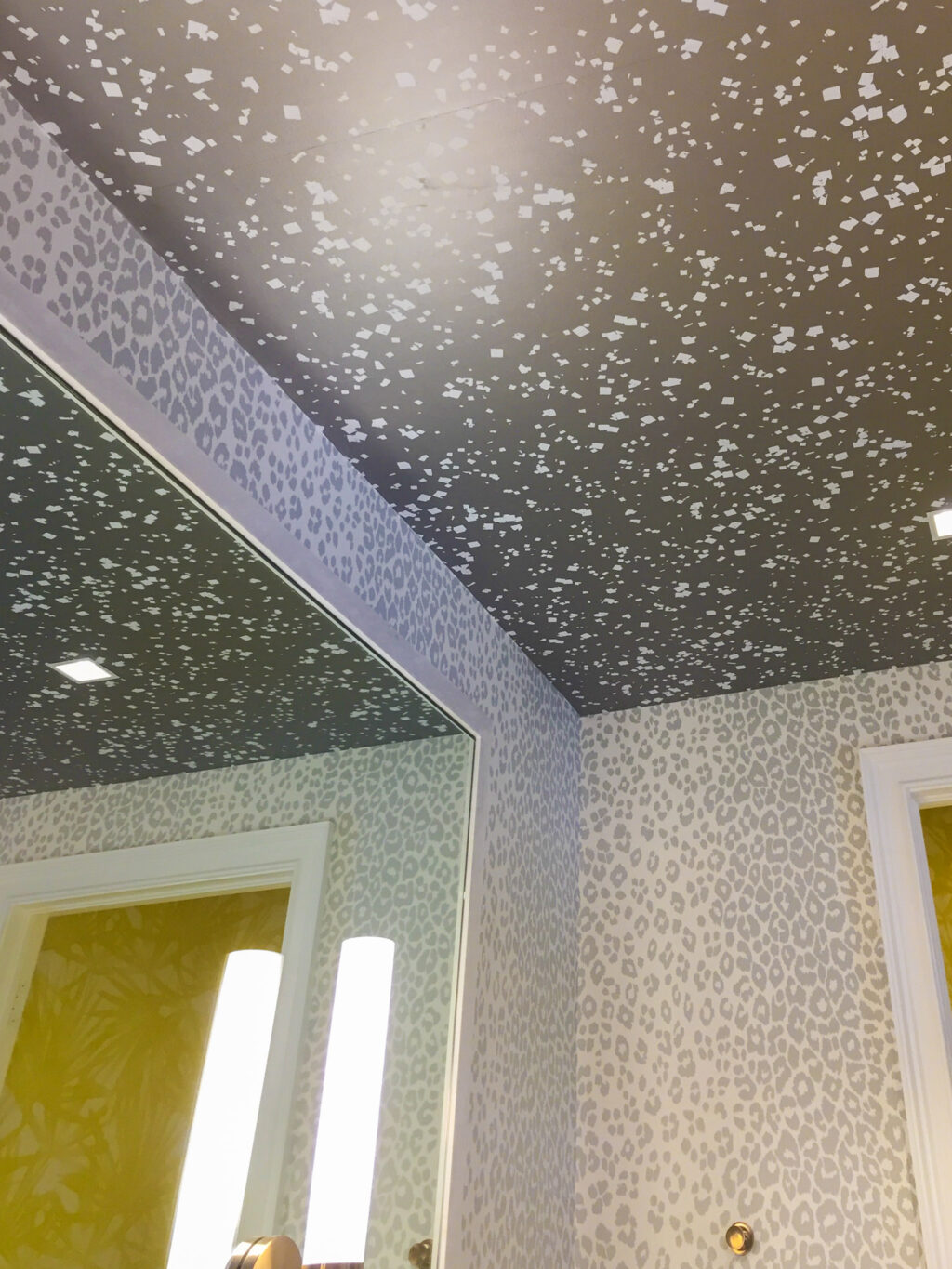 In her bathroom, ​KOHLER's​ Abrazo Freestanding Bath​ ​encompassed by a mosaic tile wall by Ceramic Matrix takes center stage. In both bathrooms, lime green vanities with ​KOHLER's​ Iron Plains Under-Mount sink in grey lavender command attention. A large center shower joins the his and her dressing areas which boast personality and flair courtesy of eye-popping wallcoverings and fabrics, whimsical prints, and closet systems by ​The Container Store.​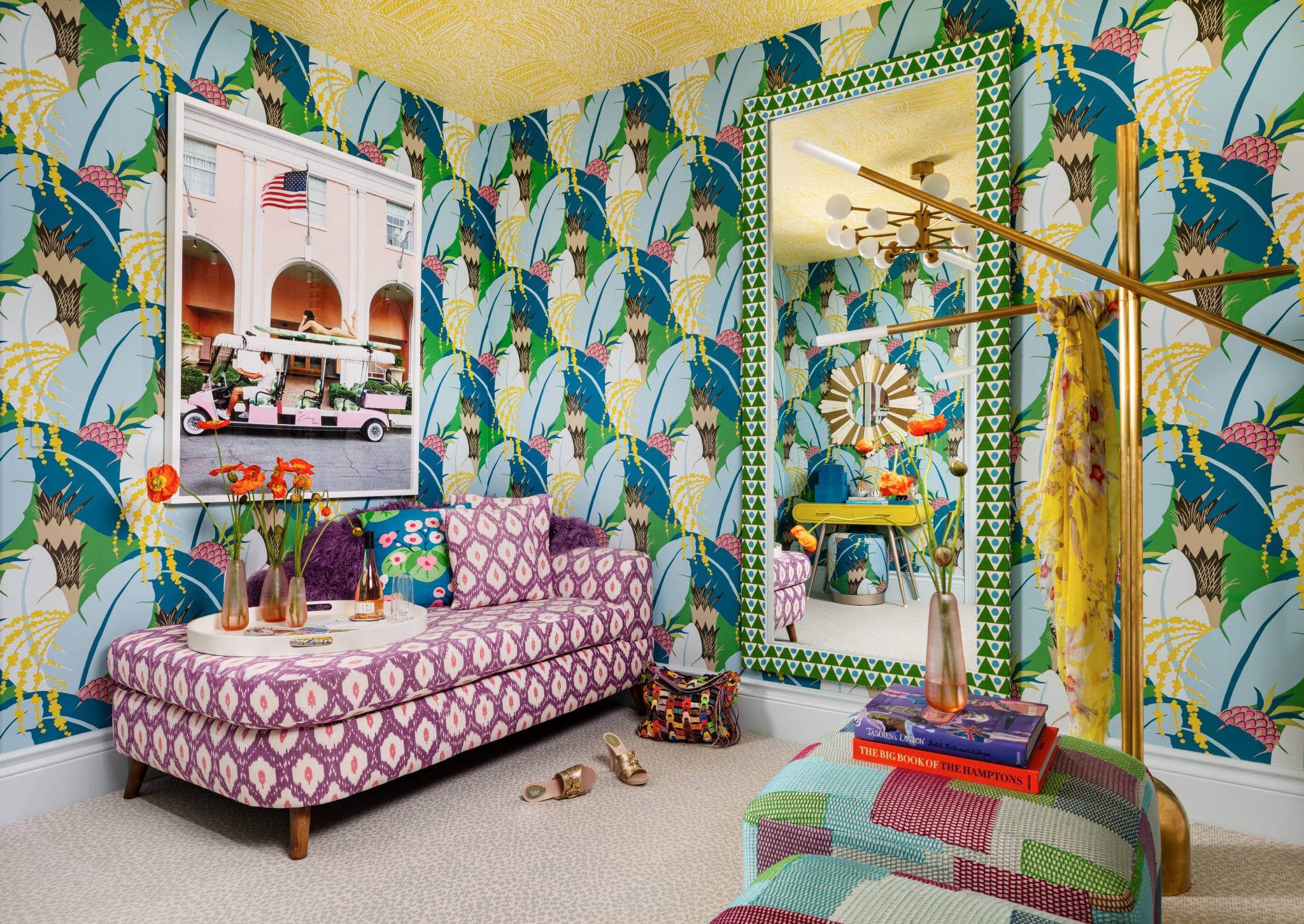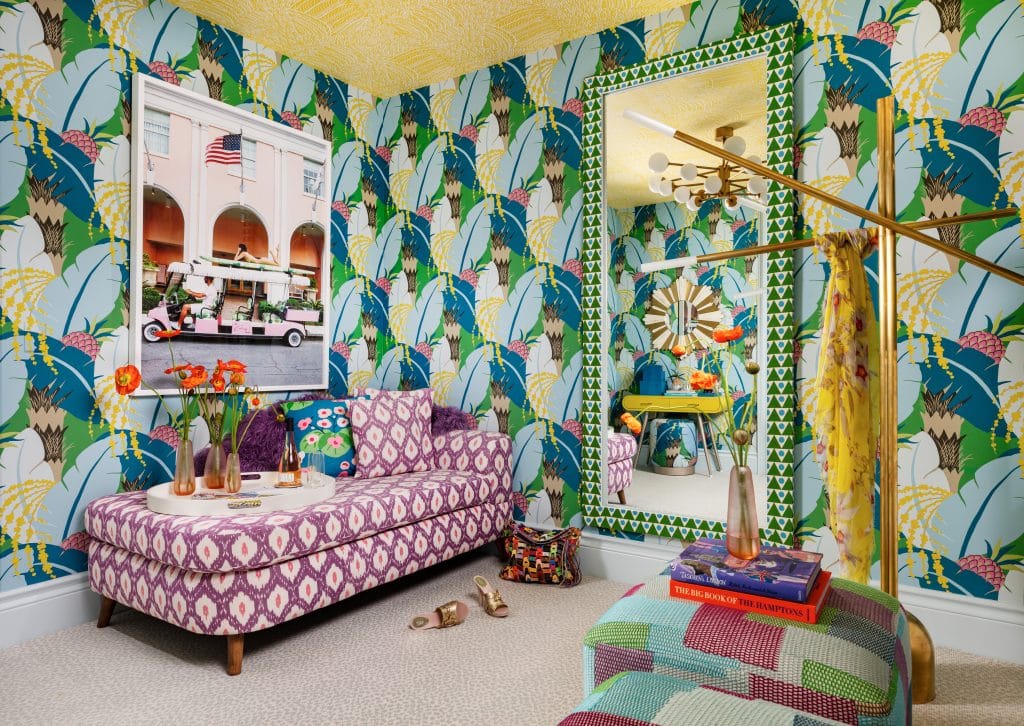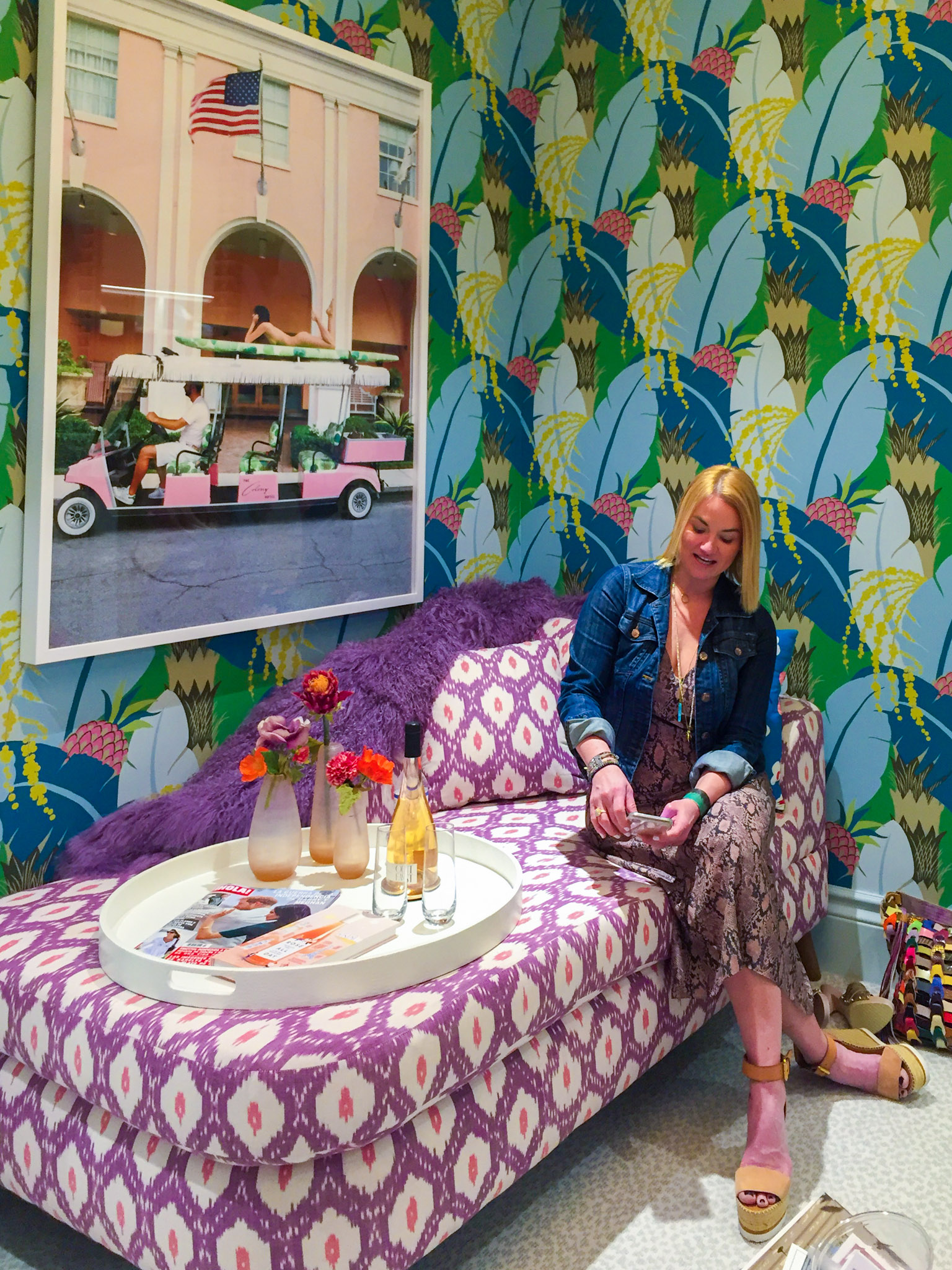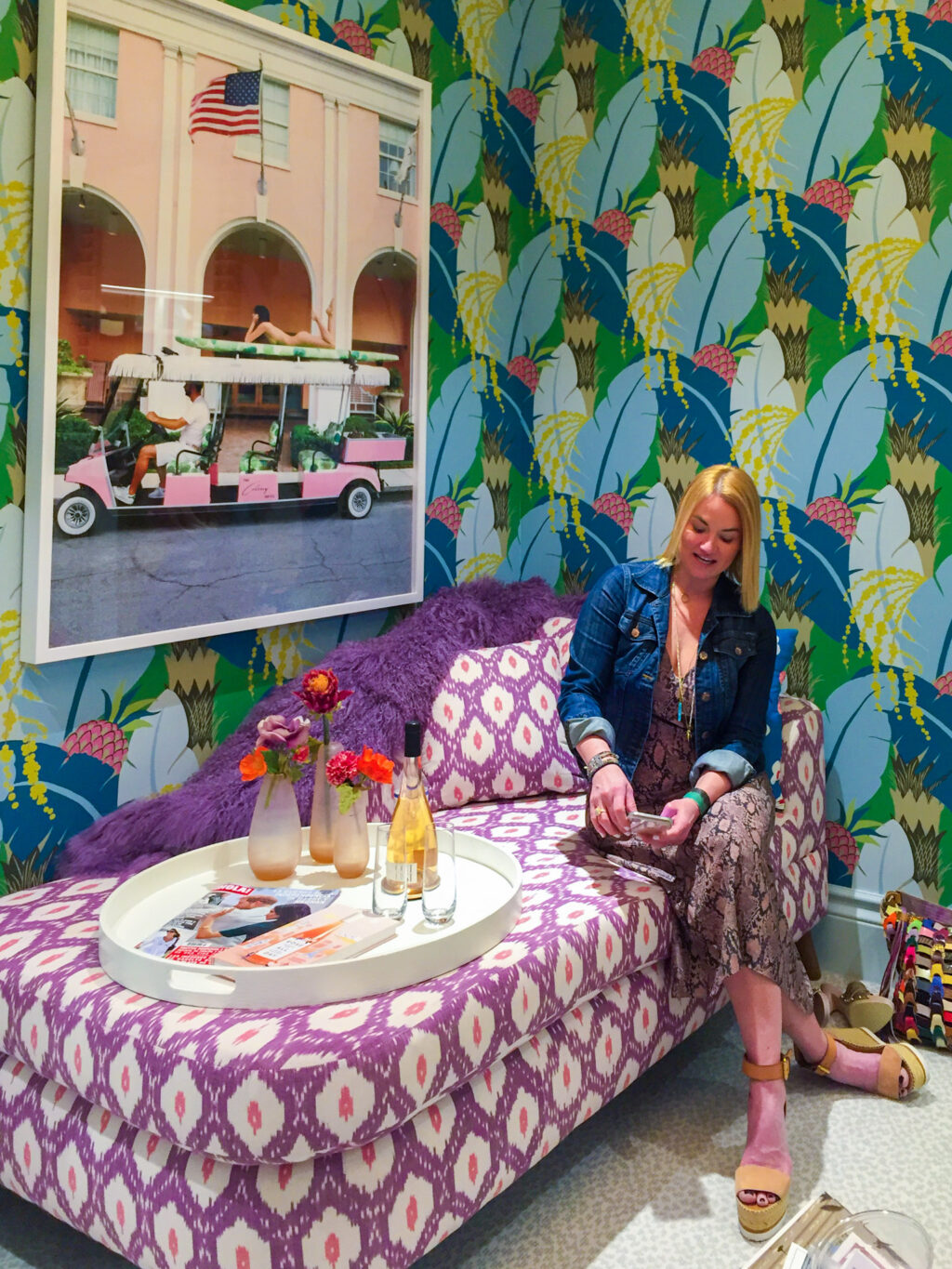 Outlander Interior Design Ideas by Robin Gannon |  2020 Kips Bay Palm Beach Decorator Showhouse
On the second floor, there's quite an exciting guest bedroom and bathroom aptly titled​ "It's A Jungle Out There." ​Designed by​ ​Massachusetts-based ​Robin Gannon ​of​ Robin Gannon Interior, I thought my friend Scot Meechman Wood surely designed this room! The guest bedroom contains the Scottish Campbell Clan plaid tufted bed with a geometrical circle headboard and thematic references to the "urban jungle." About as polar opposite as one might get in a room regarding both cultures and style, the unbalanced mix of tropical green patterns on the draperies to a parakeet green rug mixed with the tartan plaid bed could indeed be dubbed "Outlander." Scottish friends & family, what do you think? "It's a Jungle Out There" or "Outlander"? Please leave a comment below in the comment section. Am I very curious about your thoughts?
The bathroom also received a refresh with green tile adorning the shower walls, a vanity clad in ​Silestone by Cosentino ​in Pearl Jasmine with a vanity surround and shower curtain by ​The Shade Store,​ and ​KOHLER's​ Iron Works Historic Bath.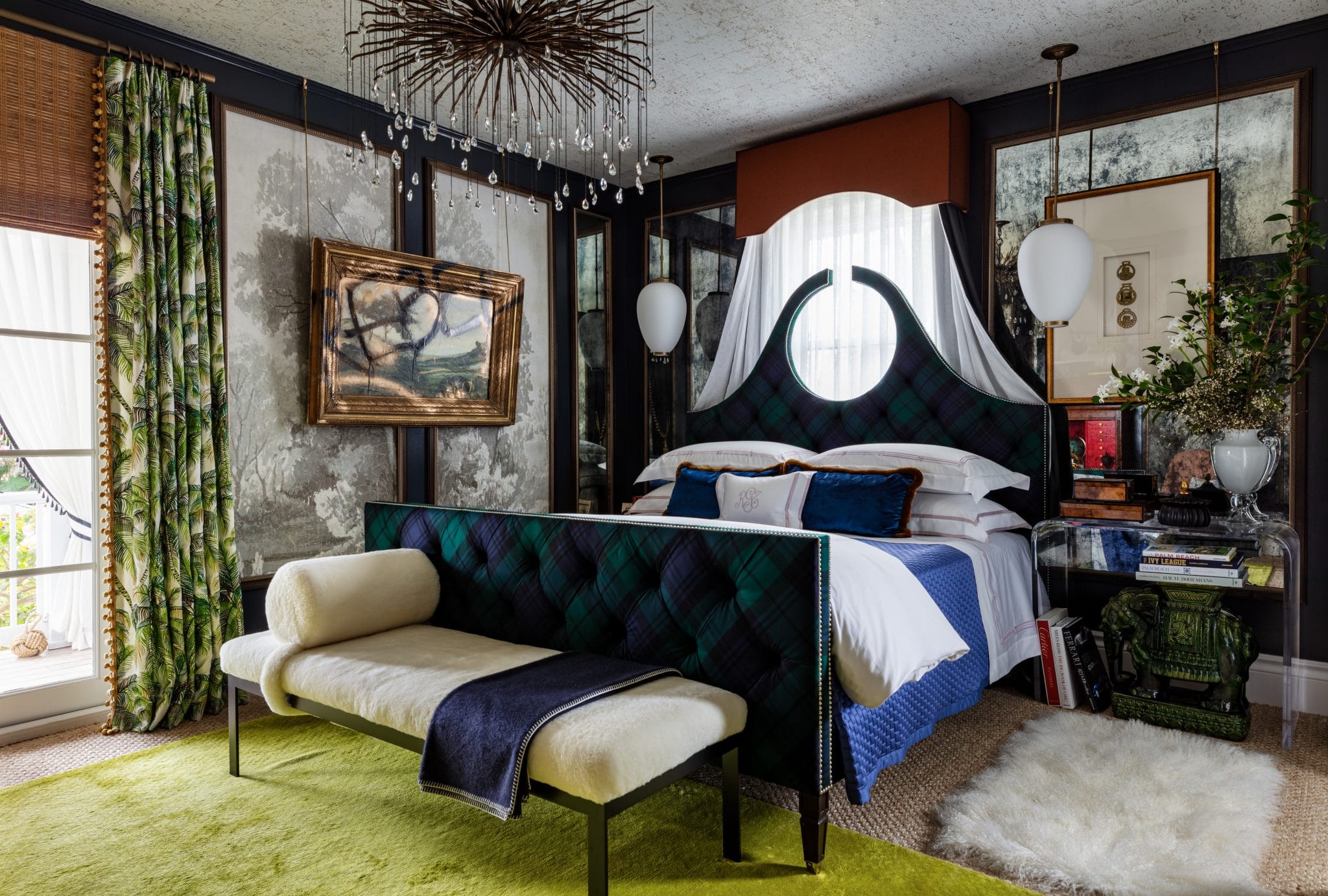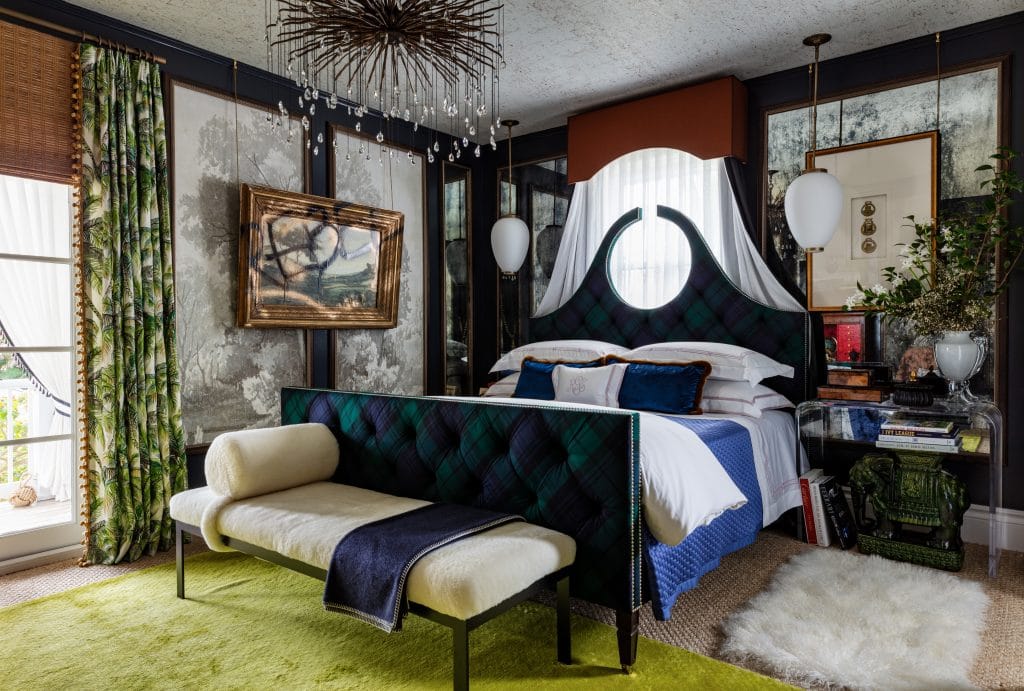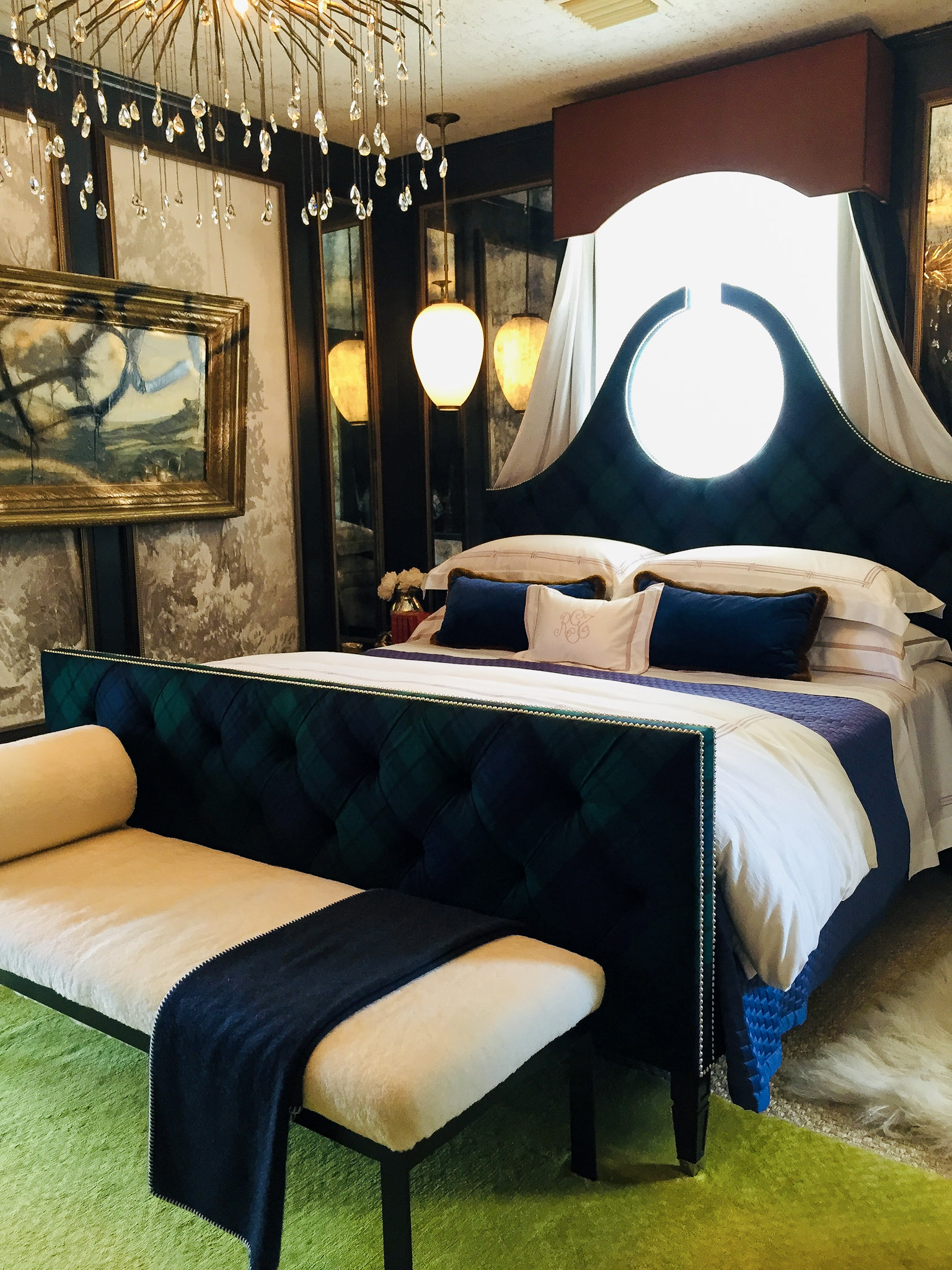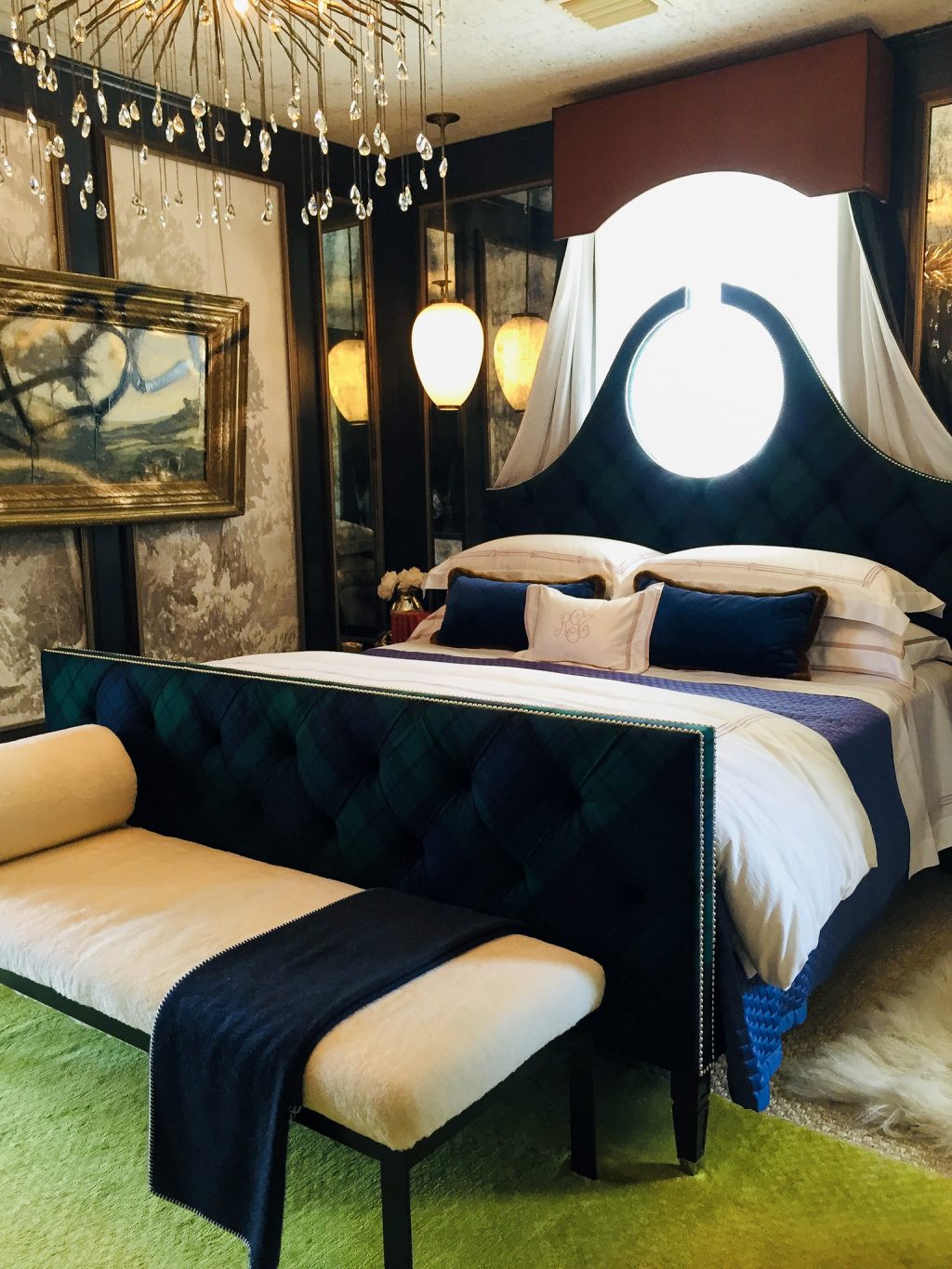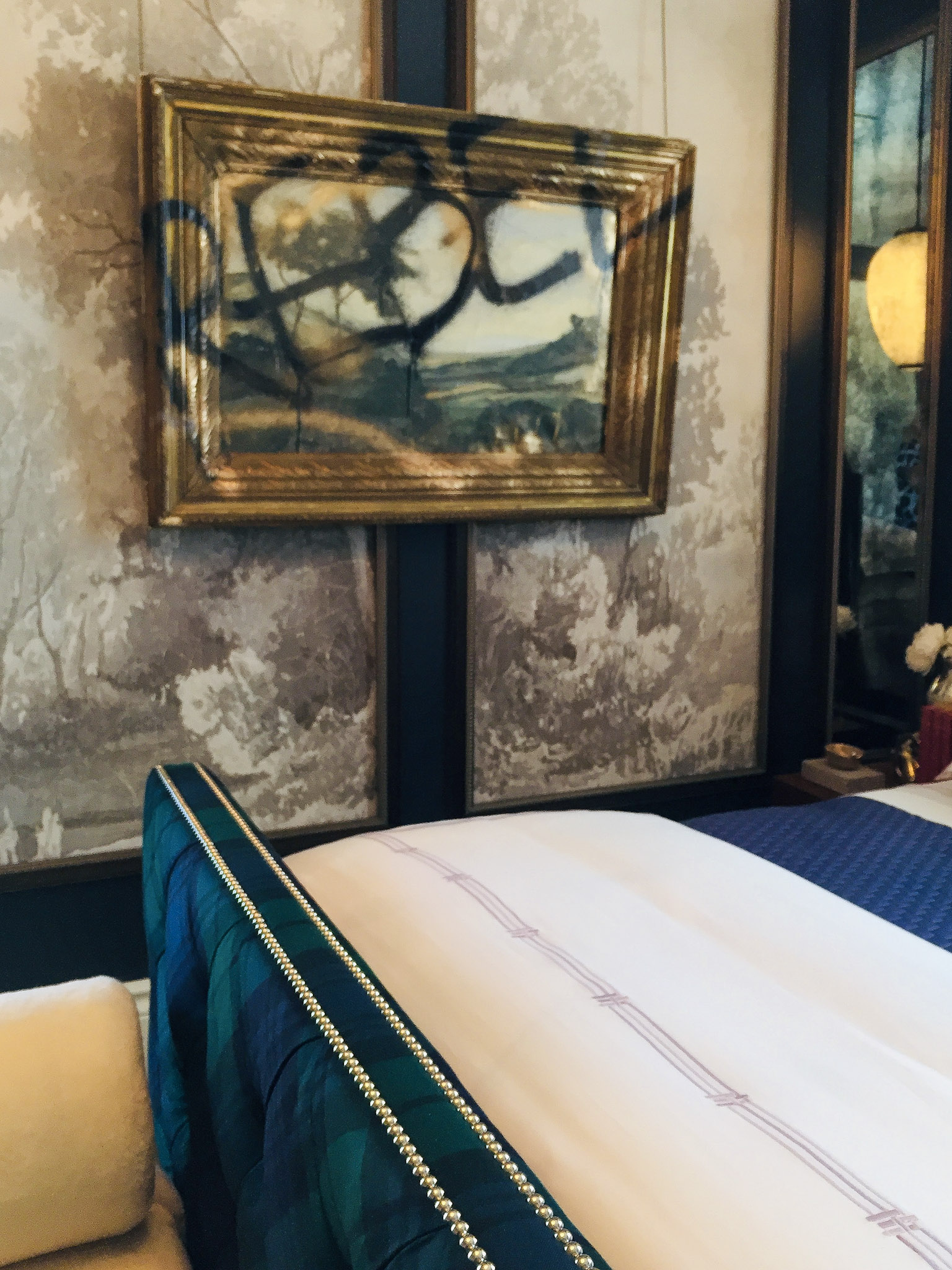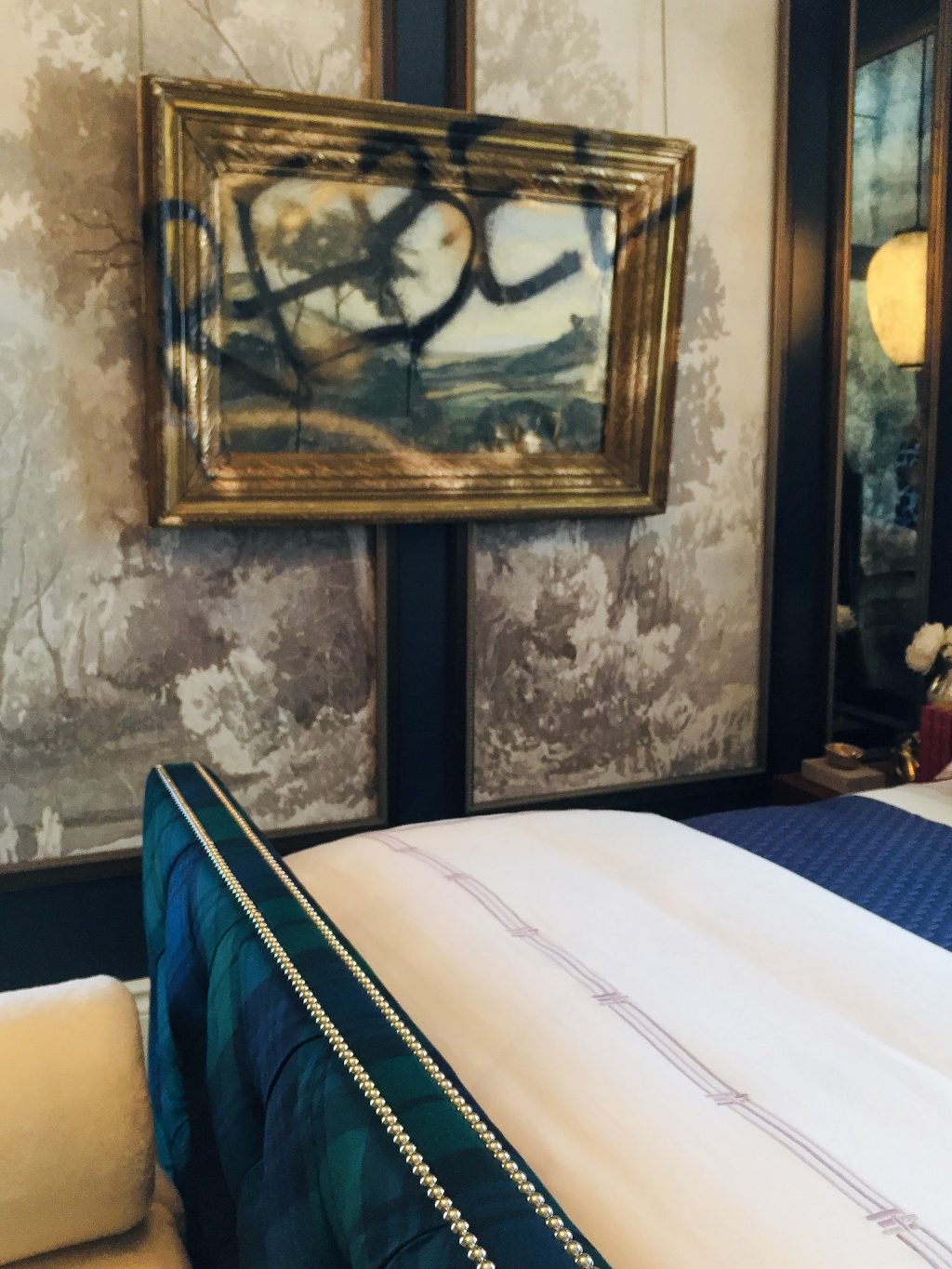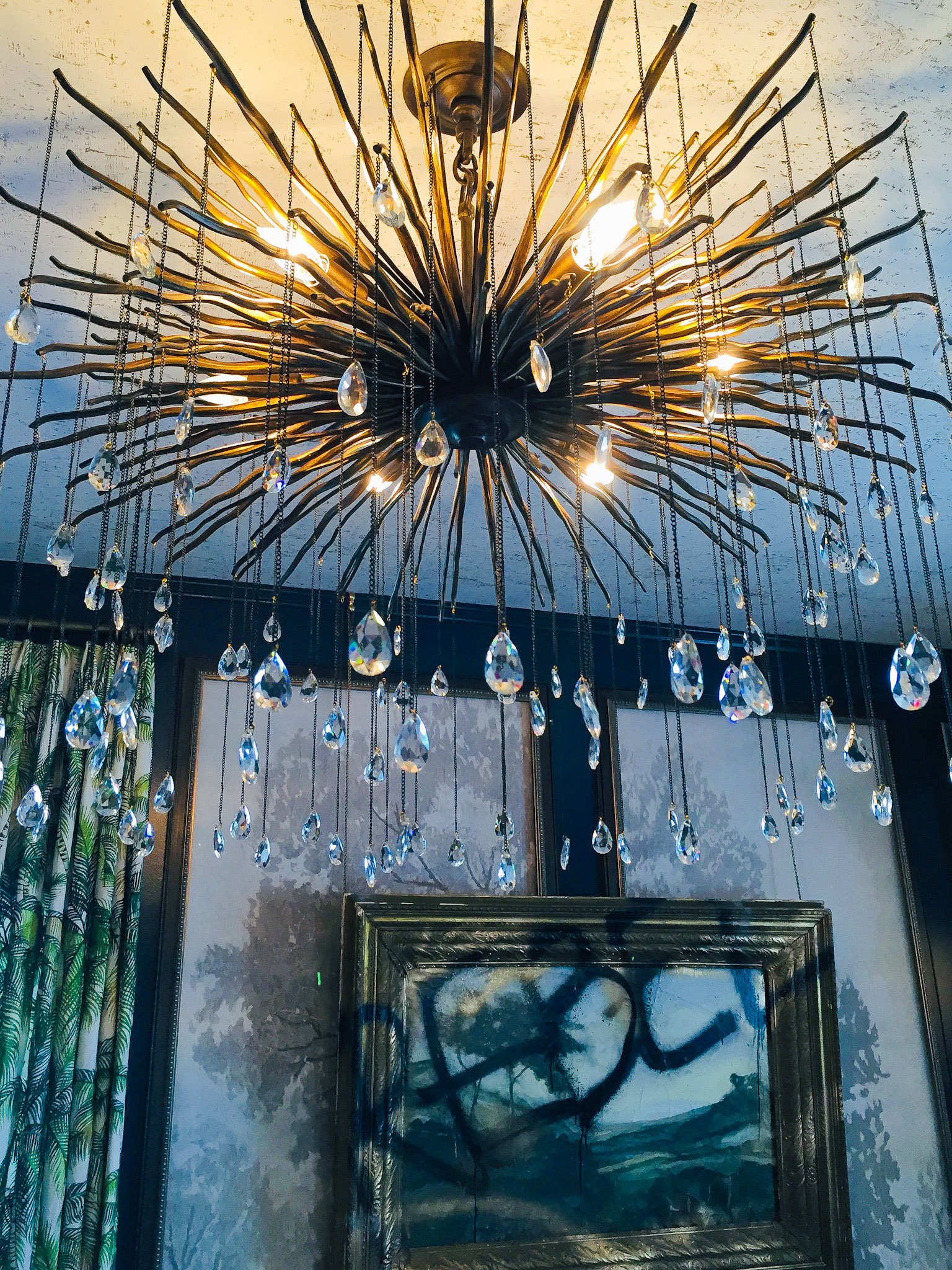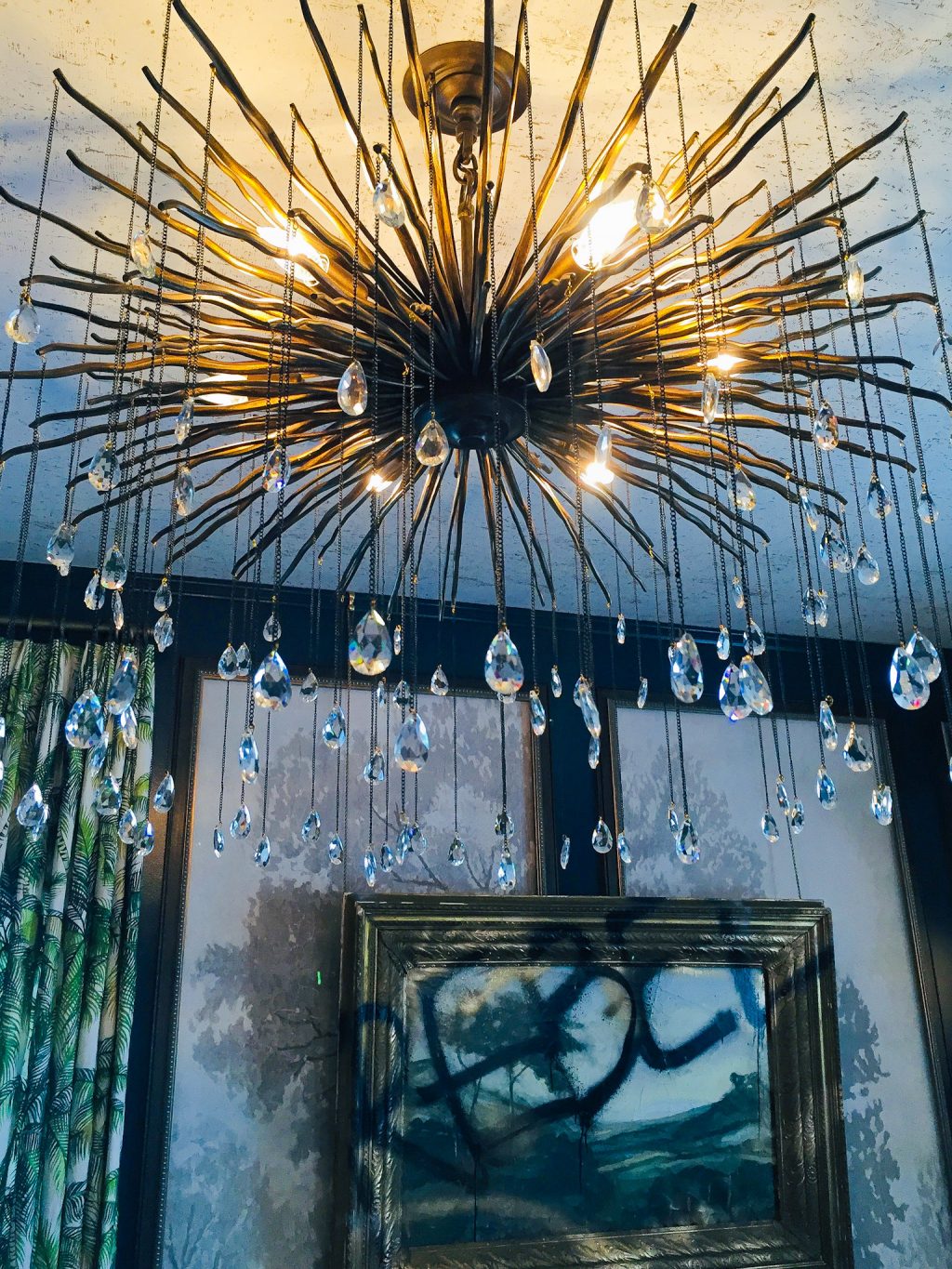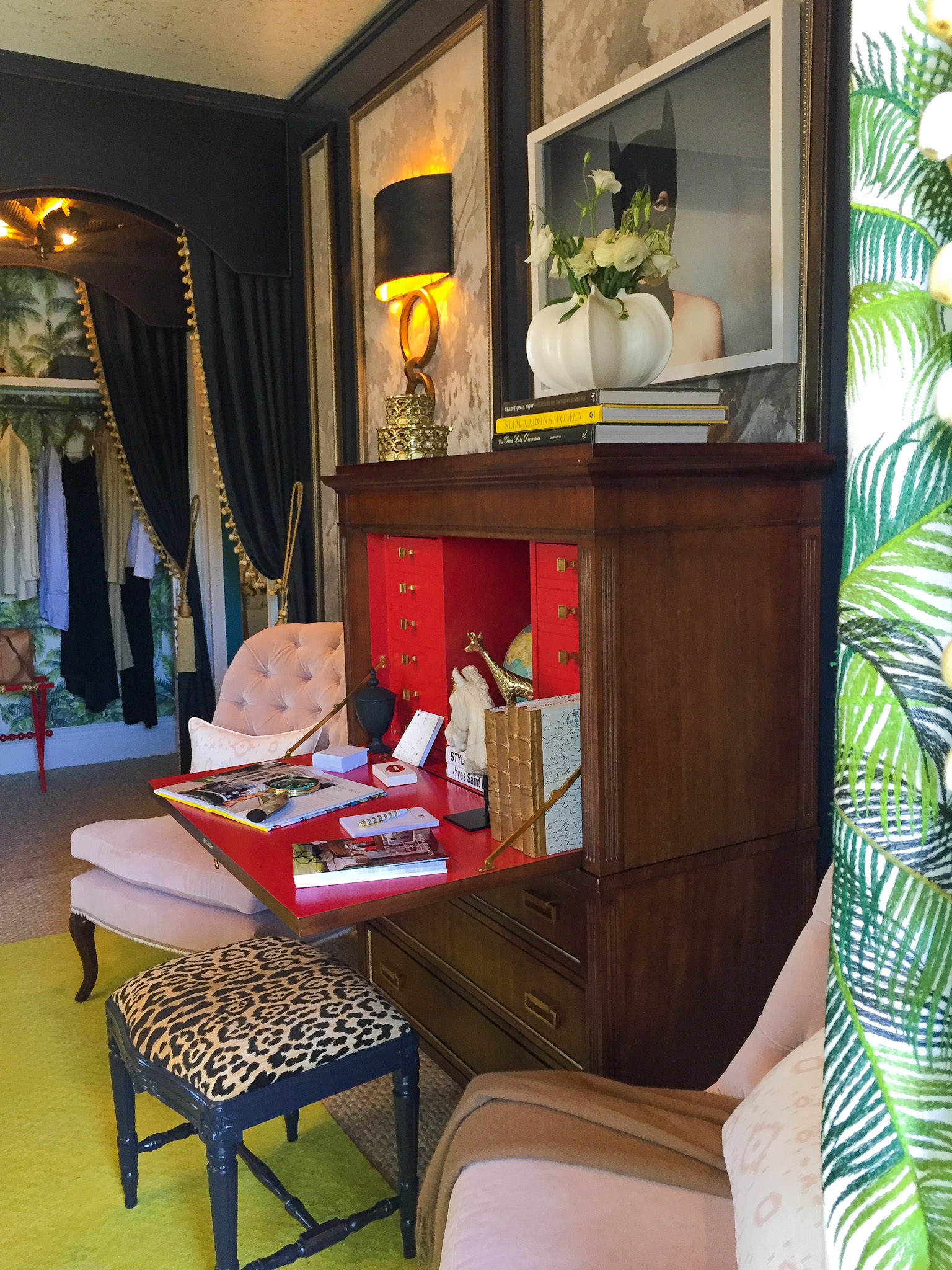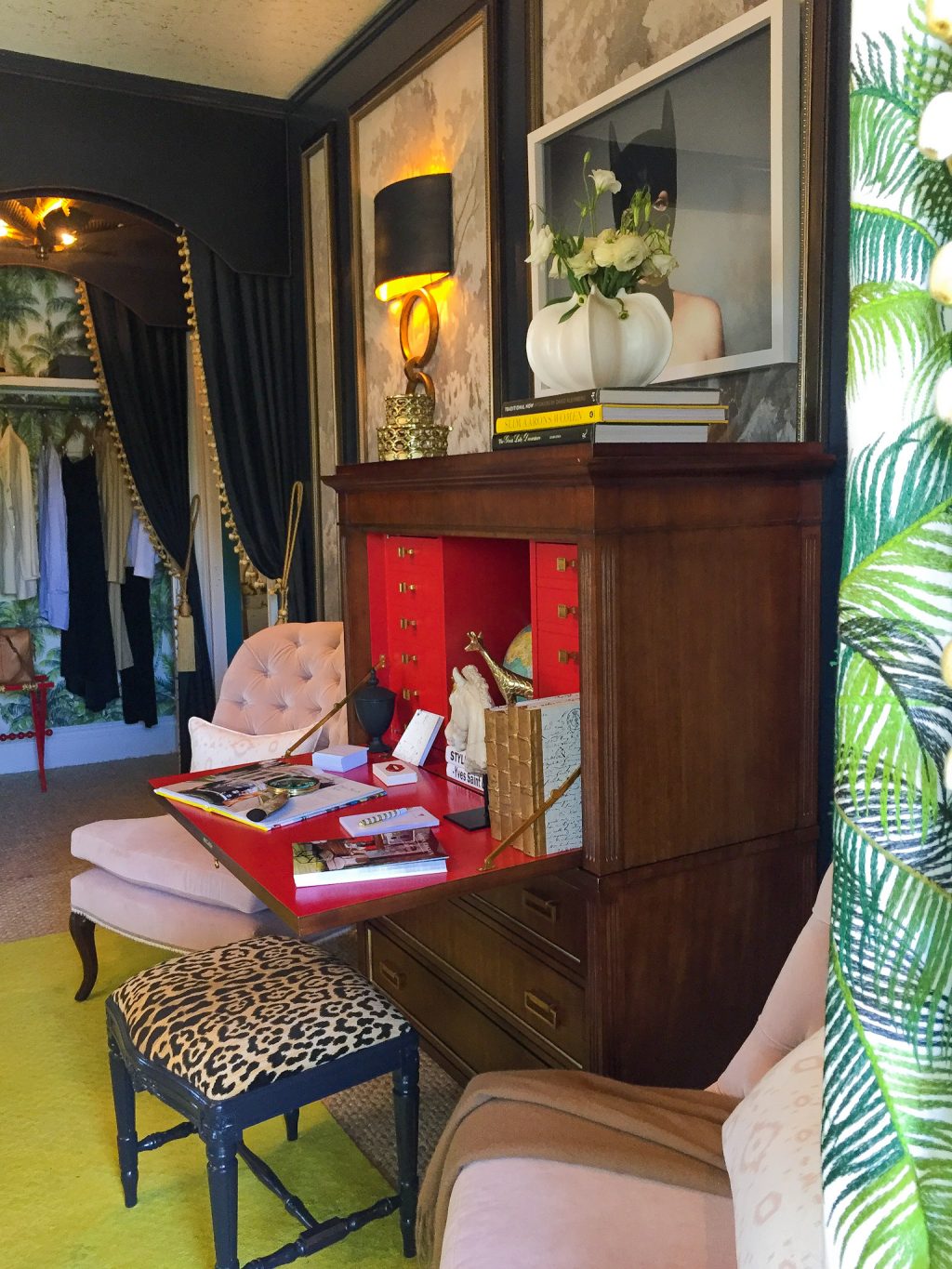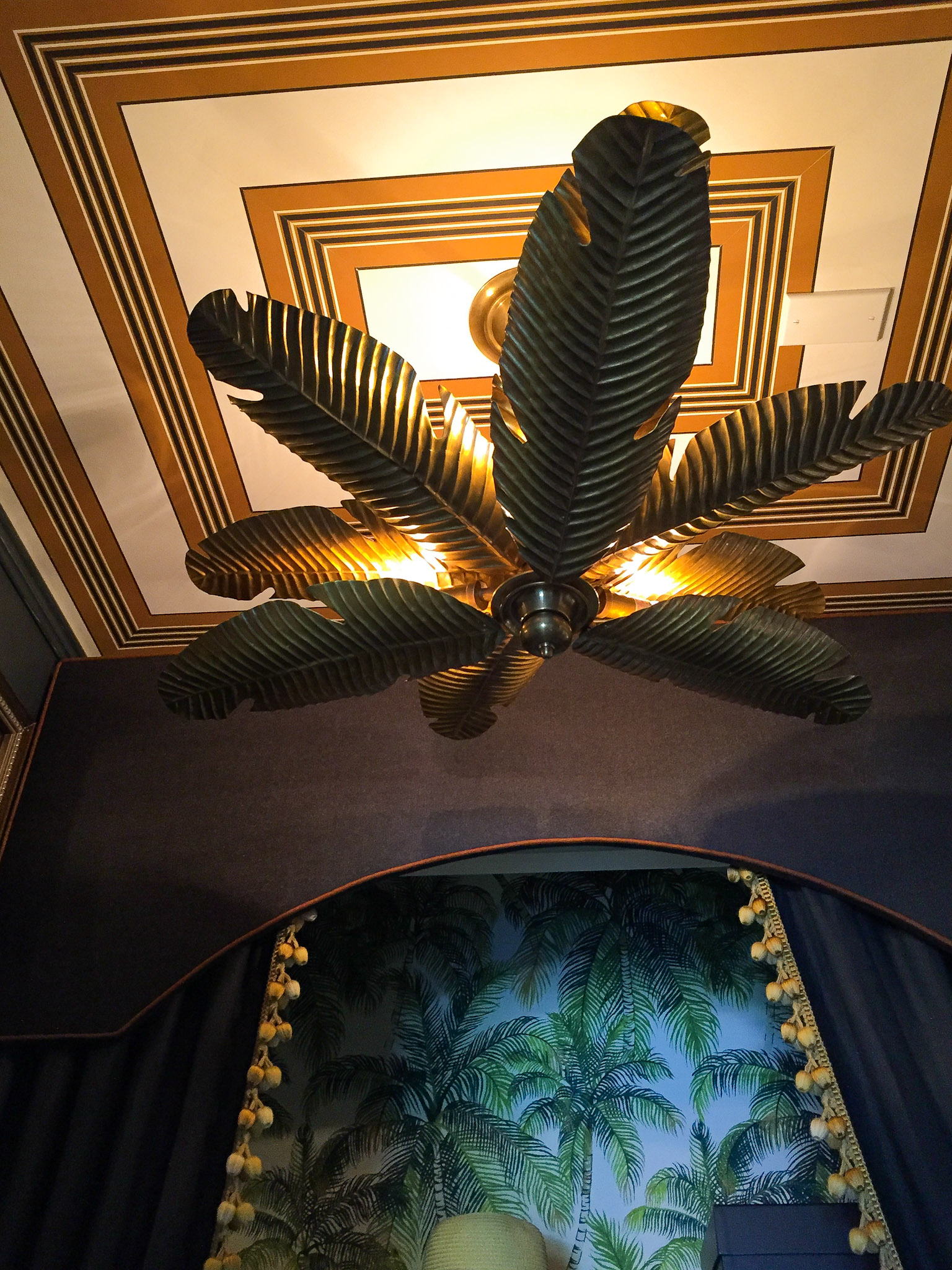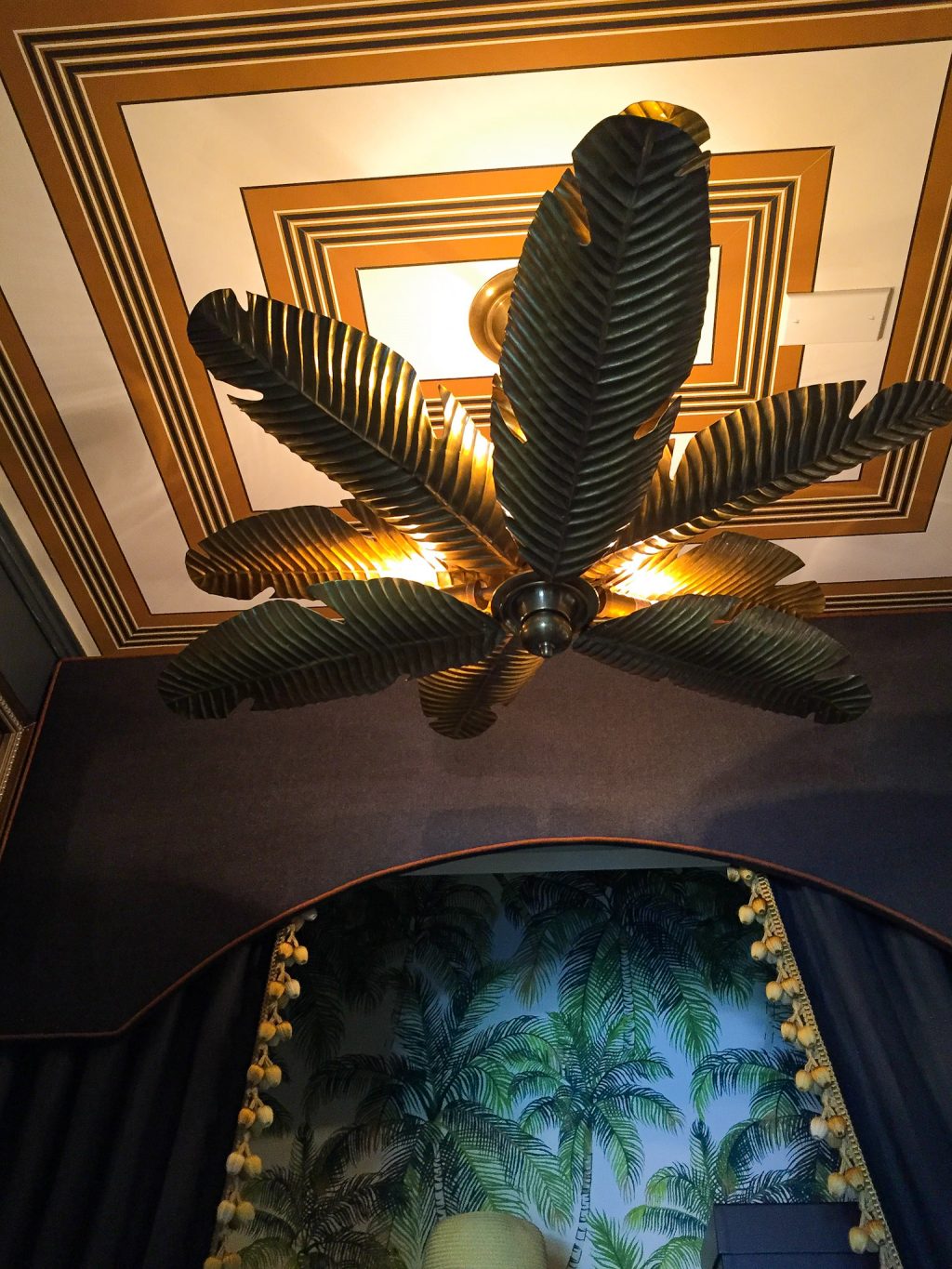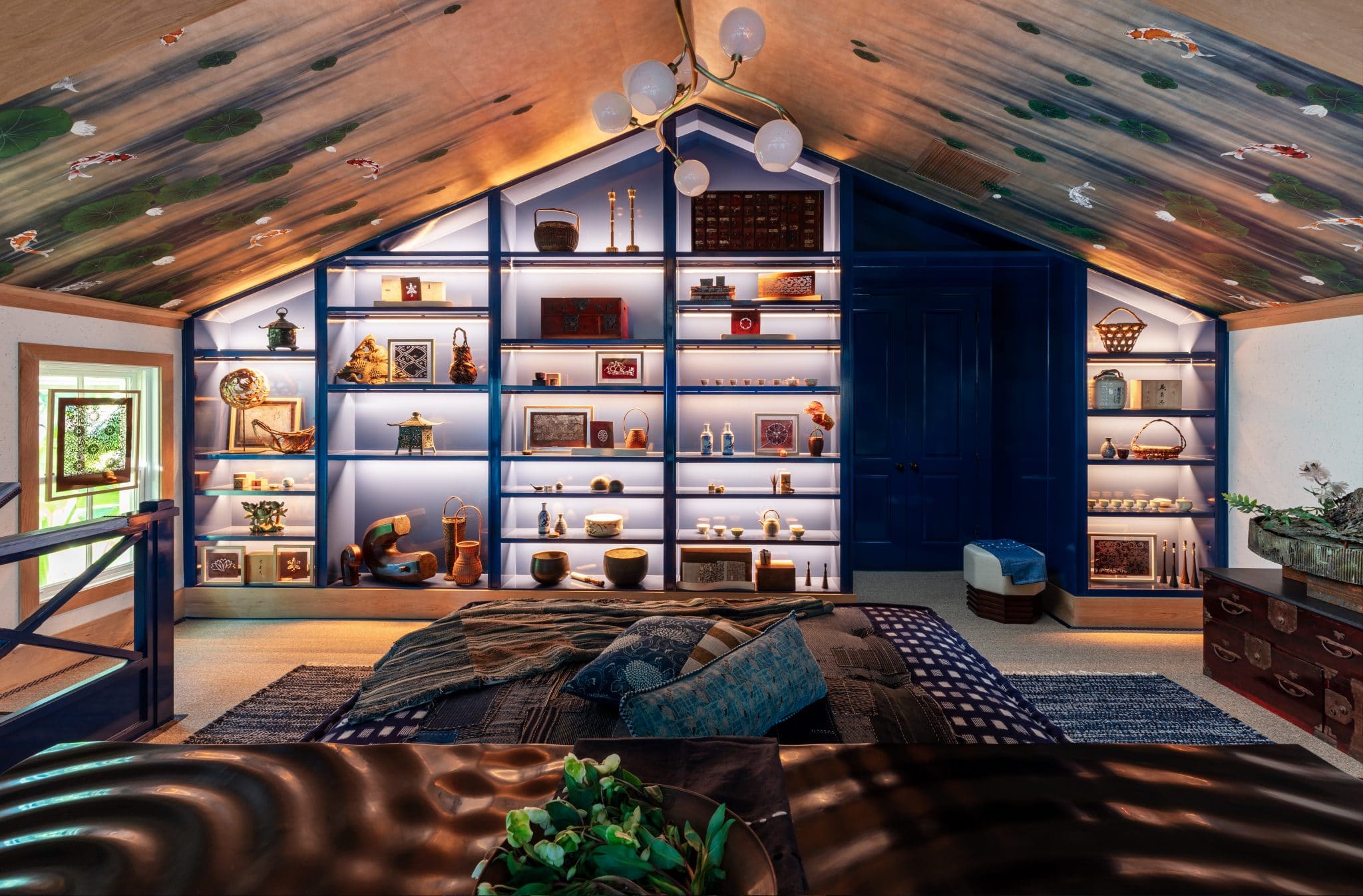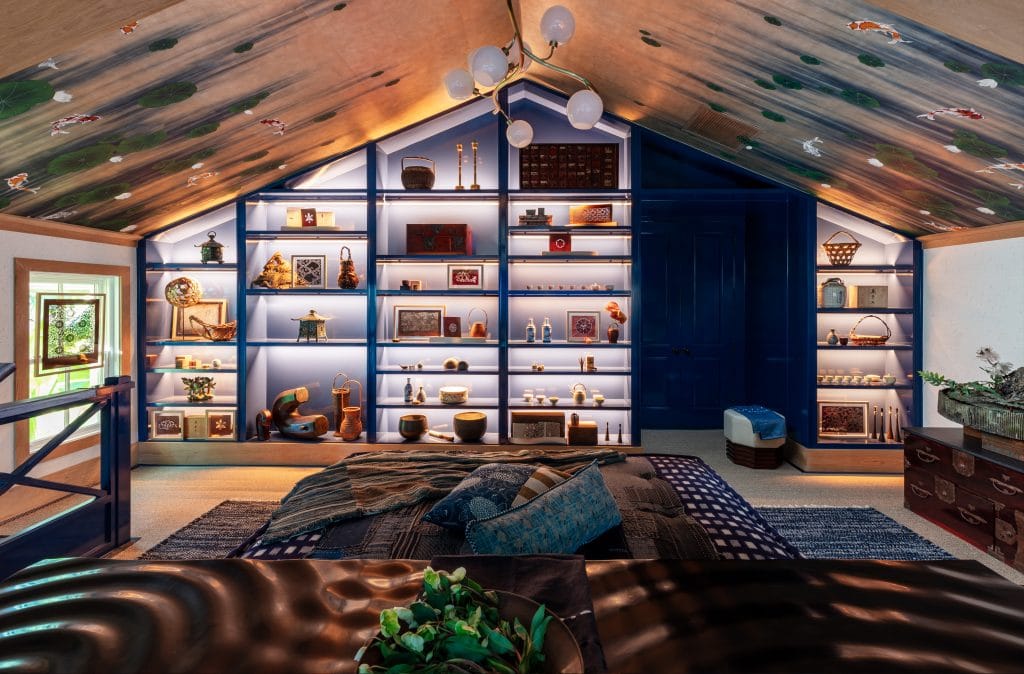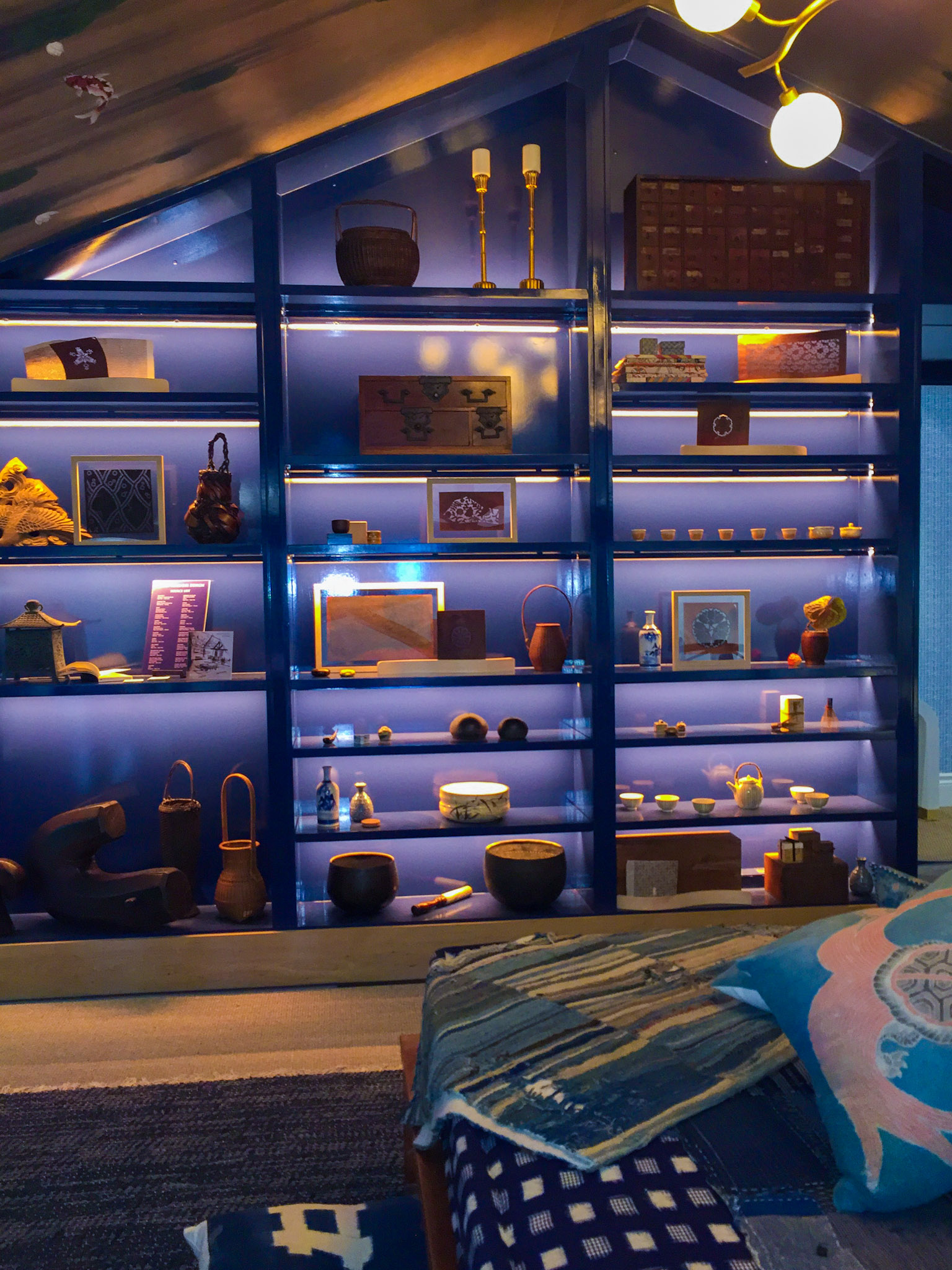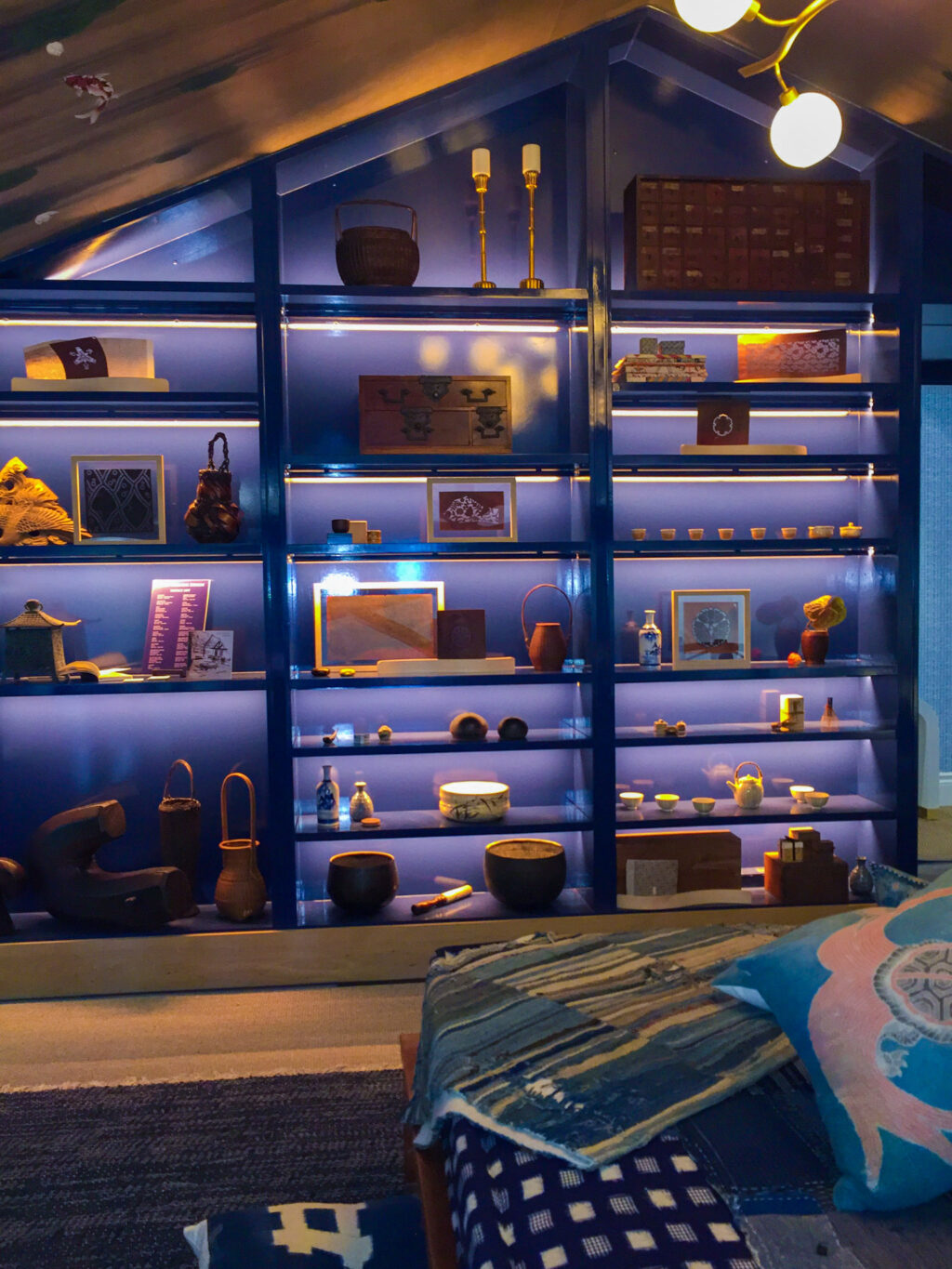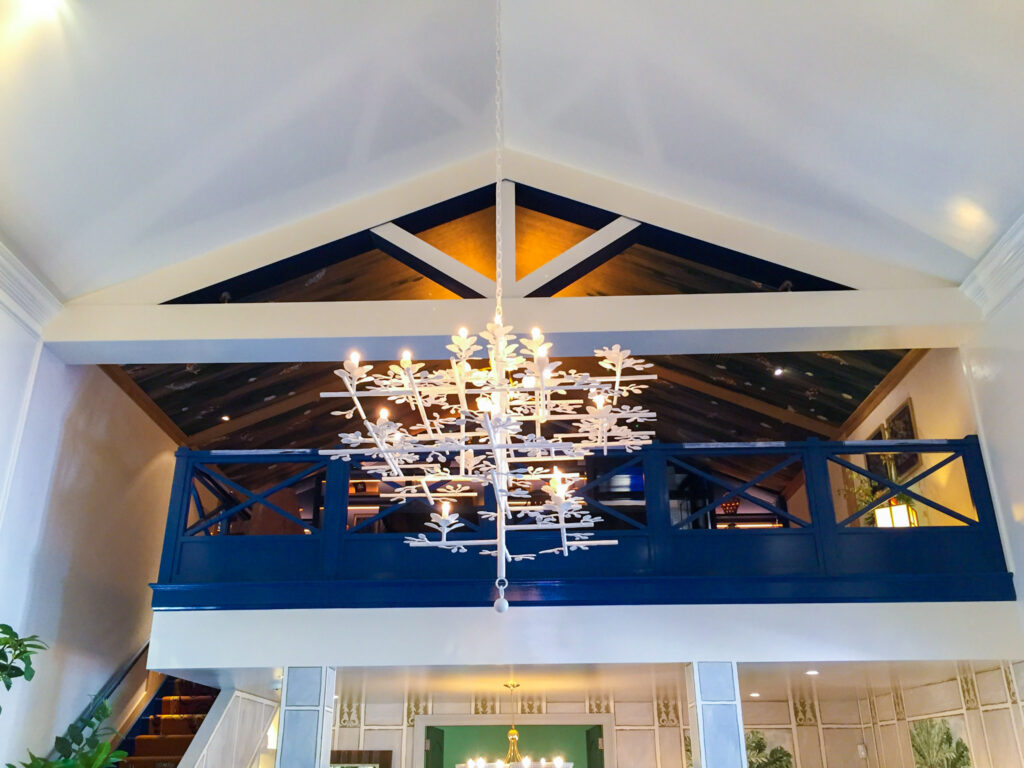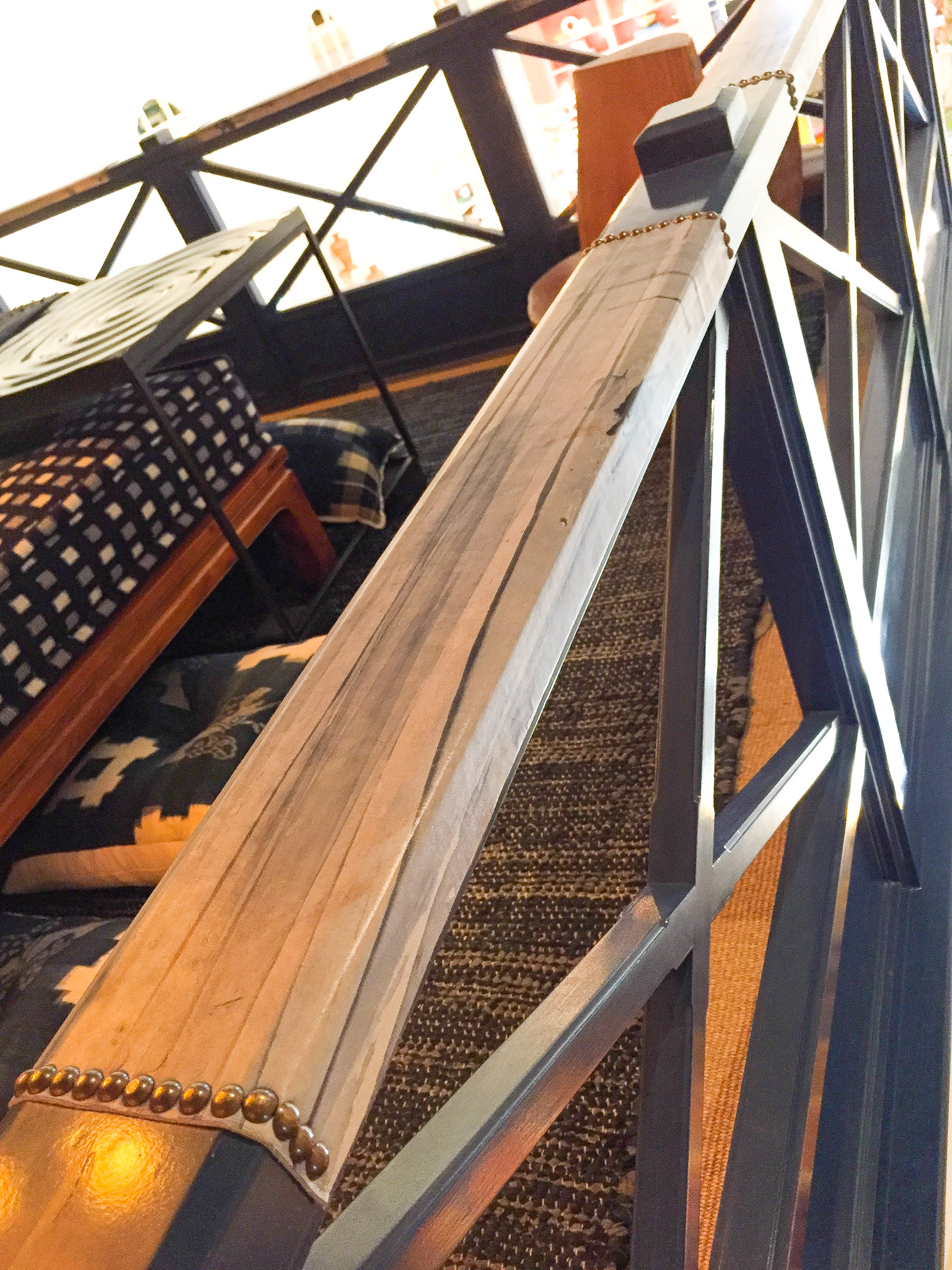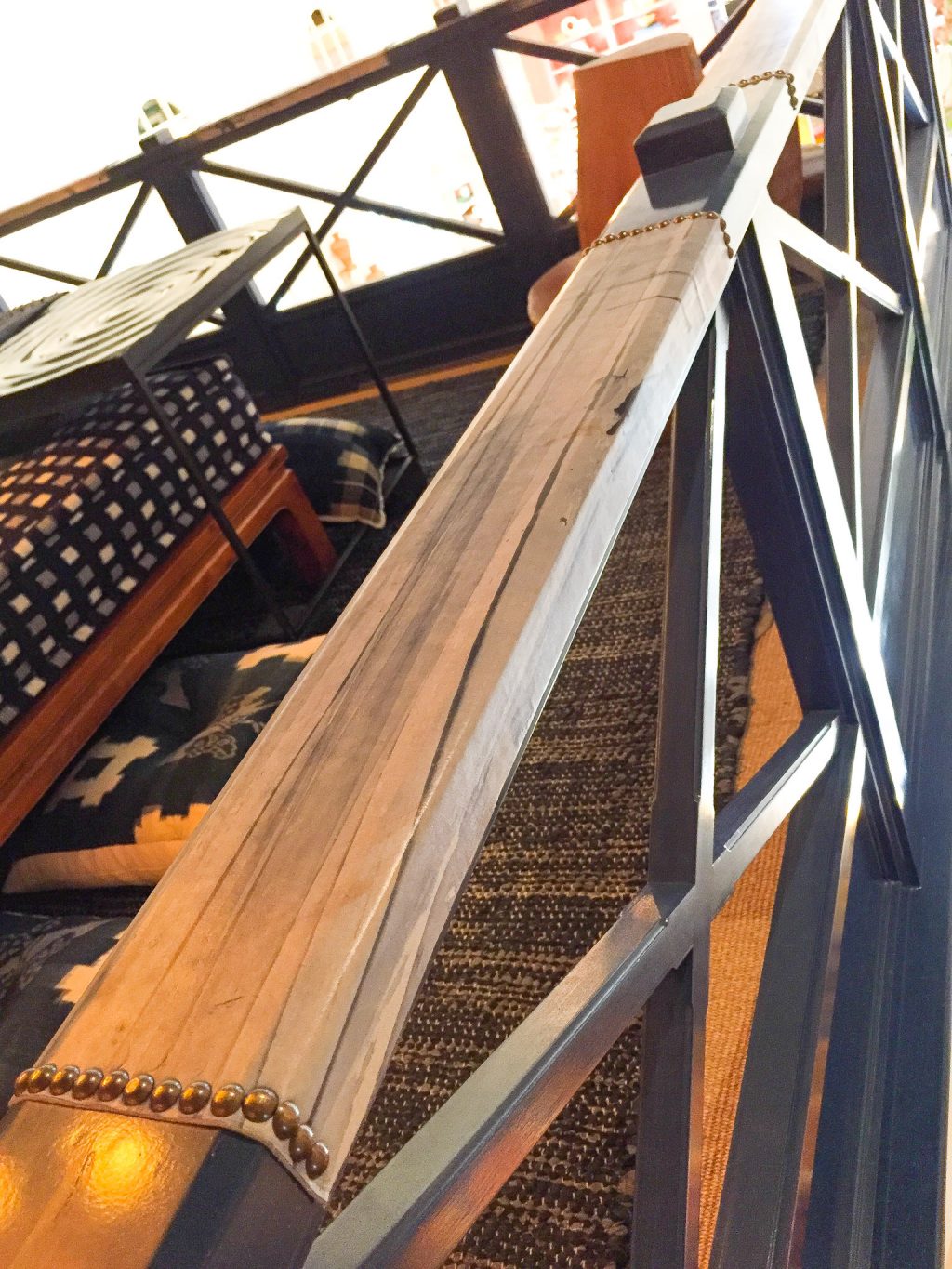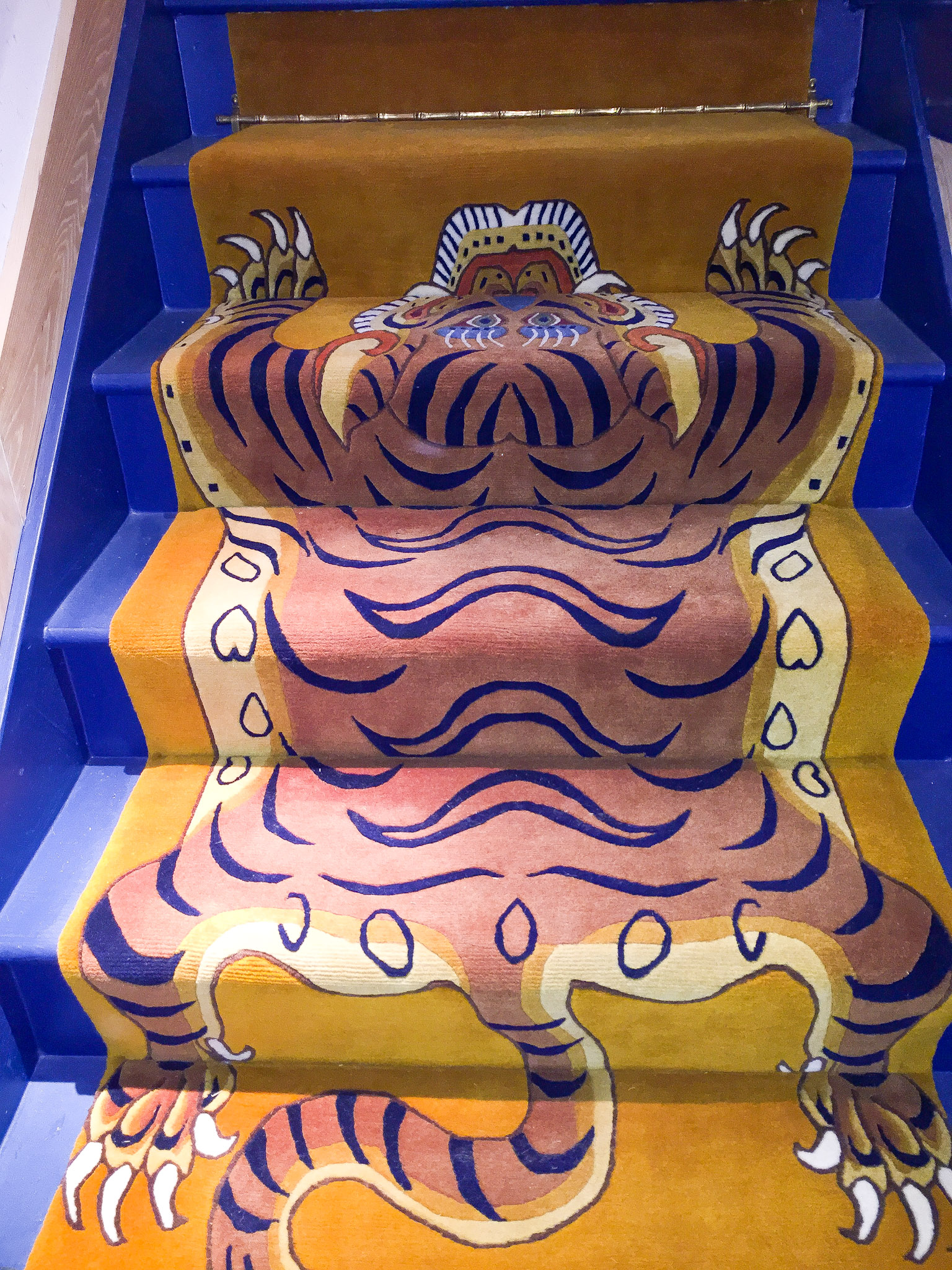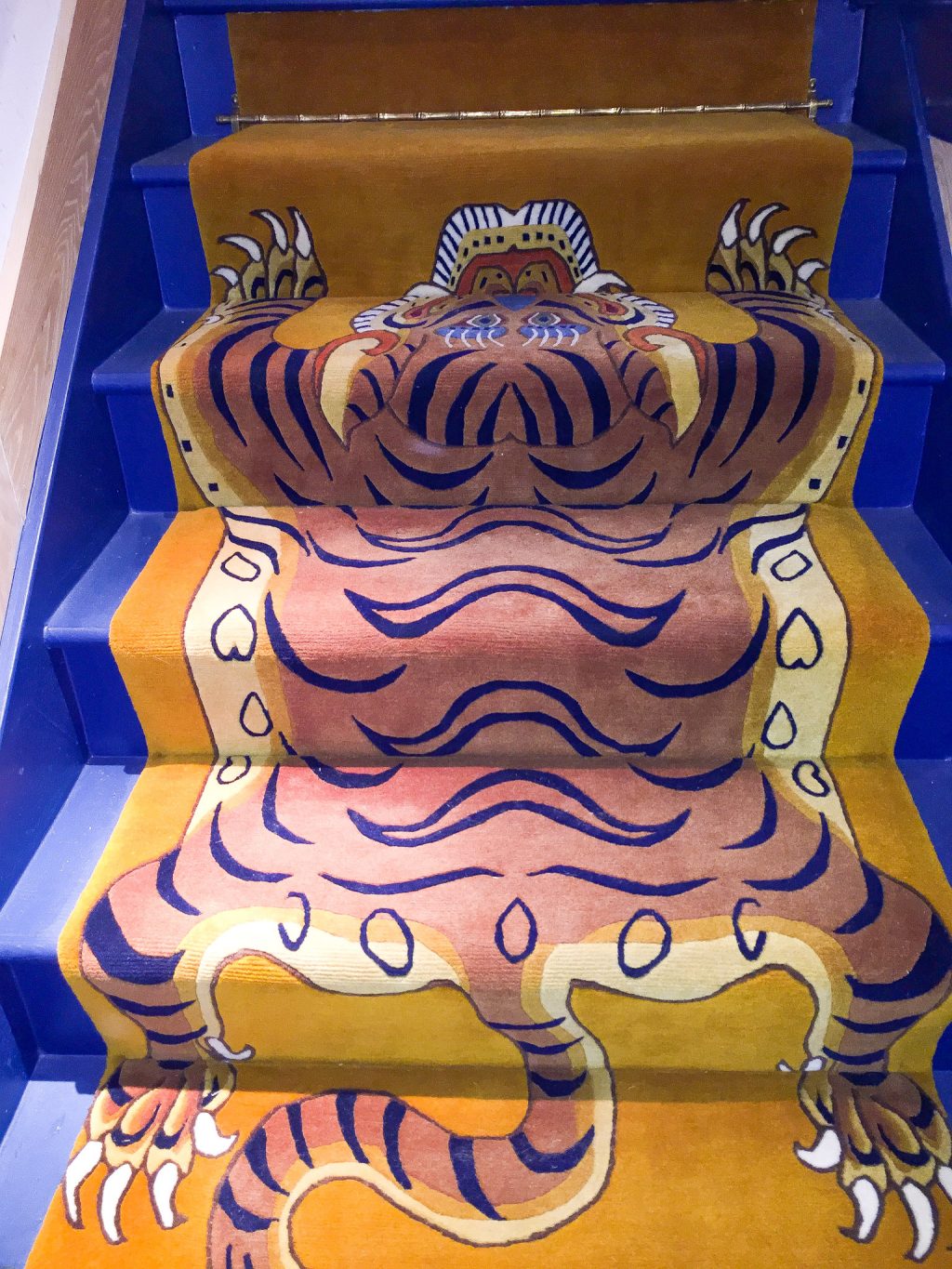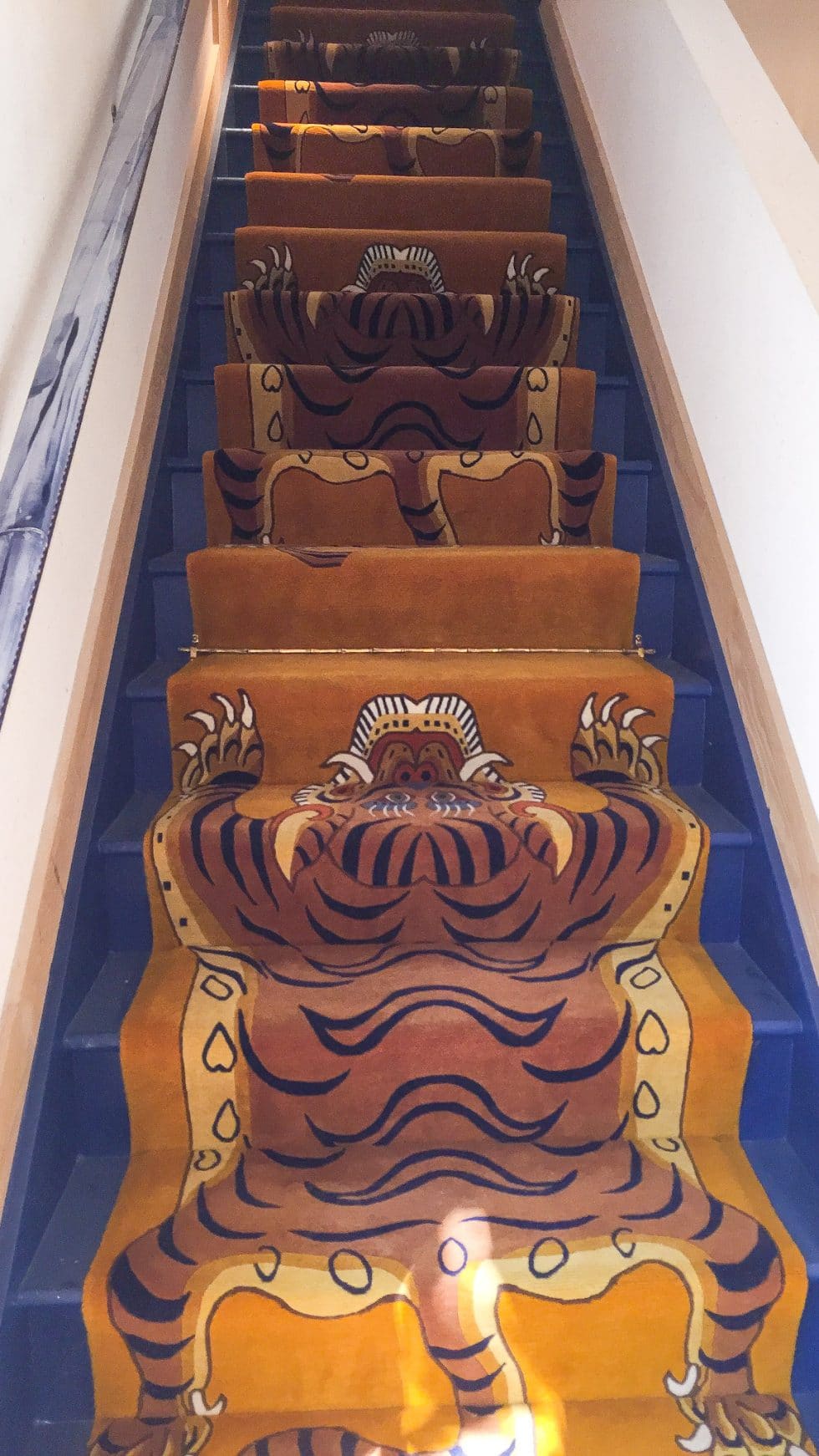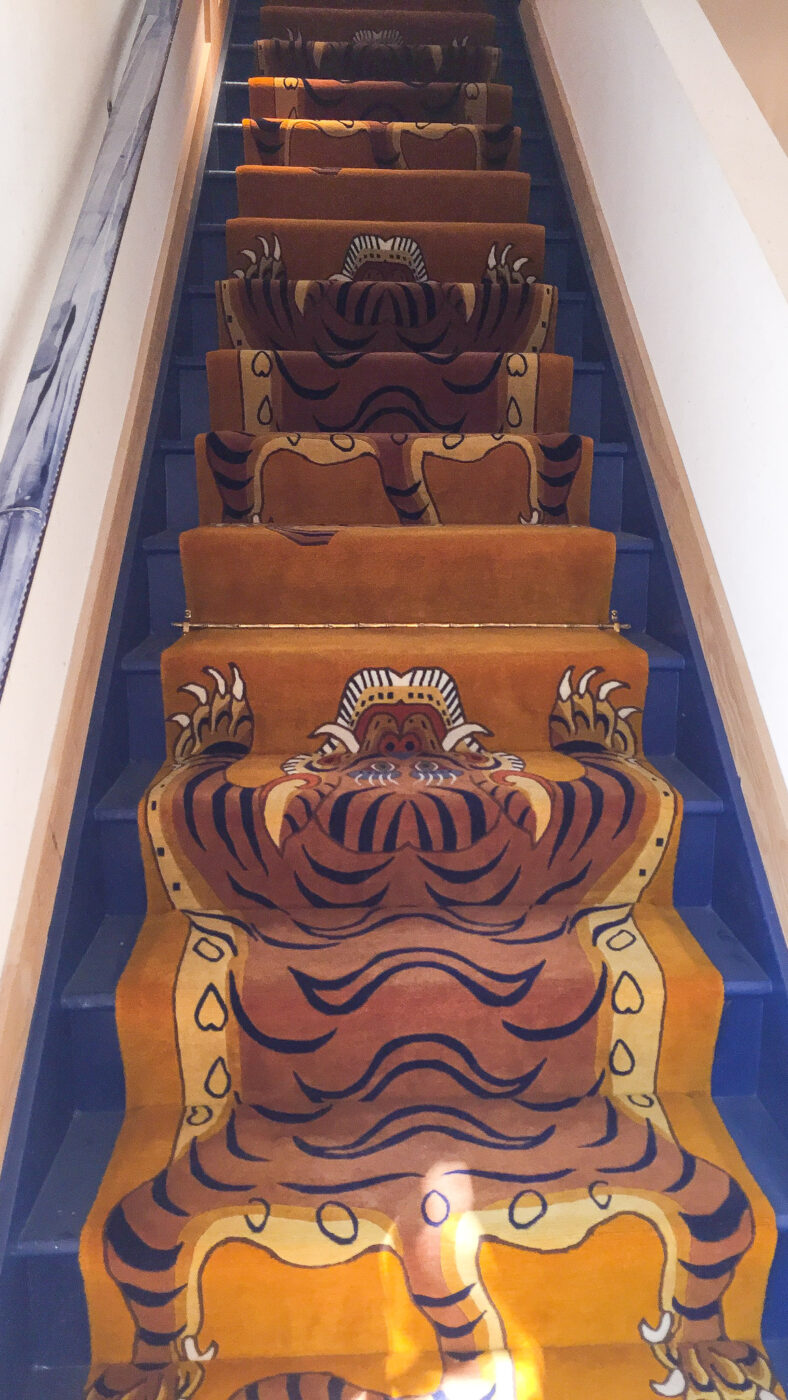 Javier Fernandez Vestibule & Hallway Interior Design Ideas |  2020 Kips Bay Palm Beach Decorator Showhouse
The vestibule, hallway, and powder room are all designed by Boca Raton-based designer ​Javier Fernandez ​of ​Transitional Designs, Inc. ​Titled ​"Design with Bite,"​ the three spaces are contemporary, chich, and united with framed white three-dimensional suede wall panels surrounded by dark wood trim. A light grey pony hair console table is nestled in the vestibule below contemporary art pieces, while "pouf" tassels and leather ottomans line the hallway.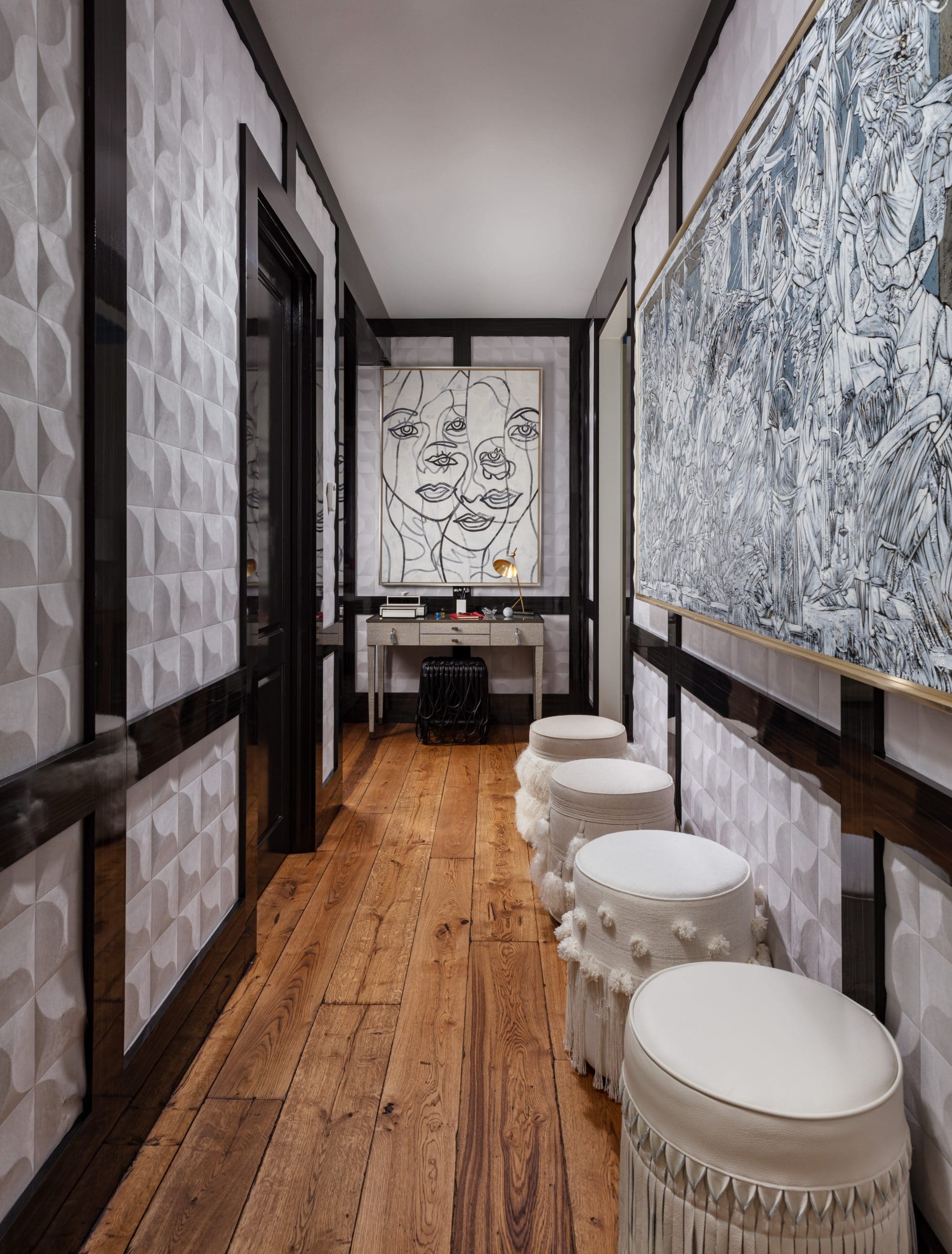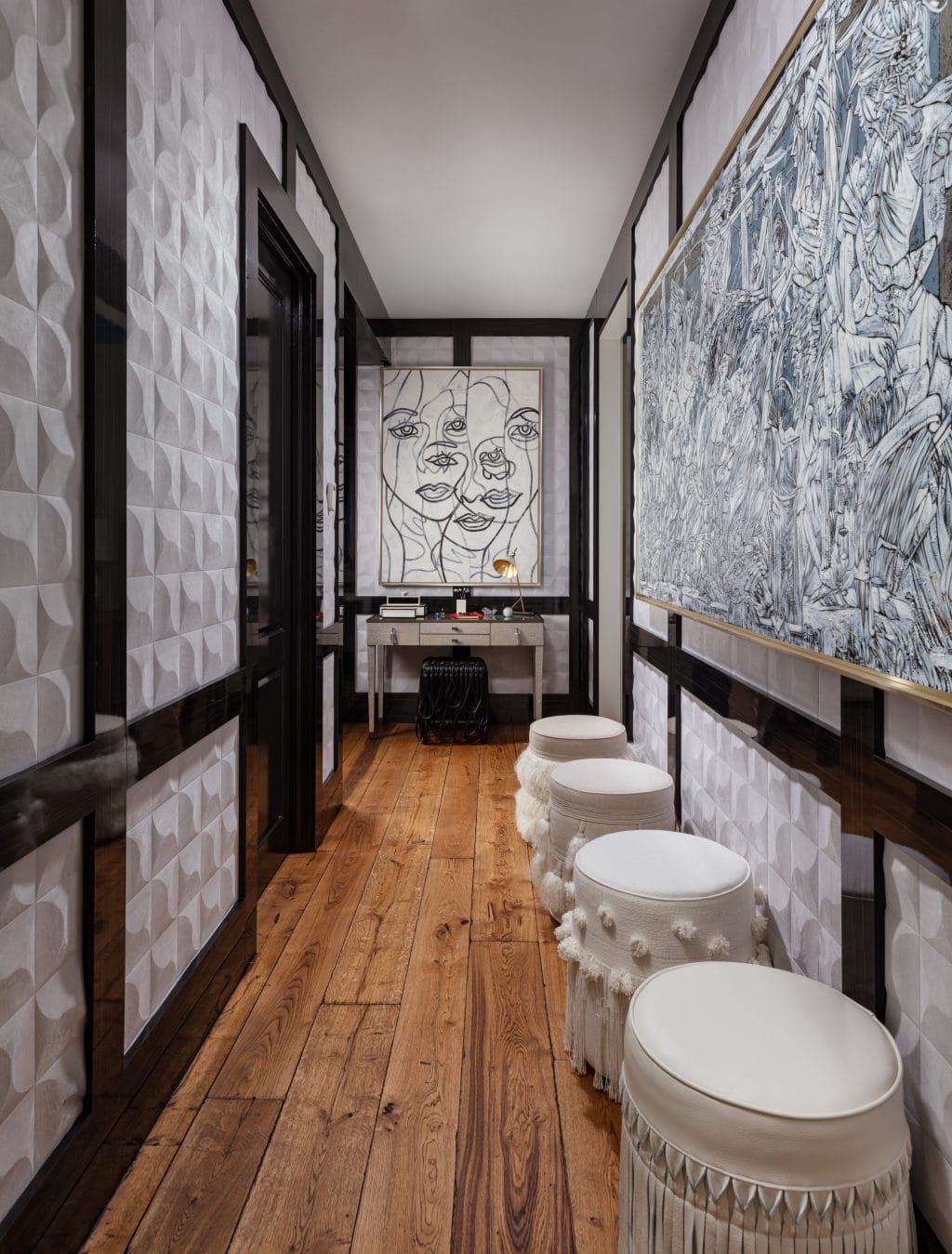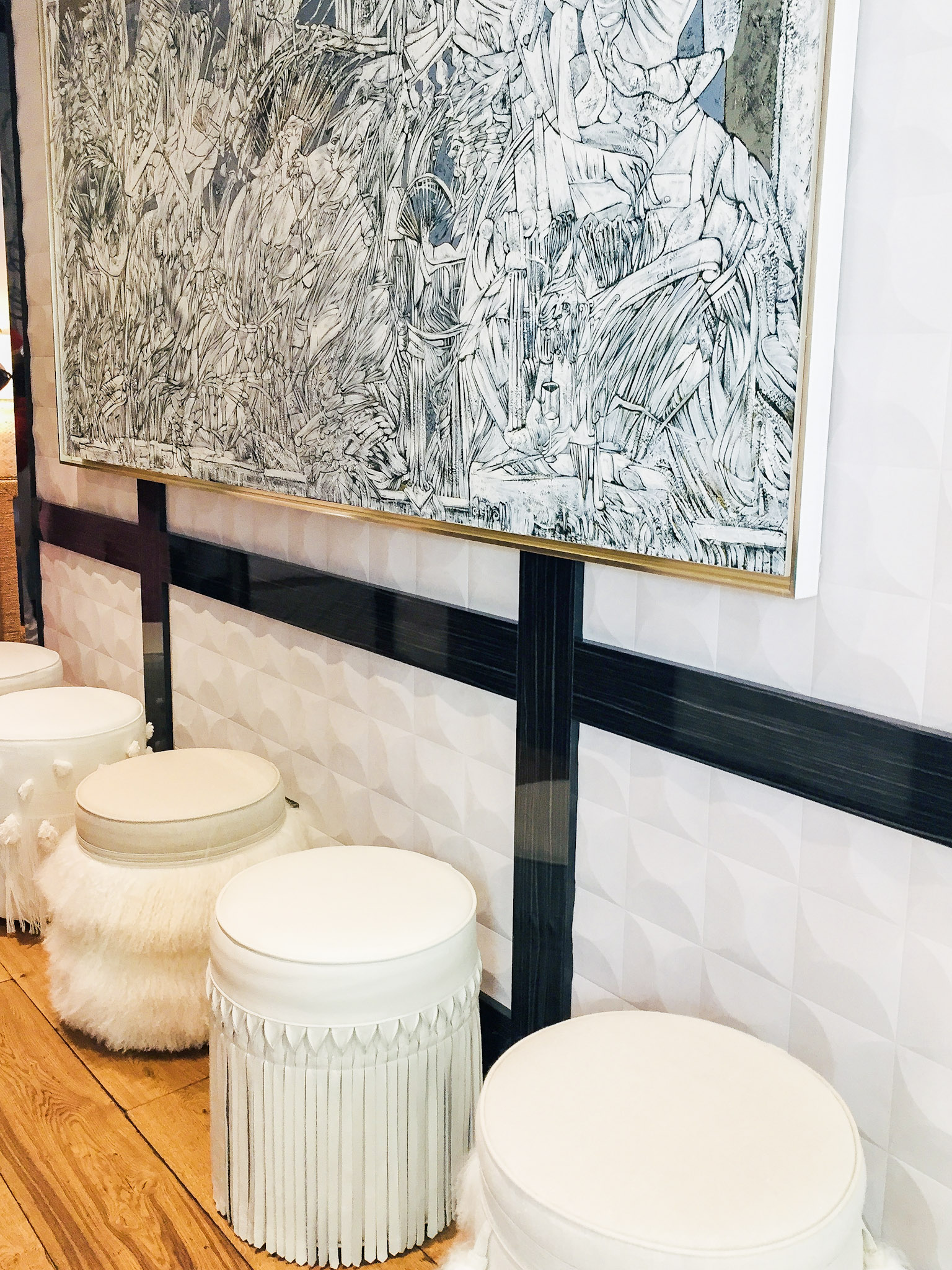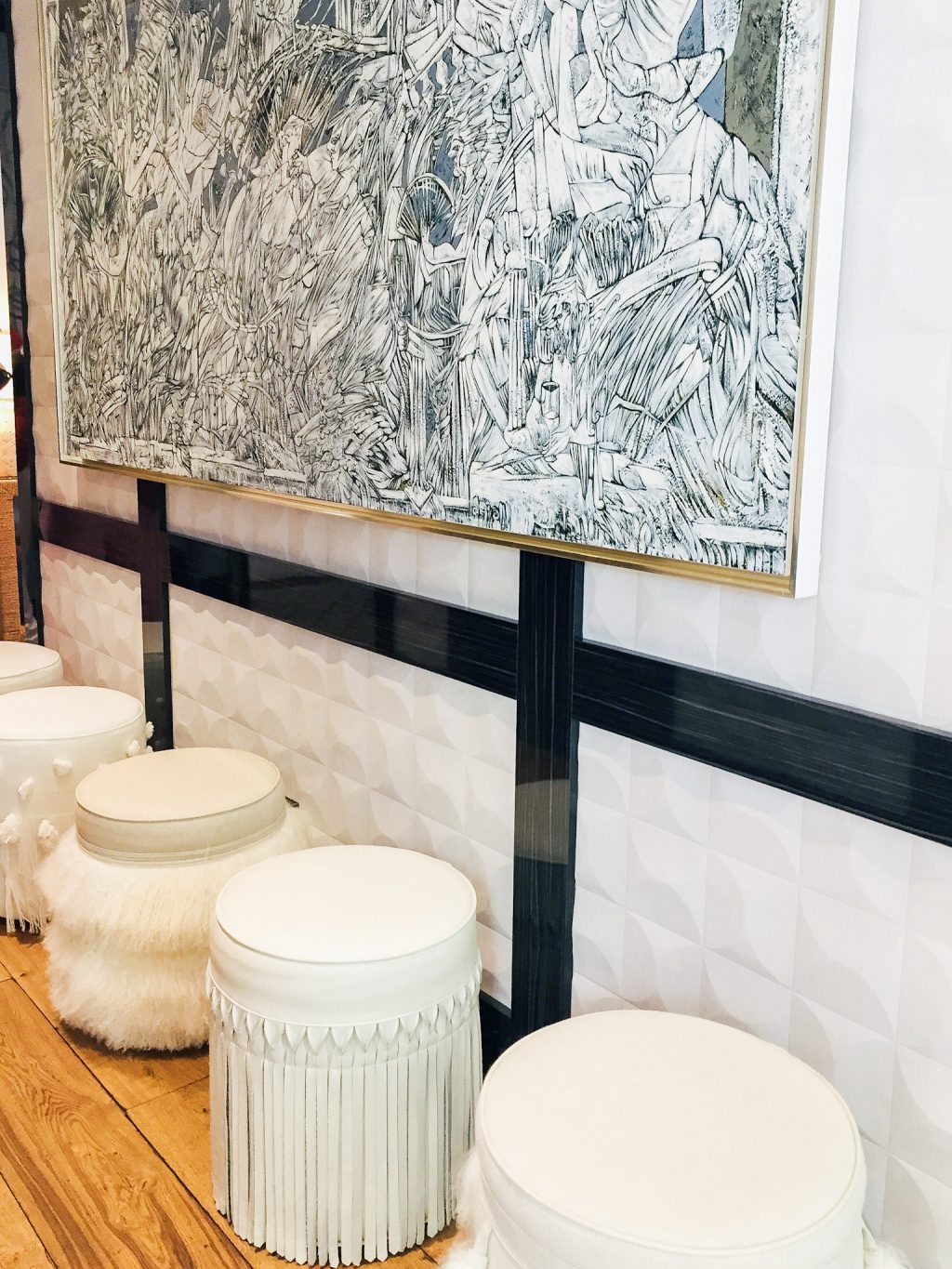 Javier Fernandez Black & White Powder Room Interior Design Ideas |  2020 Kips Bay Palm Beach Decorator Showhouse
Javier worked to bring the "wow" factor to a new level for this powder room when he decided to layer texture and varied finishes. The powder room is home to​ KOHLER's ​Eir Intelligent Toilet and a vanity top with ​Silestone by Cosentino ​surfacing. The plumbing fixtures and textures to achieve the "bamchicawowow" factor!  Add a dose of my girl Lisa Jarvis cabinet hardware, and it's on like donkey kong!
This powder room not only contains a very similar smart toilet as I have in my powder room but the clean black and white always make me go ahhhh…..especially when the KOHLER smart toilets are in full use 🙂 Once you go smart, you'll never be dumb again! #JustSayin (Yes, I'll show you my Miami condo renovation shortly – follow @PSthisRocks and the hashtag #MyMiamiCondo & #Miami4D on Instagram and Pinterest).
Using Kohler's unique Ombré finish, transitioning from Vibrant Titanium to Rose Gold and the flowing curves of the white Veil Vessel Sink is like a match made in heaven.
I love how Javier carried the vanity finish onto the lower half of the walls. Notice he also used the same finish to trim the powder room ceiling. Be sure to click here to download all of the designer's sources.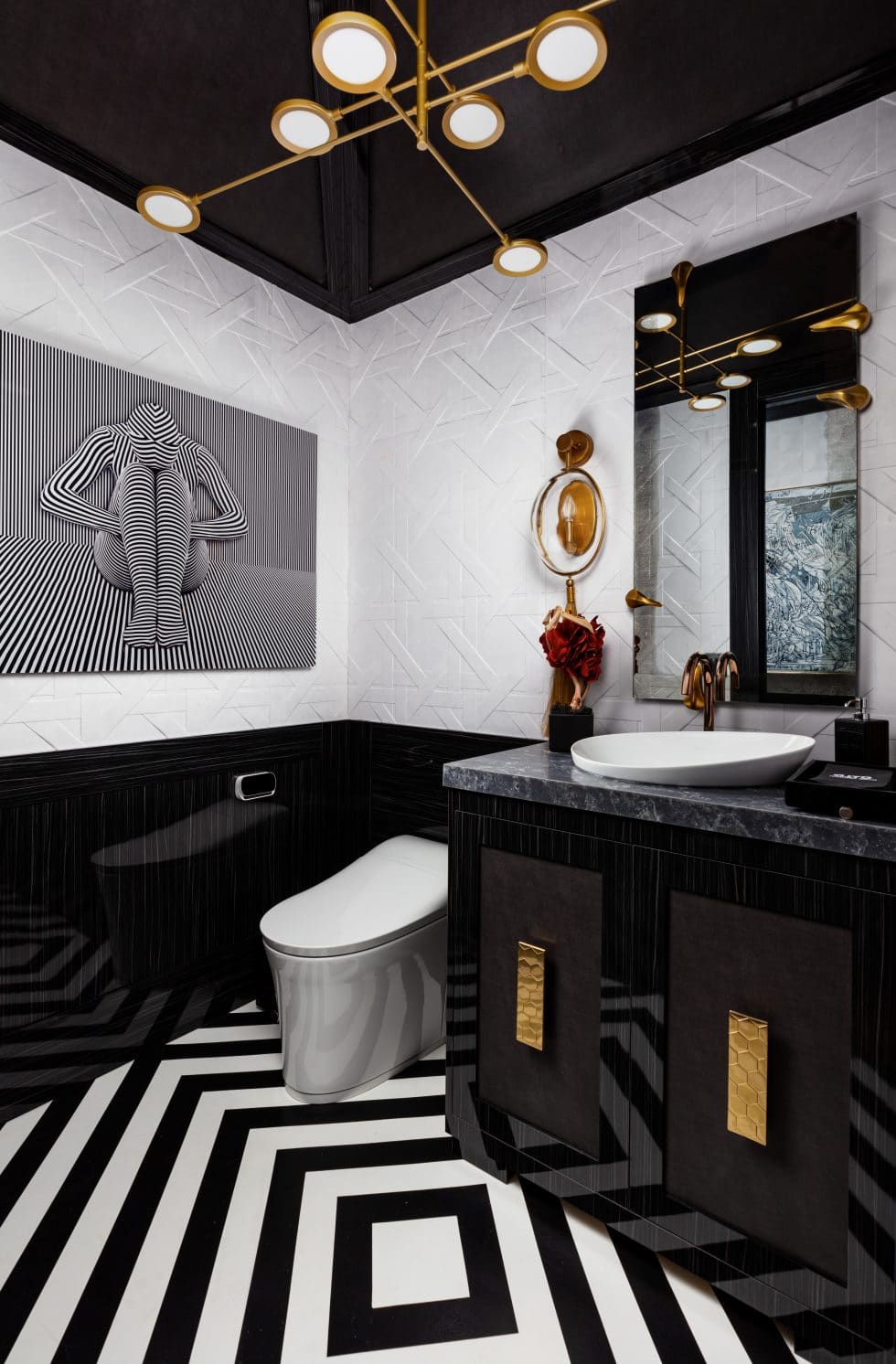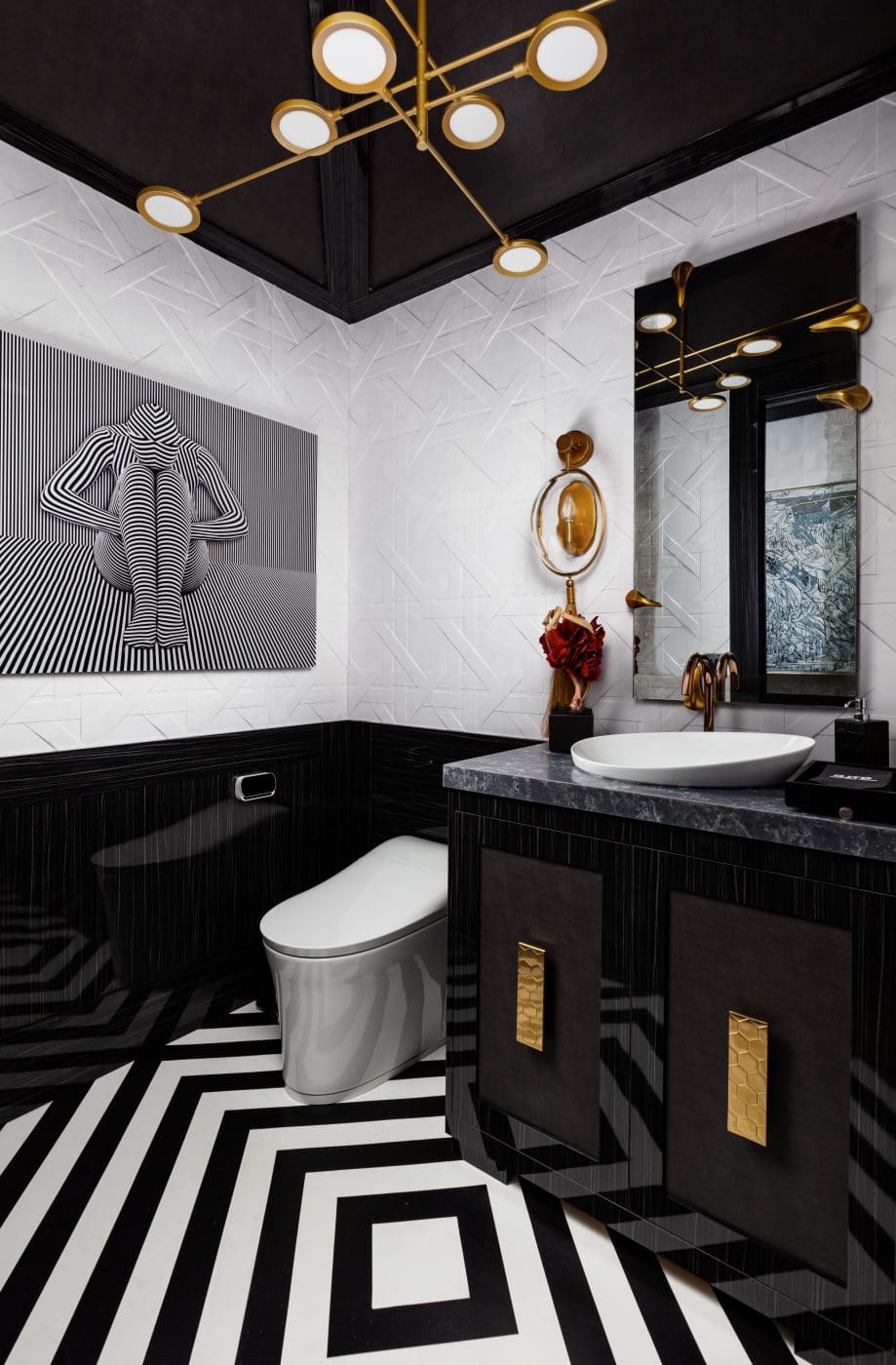 Joe Lucas Sitting Room Interior Design Ideas |  2020 Kips Bay Palm Beach Decorator Showhouse
West Hollywood-based ​Joe Lucas​ of ​Lucas Studio, Inc.​ transformed one of the West Palm Beach home's guest suites into a chic and intimate sitting room. Lucas coined the sitting room ​"The Palmetto Snug."​ Inspired by the subtle parchment and pink hues of the Fromental abstract wallpaper, the abstract sitting room features coastal touches of pink and corals combined with golden tones. Vintage rush chairs provide great a great relaxed Jux-to-position texture. Relaxed roman shades in custom fabric by ​The Shade Store​ provide window coverage. A well-appointed bar and sculptural pieces throughout create the perfect atmosphere for a cocktail by the custom fireplace on a chilly evening.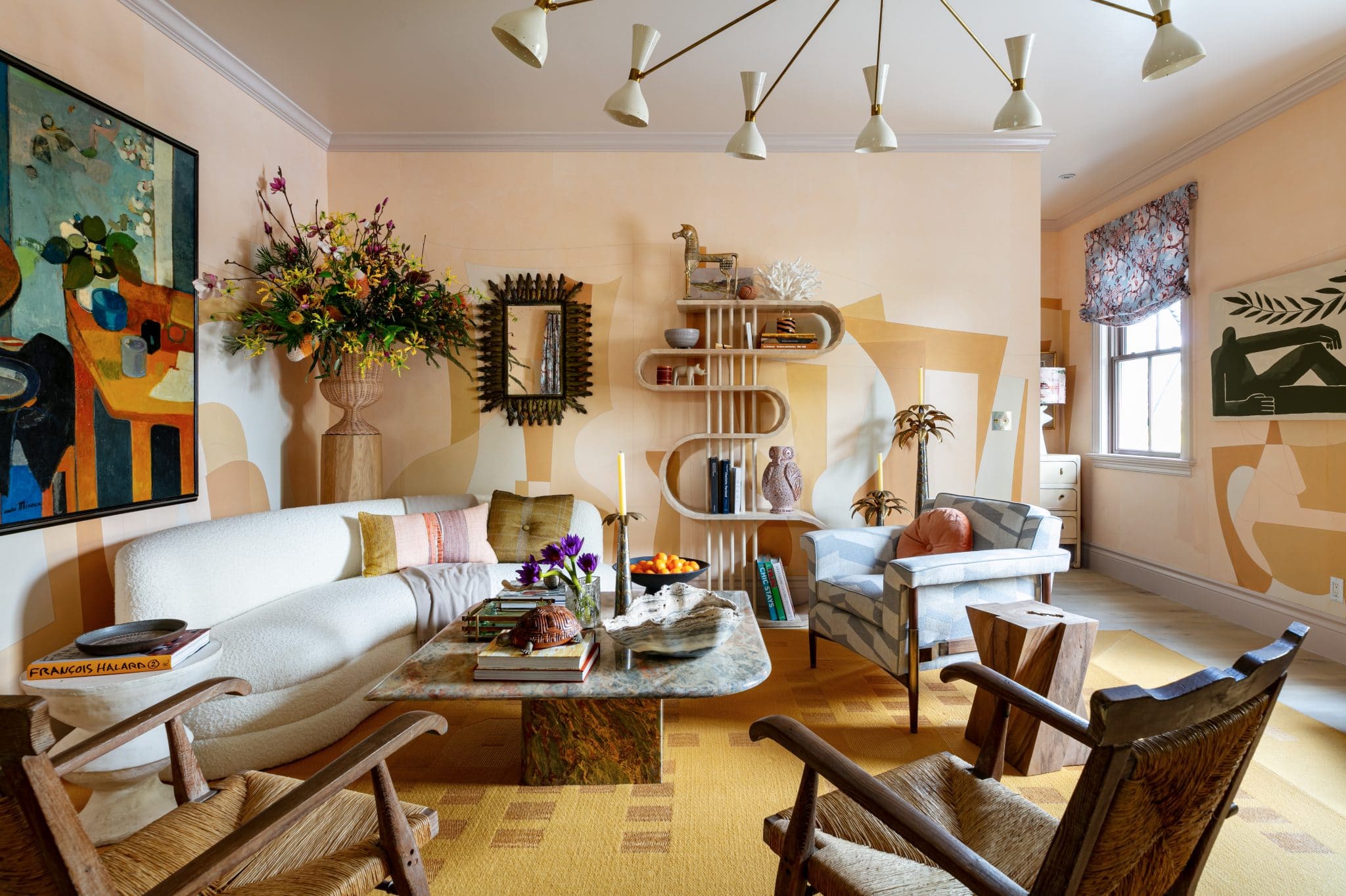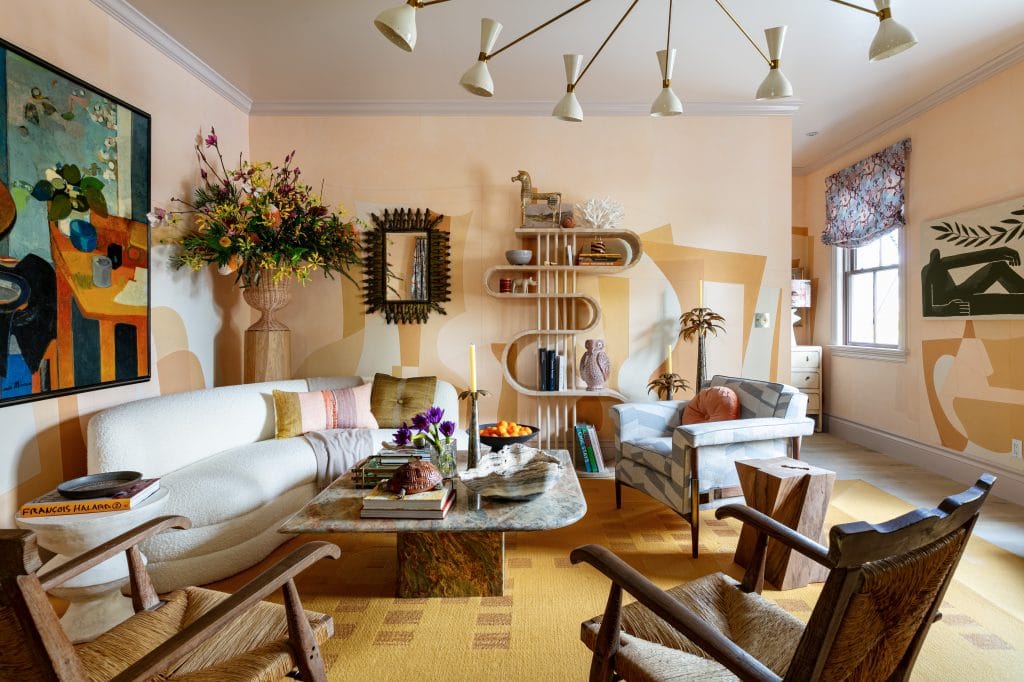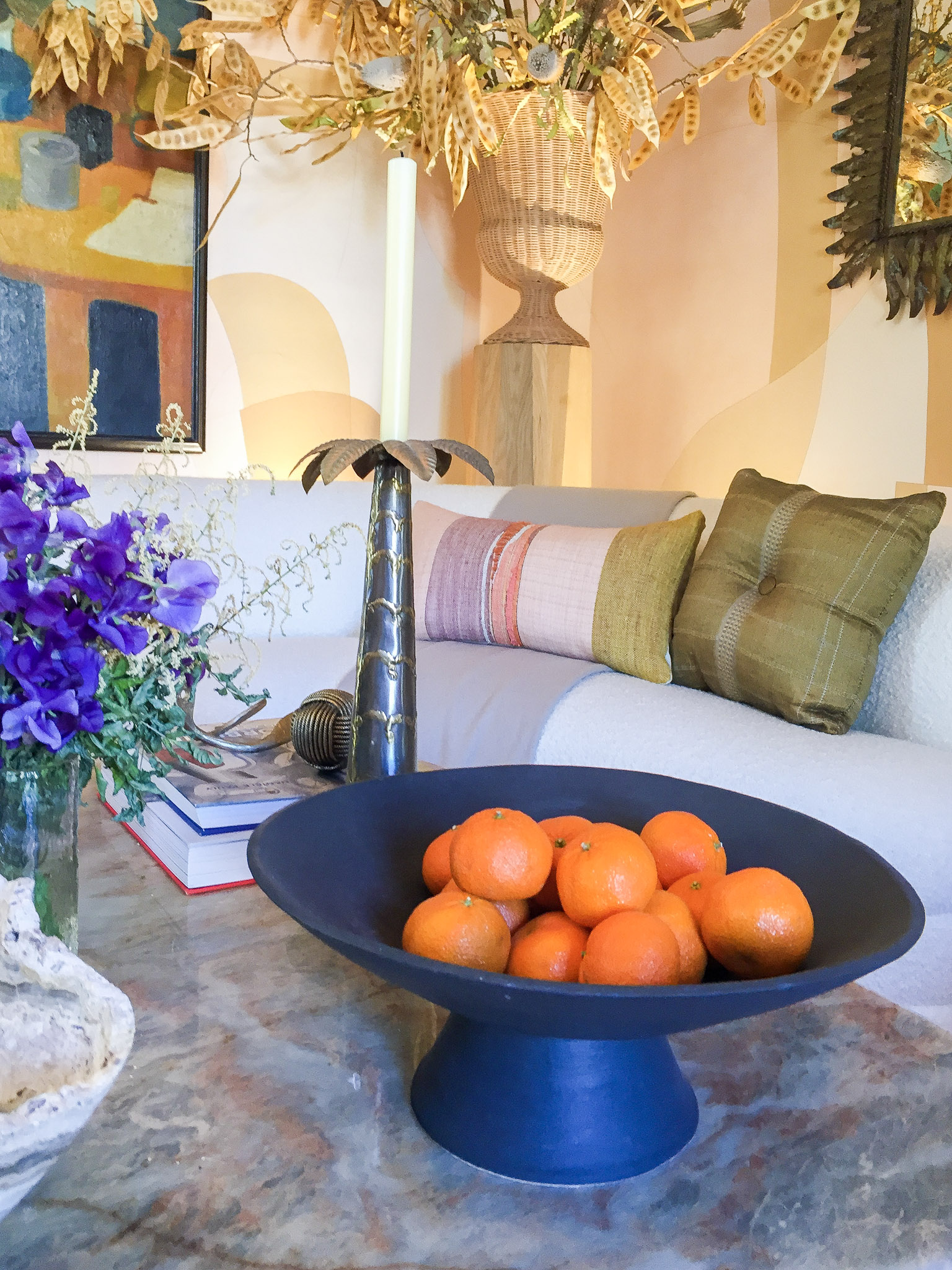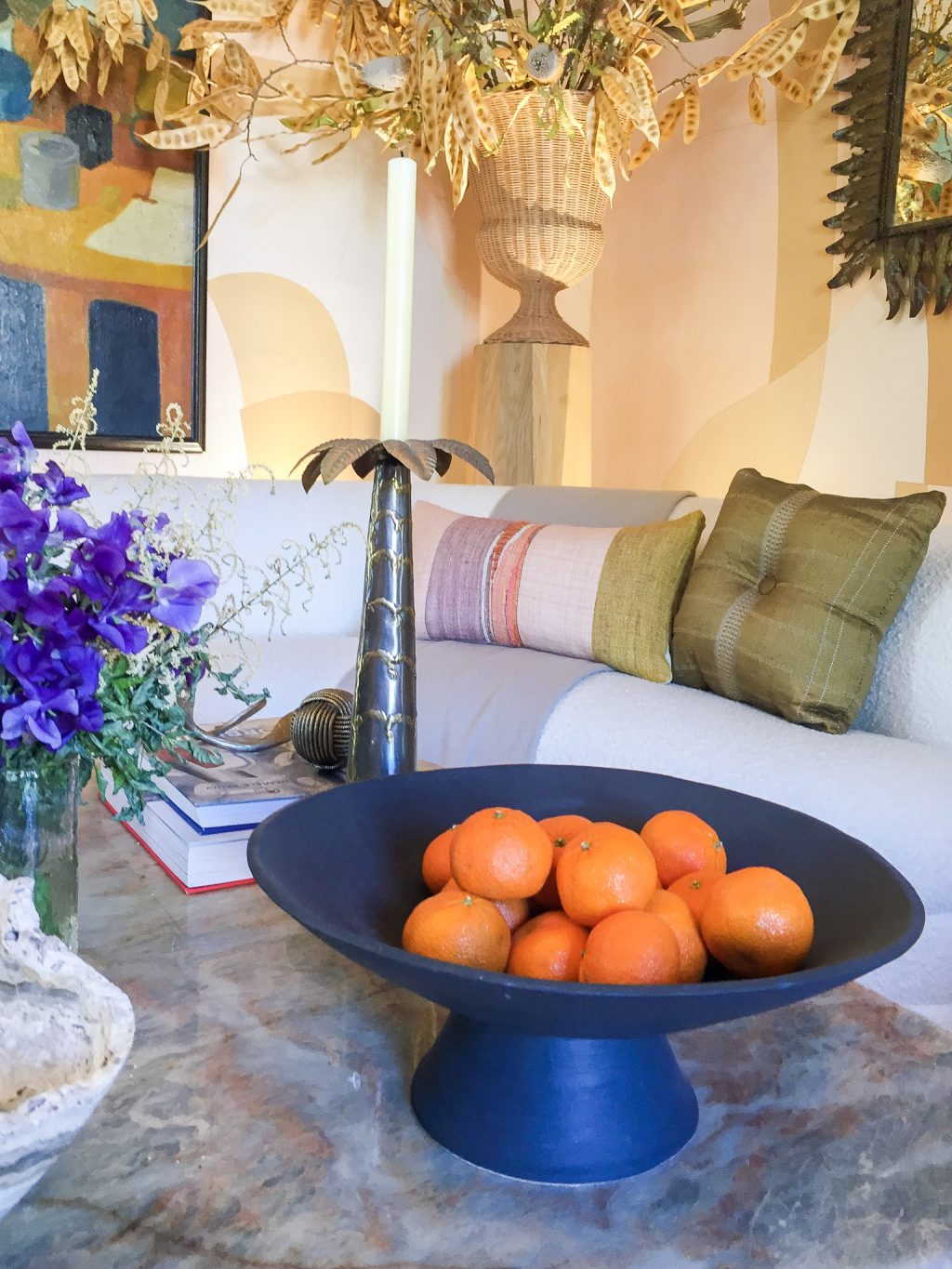 Joe Lucas Fish Powder Room Interior Design Ideas |  2020 Kips Bay Palm Beach Decorator Showhouse
The bath was completely transformed with speckled black and coral terrazzo tiles. CW Stockwell wallpaper and new plumbing Components collection fixtures by ​KOHLER​.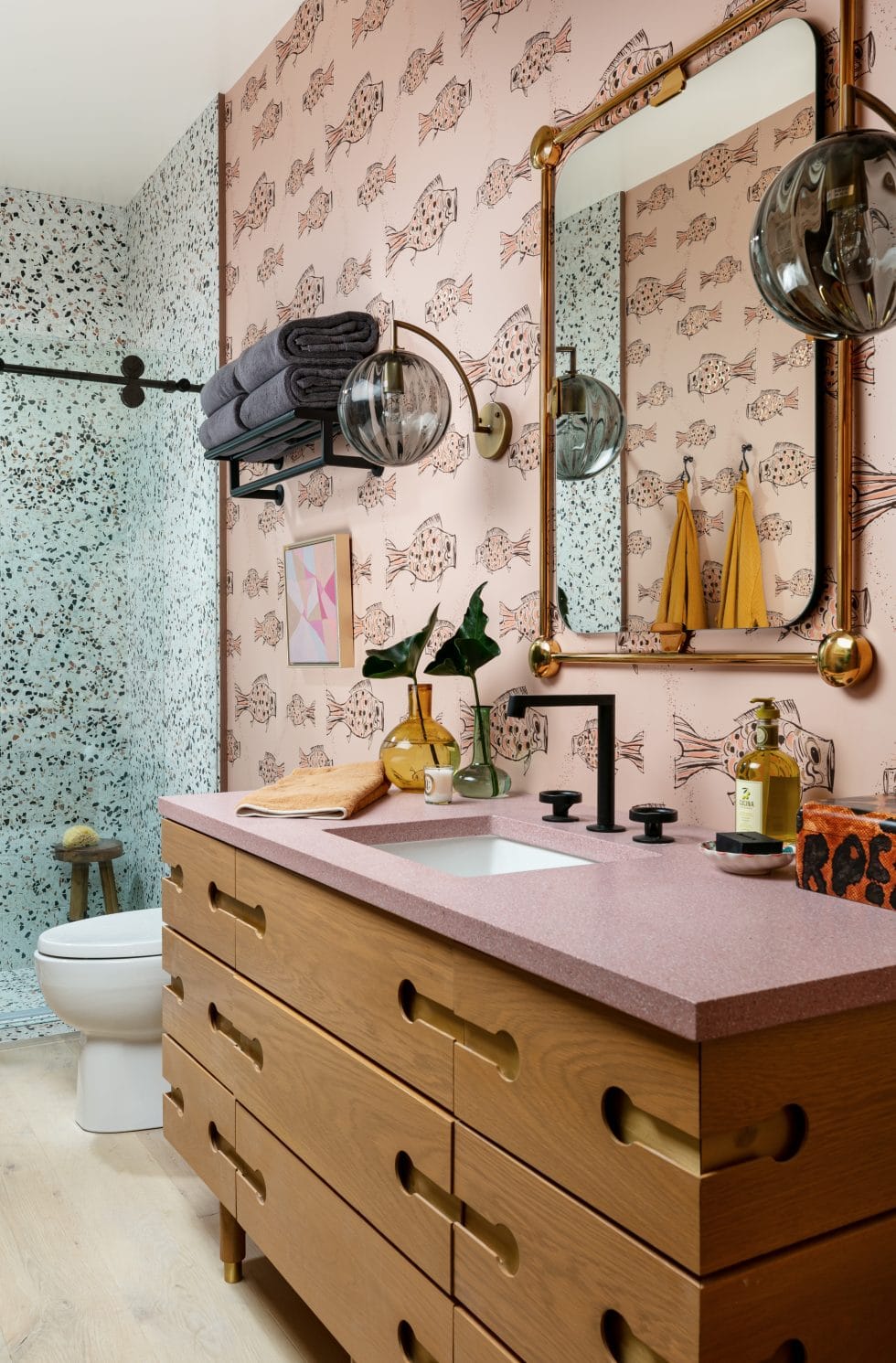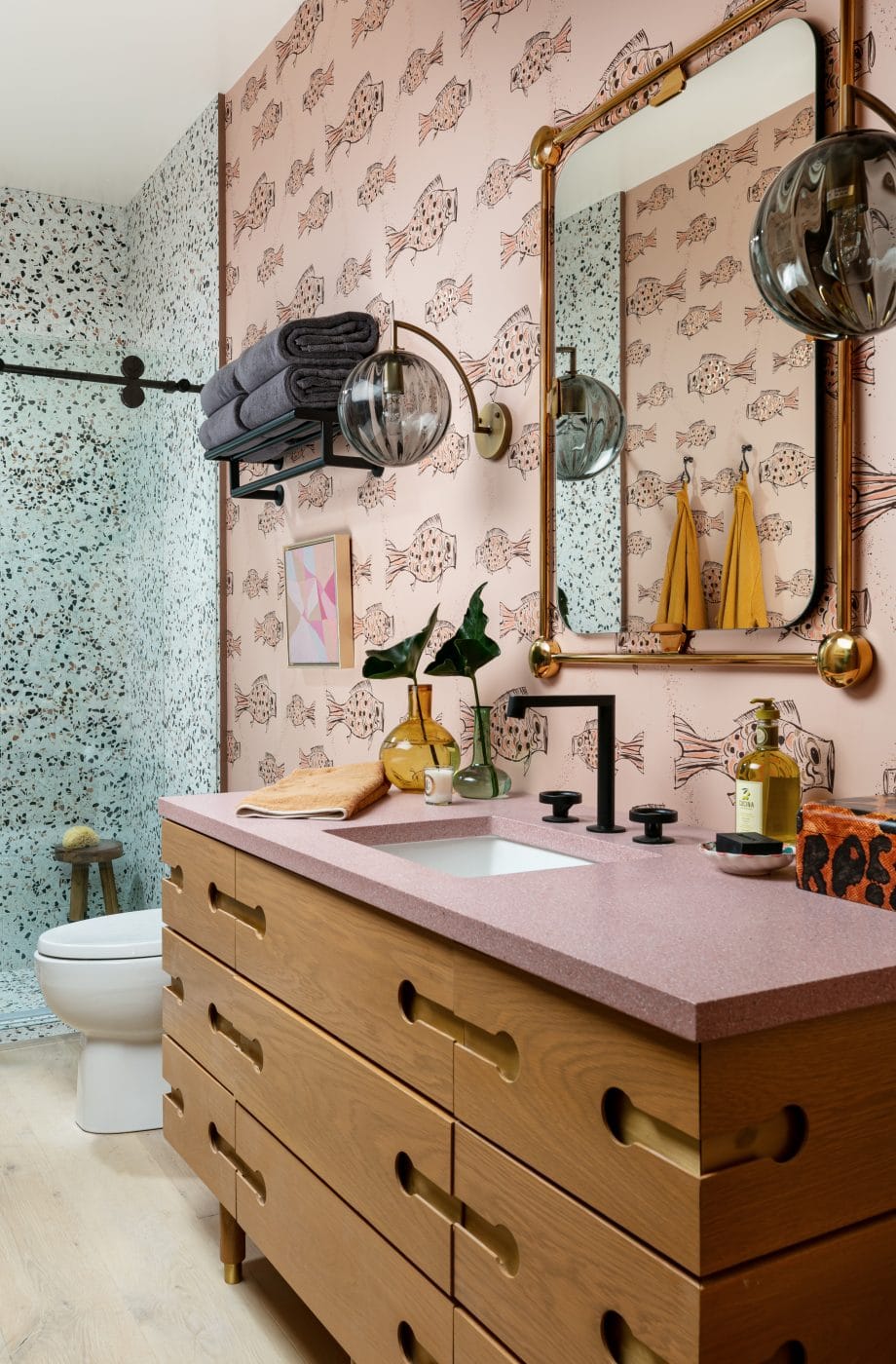 Joe Lucas's Seashell Outdoor Terrace Design Ideas |  2020 Kips Bay Palm Beach Decorator Showhouse
The Joe Lucas outdoor terrace features a collection of vintage French rattan furniture and a stone dining table by ​Serena & Lily​, while hand-painted shells from Cape Town adorn the walls.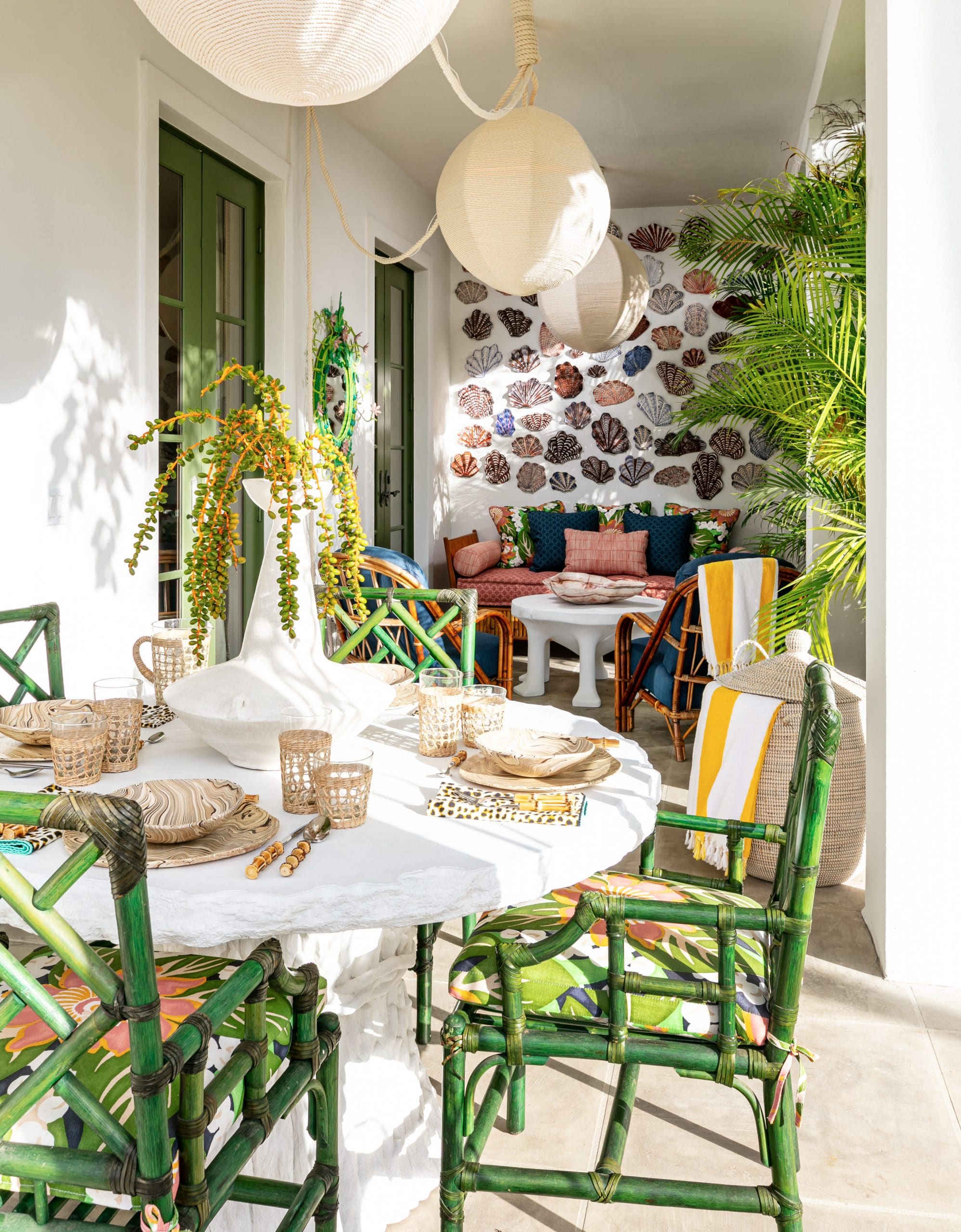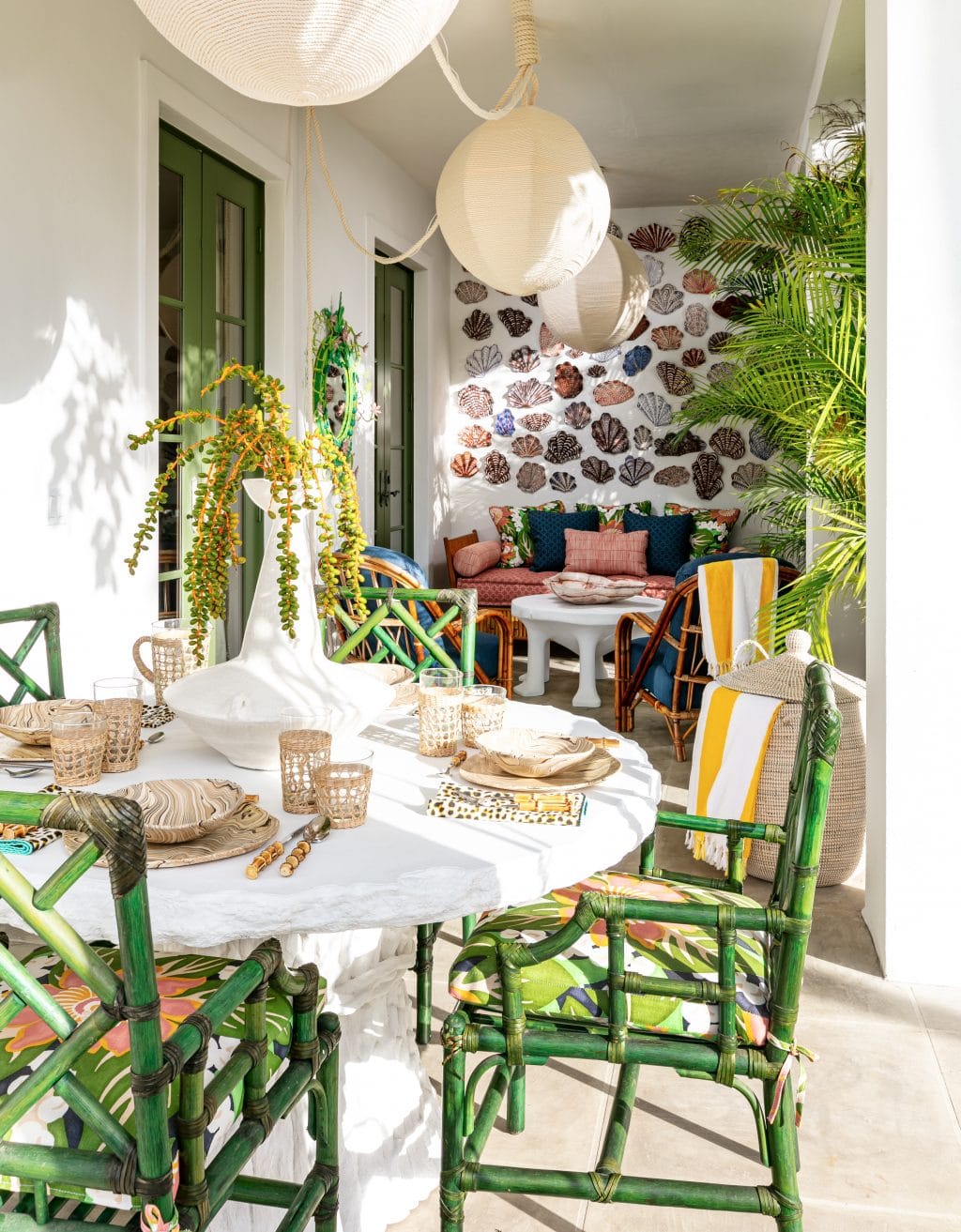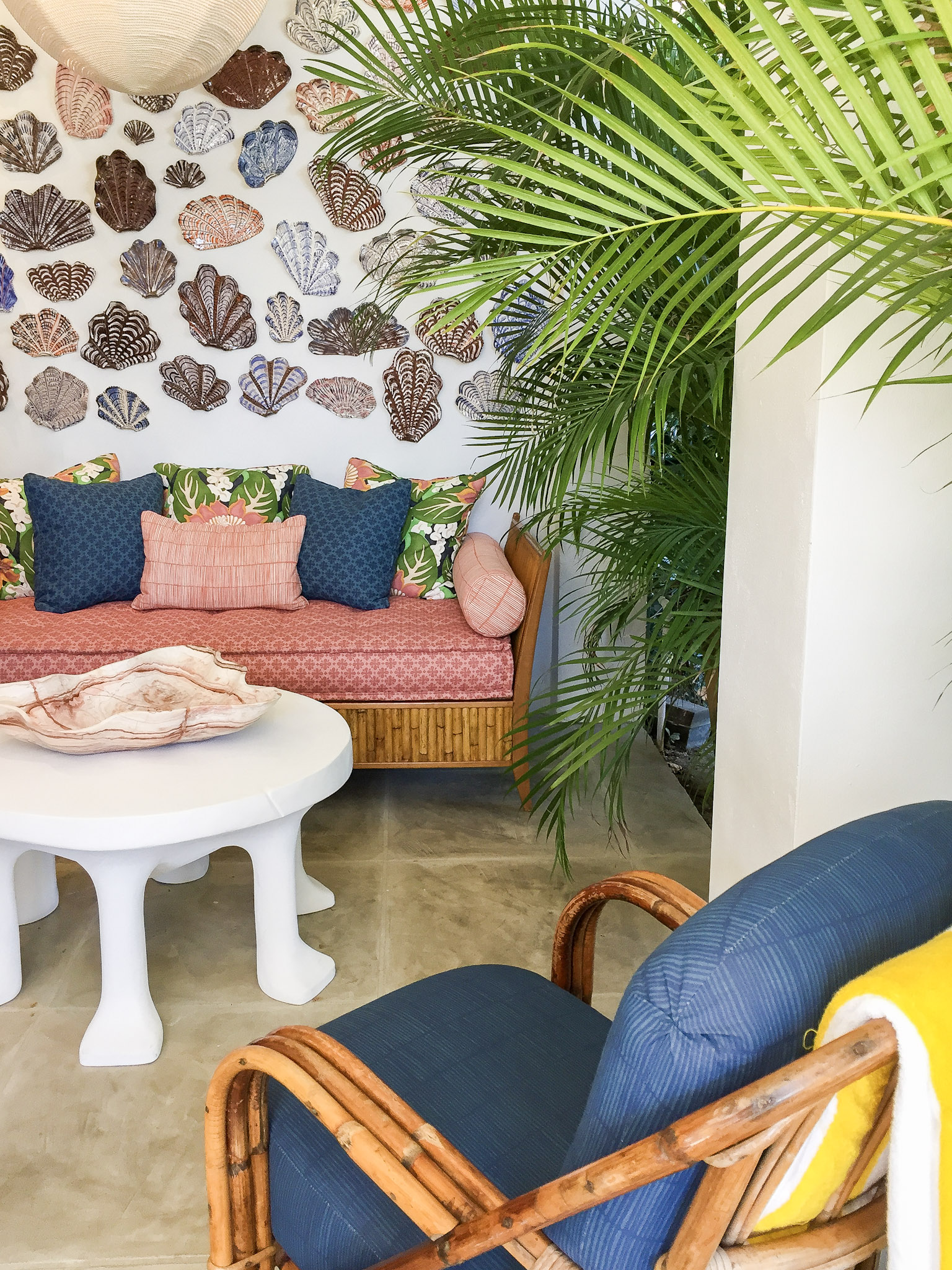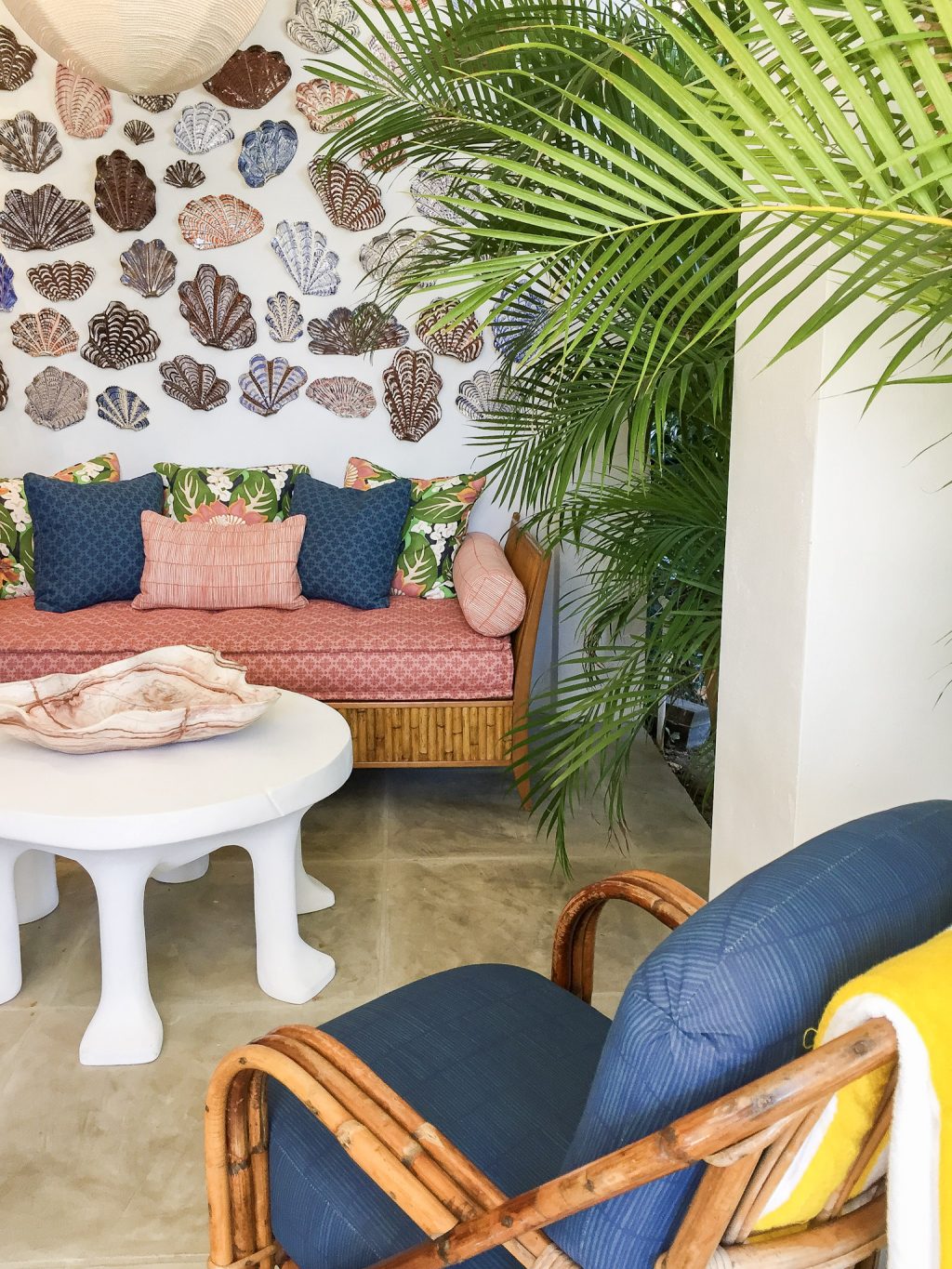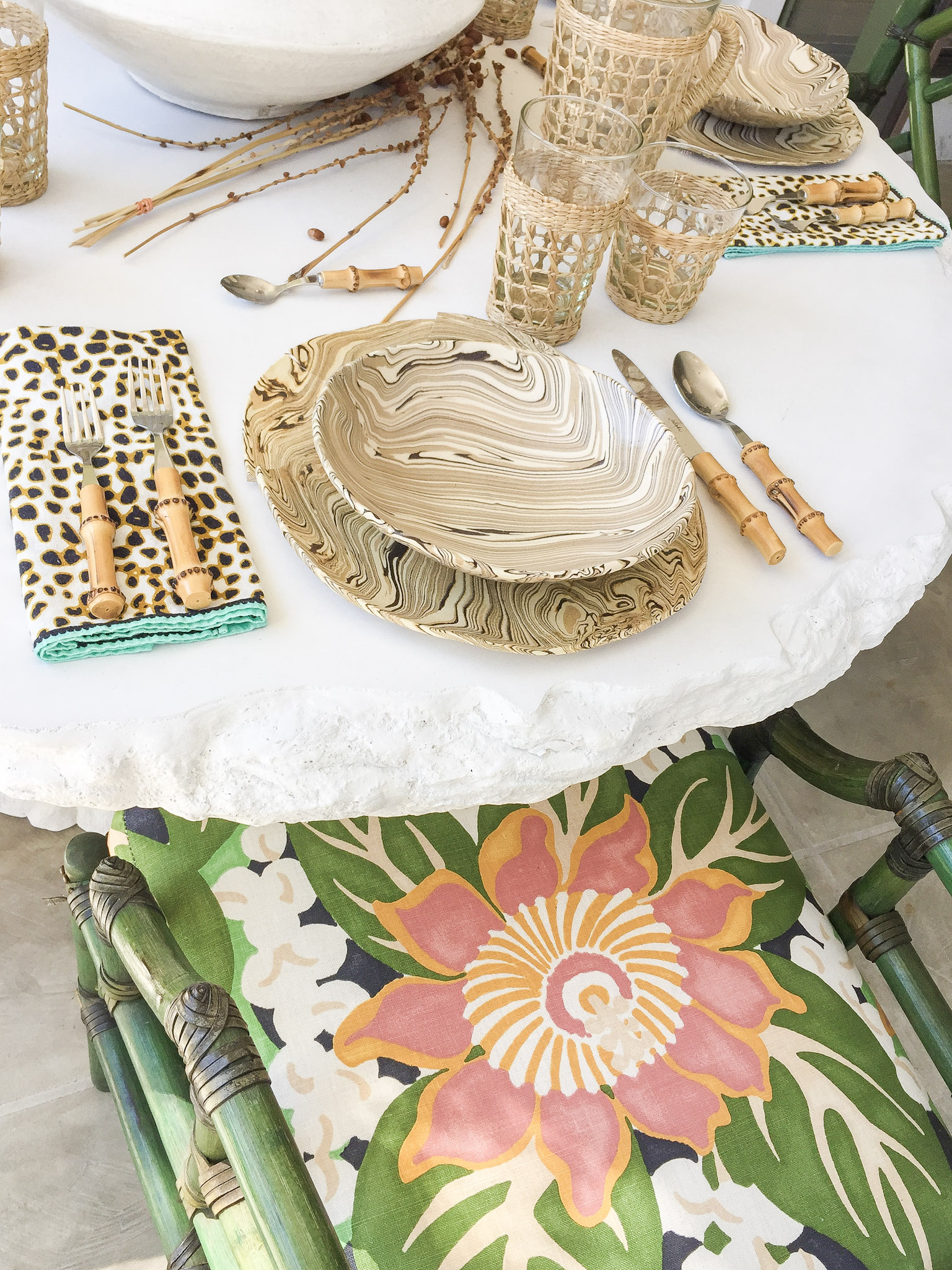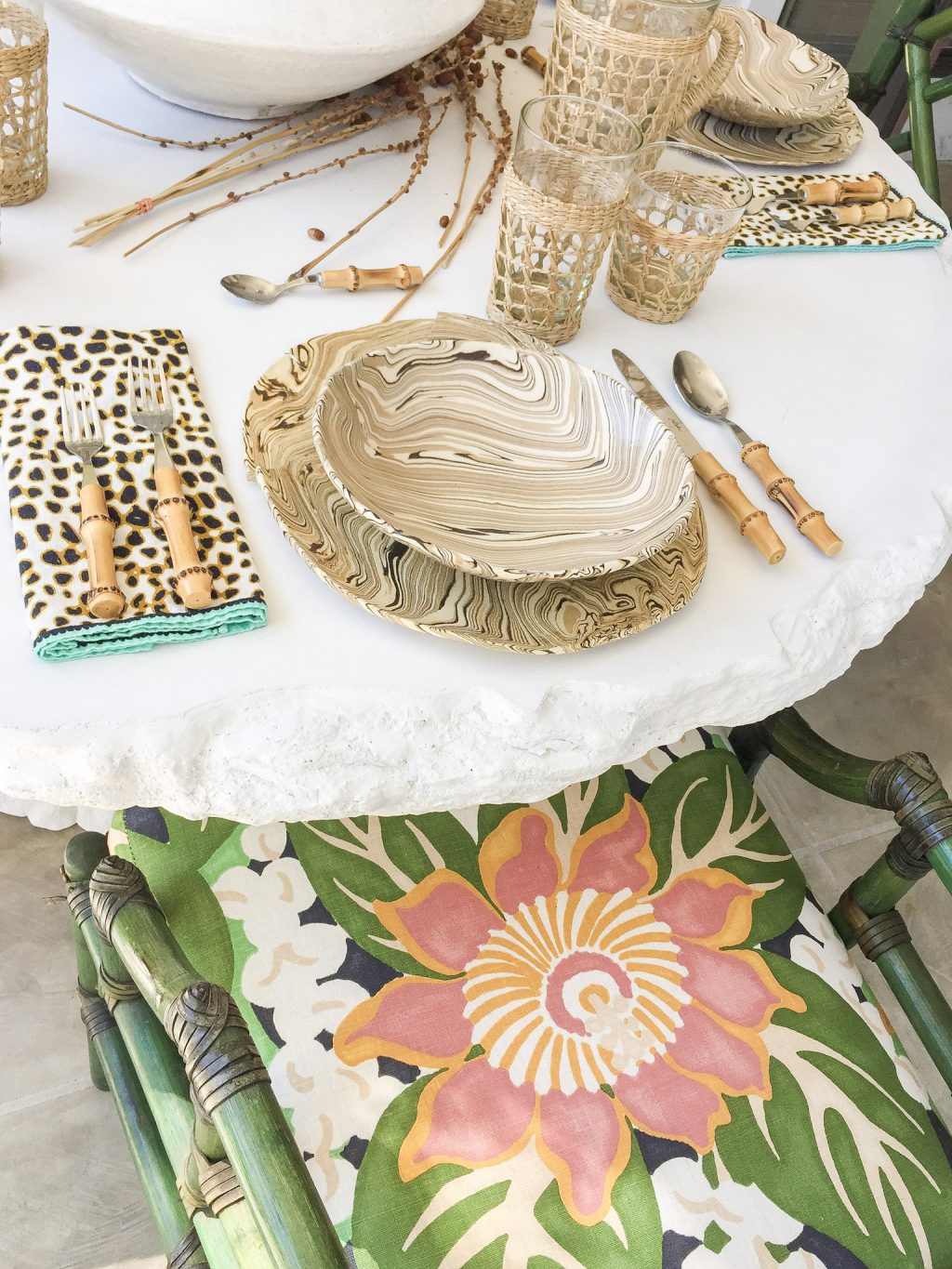 Jonathan Savage's Well-Traveled​ Pool Pavilion Design Ideas |  2020 Kips Bay Palm Beach Decorator Showhouse
Inspiration for the ​"Cabana Hideaway"​ by ​Jonathan Savage of ​Savage Interior Design​ was derived from the Nashville-based designer's lifetime of travel to the French West Indies. The relaxed and livable outdoor escape is filled with exquisite finishes from Indonesian teaks, luxurious woven fabrics, and heirloom quality furnishings and accessories.
Nantucket and Palm Beach fine art photographer Nathan Coe's print, alongside ​The Shade Store's​ custom drapery, is the perfect backdrop to the lush upholstered Sutherland Furniture​ daybed.​ ​The pair of custom-designed teak louvered dividers flanked the space contrast with crisp white painted walls to create the ultimate luxurious respite.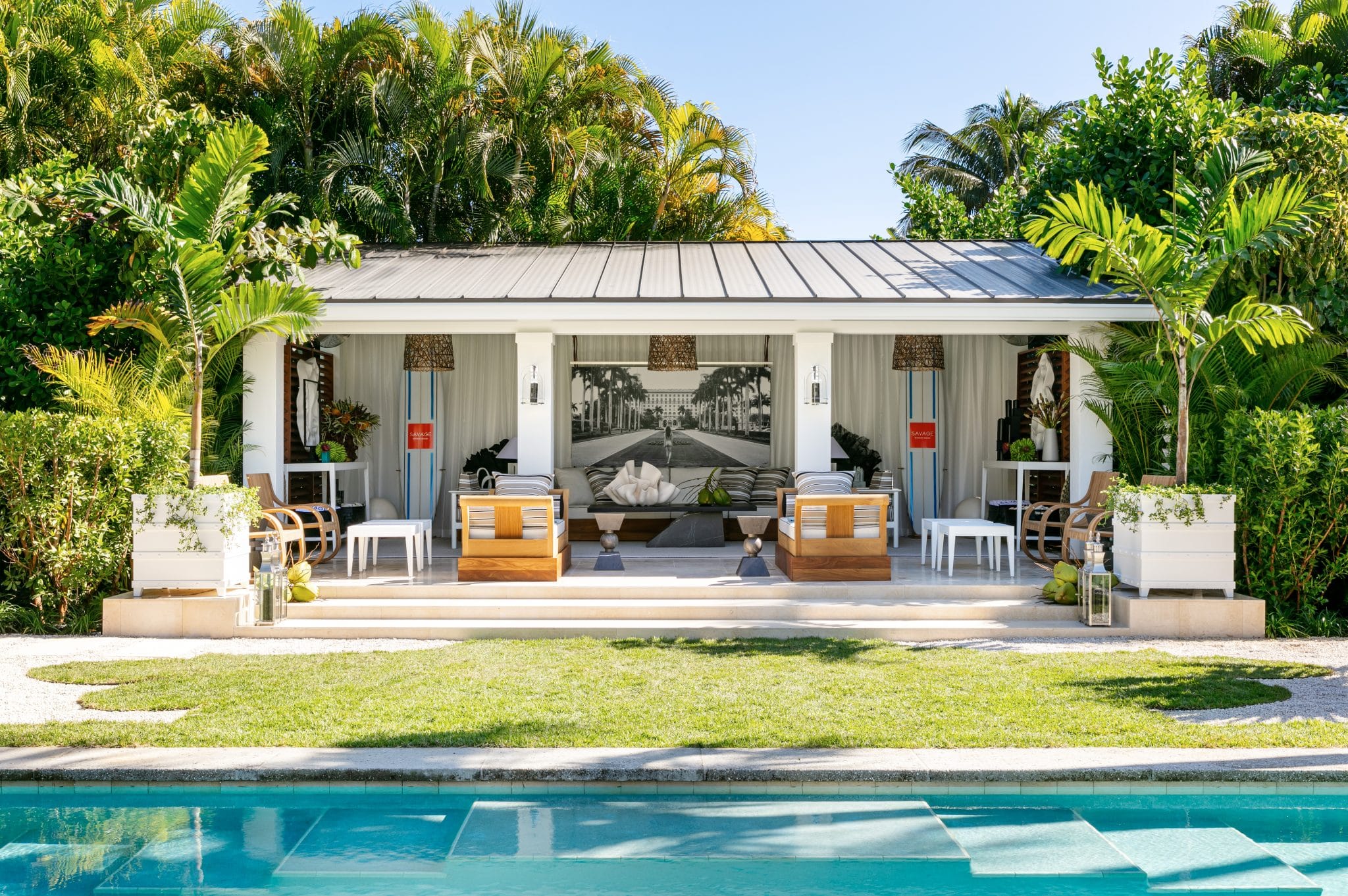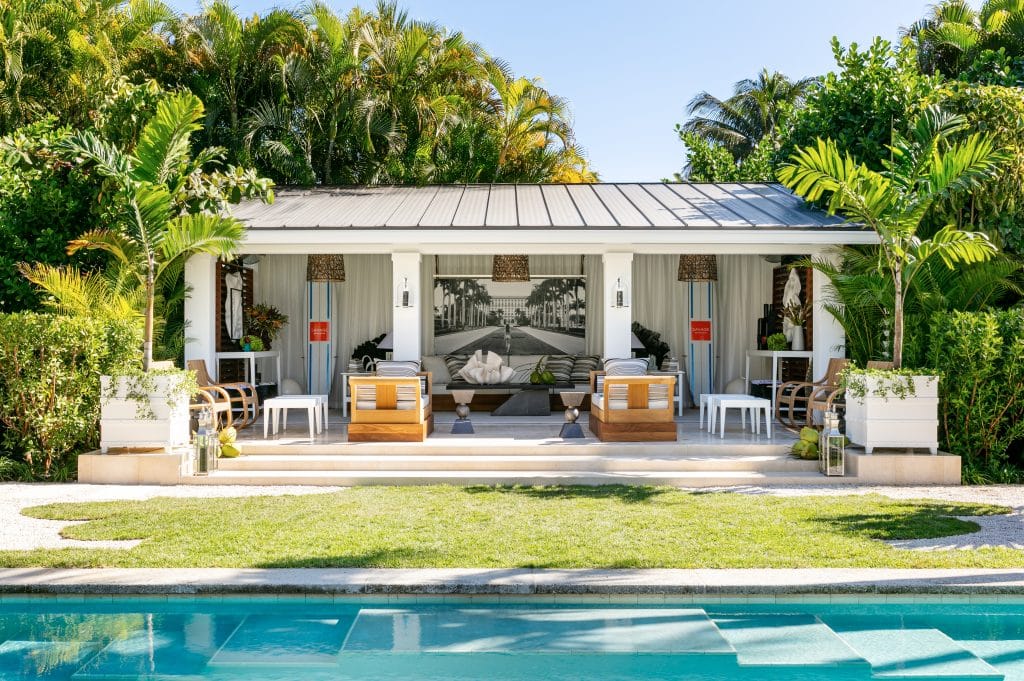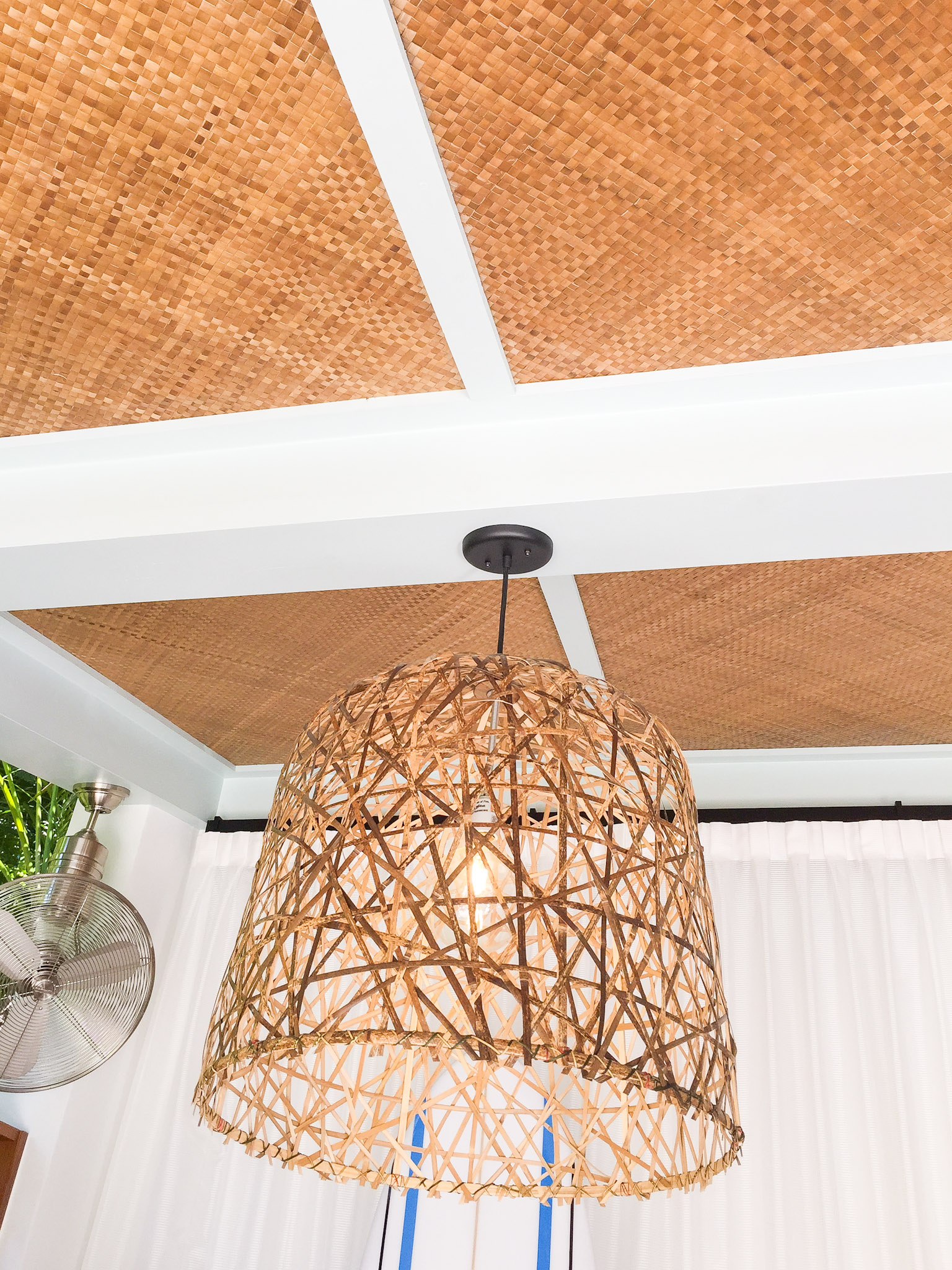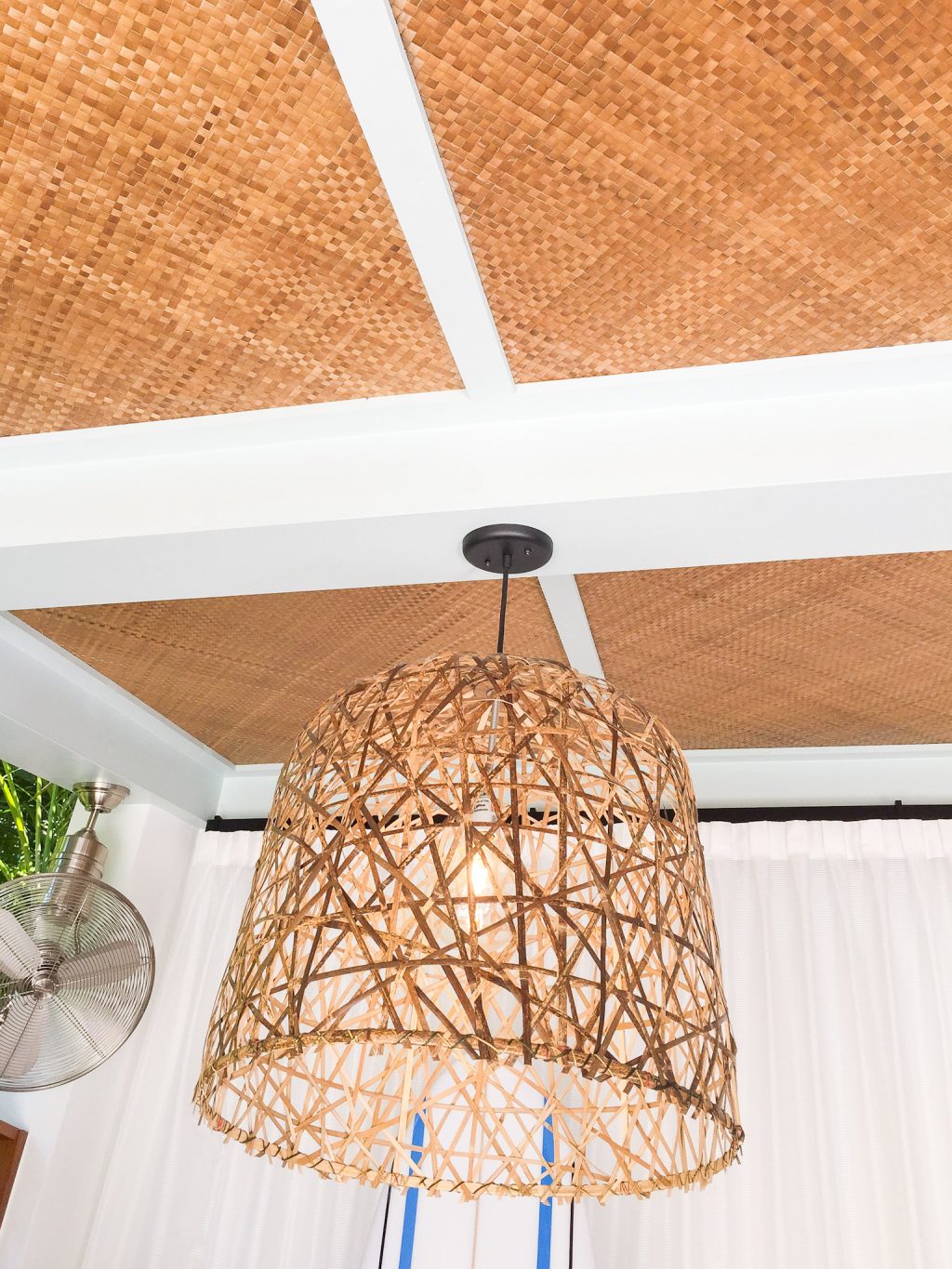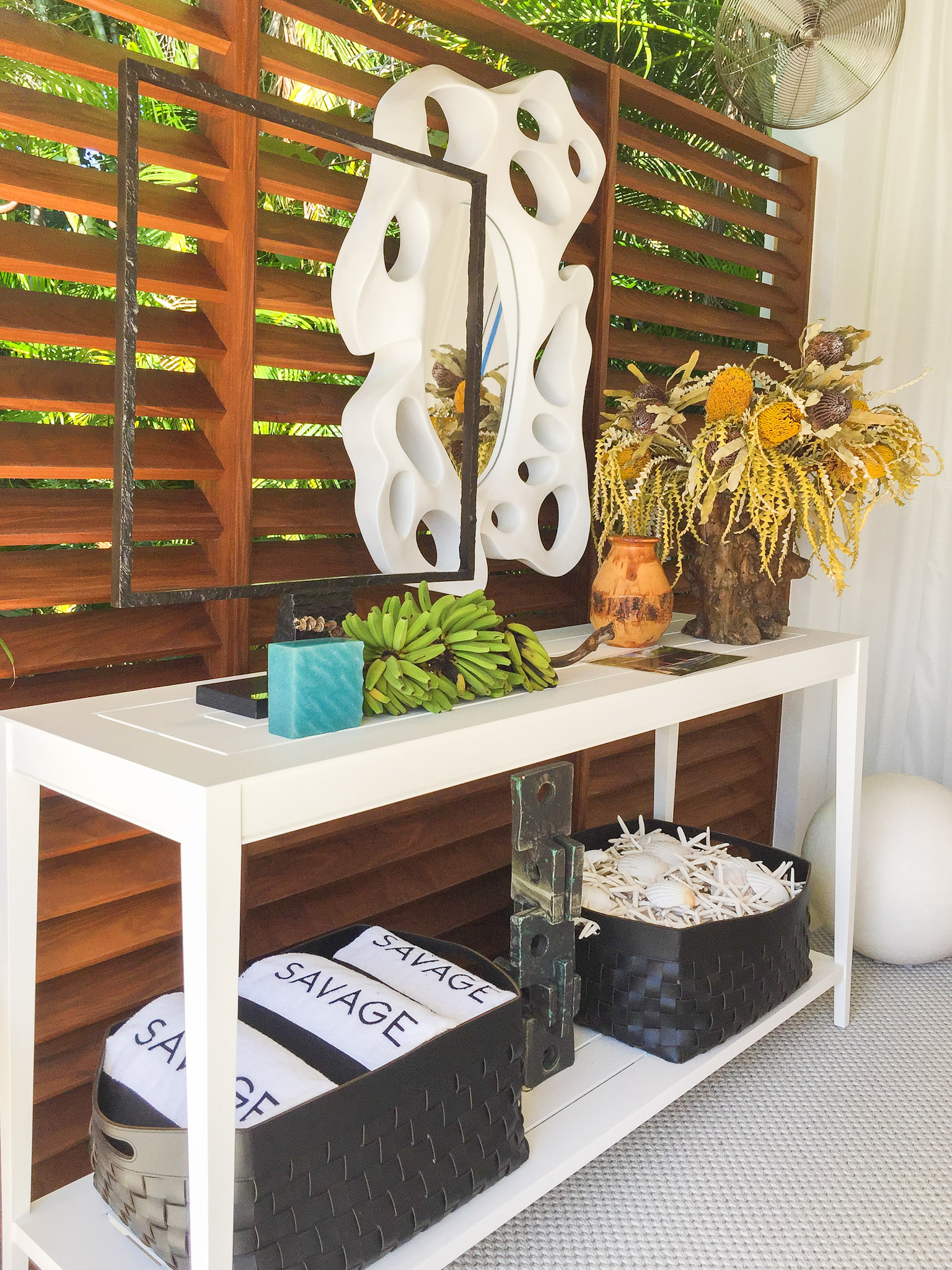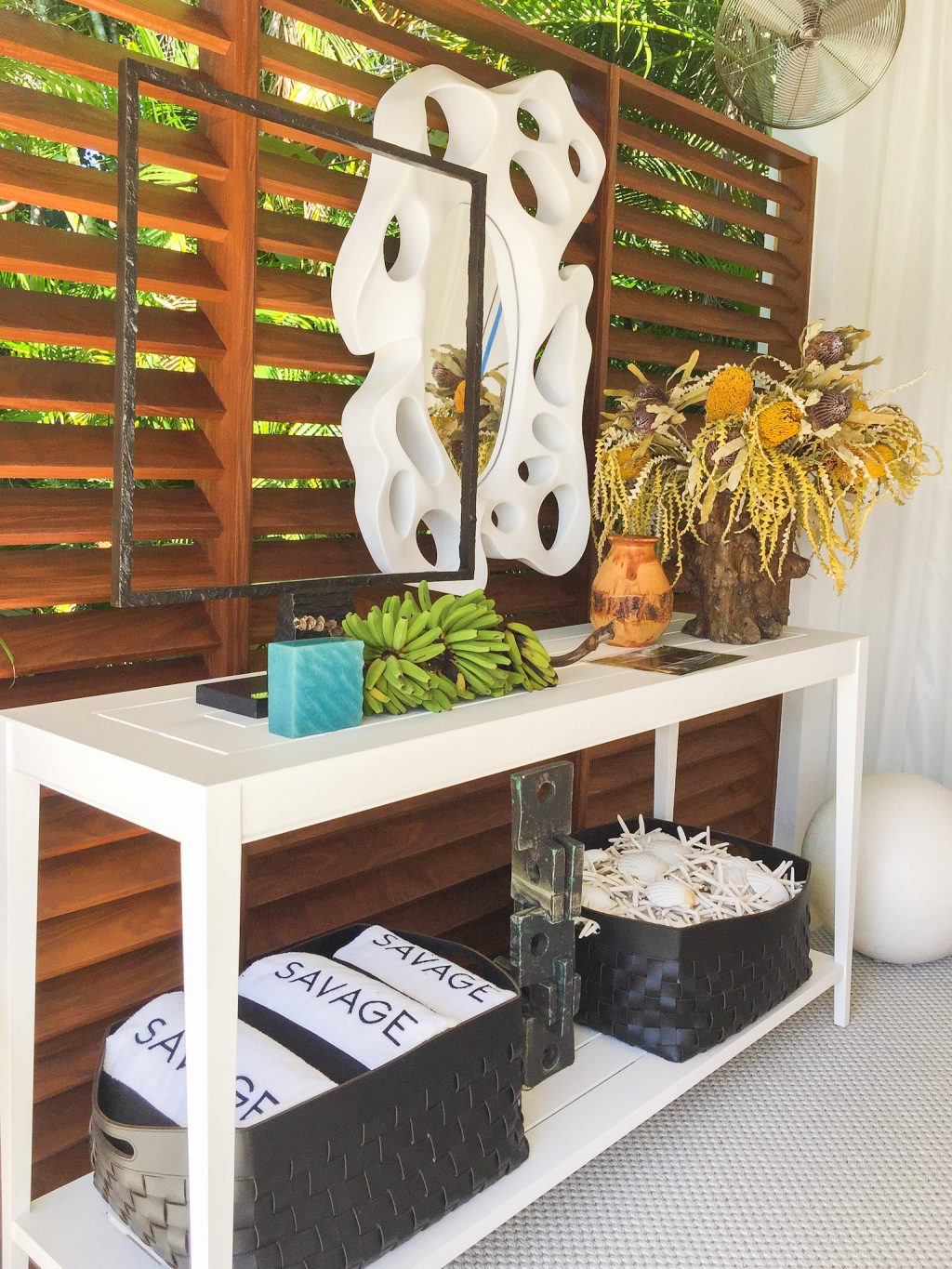 Colette ​van den Thillart – ​Turkish Dining Terrace Design Ideas |  2020 Kips Bay Palm Beach Decorator Showhouse
Toronto-based ​Colette van den Thillart ​of ​Colette van den Thillart Interior Design​ transformed the outdoor dining terrace into a delightful enclave full of character and texture reflective of stylish living. Encompassed by bougainvillea and bookended by custom trellises, the dining terrace features a black-and-white color scheme with subtle touches of curry and Naples yellow to celebrate the Florida sunshine. A custom hand-loomed carpet by ​New Moon Rugs grounds the space, while Turkish cushions, lanterns from ​Serena & Lily​, and a bar fit for entertaining create a laid-back space for cocktails or al fresco dining.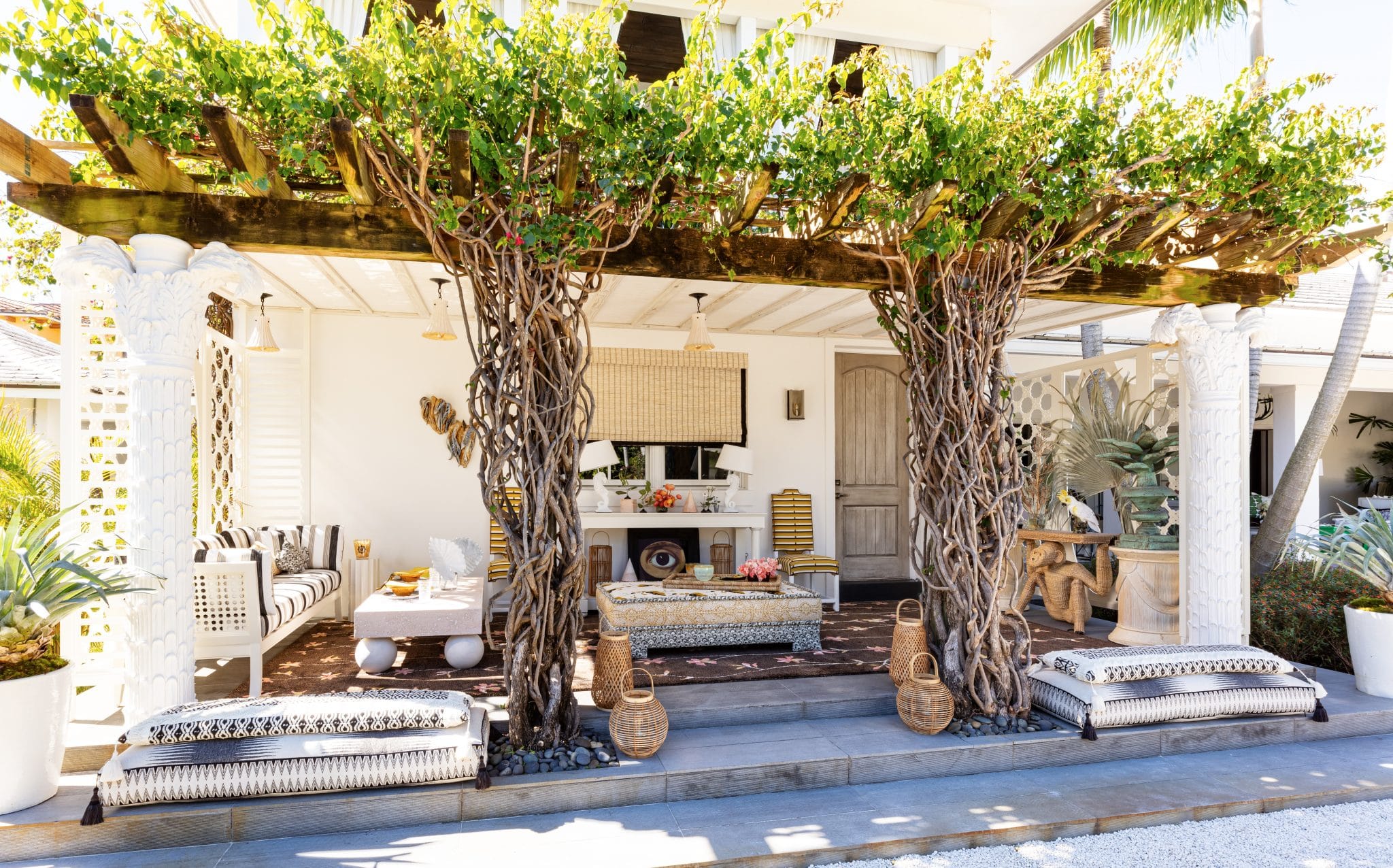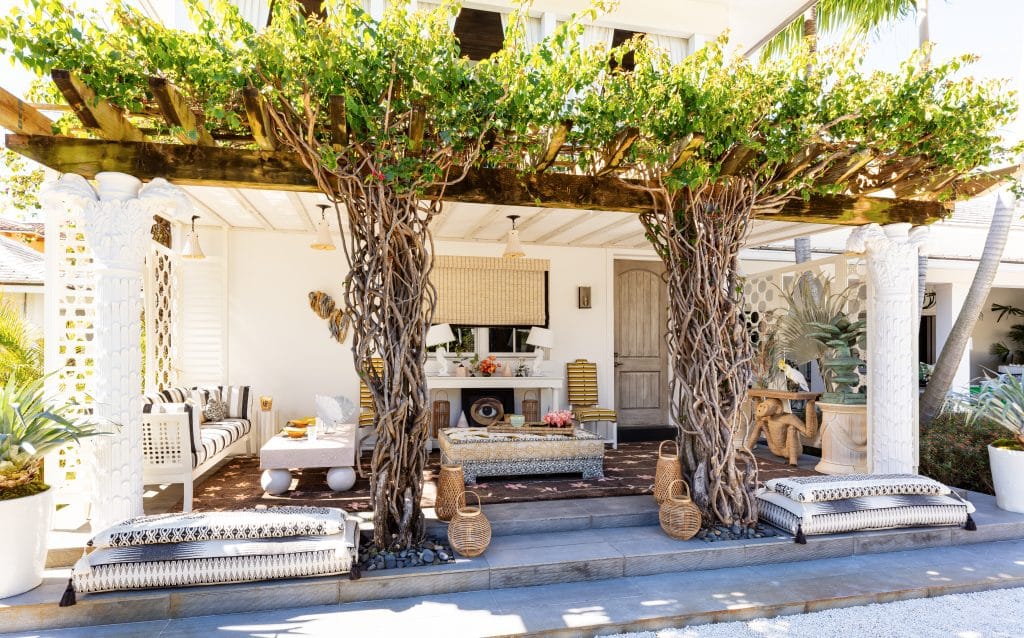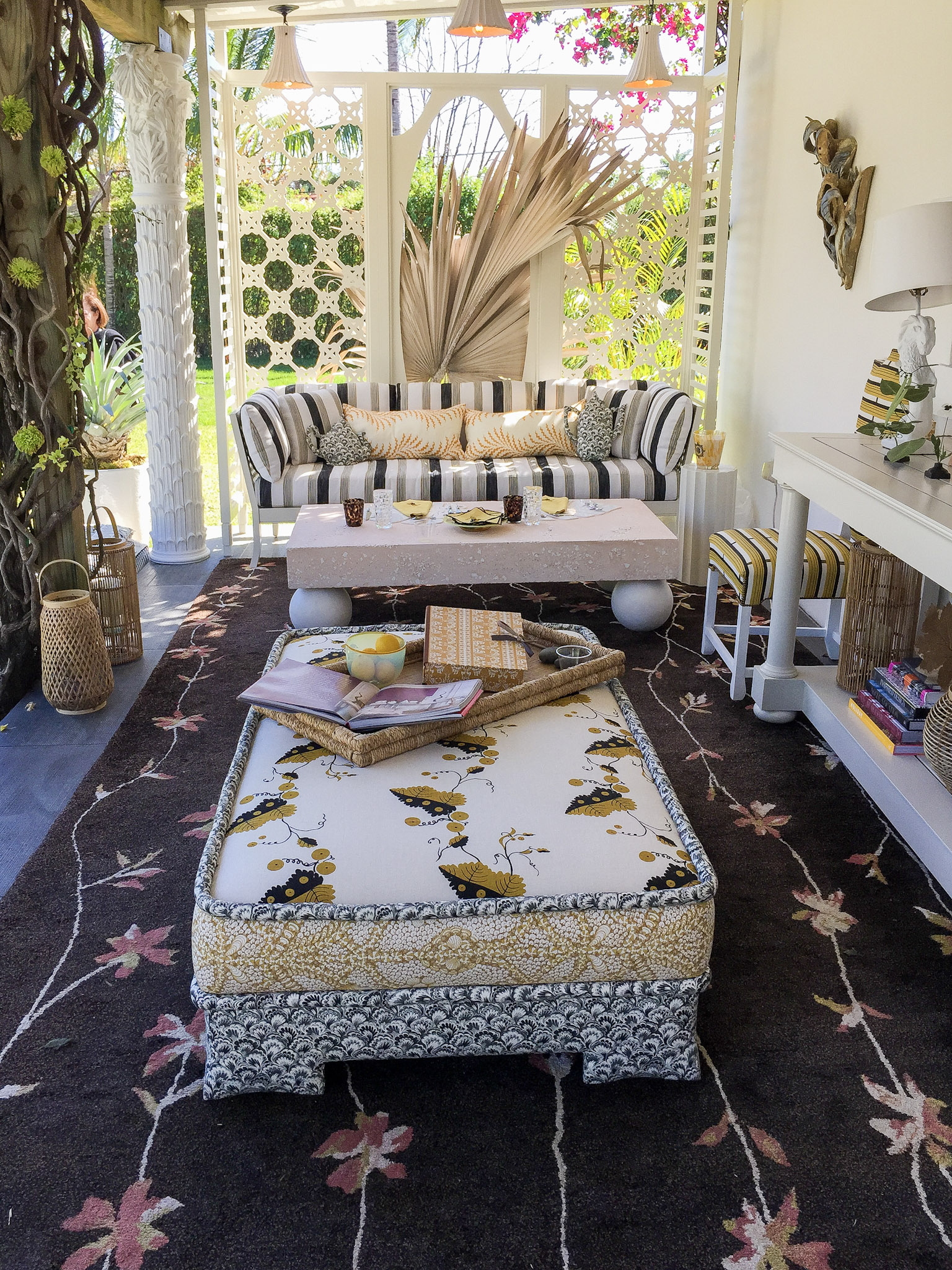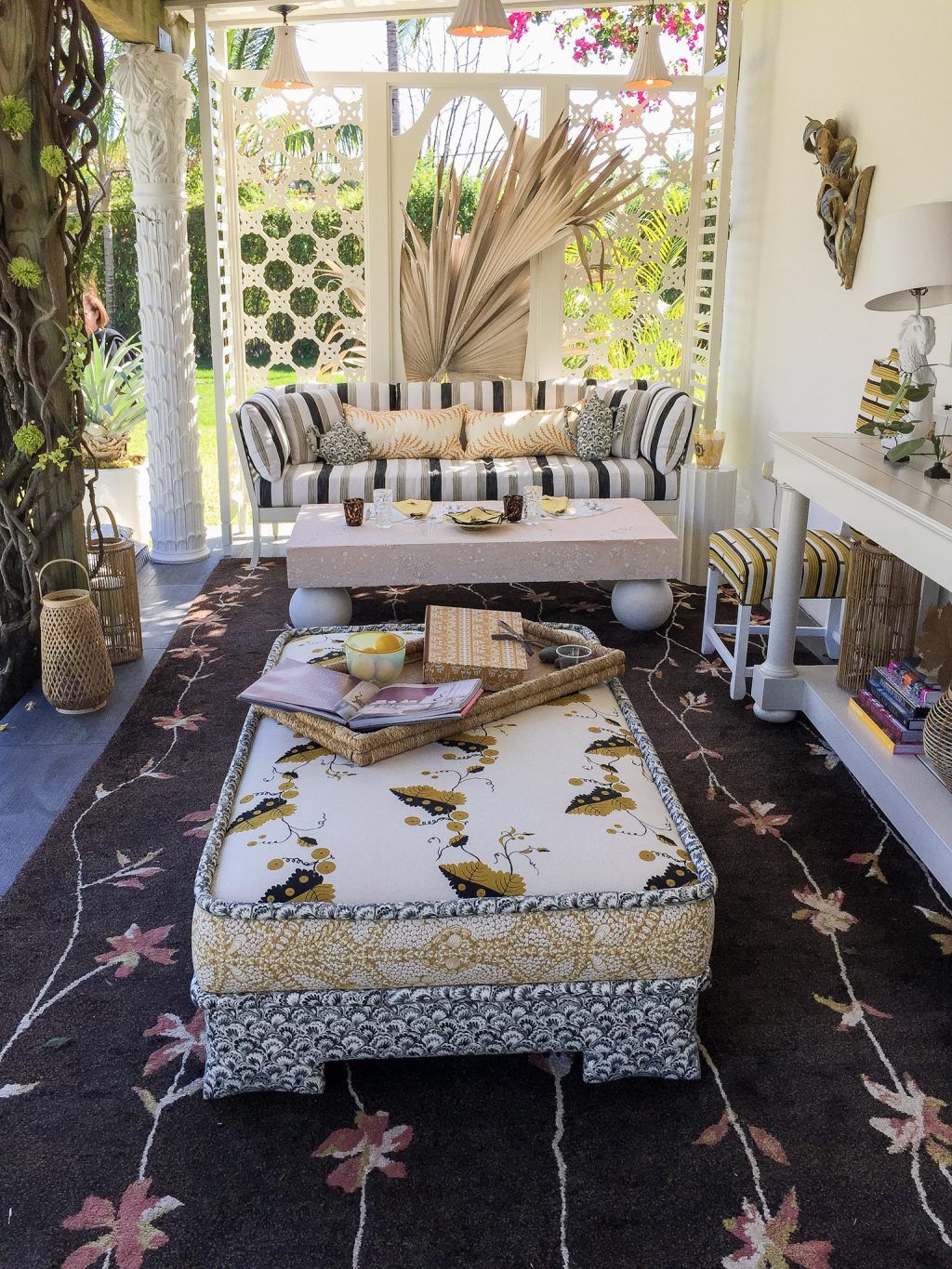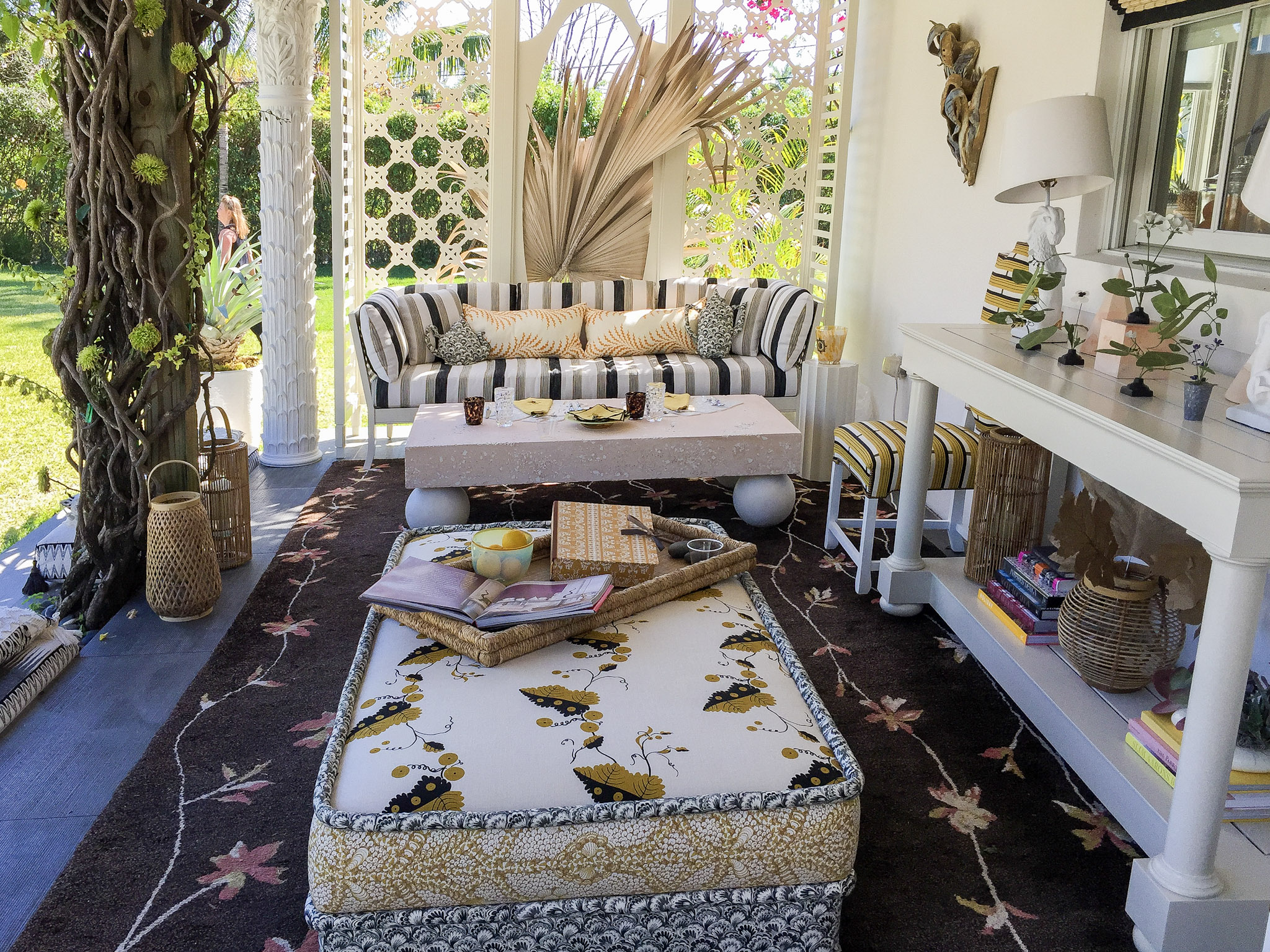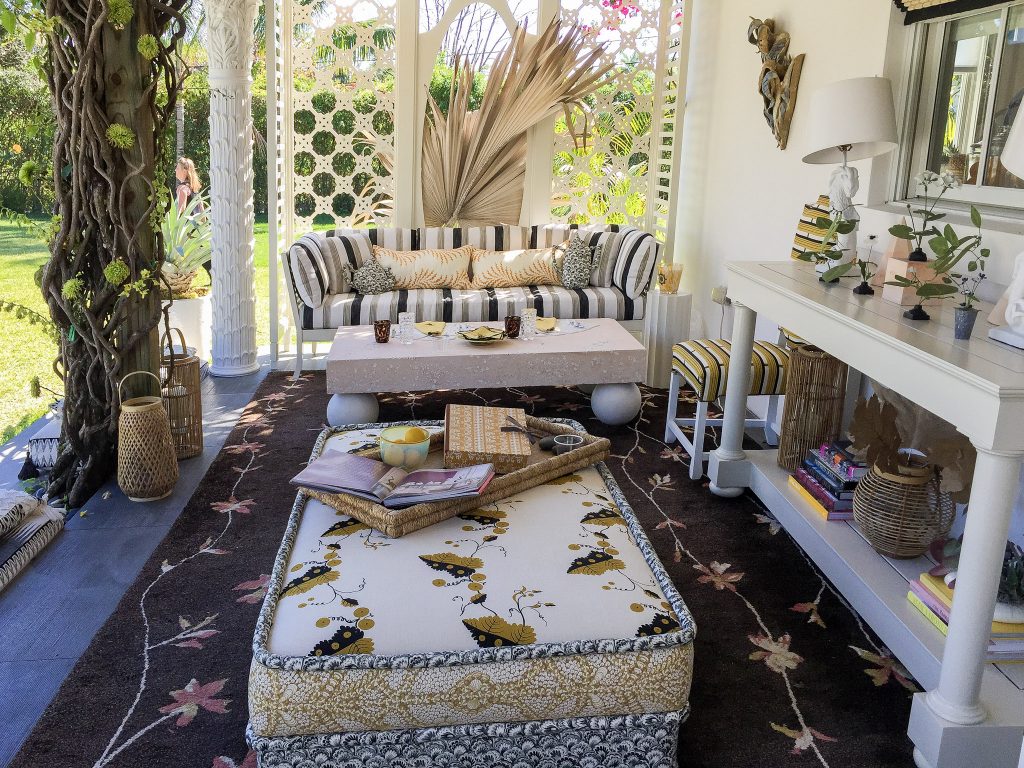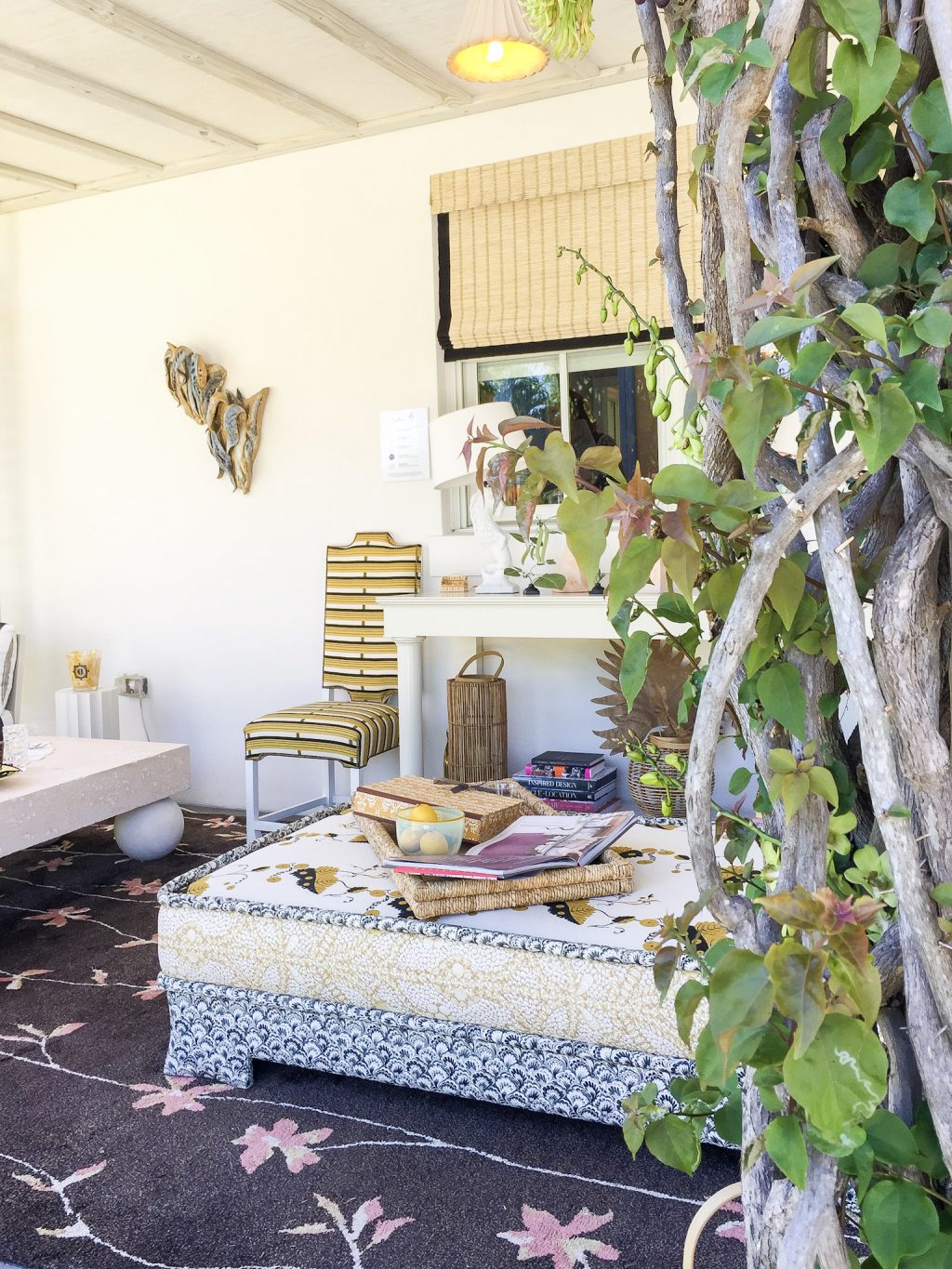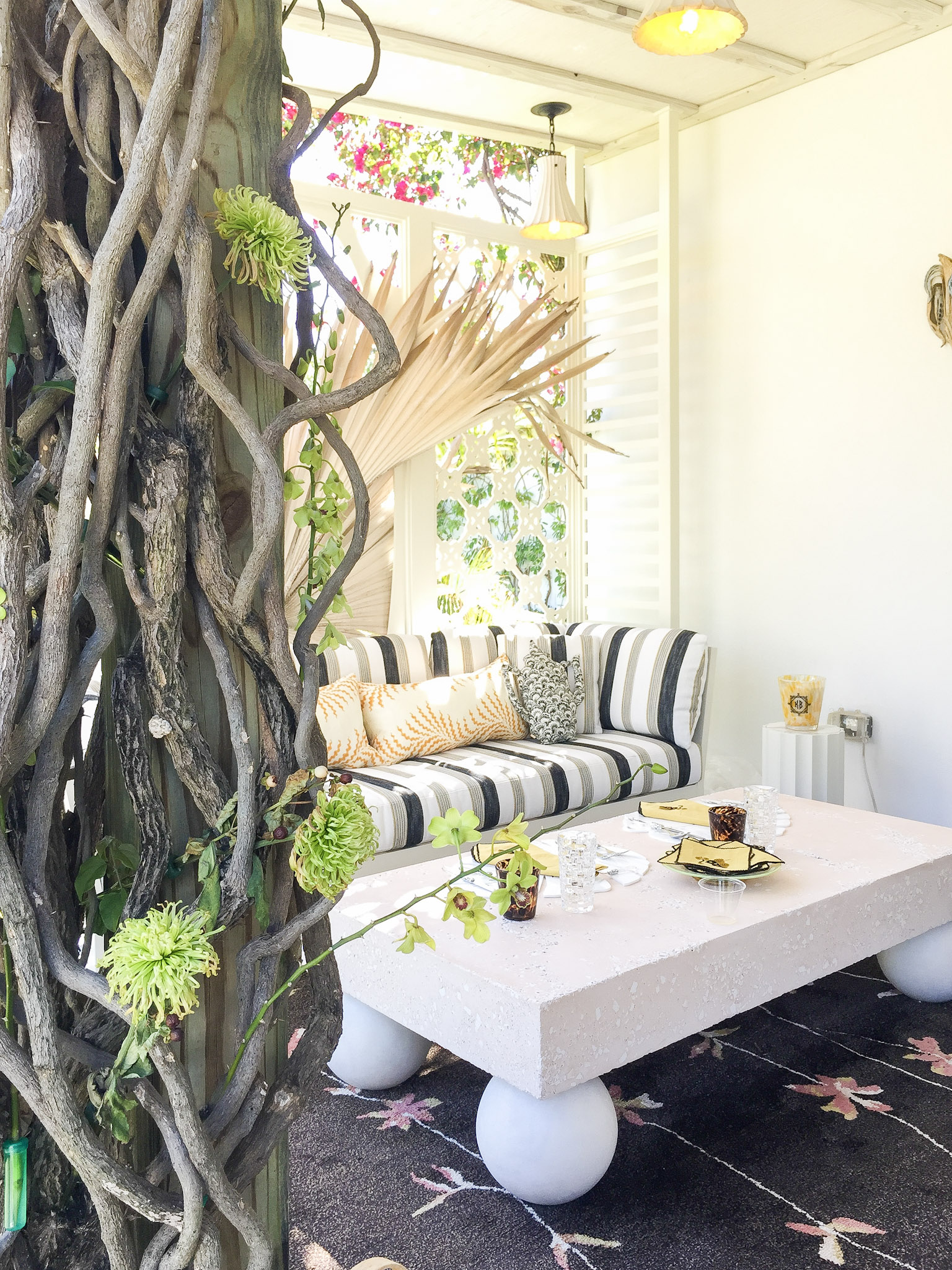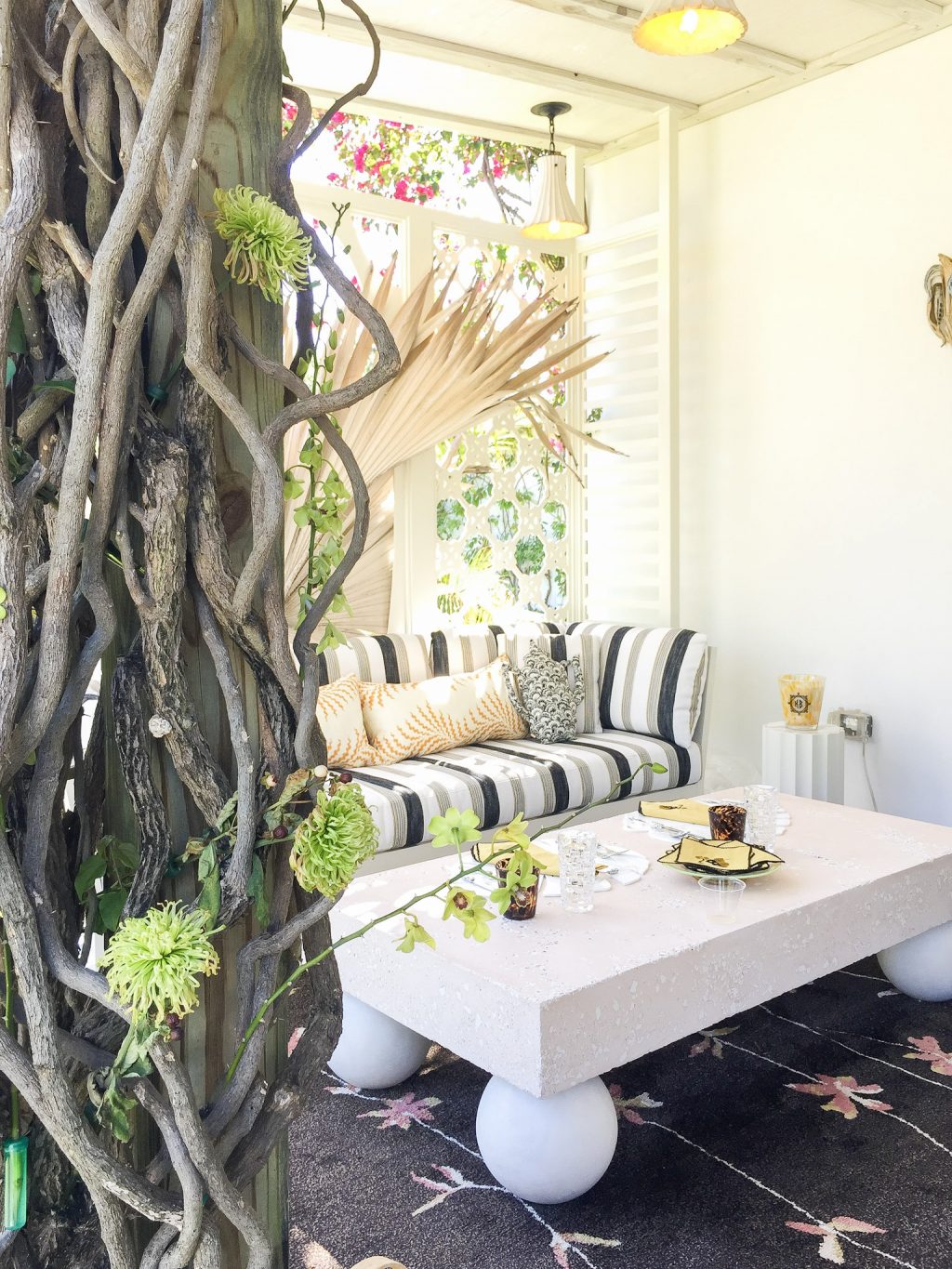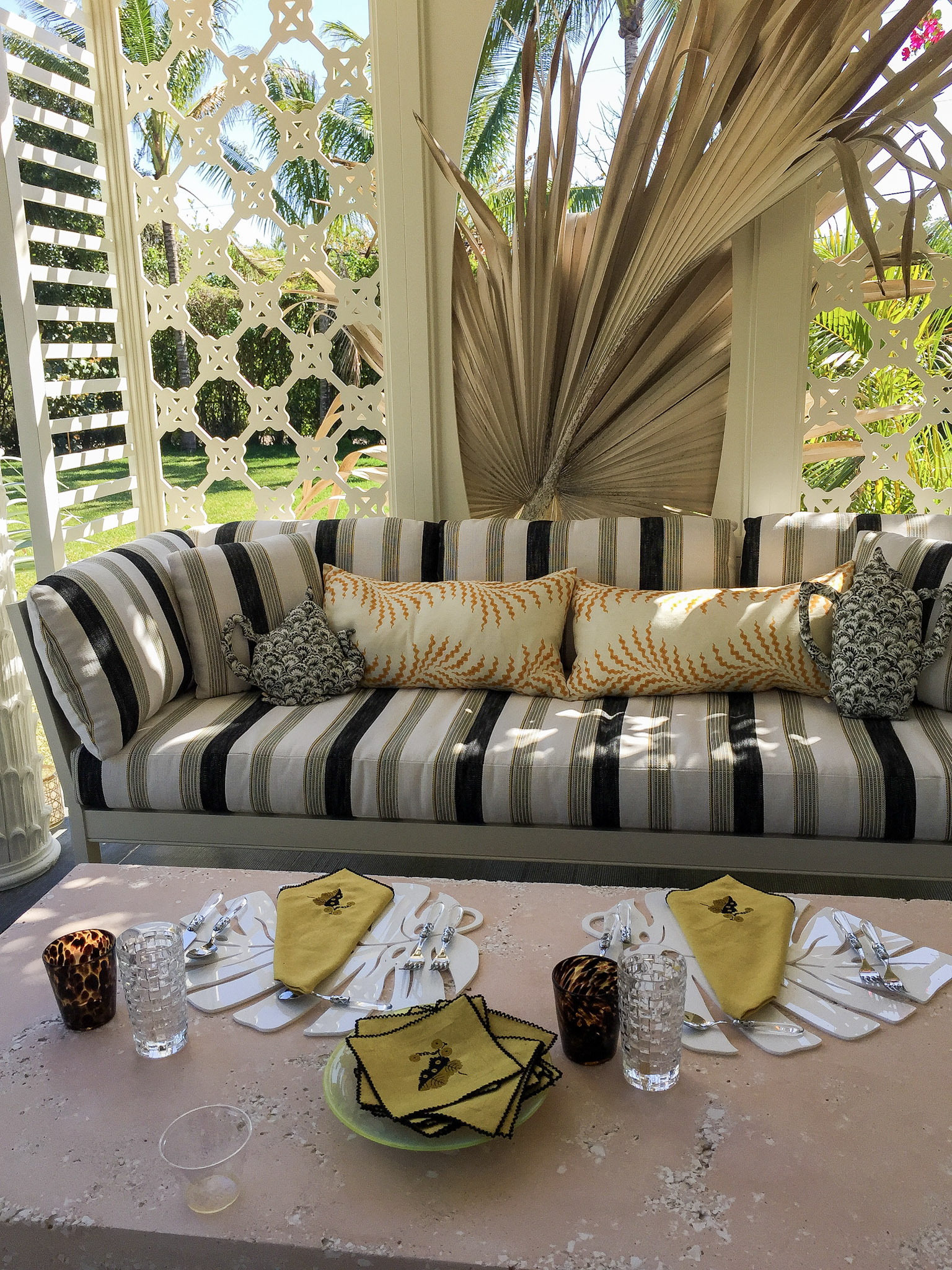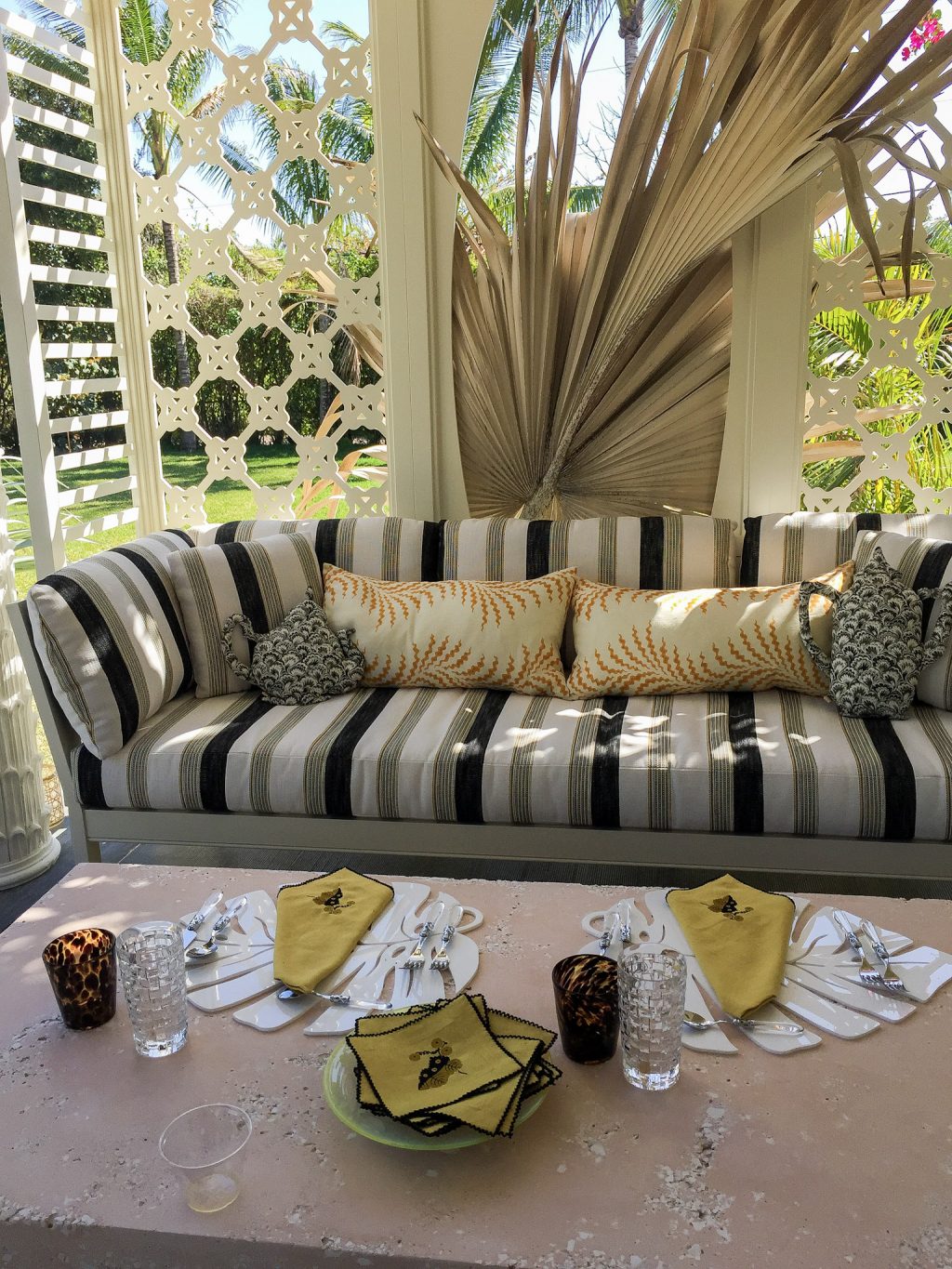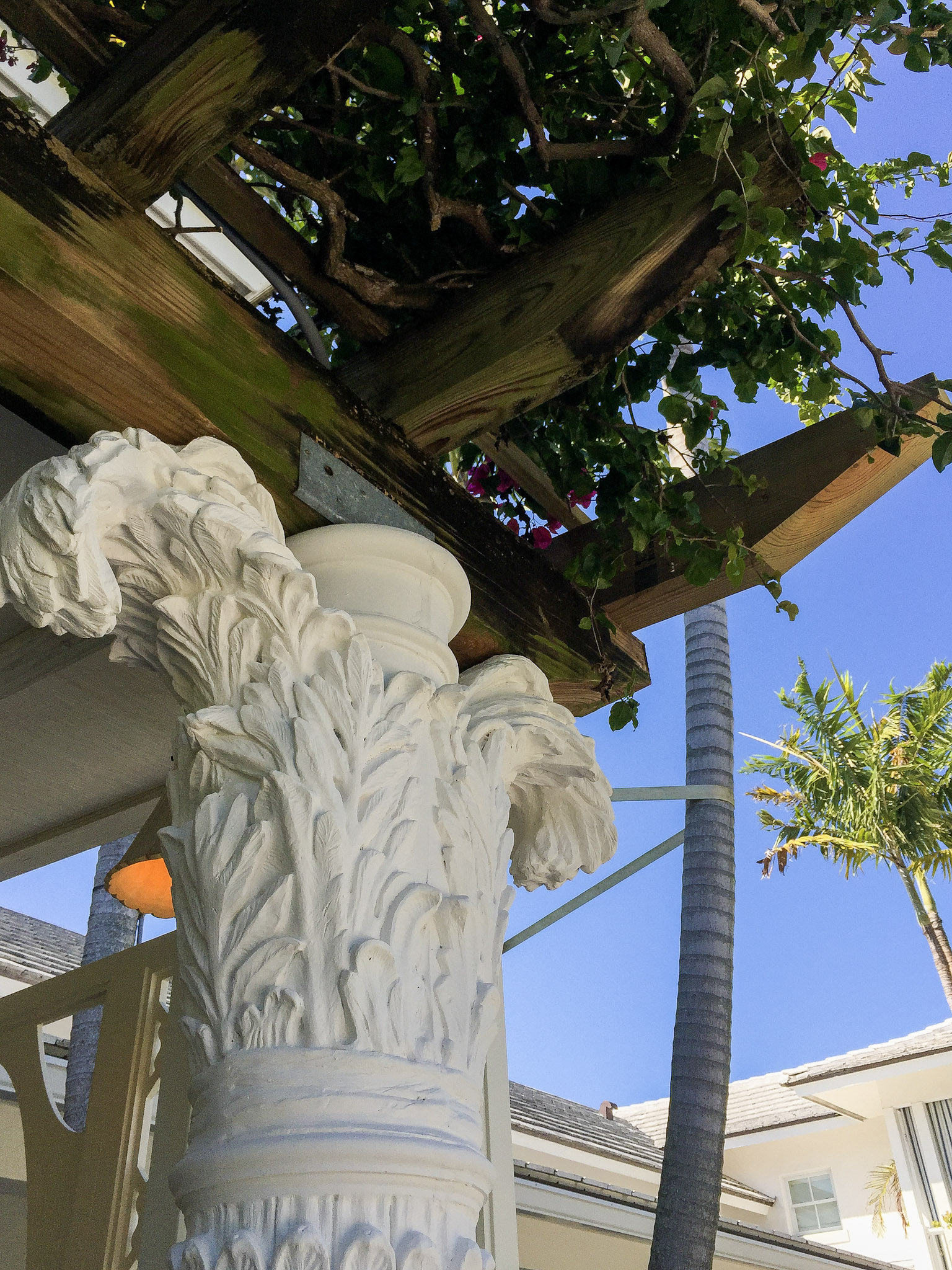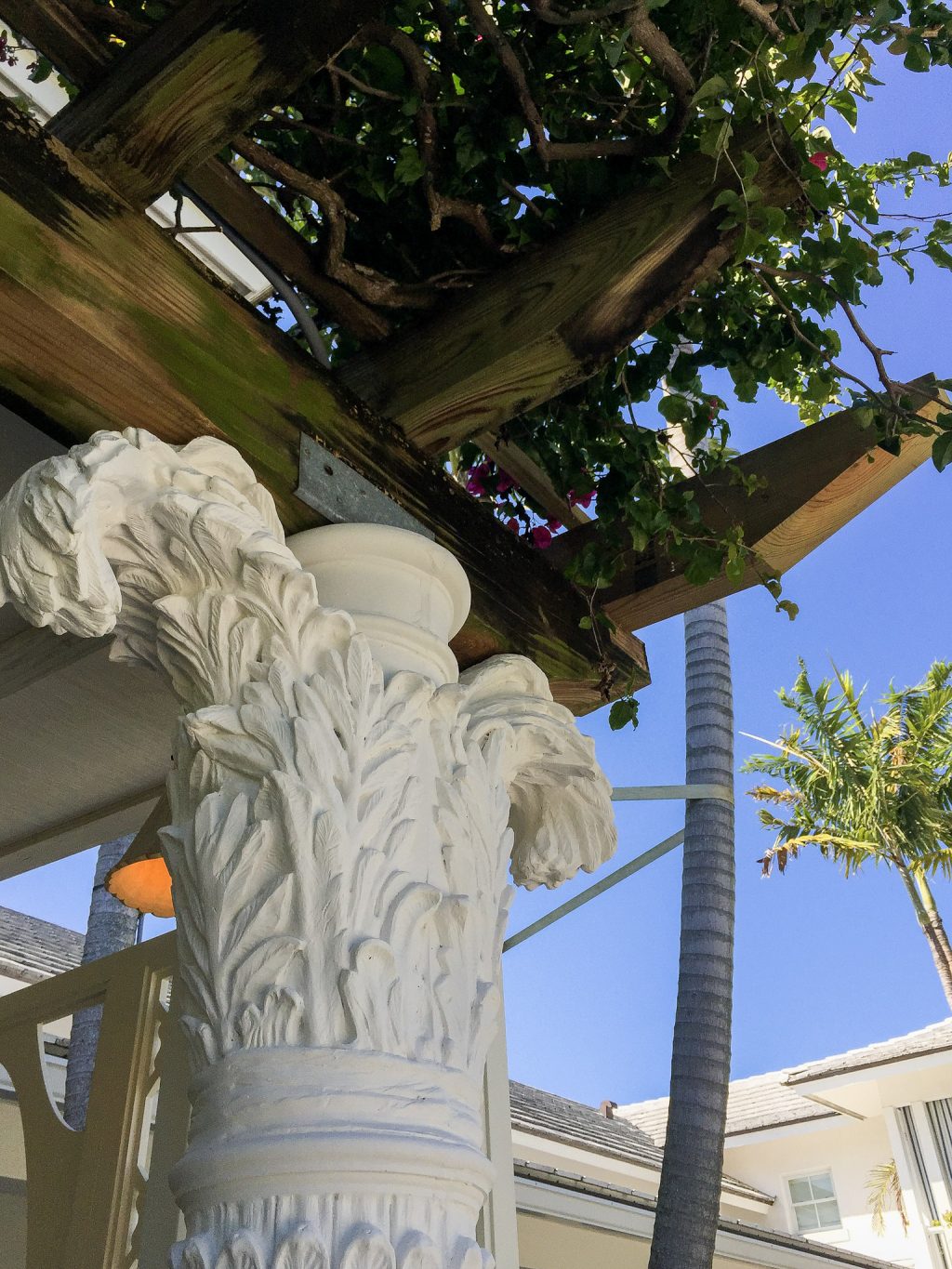 Keith Baltimore's​ Guest Casita Massage Spa Design Ideas |  2020 Kips Bay Palm Beach Decorator Showhouse
New York-based ​Keith Baltimore​ of ​Baltimore Design Group​ transformed the Guest Casita into ​a chic and well-traveled spa-like haven. Dubbed ​"The Sanctuary,"​ the delicate color palette –​ ​think soft shades of peach, crème, grey, and aqua –​ ​is coupled with organic materials. The interplay of textures and patterns, along with the custom fabric drapery by ​The Shade Store and artistic wall covering, are harmoniously relaxing. The ambient lighting beg to be dimmed so the pampering and self-indulgence can begin.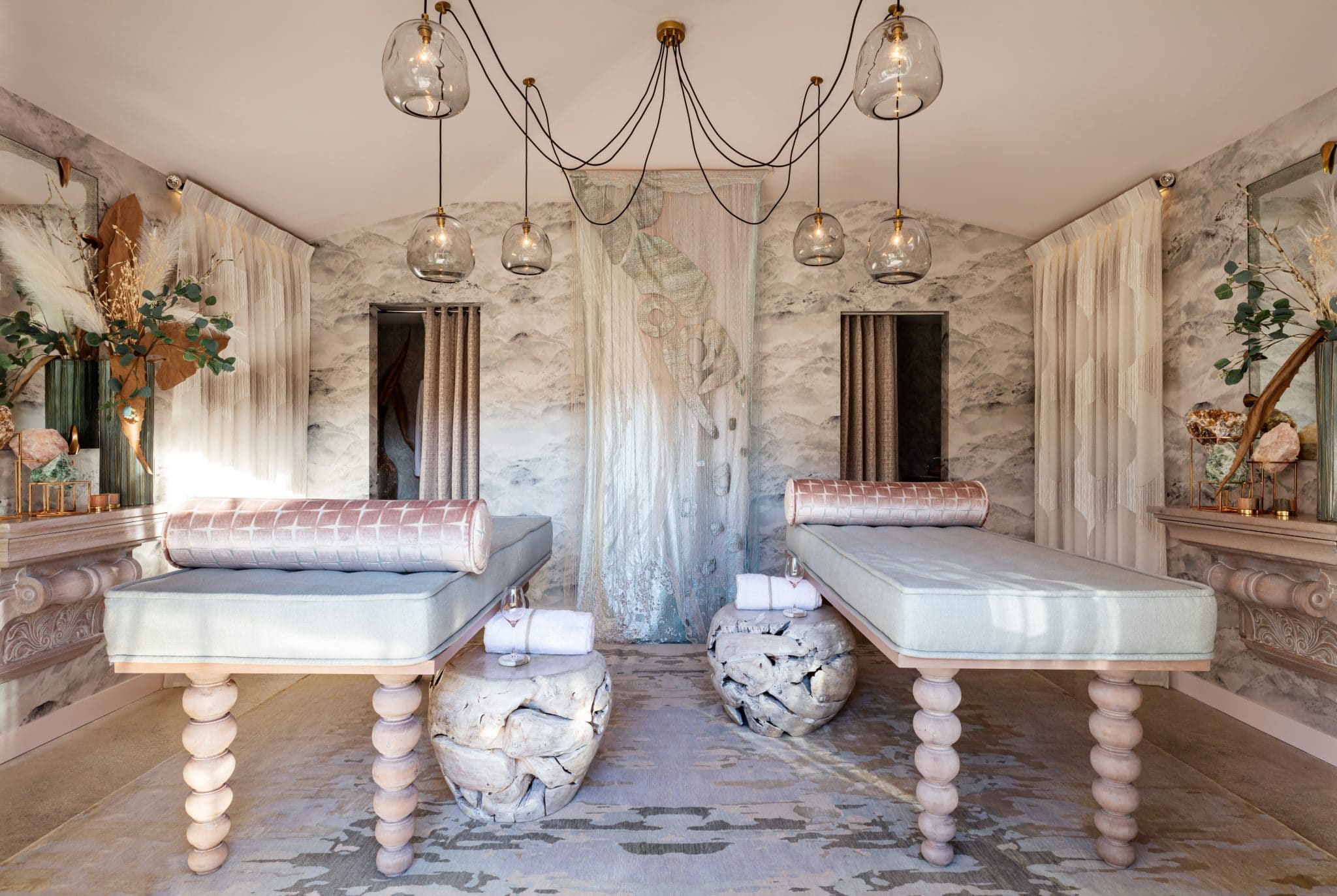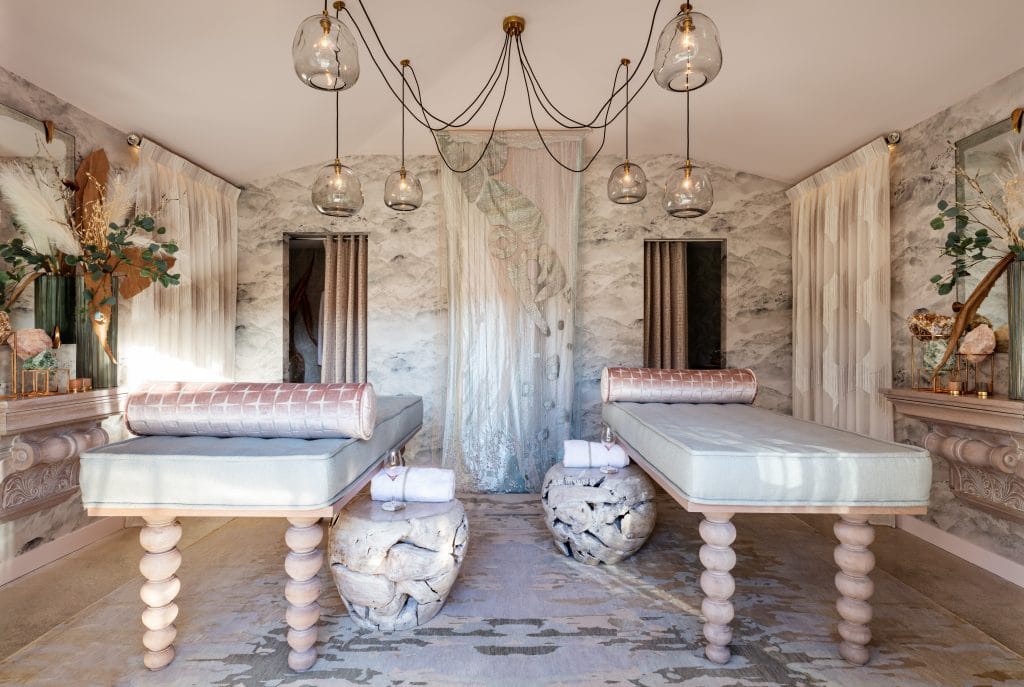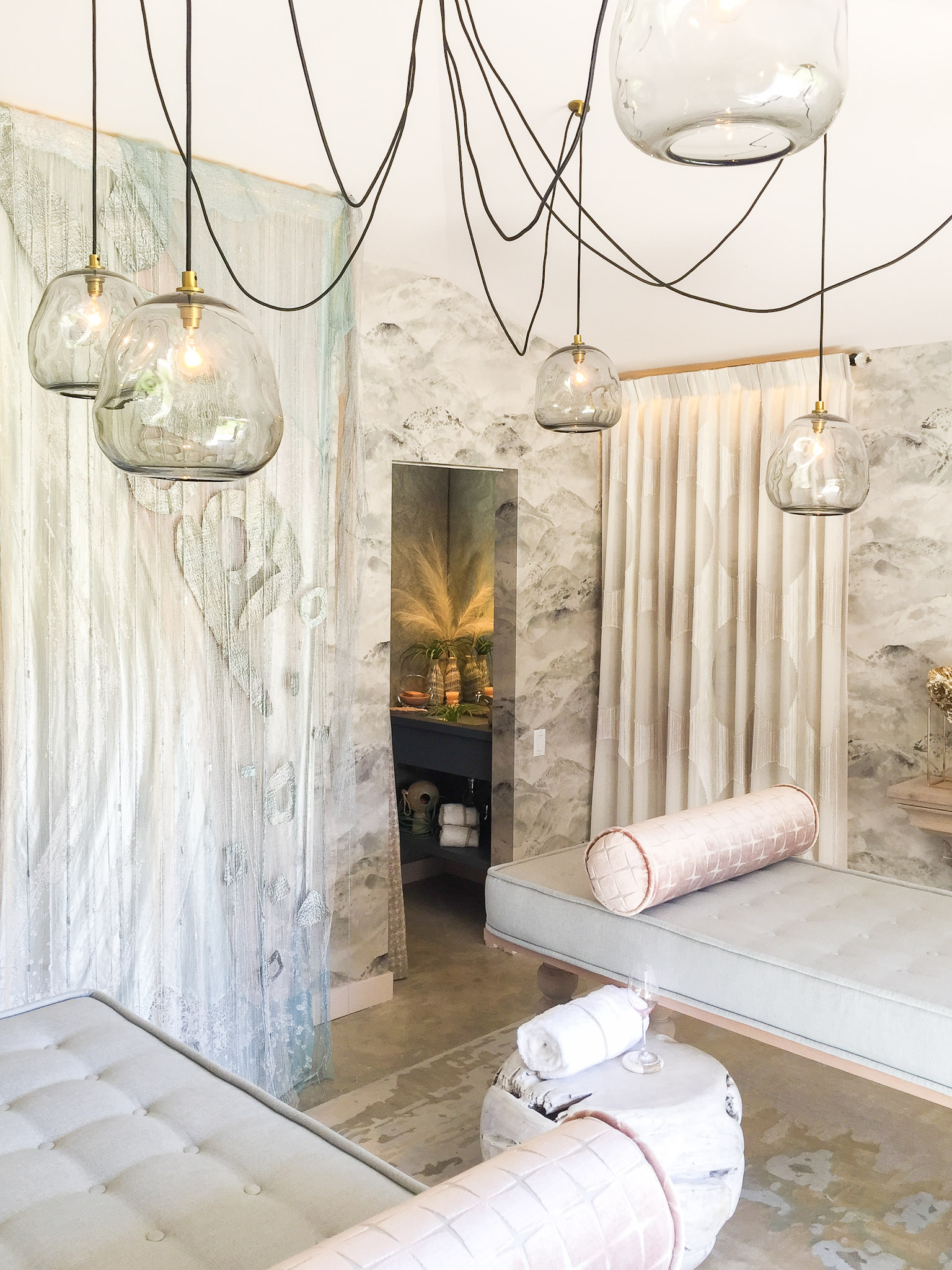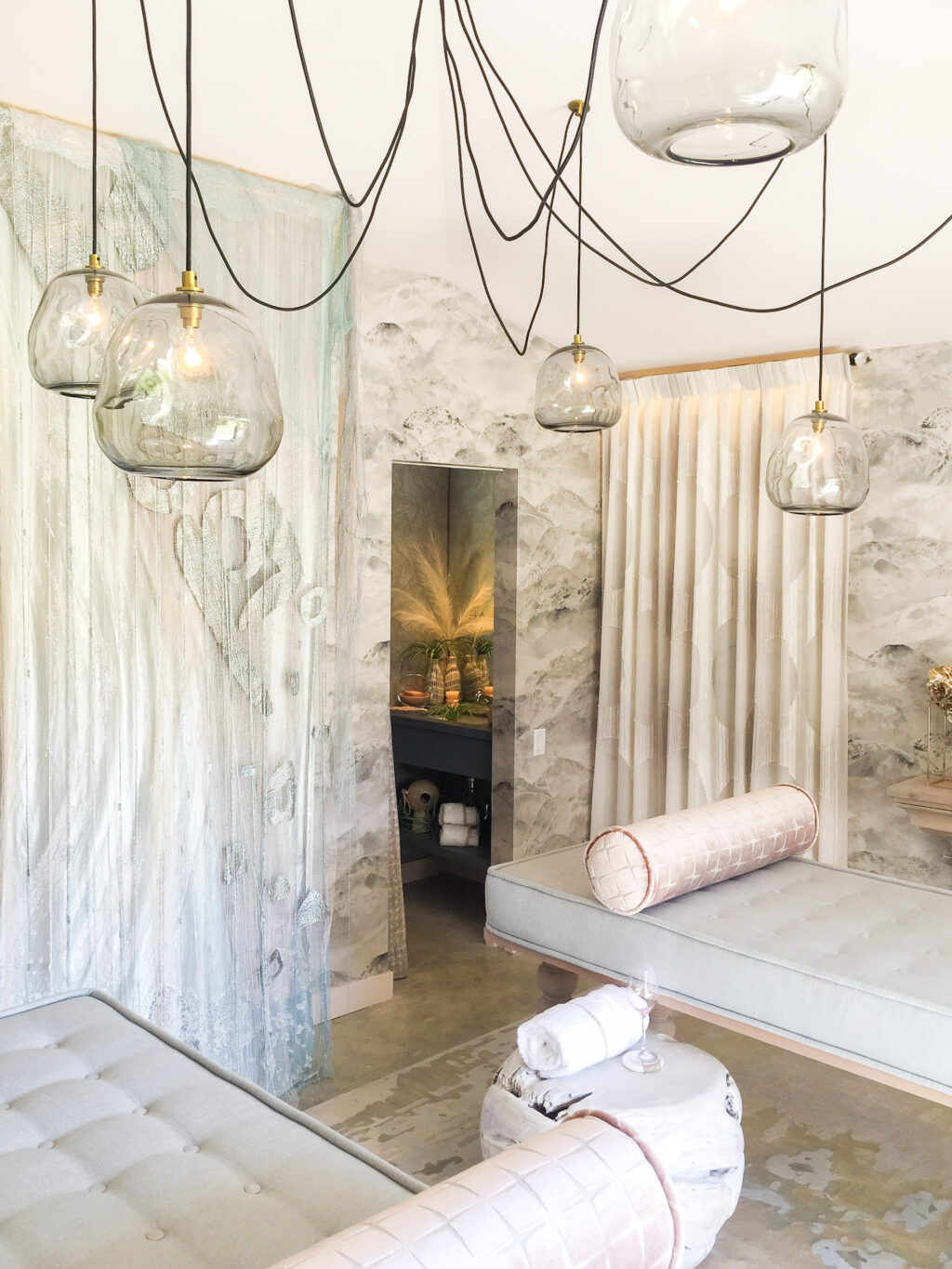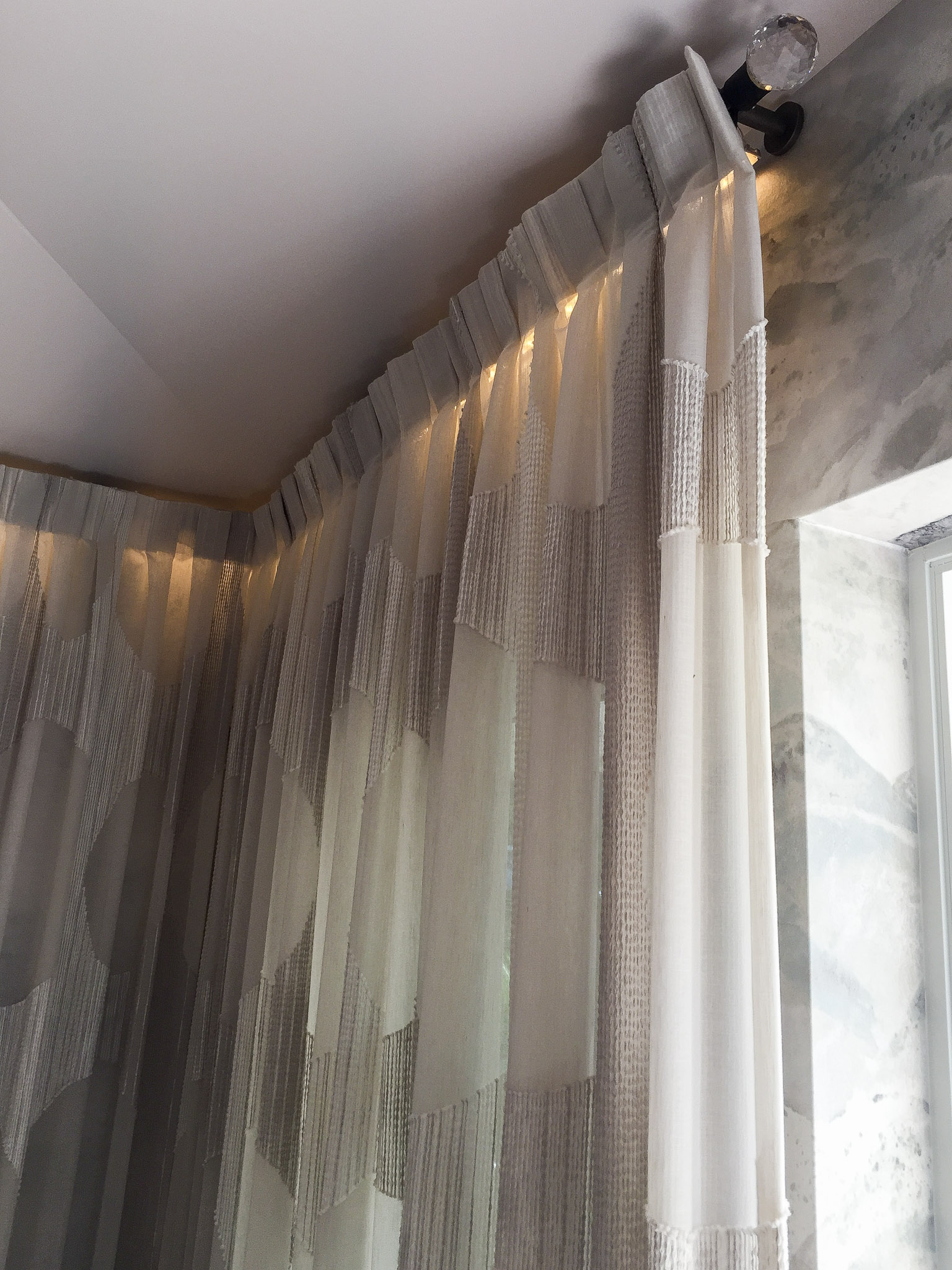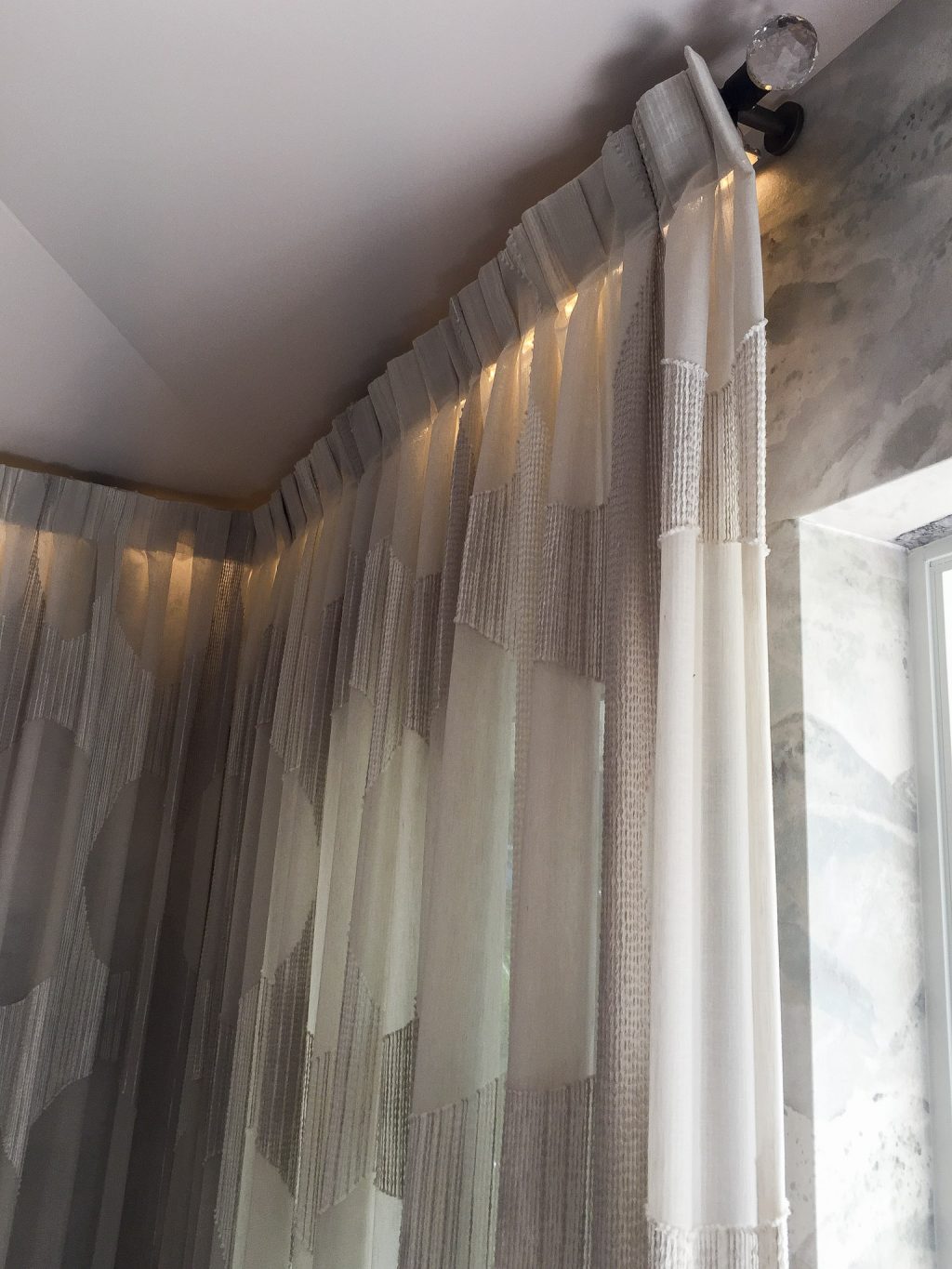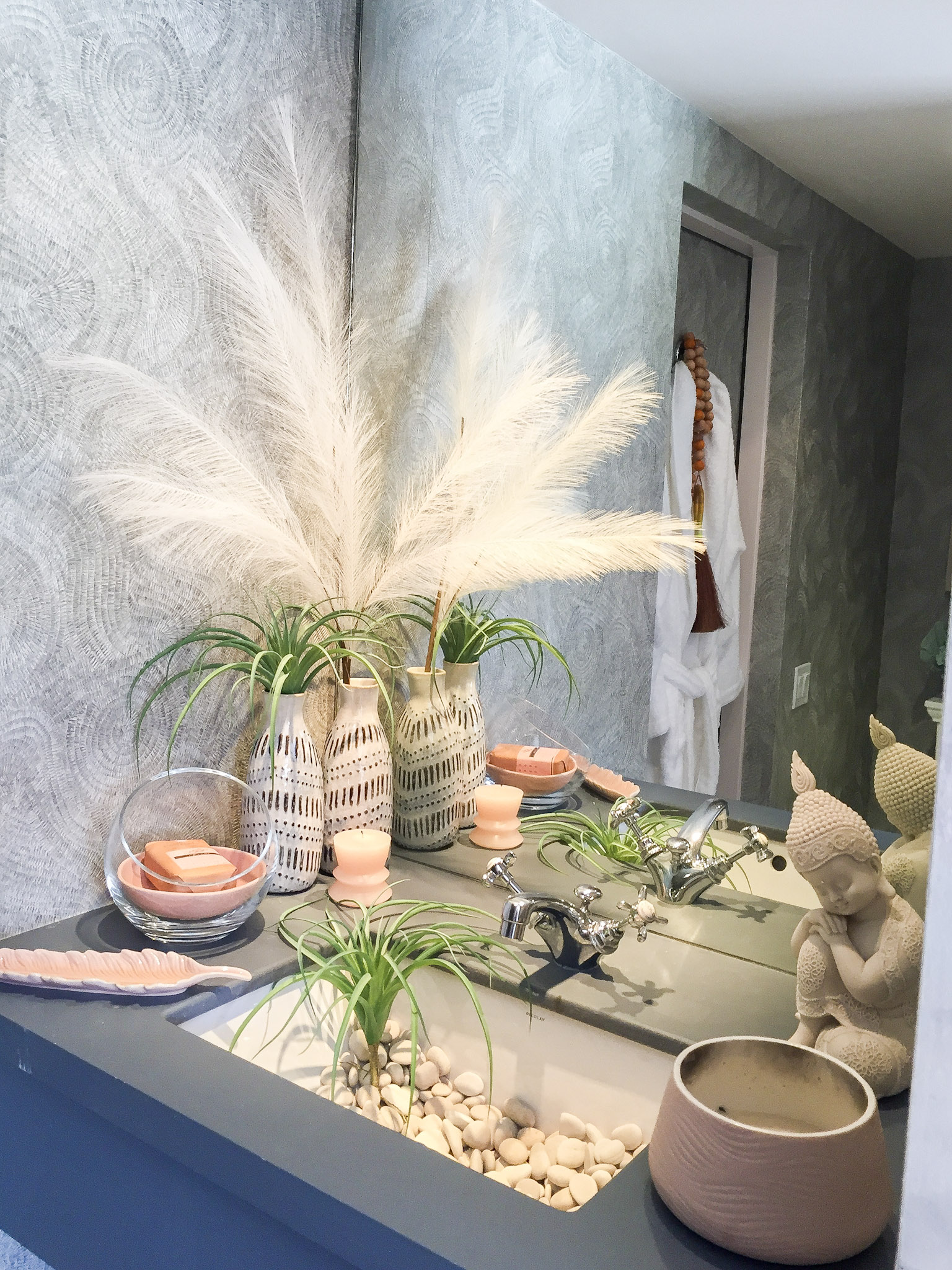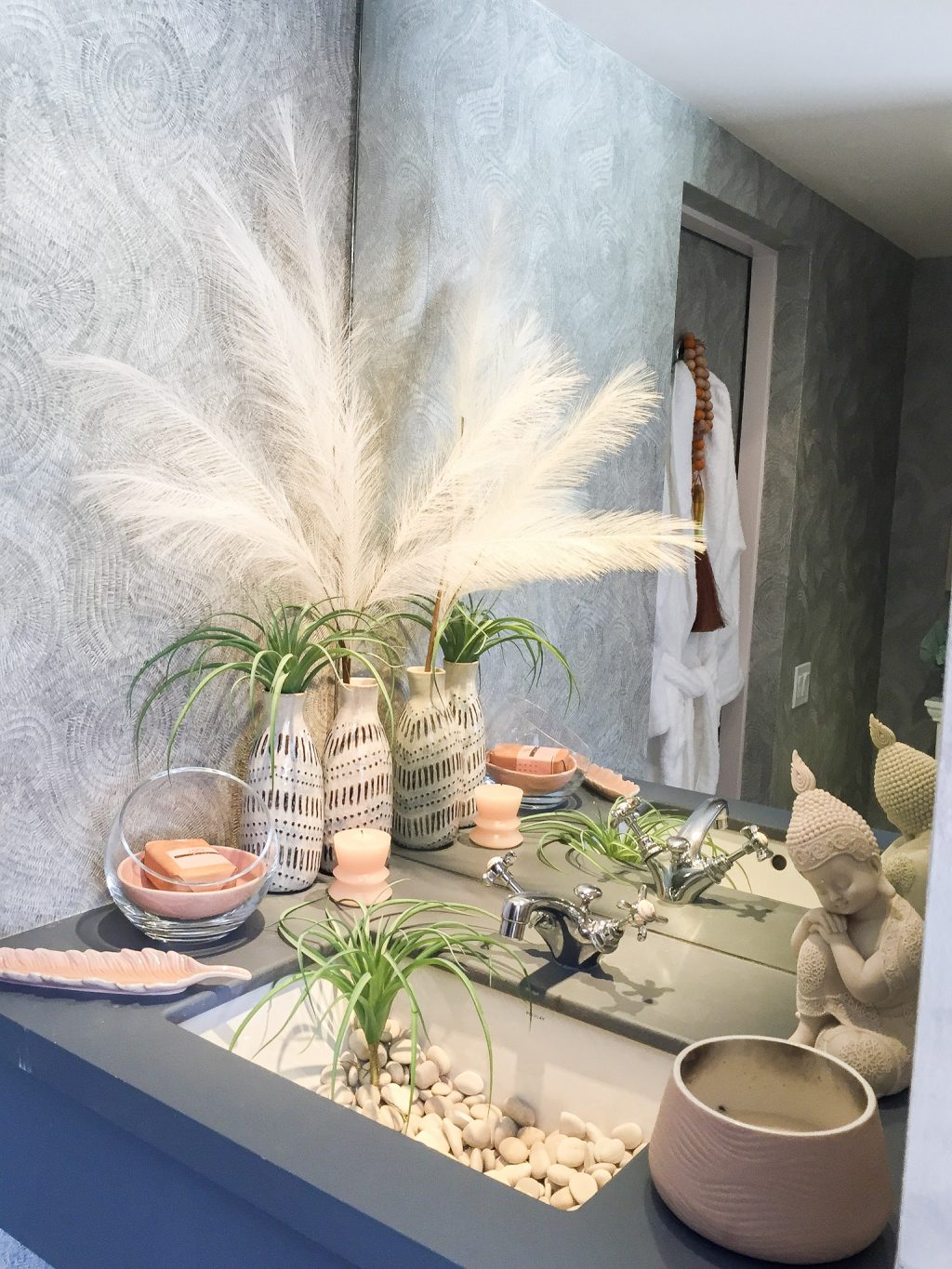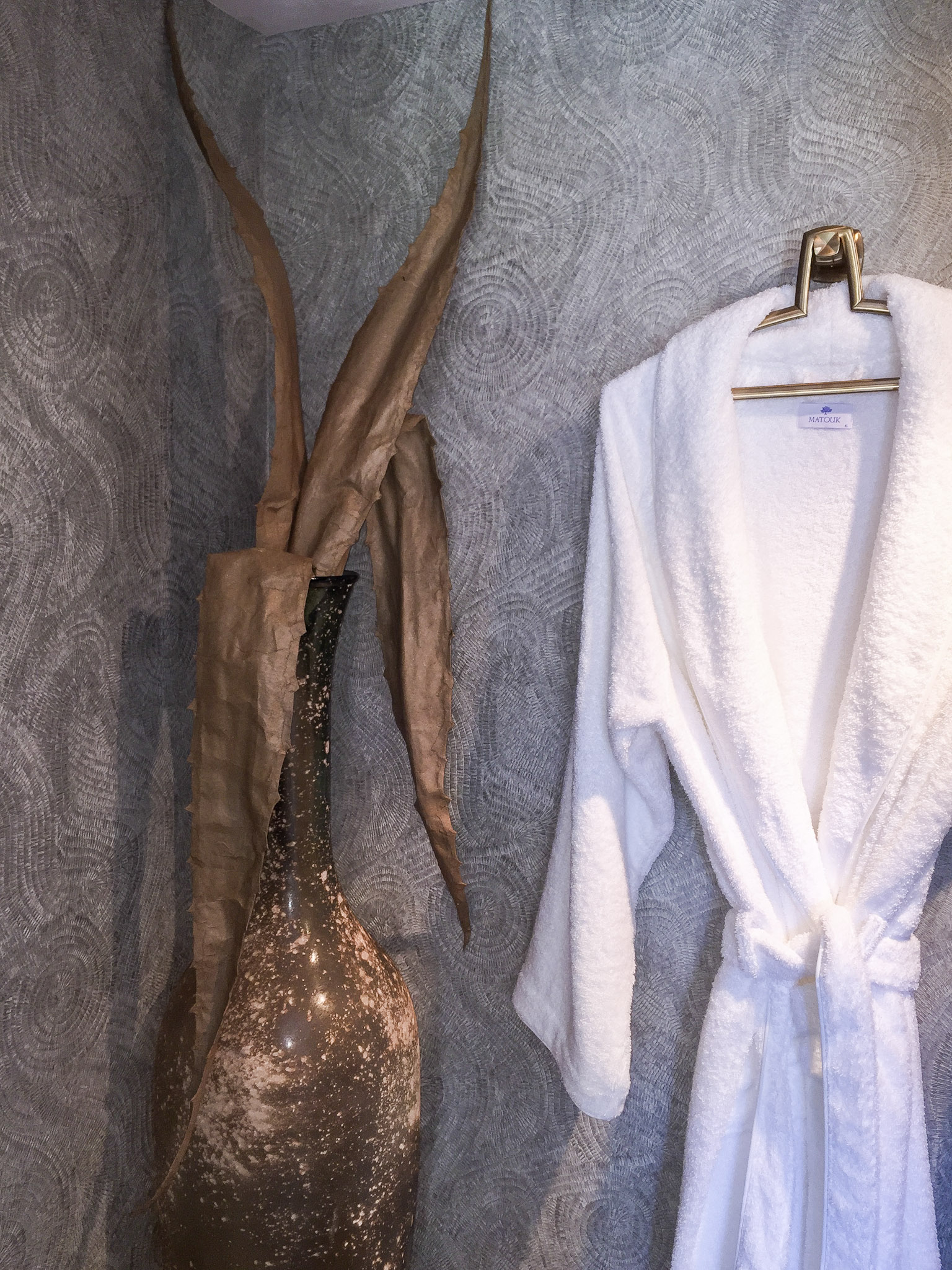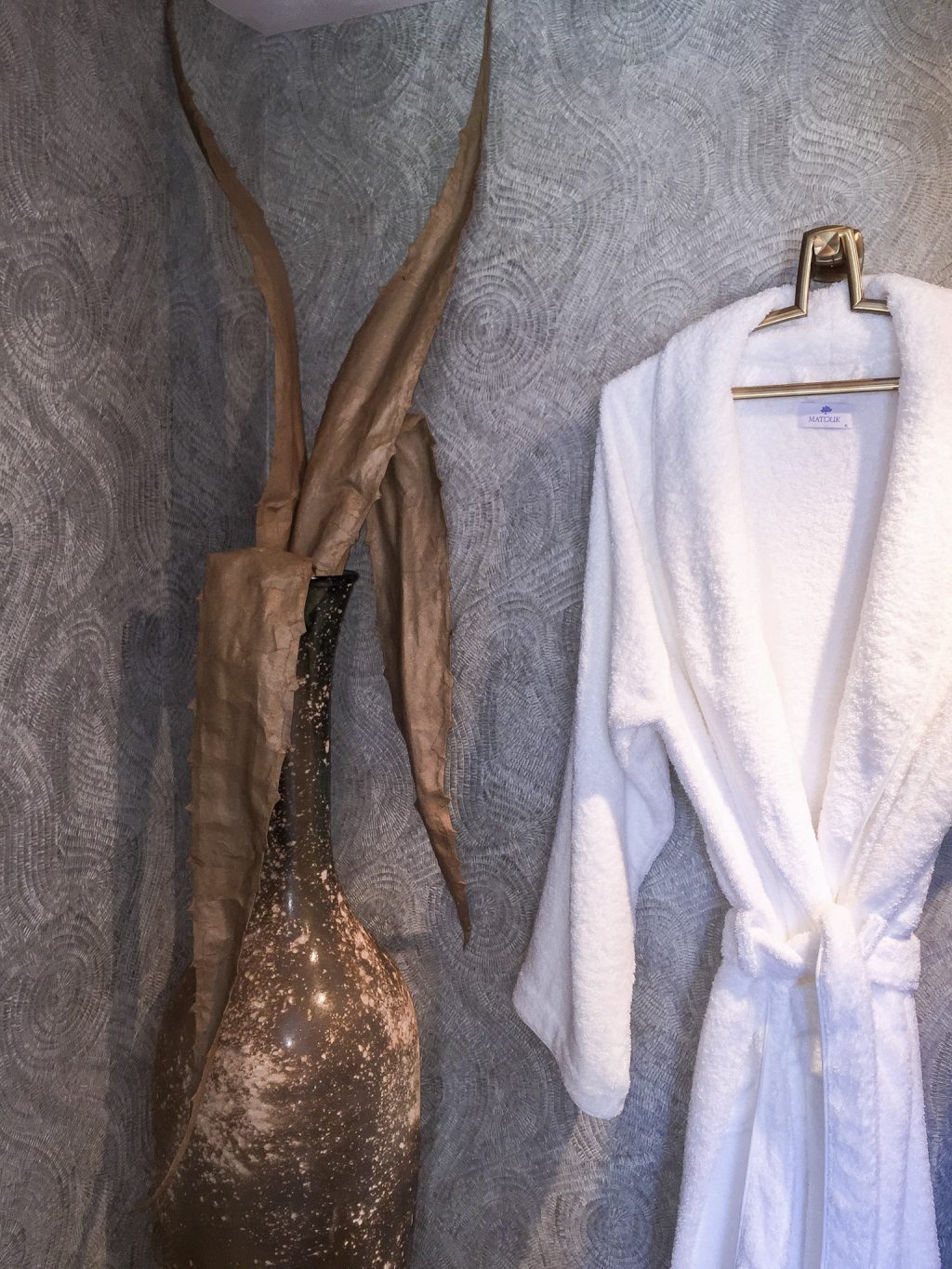 Sherrill Canet's Loggia Interior Design Ideas |  2020 Kips Bay Palm Beach Decorator Showhouse
A crisp palette of black and white mixed with tropical Kelly Green reigns supreme on the shaded terrace. Designed by New York-based ​Sherrill Canet​ of ​Sherrill Canet Interiors​, the loggia embraces its role as a comfortable gathering place for the West Palm Beach plantation-style home. Blending modern touches with antique pieces for a stark, sophisticated look demands attention and inspires good outdoor conversation.