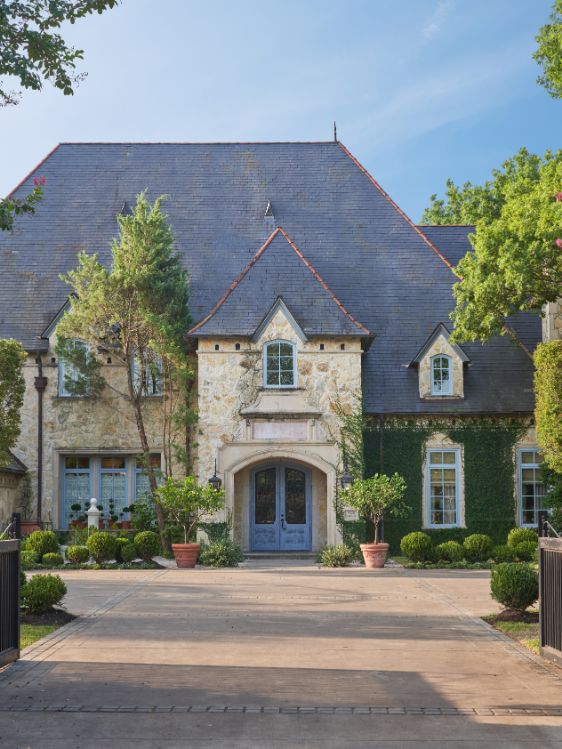 The inaugural Kips Bay Decorator Show House Dallas officially opened to the public on Friday, September 25th, at 5828 Woodland Drive in Old Preston Hollow's Historic Woodland Estates neighborhood. Come on! Let's go inside Kips Bay Dallas Designer Showhouse. 
Kips Bay Dallas Showhouse Designer Showhouse 2020
La Petite Loire Valley Entry Gardens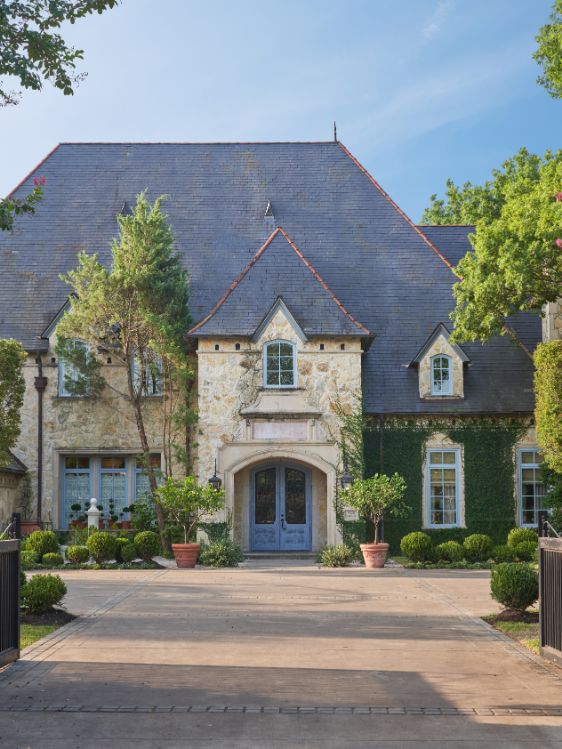 Kips Bay Dallas Showhouse Designer Showhouse 2020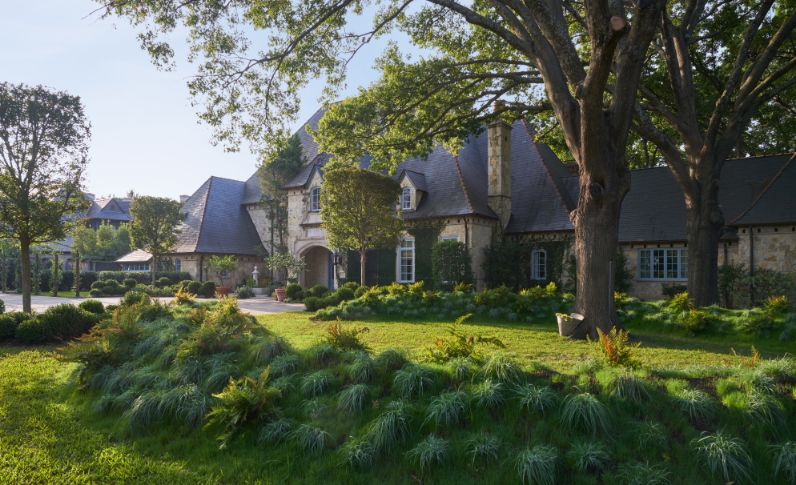 Kips Bay Dallas Showhouse Designer Showhouse 2020

Front Landscape by Lamberts Sponsored by Sewell Lexus

Lambert's designed the front gardens to focus on the homeowners' daily ritual of returning home from the pace of big city life to the authentic sights and sounds of the Loire Valley in the French countryside.

The Kips Bay Designer Showhouse Dramatic Magnolia Garden Foyer Entryway Ideas by Lauren Rottet Studio
Lauren Rottet's entry at this year's inaugural Kips Bay Dallas Showhouse is envisioned as a cleansing experience and a respite from the urban outdoors. The Entry Foyer is the heart of the home. It mirrors the verdant hues found in nature while emphasizing a dramatic use of color juxtaposed with cutting-edge furnishings in varying styles.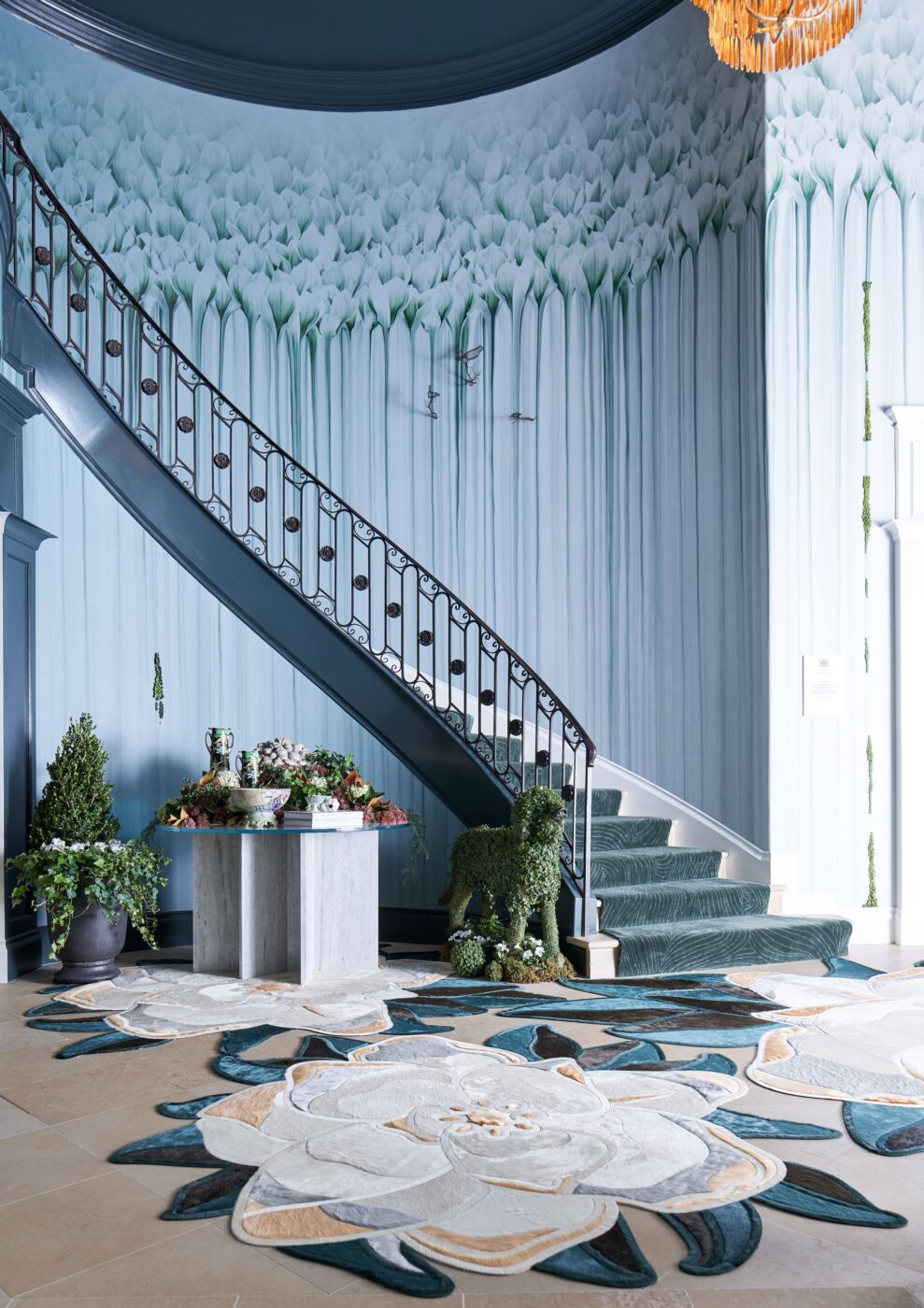 Rottet's plan encompasses a living Southern garden drama, with custom hide rugs from Kyle Bunting portraying magnolia petals and a tiered chandelier by Fisher Weisman.

Rottet's own Fascio sconces for Visual Comfort add sparkle while forecasting the garden-scape below.
Classic Blue & White Formal Luxurious Living Room Ideas in Kips Bay Dallas by Mark Sikes

Dubbed "Casa Fiorentina," the beautiful layered pattern blue & white formal living room in Kips Bay Dallas is simply stunning. Interior designer Mark D. Sikes envisioned a beautiful living room inspired by the iconic La Fiorentina.


A magnificent custom wallpaper by Aksel Decorative Arts creates the perfect backdrop: a decadent yet airy blue and white tile motif that engulfs the space with a worldly elegance.

Layered within is a mix of Italian and Portuguese antiques from John Nelson Antiques and pieces from Mark's own new collection with Chaddock Home, upholstered in Schumacher fabrics and accented with Samuel & Sons trim.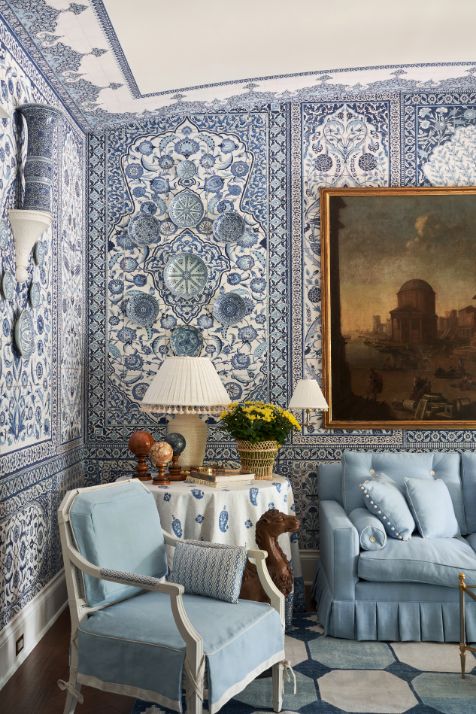 Hanging lanterns from Paul Ferrante punctuate the space. A special debut collaboration with Christopher Spitzmiller also makes an appearance, reinterpreting wicker onto a porcelain vessel.


Simplistic Family Room Ideas by Viviano from Kips Bay Dallas Showhouse

The Viviano Family Room is a large but intimate space situated beyond the Breakfast and Keeping Rooms.

The playful Papa Bear chairs by Hans Wegner offer a warm embrace under the glow of a cloud-like Nuvola light by Tobia Scarpa.




In collaboration with the extraordinary C2 Art Advisors, special thanks to Desireé Vaniecia, McClain Gallery, and Hiram Butler Gallery, the art collection has been curated to connect with the subconscious and the inner child.
The Colorful Utopia Loft by Sherry Hayslip Features Amazing Teen Room Ideas

The loft is a place to chat with friends, unwind, play games, enjoy an after-dinner drink, or sit and look at the clouds and let your mind wander. If true wealth is health and time, space isn't far behind, and this area is the perfect bonus to the house.


Many other generous vendors and sponsors partnered with Sherry Hayslip, including Arteriors, Benjamin Moore, Cambria, Dan Lam, Edelman Leather, Garden Gate, Jeanne Sanders, Joan Winter, Kravet, Perennials, Phillip Jefferies, Rebecca Carter, Sabina Fay Braxton, Stallings Art Services, and The Rug Company.

The Back Staircase and Downstairs Landing, named Emerald Garden, is designed by Melissa Morgan of M Interiors in San Antonio, Texas. Morgan's design seeks to serve as more than an area of transition but rather a tranquility and reflection.
Morgan says, "I aimed to elevate this space and make it a celebrated destination that can serve as the heart of the home and have meaning, rather than merely connect one to other spaces in the house."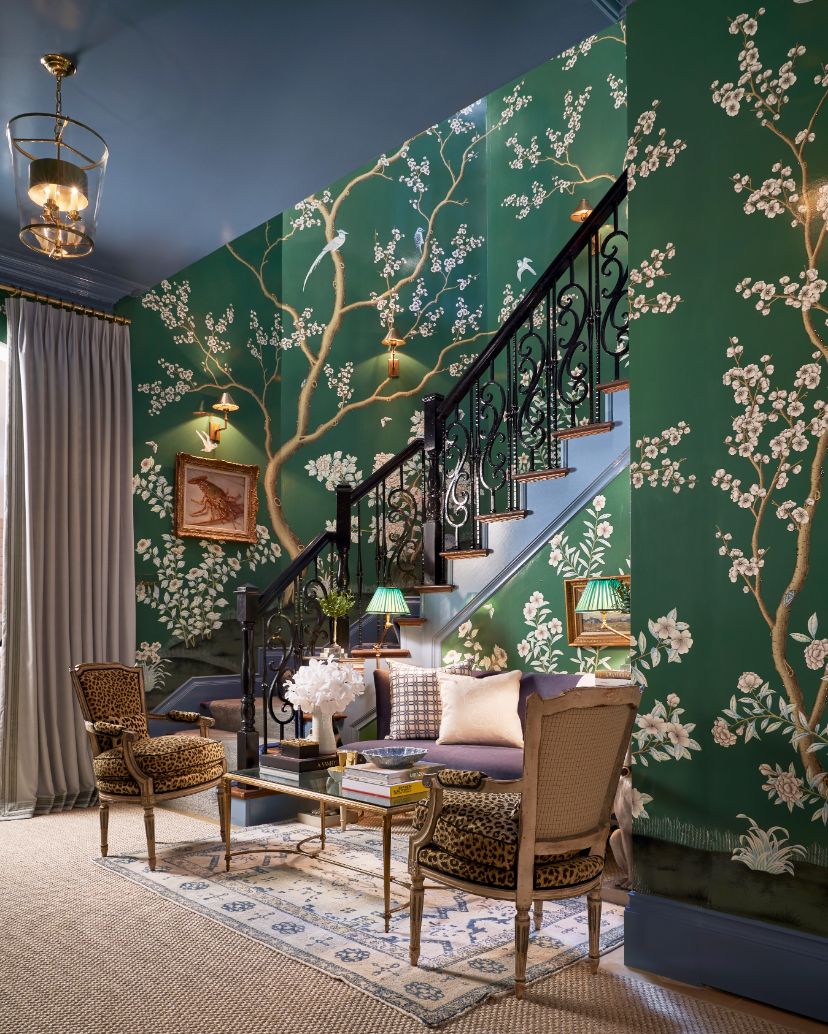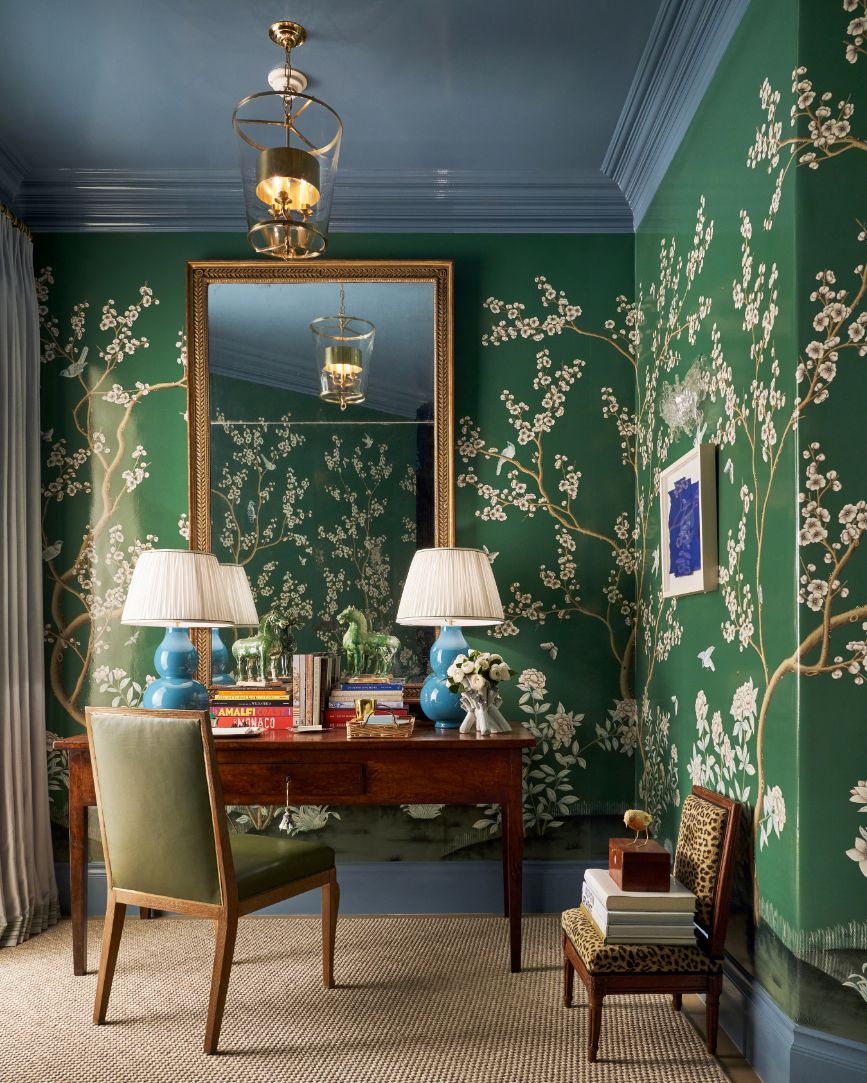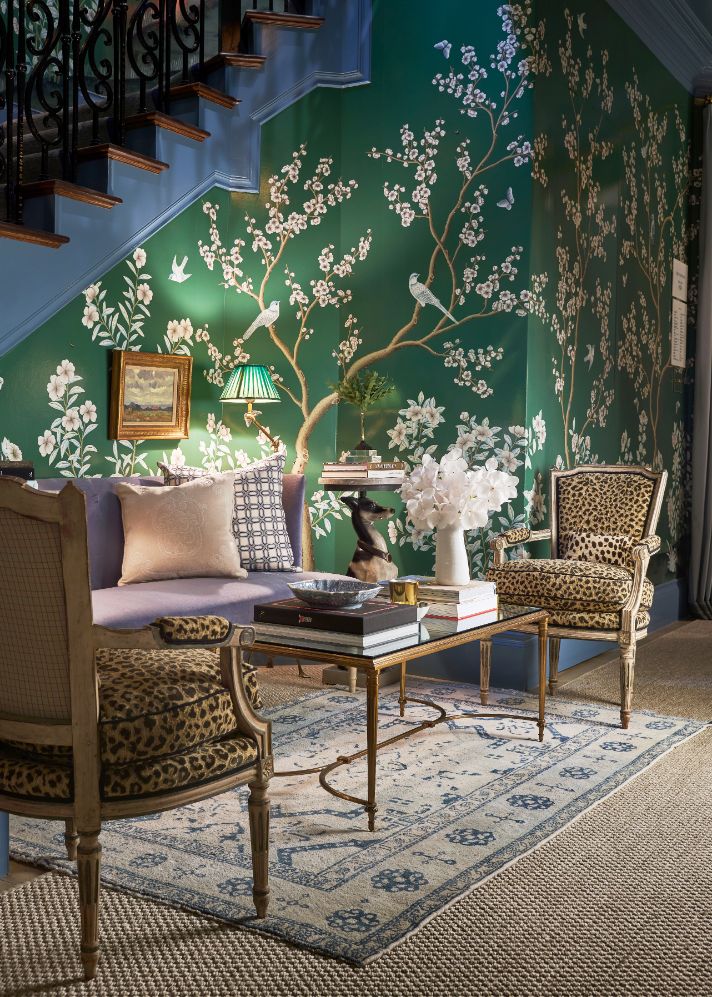 Daughters Room Ideas by Kips Bay Dallas Decorator Showhouse by Michelle Nussbaumer
We like to say Dallas designers do it best! Michelle Nussbaumer's latest Kips Bay Designer Showhouse room was dubbed the Turkish Writer's Lair. Inspired by a 19th Century English traveler, Nussbaumer's daughter's room design may have been in the latest Kips Bay Designer Showhouse in Interior Decorator Dallas, TX. Still, it definitely reminded us of a traveler that lived in Turkey and Morocco. Michelle Nussbaumer created a dream blue & white classic private oasis on the upstairs of the house. Keep scrolling to see some of our favorite parts of her Dallas interior design firms.

Nussbaumer used multiple layered patterns and textures throughout. See her new 
Michelle Nussbaumer
 by 
Paul Montgomery wallpaper
 created an exotic lair pattern below. For those who follow our blog weekly, you know we LOVE incorporating custom wallpapers and custom finished wall treatments in projects.

In the case of this daughter's room, we love that Michelle Nussbaumer used one of our favorite art vendors who does a great job with reproductions when clients aren't looking to spend a fortune on art. Great job, Wendover Artwork! The art looks old, but it's actually reproduction art perfectly finished and framed.

Fabrics and trims by Clarence House were beautiful on the custom Michelle Nussbaumer Bodrum Daybed, which mimicked the shape of the entry doorway. Keep scrolling to see what I mean.

Michelle Nussbaumer used beautiful, gorgeous accessories from Ceylon et Cie for this daughter's room.

When ordering custom closets, be sure to add built-in custom LED strip lighting to light each shelf properly. While LED strip lighting can be costly, adding it to kitchen shelves, master closets, or other high-use areas can make a big difference in the organizational process.

Create a dramatic curtained entryway to rooms.



There's no better way to stay organized in closets than using hooks.



Use countertop overlays such as marble or incorporate removable trays to place your favorite perfumes and other items that could damage your furniture tops.

In this bathroom, Michelle Nussbaumer did a great job of simply painting the cabinets black and adding really nice decorative hardware.

Navy Blue Gossip Girl Lounge, Powder Room & Vestibule Ideas by Traci Zeller from Kips Bay Showhouse 2020 – Dallas Decorators Showhouse
Inspired by the proverb, "Words have no wings, yet they can fly a thousand miles," Traci Zeller designed the Kip's Bay Showhouse as the Gossip Room and Powder Room.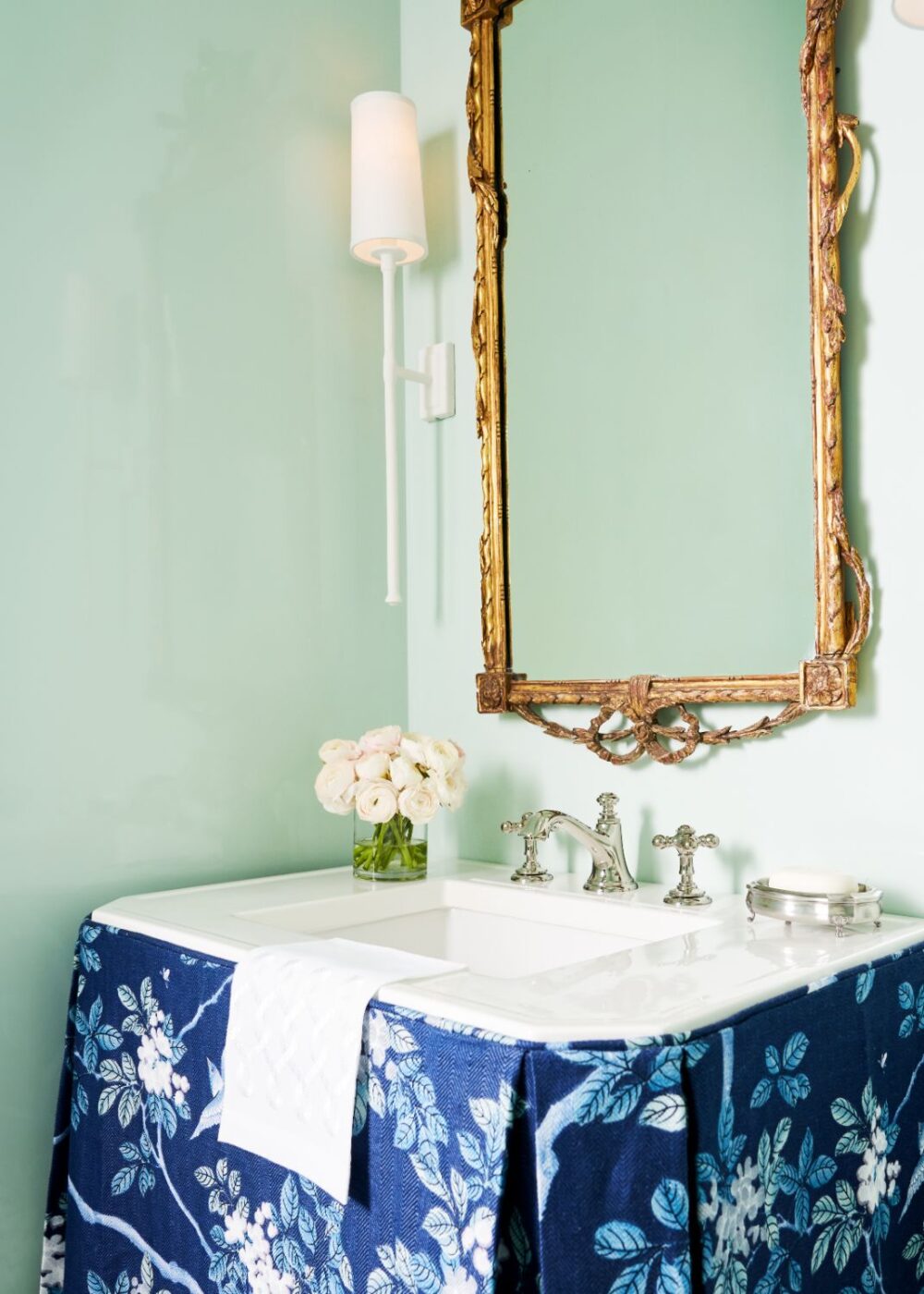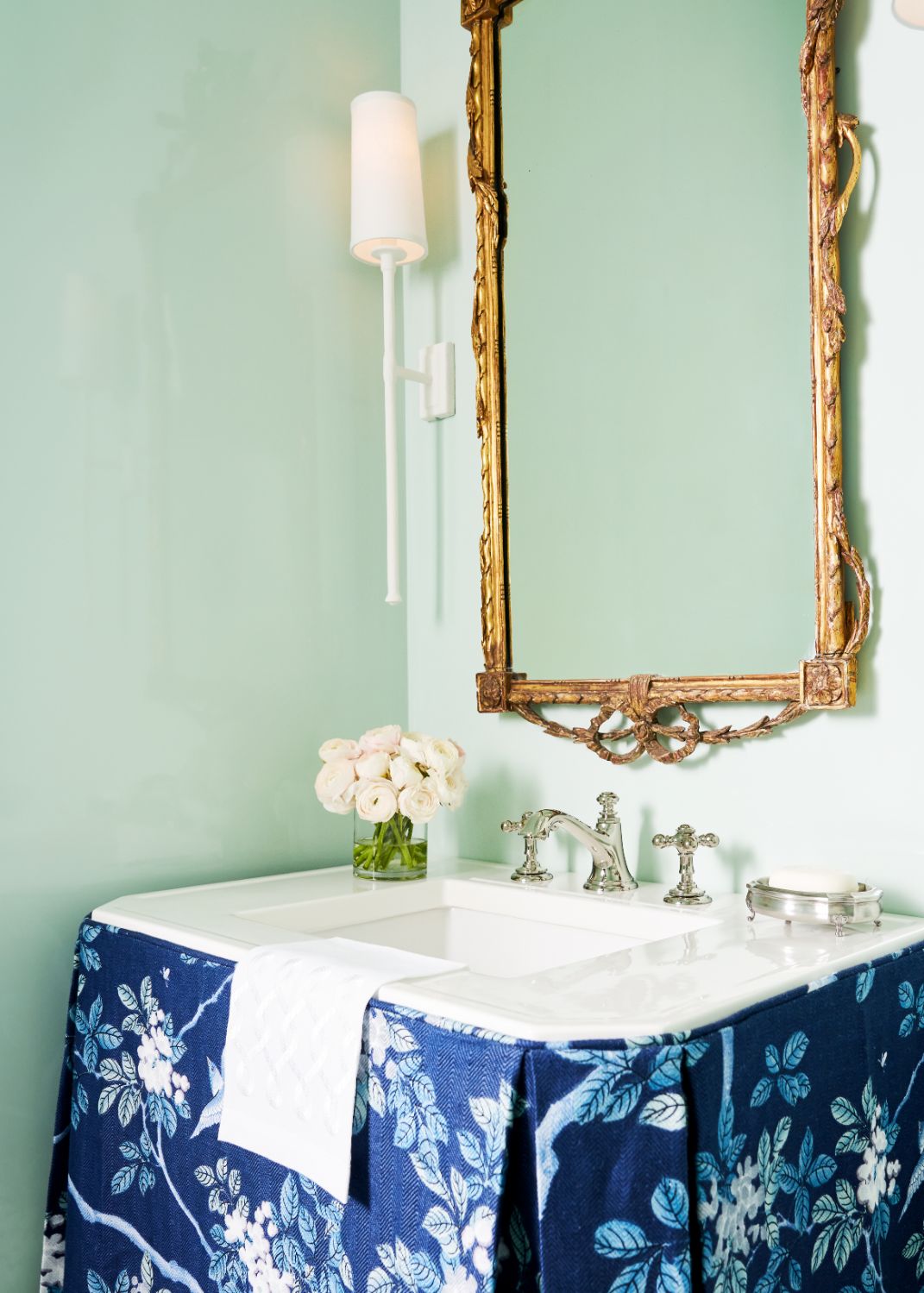 Several ladies slip away for champagne, primping, and girl talk as the party carries on elsewhere. The birds and butterflies scattered artfully throughout the rooms are poised to take flight along with whispered rumors.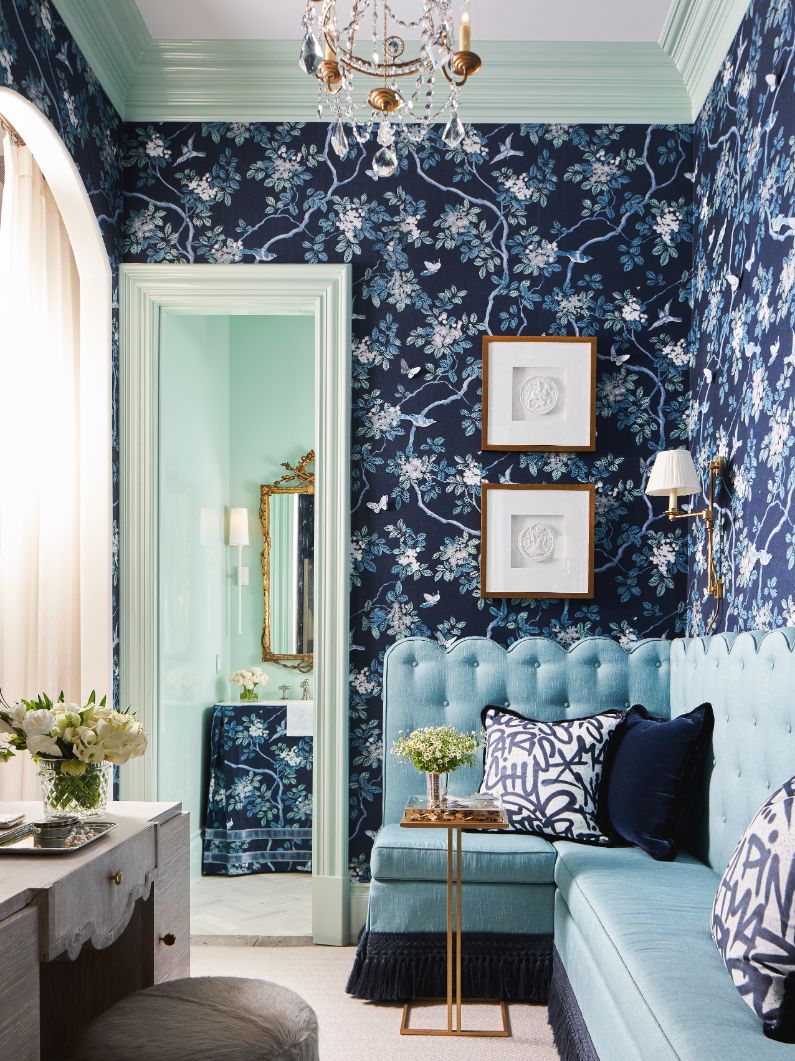 The scalloped banquette, skirted sink, and upholstered walls are feminine and graceful; white lacquered walls and original art keep the overall look modern.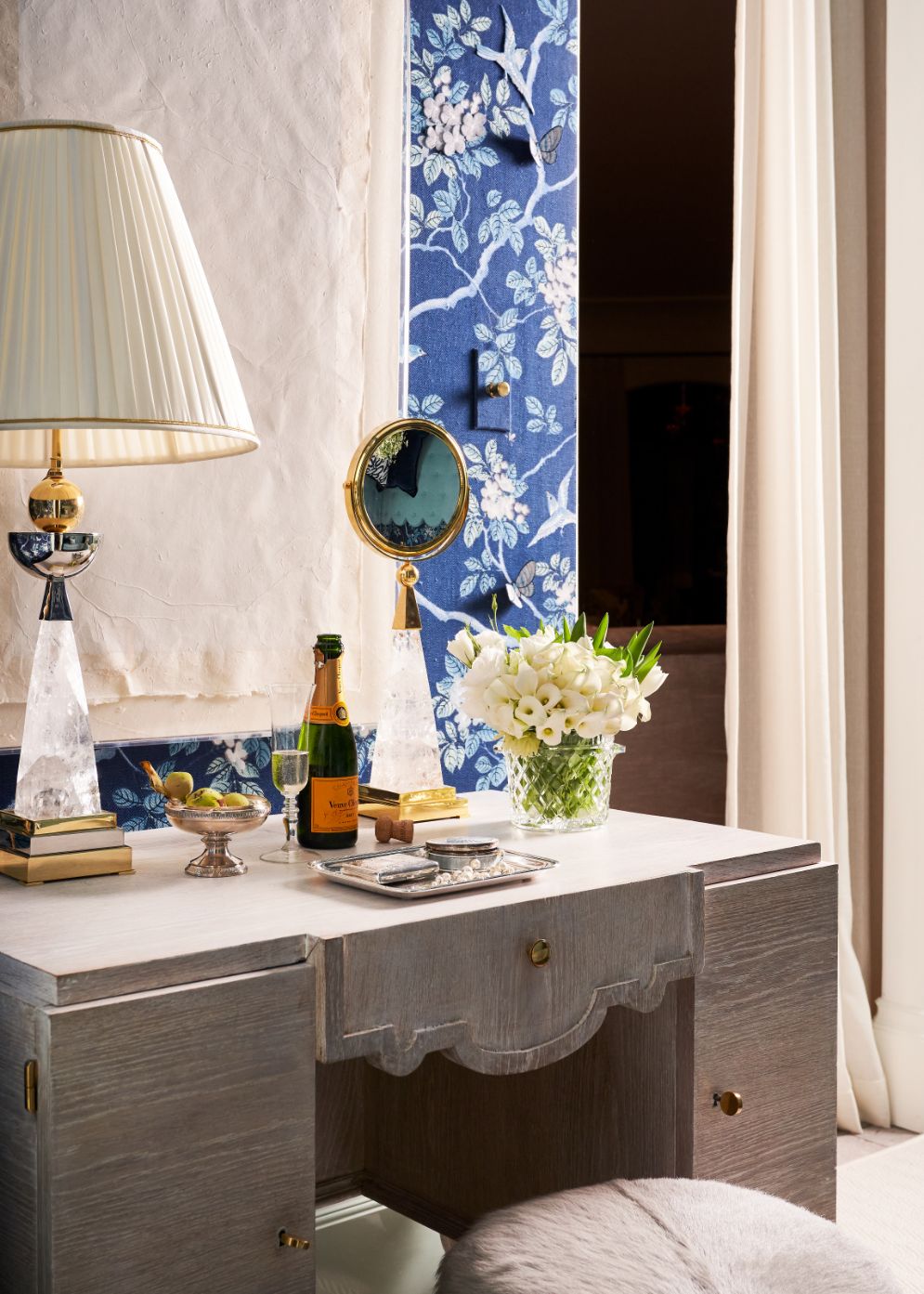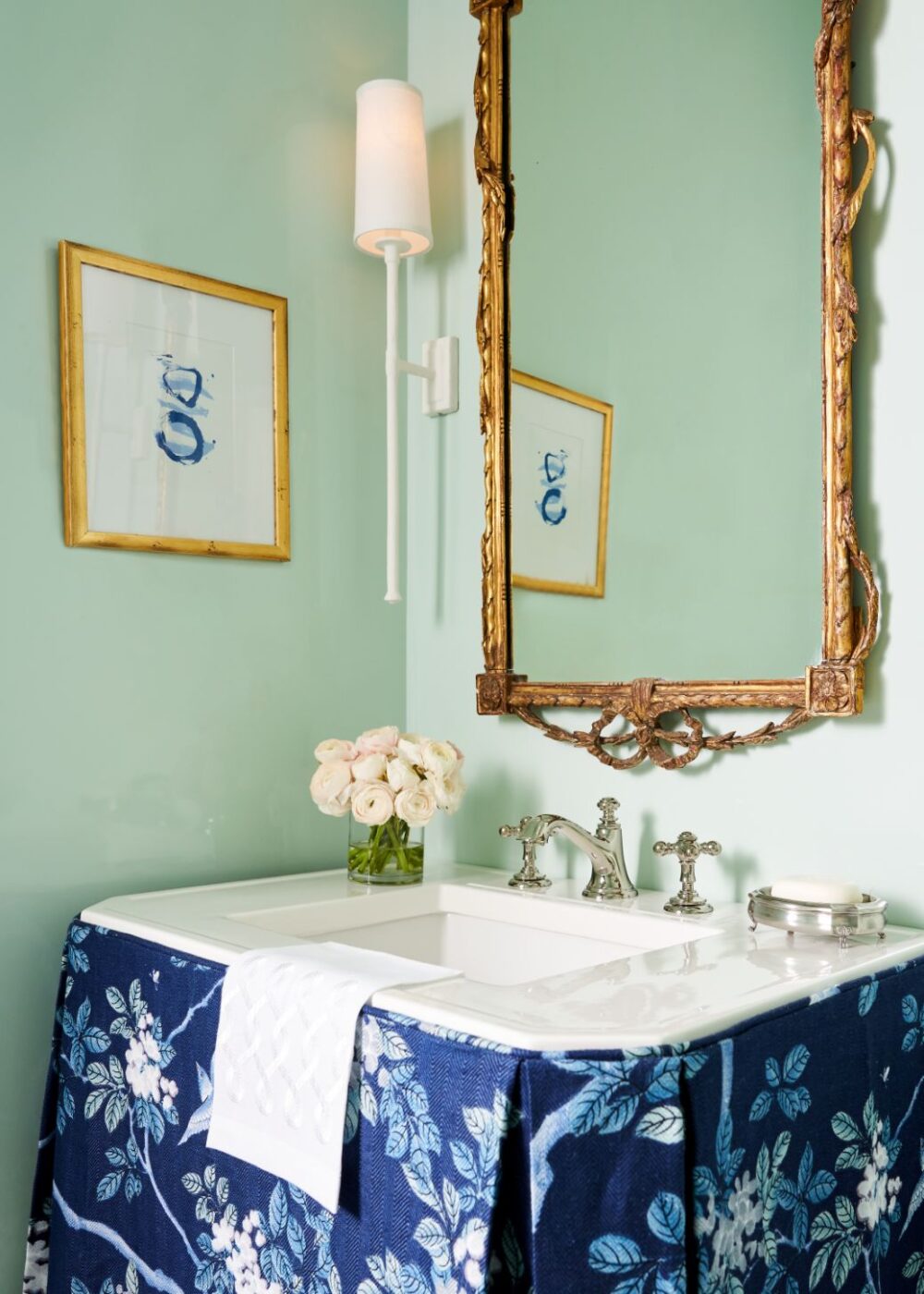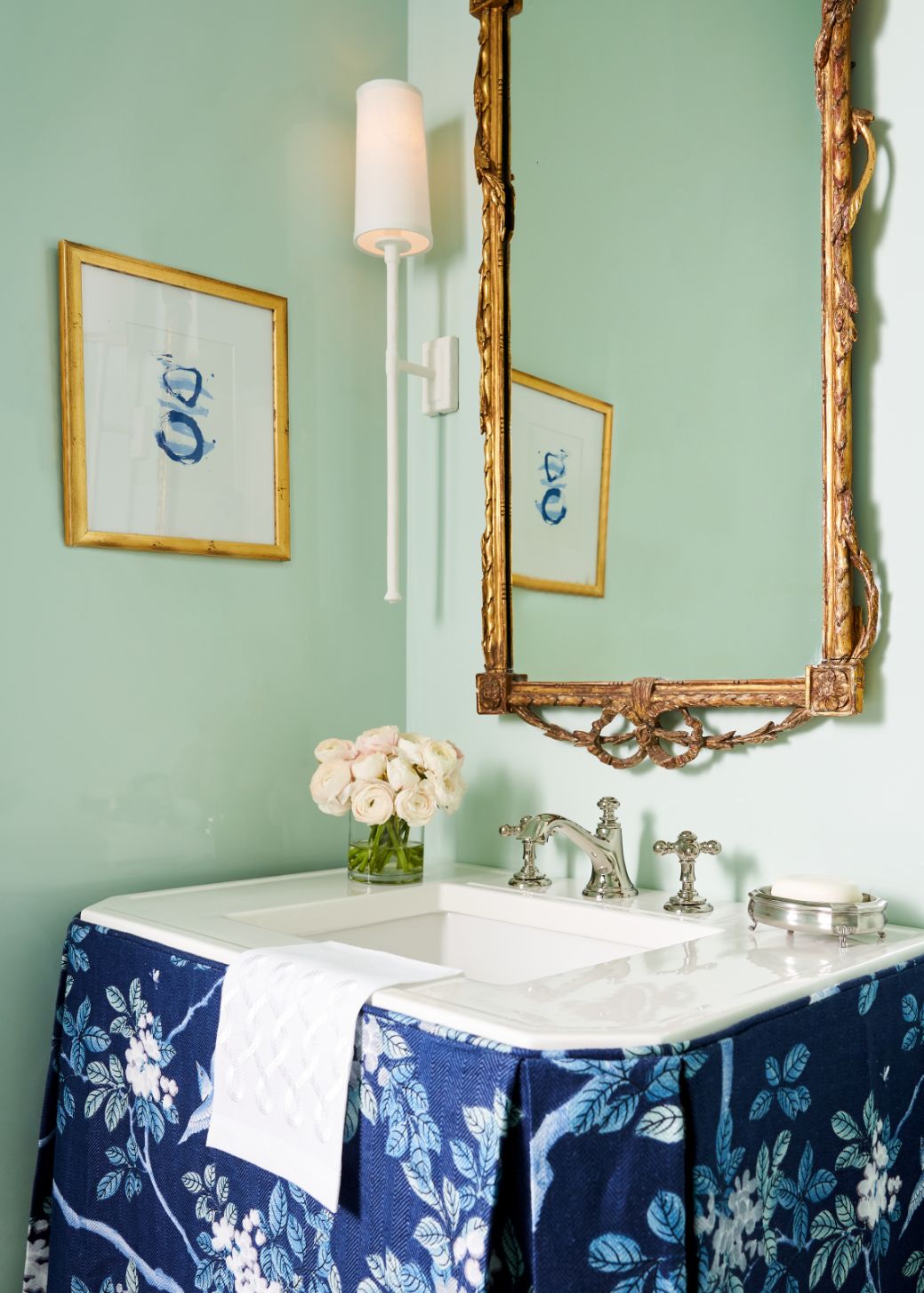 Kohler Pedestal Sink w/ Sink Skirt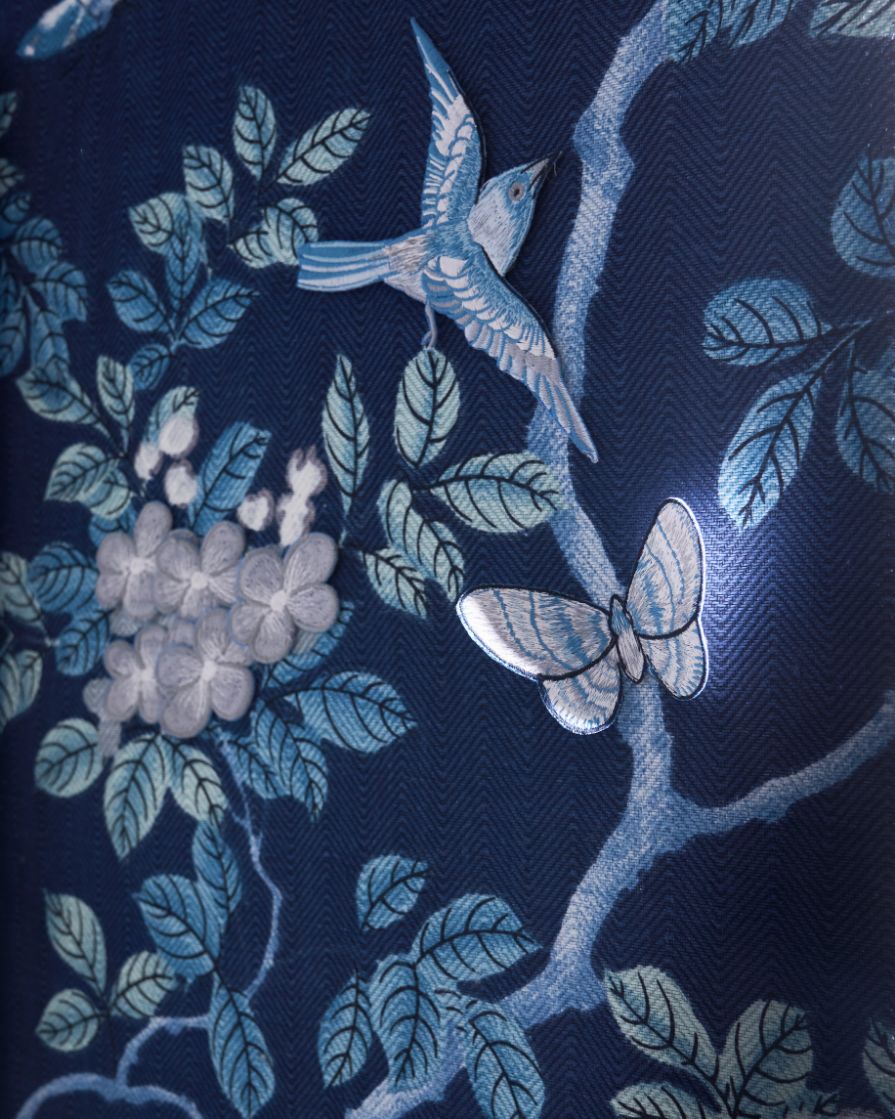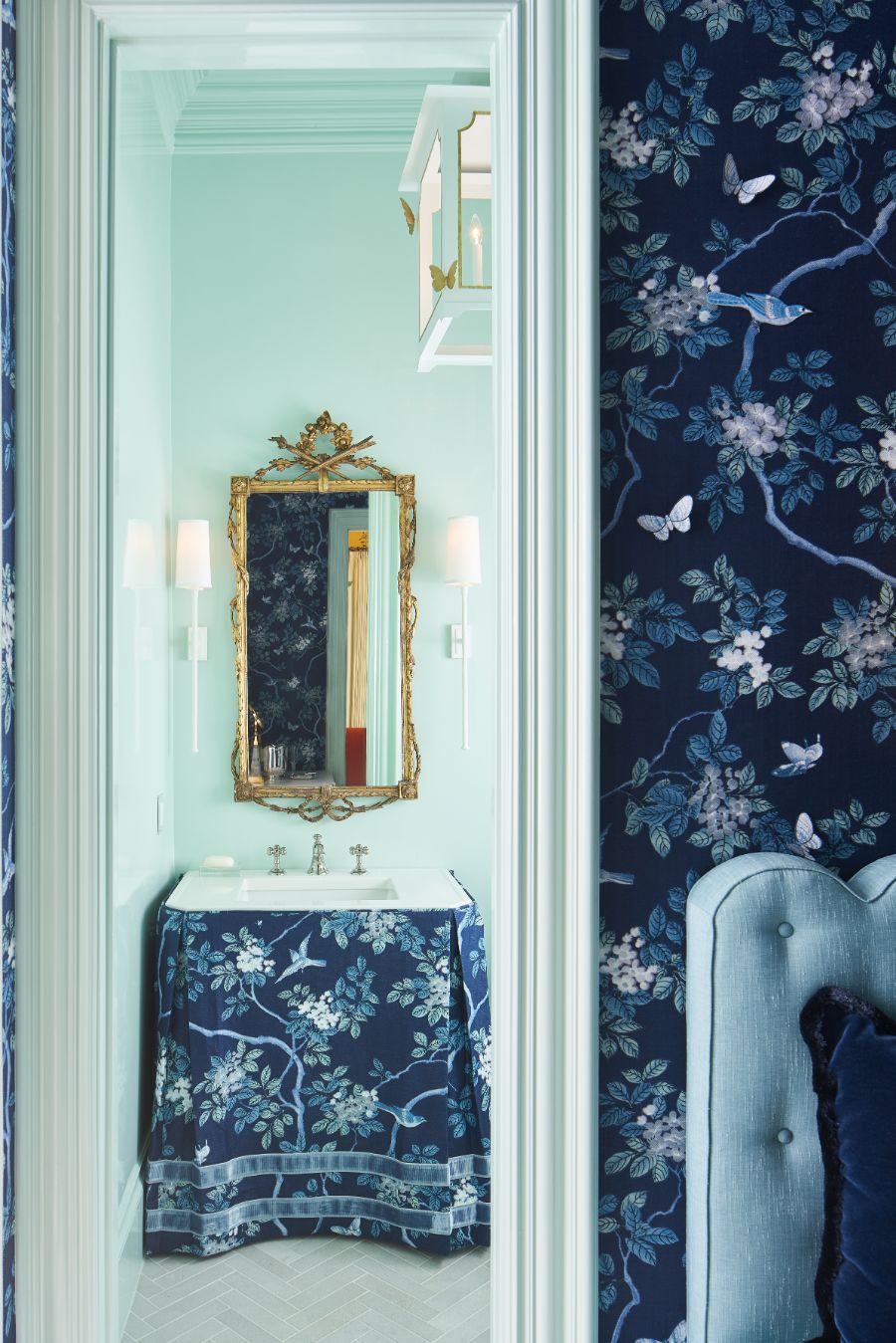 Traci Zeller's sponsors and products are Kohler Co., Benjamin Moore, Materials Marketing, Basset McNab, Stout Fabrics, M&M Upholstery, Julie Neill Lighting, Vaughan Designs, Circa Lighting, and Louis Gloria Painting.
Downstairs Guest Bedroom Decor Ideas & Sitting Room Ideas by Dina Bandman

This gracious guest bedroom was located on the lower floor. Conceived by California interior designer Dina Bandman as a mini-retreat for overnight visitors to escape their daily surroundings and be indulged with classic, elegant luxury was the key factor for the guest bedroom's color interiors spring design easily converts to a sitting room or lounge by day.

It showcases a 'fresh traditional style that is uplifting and collected with nothing staid or stuffy about it. The inspiration for the room began with an exquisite hand-painted wallpaper designed in a collaboration between deGournay and Erdem Moralioglu



Its design depicts a Chinoiserie pattern with a scene of nature in full bloom on a vibrant imperial yellow ground.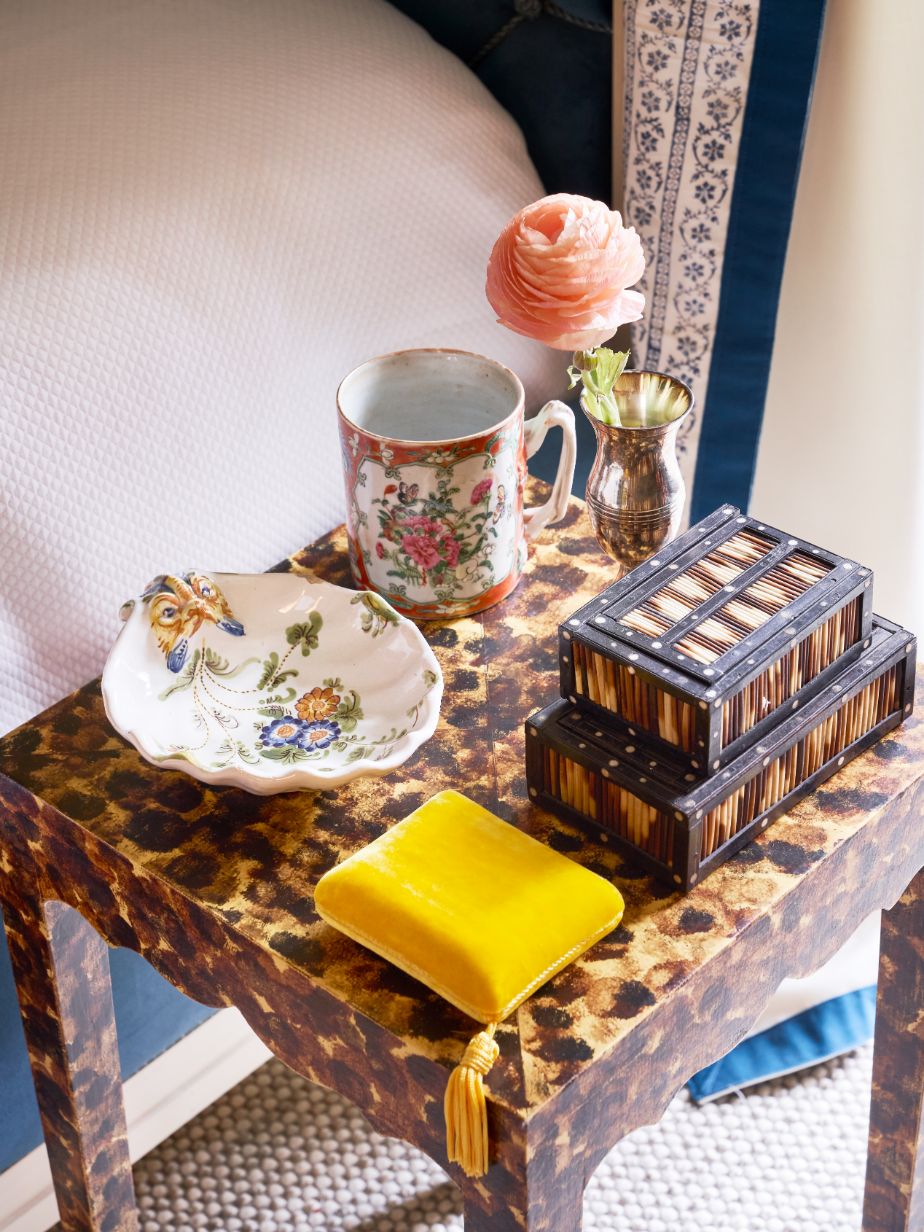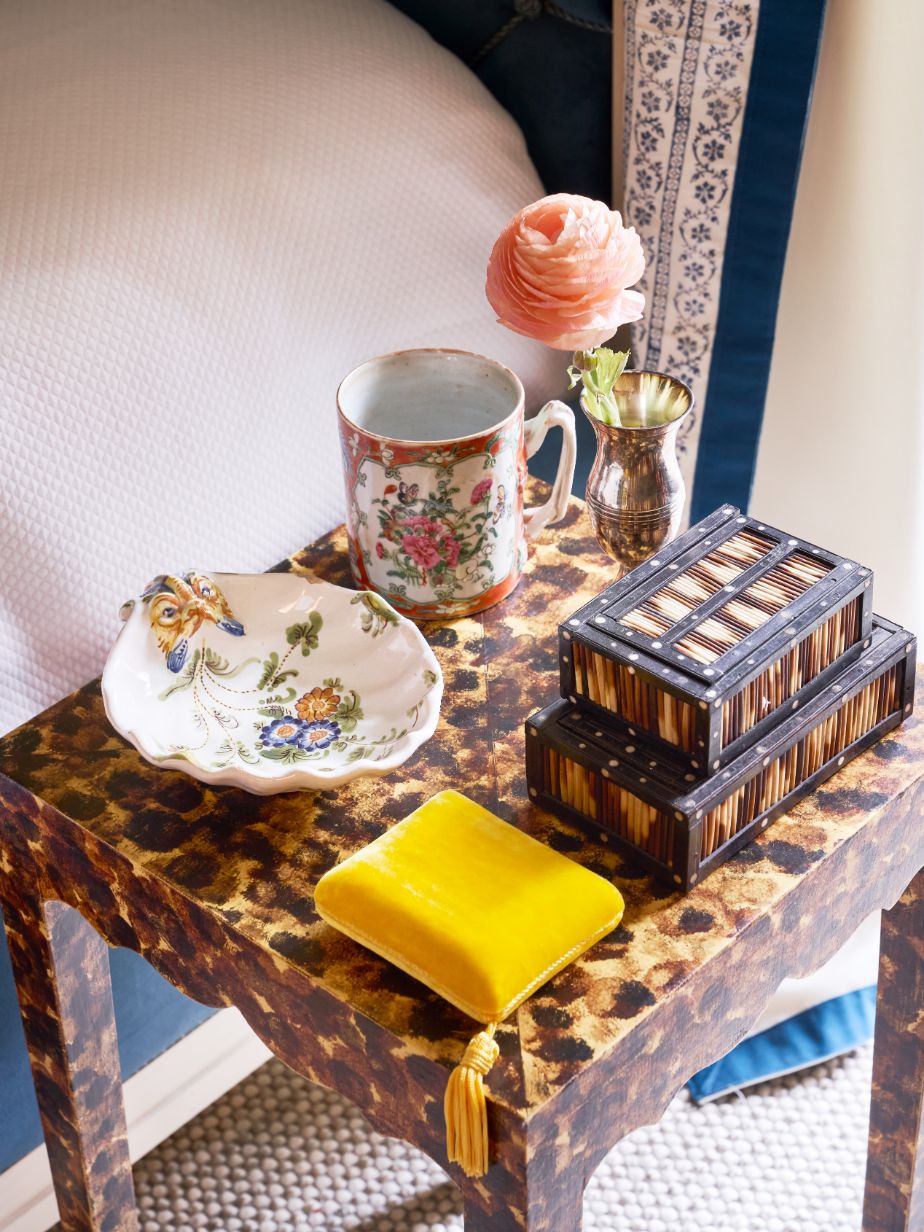 Antique Accessories & Vintage Plates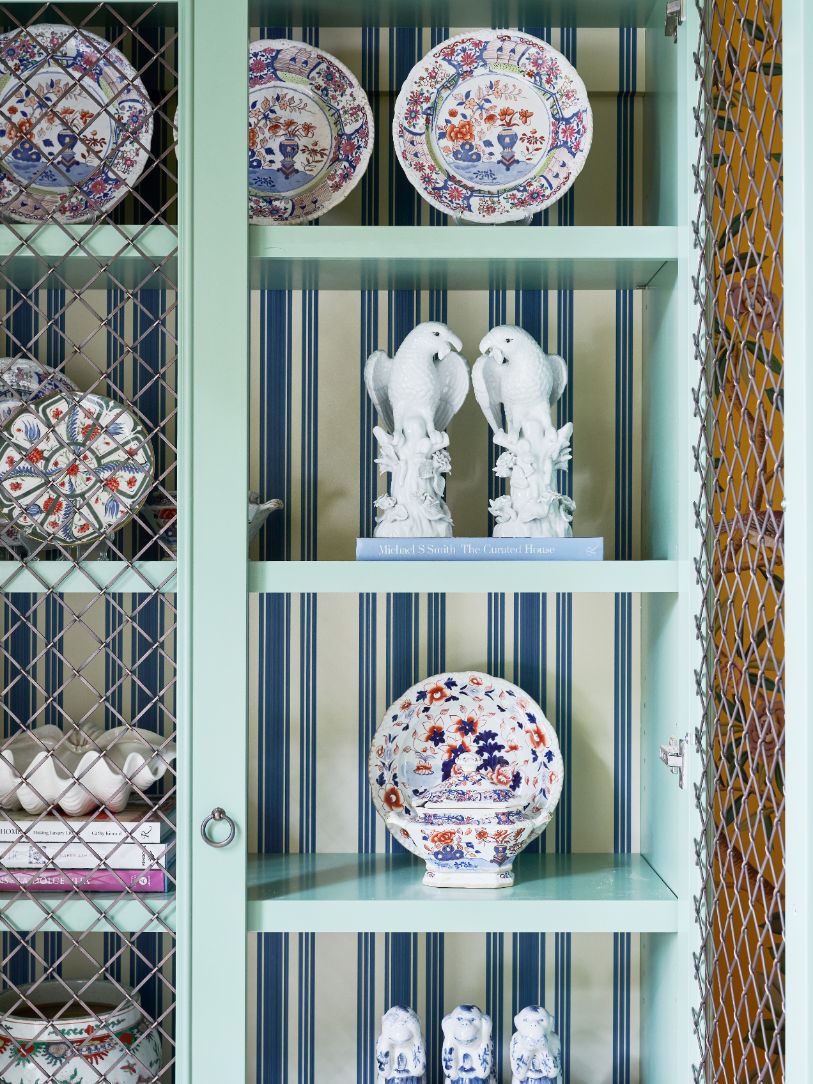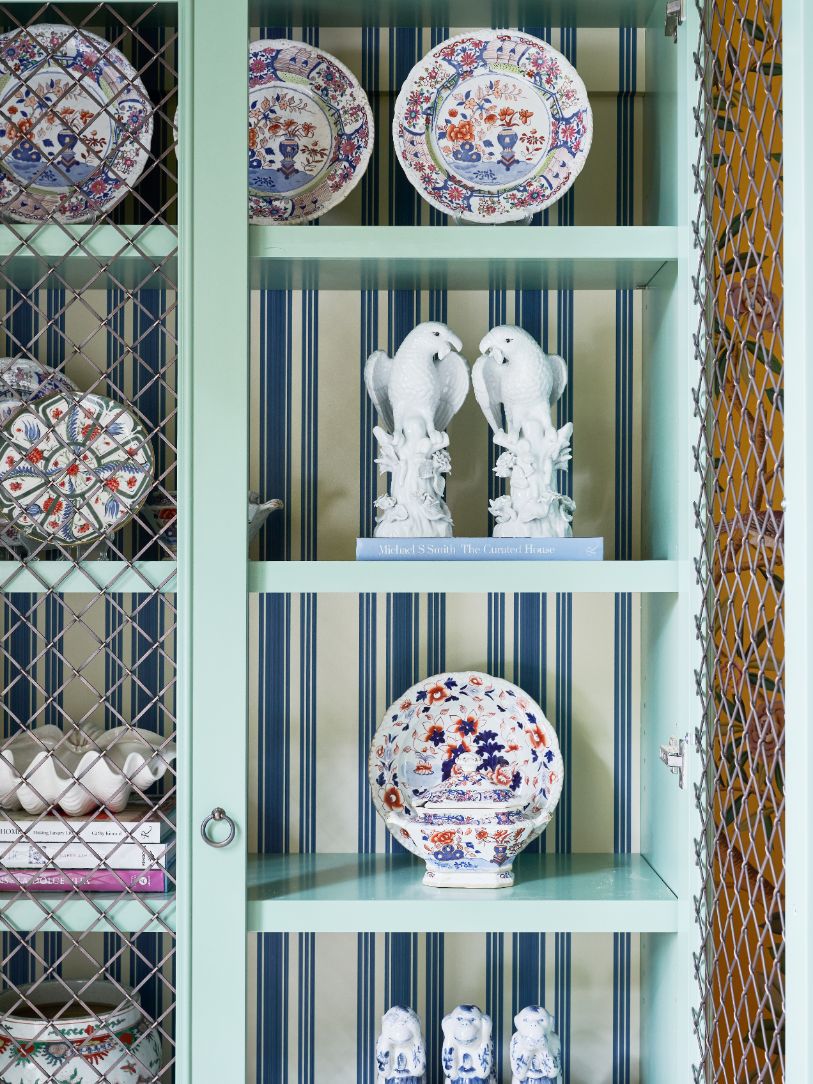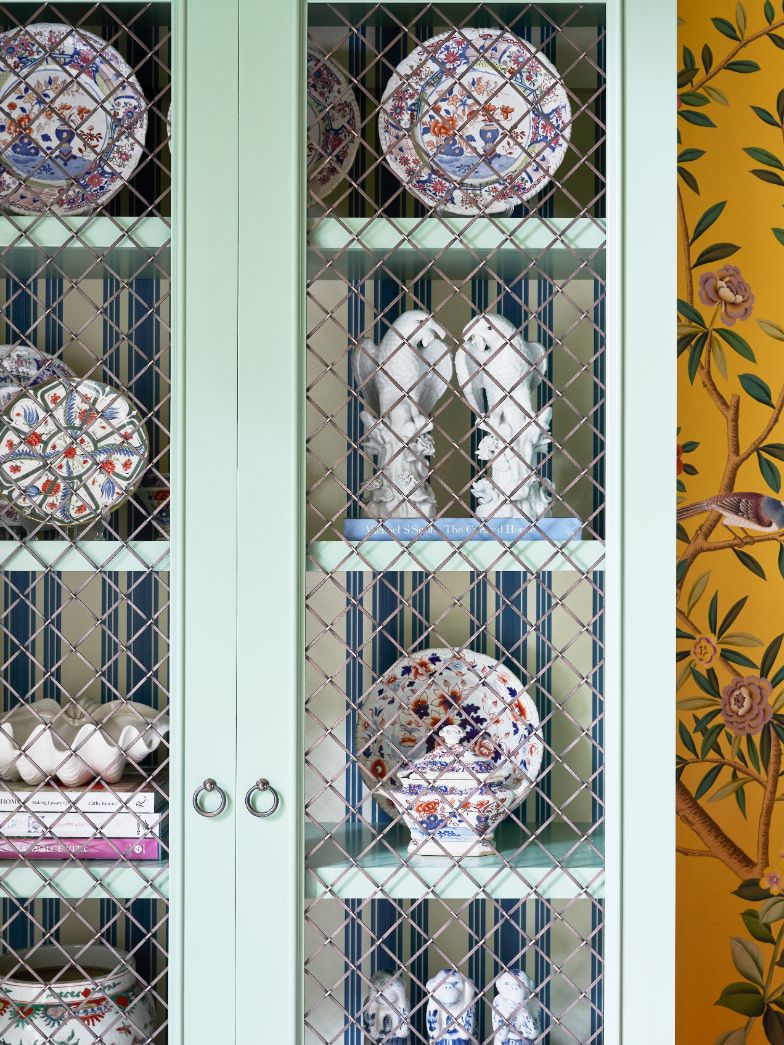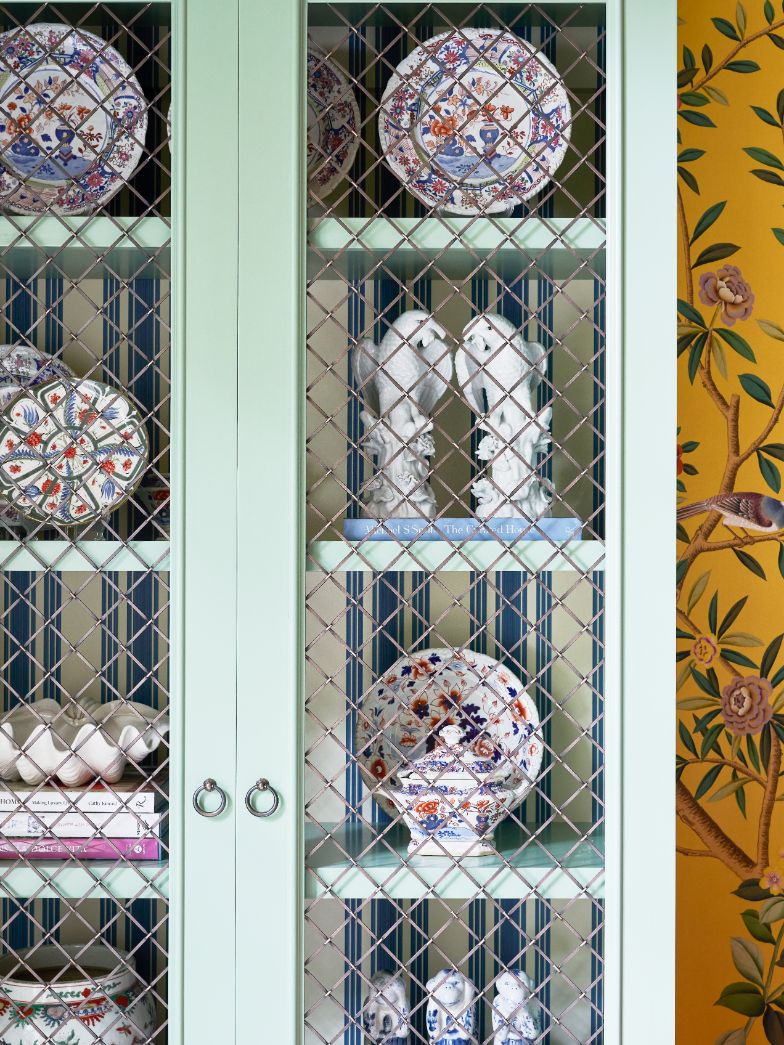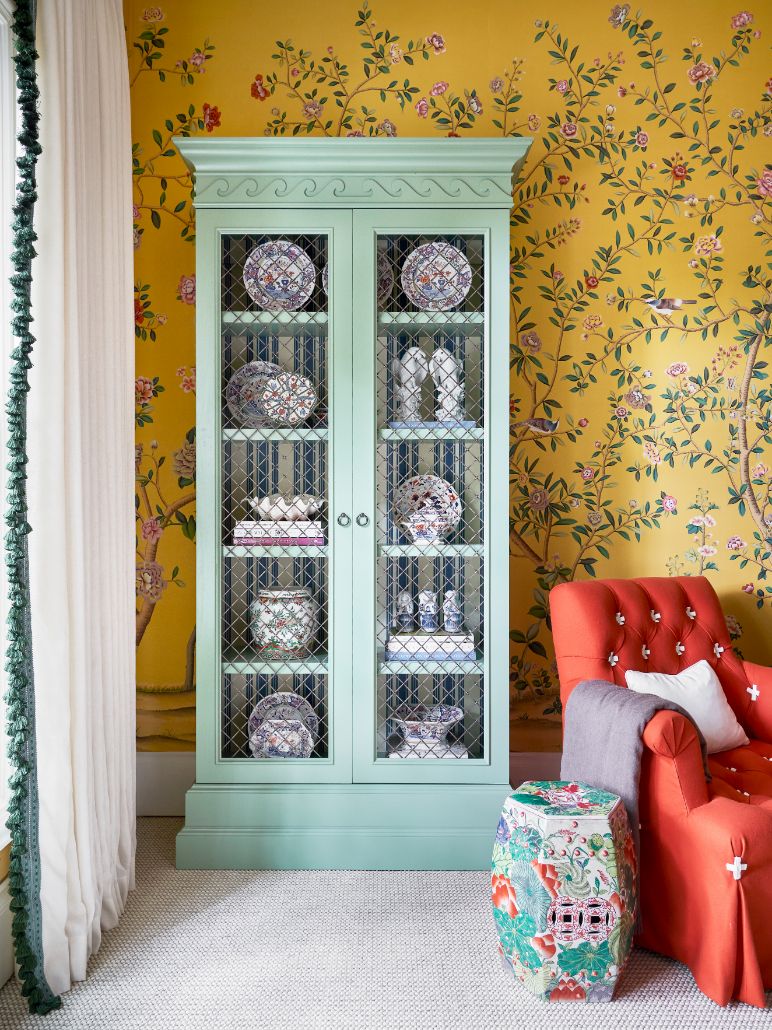 The adjoining bathroom continues to bring the outdoors in. The wallpaper's hand-painted ivy pattern was custom designed with deGournay to climb from floor to ceiling with its deep green leaves on neutral ground. The vanity's trellis detail further echoes the room's verdant garden theme.

Dina Bandman was incredibly honored to have worked with many wonderful partners in this room, including deGournay, CEH, M&M Upholstery, Mark Nelson Inc., DaVinci Marble, Colleen & Company, and Sam Graham from 2[g]Habitats.
The Celestial Ceiling Wallpaper | See Design Bar Design Ideas
An interpretation of Bunny's mural is shown throughout on the bar walls, while the album cover art was used as the inspiration for the celestial ceiling paper.

Cambria Terrazzo Countertops | See Design Bar Design Ideas
Modern terrazzo countertops from the brand-new Gensler for Cambria collaboration contrast the near priceless antiques placed throughout in the form of a fountain to chill champagne from Pittet Architectural and Regence style mirrors and 18th Century Terracotta Urns from Embree & Lake.

Inspired by the Smashing Pumpkins, see the photos of this amazing larger-than-life butler's pantry bar.
Awesome Luxury Kitchen Design Ideas w/ Prep Kitchen by Chad Dorsey


Prep Kitchen & Pantry In Puritan Gray by Benjamin Moore


The use of a brass tabletop with a tubular steel base and custom Apparatus Studio Trapeze Fixture offers a pleasing contrast against the rustic Cantera Floor from Materials Marketing.


Custom dark white oak cabinets with wood and brass fittings hardware from DLV provide the industrial edge and reminds the Beauchene's of being on their yacht in the Cote de Azur.


Coffee Bar with Cambria Solid Materials Backsplash

Space's focal point is a cased opening using a Cambria Stone inset with a Chinoiserie from artist James Mobley painted on Industry Glass over an antique mirror.
Dining Room – Cathy Kincaid

Cathy Kincaid's dining room was inspired by a combination of rooms, including Alidad and Veere Grenney, that have caught her eye over the years. A veteran to show houses, Kincaid made a shortlist of her most trusted resources before starting on the interior design of her most recent showhouse room.

Gerald Bland's exquisite antiques including a Georgian Gothic Three-Part Mahogany Octagonal Dining Table, which will be topped with Julia B. linens and porcelain lusterware; a pair of Adam Gessoed Arm and Dining Chairs; an Adam Gesso and Faux Porphyry Demilune Console Table; and a Sheraton Mahogany Sideboard.


Casci Plaster, one of Dallas' oldest and most respected plasterwork companies, will custom plater majestic palm trees in the corners.

Modern contemporary art updates any room. Visit P.S. This Rocks to discover a few ways to create your own modern art with Art Basel Miami Beach inspiration. In Kips Bay Dallas Decorators Showhouse,  Kincaid has selected contemporary artwork from the Talley Dunn Gallery in Dallas, TX.


Barry Marin Painting stenciled the walls in an intricate pattern of panels brilliantly designed Alex Eskenasy Design.

Most Comfortable Breakfast Nook & Keeping Room Ideas From Kips Bay Decorators Showhouse Designer Marcus Mohon

Daily moments of peace should be destinations in and of themselves. Whether perched in a club chair with coffee in hand and your dog at your feet or curled up on the chaise with a good book, this morning lounge is the sacred place for a family to begin and end the day. Marcus Mohon has some great keeping room ideas, whether starting the day with breakfast in the breakfast nook or playing a game, or watching television in the evening.

Though stylish, every detail was designed to stand the test of time. Perennials fabrics covering the sofa and swivel club chairs repel spills, wipeable Holly Hunt faux vinyl adorns the antique breakfast chairs, and wool rugs from Madison Lily and The Rug Store boast spill-friendly patterns and palettes.





While we always think of art as something that hangs. Art can be almost anything. Mixed mediums and combining multiple types of art provide interest without making your brain go visually crazy.





The gallery and formal powder room of the Kips Bay Dallas Show House were designed by Margaret Naeve Parker of MNaeve.



The art consists of Paul Lee, Amanda Martinez, and Jason Karolak from David Shelton Gallery. Margaret played with scale for the art, opting for a small yet powerful piece on some of the larger walls in the gallery. The art as a whole is a good collection of materials, texture, and composition.

She partnered with Cle Tile for the walls to install a 4″x4″ black zellige tile. To complement the dark walls, she elected to install a wide-plank, white oak floor. Lighting was again from Apparatus Studio, and she complimented that with a vintage mirror sourced from Hollywood at Home in Los Angeles.
Doniphan Moore's Luxury Master Bathroom Interior Design

For the inaugural Kips Bay Decorator Show House Dallas, Dallas-based interior designer Doniphan Moore created "Bathed in Moonlight," a sumptuously layered master bathroom design and lavish dressing closet for intimate moments to be savored.

Wallpapers by de Gournay, inspired by Gustav Klimt and Japanese textile designs, dance along the walls. Their sense of romance, metallics, and jewel tones bring continuity to the master suite.

Kips Bay Dallas Showhouse Designer Showhouse 2020




Japanese Wall Hanging

The silver background imbues the refuge with a dreamlike atmosphere that flows into the marble flooring and evolves into a geometric, tumbling block motif, establishing a contrast yet maintaining harmony through the shared colors.

Dome Ceiling Finish & Art Deco Style Star Light Fixture


The utmost gratitude to the following sponsors:  Benjamin Moore, Circa Lighting, Collier Webb, Culp Associates, Dmitriy & Co., Ferguson, Forbes and Lomax, Galerie novella, Holland & Sherry Houston, Matt Camron Rugs and Tapestries, Nick Brock Antiques, Perennials and Sutherland, Samuel & Sons, Sputnik Modern, Stone Boutique, The Countertop Market, The Shade Store, Wells Abbott, and W. Gardner, Ltd.
Transitional Master Suite Ideas From Kips Bay Dallas Showhouse Featuring Interior Designs by Kirsten Kelli

For their third Kips Bay Show House room and the first in Kips Bay Dallas showhouse, Kirsten Kelli decorated a beautiful modern eclectic aesthetic transitional master suite. The master bedroom is inspired by some of Kristen's very favorite luxury hotels around the world.

The jewel tones evoke masculinity, while the brushed gold Philip Jeffries wallpaper exudes a feminine appeal.







Custom Shades with Panel Draperies on a Brass Rod.

Beautiful Mudroom | Wall Art Ideas & Flooring Pattern Ideas by Erin Sander


HiFi Lounge & Art Deco Inspired Media Room at Kips Bay Dallas Showhouse by Cravotta Interiors

Ready for a break from the outside world? Step inside the Hi-Fi Lounge, a room that defies time. Once inside, you'll be enveloped in comfort and luxury and awash in exquisite sound.

Every surface is covered in sumptuous materials, including the dark linen ceiling, cerused wood walls, and deep umber sisal carpet.

Beautiful Screen Porch Ideas From Kips Bay Designers Showhouse by Tracy Hardenburg

The screened porch was grounded in the deep dark flooring from Metro Brick to create a moody vibe and topped it off with a funky chandelier by Heather Levine.

The greenery extends the lush outdoor area inside with trees from Scape Supply Co.
Transitional Boys Bedroom Ideas from Kips Bay Decorators Showhouse by Trish Sheats

This room is designed for a young man to bring the outdoors through green and copper upholstery, grasscloth wallcovering, nature-inspired artwork, and beautiful wood furnishings. Check out for  Fireplace Design

The inspiration for the color palette of this room came from the leaves of a Magnolia tree – bold leafy greens on one side and rich rust and coppers on the other.

I loved the fly fishing fish art hanging over the Kohler Veil Smart Toilet.
A Gorgeous Babe Paley or Grace Kelly Inspired Lady's Study Ideas by Jan Showers

Imagine an elegant lady—picture Babe Paley or Grace Kelly—the lady of the house. She would have a personal study that was livable, elegant, and original, just as she is. That was Jan Shower's inspiration for A Lady's Study.


She sits at her Karl Springer desk wearing comfortable Valentino palazzo pants to write personal notes to friends surrounded by contemporary art, a mix of antiques and chic vintage pieces on a luxurious ivory cowhide rug, and extraordinarily unusual and fine fabrics. Check out for Art Deco Home Design Ideas

Upstairs Guest Room – Wells Design

The upstairs guest bedroom transformed a boring bonus room into a traveler's retreat. Ready to see this beautiful creation by Houston interior designer Lauren Hudson of Wells Designs?





Modern Bathroom Vanities & Bathroom Remodeling Ideas by Studio Thomas James

The powder bath's sink location was perfectly located opposite the entry, allowing us the design elements as you enter the room since there are no windows in the space. It is dark and edgy with a touch of glamour inspired by the 1930s.

Vibrant tones of green honed-marble with variations of whites and blacks create a dramatic mosaic by Kelly Wearstler.

Ralph Lauren hand-forged sconces and ceiling fixtures from Taylors by Jane add elements of allure. Studio Art Consultant Jennifer Klos of Collector House for the perfect pieces by Dallas-based Artist Keer Tanchak of 12.26.

Upstairs Landing – Liliana Bloch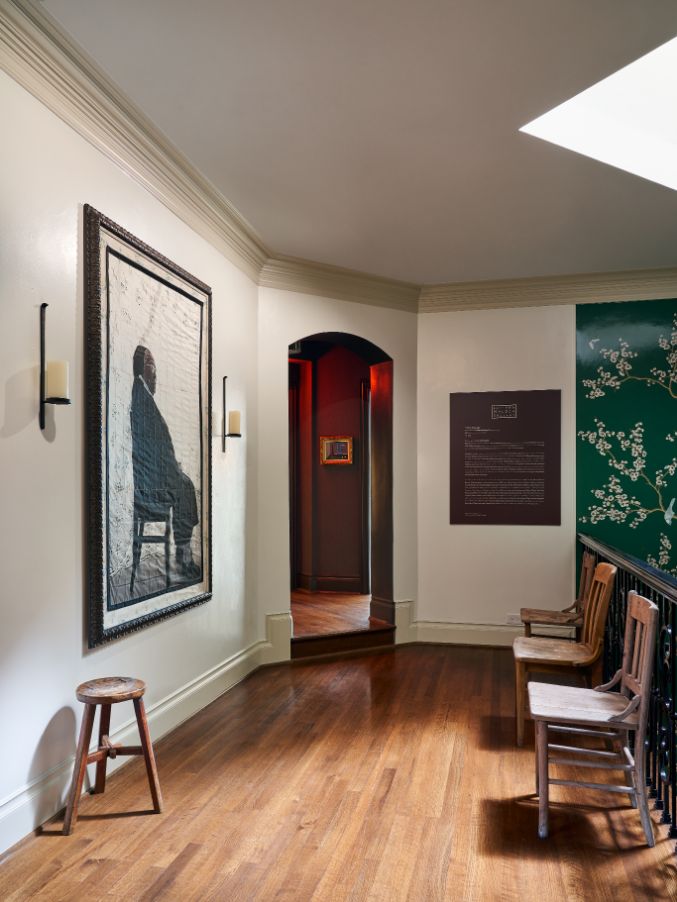 Upstairs Living Room Decor Ideas by Ten Plus Three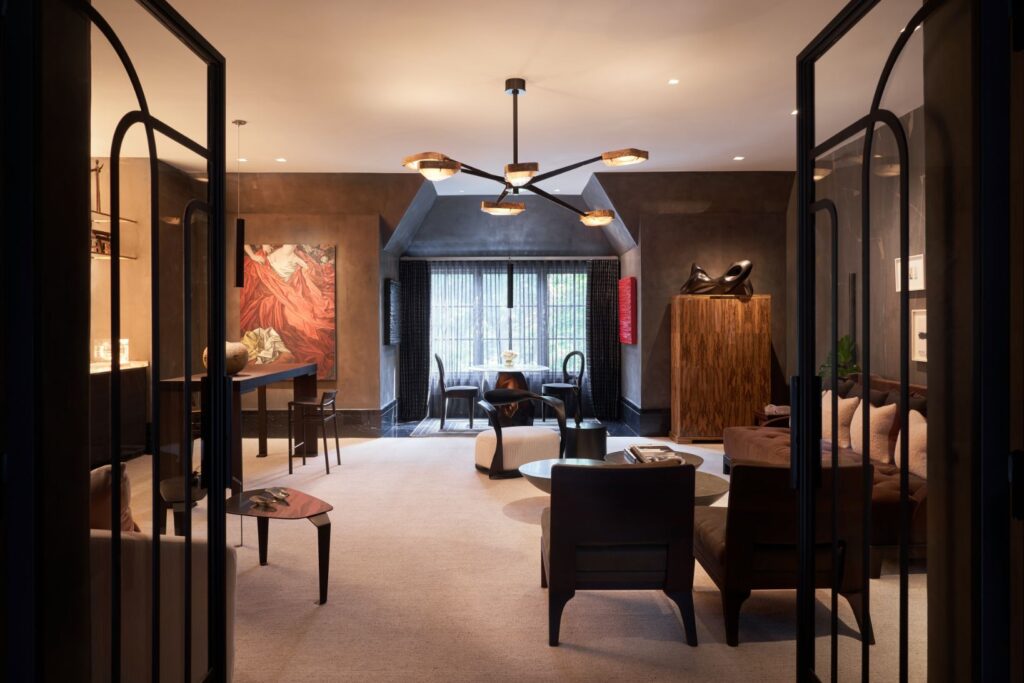 The living room encompasses Ten plus Three styles by showcasing a love for beauty in all forms- from the very art on the walls by Aldo Chapparo and Chul-Hyun Ahn to the exclusive furniture pieces by Promemoria, Maison Gerard, and EWE Studio.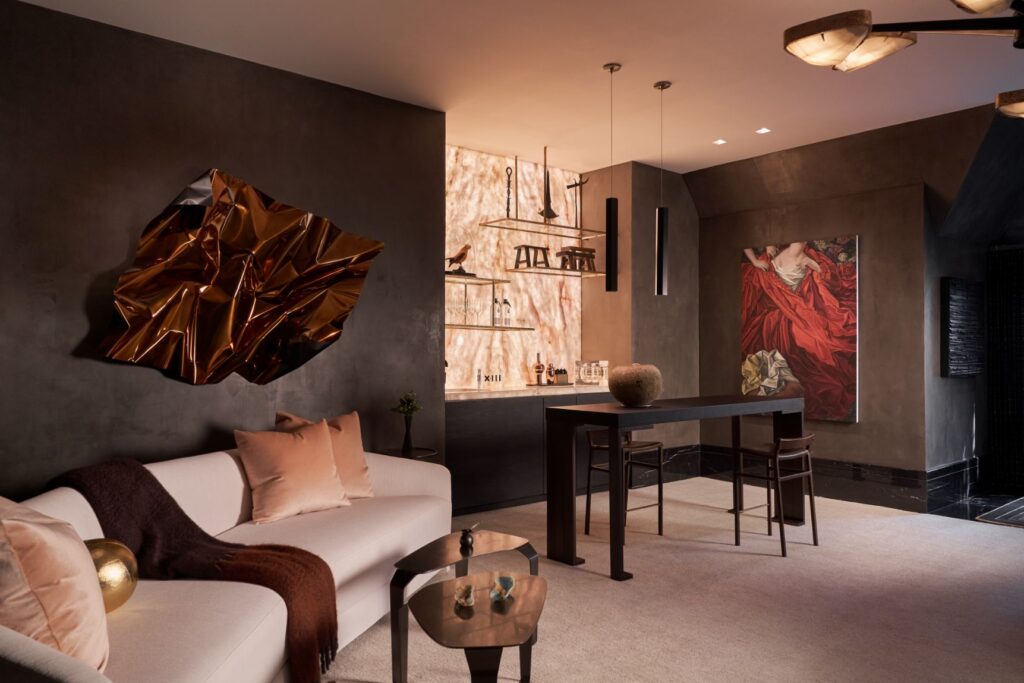 They converted a former home gym into an entertainer's lounge where the homeowner(s) and their guests can gather in an intimate setting surrounded by chic grey Venetian Plaster walls, hand-painted Porter Teleo wallpaper of a kind custom bar, luxurious fabrics, and editorial furniture pieces.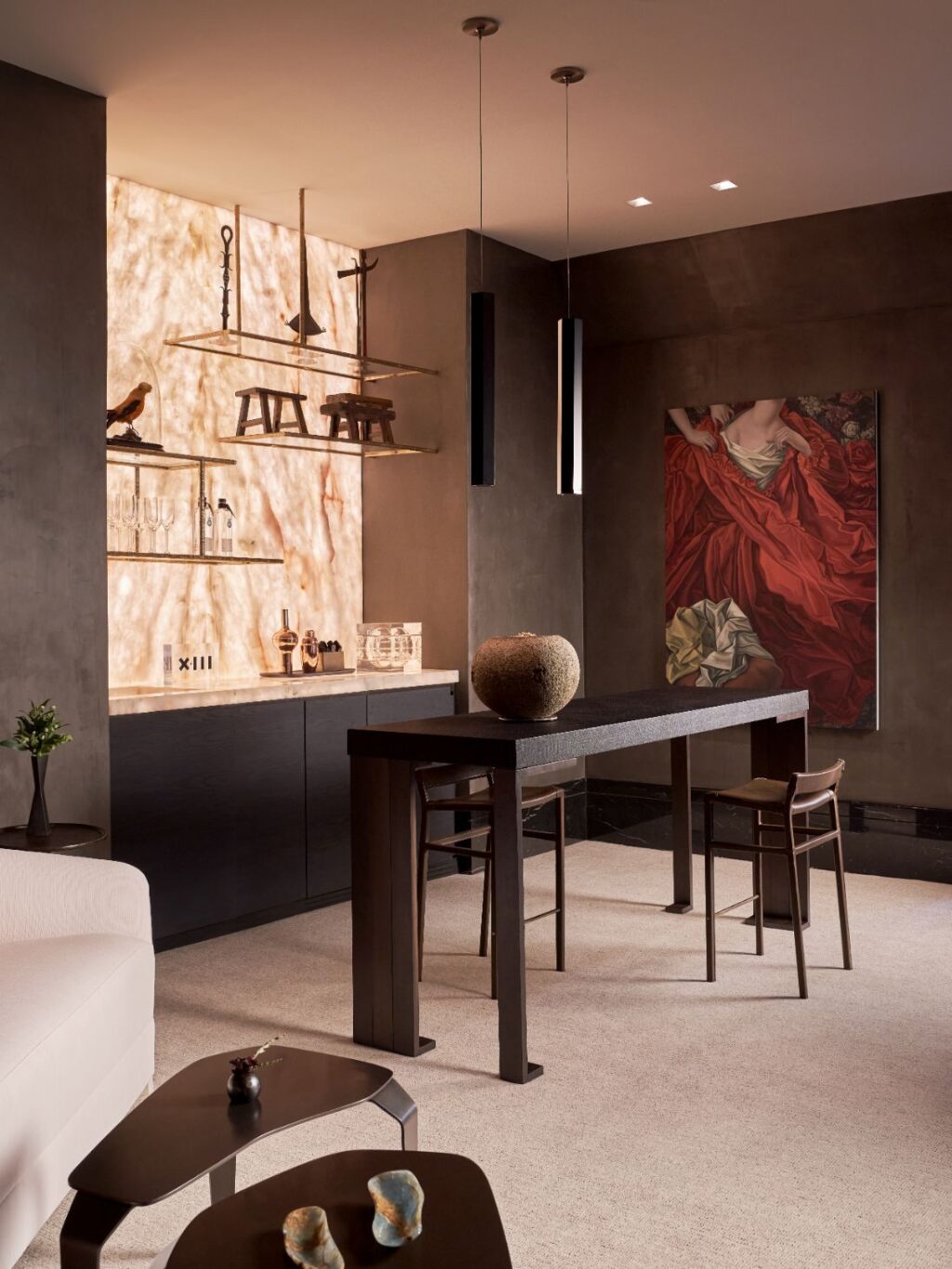 None of this would have been possible without CHT Systems' generosity, Maison Gerard, David Sutherland, Joel Cooner, Brenda Houston, Orona Metal, JG Designs, The Scott Group Studio, Natural Stoneworks, the Rug Company, and many more.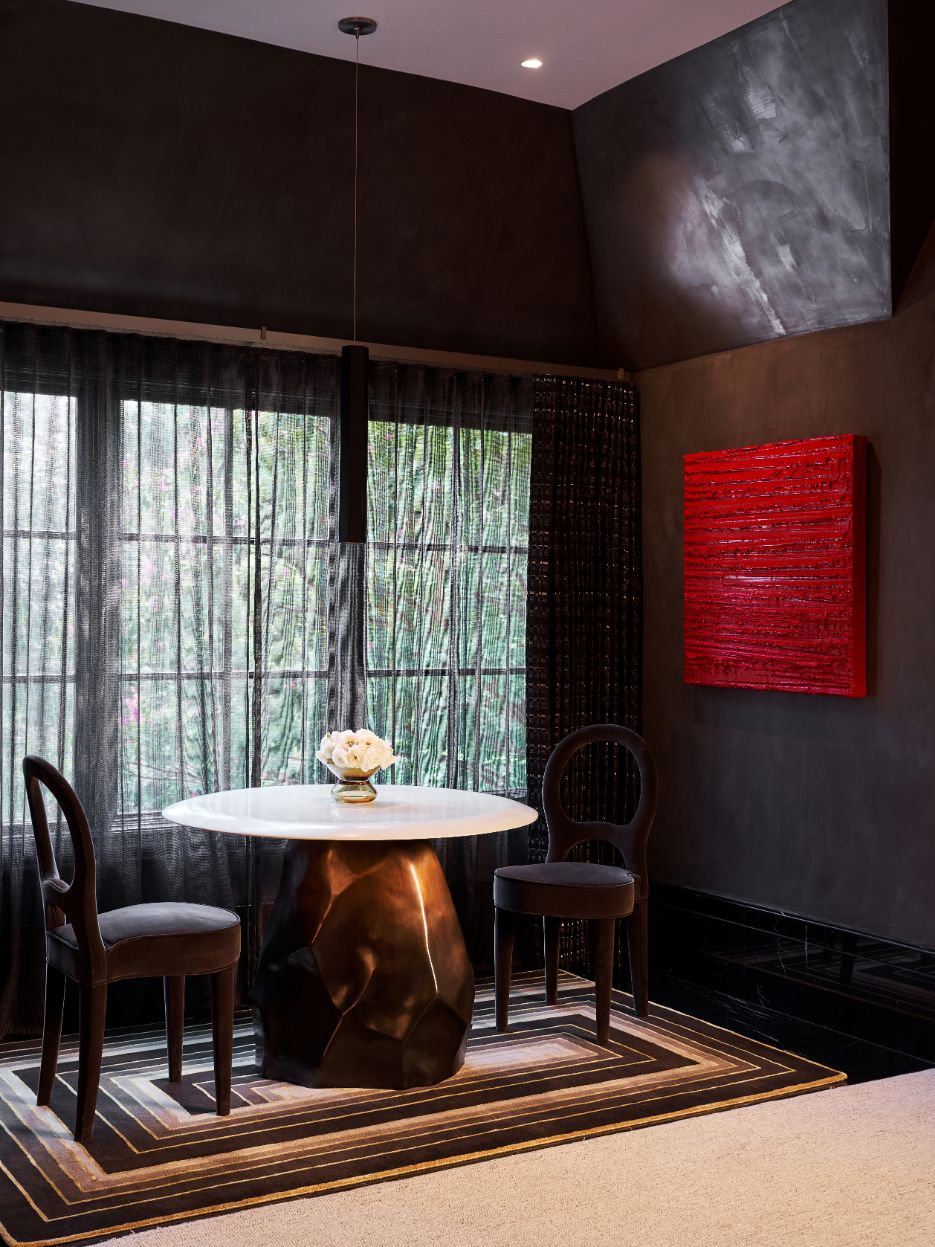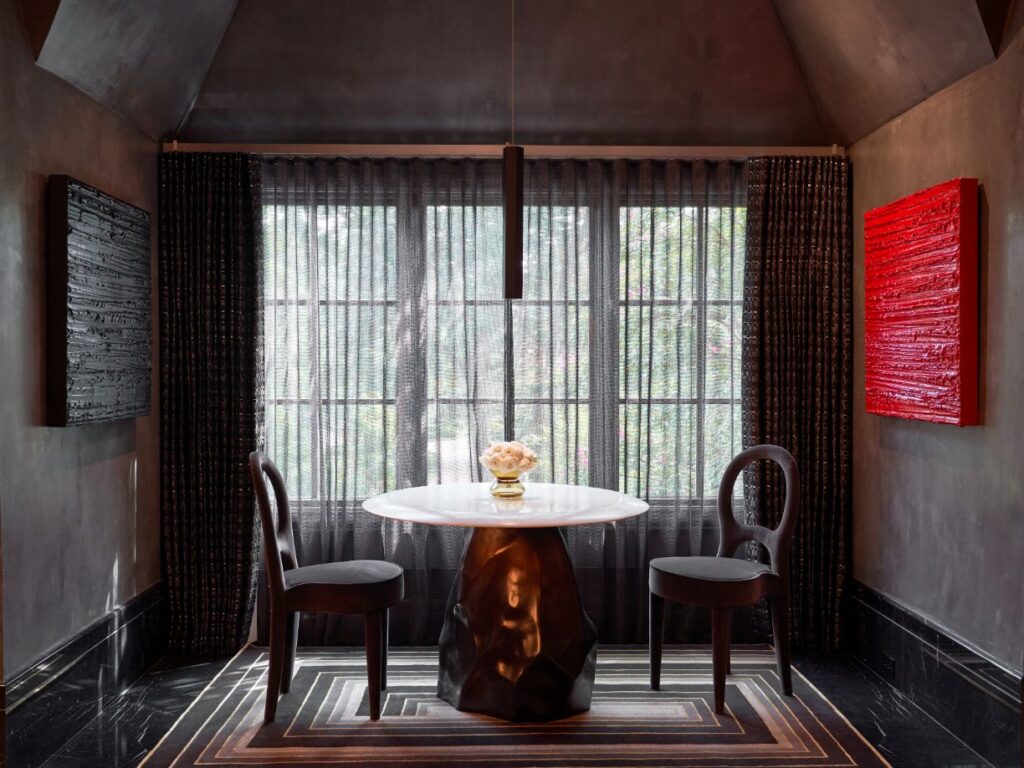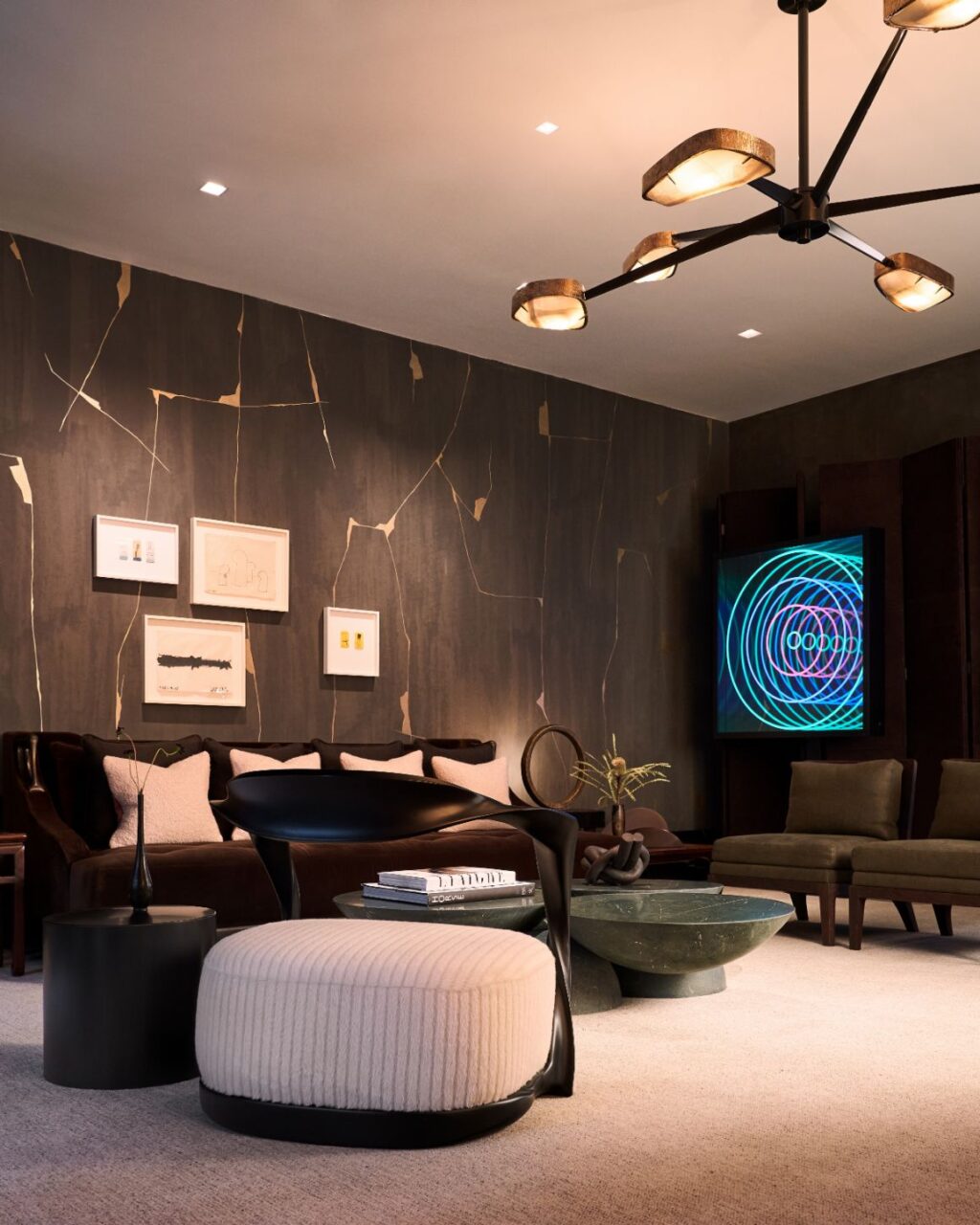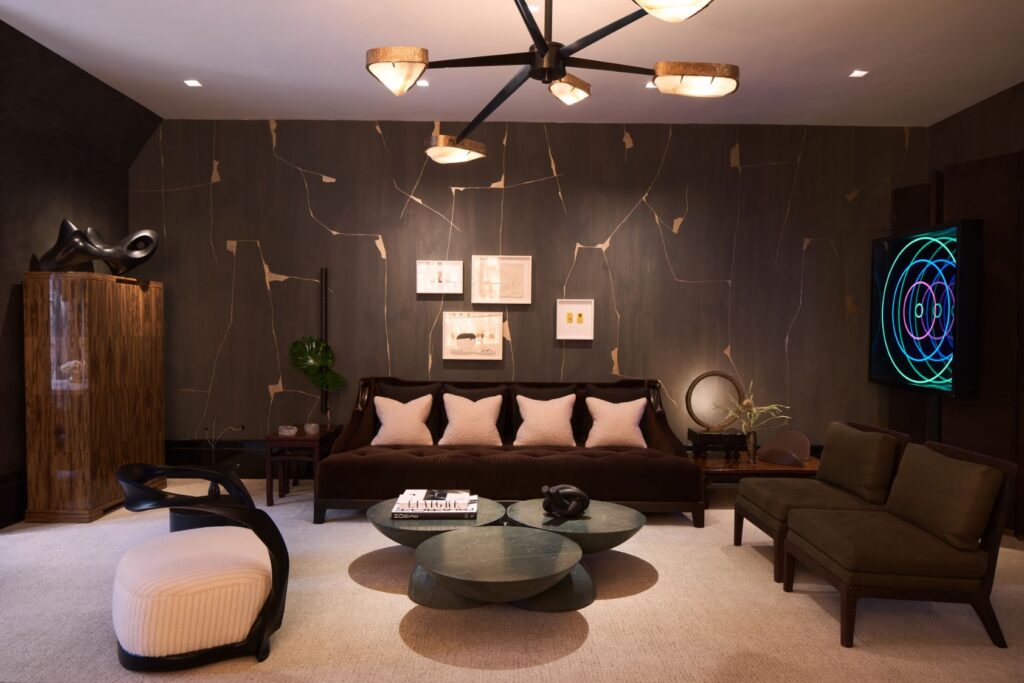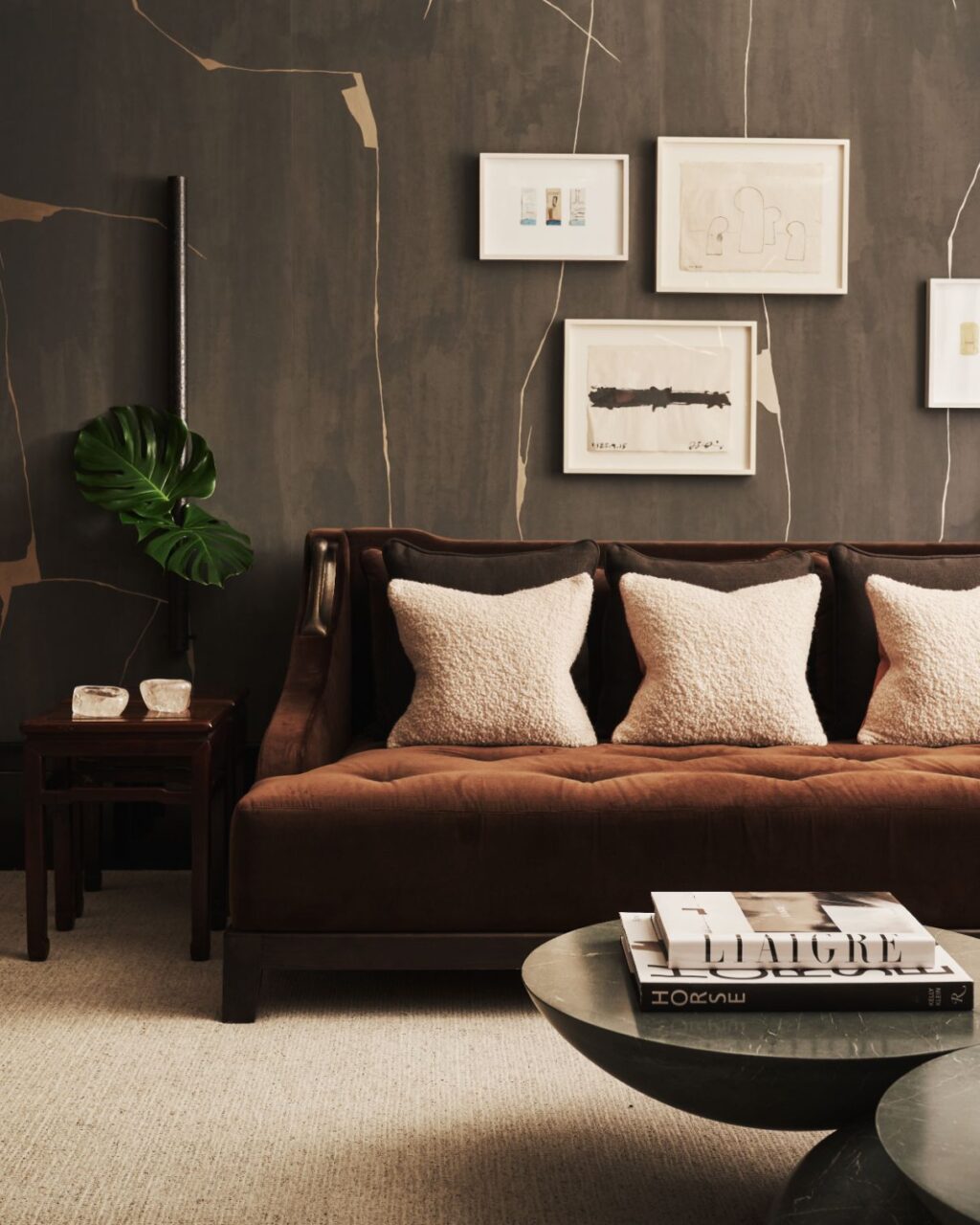 Beautiful Veranda Ideas Photos & Covered Porch Ideas For Luxury Homes In Texas by Kevin Spearman
The Inaugural Kips Bay Decorator Show House Dallas benefiting Kips Bay Boys & Girls Club features a beautifully designed veranda by Kevin Spearman.  Outdoor spaces have always played an important role in our lifestyle in Texas and even more important now as we are spending more time outside.
Kevin's goal for the covered veranda is to create an extension of chic living that was simplistic and serene.  He drew inspiration from a project he designed in the hills outside Tel Aviv, Israel.  Tension is revealed from the mix of styles, periods, and textures while using sustainable and organic materials.  The result is fresh and sophisticated in a timelessly modern veranda on a traditional luxury home in Texas.


Just as you should on the interior design, outdoor furniture must be comfortable and conversational. Choose outdoor furniture that is relaxing for entertaining for your lifestyle.




Luxury Pool & Backyard Ideas from Kips Bay Showhouse Dallas by Melissa Gerstle

Melissa Gerstle's magical 'magari' garden concept evokes lavish glamour without feeling stuffy or untouchable.

A romantic woodland backdrop invites passersby to camminare con Passo leggero (trip lightly) while lounging poolside or strolling the grounds.








BEVOLO LANTERNS















Kips Bay Dallas Designer Showhouse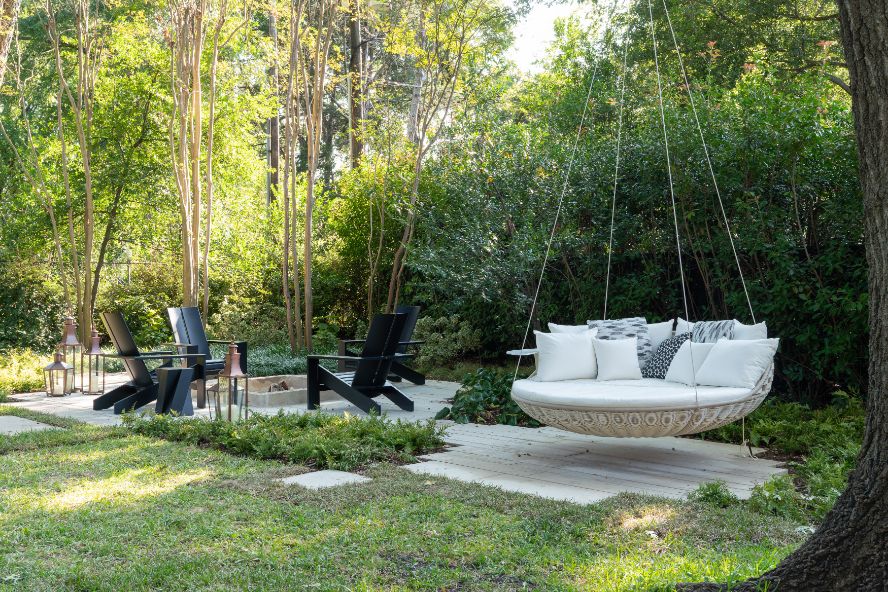 Kips Bay Dallas Designer Showhouse

If you've enjoyed Kips Bay Dallas Showhouse Designer Showhouse 2020, be sure to tour these amazing Decorator Showhouses:
Kips Bay Decorator Showhouse Palm Beach
Dallas Decorators Showhouse 
Miami Designer Showhouse
About The Author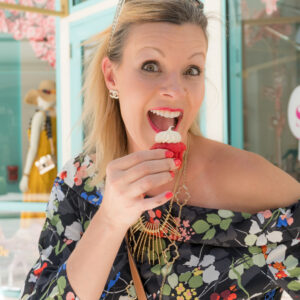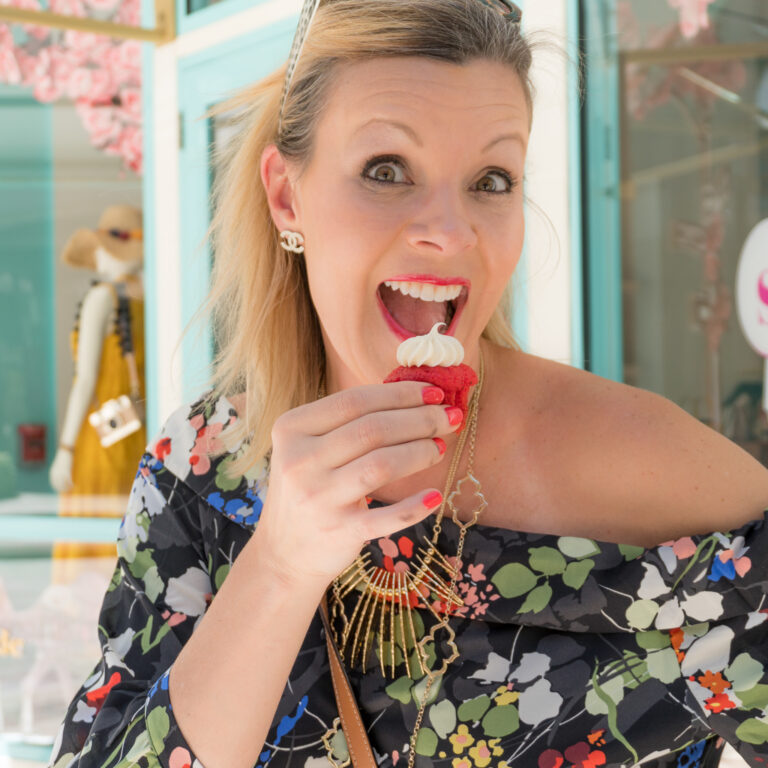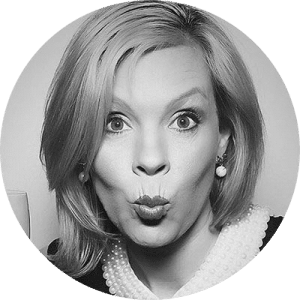 CHRISTI TASKER
P.S. You're entering my life as a serial globetrotter & entrepreneur living in Miami. P.S. You're entering my life as a serial globetrotter & entrepreneur living in Miami. Welcome to my life as a global creative brand director, Designer for my home décor & online jewelry boutique CHRISTI TASKER. Find out about my life as the NBC News social media pioneer or see my cute grandkids as I'm #GlammaGAGA, mom of an OR nurse and @TravelingPoodle, wife of a Brit, interior design educator,+ more. Follow me on Instagram if you really want to find out more about me & whatever you do – live in luxury for less and travel like a Rockstar for less.
The Complete Kips Bay Dallas Showhouse Designer Showhouse 2020 Tour
Enter your details for my free travel tips, exclusive recipes, home decor inspiration & lifestyle hacks
my fashion & home decor store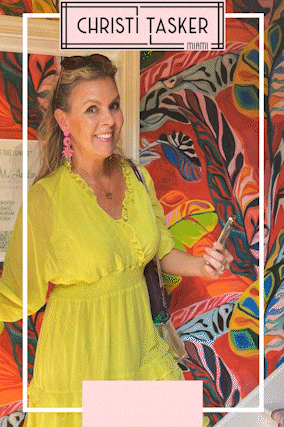 My Miami Condos

Couples Getaways

Honeymoon Ideas

Senior Travel Ideas

Overwater Bungalows

Loo Reviews

Family Vacation Ideas

Single Female Travel Ideas

How To Travel For Free
our branding, design & content management agency