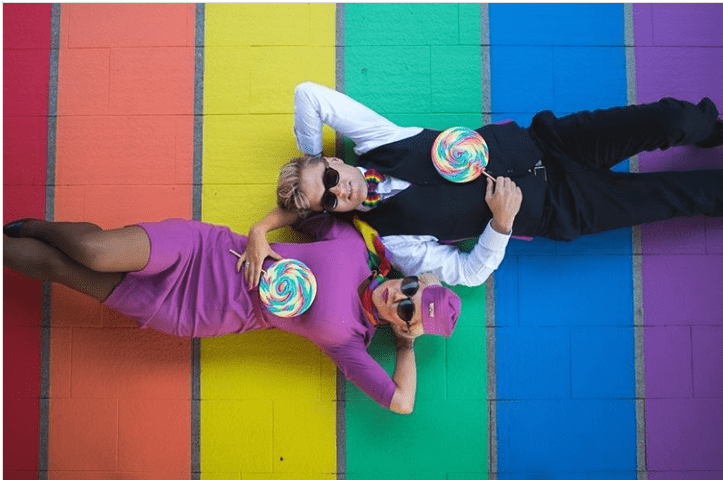 WOW Air | Super Cheap Airfare from USA to Europe for $129 – for real? | Air Travel Deals
Get the attractive Airfare from the USA to Europe only at WoW Air
Several weeks ago, when looking around the internet for a flight to London, I came across a VERY reasonable (read: CHEAP and EXCEPTIONALLY economical!) fare on an airline that I had never heard of before. WOW Air had a flight from Miami to London for an unbelievable $129.09!! Unfortunately, I will never be able to fly WOW Air again. WOW Air is gone out of business. 🙁 Click here for more Affordable Airlines & Find Cheap Airfare. 
My Story Flying WOW Airlines & Why I Wish They Were In Business Now
Truth is, I laughed out loud and didn't believe it. All the other fares were HUNDREDS of dollars more! I've always believed if something is too good to be true, then it's probably too good to be true. In the back of my mind, that was my thought. So, before I jumped on the "deal," I decided to research and find the "catch".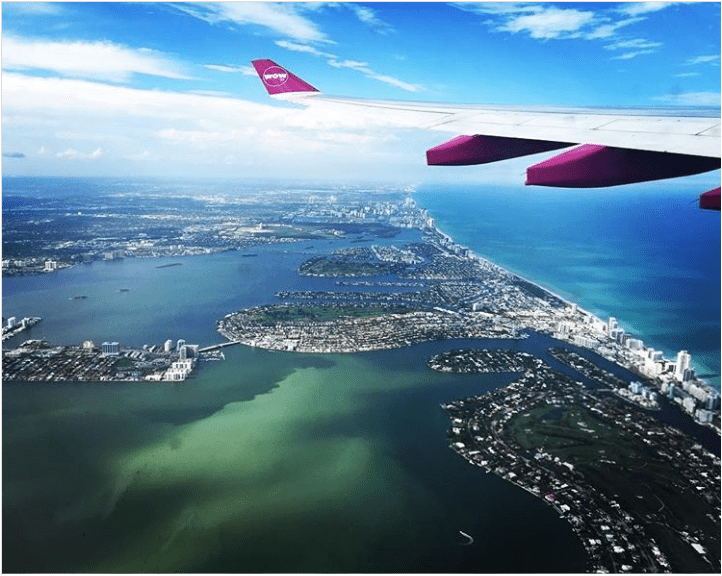 Photo Credit: @carlos.cabreramx via www.instagram.com/wowair/
Wow Air Baggage & Luggage Fees and Information
OK, so they charge for luggage. That's not out of line. Most airlines do these days except for international travel. On WOW Air, the charge for a bag weighing 20 kg (44.092 lb) or less was $59.99. But, WAIT — they also charge for your carry-on!! That would be another $39.99 for a bag weighing no more than 12 kg (26.455 lb).
You are allowed one personal item. My choice is a backpack that I have outfitted with ALL the travel necessities. After adding all the baggage, security, facility, and miscellaneous taxes to the basic fee, it came to a WHOPPING $268.96!! Still mulling over my "good fortune," I turned to read all the different online reviews. Some were glowing, others not so much. From different experiences, the reviews came flooding in, and one can summarize just about anything.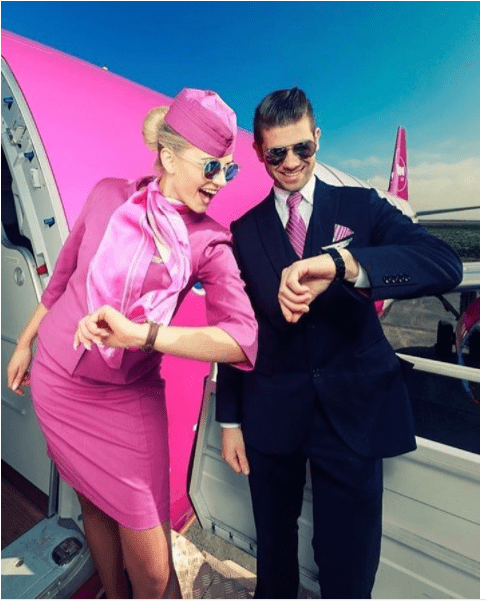 Deciding I could endure seven hours of discomfort, I took the plunge and booked the ticket. Making my purchase public on Facebook brought on all the "WOW" jokes. I held my head high, hoping for the best and not knowing what to expect.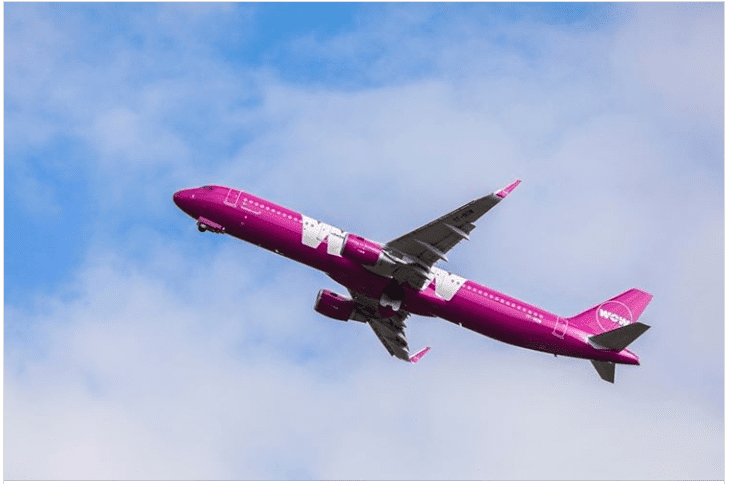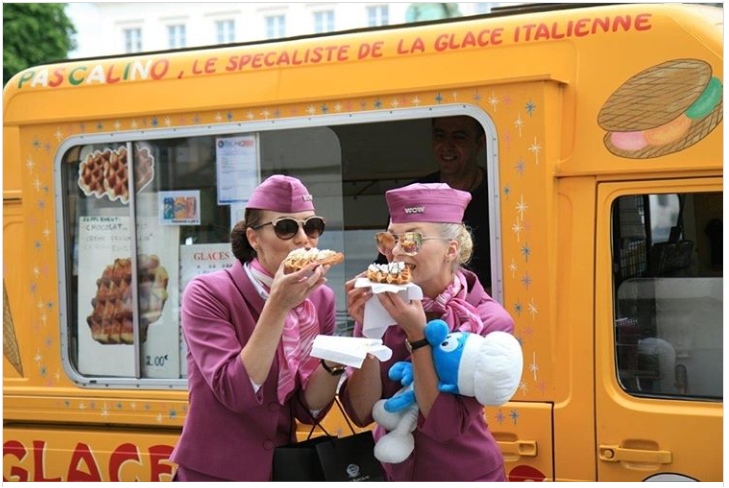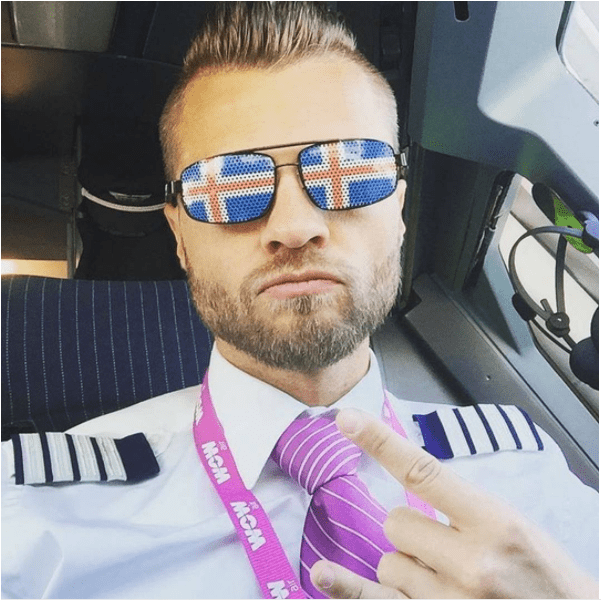 Photo Credit: @WowAir
When the time came to pack my bags, the weight piled on! Picking and choosing what I could do without, I dreaded the thought of my bags being overweight. As it turned out, I only had to remove one coat from my big bag, which was a blessing once I arrived in Iceland! My new Samsonite carry-on and backpack weren't weighed (whew!) and I was off to security. The line was short and I sailed through making my way to the gate, still wondering how this would all turn out.
There were LOTS of people getting on this flight which was a comfort because I had read reviews that they cancel flights with a few hour's notices. If they canceled this one, there was going to be a LOT of upset folks.
After boarding, we found out the flight was delayed because they were waiting for cargo that had to get to Iceland. Waiting until the last minute to board proved to be easy and hassle-free. No confusion on where to put carry-on luggage or people blocking the aisles. The first thing I noticed was the cleanliness of the plane. It was the best I've seen in a LONG while.
The seats were comfortable, with plenty of legroom. Being tall, I'm challenged with that — especially on long flights. The printed purple carpet even said "WOW".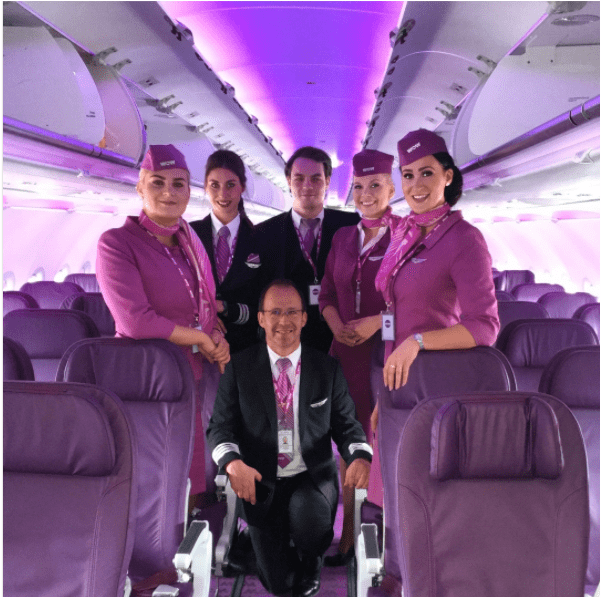 Since I knew upfront there were no frills such as onboard entertainment or Wi-Fi, I came prepared with several movies thanks to The Salvation Army Store — Miami Dade, and iTunes. I purchased water at the Miami airport and carry my superfood nutrition with me so I had that for dinner, saving even more money. They sell a variety of meals and snacks, including beverages. Expect to pay for these just like you would with any airline. On the connecting flight from Iceland to London, I purchased porridge/oatmeal with cranberries (yummy!) and a coffee ($9.00 US). Both were excellent!
The one thing I'd noticed when researching online was that all the WOW flight attendants were attractive. I thought that was probably just for their advertisement. Turns out I was wrong. Every single one of the crew looked like they stepped out of a magazine, dressed to the nines in their very attractive uniforms. I was IMPRESSED. All the women wore skirts and jackets along with scarves and hats. The men wore matching purple vests.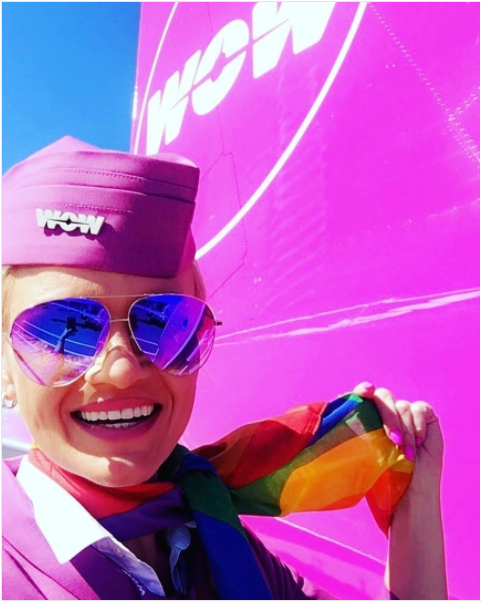 Photo Credit: @WowAir
Another thing you notice is that WOW jets stand out from all the others because they're purple and well kept. With the obvious standard of excellence, they set themselves apart from the typical airline!
WOW Air was founded by entrepreneur Skúli Mogensen, whose extensive business background is largely in technology and telecoms in Iceland, Europe, and North America. The airline is entirely owned by Mogensen, who sits on the board of many tech companies both in North America and Europe. Mogensen was selected Business Man of the Year in Iceland in 2011 and 2016.
WOW Air's inaugural flight was to Paris on May 31st, 2012, and in October that same year the airline took over the flight operations of Iceland Express. Only a year later, in October 2013, WOW Air was awarded the Air Operator's Certificate (AOC) by the Icelandic Transport Authority.
Asked if I would use WOW Air again and recommend it to others, I would answer with a resounding "Yes!" It was the shortest, most pleasant seven-hour flight I've ever taken!
According to a July 2017 article in Business Insider magazine and The Telegraph U.K., WOW Air CEO Skúli Mogensen believes airline revenue models will evolve in such a manner that soon carriers will pay passengers to fly.
Now, THAT'S what I'm talking about! Let's get out and see the WORLD!
BIG HUG from Brighton, UK South of London!
Check out the best harrods of london a shoppers paradise.
Pamela

Over 60's Senior Artisan Traveler, Great Gete (aka never call me "Grandmother", Oldest Digital Nomad Living Internationally More Than 6 Months Of The Year, Health + Wellness Guru