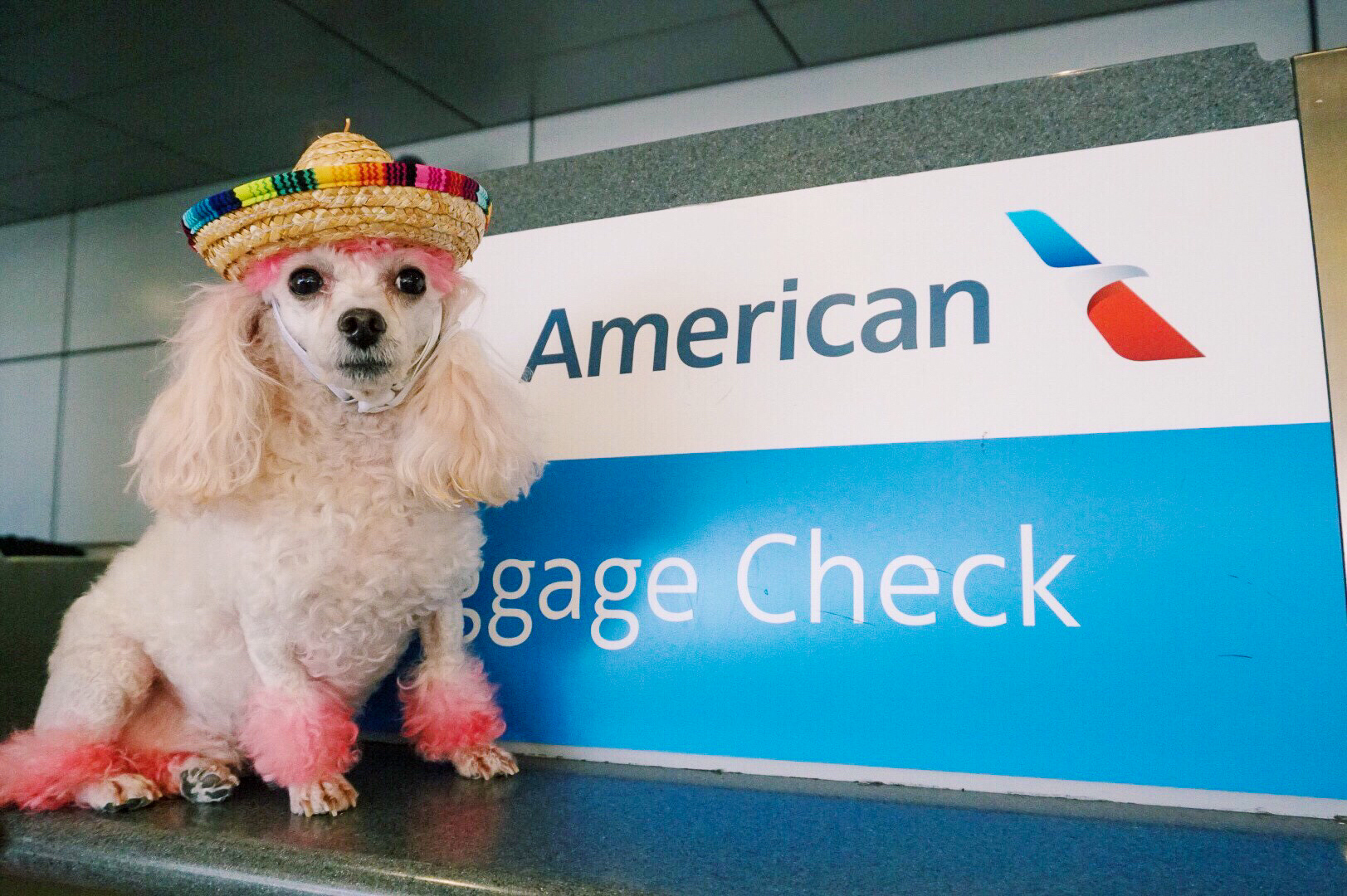 21 Best Airlines To Fly To Europe With Pets & Animals From America To Europe
My Top 21 List of The Best Airlines To Fly To Europe With Dogs, Cats & Other Animal Fur or Feathered Friends
Friends, this is the list you've been waiting on. It's taken me all day to assemble my top 21 list of the best airlines to fly to Europe with dogs or your other fur, feather, rodent, or reptile friends. No matter what kind of animal lover you are, this list of transatlantic airlines is complete with pricing, links to each airline's policies and procedures.
There are two sections in the blog post below. First, the North American to Europe airlines that I have personally flown on with Bentley. Then below the first section, you'll see other airlines that you can consider to fly your pets from the US, Canada, South America, and other smaller destinations to Europe.
Whether you're a dog, cat, bird, iguana, peacock, pig, or anything else doesn't matter to me, but it might matter to the airline.
Here is the list of the best airlines to fly to Europe with dogs and Bentley is the proof: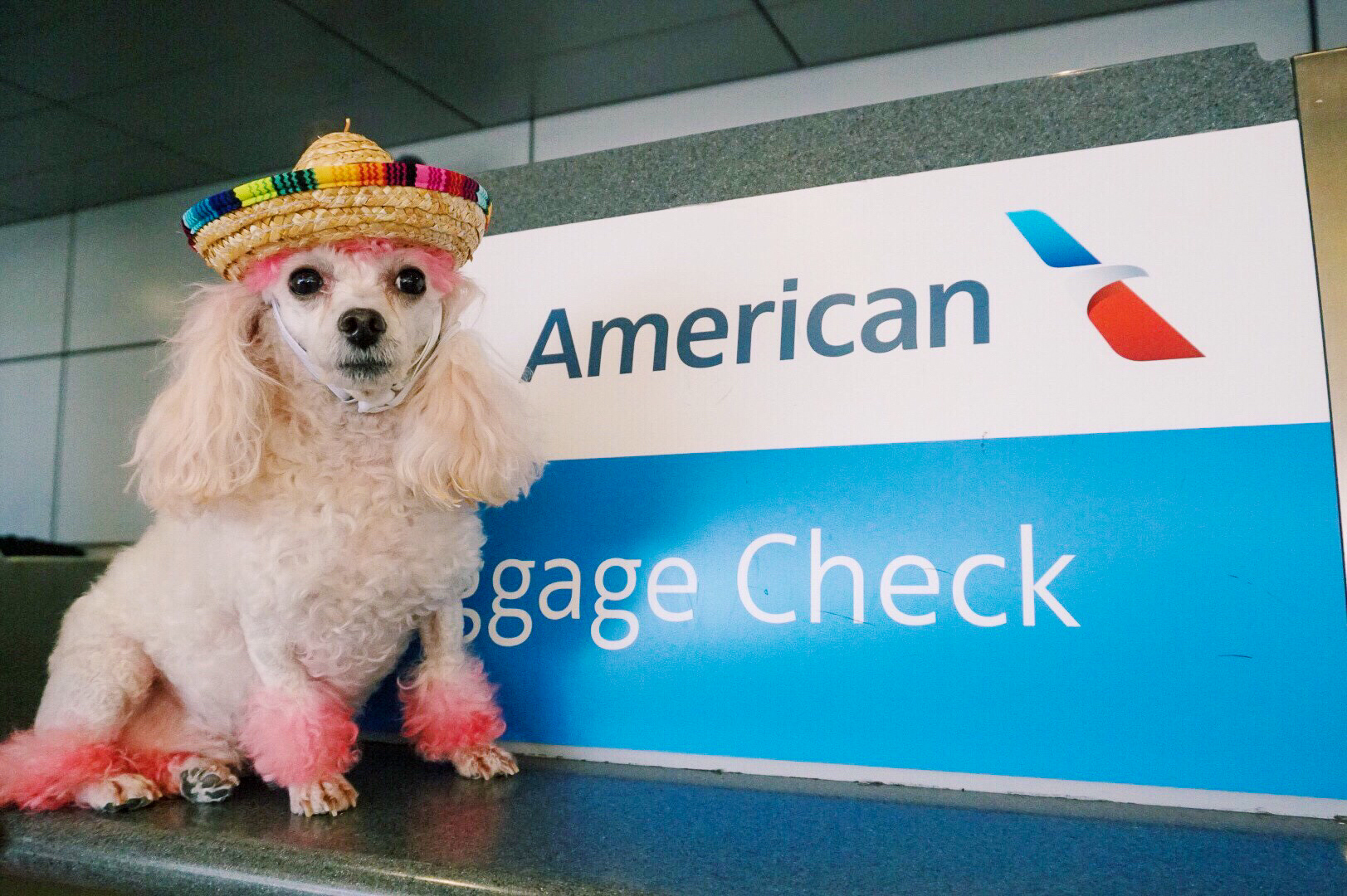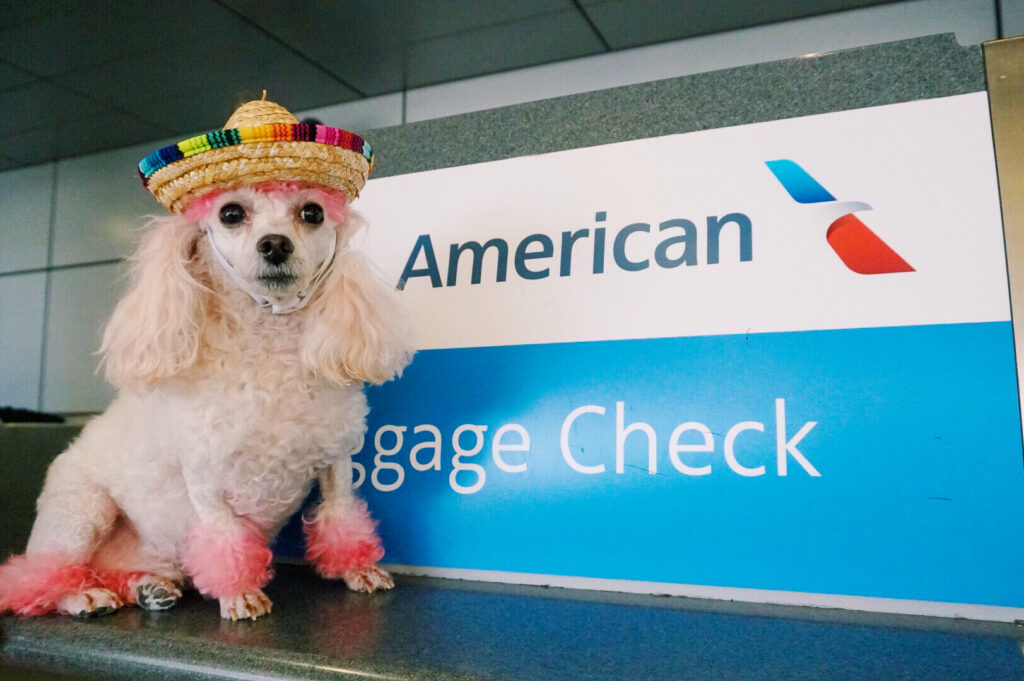 1. American Airlines Flies Pets In Cabin or Cargo To Europe | #1 Best Airlines To Fly Pets To Europe
My favorite and most pet-friendly airlines, American Airlines, provides the best service, and I've never had an issue with Bentley flying with me. His passport information and records are attached to my frequent flier. For shorter flights, pets are invited to fly in the cabin with their owners. They must be kept in a small carrier under the seat for some entire flight.
Please note that American airlines do not allow checked pets through travel through desert climates during various times of the year. Click to read American Airlines' most recent 2020 rules and regulations for flying with pets, dogs, or cats. 
Price: $125 – $200
Cabin: Yes
Cargo: Yes
Animals: Cats, dogs, service animals

2. JetBlue, The Only Airline To Offer Pets Travel Rewards & Perks
JetBlue is the only airline that offers furry passengers pet perks travel rewards programs! The JetPaws program provides pet-parent travelers with a carrier bag, a list of tips for managing your pet while traveling, and 300 TrueBlue points.
The pet fee is $125 each way and can be added in the Extras section during booking.

Only one pet per customer is allowed.

A limited number of pets are allowed on each flight, so it's best to book early.

We know you much you love to spoil your pet, but they're not allowed in Mint.

Pets are NOT accepted on interline/codeshare bookings, regardless of booking source (jetblue.com, travel agency, partner airline's website, etc.).

Pets are not allowed on flights to Jamaica, Barbados, St Lucia, the Cayman Islands, or Trinidad & Tobago. We use JetBlue when flying from New York to the Dominican Republic.

TrueBlue members earn 300 extra points per segment for adding a pet to their booking.
Click here to read the Jet Blue 2020 Pet Travel Rules skinny  & ensure your pet travels in luxurious ease. 

3. Alitalia, Best Airlines To Travel To Europe or Italy With Pets
Bentley loves Alitalia for our Italian trips. Depending on your pet's size and breed, it determines if they can fly in the cabin or cargo. Either way, Alitalia is easy to book pet travel, and they are friendly on check-in. To ensure your pet is comfortable, I love that they check your pet's travel carrier to ensure that you've given them a blanket to sleep on. Alitalia even prepared a video for your information – click below to watch it:
Read all of the Alitalia airline's most recent 2020 rules and prices – click here.

4. Delta, Be Careful When Traveling With Animals When In Partnership With Other Airlines
Flying both people and pets to over 60 countries worldwide, Delta is a popular choice for most Americans flying abroad. They even allow household birds on domestic flights. The rules are roughly the same with larger pets that must fly cargo, and smaller pets can fly in a Delta black pet carrier or any other carrier of your choice. Boyd and I prefer the Delta one because they are cheap and inconspicuous, meaning everyone will not stop to ask your dog's breed or name.
CAUTION WHEN YOUR DELTA ITINERARY PARTNERS WITH ANOTHER AIRLINE WHEN FLYING DELTA WITH PETS 
Must Read My Traveling With Pets Delta Horror Story: I loved flying Delta when I lived north of Atlanta. As a matter of fact, on my recent European flight, I even went back to Atlanta to take Delta to Glasgow, Scotland. Little did I realize that being rerouted on Virgin Airlines would be "my forever virgin traveling with pets through Scotland nightmare." If you haven't already – watch my vlog or read the blog about how Scottish airport authorities wanted to take my little pink poodle named Bentley indefinitely.
Prices for pet travel varies with Delta. Hopefully, they will make some changes to this and their new considerations to follow suit with airlines like Southwest Airlines, eliminating most baggage fees. Currently, the cost to fly with your pet on Delta depends on your destination and ranges from $75 to $200, with Brazil being a $75 charge while flights in America remain a steep $125 each way! Read more about flying with dogs or other animals and the Delta Airlines flying with pets policy – click here. 
Price: $75-200 each way
Cabin: Yes
Cargo: Yes
Animals: Cats, dogs, service animals, household birds domestically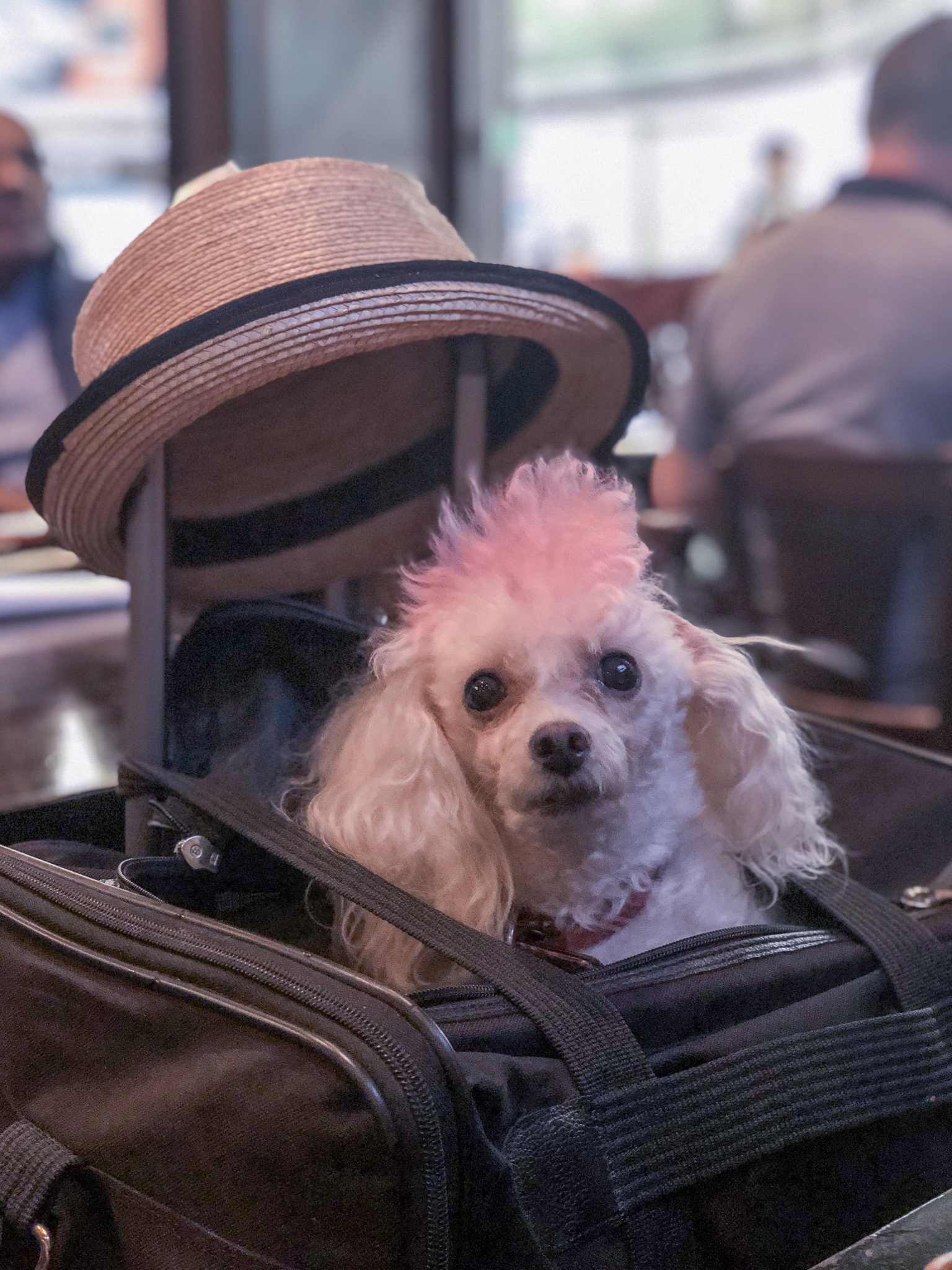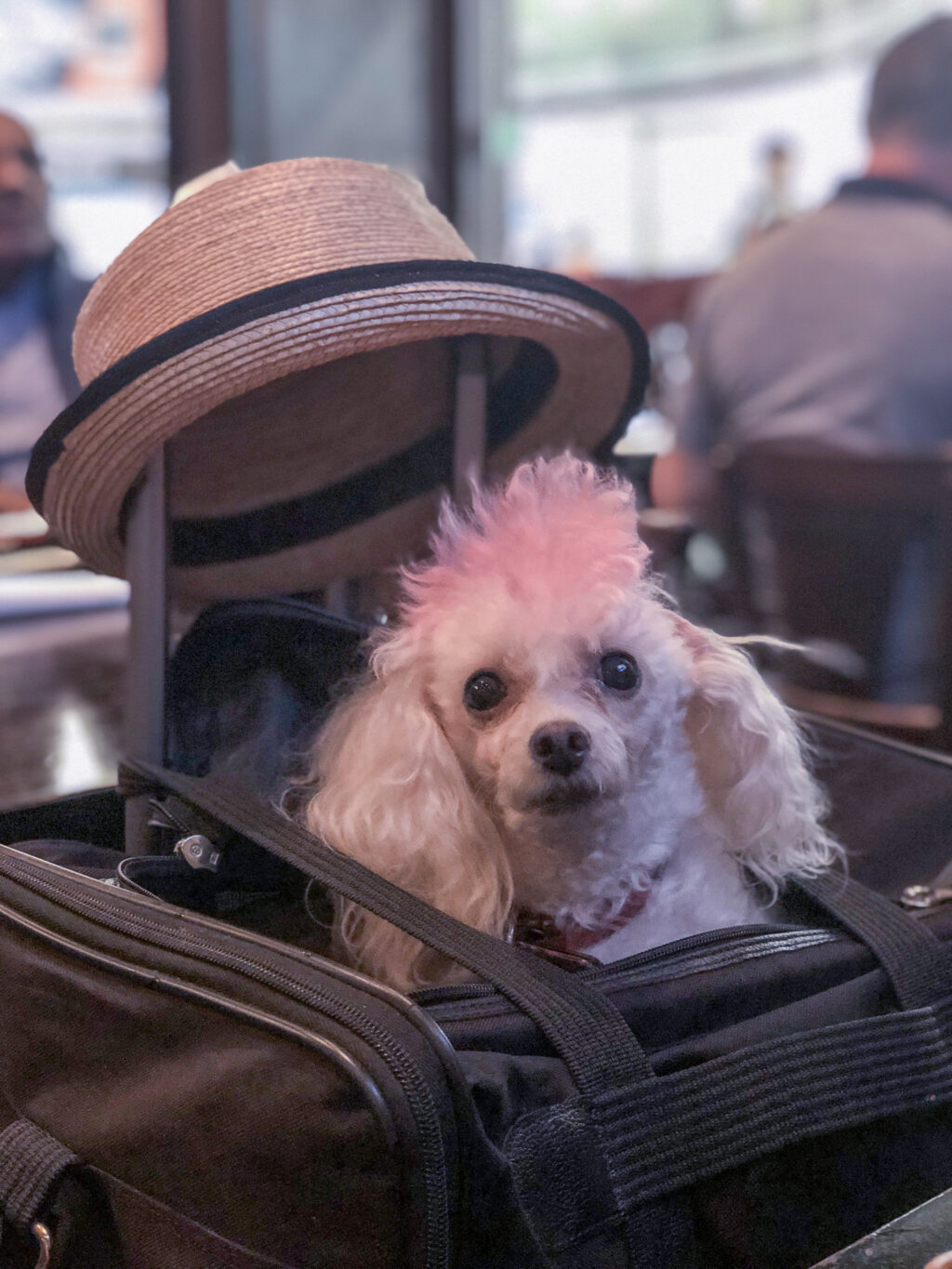 5. Air France, Best Airlines When Traveling With Pets To Europe
Being in partnership with Delta makes Air France another natural choice when we fly anywhere in Europe. I highly encourage any of you flying from North America to Europe to pass through Charles De Gaulle International Airport or an Italian airport vs. any other European airport I've visited. Air France onboard cats and dogs for both international and domestic destinations. If Paris or any other European vacation is on your Must See Bucket List, this airline can help.
Fly your pets on Air France range from €30 to €200. The cost depends on your type and sized pet and along with your final destination.Click here to read the Air France Pet Policy and all of the booking and flight details when flying with animals on Air France. 
Snub-nosed dogs and cats, such as Boxers, Pekingese, Shih Tzus, and Persian or Burmese cats, are permitted for transport by freight on flights provided by Air France.
From 15 July 2019: Because they have a hard time breathing in flight, Pug, Bulldog, and Boston Terrier snub-nosed dog breeds are no longer permitted for transport by freight.
Price: €30 and up
Cabin: Yes
Cargo: Yes
Animals: Cats, dogs (see notes on dog types above), service animals.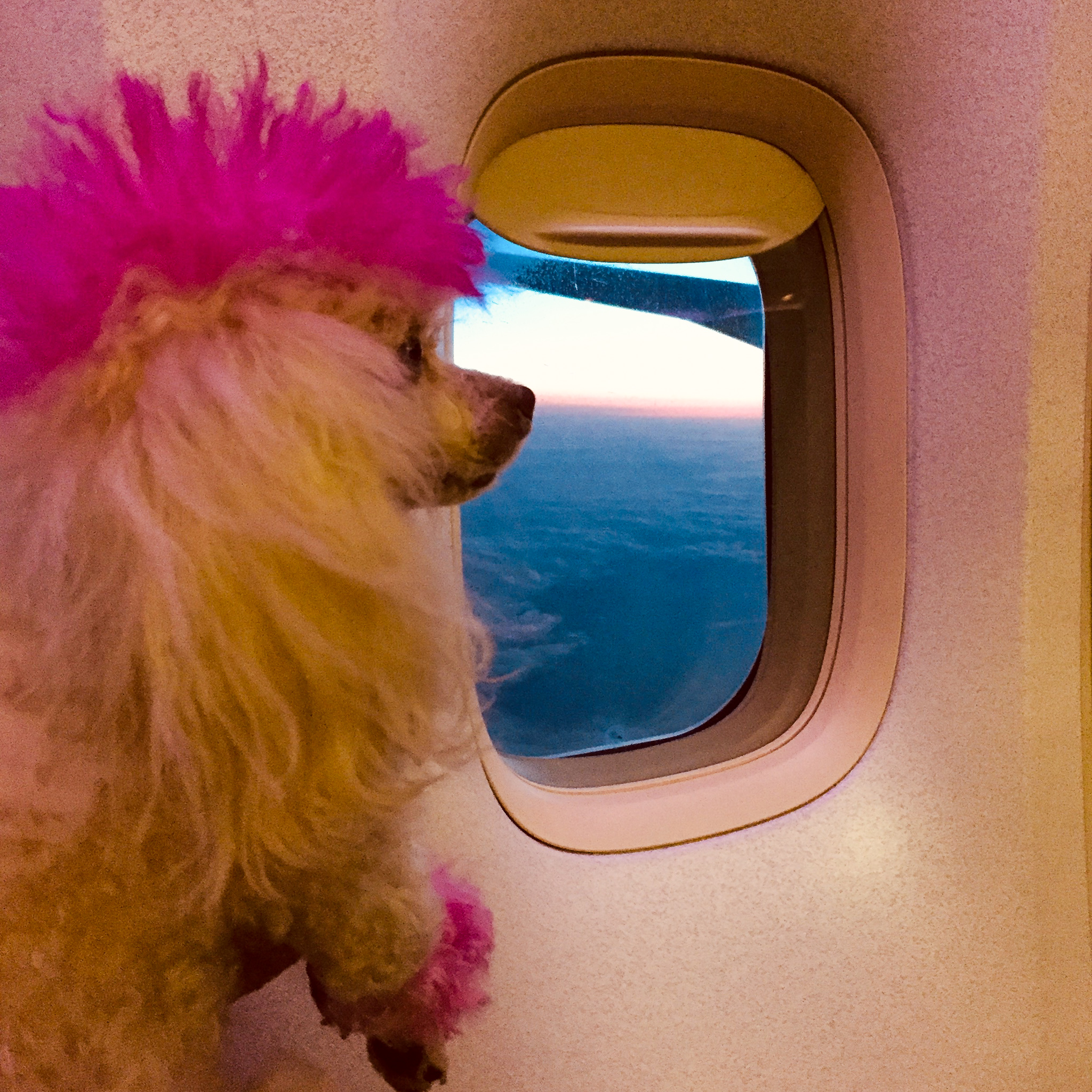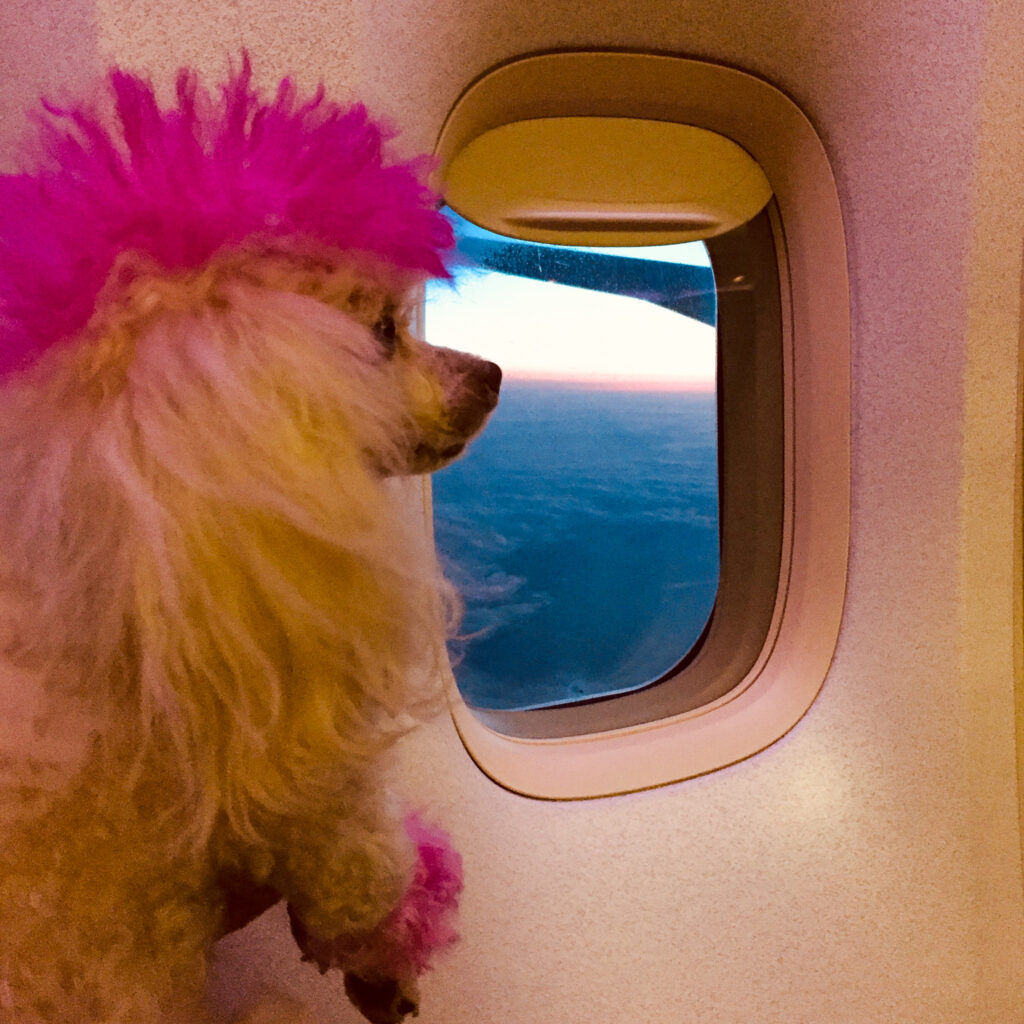 6. Lufthansa Airlines, Most Economical For Best Airlines To Travel To Europe With Pets
Flying with Lufthansa Airlines with Bentley was easy. Lufthansa will even allow two pets in the same in-cabin carrier as long as they fit comfortably. The best part is. They don't try to price gouge with additional fees. The prices start at €55, making their prices one of the most affordable ways to travel with animals from North America to hundreds of destinations worldwide.
Lufthansa Airlines flying and traveling with pets policy has a restriction on flight itineraries with multiple airlines.Click here to read the full Lufthansa Airlines policy and pay close attention to the section that reads:
"All the regulations mentioned here apply exclusively to flights operated by Lufthansa. On code-share flights, please make sure that you check the airline's regulations operating the flight concerned. If you are traveling with several airlines, please ensure you have confirmation from all the airlines concerned that they will transport your pet." 
Price: €55 and up
Cabin: Yes
Cargo: Yes
Animals: Cats, dogs, rabbits, hares, service animals.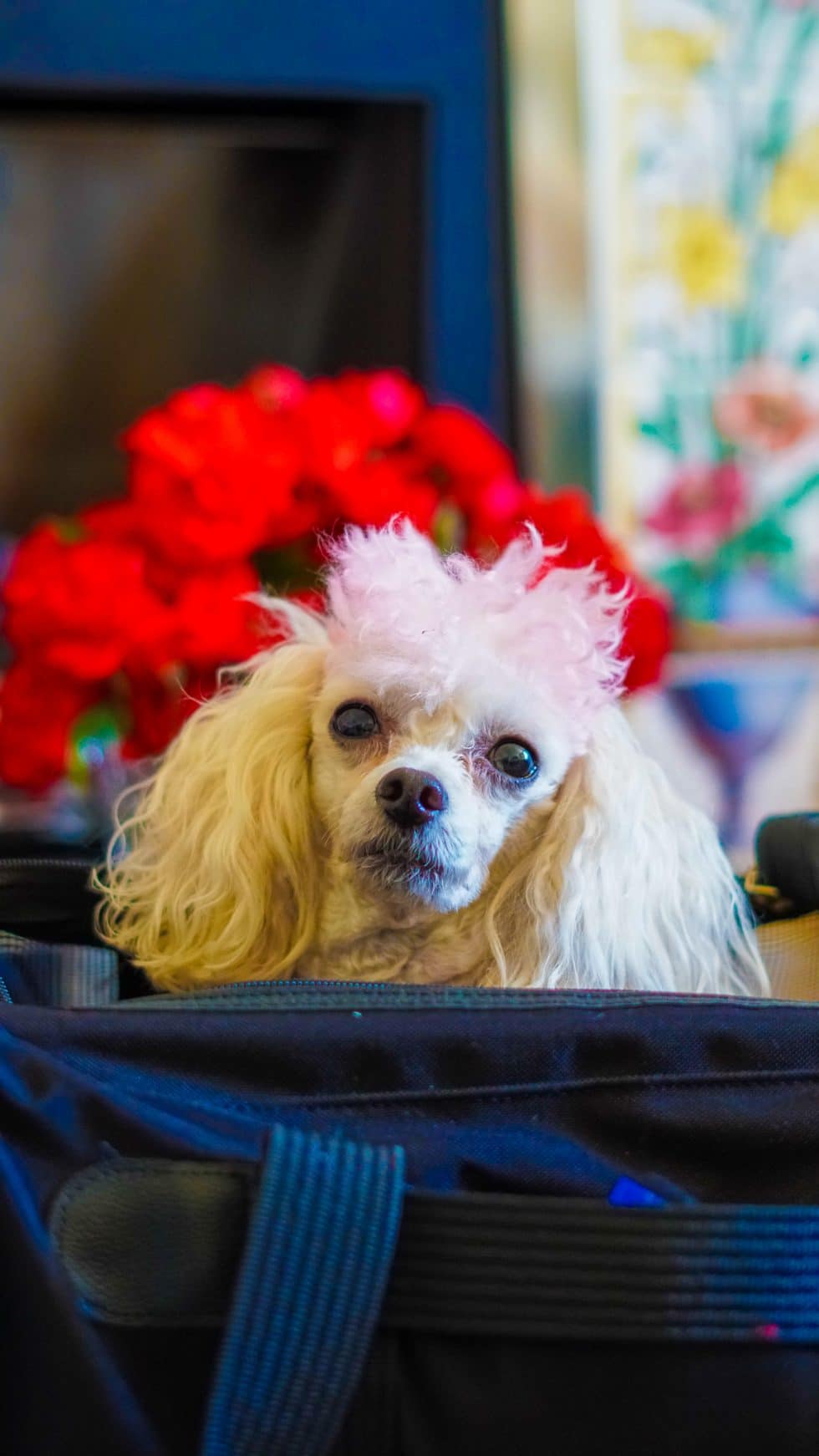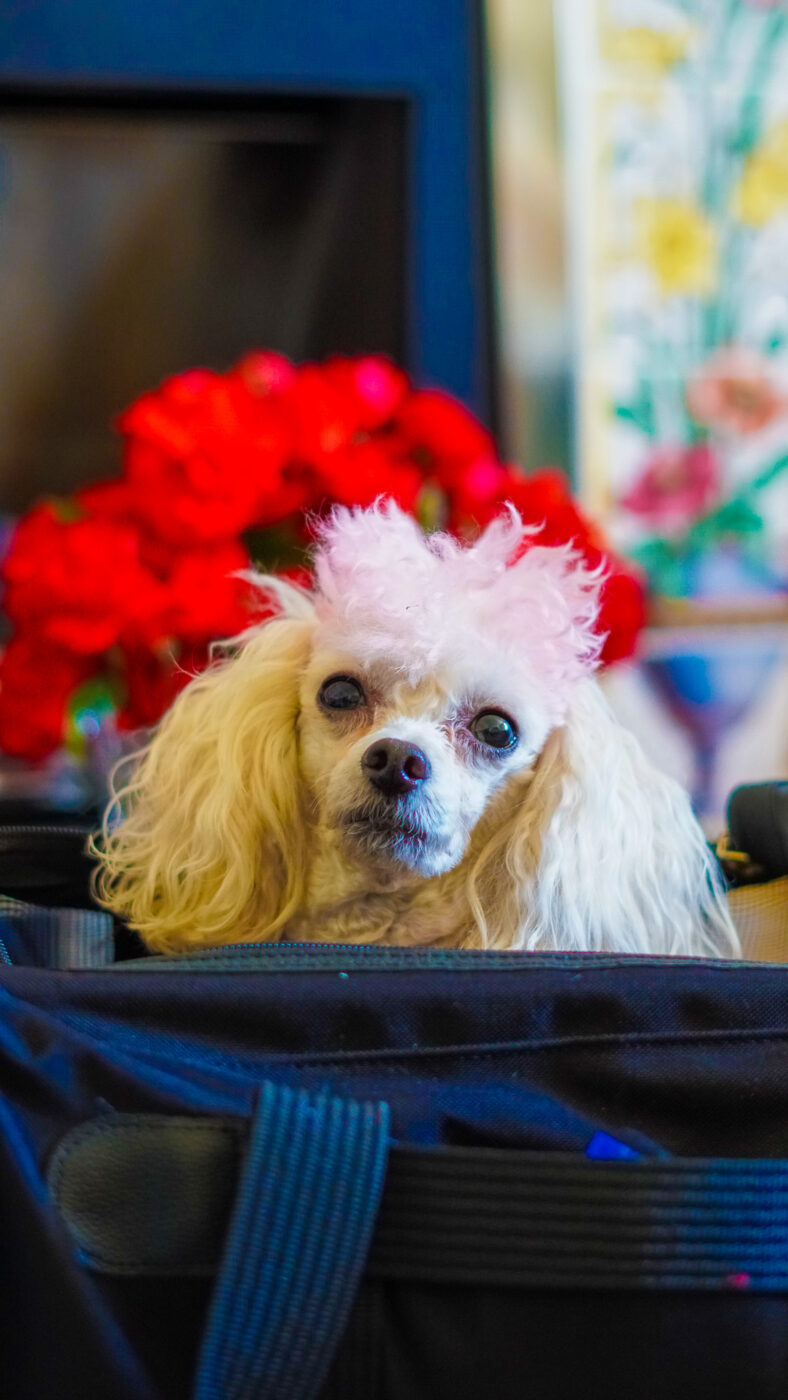 7. British Airways, Cost Totally Dependant On Your Pets Weight, Yet Most Expensive
British Airways has a reasonable policy that I wish they and other airlines would adopt to ticket all airline passengers. British Airways flying with animals cost depends on your pet's weight after the base cost, which is a steep $196!!!
To travel in the cabin, your cat or dog must be under 13.2 pounds. Larger pets must fly in cargo. Please read my Tips For Flying Pets To Europe post for the skinny on the best and safest way to ensure your pet is not quarantined like my traveling poodle Bentley was. Please, folks, mind the gap – pay attention! Your pets need you as much as you need them!
At the moment here is the British Airlines statement regarding ESA Animals (Emotional Support Animals):
Emotional Support Dog Statement on British Airways Travel Site
Emotional dogs can only be accepted in the cabin on direct flights to or from the United States of America. If your journey is not to or from the USA or includes a connection onto a non-USA trip, your emotional support dog will need to travel in the hold.
You need to contact us at least 14 days before your flight, as we need additional information to ensure your emotional support dog can travel safely in the cabin.
You must also contact the UK Animal Reception Centre at least 72 hours before the scheduled departure of your flight to the UK to check your dog meets Pet Travel Scheme requirements. They will issue a pre-approval letter for UK entry that must be presented at check-in, along with your approval from us, for you and your dog to board your flight to the UK. 
As I've stated many times before, my solution is Fly through Paris or Italy to the UK. Double-check each airline. Make sure you get everything in writing. Review my flying from America to the UK Checklist before you take off.
For the complete British Airways Traveling With Pet Policy – click here. 
Price: $196 in cabin and cargo
Cabin: Yes
Cargo: Yes
Animals: Cats, dogs, service animals.
8. Air Europa, Travel With Your Aquarium Turtles, Guinea Pig, Hamster or Rabbit
In addition to the out of control kids treating the aircraft seats like a jungle gym, you could also be sitting next to a rodent on Air Europa. Recently, Bentley and I flew from Madrid, Spain, back to Miami on an Air Europa flight filled with kids who seemed to have NO parent supervision. Even the flight attendants were annoyed and embarrassed to other passengers as they tried to herd the kids like little sheep back to their seats.
With a flight full, the kids continue running around on the aircraft as though it was a racetrack or playground for nine hours! The flight attendant stated she would take traveling with pets any day of the week. From dogs, cats, birds (except birds of prey), fish, aquarium turtles, and some rodents (hamsters, guinea pigs, or small rabbits), Air Europa was super easy and pet-friendly.. Keepin mind that you could be travel with herds of out of control kids in addition to the rodents allowed aboard.
Can I repeat it? Be mindful that this airline seems to transport lots of families from Europe to America. Many of those families seriously let their kids run wild. I think even Bentley wanted to growl at the rambunctious kids, but he didn't. He just circled in his rare pet carrier. I got no sleep nor work done on a nine-hour flight. That, too, is rare.
If you're traveling with pets to Europe – click here to read Air Europa's pet travel policy. 
From 01 November 2019, 

for long-haul flights

, only dogs and cats will be allowed to be transported, except in the business cabin, where it is not permitted to transport animals of any kind.

The maximum number of animals allowed in one container is 3, provided that they are the same species, and they do not exceed the permitted dimension/weight limits. The maximum number of animals allowed in one container:

It is 2, provided that they are of a similar size, and none exceeds 14 kg. Must be accustomed to being together.

It is three if they are from the same litter and no older than six months old.

Price: $25-165
Cabin: Yes
Cargo: Yes
Animals: Cats, dogs, service animals.
Airlines That I Have Not Flown With My Dog, Bentley, The Pink Travel Poodle
To provide both you with a complete list of airlines that useful to fly animals with ease, some of the other airlines I've read about:
9. Air Canada, Canada's Largest Airlines For Traveling With Pets
Although I have not personally flown on Air Canada with Bentley, their websites appear to b extremely pet-friendly, although you are limited in ticket holders and age. You can't fly on Air Canada with your pet in their Premium Economy cabin (aka the cheapest airline ticket). Your unaccompanied minor cannot take his/her pet to visit grandma or dad. If you need a medical device that requires under-seat storage, your service animal may not accompany you. As usual, if you're in a bulkhead row seat, ask to be reassigned; otherwise, your fur baby will need to leave at home.
Click here to read Air Canda's traveling with animals policy here.
Are an unaccompanied minor
Are seated in an exit or bulkhead row
Require the use of a medical device that needs to be stowed underneath the seat
Are traveling in our Premium Economy cabin
Your pet cannot travel with you in the cabin if you:
Price: $50 and up
Cabin: Yes
Cargo: Yes
Animals: Cats, dogs, service dog
10. Air India, Get Your Pets Vaccinated For US Standards Before Traveling To India
Get your pets USDA and India paper documents and valid vaccinations; they're welcome to fly on Air India flights. Here is the link on how to export pets to and from India. There are some restrictions, and the pet cannot be considered carry-on luggage. An additional fee must be paid to fly with a pet, and prices vary depending on which country you're flying to.
I have not had the pleasure of flying Air India or going to India yet, so I'll leave you with the Air India Airlines pet travel policies and guidelines to ensure your pet is safe. FYI: I take Bentley many places, but I'm not sure India will be one of them. From what I hear, the smells may wear his sniffer out.
Price: Varies
Cabin: Yes
Cargo: Yes
Animals: Cats, dogs, birds, service animals
11. Swiss International Airlines, Take Your Pet With You On Any Route
The only airline that claims, "you can take your pet with you on any route." In Swiss International approved pet carriers, passengers can travel with up to two pets that don't appear dangerous or threatening. In addition to dogs, cats, birds, iguanas, and reptiles, Swiss International allows hares and rabbits to travel too! Just don't assume you won't pull your hare (I mean hair) out! Haha.
 Bring on Roger Rabbit and your new puppy! Just be sure to read Swiss International Airlines' pet travel policy – click here. 
Price: $60 and up
Cabin: Yes
Cargo: Yes
Animals: Cats, dogs, hares, rabbits, service dogs
12. KLM Royal Dutch Airlines, Takes Pet Treatment & Transportation Seriously
KLM is in partnership with Air France, which is also in partnership with Delta Airlines. Known for transporting zoo animals and delicate fish, I hope KLM is an affordable solution for my tour of the Dutch Netherlands.
Seeing the fields of tulips in Holland and all over the Dutchlands is on my bucket list. I do envision taking KLM to Holland for that bucket list trip. I think Bentley's little nose will take in the aroma much like he does when in Scotland. KLM offers a range of travel options to accommodate pets. KLM suggests starting the booking for you and your pet with a phone call. Traditionally, depending on their size, both cats and dogs are welcome to fly in the cabin and cargo.
Price: Varies
Cabin: Yes
Cargo: Yes – Pets larger than 18 pounds are typically considered cargo.
Animals: Cats, dogs, service animals
13. Frontier Airlines, Critters Are Part of The Family | Best Airlines To Travel To Europe With Pets
While it's weird that I often see Frontier Airlines pop in when shopping for flights here on my cheapest site for airline tickets. 
I have never really considered Frontier a front runner on traveling with my dog on international flights. I mean, they claim dogs and cats are welcome. Plus, with a fee of only $75, you don't have to break the bank to tour with your pet pal, no matter how small the pet may be.
Here are a few Frontier Airlines policy links that I'll be using: 
The following species are never accepted: Large birds (e.g., parrots, macaws, cockatoos, birds of prey), rodents (including mice, rats, squirrels), beavers, ferrets, reptiles (including snakes), amphibians, spiders, and insects (and please, no lions, tigers, or bears).
Only domesticated dogs and cats may be carried to or from international destinations.

A few things to know about your pet's health certificate:

Must be dated based on the country on entry:

Within 30 days of entry into Puerto Rico
Within ten days of entry into the U.S.
Within 15 days of entry in the Dominican Republic
Within 14 days of entry into Costa Rica
Within five days of entry into Mexico

Price: $75
Cabin: Yes
Cargo: No
Animals: Dogs, cats, rabbits, guinea pigs, hamsters, birds, service animals
14. TAP Air Portugal, Pet Travel To Lisbon Made Easy | Portugal's Best Airlines To Travel To Europe With Pets
Have you seen the German DW Documentary on Lisbon? Well, I have, and I want to go before Lisbon is taken over by developers. When I mark Lisbon off my travel bucket list, I will most likely fly TAP Air Portugal. Dogs and cats are both welcome to fly in the cabin or the cargo, as long as the owner provides valid documentation, and the carrier is deemed safe.
Before you book or fly, read TAP Air Portugal Pet Policy to make traveling with your fur friends uneventful.
Price: €35 and up
Cabin: Yes
Cargo: Yes
Animals: Cats, dogs, service animals
15. Japan Airlines, Considers Elite-Air Conditioned Cargo The Only Option For Pets
Unfortunately, Japan Airlines does not allow pets in the main cabin of their planes. Each pet is kept in air-conditioned rooms, which are safely secured in the cargo hold. Upon landing, your traveling pet will be delivered directly to you by an agent following the flight. Japan Airlines considers this elite service.
My 8-lb traveling poodle would not go for this, nor would I. As with other airline pet travel cautions, Japan Airlines has a list of advisories when using their cargo service for pets. The biggest thing I have been cautioned on and taken heed to is the animal's stress as they try to adapt to a new environment. Flying Japan Airlines to visit my good friend Maria Rock in her new home in Japan is not an option.
Read the Japan Airlines full pet travel policy and advisories before booking your flight to Japan. 
Price: Unspecified
Cabin: No
Cargo: Yes
Animals: Dogs, cats, small birds (that eat seeds, fruit, and insects), rabbits, ferrets, hamsters, marmots, squirrels, chinchillas, service animals
16. Turkish Airlines considers Parakeets & Pet Allergies | Turkey's Best Airline To Travel To Europe With Pets
Turkish Airlines allows cats, dogs, and small singing birds, such as parakeets and canaries, on its flights. Can you imagine a bird singing to you from America to Turkey?
So, what happens if you're like me and you're allergic to cats or other animals traveling with you? I usually take a Benadryl. Turkish Airlines allows passengers to prove that they are allergic to animals with a medical report before a flight. Pets are then accepted in the cabin according to specific conditions:
In case a passenger states his/her allergy and passenger with a pet request to travel on the same flight, the passenger making the first reservation will be confirmed.

In case a passenger with an assistance dog and a passenger stating his/her allergy request to travel on the same USA flight, assistance dogs always take precedence regardless of reservation order. (According to US Documentation of Transportation rules)

Excluding USA flights and except search & rescue dogs, in case a passenger with an assistance dog and a passenger stating his/her allergy request to travel on the same flight, the order of reservation will be considered.
Pretty cool, huh? I could also see where those situations could become a little "hare"y! Read all about Turkish Airlines traveling with pets policy and regulations – click here. 
Price: 70 TRY and up
Cabin: Yes
Cargo: Yes
Animals: Cats, dogs, birds, service animals
17. Aeroflot, Take Pets To Russia With Skipper's Help | Russia's Best Airlines To Travel To Europe With Pets
By far, Aeroflot has the most detailed pet travel policy I've seen to date. It's hilarious, so I'll quote the funny parts. Quoting, "PJSC "Aeroflot" accepts domestic and tamed pets such as cats, dogs, and birds for carriage and service dogs of the Federal Executive Authority Canine Service as a particular type of non-standard baggage. Such transportation is charged at a special baggage rate. Other animals such as polecats, ferrets, meerkats, fennec foxes, lorises, pygmy hedgehogs, mini-lop rabbits, marmosets, etc. will only be accepted for carriage if they are tamed."
The following animals will not be accepted for carriage as non-standard baggage on Aeroflot:
brachycephalic dog breeds: Bulldog (English, French, American), Pug, Pekingese, Shih Tzu, Boxer, Griffon (Belgian, Brussels), Boston Terrier, Bordeaux Mastiff, Japanese Chin;
rodents (guinea pigs, rats, chinchillas, chipmunks, squirrels, gerbils, dormice, marmots, ground squirrels, jerboas, etc.);
reptiles (tortoises/turtles, iguanas, geckos, chameleons, snakes, lizards, frogs, etc.);
arthropods (insects, arachnids, crustaceans, etc.);
fish and fish seed, marine and river animals that must be transported in water;
animals and birds that are not tamed (taken from wild nature), large predators that are representatives of wild fauna in their natural habitat, such as bears, large primates (gibbons, orangutans, gorillas, chimpanzees, etc.), wild cats such as caracal, serval cat, ocelot, jungle cat, fishing cat, Amur leopard cat, manul, Andean cat, kodkod, etc., large predators of the cat family: ounce, jaguar, lion, tiger, panther, lynx, puma;
sick or experimental animals/birds;
animals whose weight, together with the skipper, exceeds 50 kg.
Only adult and legally capable passengers are allowed to transport domestic animals or birds. Domestic and tamed pets/ birds as a special type of non-standard baggage shall be transported in a skipper (cage) either in the cabin or in the baggage hold. Soft pet carriers of the closed type can be used as a skipper for transportation in the aircraft cabin.
Leave it to the Russians to think of every type of wild type pet known to humankind. However, they did forget to list mini horses, pigs, quail, lovebirds, peacocks, and what other animals have Americans tried to take on airplane trips lately?
Read the full Aeroflot pet travel flight policy rules and regulations before you book your next flight to Russia, 
Price: $87 and up, depending on the size of the carrier
Cabin: Yes
Cargo: Yes
Animals: The list is quite extensive
18. Iberia, Take Your Tortoise On The Trip To Spain, Leave Your Weasels At Home
Iberia is one of Spain's most significant international airlines flying globally to America and throughout Europe. You can't fly with your weasels, aka ferrets, pine martens, etc. However, cats, dogs, birds, and tortoises are welcome aboard.
You can request the pet travel service through your Iberia office or travel agency to guarantee your travel reservations for you and your pets.
Before you book, read the latest Iberia pet flight rules and regulations – click here. 
Price: Starting at €120
Cabin: Yes
Cargo: Yes
Animals: Cats, dogs, birds, tortoises, service animals
19. Scandinavian Airlines (SAS), Pets Have No Business In Parts Of SAS Planes
While small dogs and cats are welcome to travel with you in parts of the SAS cabins, they have no business in the SAS Business class cabin. The number of pets allowed on each flight is limited. Contact SAS Customer Service to reserve a space for your pet with at least 24 hours before departure, or your fur friend will be grounded like a Boeing 737.
Full details ofo SAS Scandinavian Airlines Pet Travel Policy – click here. 
Price: $60 – $140
Cabin: Yes
Cargo: Yes
Animals: Cats, dogs, service animals
20. Aer Lingus, Good Luck Traveling To Ireland With Pets | Ireland's Best Airlines To Travel To Europe With Pets
Traveling locally or transatlantic doesn't matter. With much luck of the Irish, Aer Lingus has you and your pet covered. Considering Scotland is a rock toss over the pond to Ireland, I will most likely forever take a boat or ferry to Ireland, but my mom has taken a plane from Scotland to Dublin, so nothing is really out of the question.
Price: €40 for regional flights, €160 international
Cabin: No
Cargo: Yes
Animals, Cats, dogs, rabbits (on domestic flights only), service animals
21. CopaAirlines, South America's Best Airlines To Travel To Europe With Pets
Living in Miami, so close to South America, Brazil, and several other South American countries are definitely on my travel bucket list. I've been to Guatemala, Panama, and several other South American countries so far, but the next time I go, I will consider pet-friendly airline – CopaAirlines.
Besides that, arrive at the airport a bit earlier than expected, and you're set to fly!Read more about flying with animals and the CopaAirlines policy in detail here.
Price: Unspecified
Cabin: Yes
Cargo: Yes
Animals: Cats, dogs, service animals
P.S. Virgin Atlantic, not included in this list to fly your pets from America to Europe for good reason.
Don't be in the same predicament I was wondering if you would ever see your pet again. Watch my day of horror when landing on a Virgin Atlantic flight from Orlando, Florida, to Glasgow, Scotland, UK. Enough said?
Check out our pet fashion , for every day and elegant clothes for holidays and occasion.Click here

I'm Christi Tasker, serial globetrotter, product & interior designer, Glamma Gaga, NBC social media correspondent, podcaster, freedom fighter, brand & business consultant, entrepreneur's best friend, artist & multi-business owner.