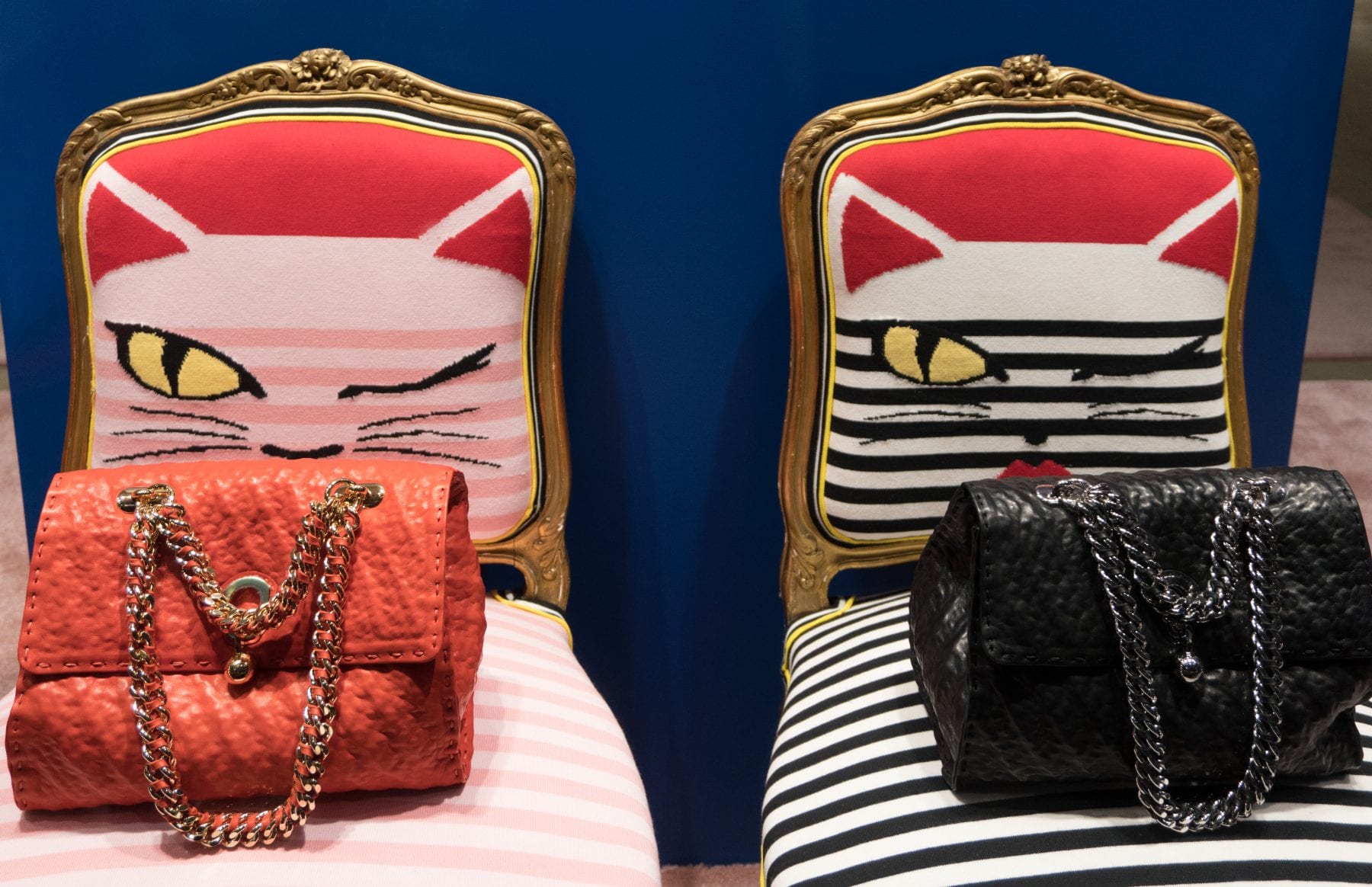 16 Ways Creator Director For Gucci Alessandro Michele Altered Our Wardrobes in 2017
16 Ways Gucci Alessandro Michele Creative Director Inspires Today's Fashion
Alessandro Michele Altered What We Wear Today
Alessandro Michele is the man behind the feminine layers, crushed velvets, flowers and furs that made us all so Gucci in 2017. You may not own a piece of Gucci but every brand from Forever 21 to H&M to Zara plus other "name brands" have knocked on Gucci's door for inspiration in 2017.
Why do we love the look of Gucci?
I'm a die-hard maximalist or so they say, yet I don't like "a lot" or let's just say I don't purchase "that much". However, if they made shoes in my size, or if I weren't sooooo hard on my purses, or if I could fit in the couture, I would be soooo Gucci!
Comment below if you have any items in your wardrobe that resemble any of the photos below.
1. Got anything millennial pink? Thank Pantone and Alessandro Michele for listening.
I mean I've painted two houses millennial pink way before it was cool but I do love that women (and men) are finally into PINK! And I hope it never goes away!!!!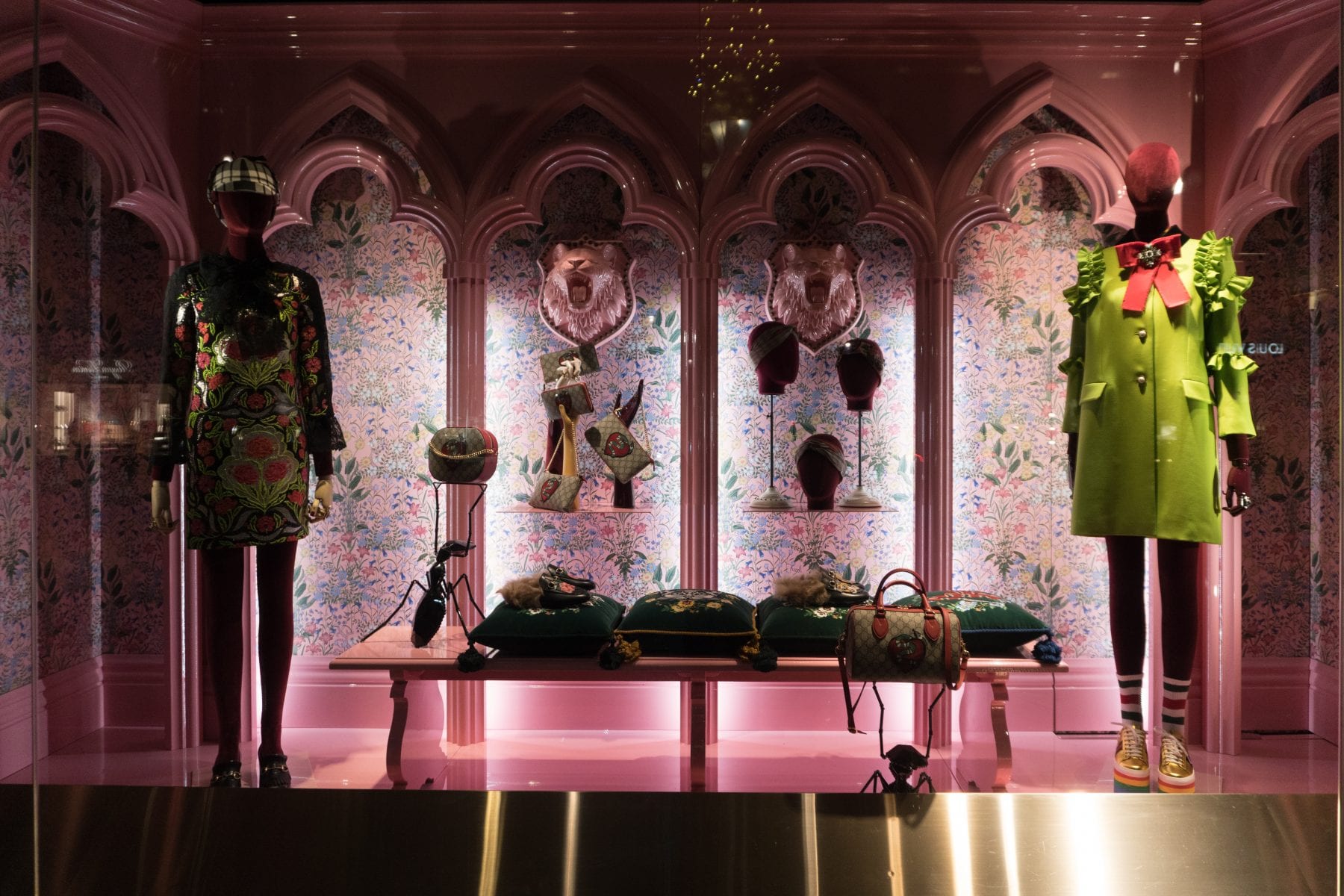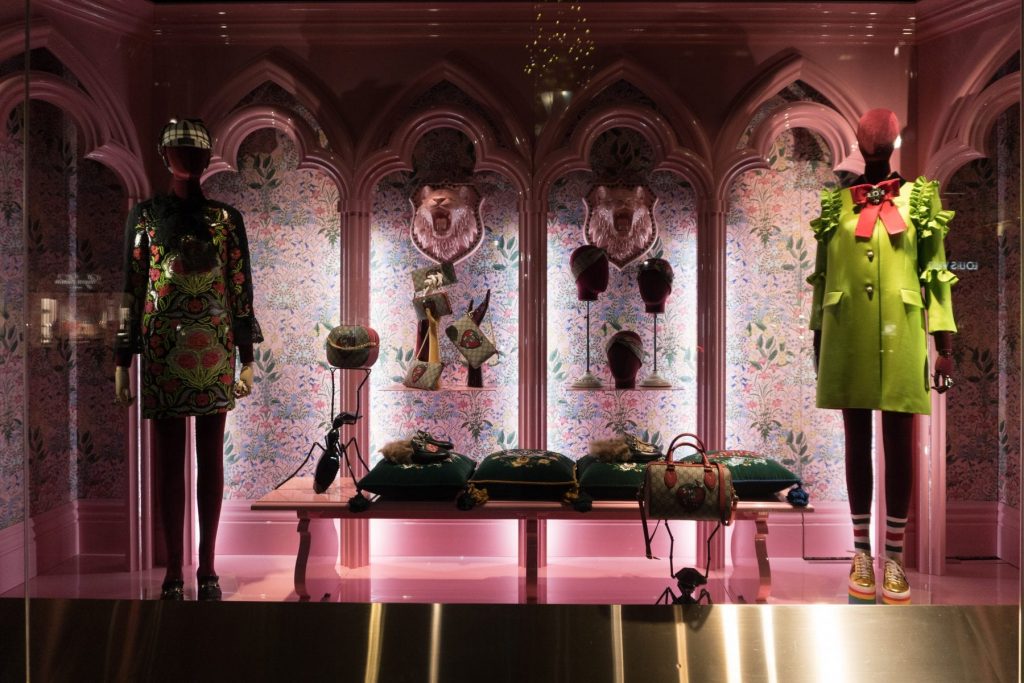 2. Do you have shirts, jackets, dresses or skirts with ruffles, bows, or brooches?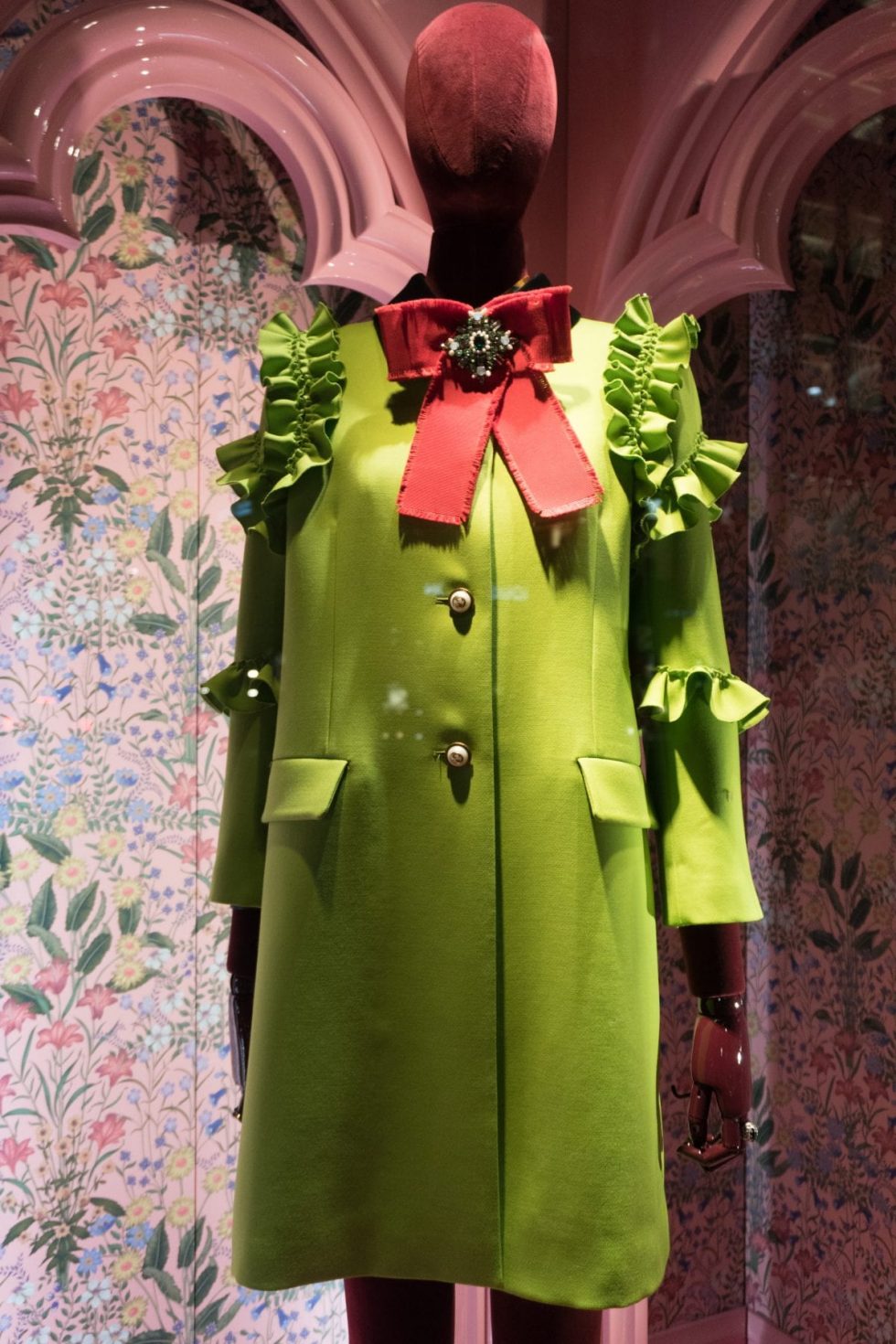 3. Have you added fur to your shoes or bought a pair of shoes lined in fur or with fur adornments?
When my mom and I were in London having tea in Harrod's, we saw a lady crossing the road in these and honestly we thought they were bedroom slippers! And that's how comfy they are!!!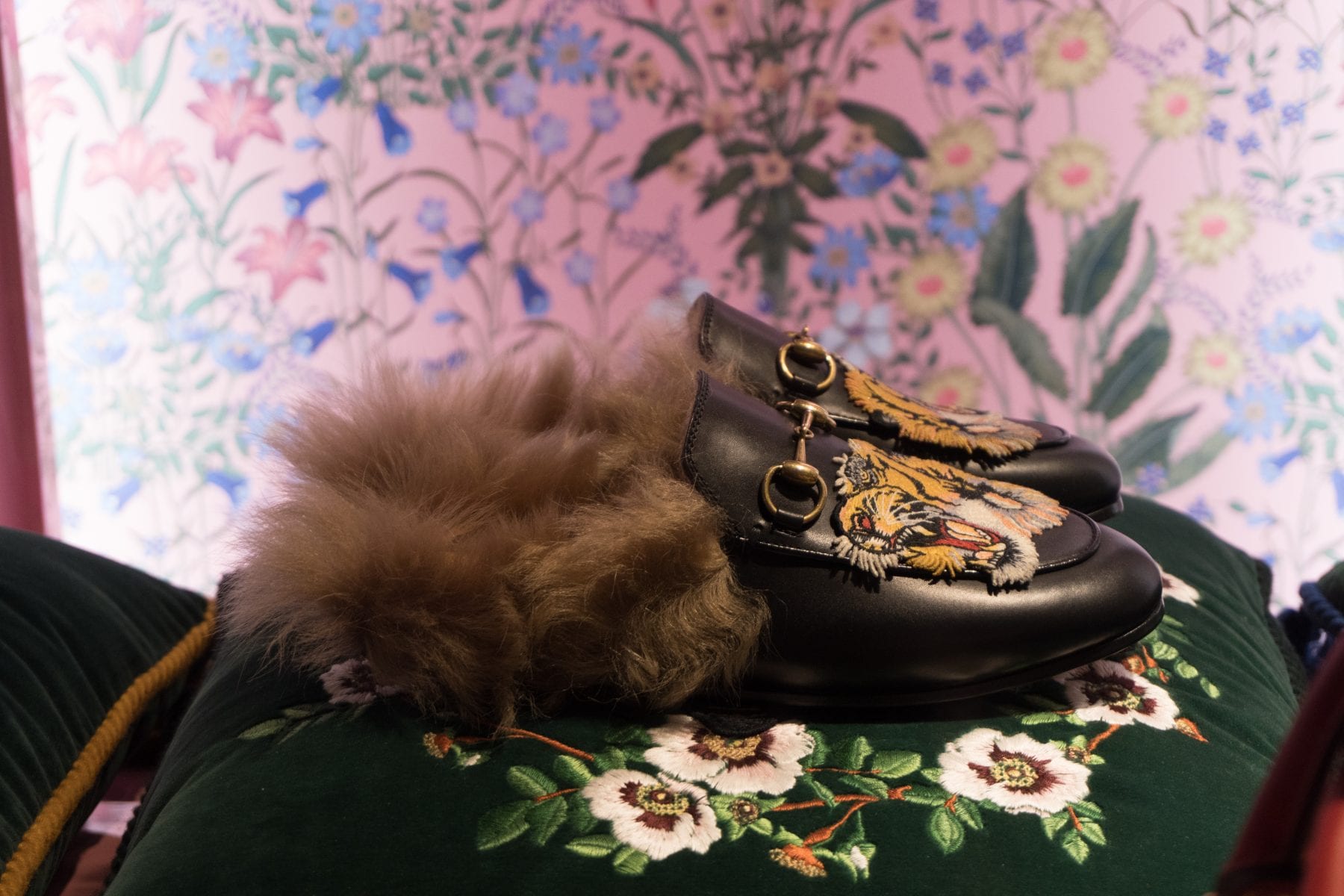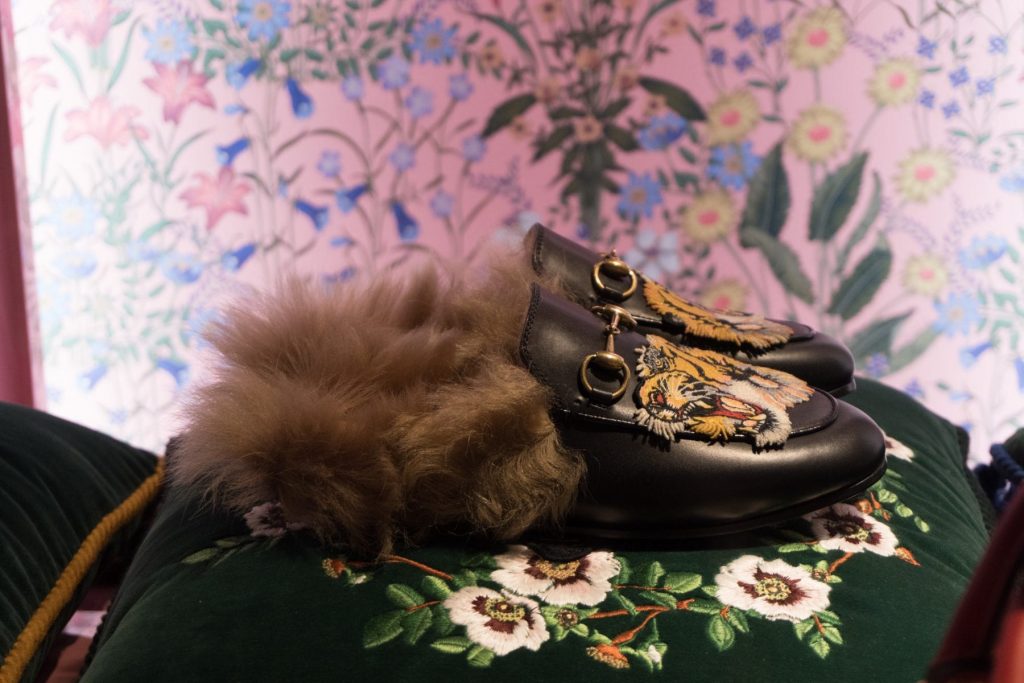 4. What about lace and mesh overlays with embroidery for your tops?
I have picked up a few great mesh overlay tops from Forever 21, Marshalls, TJ Maxx, Shein, and a couple of other online stores. Even stores on 5th Avenue in Wynwood. (FYI. Our 5th Ave. is not THE 5th Ave. but there are some cool things.)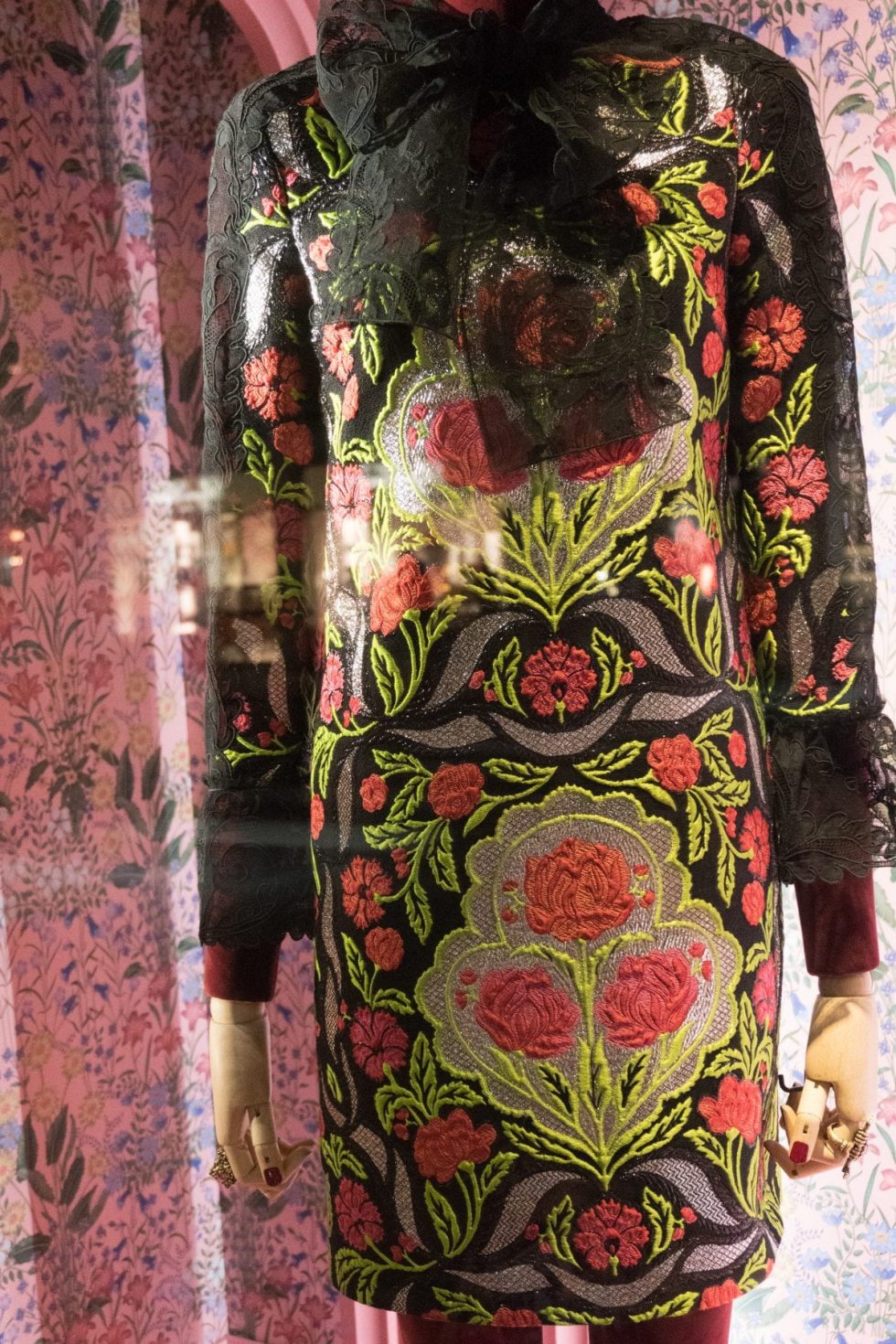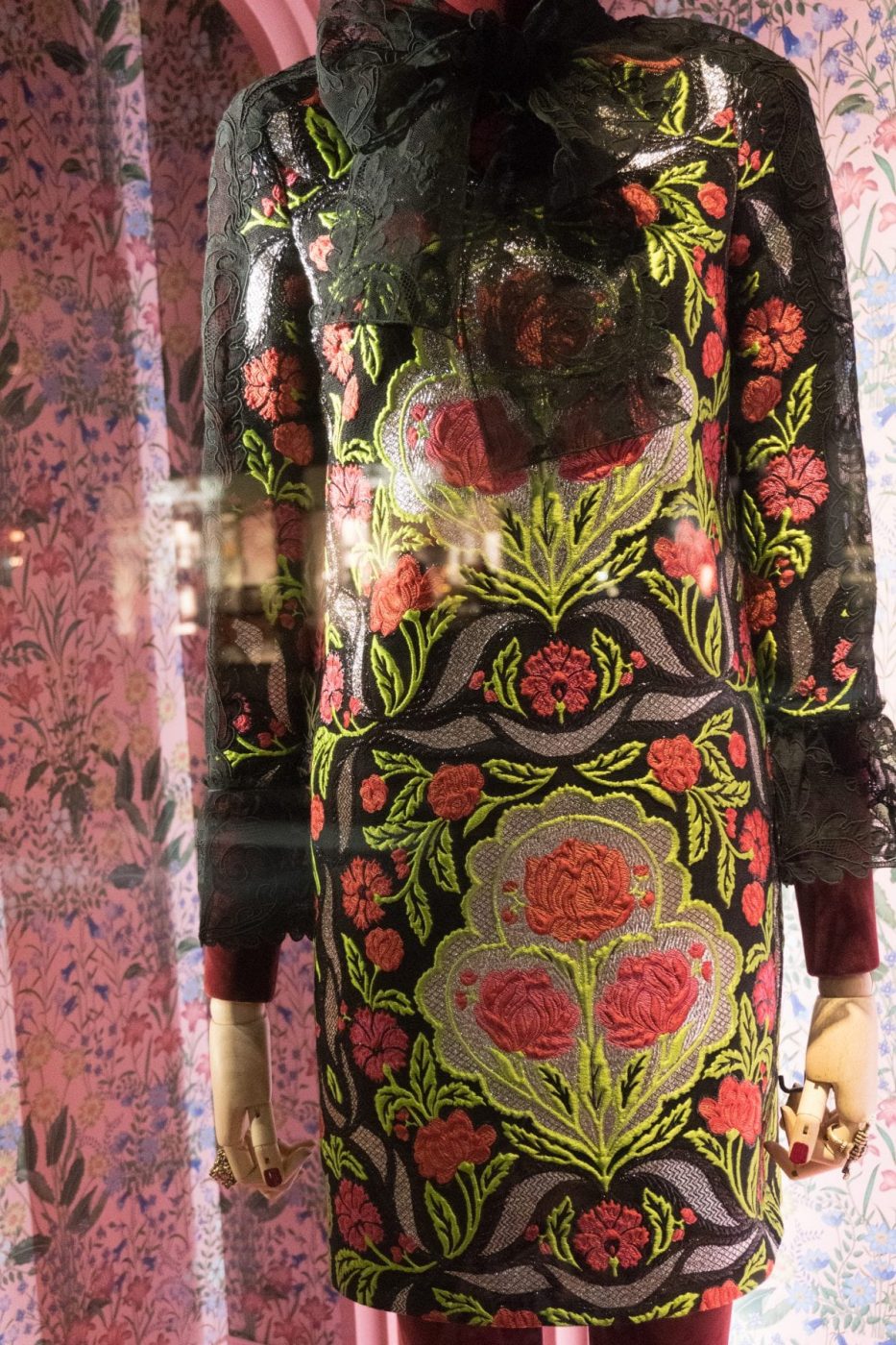 5. Embroidery and patchwork are everywhere! What do you have with it? | London Exclusive Gucci Handbag
If you don't have anything yet, be on the lookout.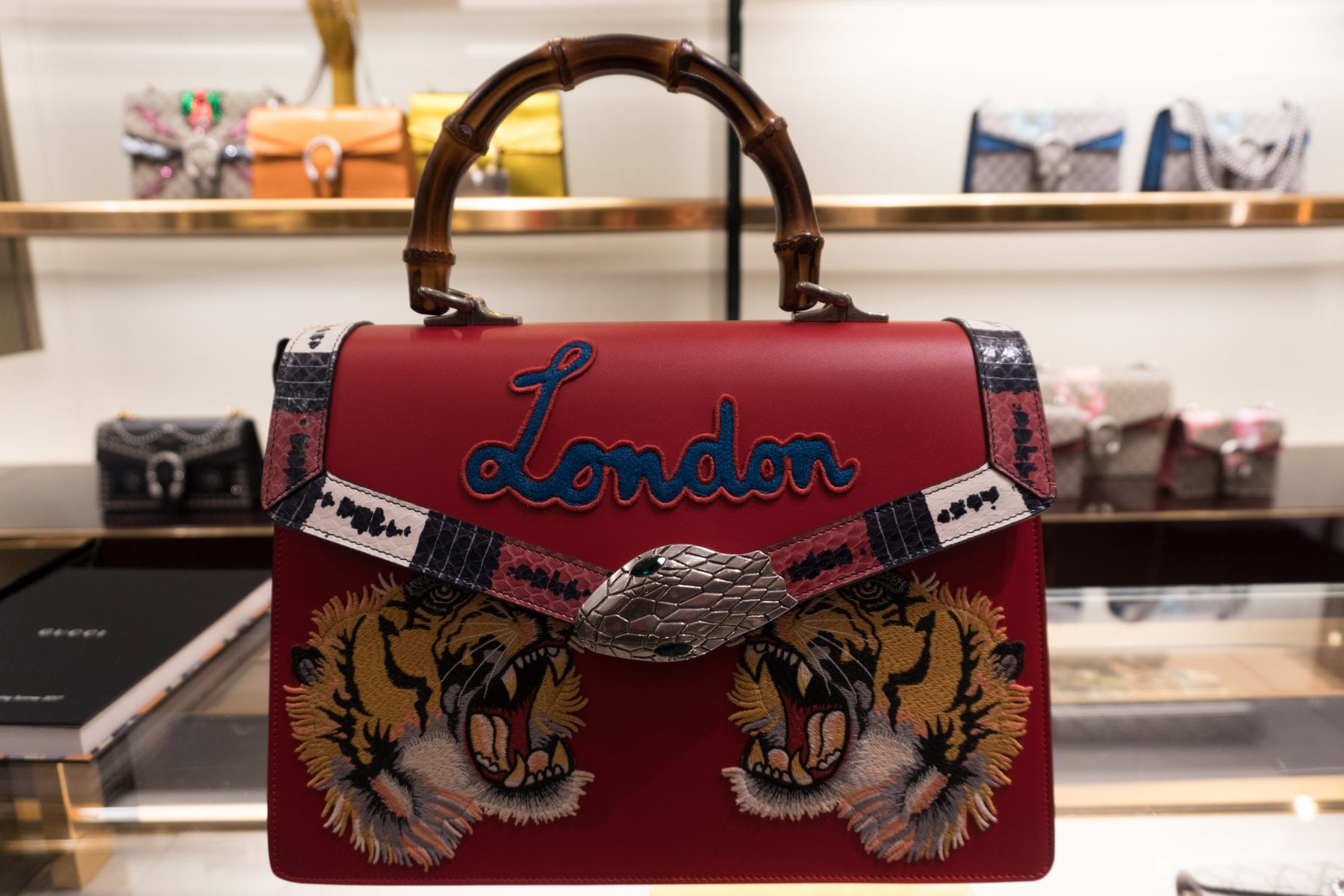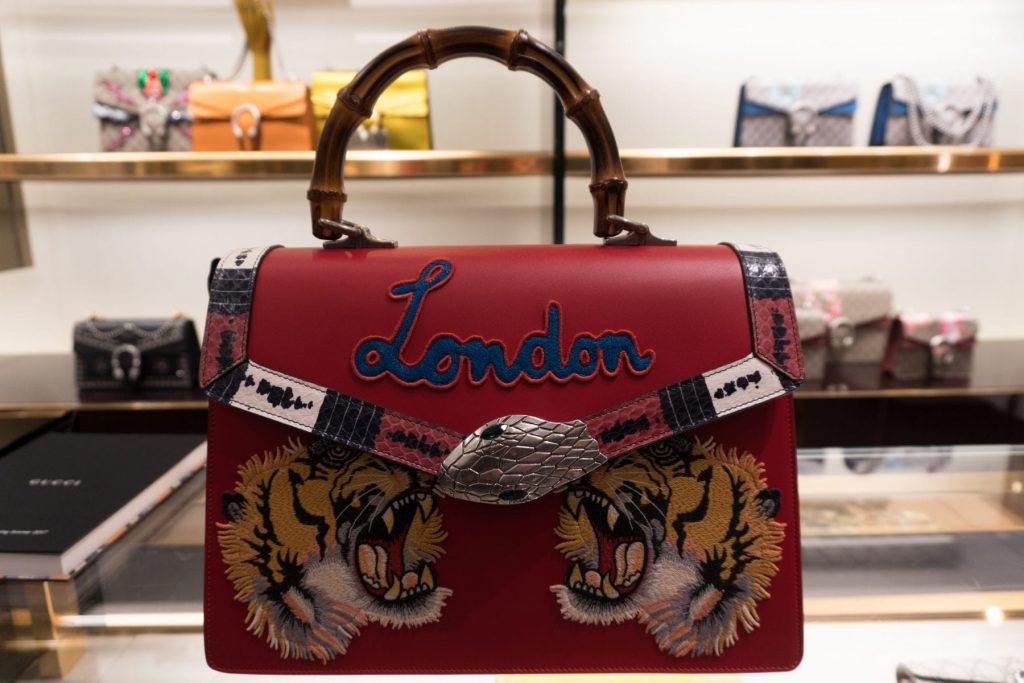 6. Oversized flower brooches and hats. | Gucci Style
Brooches make great add-ons to create this look. I've added brooches to several jackets shirts to get this look and people always comment.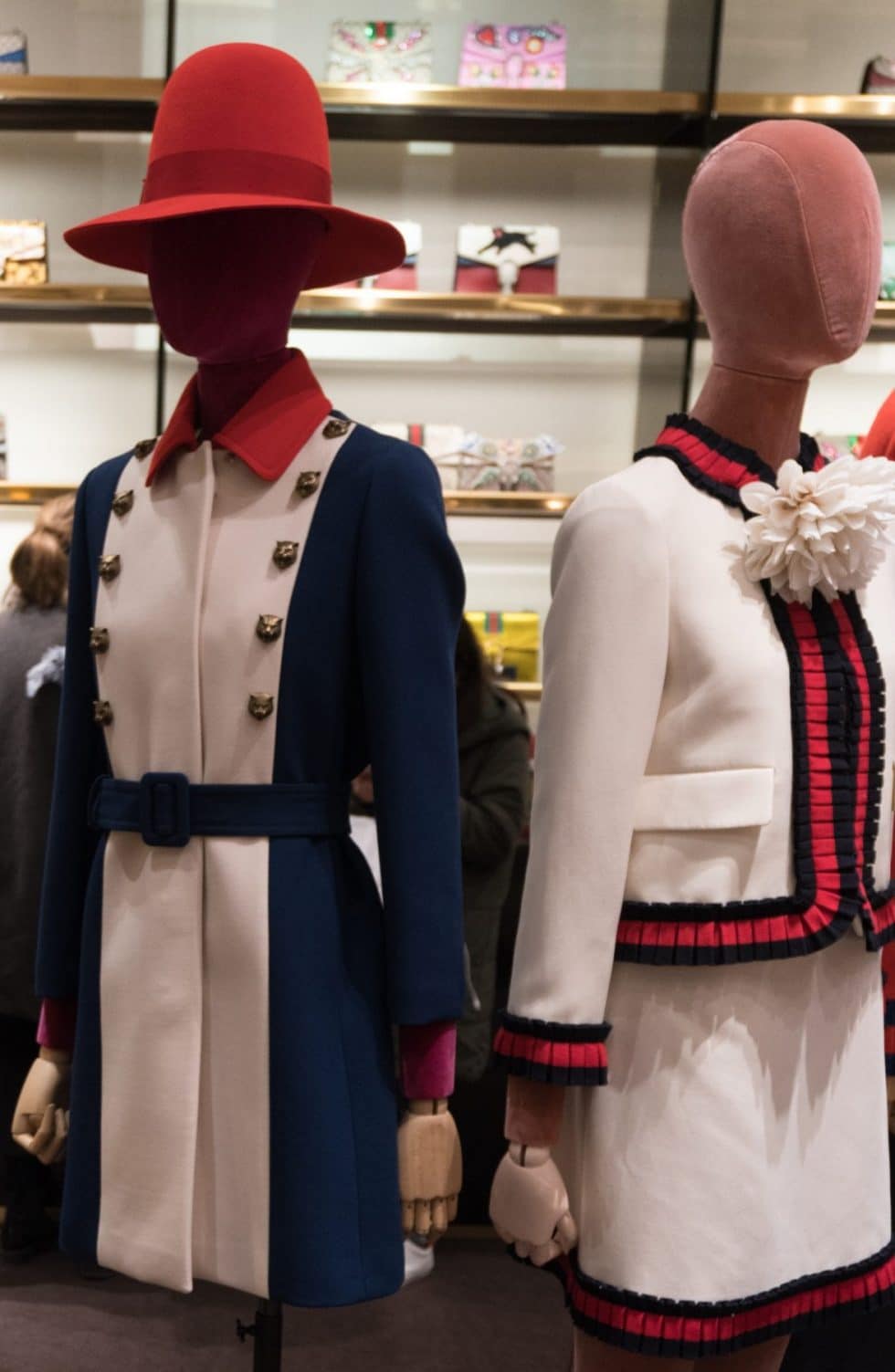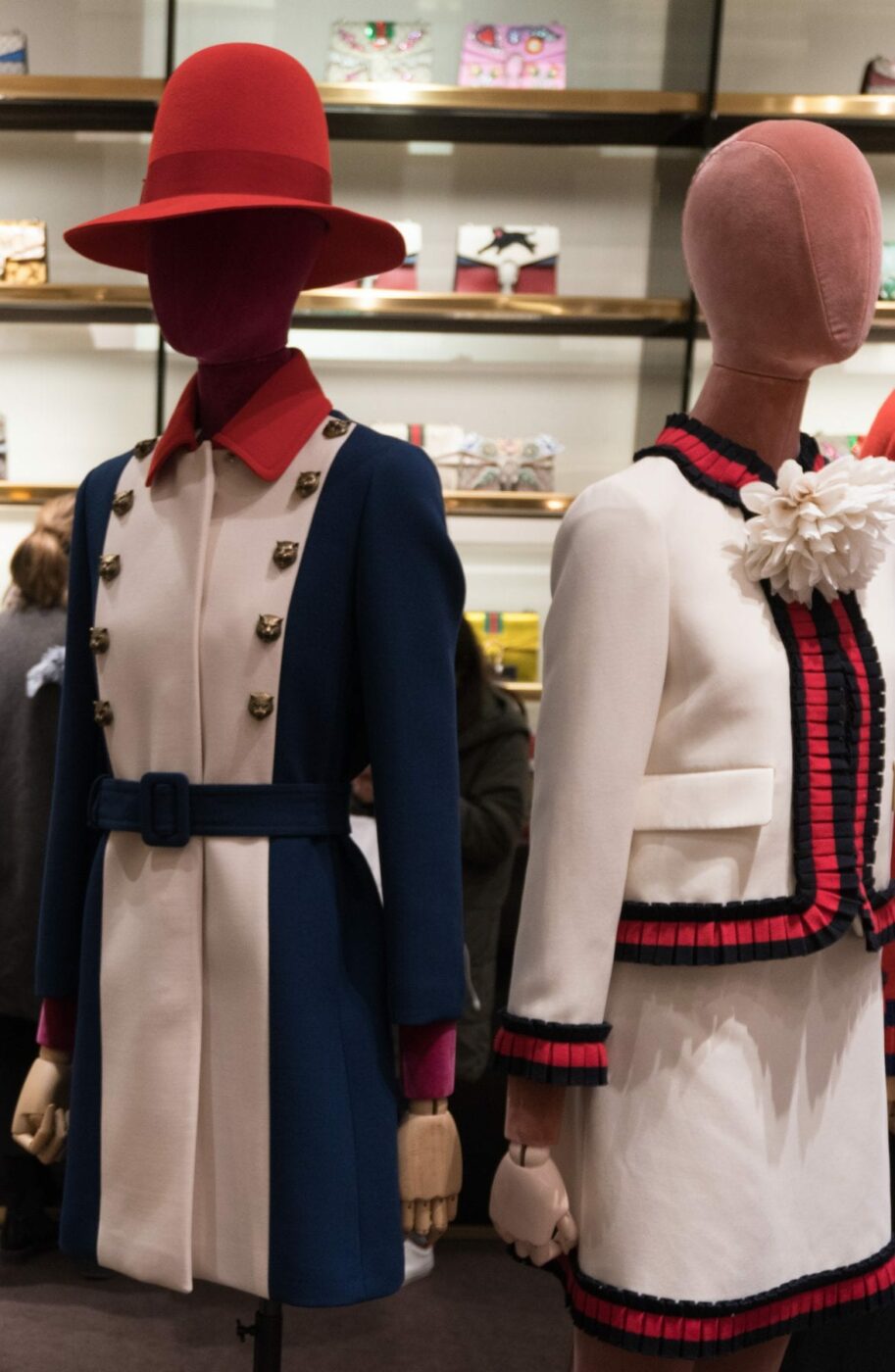 7. Got any studmuffin shoes yet? | Gucci Spike Heels
Several brands make great look-alikes although I think Valentino was the originator of the spikey shoes. I could be wrong. If so, let me know. Nordstrom and Nine West make great alternatives if the Gucci price tag is too much.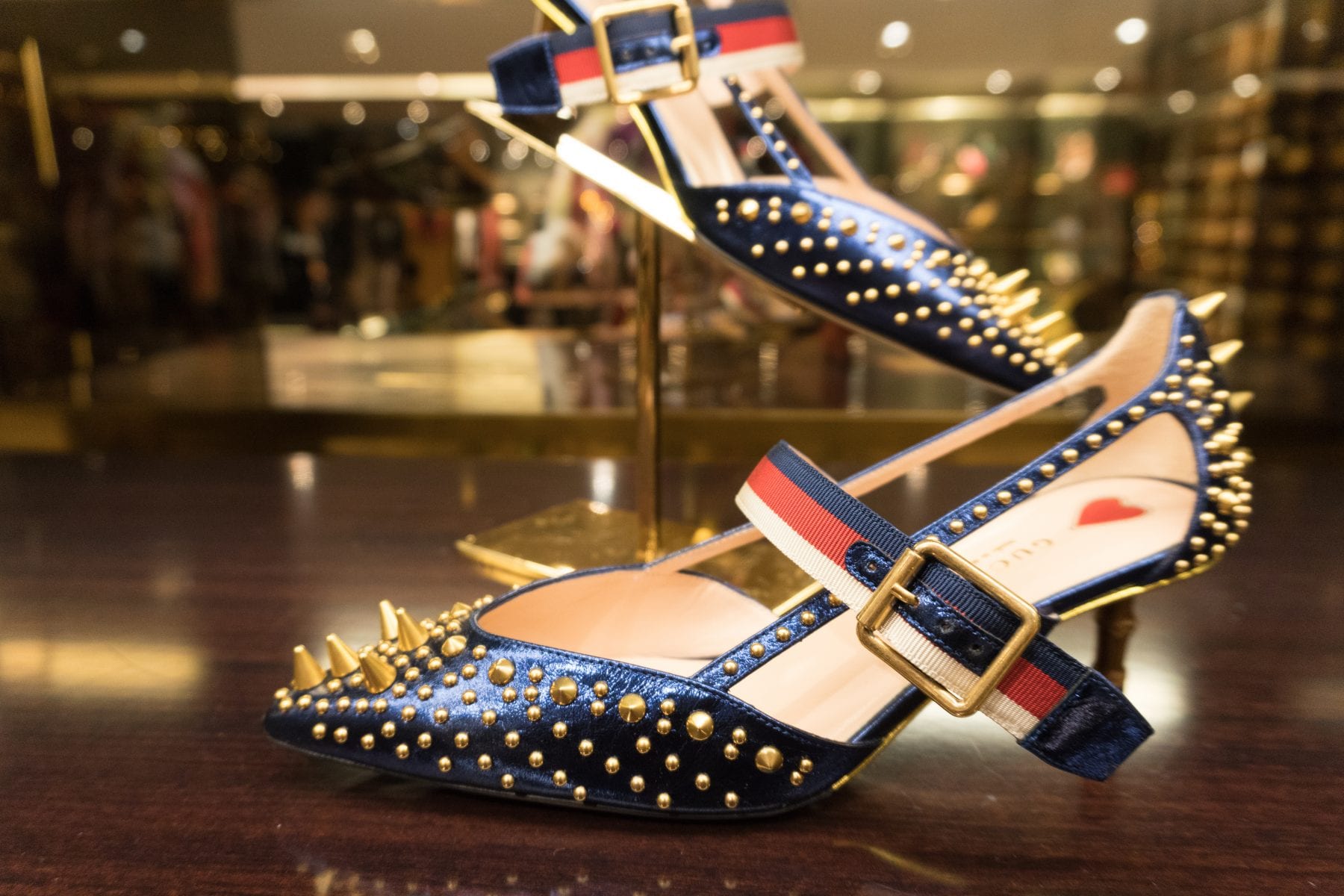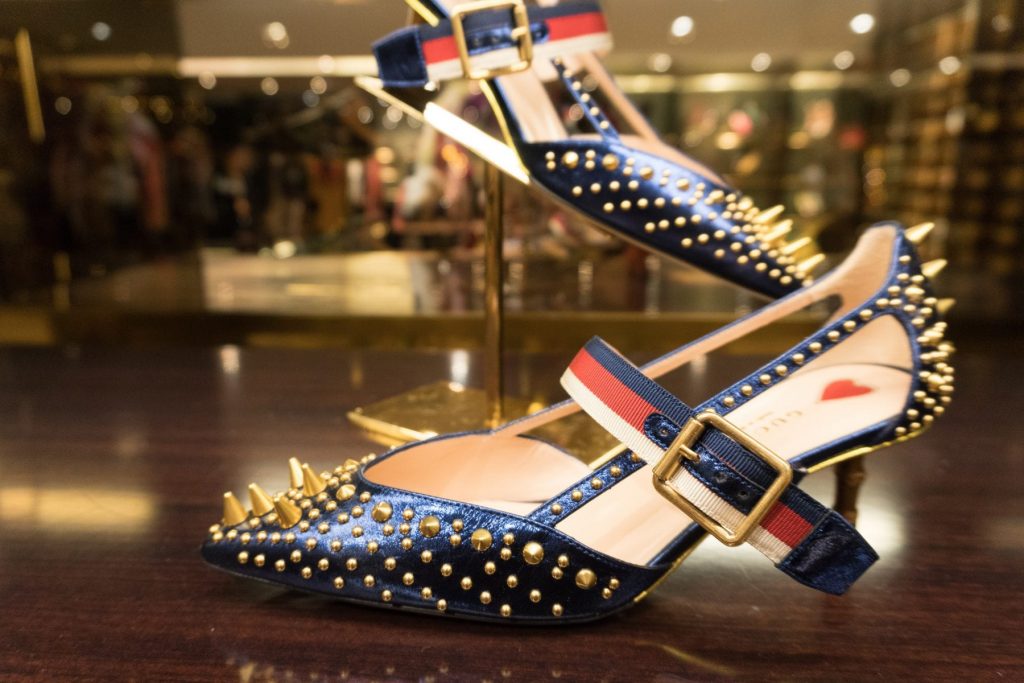 8. The eye of the tiger. | Gucci Tiger Button Suit
Tigers are cool and their faces and paw prints were all over fashion in 2017 and I don't see that changing too much.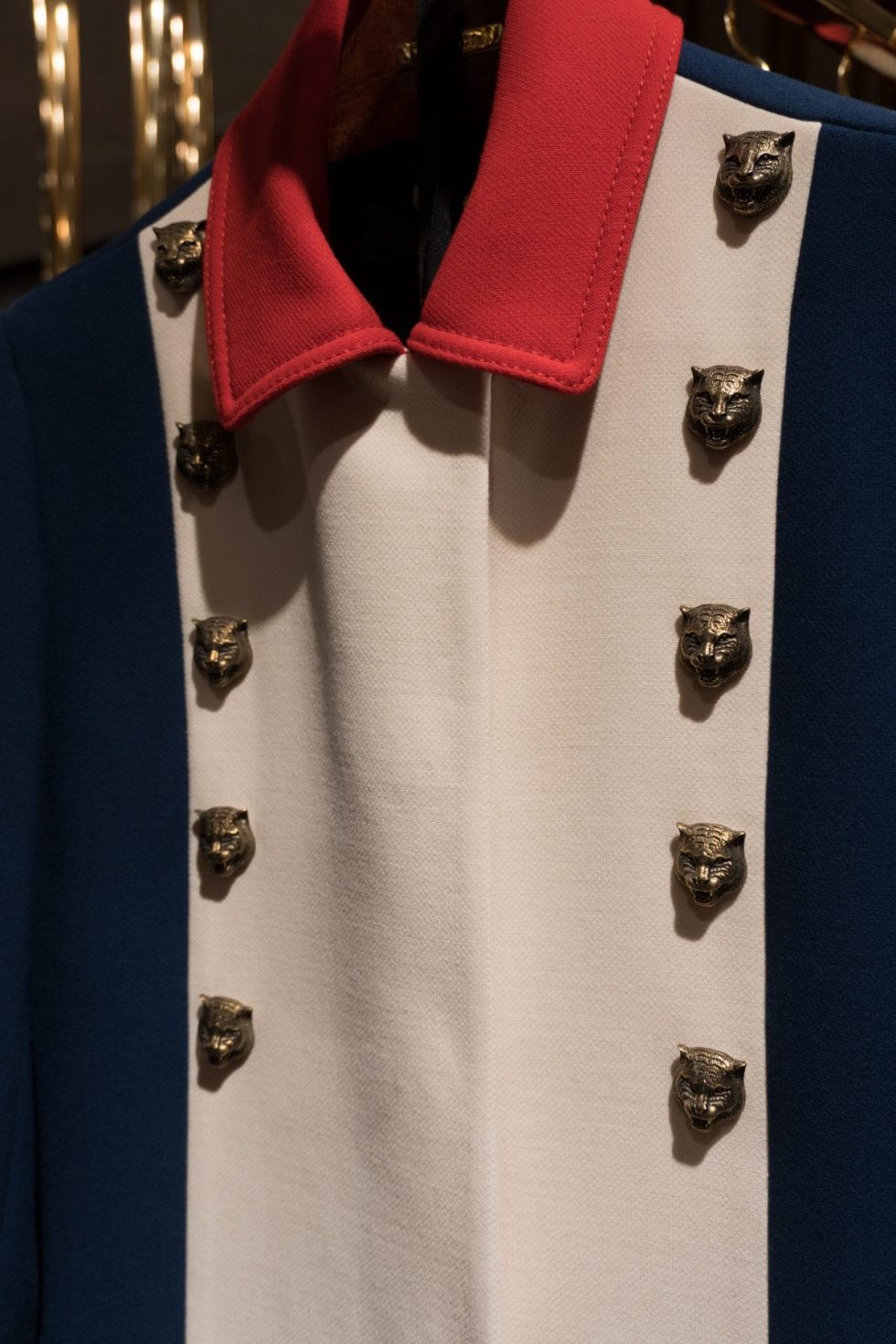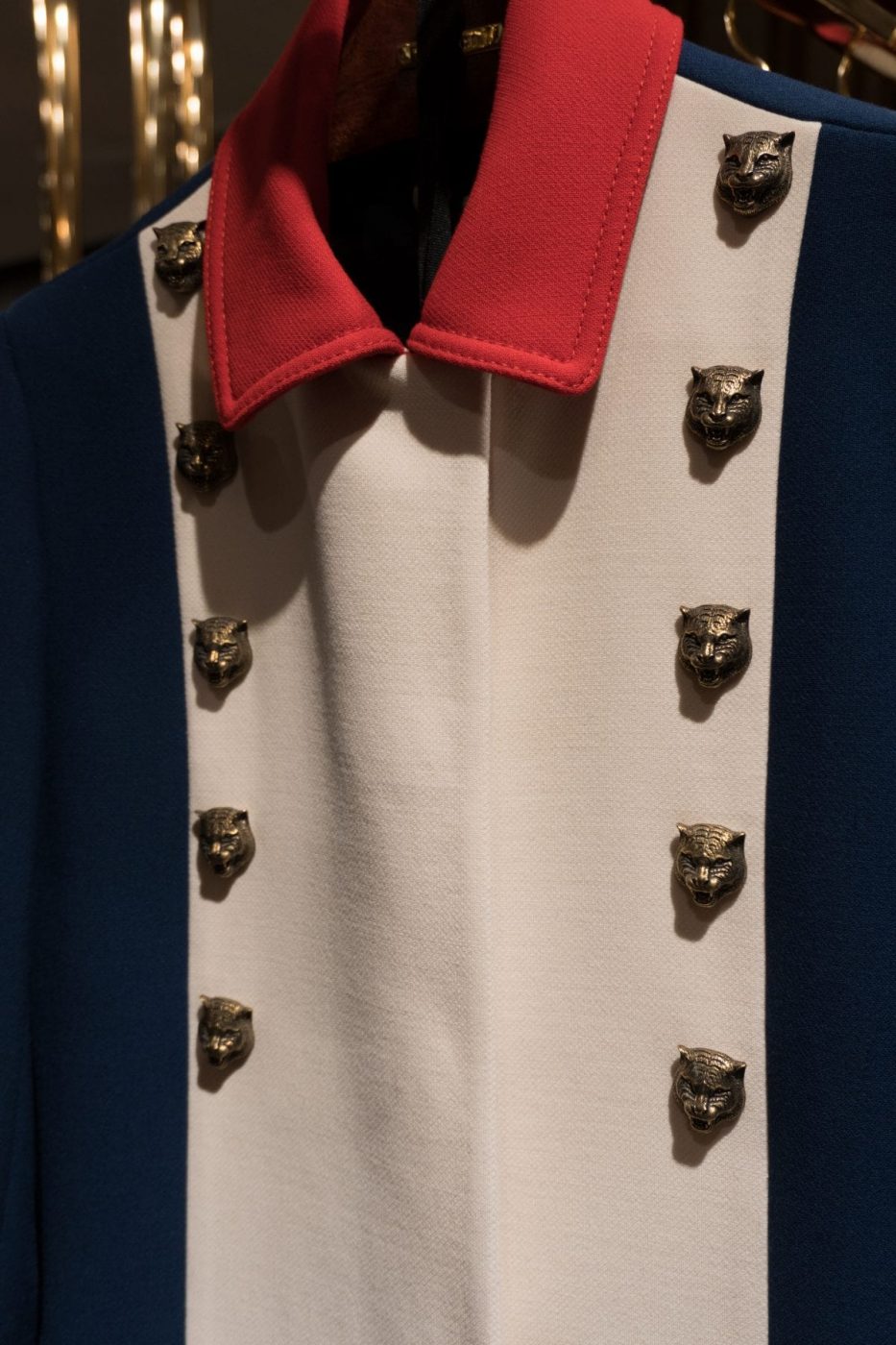 9. Just face it! Faces are in! | Striped Gucci Baroque Cat Chairs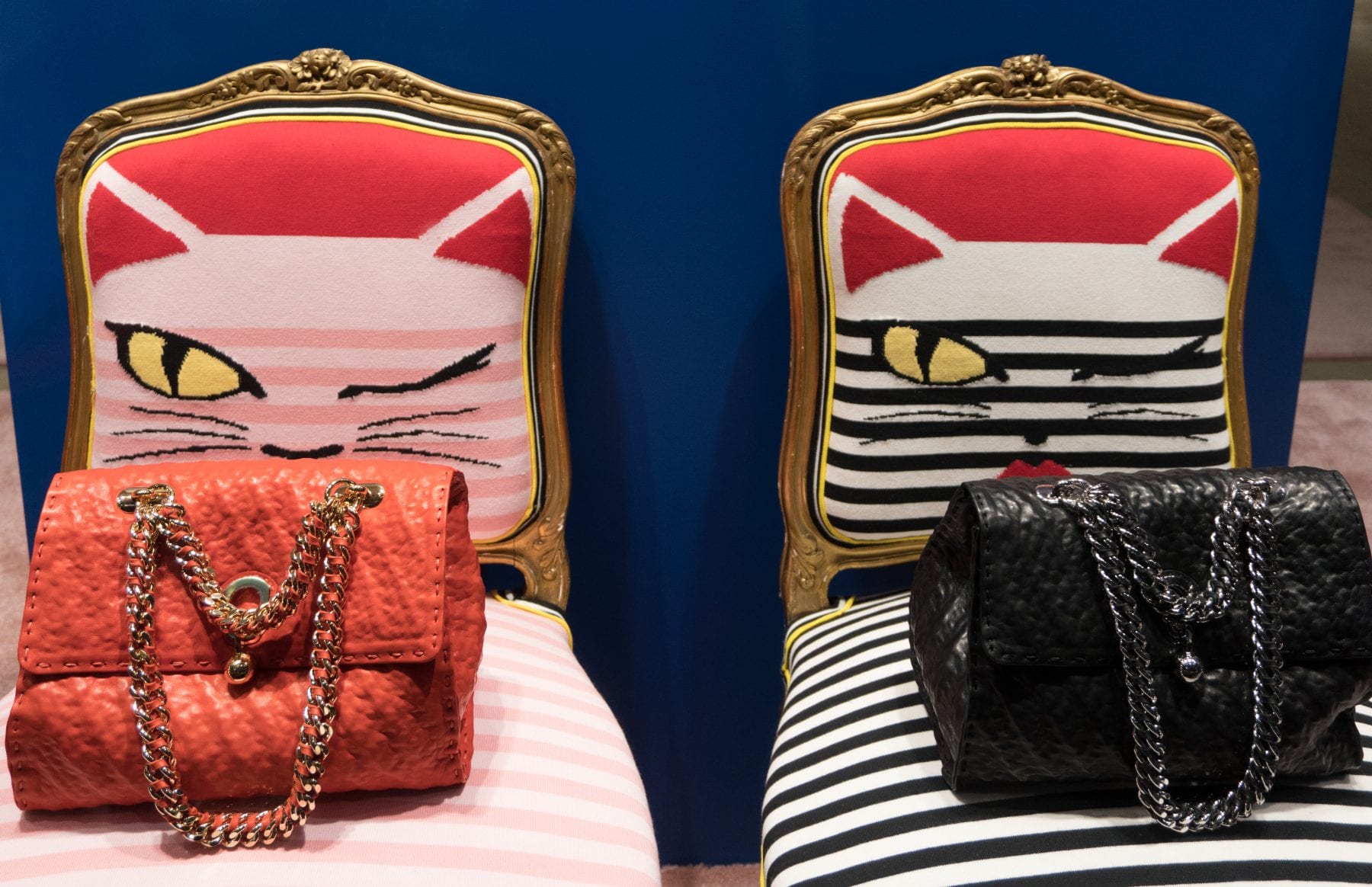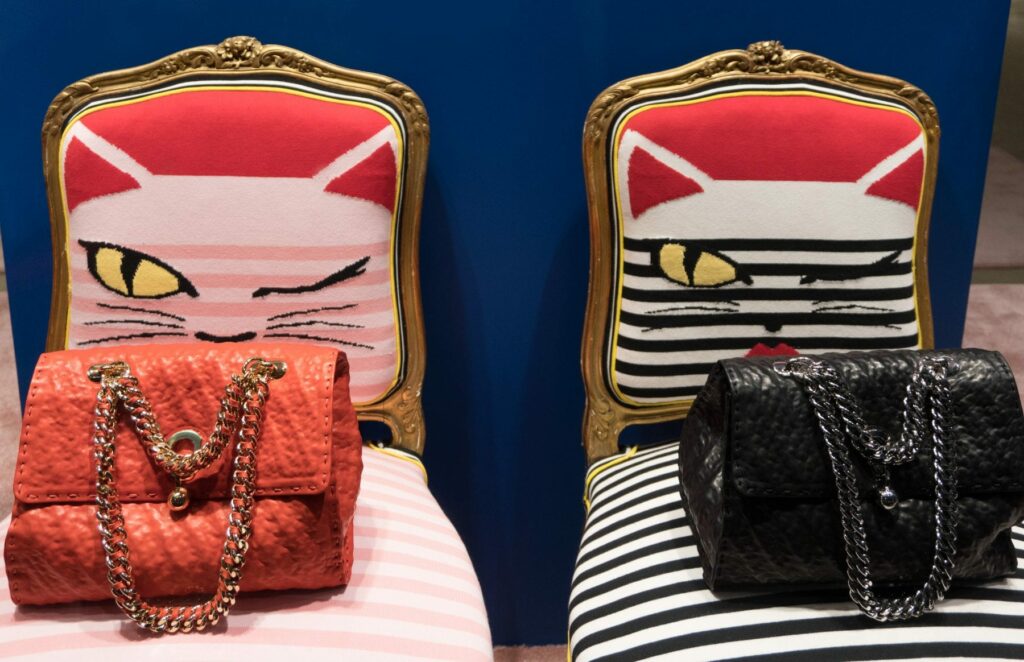 Gucci Alessandro Michele| Cat Striped Gucci Chairs
10. Staffordshire dogs have always been in, but they had somewhat taken a backseat. | The Gucci Staffordshire Tweed Suit
I don't have anything with a Staffordshire dog on it, but I did add dog statues to Casa Wynwood.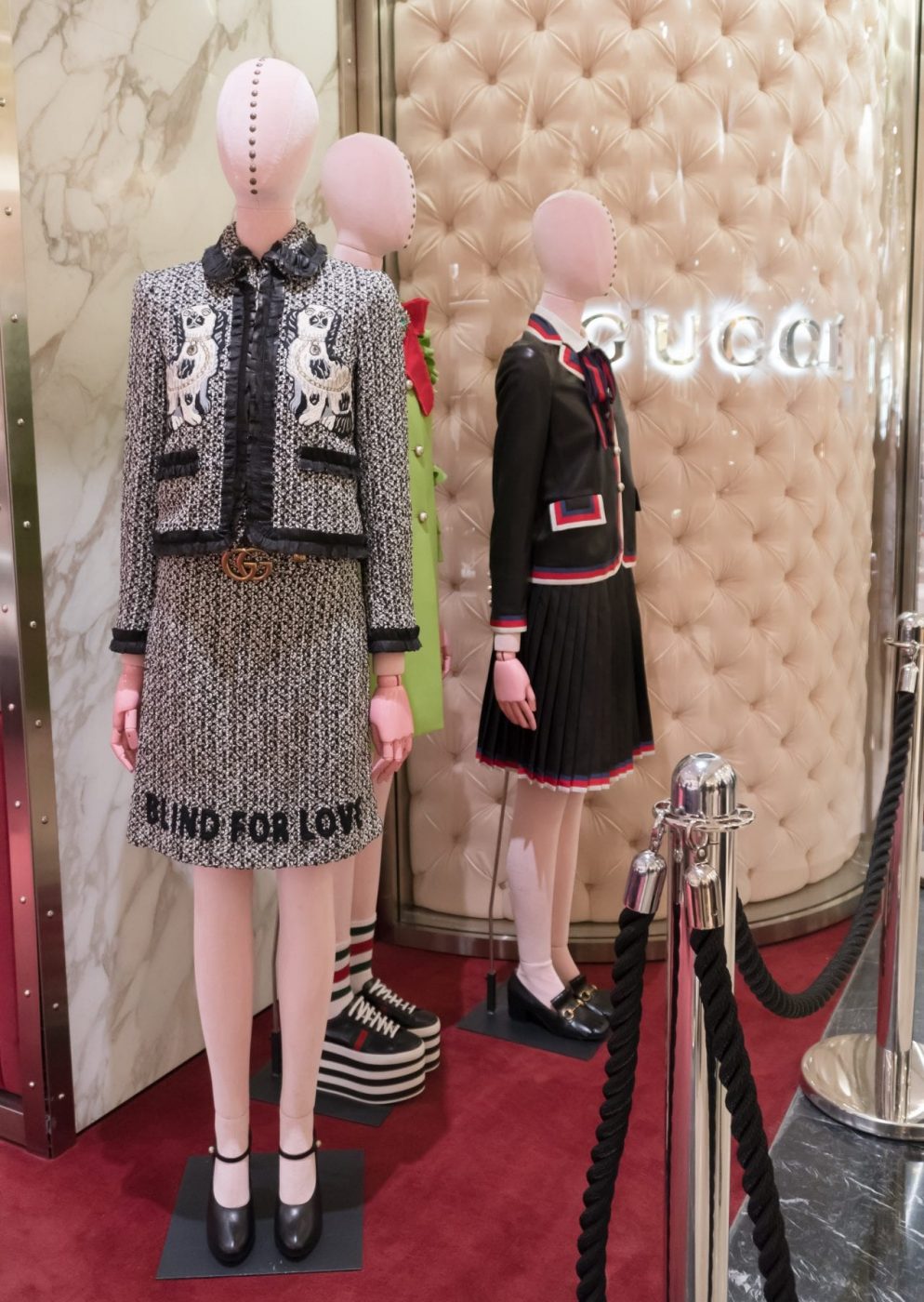 Gucci Alessandro Michele| Gucci Staffordshire tweed suit
11. Soft faux leathers. | The Gucci Staffordshire Tweed Suit
Have you noticed that there are several awesome polyester fabrics coated with a light metallic that resembles leather? I have a couple of pairs of vintage True Religion jeans that have this sheen. If you're looking for really inexpensive jeans with a sheen, check Macy's department store in the Juniors section.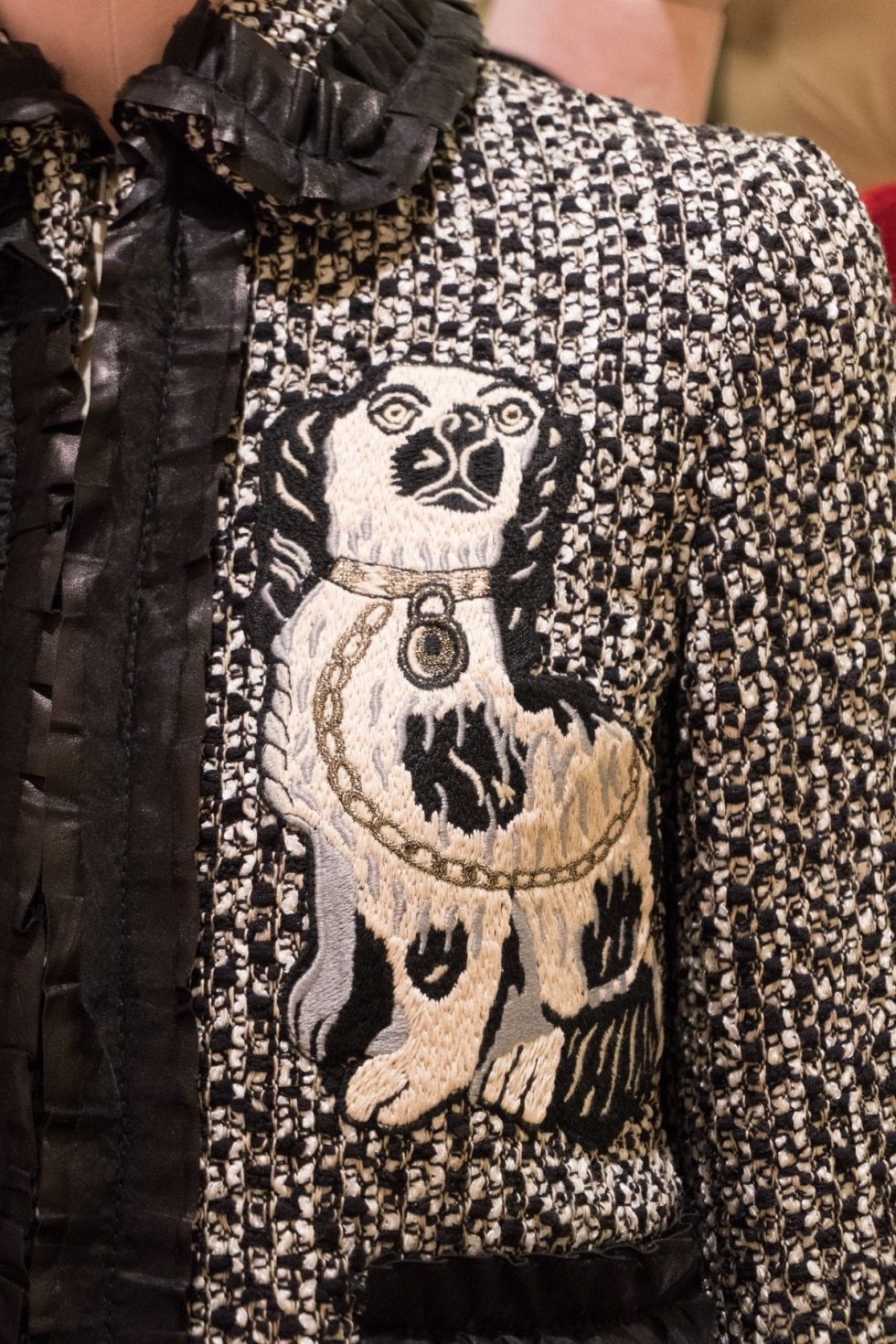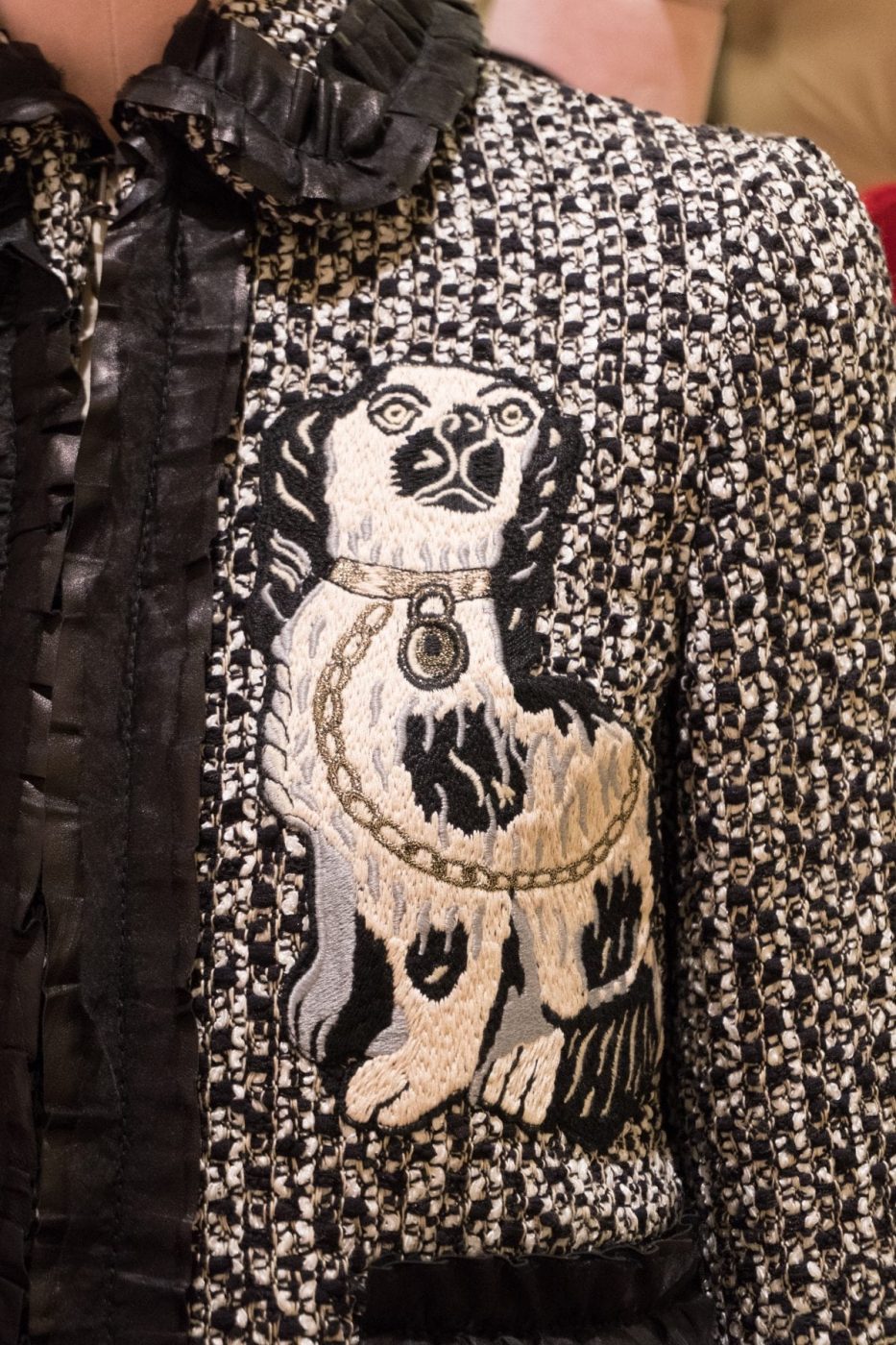 Gucci Alessandro Michele| Gucci Staffordshire tweed suit
12. Say it out loud! With words..tell the world exactly what you're thinking.
We did. We will. And this trend will most likely be even stronger in 2018.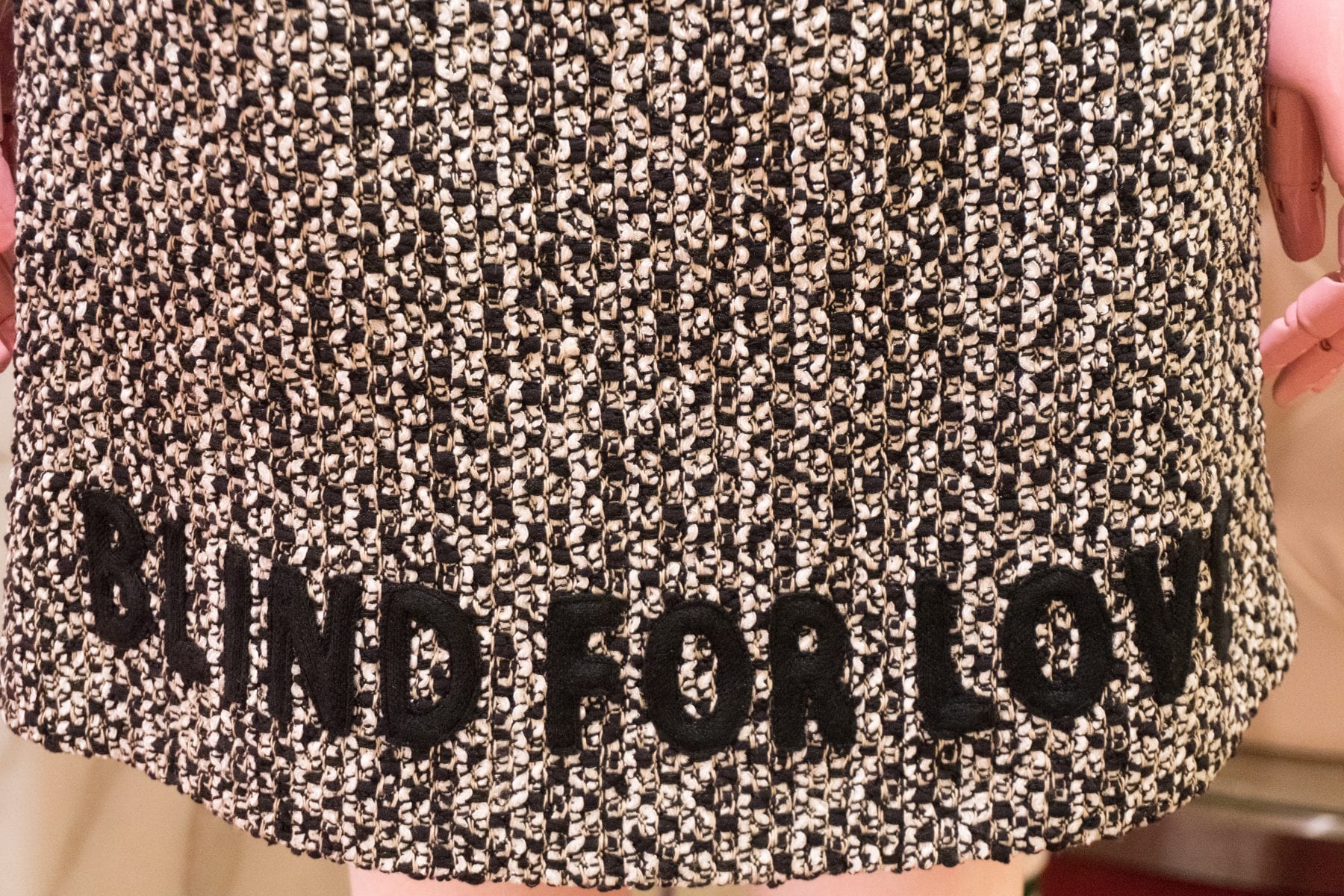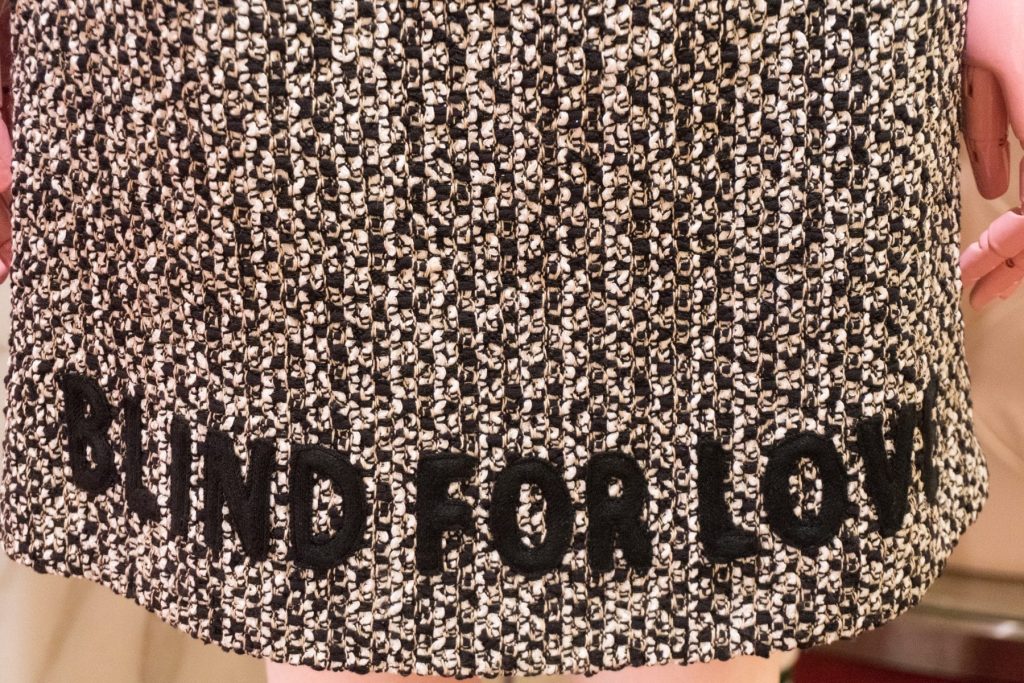 Gucci Alessandro Michele| Gucci Staffordshire tweed suit
13. Red, white, blue, Gucci grosgrain ribbon reign!
We have America, Great Britain, France, Cuba, and several others to thank for this color trend but stitch a perfectly mitered corner of a striped grosgrain, and you could be sooooo Gucci!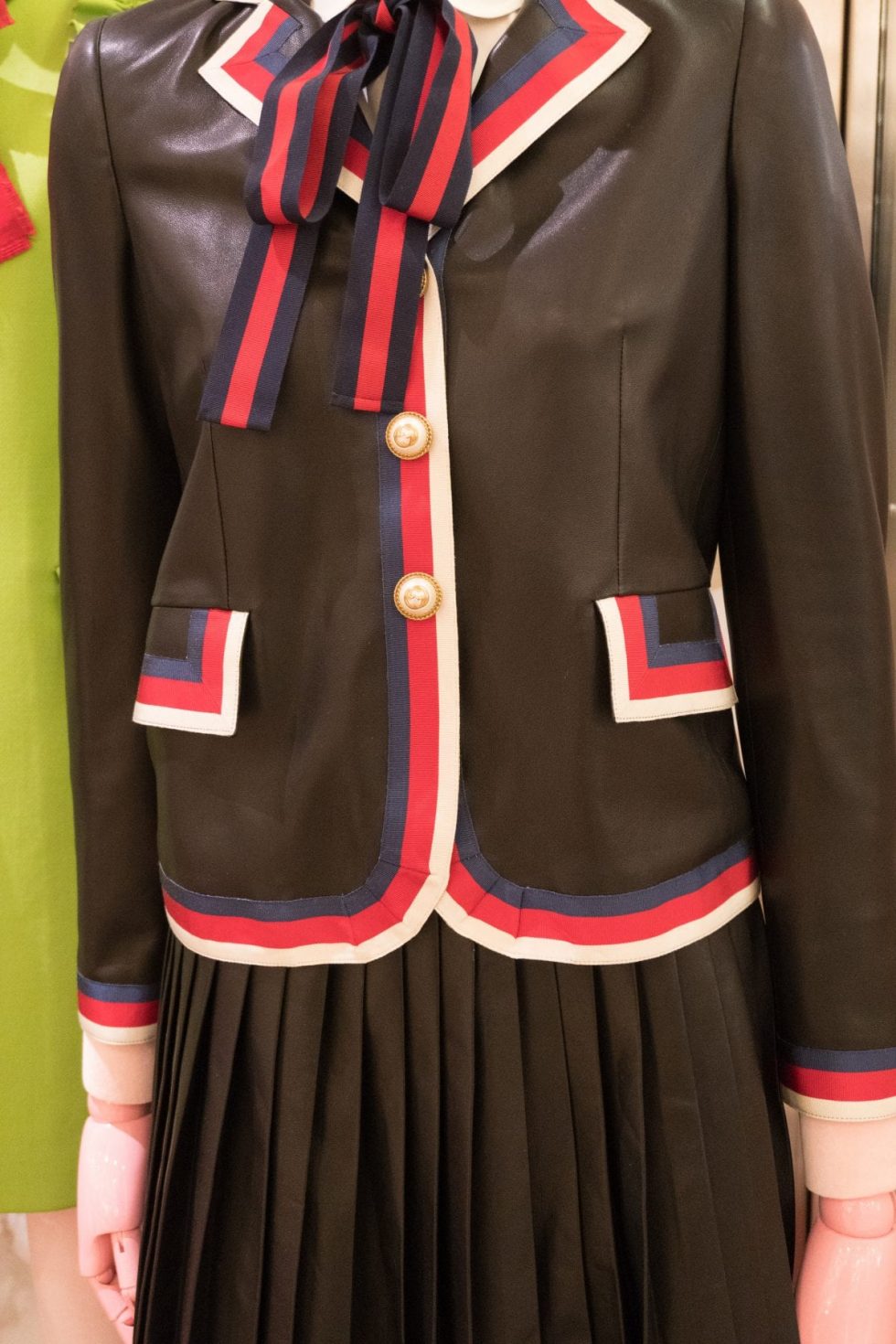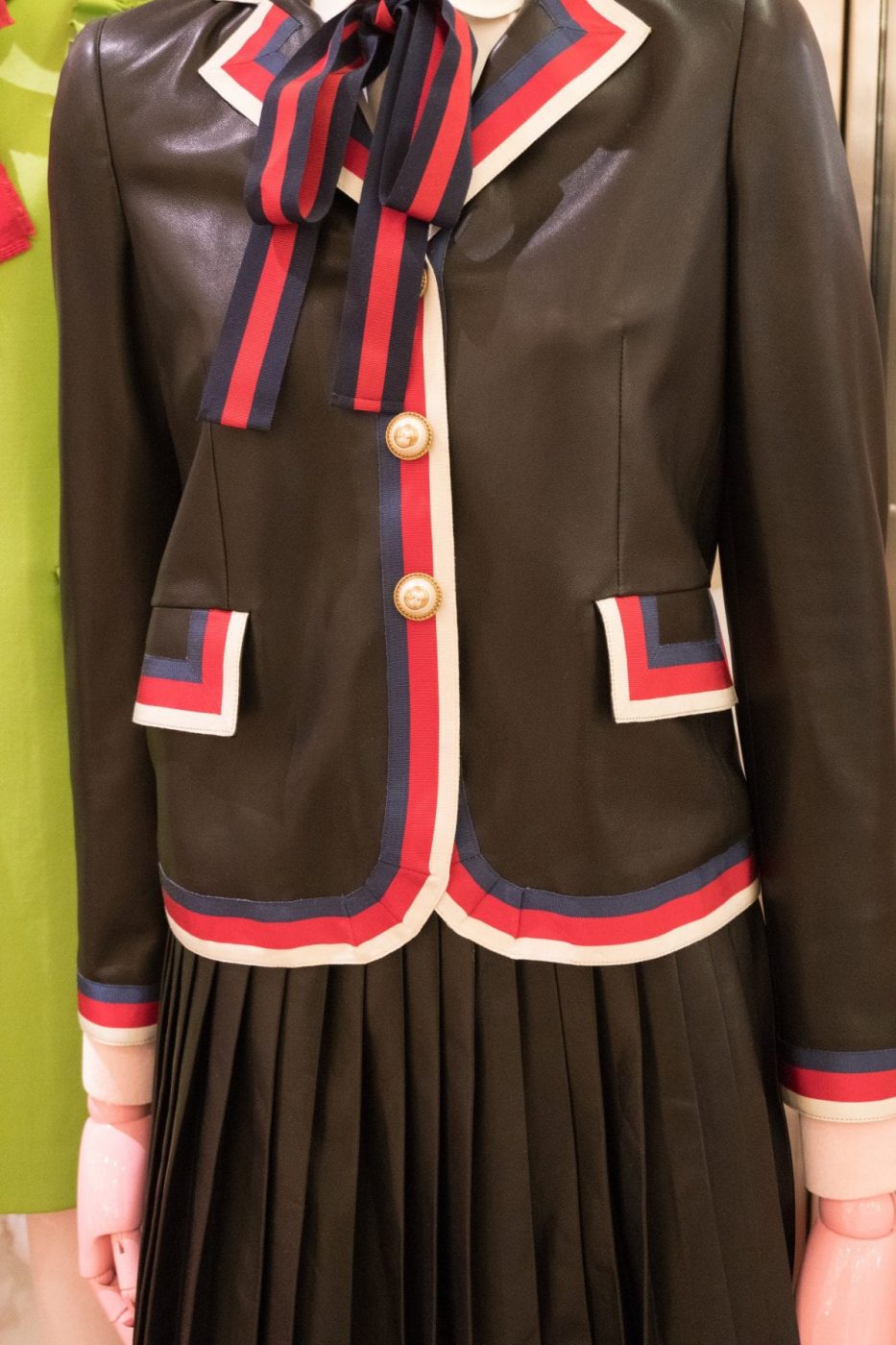 14. Spread your tail, show your colors, ladies. | Gucci Peacock Fur Coat
Peacocks are in and any colorful hues of teals and greens which appear to be here to stay. I just wonder if we all realize that we're wearing male peacocks? The females aren't as pretty, but I guess that's what us ladies are for, huh?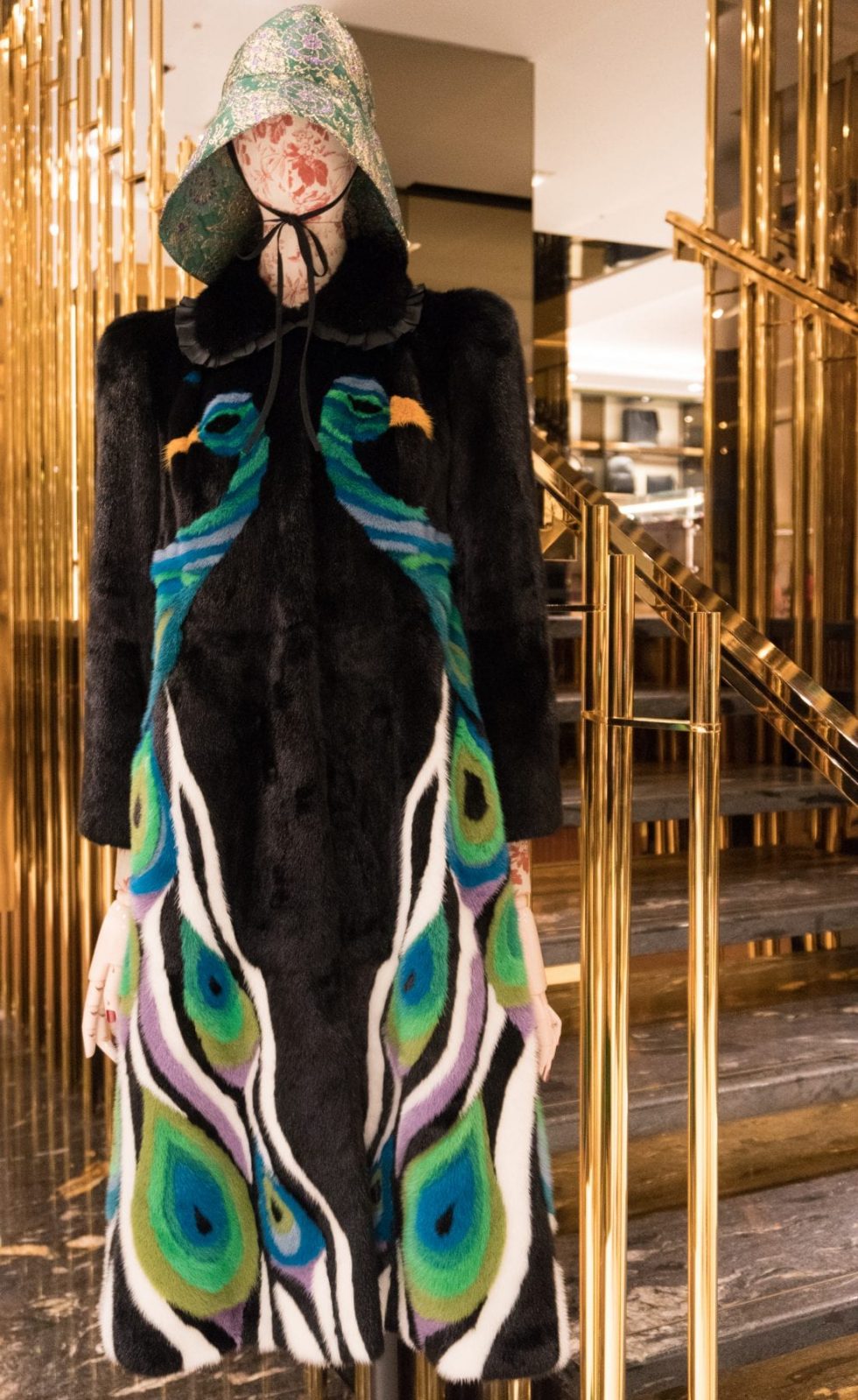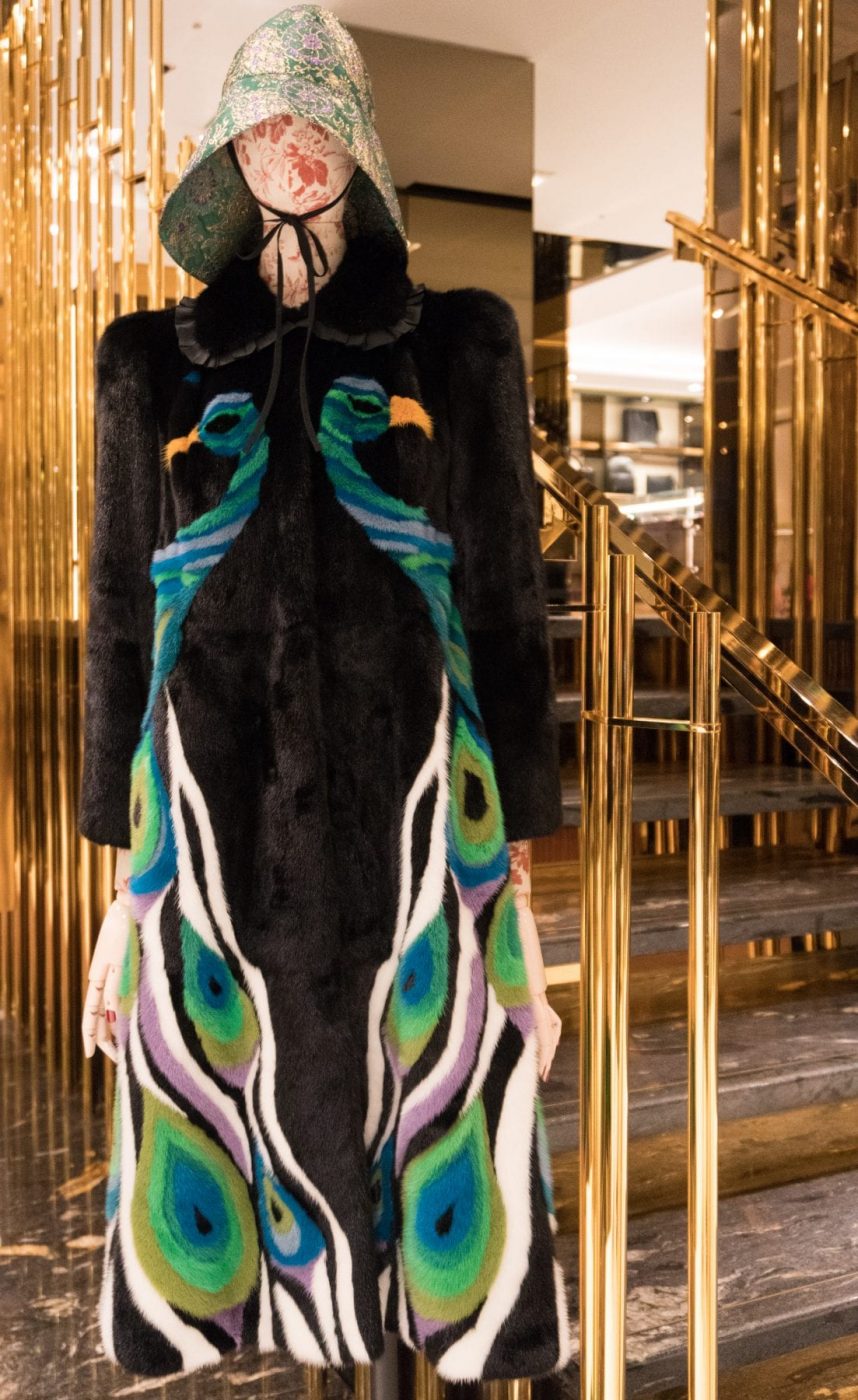 Peacock Fur Coat | Gucci Alessandro Michele
15. Hand beadwork and fringes.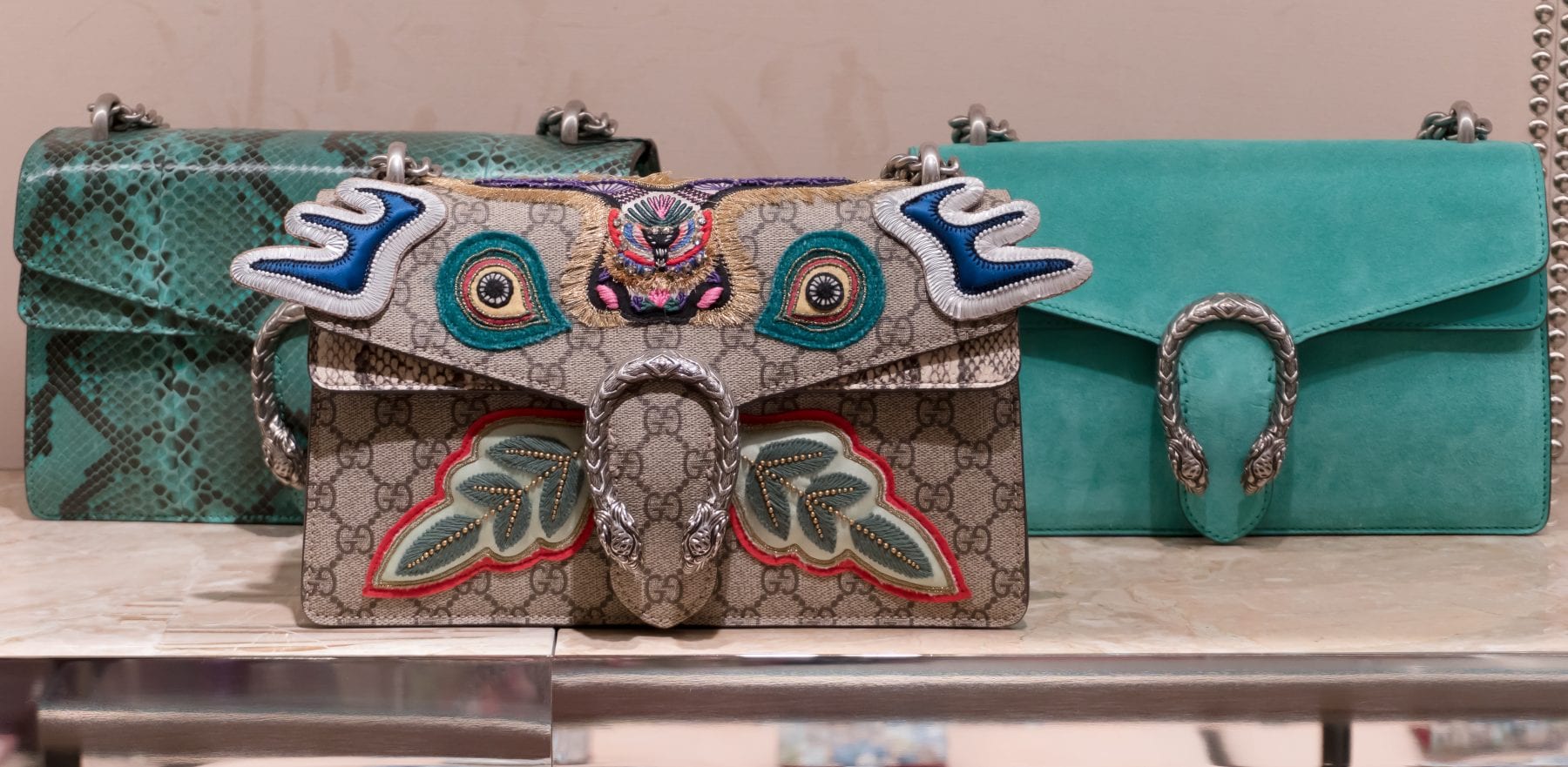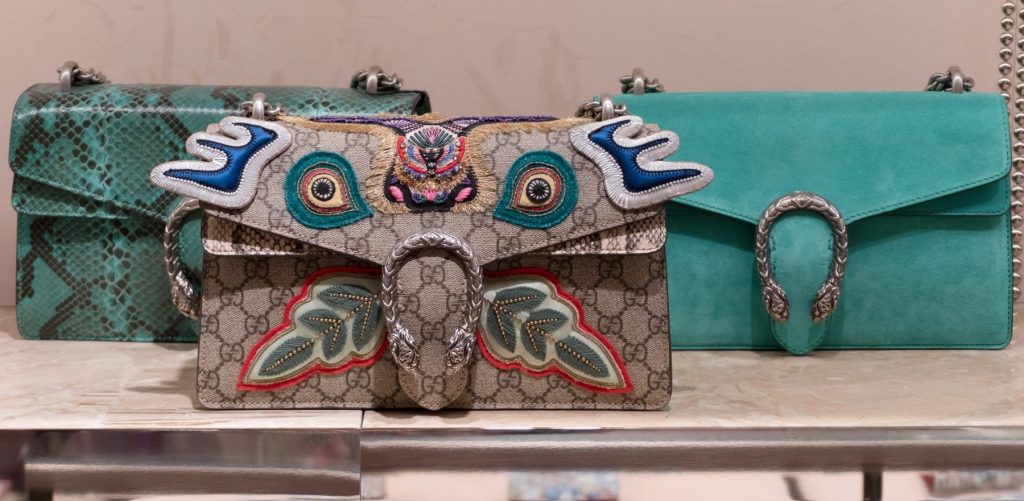 I still love this purse!!!! But, no, it's not mine 🙁 A girl can dream, right?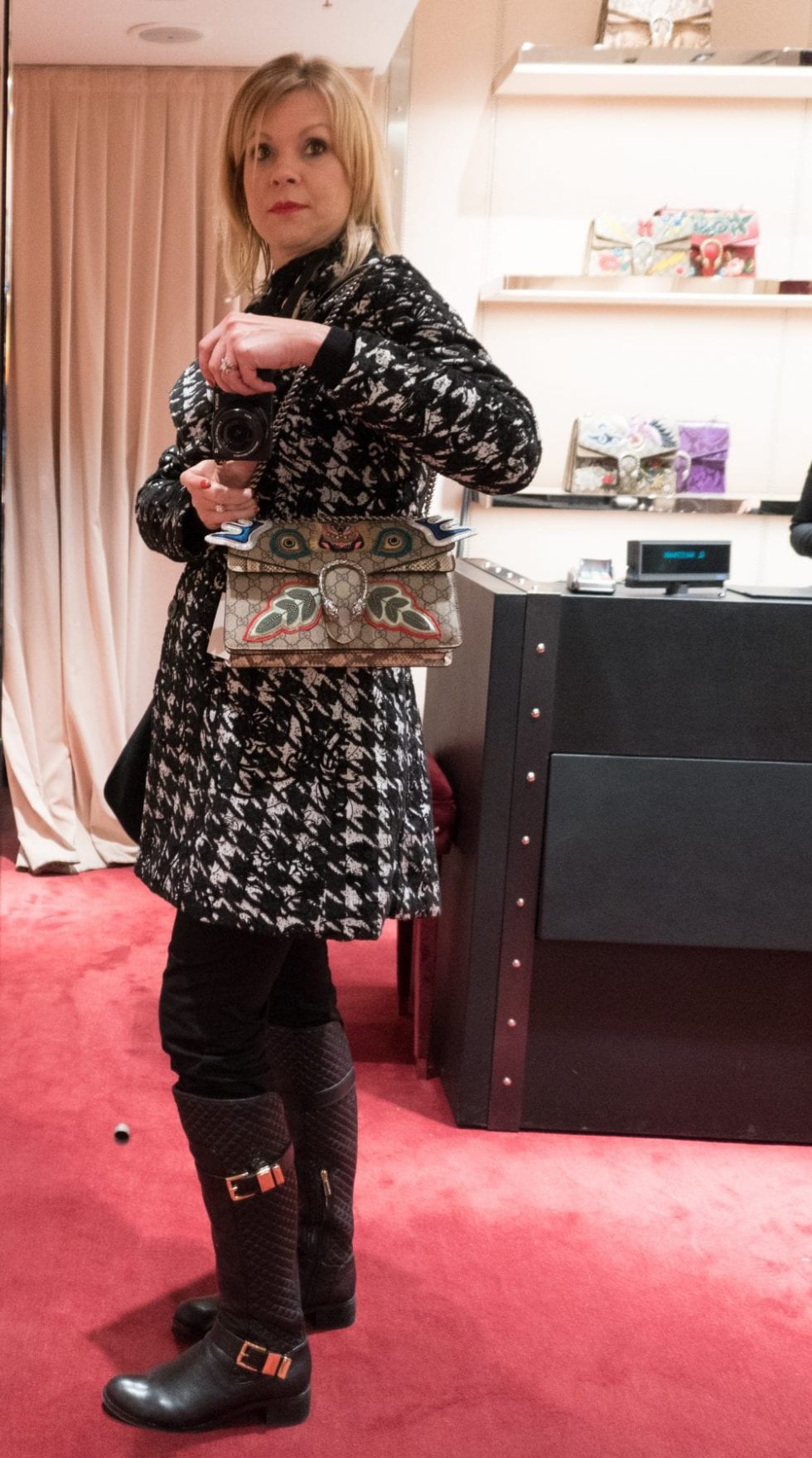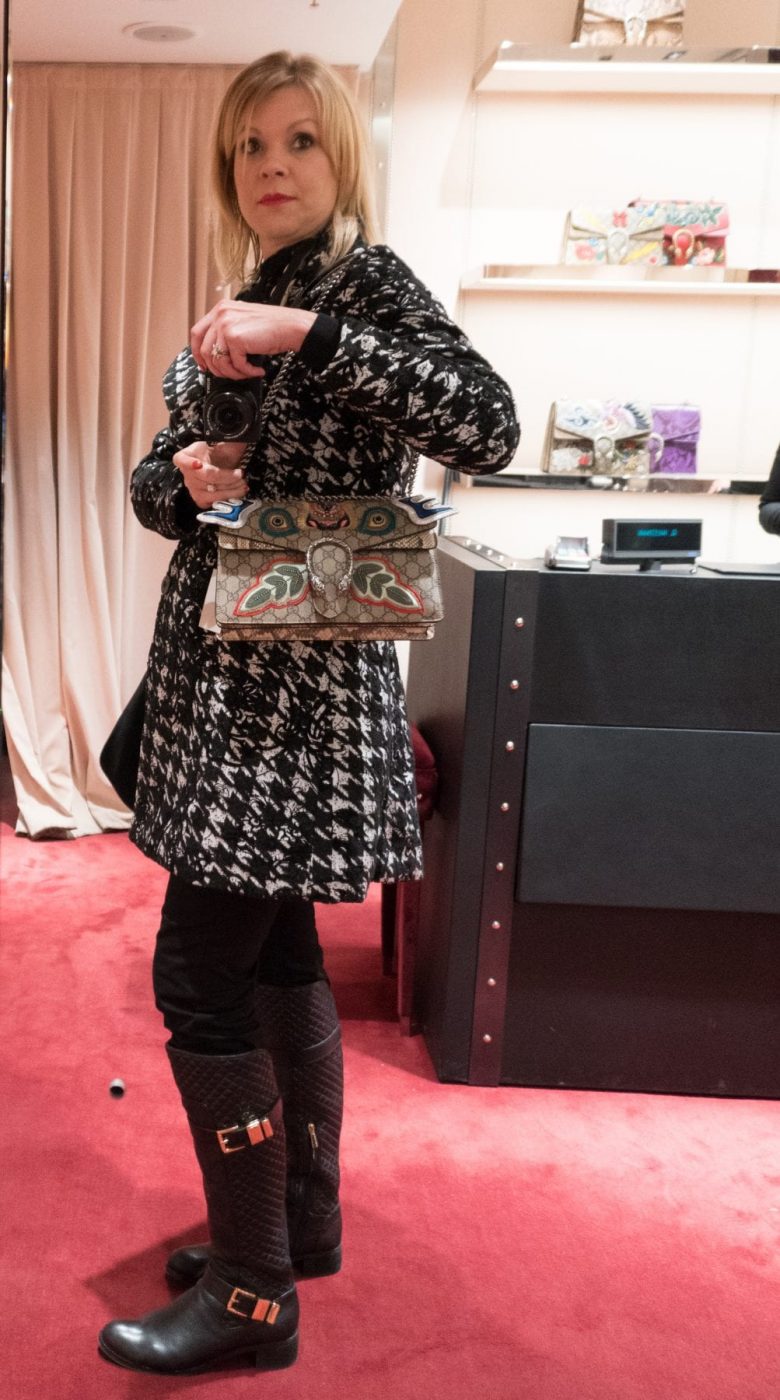 16. Snakes and insects.
Like them or not, snakes are in. If you're truly afraid or think they're straight from the devil, please note that almost everything medical-related contains snakes and no one is abolishing those. Wonder why? Read this.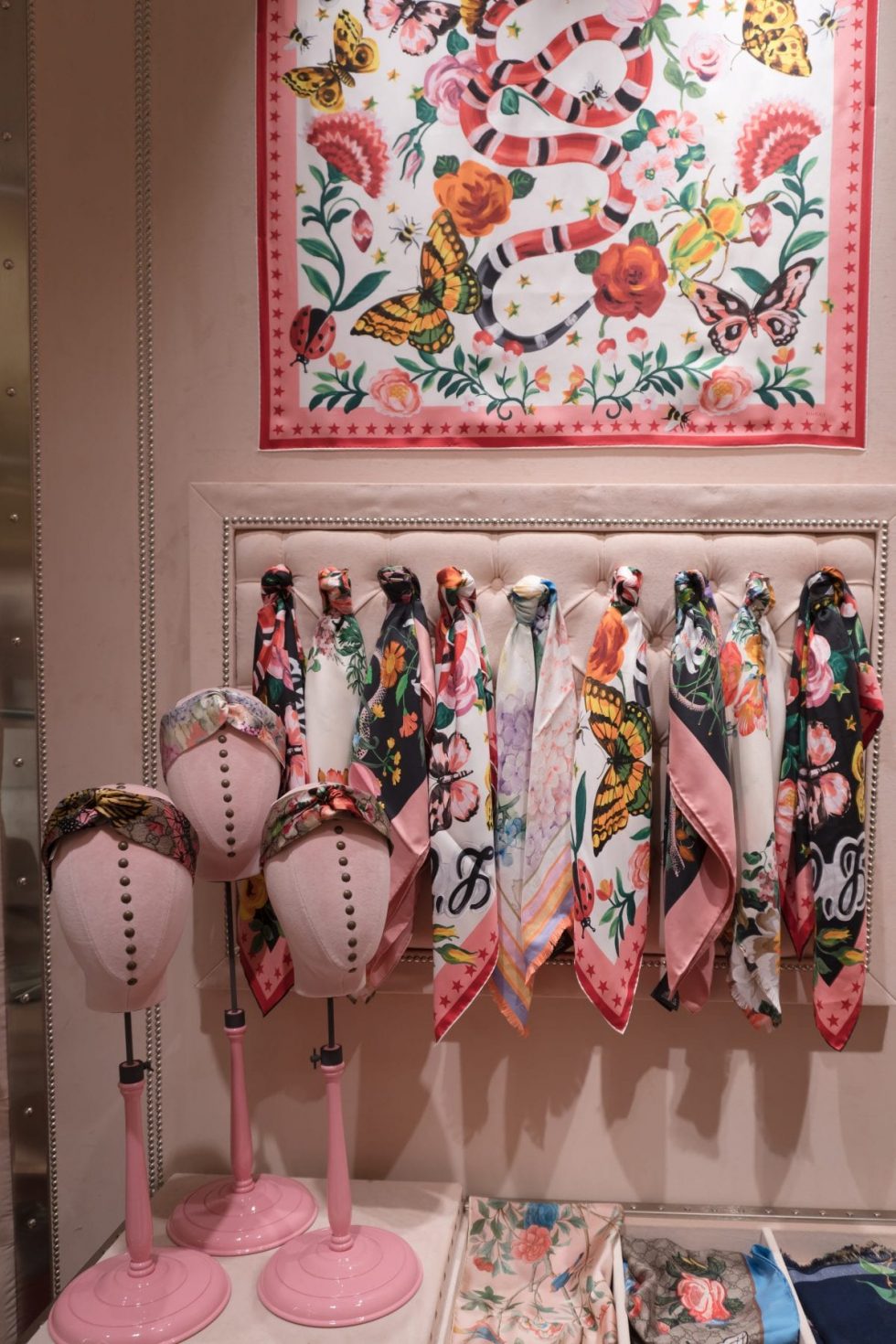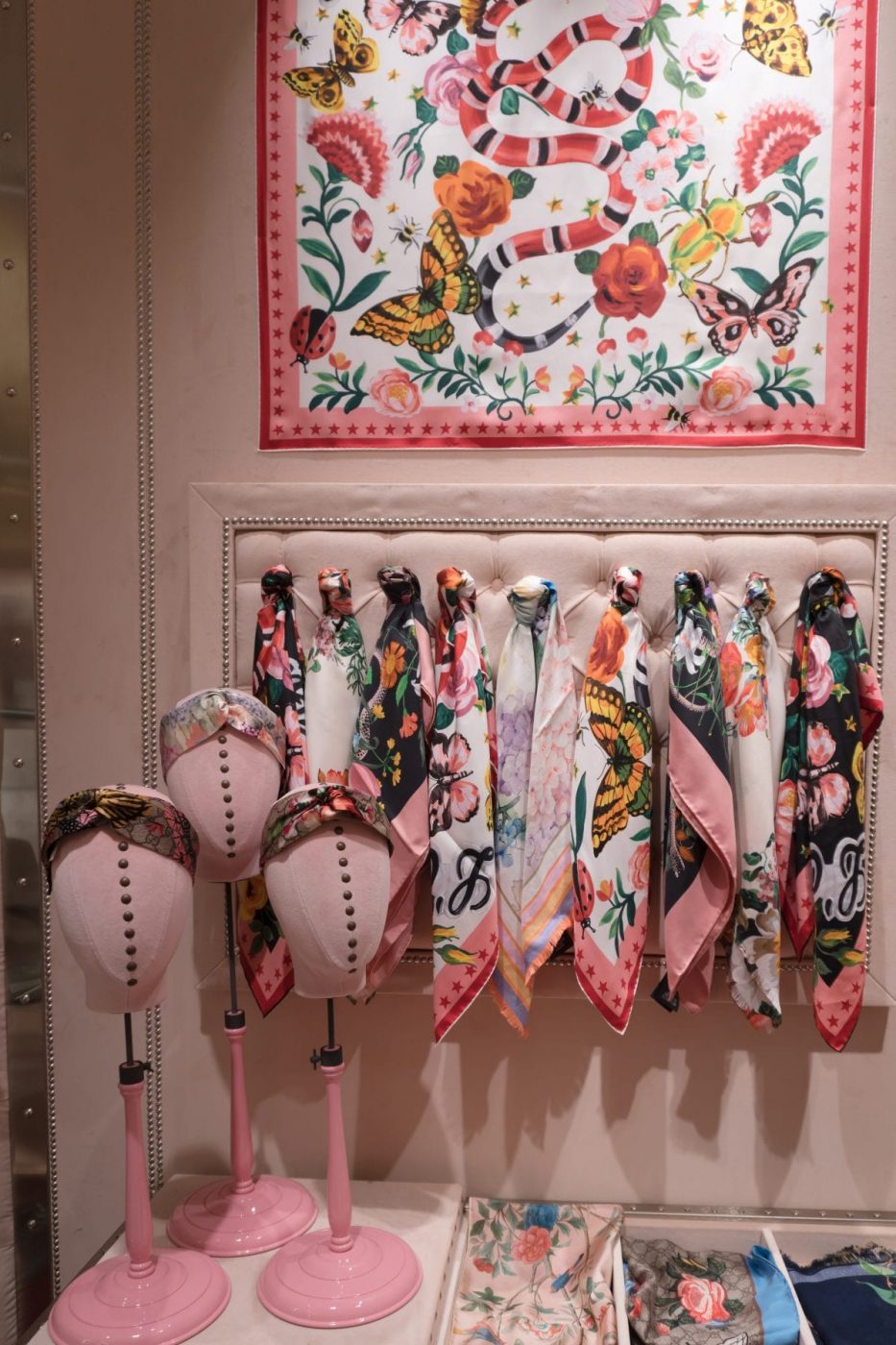 Does Creative Director for Gucci Alessandro Michele Inspire Your Fashion?
Now, I have a couple of questions for you…
Which of these trends do you currently have in your wardrobe? And are there any new ones that you plan to add?
Thank you Gucci Alessandro Michele for such amazing fun fashion! Click here to go inside my Tour Gucci Garden in Florence, Italy. You'll also love my 42 Venetian Masquerade Masks & Costumes from the Carnevale in Itay travel blogs.

I'm Christi Tasker, serial globetrotter, product & interior designer, Glamma Gaga, NBC social media correspondent, podcaster, freedom fighter, brand & business consultant, entrepreneur's best friend, artist & multi-business owner.