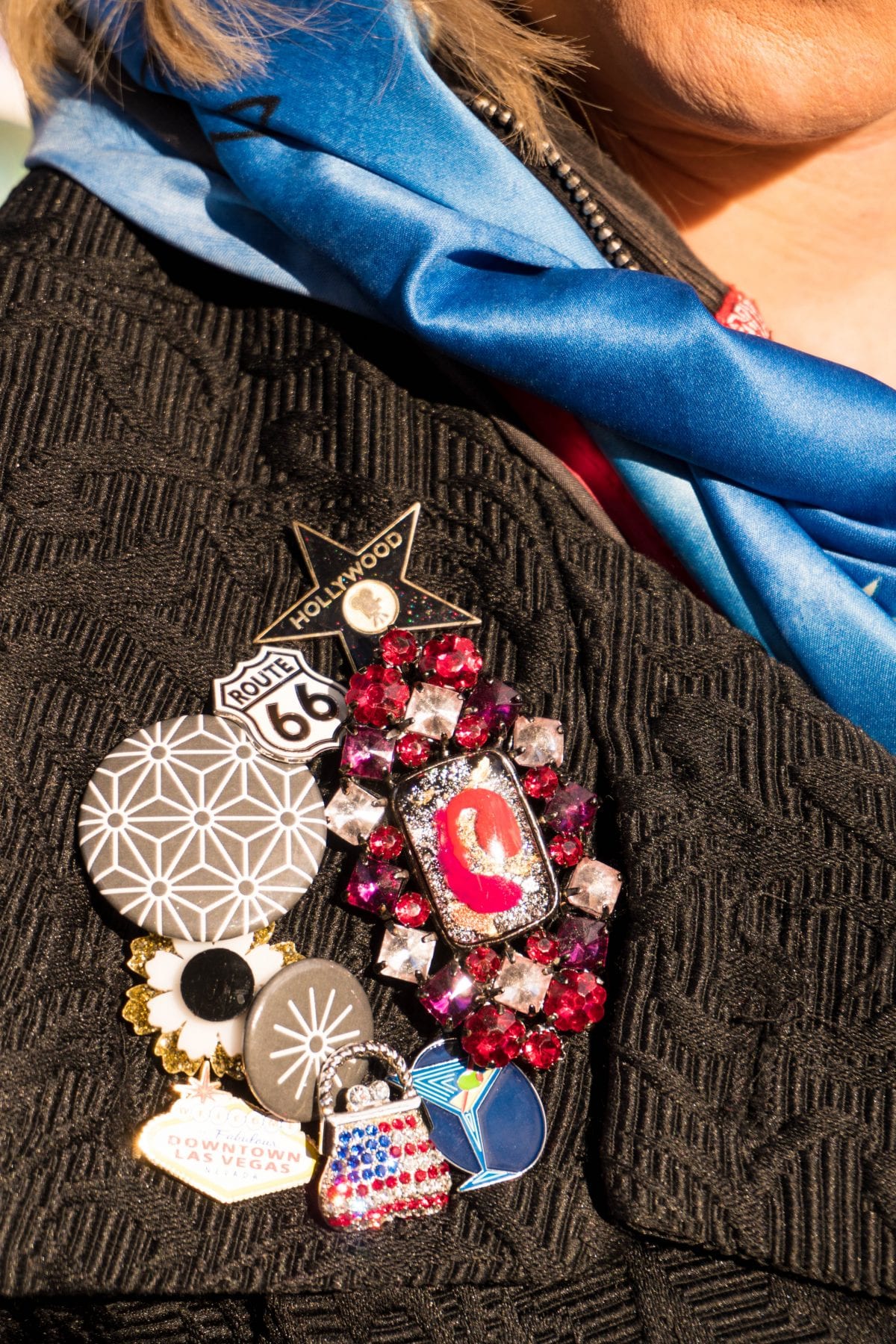 3 Awesome Inspirational Fashion Travel Souvenir Ideas
3 Super Cool, Affordable, Lightweight Travel Souvenir Ideas
Before I reveal my 3 awesome, super cool and very fashionable, conversational lightweight travel souvenir ideas, please understand. I hate travel souvenirs!!!
Souvenirs have never been a favorite of mine. I am one of those weird people. I consider my photos my souvenirs. And I love to gift my friends with either a photo or nothing at all. Last year I realized that I had officially gone from being the best gift giver (thanks to my former staff at my Georgia interior design firm complete with a gift shop) to receiving the new title of "The World's Worst Giftgiver"!
So when I travel, the thought of "gifting" rarely crosses my mind.
Here are 5 reasons I'm terrible at gift-giving and travel souvenir purchasing:
I am not thinking about junking my friend's house with gifts.
I cannot remember to mail the gifts anyway.
When I do remember, the United States Postal Service (USPS) in Miami often fails to pick up from our box before packages either disappear or become saturated.
And all of that is if the gift isn't left in a cafe, Uber, airport, airplane, or doesn't make it through airport security. I can't tell you how many items I have accidentally donated to American Airlines over the years.
Whether it's shopping for the unknown or being asked to "bring something back", the souvenir part of traveling is just plain gimmicky to me! I see people spending hours "shopping" for souvenirs vs. having a good time in the moment.
Last year, my mind changed about a very small, old school, cheap souvenir!
1. Buy scarves or other fashion that you need for travel souvenirs.
Sometimes I purposely leave home without something I know I need and will want to buy. Example: Scarves! I love scarves. While you can't leave home without necessities when traveling to desolate locations. When going to London or Paris, you know you'll find something super cool to wear on your trip.
2. Pins are always great travel souvenir ideas!
Thanks to Chanel's Coco Cuba collection, I was inspired to buy basic $1-$5 pins and patches to add to my wardrobe to make it totally me!
3. Patches are super cool conversation starters.
I use souvenir pins pinned in collages on my coats and people stop me to ask "where I get that jacket or coat". They don't realize that it's a grouping of pins and brooches that I've collected along the way until they stop to look at them. I only like to incorporate pins and patches in places I've personally been to.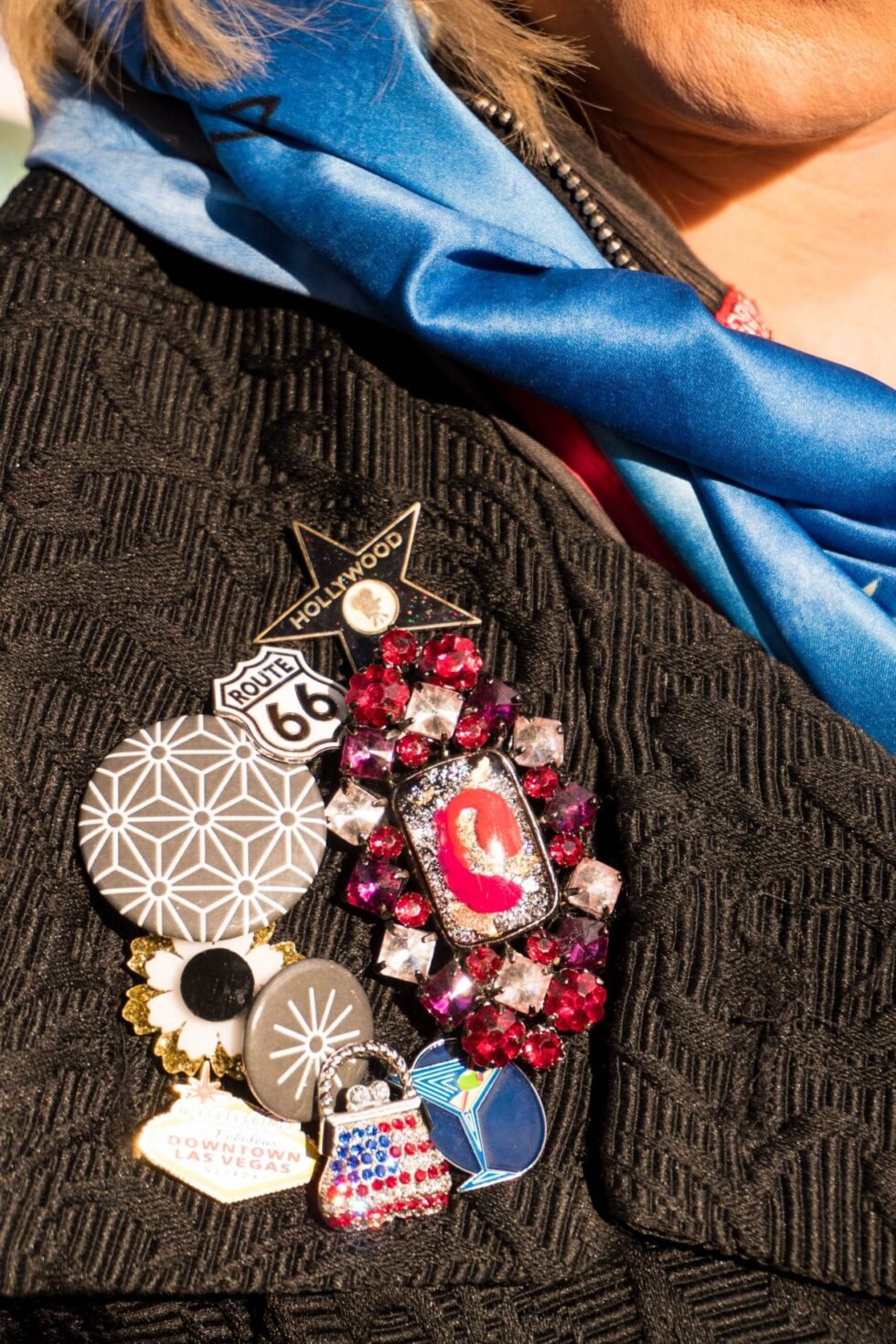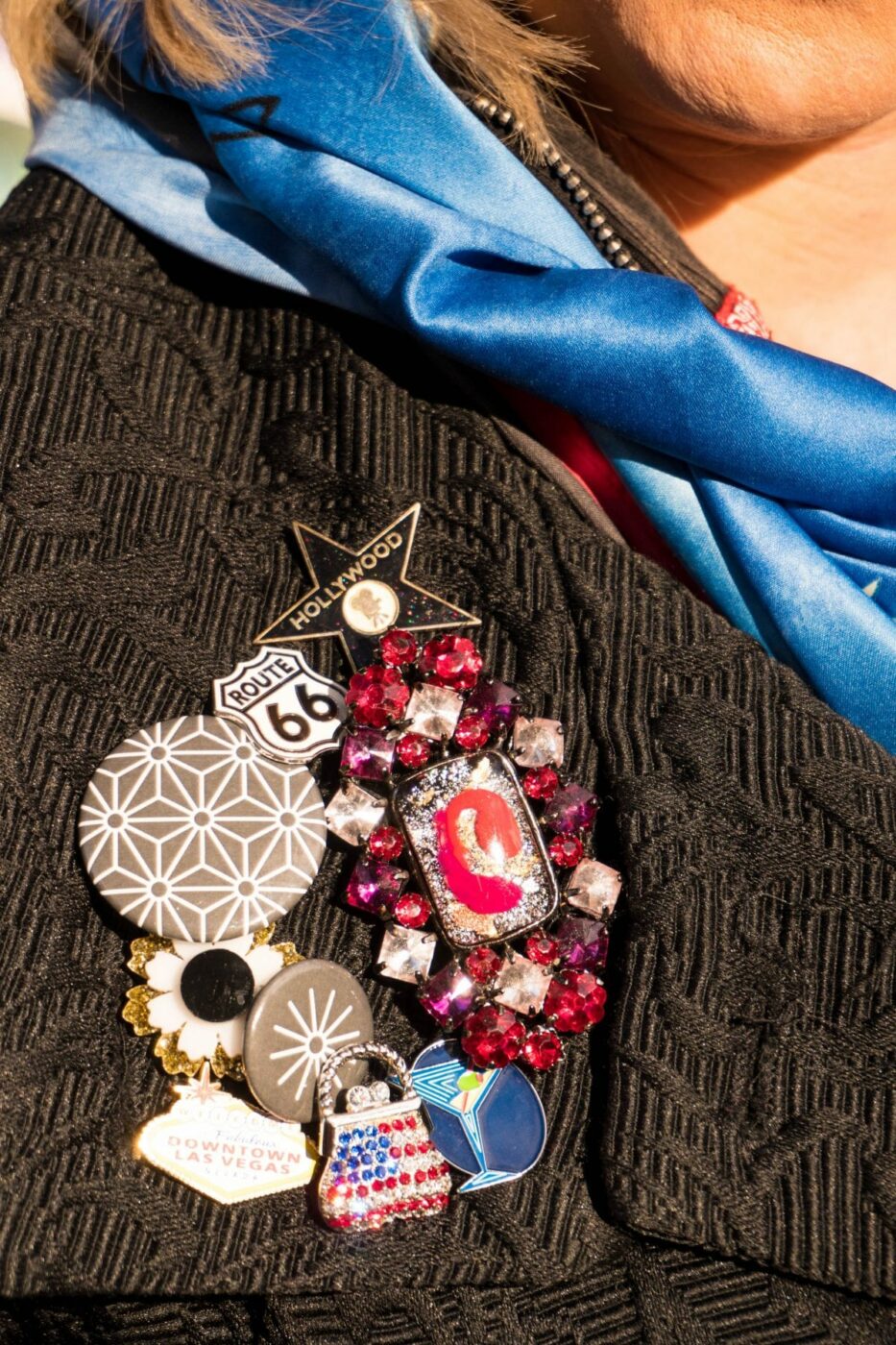 Yes, it's a super cool jacket, but the pins make it….and when people ask about it, there's a story to tell about each pin…
How do I use travel souvenir pins + patches? | Travel Souvenir Ideas
Notice I do move my pins around on various garments depending on what I am wearing and where I"m going. The photo above and below was taken at Kelburn Castle in Scotland. To see the Kelburn Castle and its cool graffiti wall art by Brazillian street artists – click here to read my mom's post about the Kelburn Estate and graffiti project.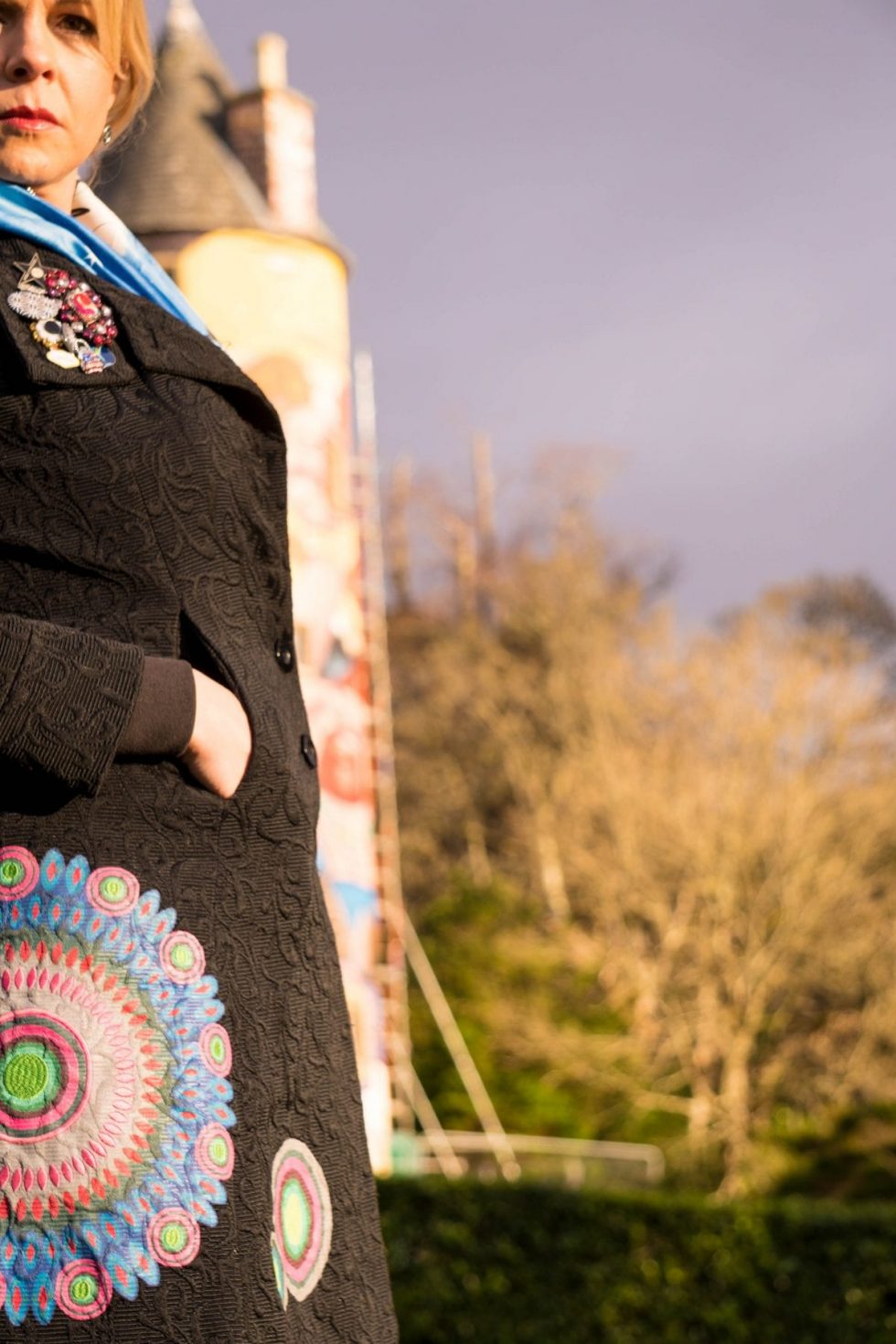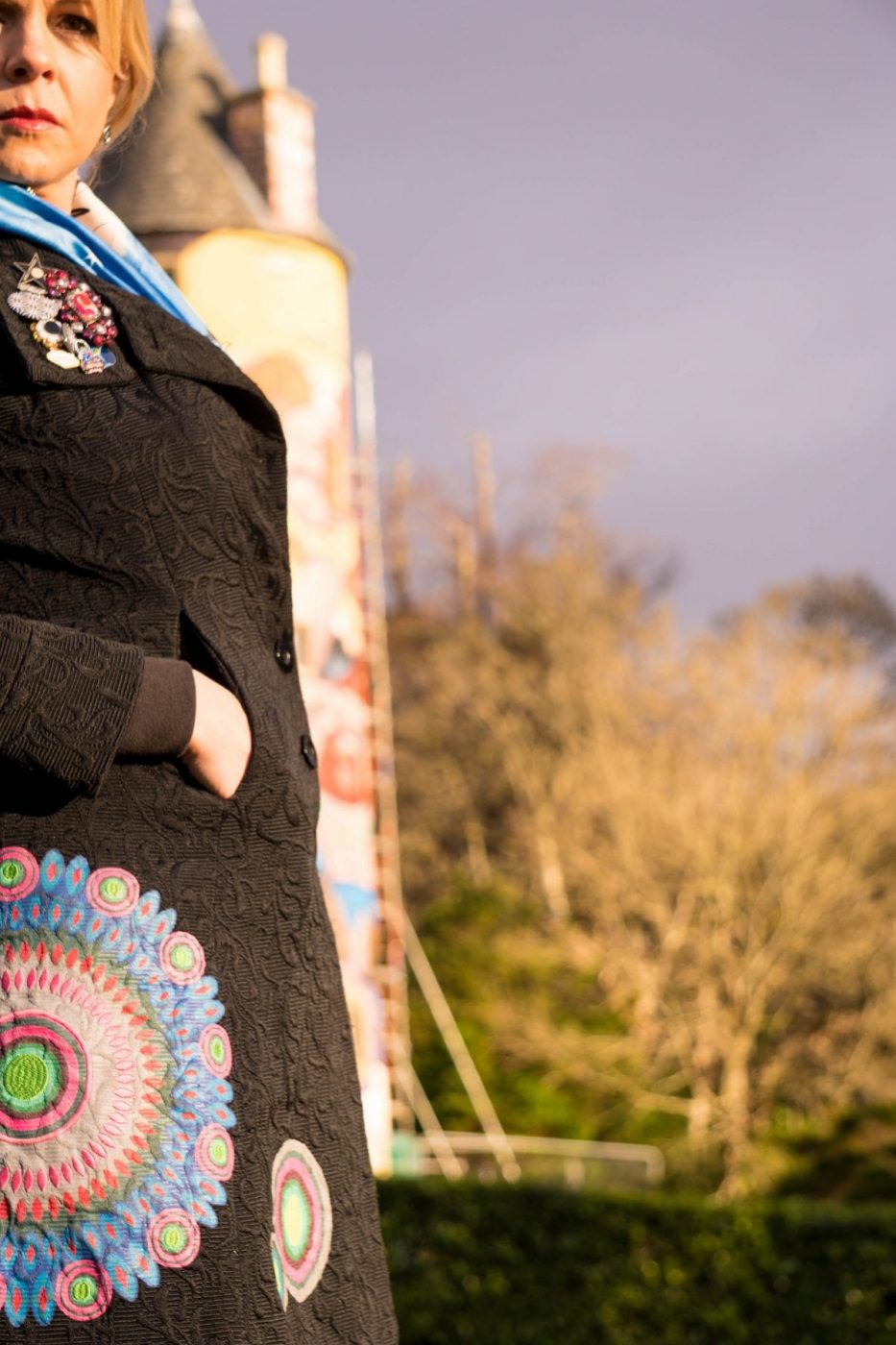 Where do I get my souvenir patches + pins? | Travel Souvenir Ideas
This collection of pins and patches ranges from several of my travels. I don't try to stick with a particular region. For the most part, I place them based on colors and outfits that I may be wearing. On the pink suit jacket below, I have placed pins from as far as Paris, France to Scotland's Holyrood to London England's Underground and Henry the VIII's Hampton Court – all the way back to California USA where I picked up the Route 66 pin in Palm Springs and then the Hollywood pin from Hollyweird. The Raiders pin was gifted to me in Las Vegas when the Las Vegas move announcement was made.
My mom bought me the crown last year for my birthday while we were visiting Hampton Court. It represents Anne Boleyn and my love for the Netflix show — The Tudors. Warning: Be prepared for a Netflix marathon.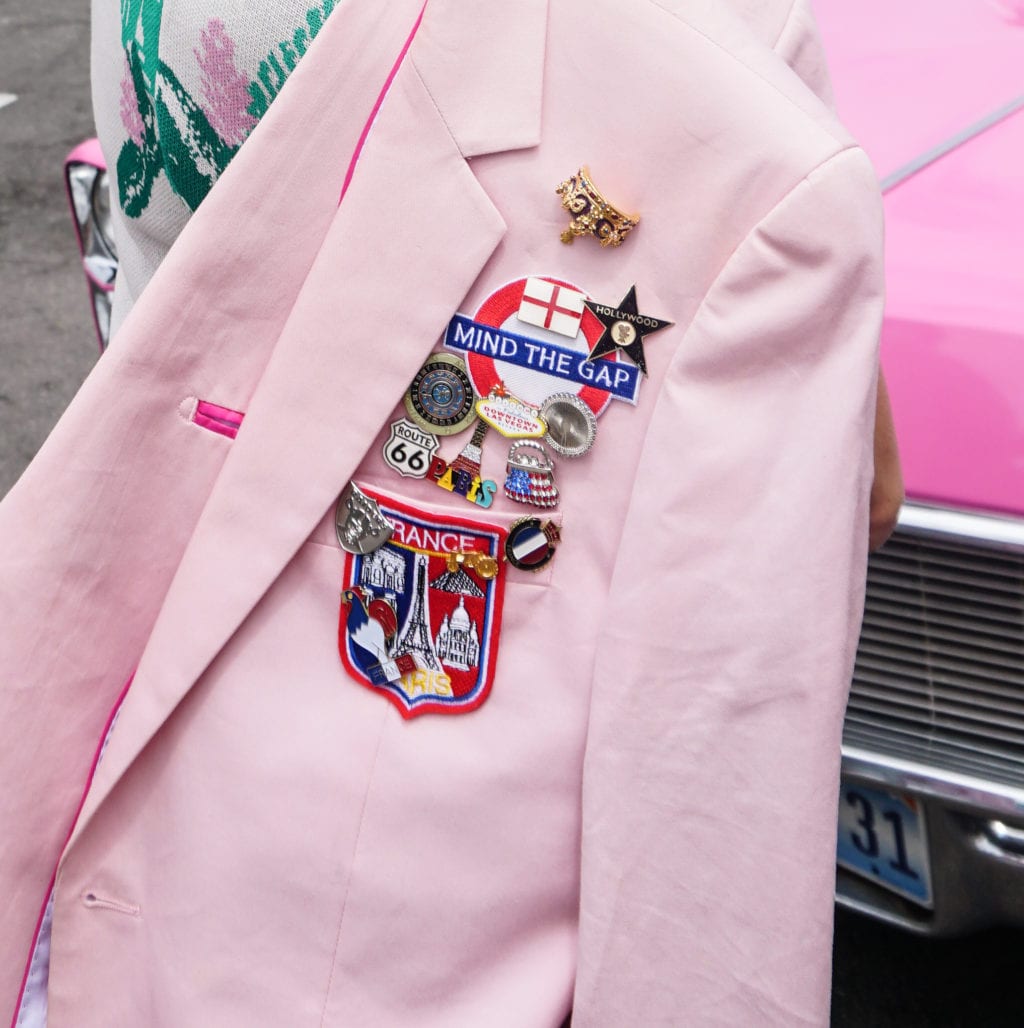 I immediately put my pins and patches to use. | Travel Souvenir Ideas
Instead of taking my pins and patches home to sew on or use later, I often use them on outfits right away.
When I bought my Sacre Coeur patch in Montmartè in Paris, I immediately put it on my new leopard skin purse that my mom had gifted me for Christmas. I just added it by pinning the small French flag and Eiffel Tower pin. And no, I am not afraid of "ruining" something. If I can't make my outfit or items that I purchase mine, then whose items are they anyway?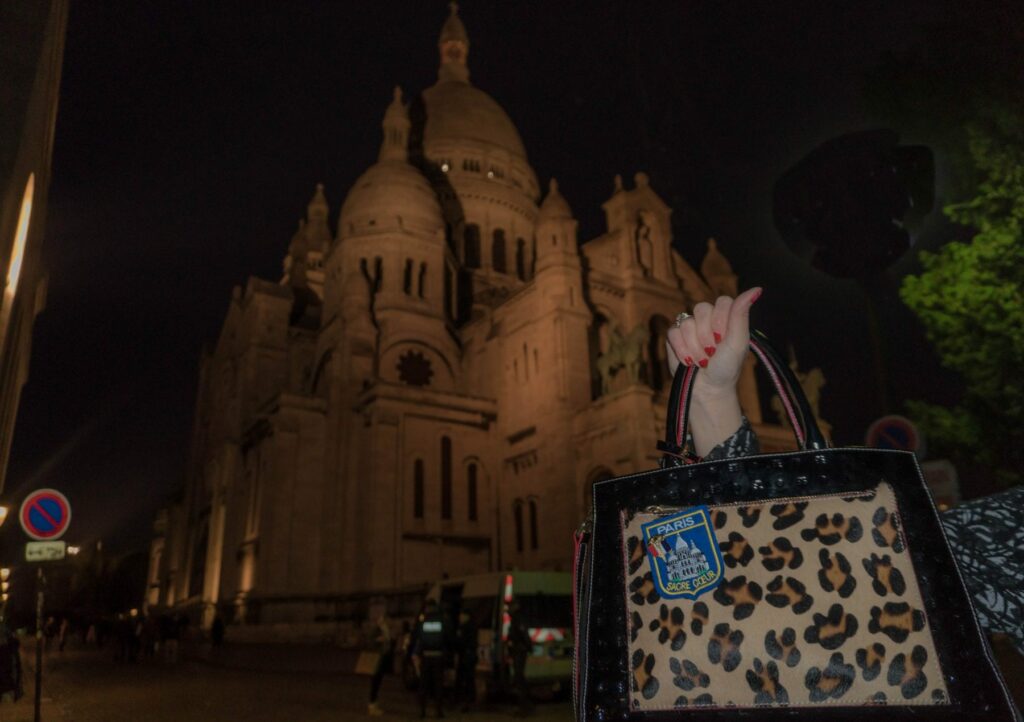 Hopefully, this inspires you to go digging through your drawers and put those pins to good use. Plus, you'll have your own story to tell.
Got any other good travel souvenir ideas? Pins? Patches?
Please do comment below or just say "hello" from wherever you are in the world! 
Cheers!
Christi
P.S. This Rocks! RockStar Pins and Rockstar Pins available exclusively on my new CHRISTI TASKER MIAMI shop. 
My black damask coat with the colorful graphics on it is vintage from the brand Desigual and was originally carried in Ambiance Interiors & Gifts, my store that was in the pink house in Suwanee, GA.
The leopard purse is a designer handbag that my mom bought at TJMaxx. It's a brand called "Arcadia Made in Italy". I love their handbags! They have great style and excellent value…and most importantly….they are good quality leather. The patented leathers are my favorites.

I'm Christi Tasker, serial globetrotter, product & interior designer, Glamma Gaga, NBC social media correspondent, podcaster, freedom fighter, brand & business consultant, entrepreneur's best friend, artist & multi-business owner.