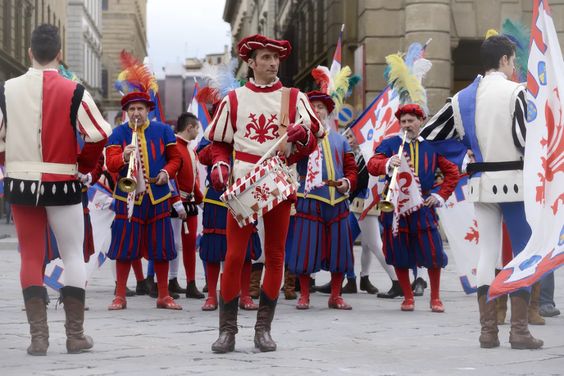 Spectacular Easter Celebration In Florence, Italy Called " Explosion of the Cart" 2020
Italy's Most Famous Easter Celebration "Explosion of The Cart" or the "Scoppio del Carro" in Florence, Italy
Last Easter, my mom made a beautiful Easter dinner in Scotland. She and I had hopped the pond to Scotland to the Scottish west coastal town of Largs, where my mother-in-law lives full time. My mom loves it so much she "visits" about six months of the year. Mom and I were departing for Italy to one of my new favorite art & manufacturing show called MIDA in Florence, Italy (aka. Firenze). When we arrived in Florence the Monday after Easter the Firenze authorities were cleaning up from the "Explosion of the Cart" celebration.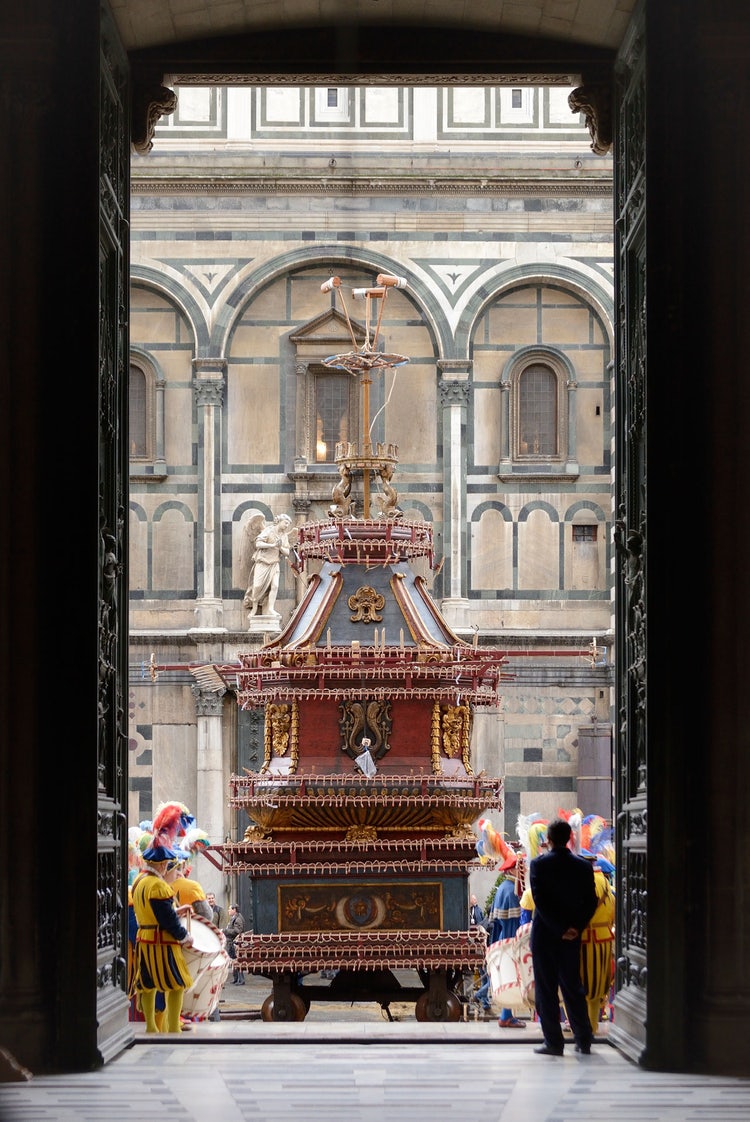 For some reason, as a Christian, I wanted to go to Florence for Easter. Being in the epicenter of the art of the famous Michaelangelo, I knew Florence's celebration was more than Largs beheld. My mother was right, it was more important that I attend church with Mum, my husband, Boyd's mother followed by a lovely Easter roast dinner prepared by my mom.
Sadly, upon arriving in Florence, we arrived just in time for the clean up of "Explosion of the Cart".
What is the "Explosion of the Cart" or the "Scoppio del Carro"?
Dating back over 350 years, the cart was built in 1622. It's approximately two or three-stories and is an elaborately built wagon. Decorated with garlands and pulled through the historic streets of Florence, Italy, both led and followed by patrons in costumes in historic fashion. The final destination of the cart is located between the Baptistry and the Cathedral.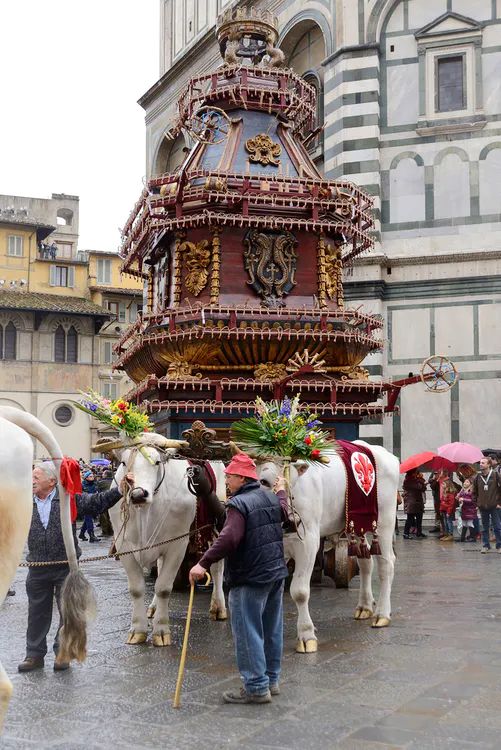 Starting around 10 am, a priest rubs three flints together (keep reading to the end to see what the three flints symbolize) until they spark to light the Easter candle. The candle is then used to light coals placed in a container on the Cart. Complete with a band of music and flag twirlers or flag throwers, city officials, the procession delivers the Holy Fire to the Archbishop of Florence before Santa Maria del Fiore, better known as the Duomo in Florence, Italy.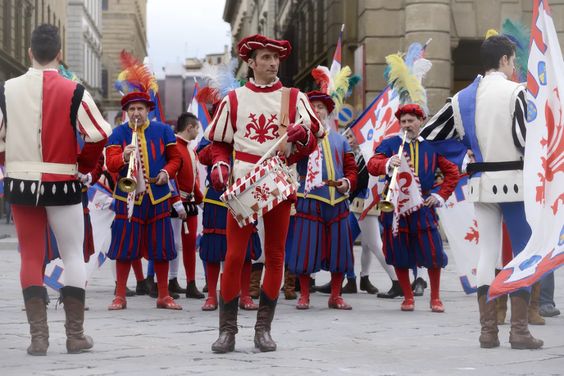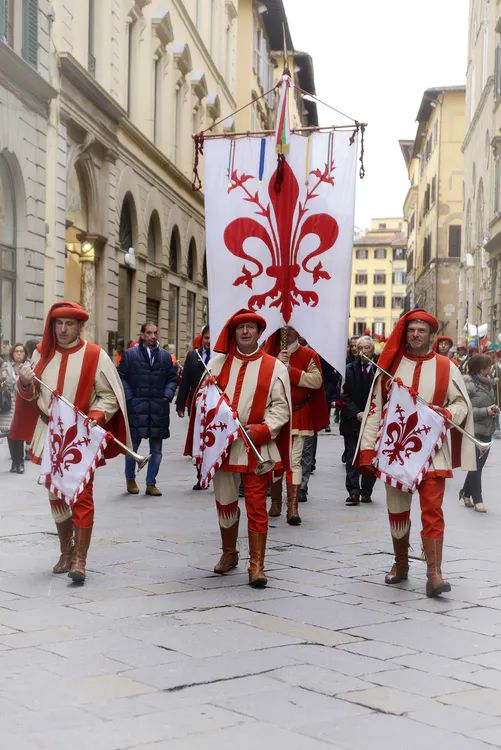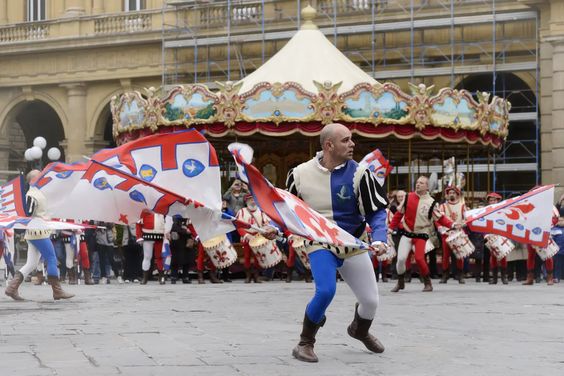 The 350-year-old arsenal of fireworks tradition begins when the cart arrives at the Cathedral alter around 11 am on Easter Sunday. When the "Gloria" is sung inside the Cathedral the Archbishop lights a dove-shaped rocket called the "Colombina" which symbolizes the Holy Spirit. The dove flies down a wire and sets the explosion into motion.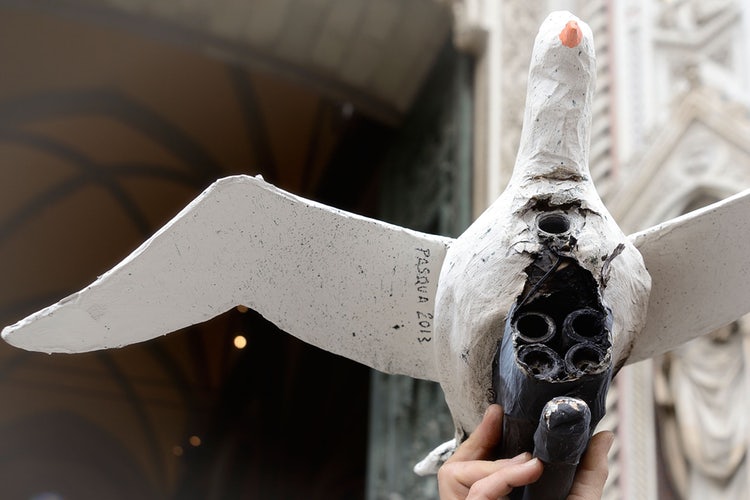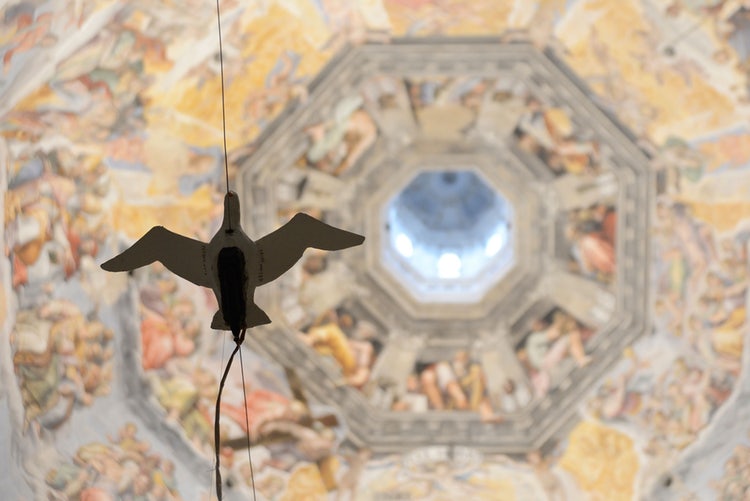 A good explosion symbolizes a good harvest and a good year for all to come. While I believe that God is in control and not a bunch of fireworks, the celebration of home and community is amazing.
Click Below To Watch This Video To See Explosion of the Cart, Scoppio Del Carro Pasqua:
Watch the video above by clicking the arrow to see the Explosion of the Cart celebration on the streets of historic Florence.
How Do The Flaggers Practice for Explosion of the Cart Procession?
Watch the video above if you're interested in seeing how the flaggers practice for the procession.
Where & How Did the Explosion of the Cart Begin? Scoppio Del Carro Pasqua
Because of the lack of evidence, the Explosion of the Cart is partly historic and part legendary, meaning some of this part of the story may or not be real as I know it. The story goes like this…
Scoppio Del Carro began with a young Florentine gentleman named Pazzino. He is a member of the noble Pazzi family. Apparently, he took part in the First Crusade in the Holy Land in 1099. In proving his courage, Pazzino was the first to scale the walls of Jerusalem and raise the Christian banner. When he came home to Florence, he returned with three flints from the Holy Sepulchre that he received for his courageousness. This reliquary, today preserved in the Church of SS. Apostoli, lies behind the Florentine celebration for the Resurrection of Christ.
Today, the ceremony still bears a strong resemblance to how it has been celebrated for centuries. But unfortunately, for the first time since World War II (WWII) the symbolic ceremony has been canceled. Thank you Dorin Vasilecu captured this image in front of the Duomo with this message, "Instead, as a symbolic gesture, The Archbishop of Florence Giuseppe Betori accompanied by the Mayor of Florence @dario_nardella carried a candle out in front of the cathedral."
https://www.instagram.com/p/B-3_4K2nTfe/?utm_source=ig_web_copy_link
https://www.facebook.com/psthisrocks/videos/875359769597527/
How Easter 2020 Will Forever Go Down In History
Today is the first time since I can remember is the first time I have not been to church on Easter Sunday. It is the first time I have not been with my husband, my family, my daughter, and I'm missing being with my grandson on his first Easter.
Easter 2020 Church Services Online | How I Celebrated Easter
I hope that you and your family found an amazing service to attend online. If you need services, my grandfather, Cecil preached an amazing service on his Facebook Live. As a child, of course, I attended my grandfather's churches. I had a total of three grandfathers growing up. Two of those three ministers. Papa Cecil and Papa Clack.
Later as an adult, I began attending Free Chapel Worship Center, a non-denominational church in Gainesville, GA. Fortunately, I can attend this service online each week. Plus, I attend my local Vous Church in Miami. I'll include all three messages embedded for you below:
Cecil Reeves, Georgia Pastor of High Shoals Baptist Church
https://www.facebook.com/cecil.reeves.5/videos/2586722938249070/
Jentzen Franklin, Free Chapel Worship Center | Multiple Church Locations in Georgia & California
My pastor in Georgia, Jentzen preached a beautiful message in his home with his family. It's really cute how he incorporated his grandchildren:
The Church Service President Trump Watched On Easter 2020
As a Christian, it's nice to finally have a President who is not afraid of his Christianity in the Oval office. In case you missed President Trump's news briefing last week. He said he would be watching Pastor Robert Jeffers's Easter services remotely from the White House.
Pastor Robert Jeffress Easter Service Live Stream
From First Baptist Dallas, click below to watch Pastor Robert Jeffress's lived stream service:
President Trump's Easter Blessing Message To The American People
If you're of Christian or Jewish faith, love Trump or hate him, we should all be supportive in the solid beliefs of religious freedoms our nation is founded upon. For as long as I can recall, I've never seen a President mention God, Christianity, or Judaism as much as President Trump.
Easter 2020 Life Changes
While many of us are doing as we are instructed by local and national authorities. I believe God has a reason for EVERYTHING! I've learned this so many times I have rarely bother to question His intentions. Why? Because in the end, I know and believe through FAITH that He has our best intentions. While it's been a long time coming, and after many jokes of Trump, I believe he is the Trumpet that will sound for the best interests of the American people which are founded on Christian principles.
I realize a lot of you may feel differently in my views. Feel free to let me know in the comments below. I'm an open book and have lots of friends that practice different religions. Feel free to express your thoughts and feelings. This post is not intended to offend anyone, it is a celebration of our rights to freely worship and to express our patriotism for our countries founding beliefs.
Learn More About Future Explosion of the Cart and Other Events In Florence, Italy
Find out about all major events in Florence on the Visit Florence website.
What's Next? 
P.S. This Easter celebration reminds me of the Procession of the Torches on New Year's Eve (aka. Hogmannay) in Edinborough. Scotland. Have you seen that post? if not, click here to see the amazing Hogmanay festivities.

I'm Christi Tasker, serial globetrotter, product & interior designer, Glamma Gaga, NBC social media correspondent, podcaster, freedom fighter, brand & business consultant, entrepreneur's best friend, artist & multi-business owner.