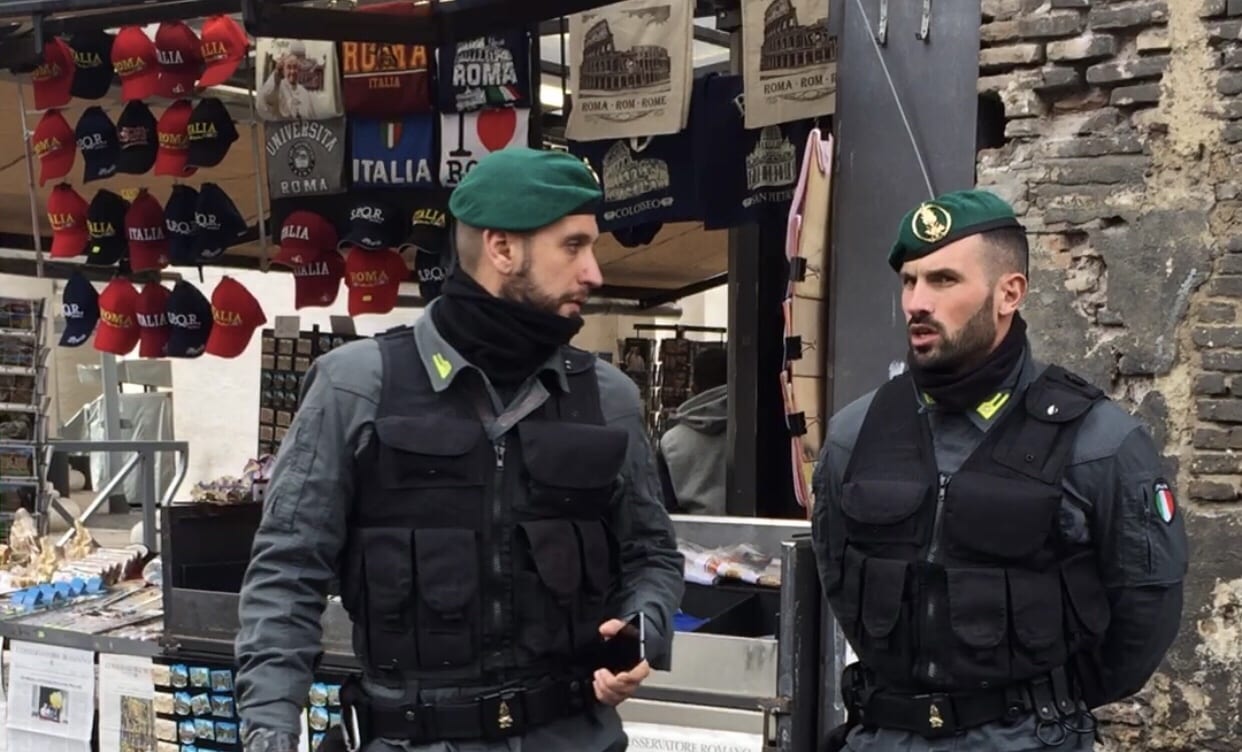 My Rendezvous With A Thief In Rome, Italy + How The Italian Police Responded
My Rendezvous With A Thief In Rome, Italy + How The Italian Police Responded
Traveling from a medium sized town in southern Italy called Perugia, Boyd, our new found journalist friend Mike, and I jumped off the train eager to explore Rome. Excited for a dinner in the heart of Rome at Mike's favorite restaurant, we exited the train station. Euros were low and Boyd spotted an ATM on the way out.  Mike and I decided that we would make use of the pitstop and the restrooms were near. We left Boyd with four pieces of luggage and my purse. Not a worry crossed my mind. There were two Italian police officers standing within 10-feet of our luggage. ATMs are always equipped with cameras. I saw no harm in site.
Within a couple of minutes, Mike and I returned to the ATM where Boyd was still standing. I refuse to pay the 1€ charge to use the public toilets when I can pop in a coffee shop and use their loo for a shot of espresso. Neither Mike nor I had euros anyway. About 5 seconds after returning to the ATM, I felt like something was missing. I did a baggage count and realized my bright red Kate Spade patented leather purse was missing. My first instinct was shit! Where is my phone? I never leave my phone in my purse, but this time I had. I wasn't even thinking about my passport. Sadly, I was thinking about my communication device.
I turned to the police who were still standing there. They pointed me to the police station to fill out a report. I ran. And ran. And ran. And ran. It felt like it took me 20 minutes to run down the train tracks to the little hole in the wall with the "Poliza Station" sign. I buzzed to enter. There was a voice that said "enter" yet there was not an officer that I could see. There was another couple that was ahead of me so I wasn't in the box of a room all by myself. The signs in multiple languages that stated to "WAIT" until an officer greeted us. At that point I felt like the "enter" over the call box was may have been my greeting.
While we waited, the nice Turkish gentleman with his wife asked me if I had something stolen. They were reporting his wife's cell phone missing. They never saw anyone near them yet her phone disappeared the minute they exited the train. He even went back on the train to look for her phone where she last had it in her hand. It was nowhere to be found.
After a few minutes, my new found friends and I became agitated. At first, I thought it was just me. The Turkish couple had been in the Polize station long before me and no officer showed their face. All three of us got up and begin knocking on each of the three doors to demand that someone speak to us. An officer came out and handed us both a claim form written in Italian thankfully with English translations.
I filled in the form. At the time, I couldn't begin to recall everything in my purse – my back up Canon One Shot camera which I was using because my only lens on my Sony camera quit working, my iPhone 6 plus (fortunately I had not upgraded yet), American dollars, all of the business cards from my 50+ meetings with all of the manufacturers I had just met in South Italy, my makeup, a couple of tubes of Chanel including color No. 99, and so much more. I mean a purse is a lady's life, right?
Shortly after filling out the report, Boyd was buzzing at the police station door telling them that his wife was inside. After they didn't act, I opened the door to let him in. When he entered, he had my red purse in his hands with almost everything inside! Well, almost everything. The thieves had taken valuables such as my camera, Euros, and of course, my iPhone. They left my passport, driver's license, some of the beauty products, a few American dollars, tampons, and most of the business cards. Everything felt scattered and I felt violated in a way that I've never felt violated before, yet, at the same time, I felt grateful.
I am extremely thankful that the police quickly found my purse, however, I can't fathom to think why they can't seem to stop thieves if they are doing as the police told Boyd which is dumping the unwanted articles in the same places within the train station. Fortunately, the police knew exactly where to look for lost or stolen items. As much as I want to think they aren't a part of the problem, I have too many inbox messages of theft in the same exact area and throughout Rome to think otherwise….and those stories are just among the people that I know.
Hindsight is 20/20 for me. Hopefully, these travel tips will prevent you from theft while traveling even if you feel safely guarded by machine guns!
Click here to see what I would do differently if I had the day to do over again.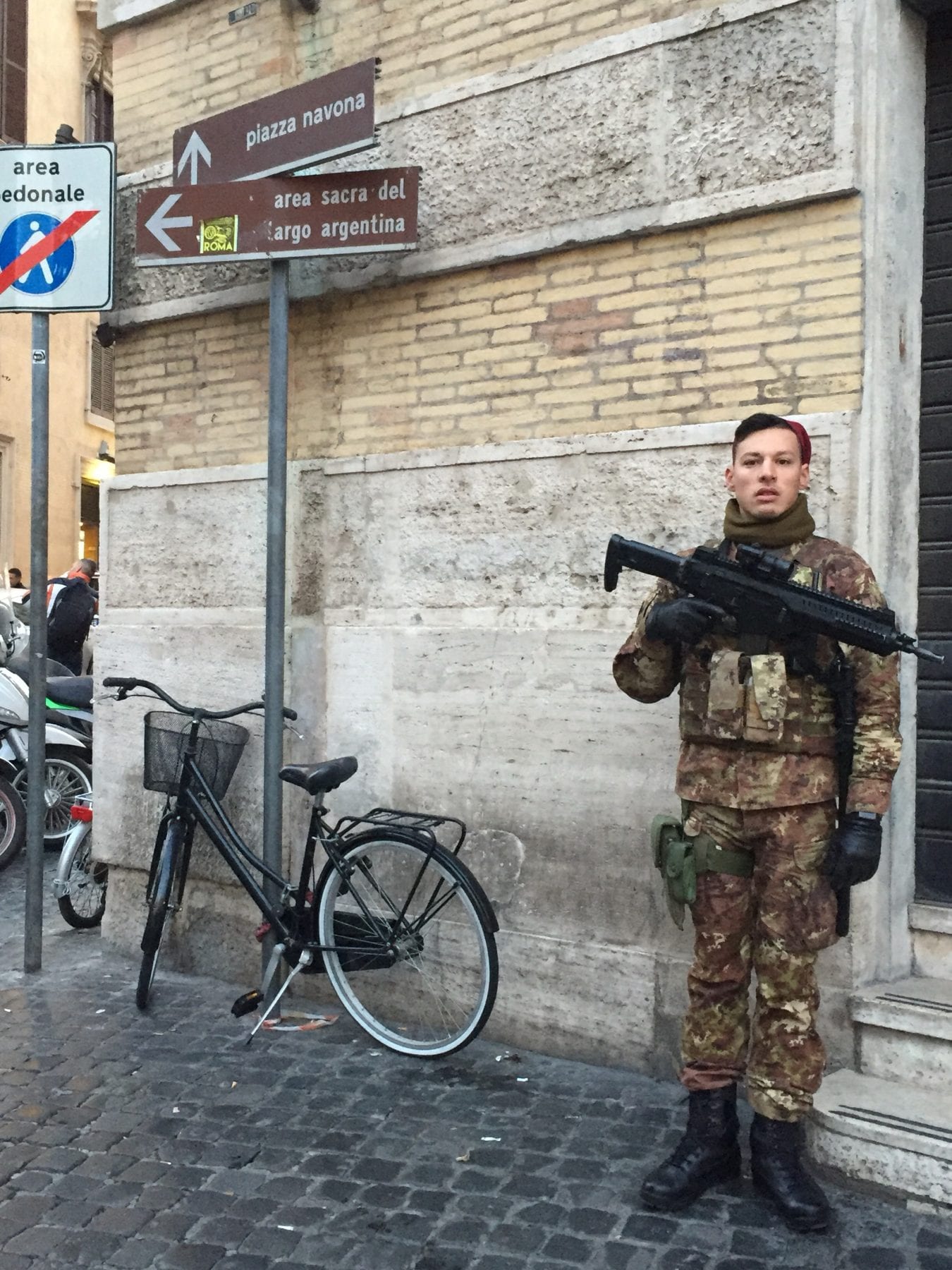 Please share any tips to help others stay safe and prevent theft while traveling. Feel free to share your stories below.

I'm Christi Tasker, serial globetrotter, product & interior designer, Glamma Gaga, NBC social media correspondent, podcaster, freedom fighter, brand & business consultant, entrepreneur's best friend, artist & multi-business owner.