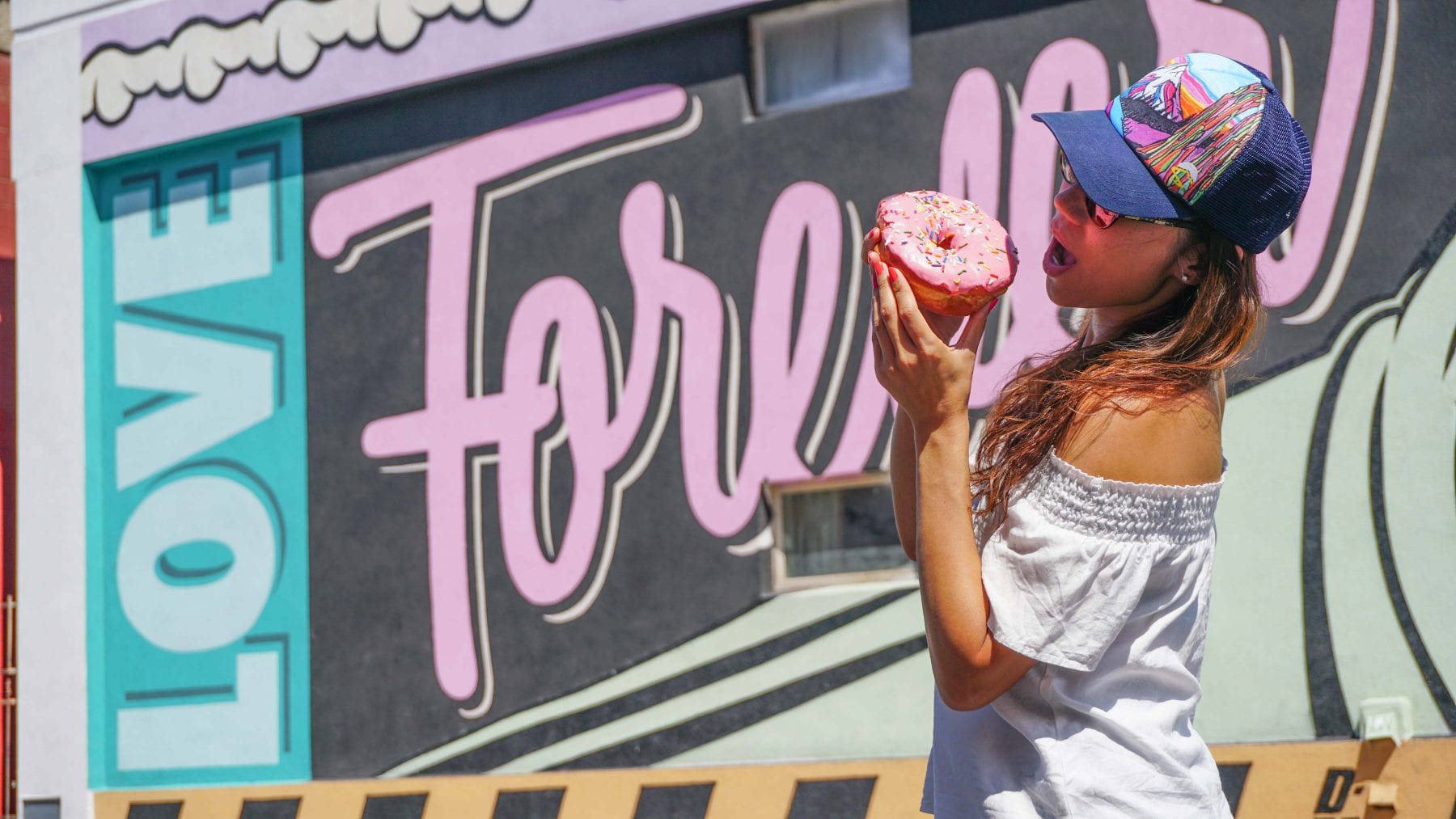 Best Donuts In Vegas | Donut Bar, Home of Crackin' Creme Brulee, 1-LB Pop-Tart & Grilled Cheese Donut
Looking For The Best Donut In Las Vegas?
Enjoy Cold Barrel Brewed Coffee or Beer at the same time at Donut Bar Vegas!
Downtown Las Vegas artisan bakeshop called Donut Bar put the "sin" in Sin City!
No matter when you wake up in Vegas, Donut Bar Vegas has located steps from the infamous Freemont Street & zip lining tour. After indulging in the best donuts in Las Vegas, you'll need to add the steps to your Apple Watch or FitBit. Trust me….one of the most sinful parts of Sin City (aka Las Vegas) is not The Strip. Or gambling in the casinos. Or dining in the finest restaurants known to man. If you enjoy these, also check out https://www.shotgun-willies.com/
The oversized Pop-Tart donut comes weighing a full one pound and has a POP-TART in the middle!!! Yep, that's right, a 1-LB pound donut with its Pop-Tart fried inside. This thing is HUGE!!!! It's like a cake. Bring your friends and share the love, so your hips aren't hated later. Try the grilled cheese donuts at the Donut Bar Vegas too!
Watch The Donut Bar Vegas Video – Meet The Owners, Discover a Tony Hsieh & Other Las Vegas Celebs Inside Secrets
Come with me and my friend and Mandarin translator, Virginia Lui! Let's go one block from my second PuTTin' OuT Las Vegas office location at the Ogden, where Tony Hsieh, Chief Happiness Officer of Zappos, lives. Rumor has it that Tony is equally a fan of Donut Bar Las Vegas.
Watch this video to go inside Donut Bar Vegas and see who else loves brothers Jeff and Joe (yes, he's a Joe who was serving a cuppa joe) who own Donut Bar Vegas…
And the creme brulee donut is to die for…..just listen to the brulee crack…..
Watch this video to hear the crack of the creme brulee donut….
Donut Bar Vegas | The Pop-Tart, Maple Glazed Bacon Donut, and Regular Oversized Donuts
Just look at the size of the Donut Bar donuts!!! The Pop-tart donut is stuffed with a real Pop-tart!!! The maple bacon donut has an entire strip of maple-glazed bacon on top! I love bacon donuts here and at Salty Donuts in Wynwood Arts District Miami. The creme brulee donut is shown below in the center….it cracks when biting into it.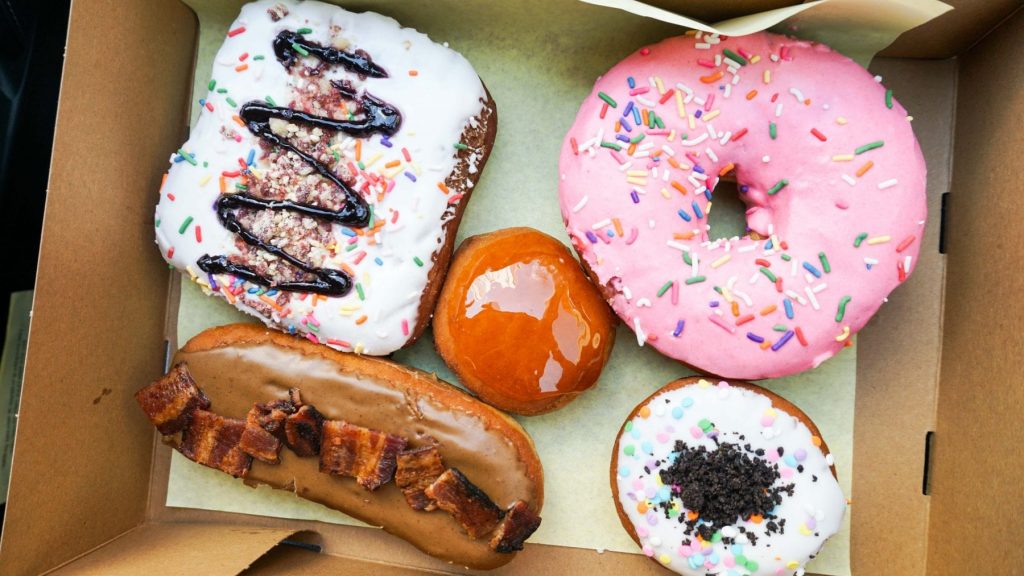 Walk Downtown Vegas To See The Awesome Street Art After Indulging at Donut Bar Vegas
Not only does Downtown Las Vegas have Donut Bar, but there's tons of great new wall art…including work by Sheppard Fairey. Exceptionally, "Be a Maker, Not a Taker!"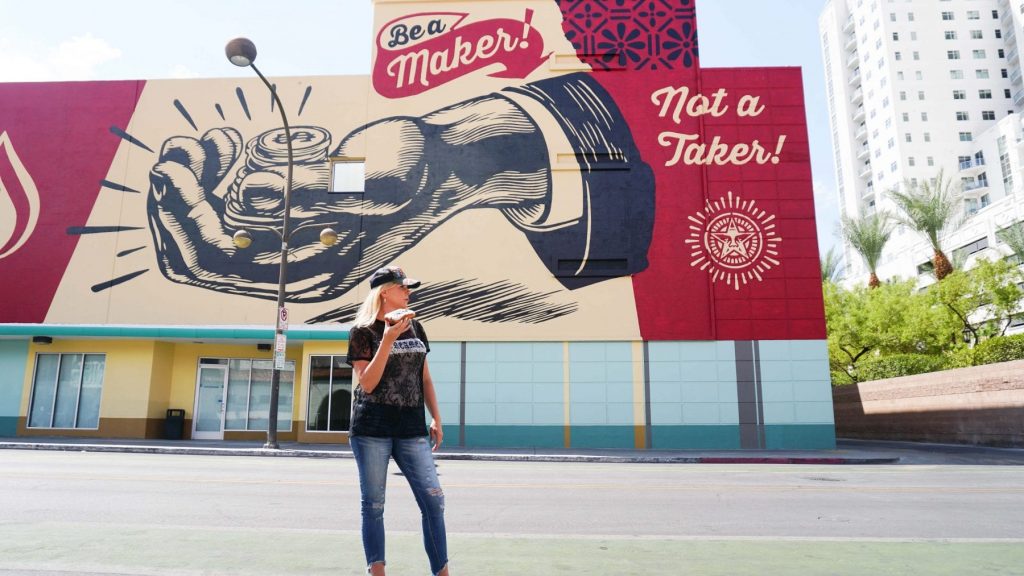 I mean, seriously, my best Asian friend in the whole wide world can barely fit her hands around this donut!!!
Donut Bar donuts are larger than Virge's face!!!!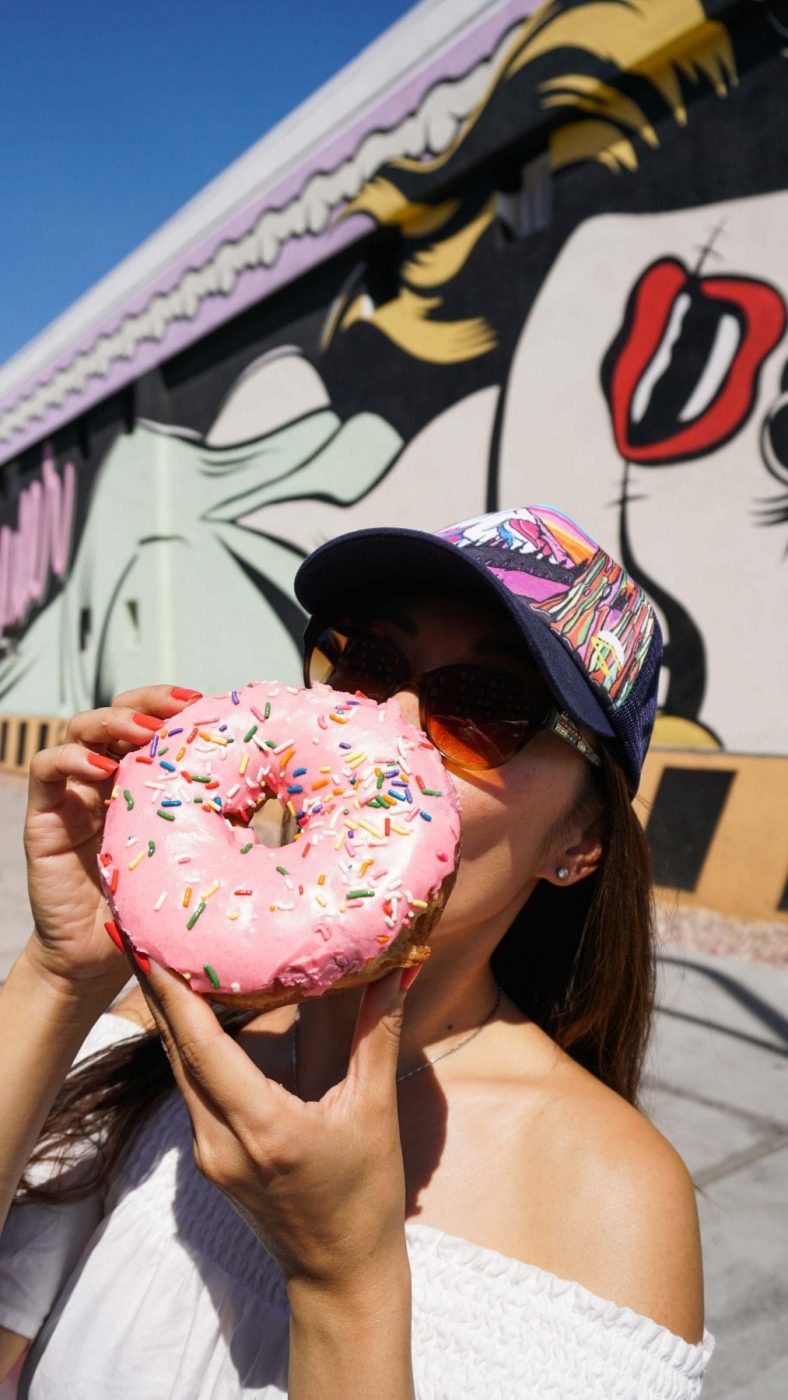 Not only are they big and beautiful, but Donut Bar donuts are also full of flavor. There's just one caveat…because it's Vegas, YOU MUST EAT THE DONUTS WHILE THEY ARE FRESH! Remember…there's no humidity in the air in Las Wages.
I don't even like Pop-Tarts, but I love this donut!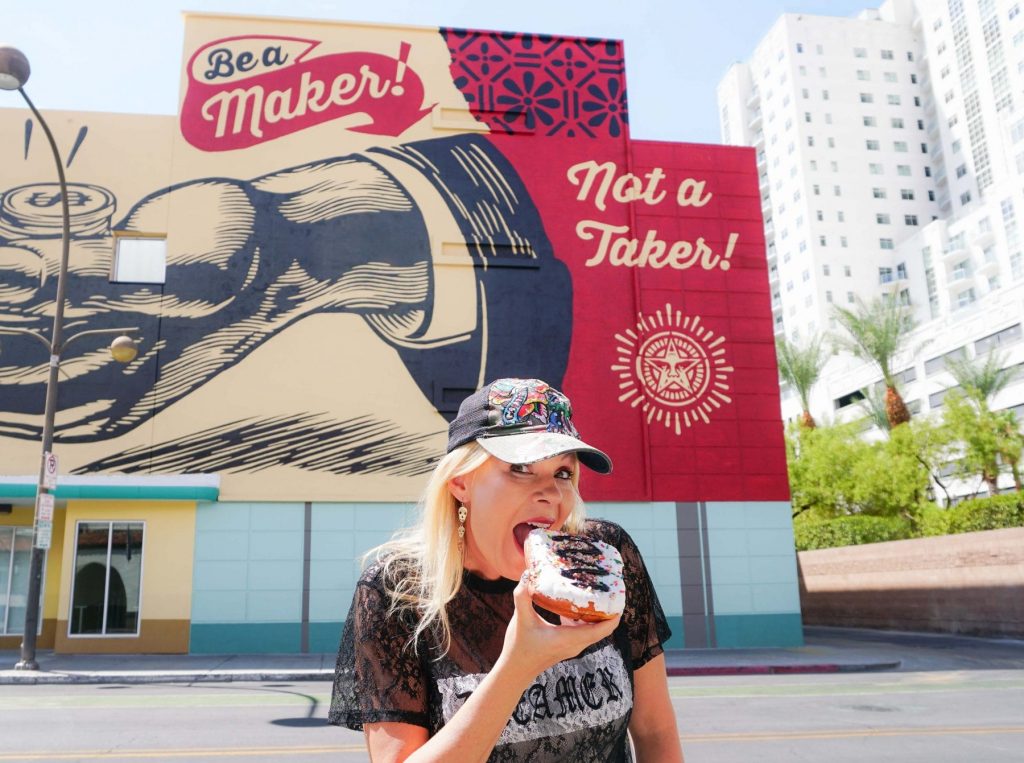 Virginia, thanks for being a fantastic photographer + model with all the other things you're good at!
Jeff & Joe, you both ROCK! Your P.S. This Rocks ROCKSTAR sticker will be in the mail this week!
Friends & readers, if you all like this, please comment below or share the post or one of our videos with a friend….it's the only way we know you're reading!
P.S. After you finish stuffing your faces and bellies on this travel journey, head over to the Historic Neon Sign Bone Yard to see all the old Vegas neon signs.
P.S.S. Just in case you missed my 7 Fun & Free Things To Do on The Vegas Strip – click here to save big in Las Vegas. 

I'm Christi Tasker, serial globetrotter, product & interior designer, Glamma Gaga, NBC social media correspondent, podcaster, freedom fighter, brand & business consultant, entrepreneur's best friend, artist & multi-business owner.