42 Best Venice Carnival Costumes From My Trip To Venice, Italy's Famous Carnival
Just a few weeks ago, Boyd and I hopped the pond to Italy. Our trip started in the most southern tip of Italy with a short personal trip to Venice. While we were on business in the south, everyone was raving over the Italian version of Mardi Gras called Carnevale Venezia. Everyone on the first leg of our trip commended us on our excellent planning for being able to see the best masks and costumes that I would ever lay eyes on.
At first, I was concerned that we were throwing ourselves into the mix of chaotic parties. Little did I know that Carnival is somewhat the opposite in level of sophistication in comparison to the American New Orleans version of Mardi Gras which I've always avoided.
Watch this to see the best masks and costumes of Carnival in Venice or Carnaval, Venetia Italia for my Italian friends:
One of the best parts of this trip to Italy and Venice is that we did very little planning prior to the trip. Starting with business meetings with the Italian Trade Commission, we just asked the Italians with good taste where they liked to go. Honestly, this is how Boyd was convinced to visit Venice vs. the leaning Tower of Pisa.
1. Full Metal Face. This guy's metal mask and chromed leather shoes are awesome! Keep going because we save the best for last!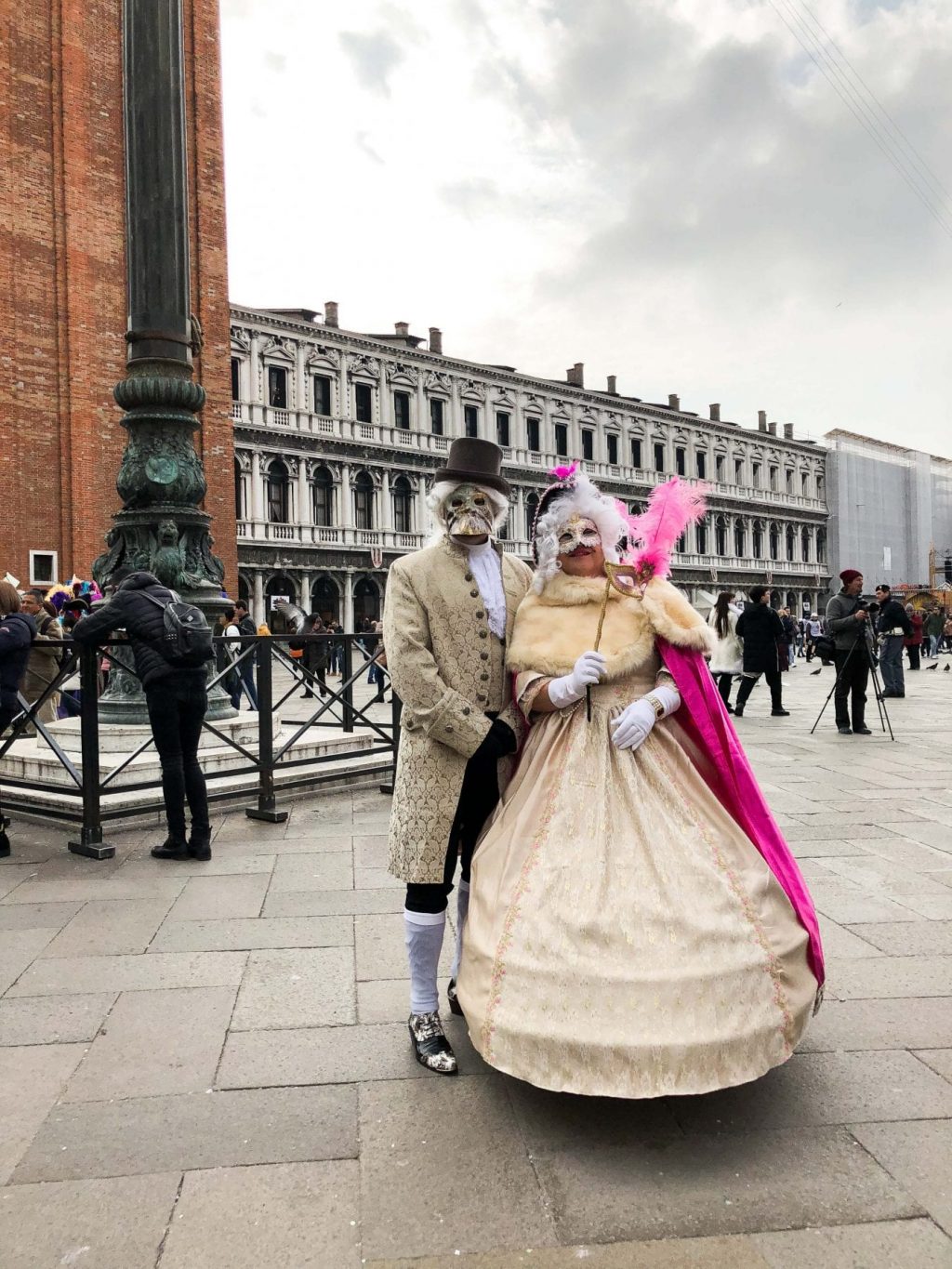 My work sidekick and graphics creative director, Adriana had already recommended that we skip Pisa on the first trip. She said we would be disappointed.
2. Deer in headlights. The deer head mask and toile dear fabric in his costume mixed with chartreuse tassels and ball fringe were to die for. Then, he tops it off with a cane, complete with a prancing deer ornament.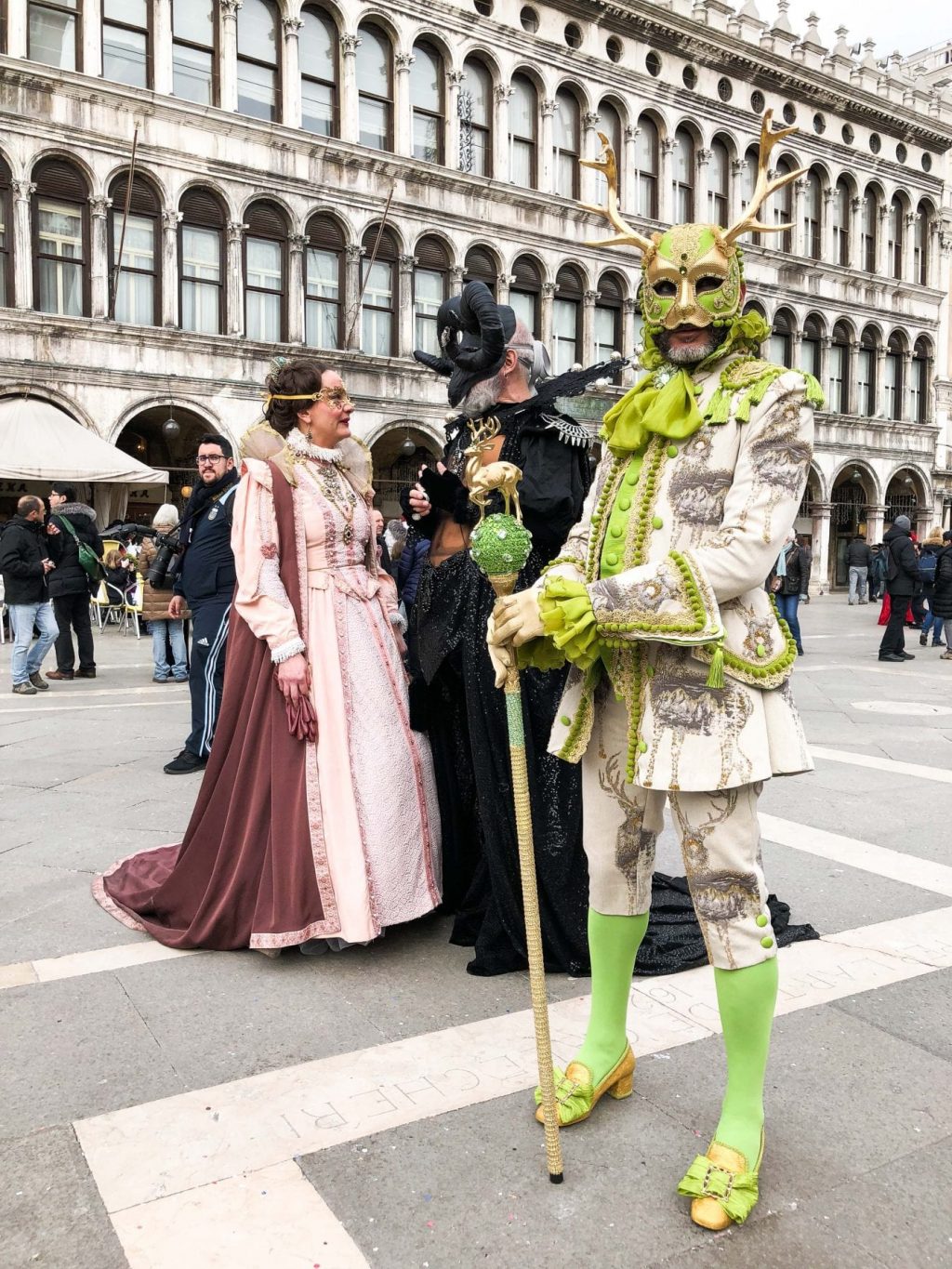 Venice carnival costumes, Venice carnival 2018 photos, Venice carnival, Carnival Venice Italy, Venice Carnival, Carnevale di Venezia
3. New wave of jesters in town. Carnaval had not even officially begun and I knew she was right! I mean look at the creativity of these masks and costumes made of cut foam. A lot of cut foam. Hours, and hours of cut foam.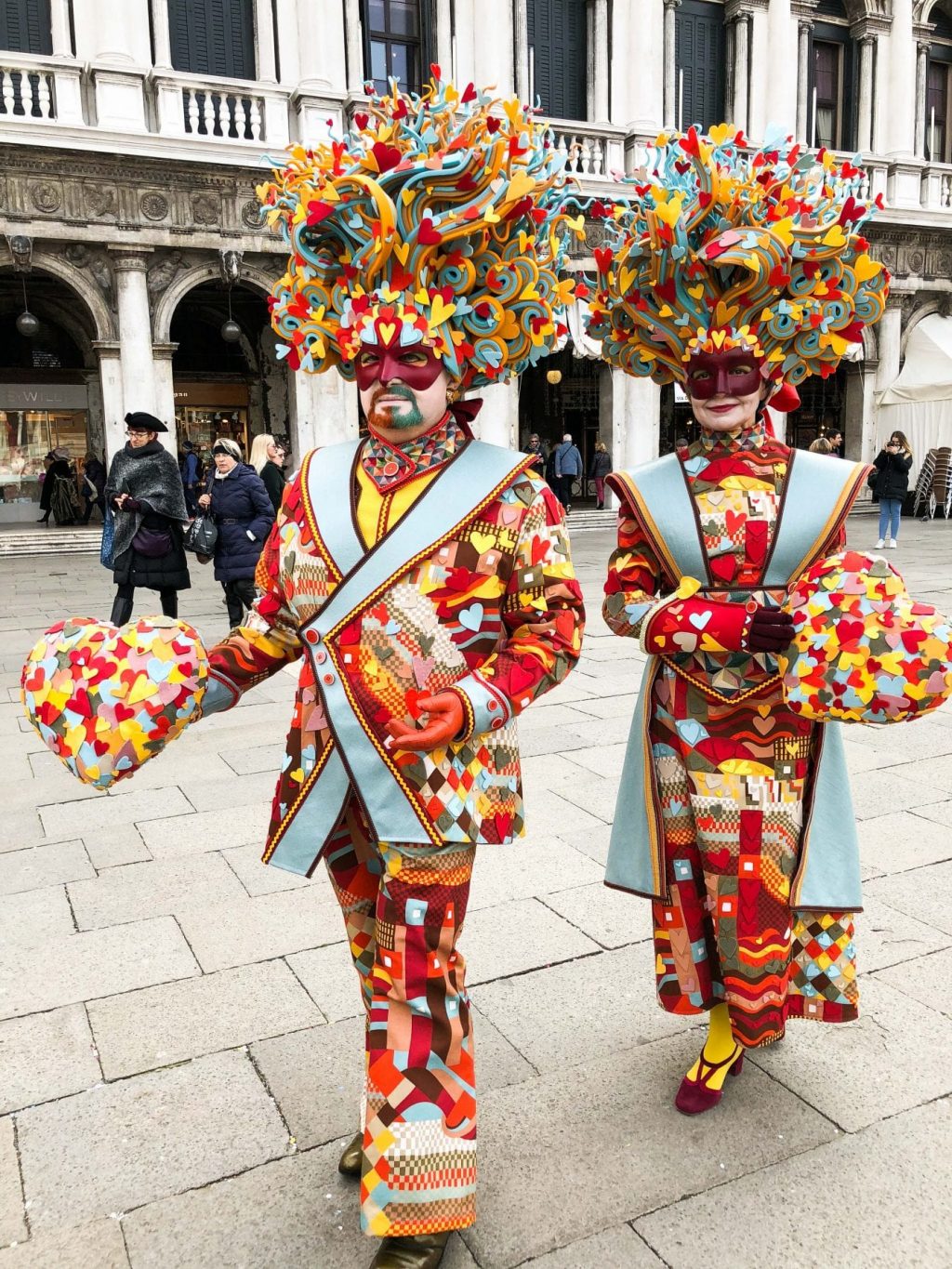 4. Clowning Around Carnaval. The Italians really put the time and energy into their entire performance. If you didn't watch the video above, you must go back and watch this guy. He was playing these instruments covered in fabric! A clown after my own heart. Did I mention that Boyd spotted him first?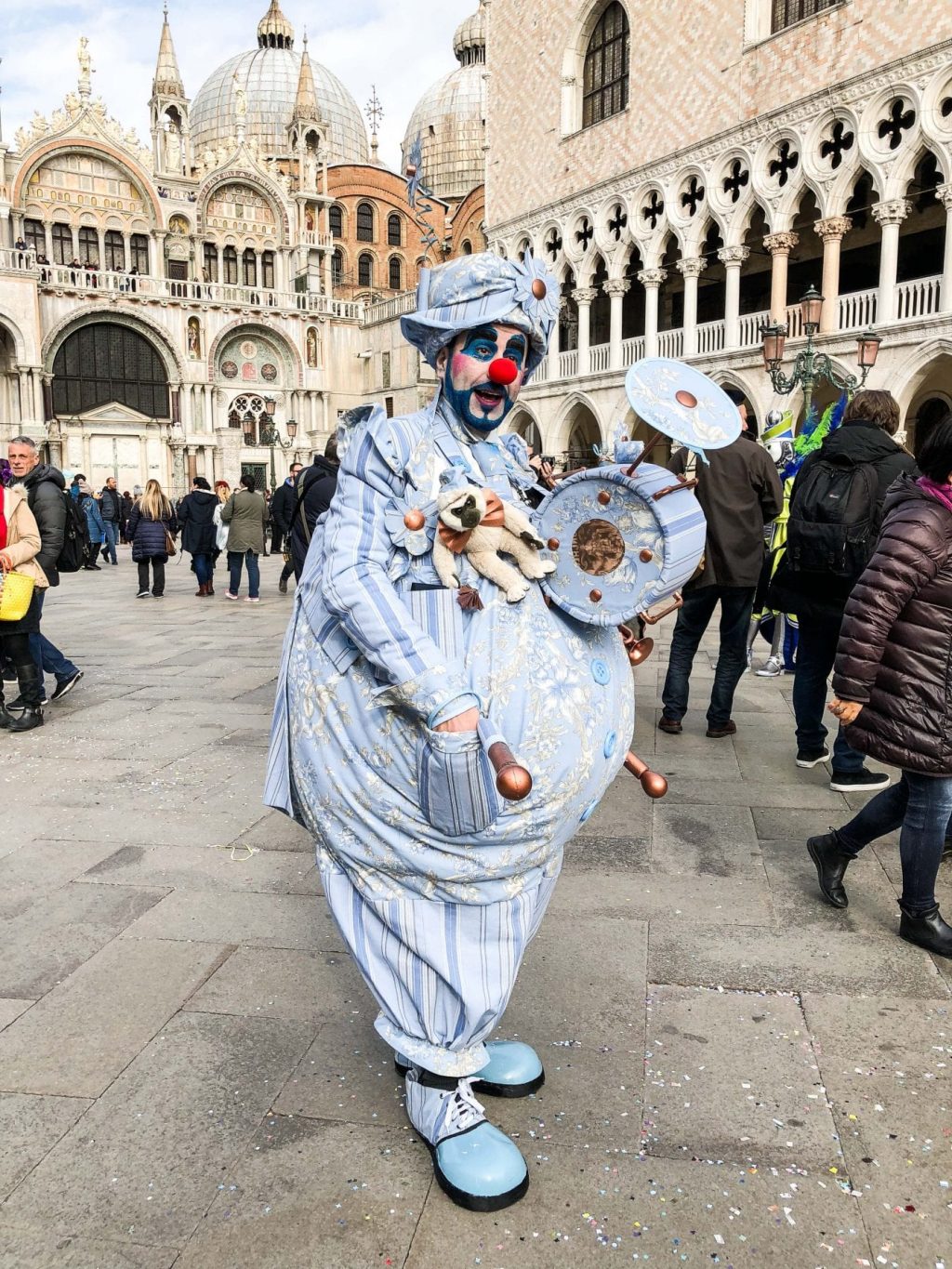 I was like a kid in a candy shop! My eyes were feasting on the costumes around me. Thankfully Boyd was on watch for the next ones for me to photograph.
7. Square + Edgy Steampunk Pair.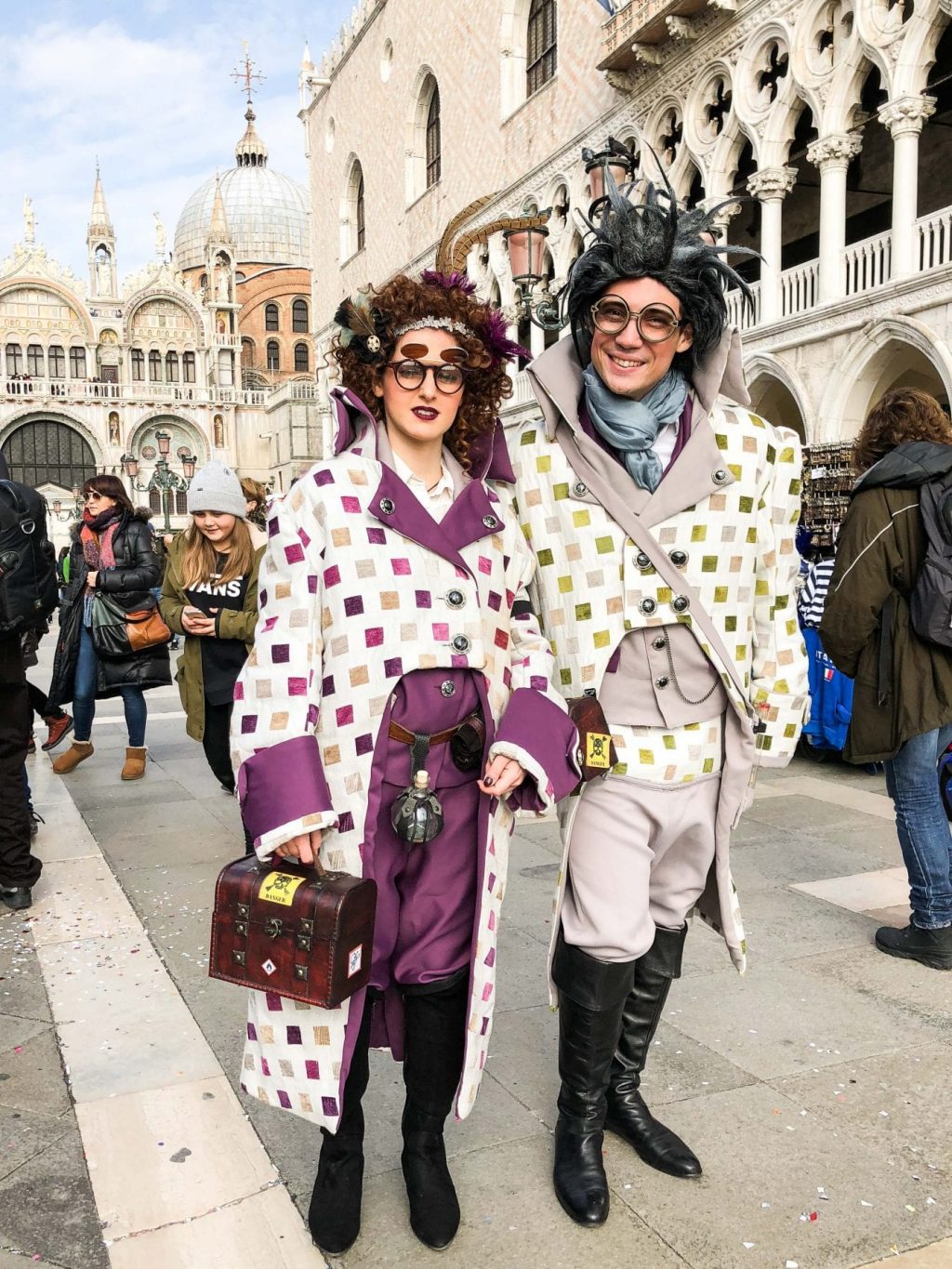 8. Traditional Venetian Couple. From steampunk to handmade Venetian replica fashion, there was not a single costume like another.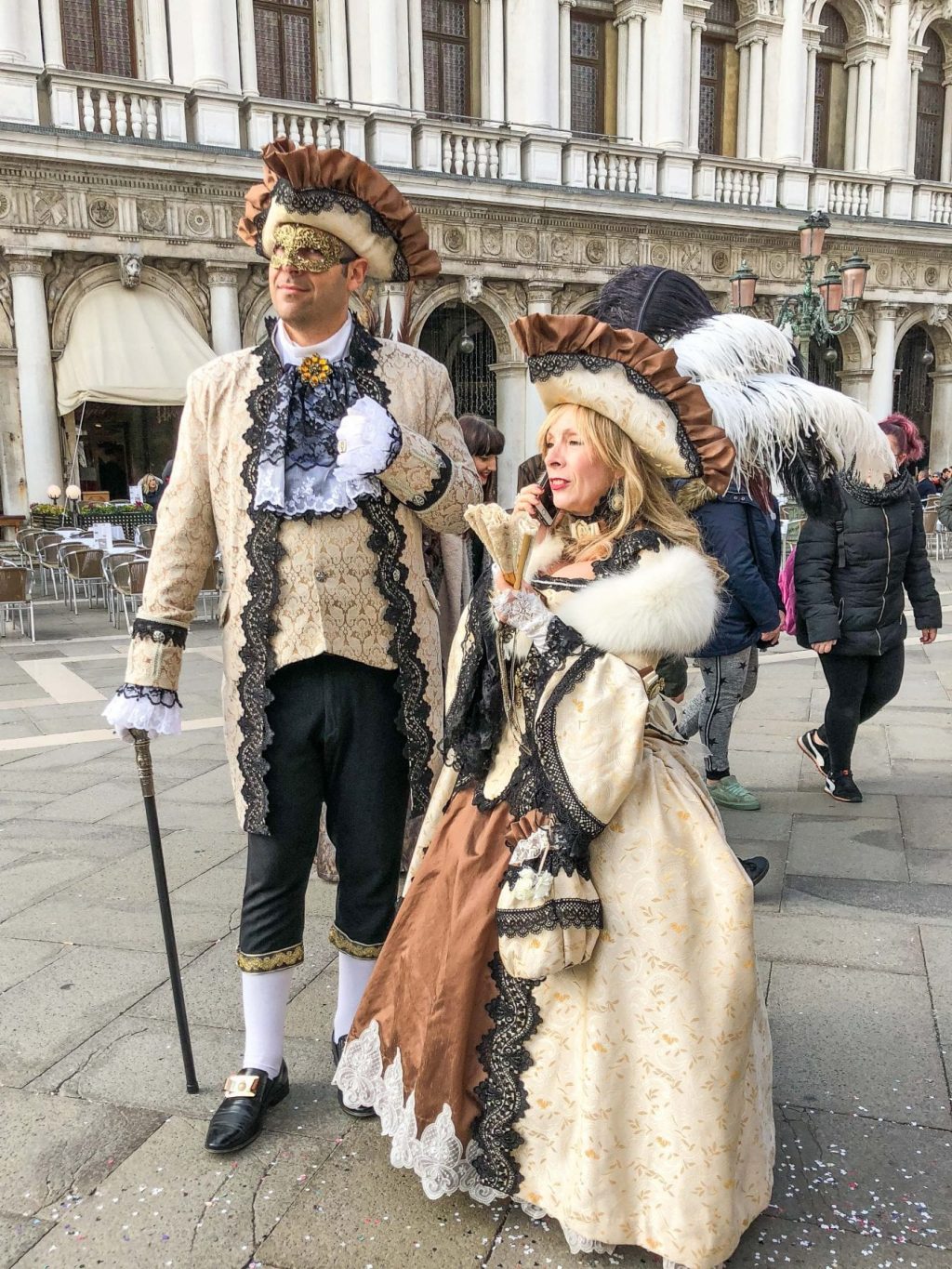 9. The Inventive Steampunk Scientists. Not only had these folks imagined and mastered the creativity of most of their own costumes. Like models, actors, and actresses, they played their roles extremely well.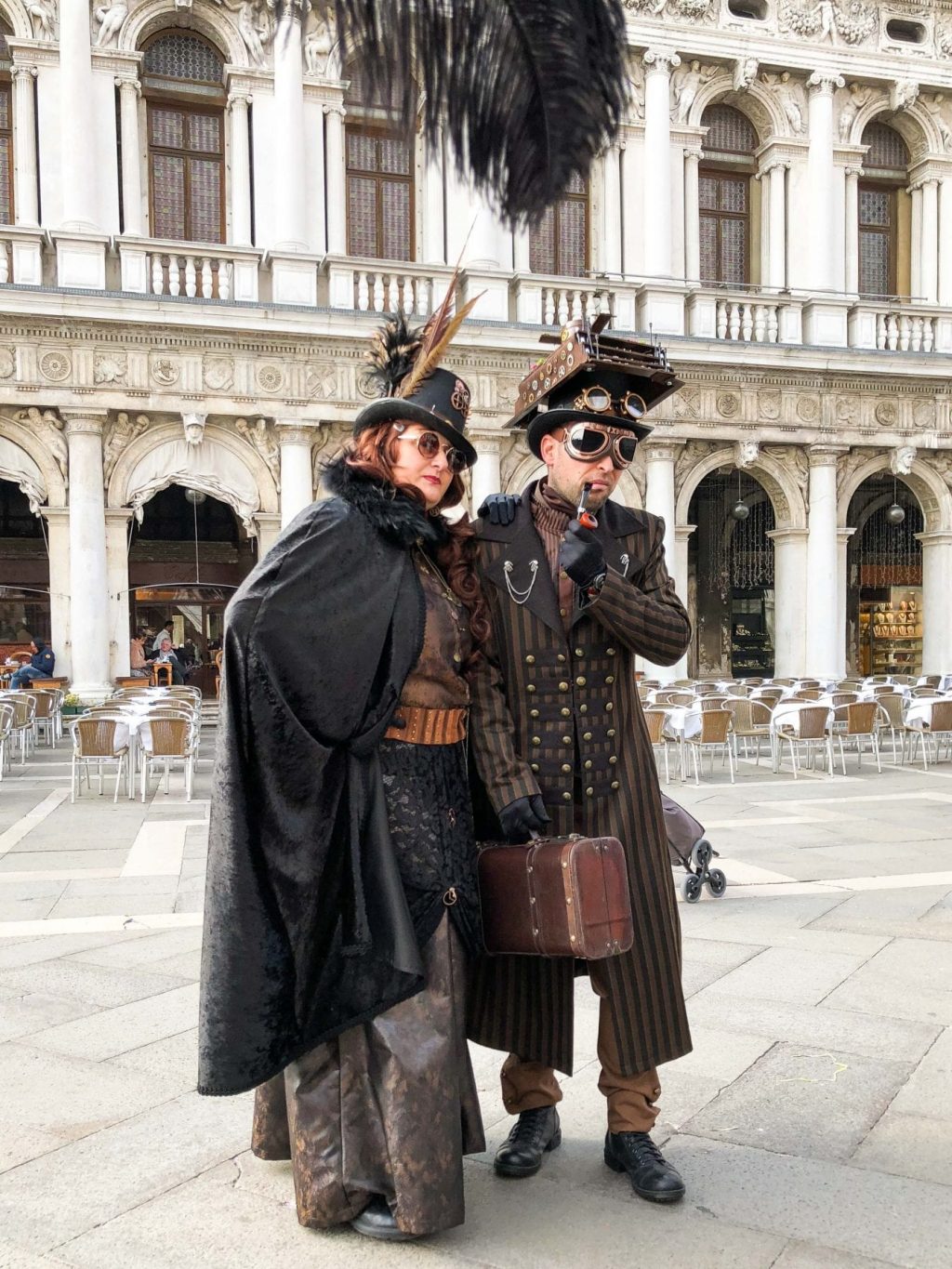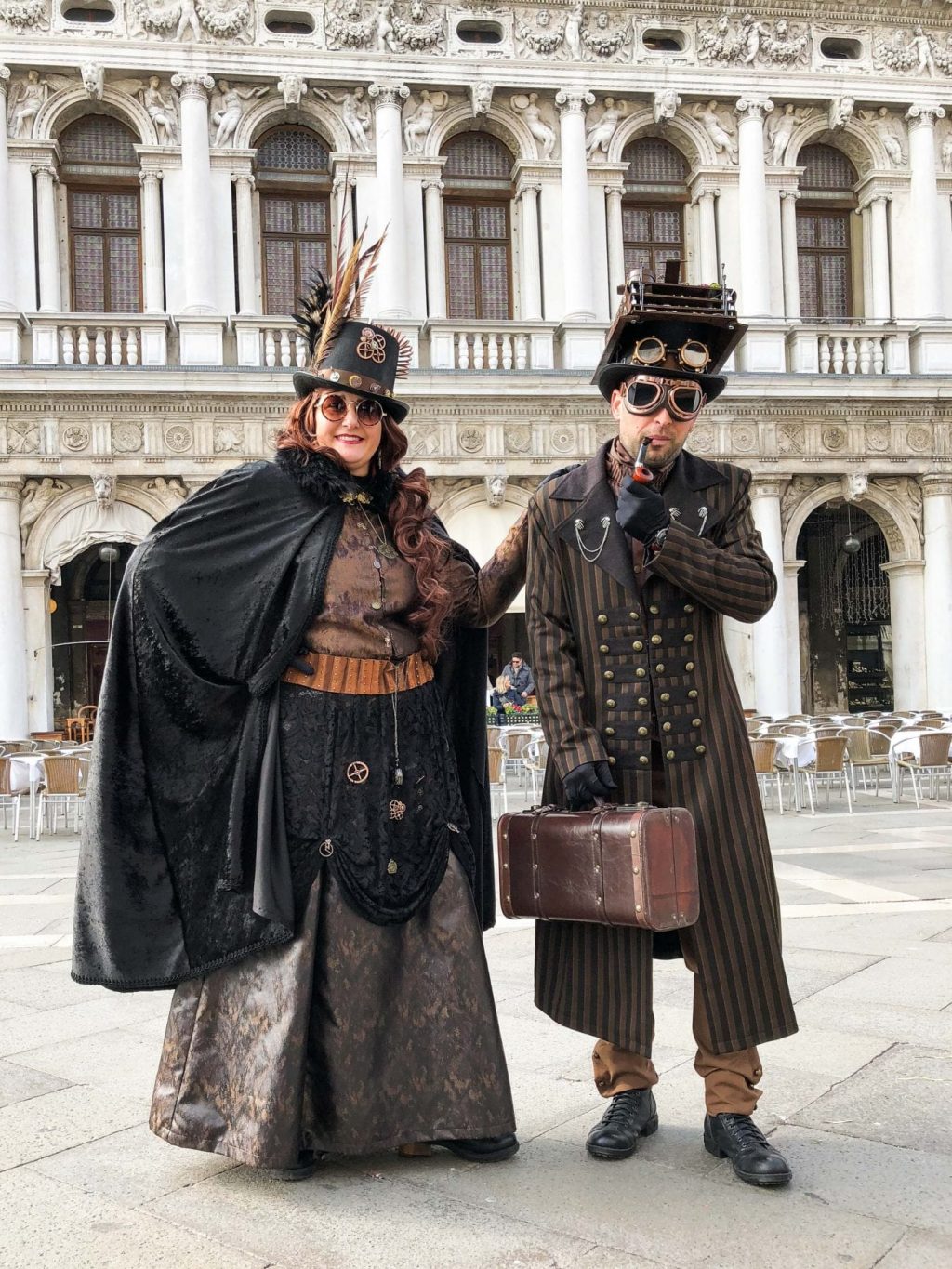 10. The Handsome Princes With Excellent Taste. They offered me their costumes for my Gucci shopping bag. I should have taken them up on the offer. After my theft in Rome, I decided to wear my new belt just in case the bag was stolen. haha.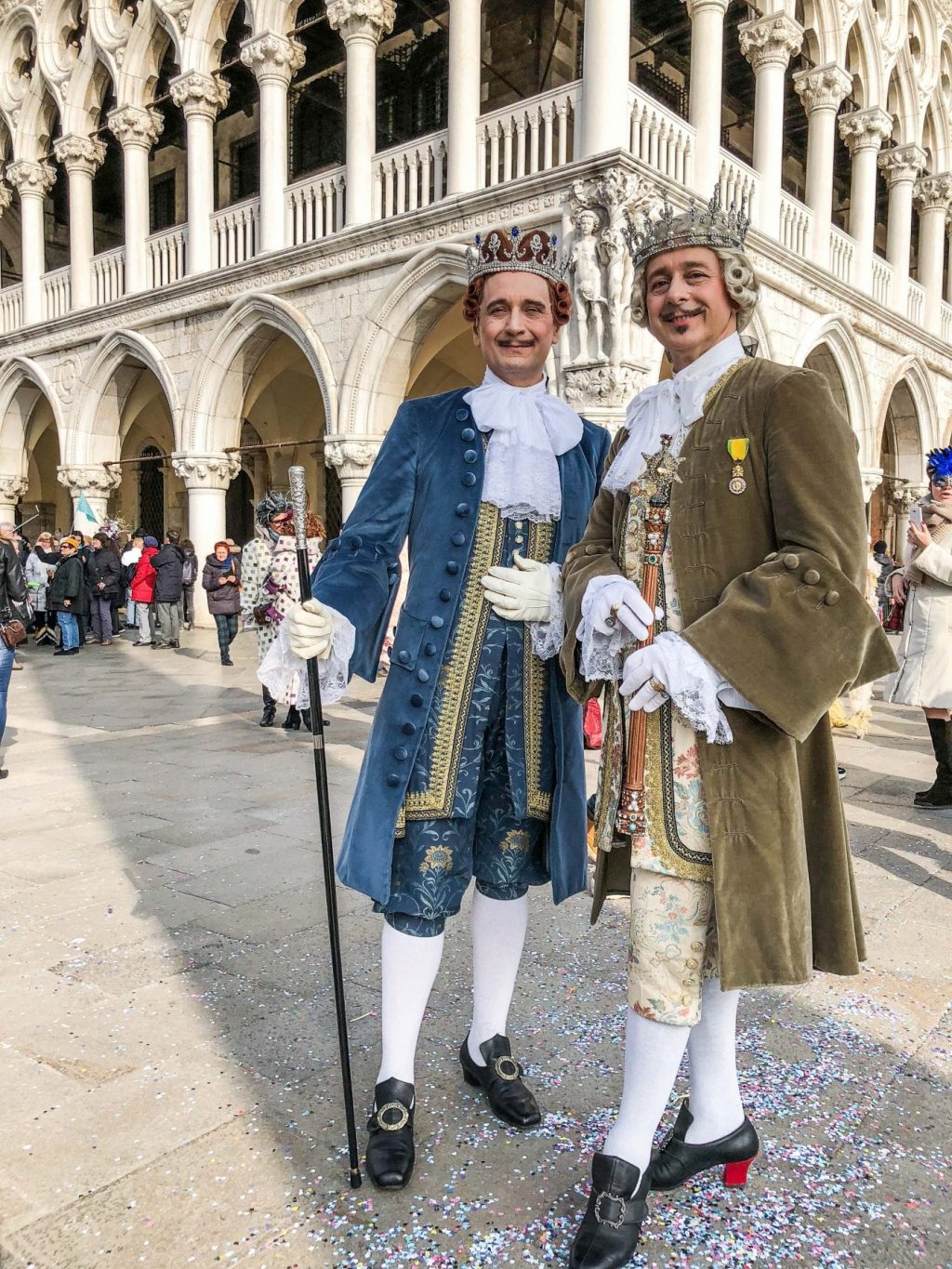 The Venice Carnaval participants are definitely in the 21st Century in technology. We captured several of Carnival participants on their smartphones. 🙂 Being in such a historical city, surrounded by exquisite architecture and people in the most gorgeous costumes I had ever seen outside of a New York Broadway show did make it easy to forget that we were in the 21st.
11. 21st Century Cotton Candy Queen.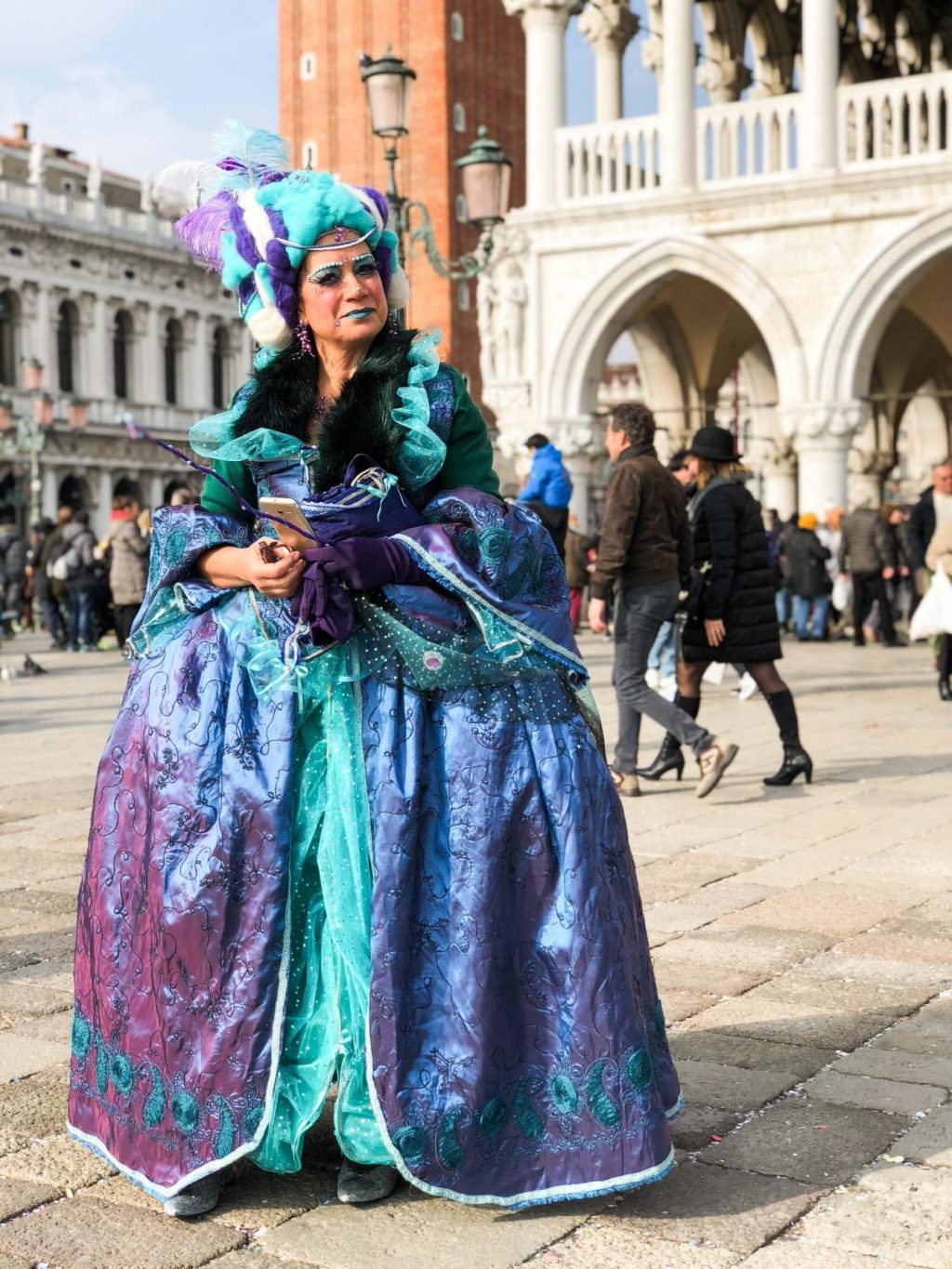 Each of the Venetians dressed for Carnaval were extremely respectful to the next. They would stand in different areas spaced apart so that photographers could easily take their photos.
12. Grandmas go get 'em!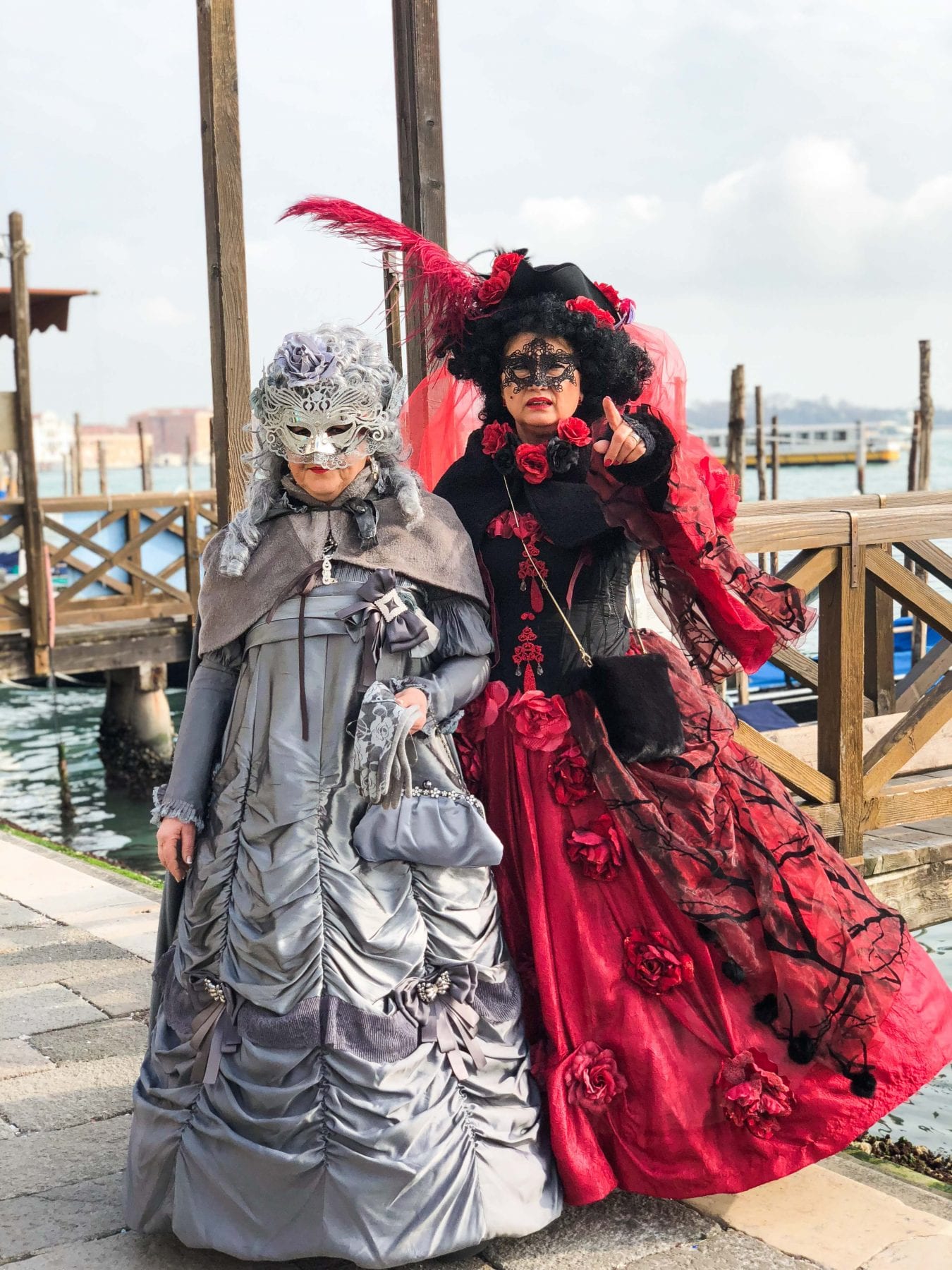 13. Old birds do it best.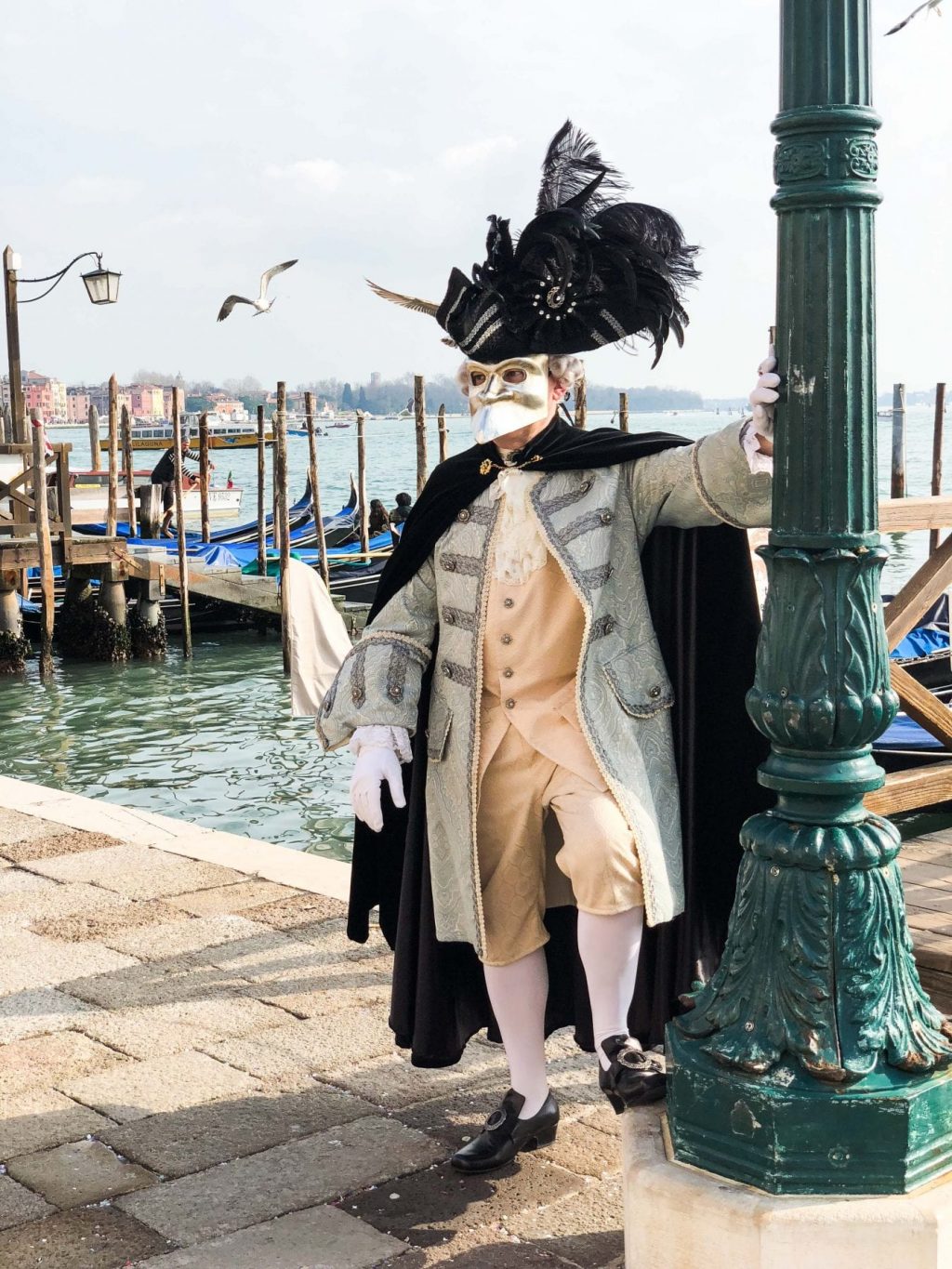 Venice carnival costumes, Venice carnival 2018 photos, Venice carnival, Carnival Venice Italy, Venice Carnival, Carnevale di Venezia
14. Bow to The Kings.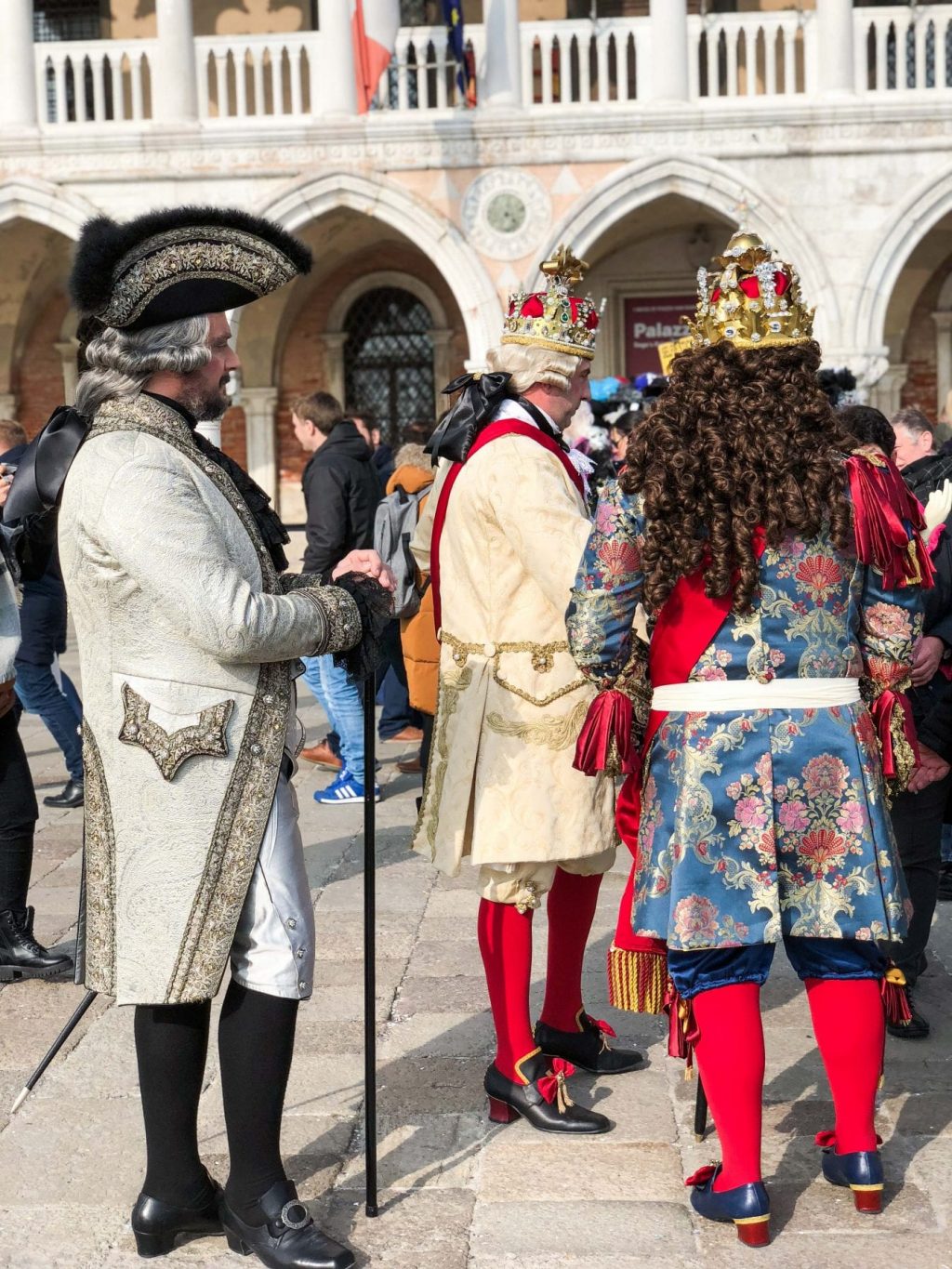 15. Ravishing in Ruby.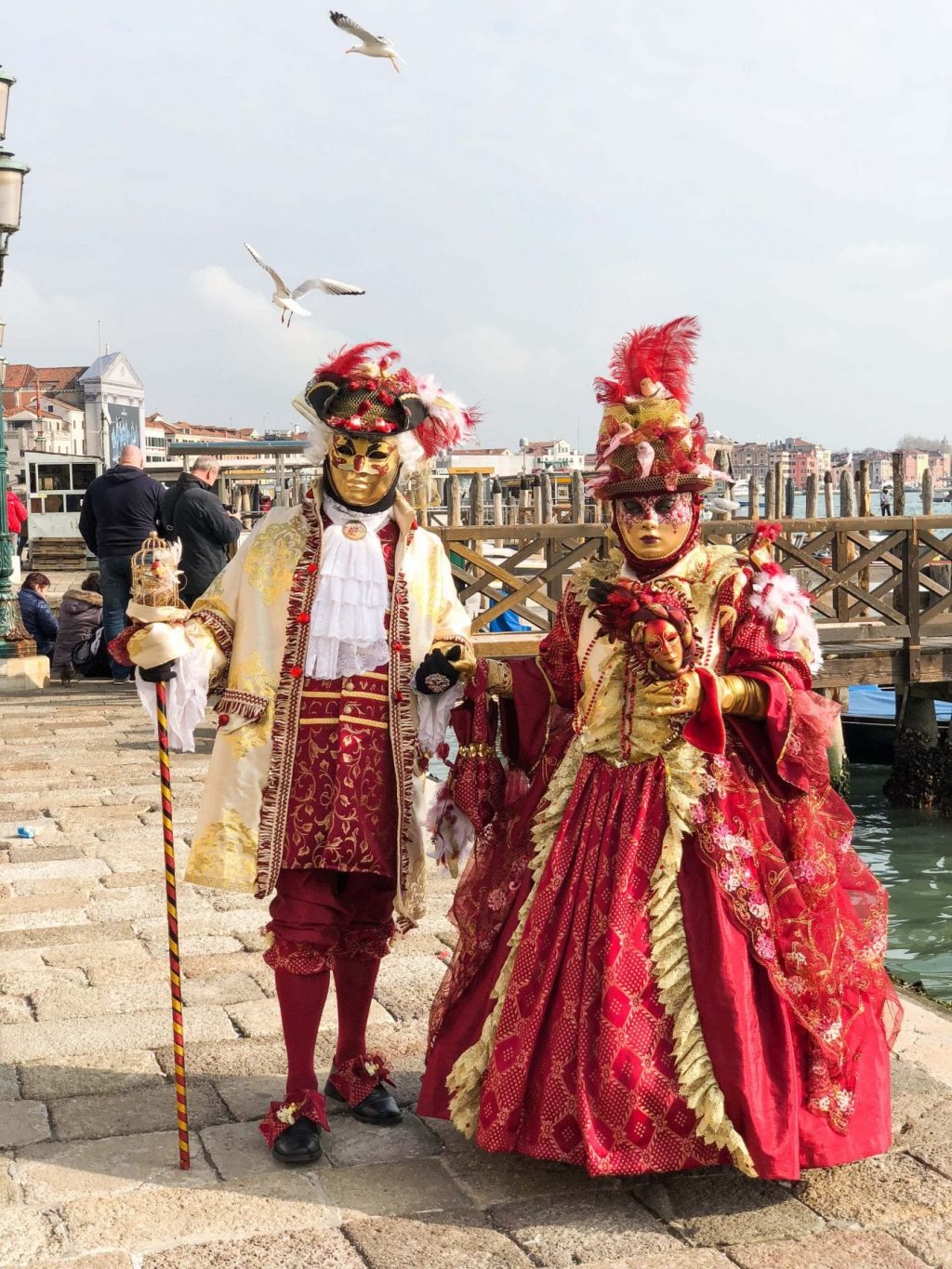 16. Rainbow Witches.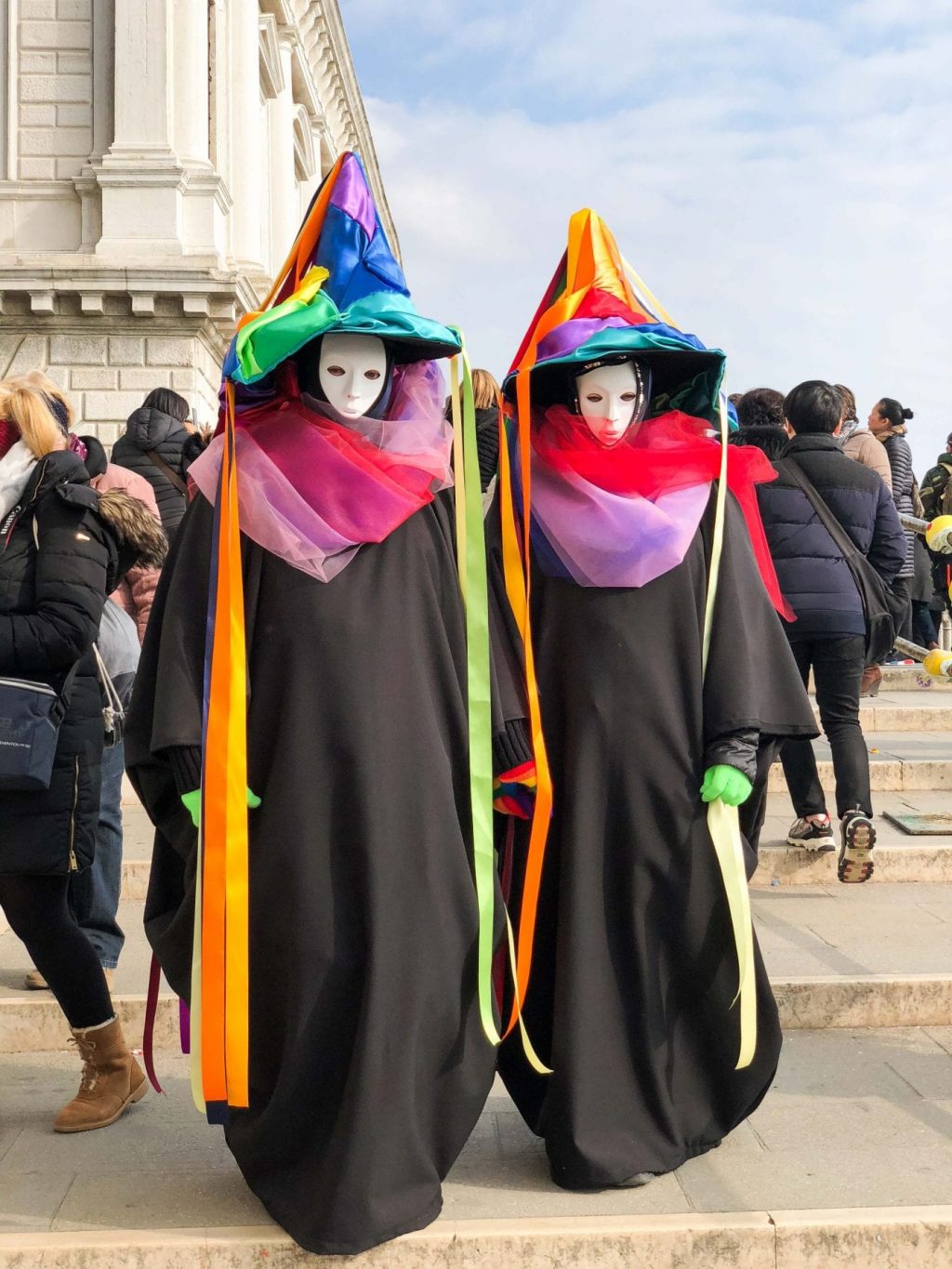 17. Tangerine Mary Poppins.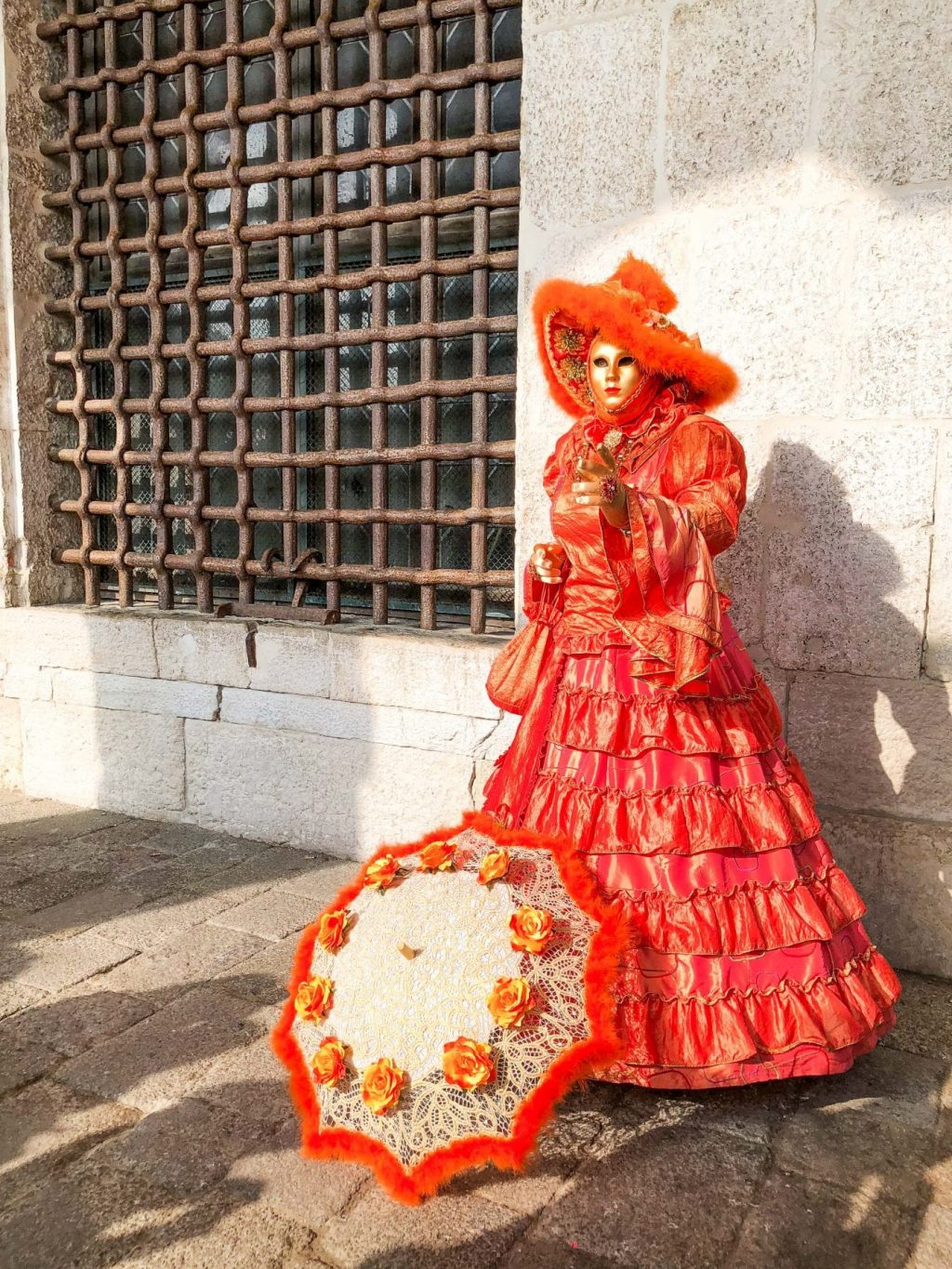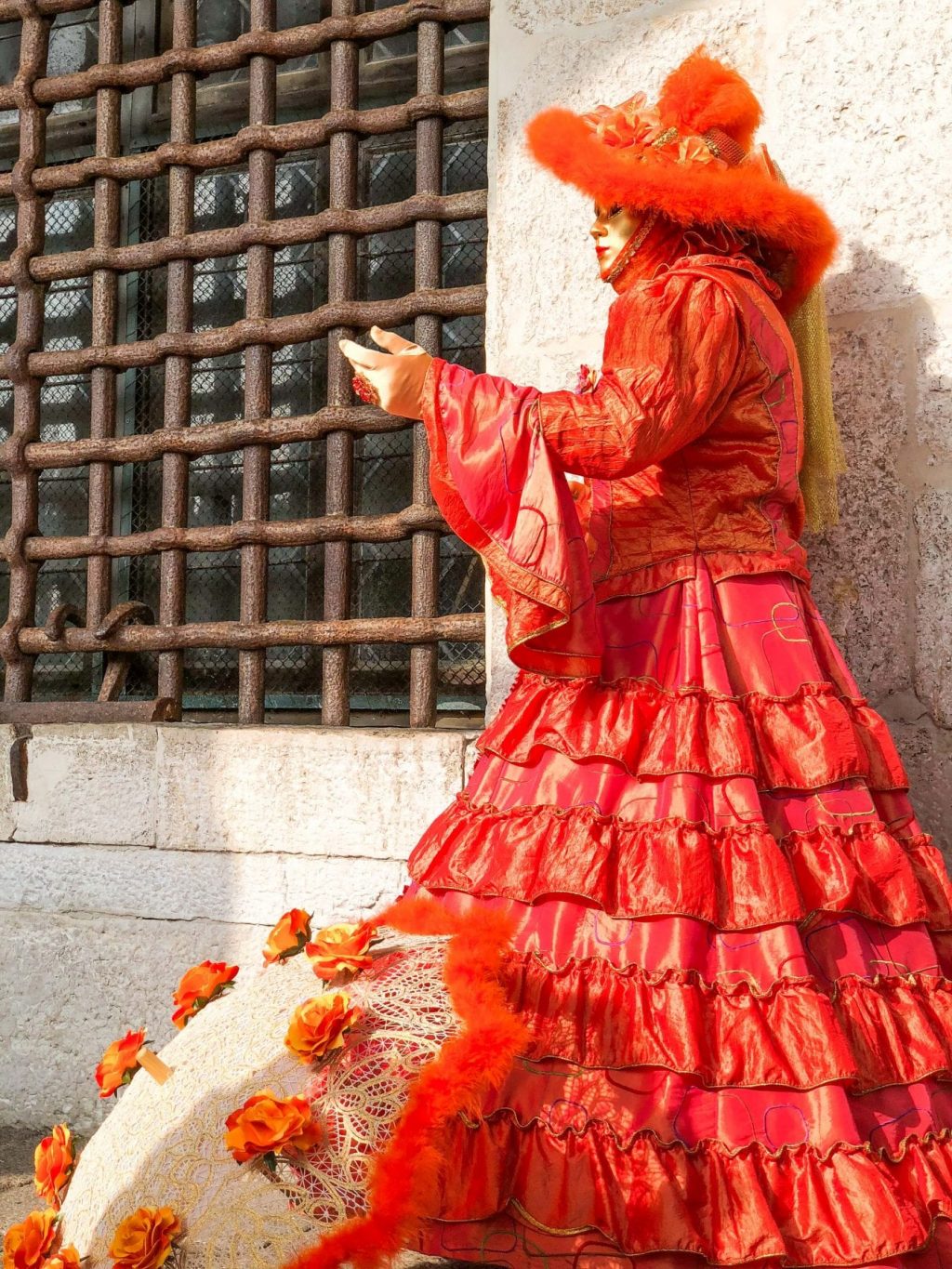 18. All Tied Up. The costume made of men's neckties and bowties was one of my favorite. If you can, zoom in on this dress…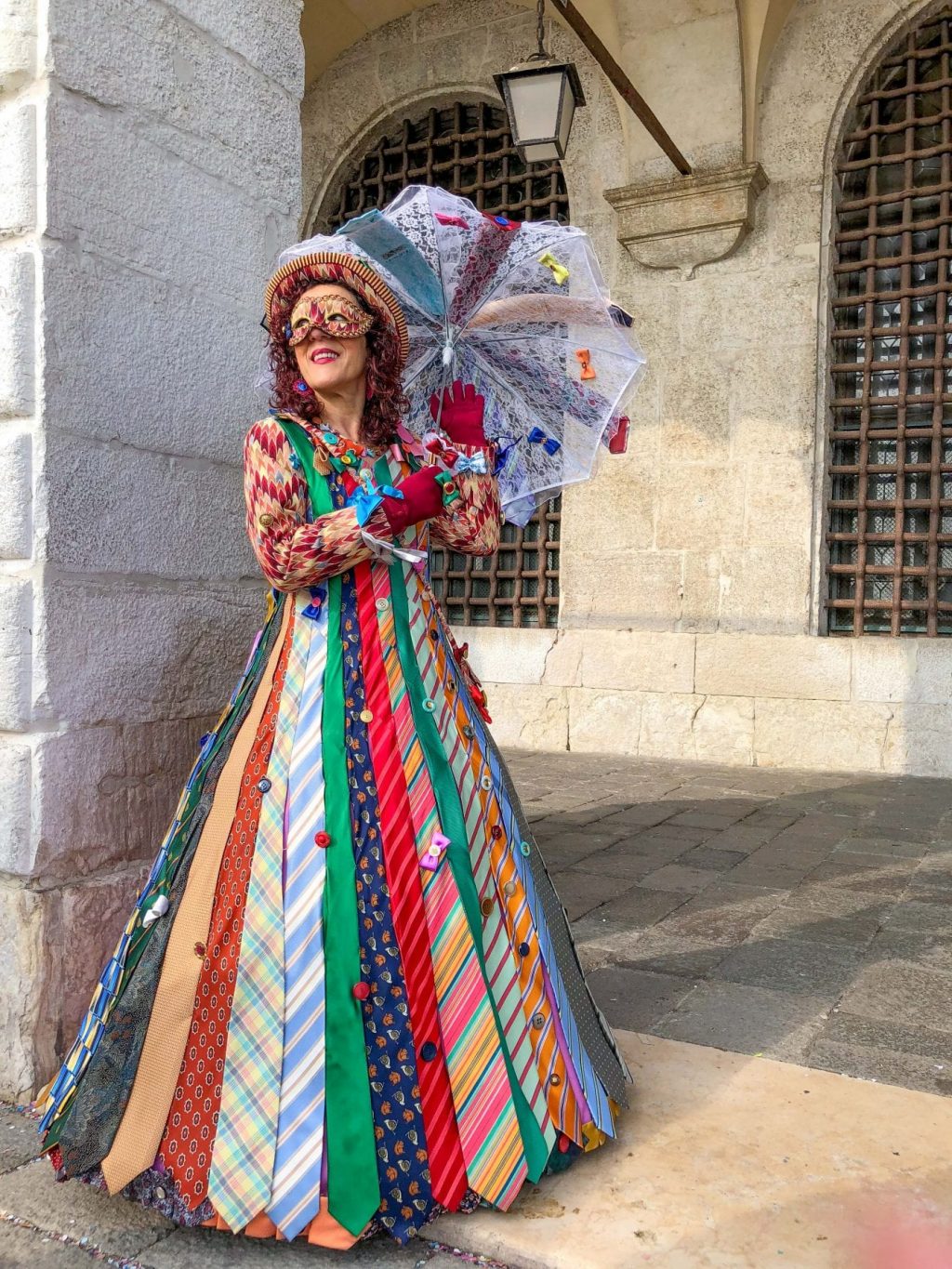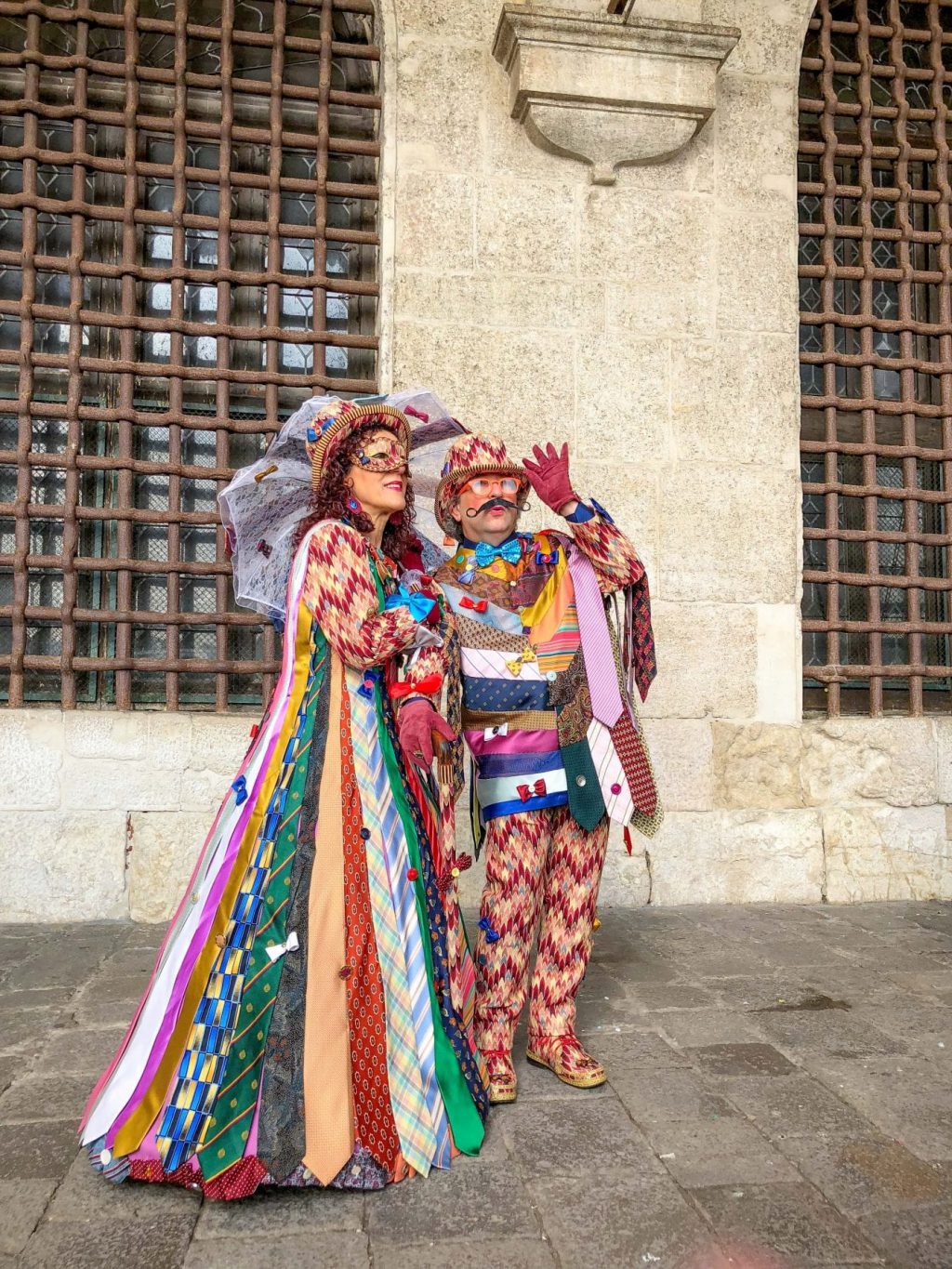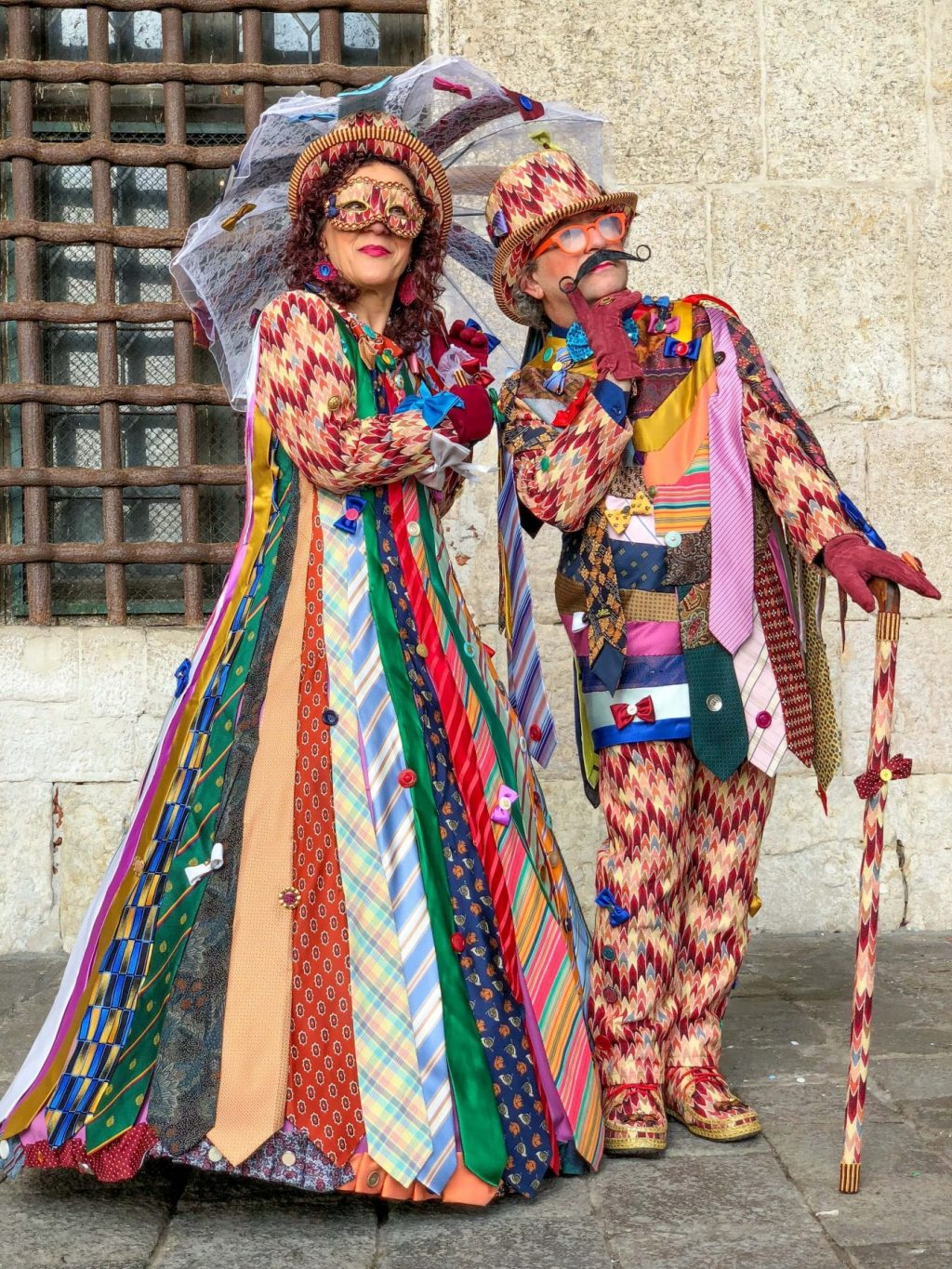 19. The Paisley Pair. Most couples and families dressed coordinating masks and costumes.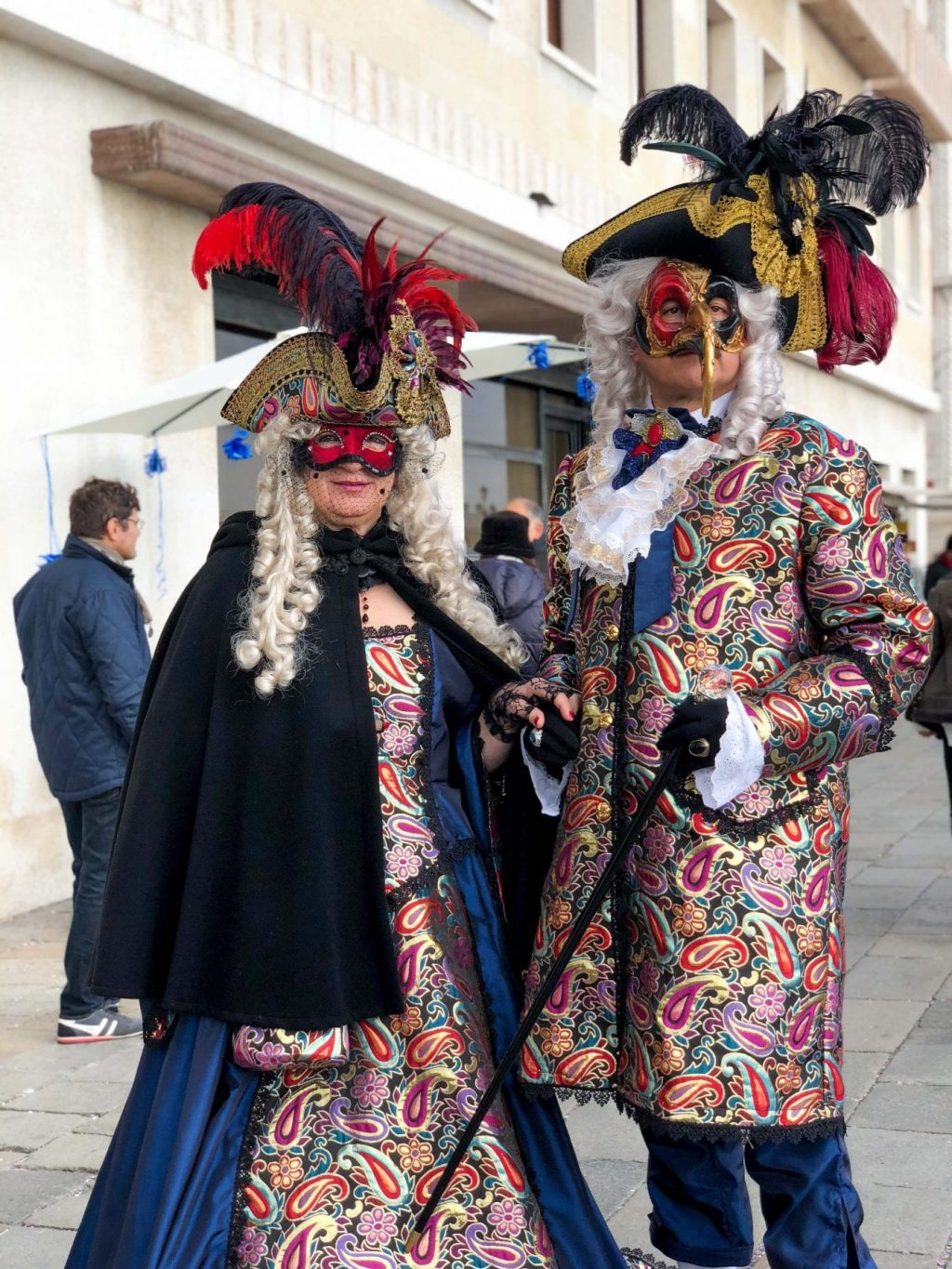 20. Venetian Victorian Era Family.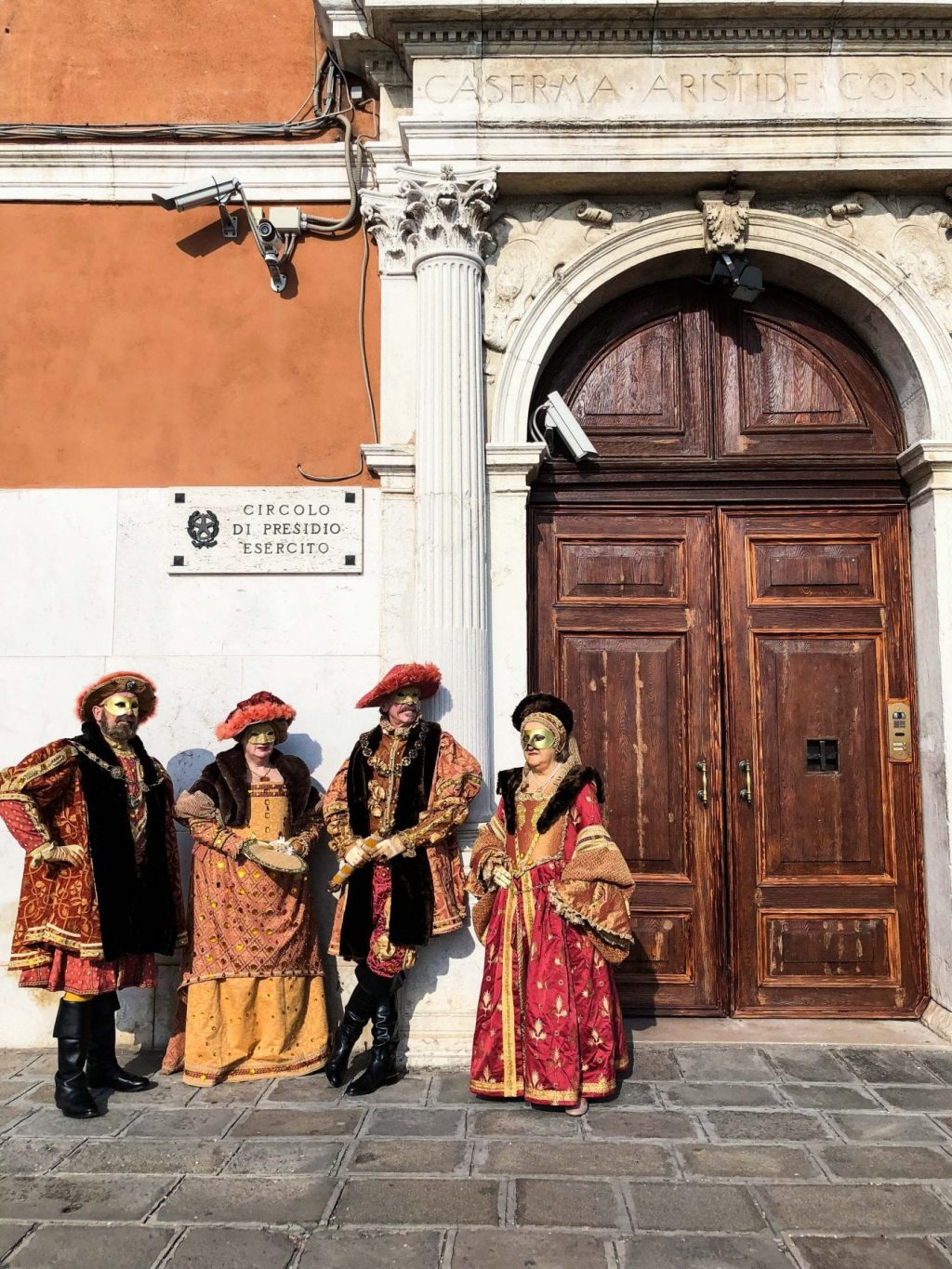 21. A Woman + Her Wing Man. If you missed watching the video at the beginning of this post, do go back to watch the movement of this guy spreading his wings…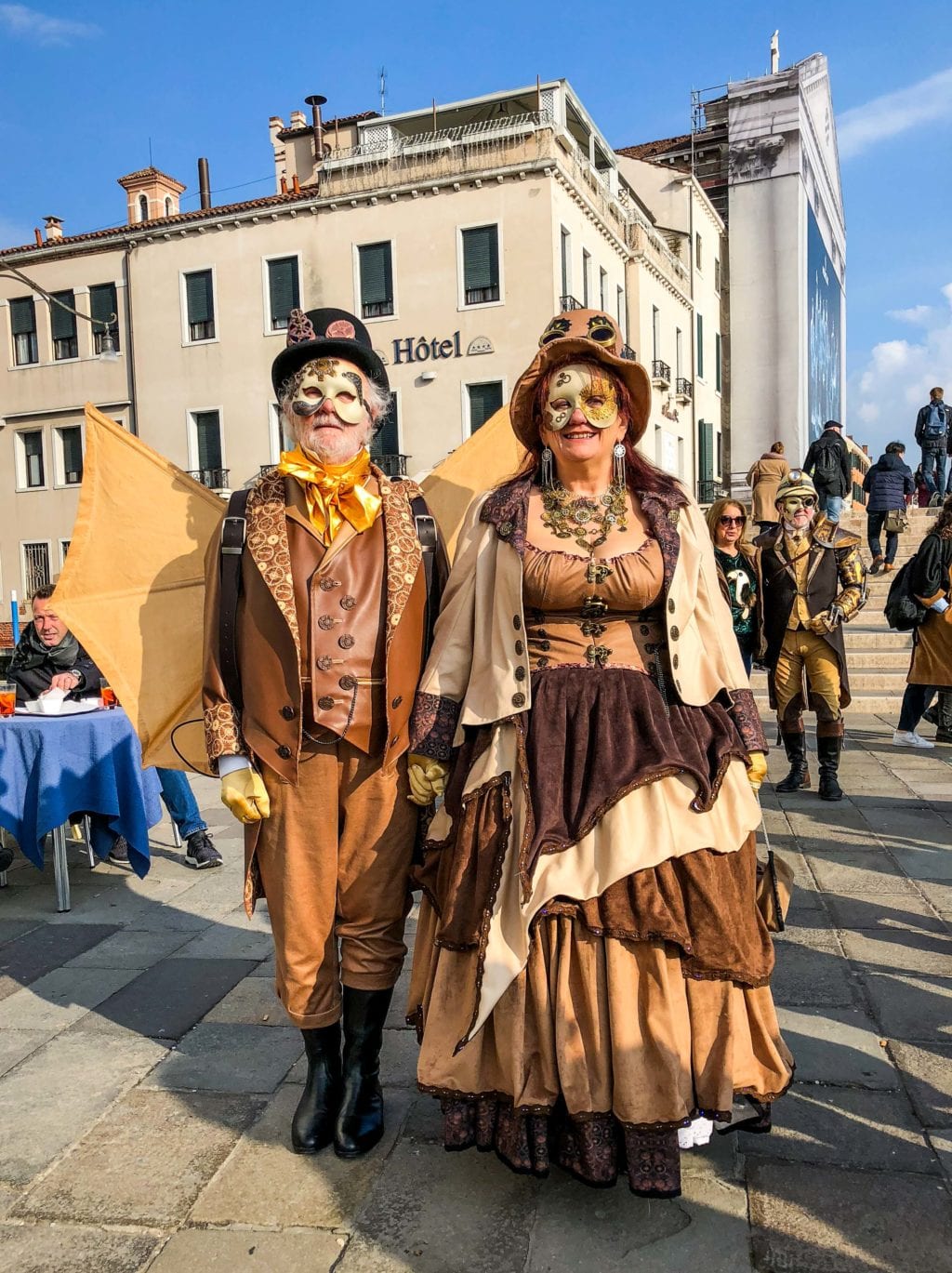 22. Venetian Warriors + Transformers. Gun haters: please ignore the photo below. Venetians do carry guns. I don't know if they were doing this in a revolt of gun laws but they were very comfortable showing their weapons and ammunition in the middle of Venice.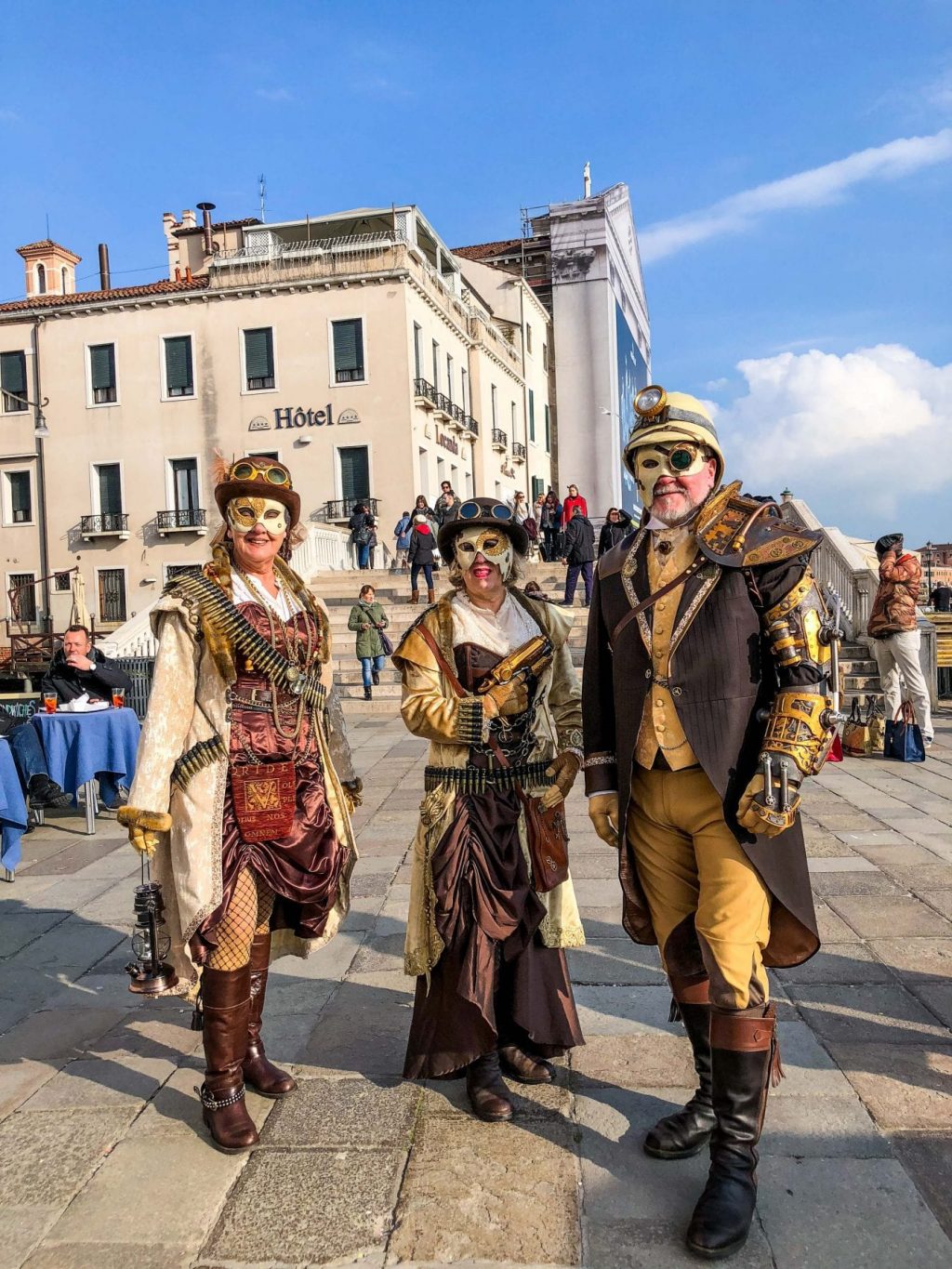 23. Peacock Prince. Everywhere we walked throughout Venice, there were awesome costumes and masks like this mask made of peacock feathers., gold + peacock teal brocade fabric with detailed beaded and embroidered trim.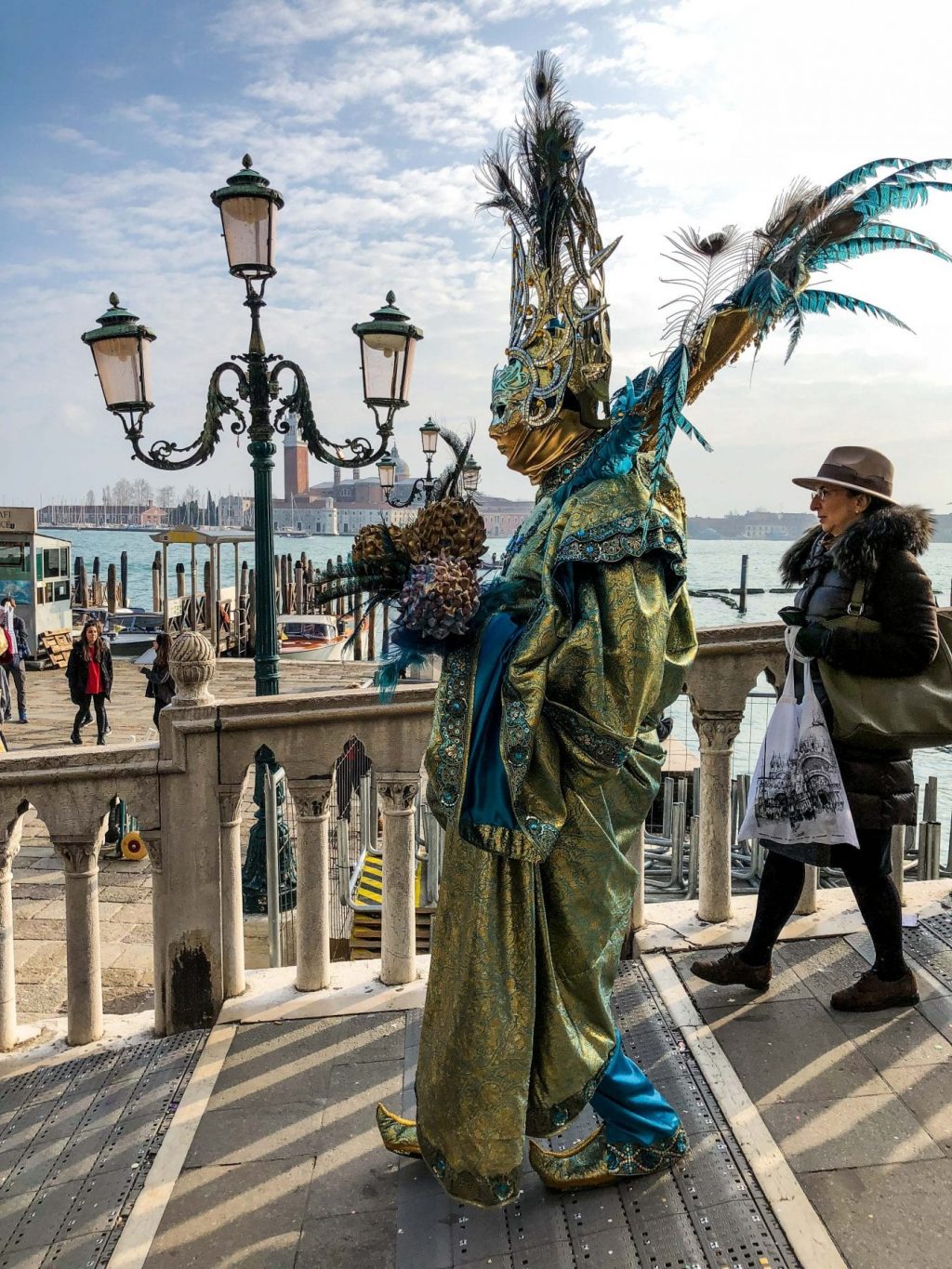 24. Wolfman. The makeup and creativity of this lone wolf's costume is impeccable. From the use of costume bracelets cut apart and sewn on the cuffs to the brooch on his necktie and the full necklace, it's awesome and inspiring. I can't wait to see what some of my guy friends do with this inspiration. Even the chains were once necklaces.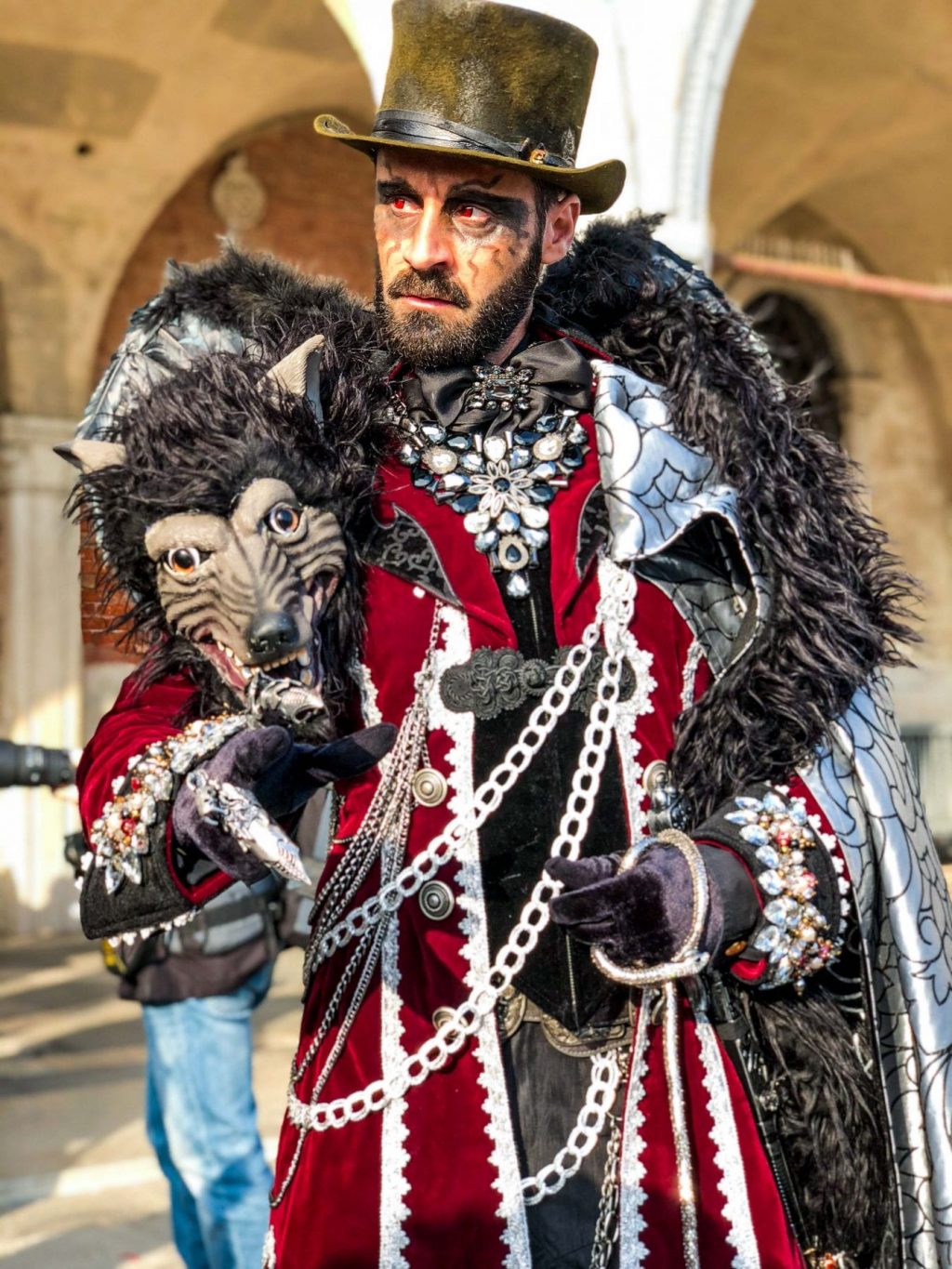 Venice carnival costumes, Venice carnival 2018 photos, Venice carnival, Carnival Venice Italy, Venice Carnival, Carnevale di Venezia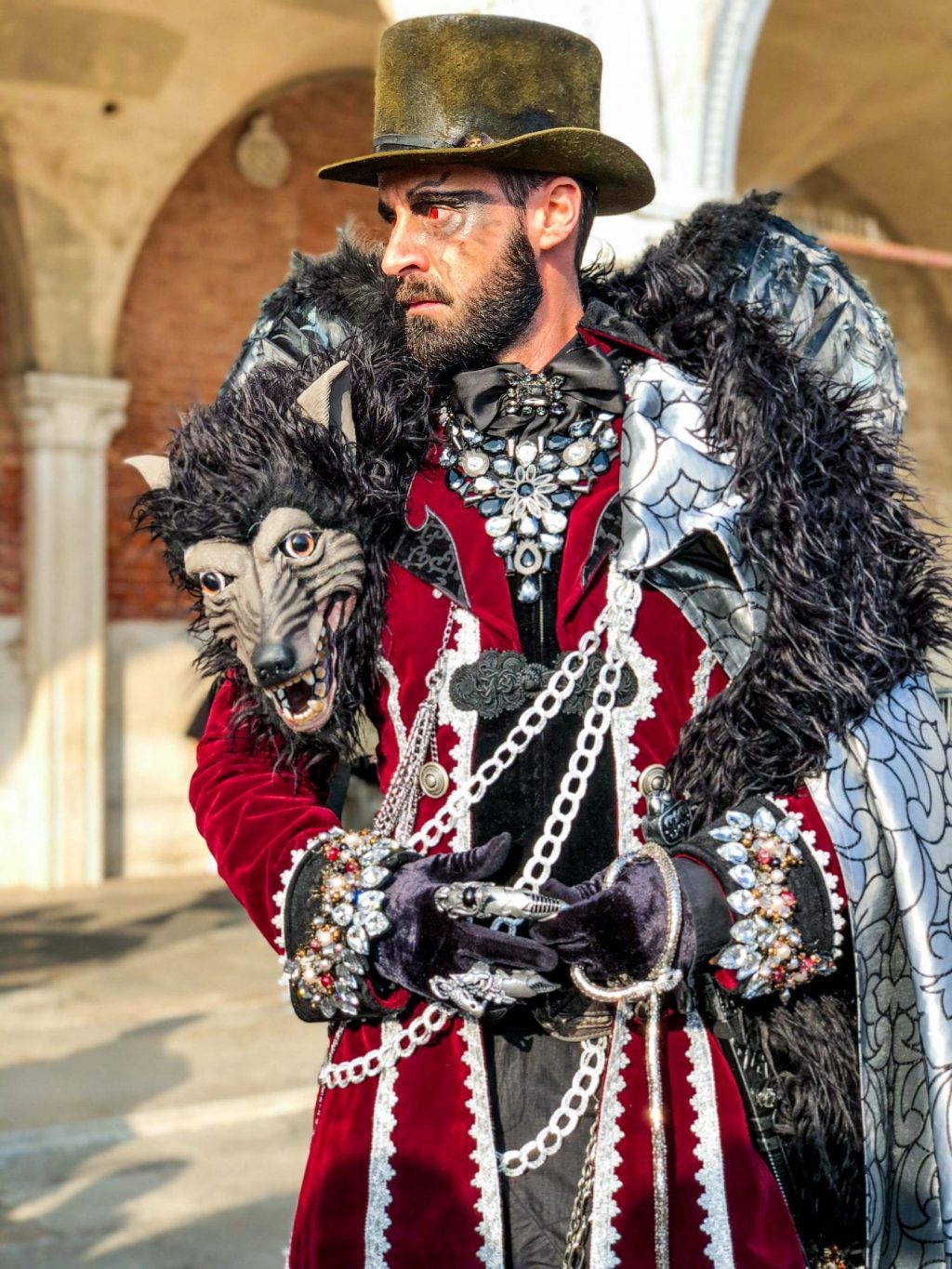 25. Notable Woman. Each part of this costume was cut, sewn, and embroidered by hand. Swarovski crystals were applied in areas to bling on the noise and catch the eyes in the crowd.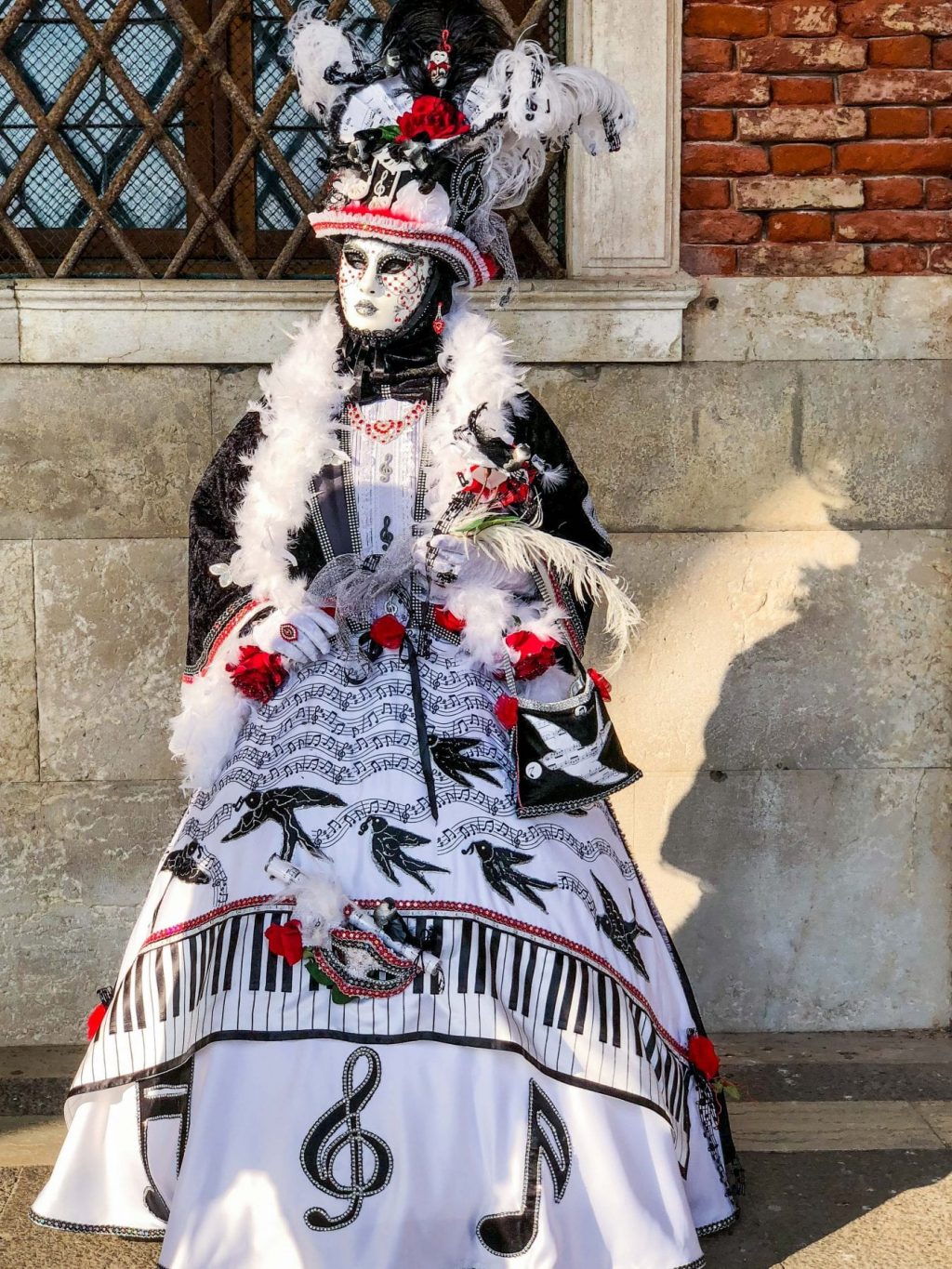 26. Purple Rain. Combining multiple tones of the purple hues in fabrics, laces, feathers, butterflies, and artificial florals combined with the use of spray paint on the birdcage were remarkably creatively. We aren't sure how much rain this brelly would stop or if Prince would approve, but we gave these to a ROCKSTAR.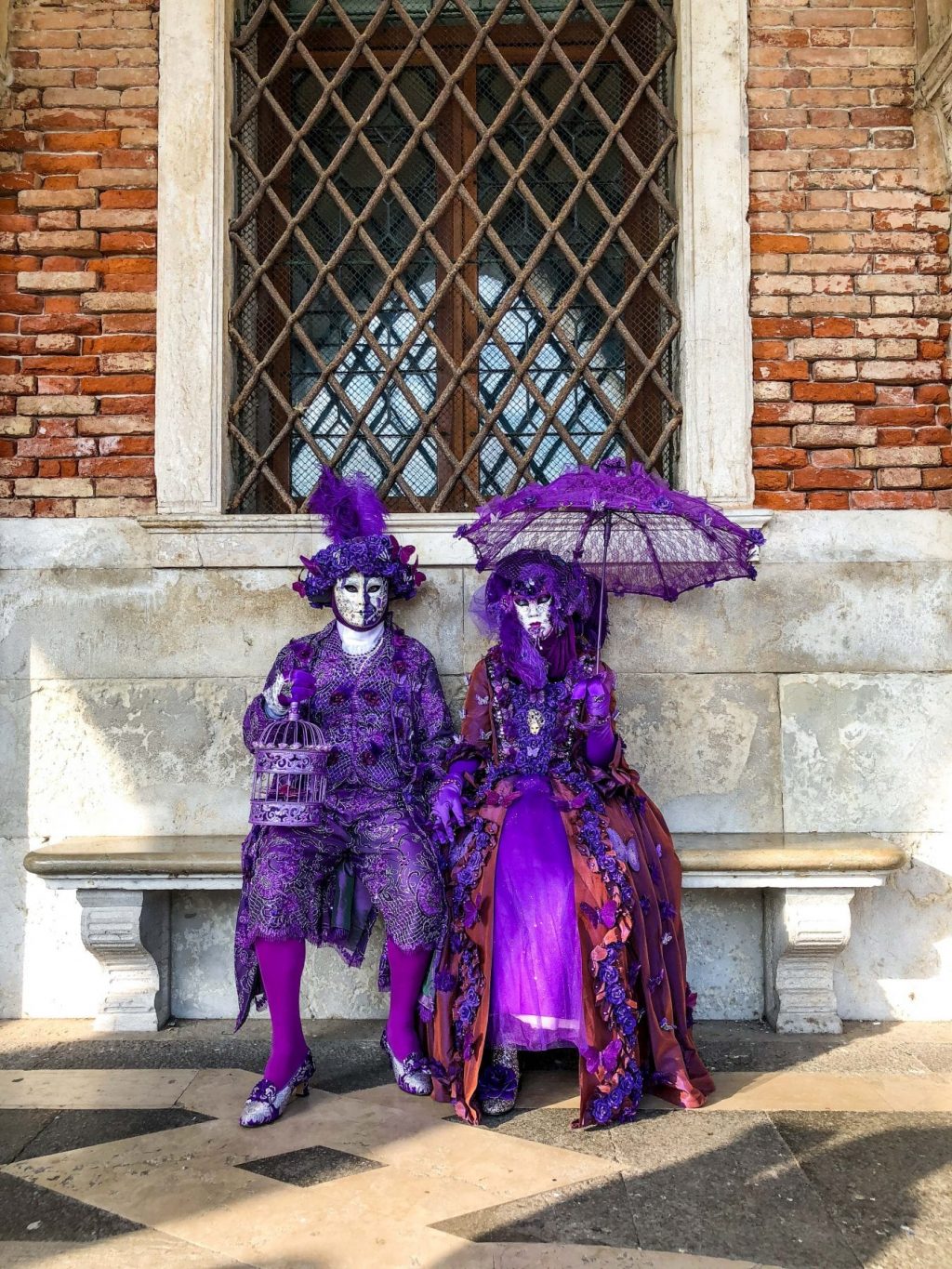 Venice carnival costumes, Venice carnival 2018 photos, Venice carnival, Carnival Venice Italy, Venice Carnival, Carnevale di Venezia
27. Savvy Waterway Waiting.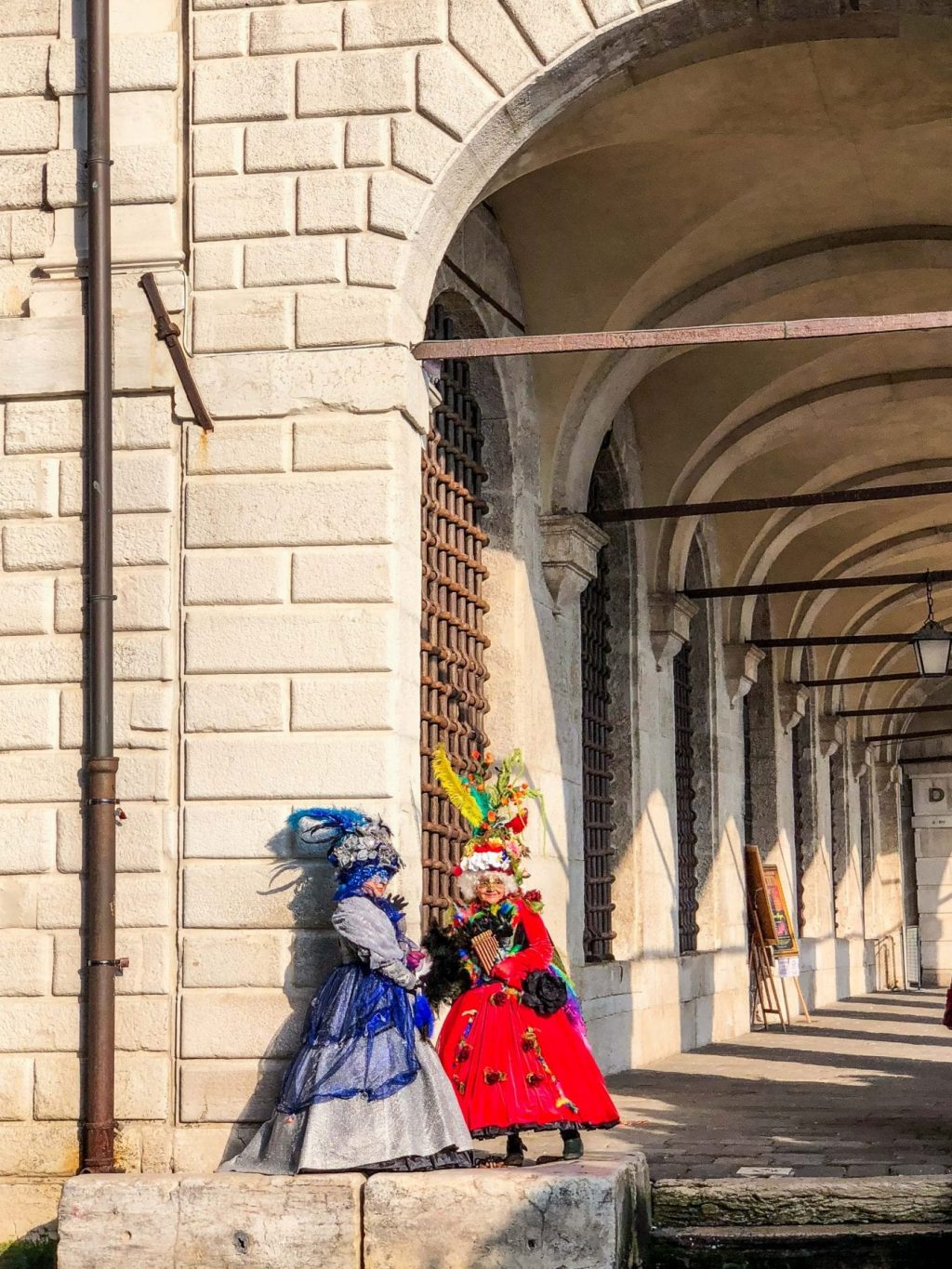 28. Black, White, + Red.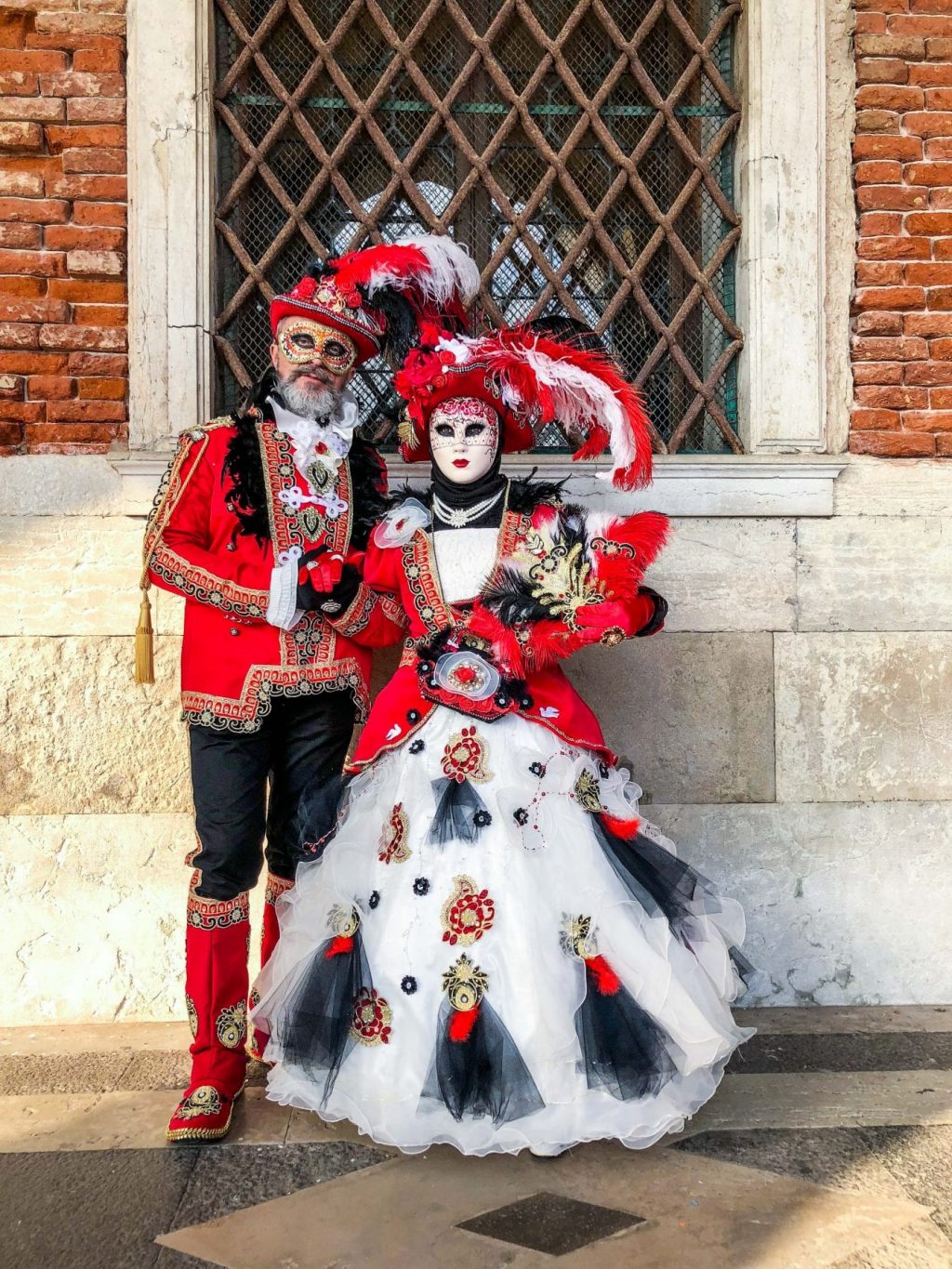 29. Passion for Purple. Dressed in simple damask violets and layered lace trimmed with die-cut laces and beads were stunning in the historic Venetian inspired attire.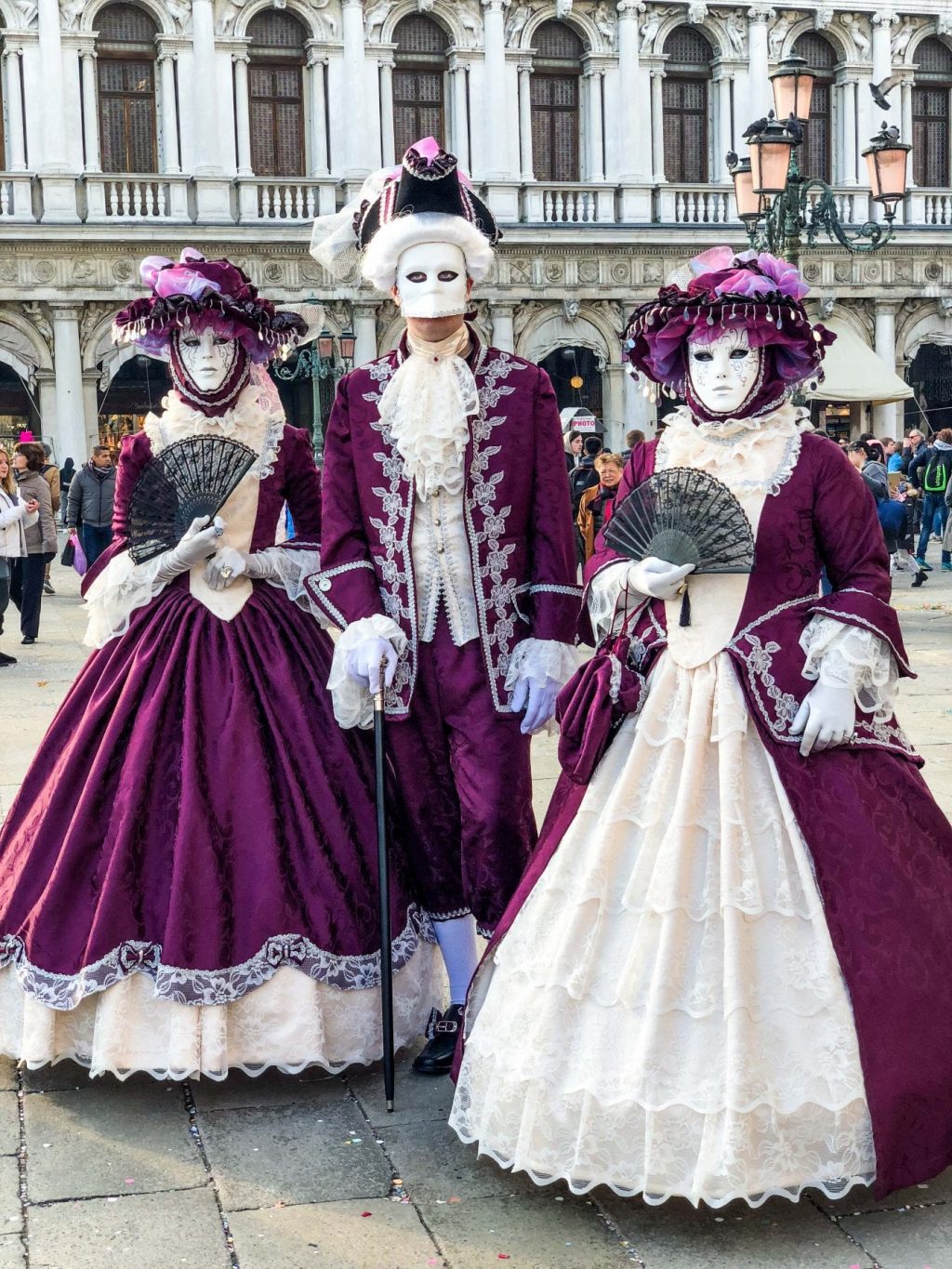 30. Bird Warrior. Complete with bow and arrow this warrior's costume was trimmed with laces and fine beads. His headdress was created with spanned pheasant feathers.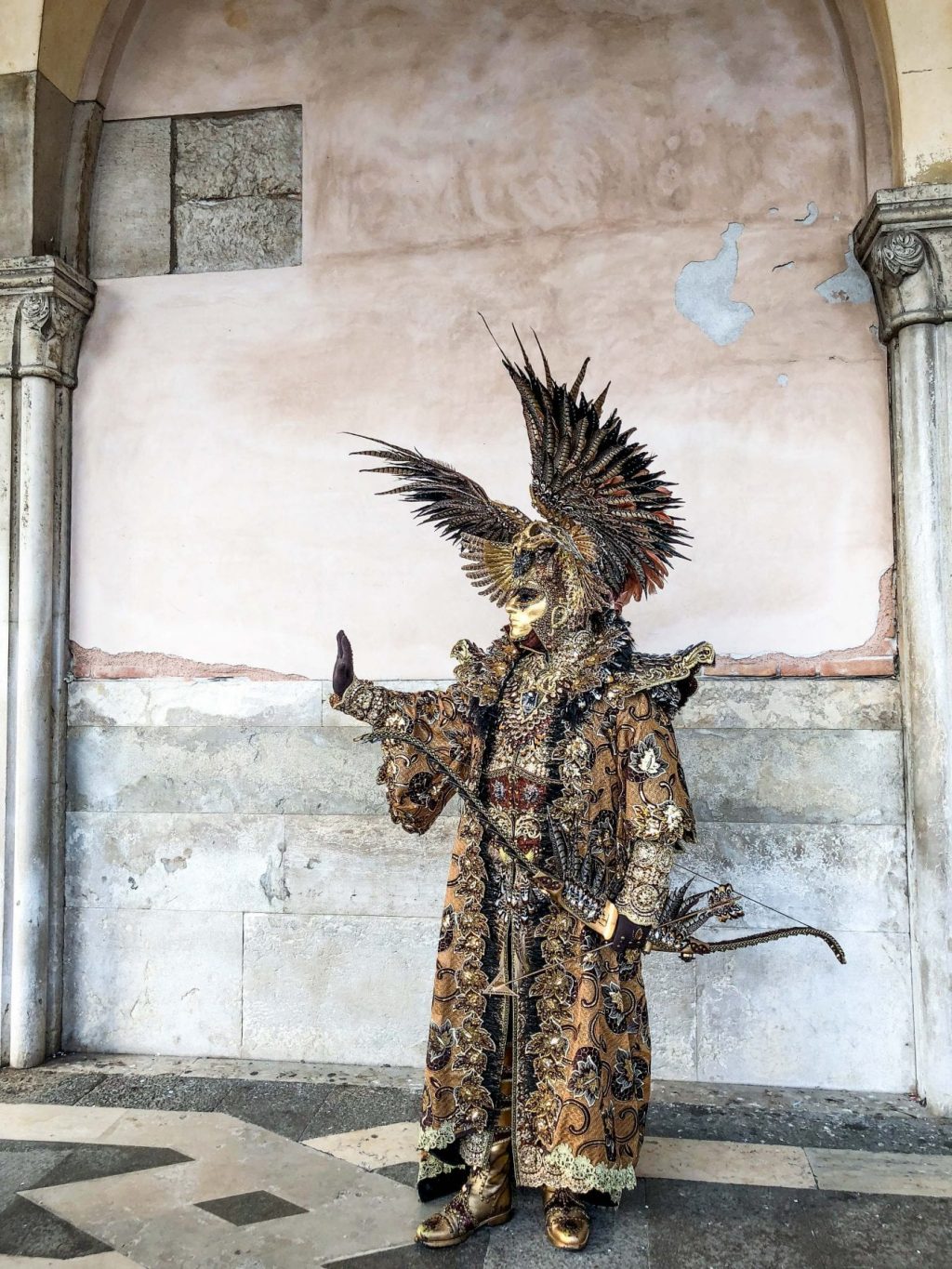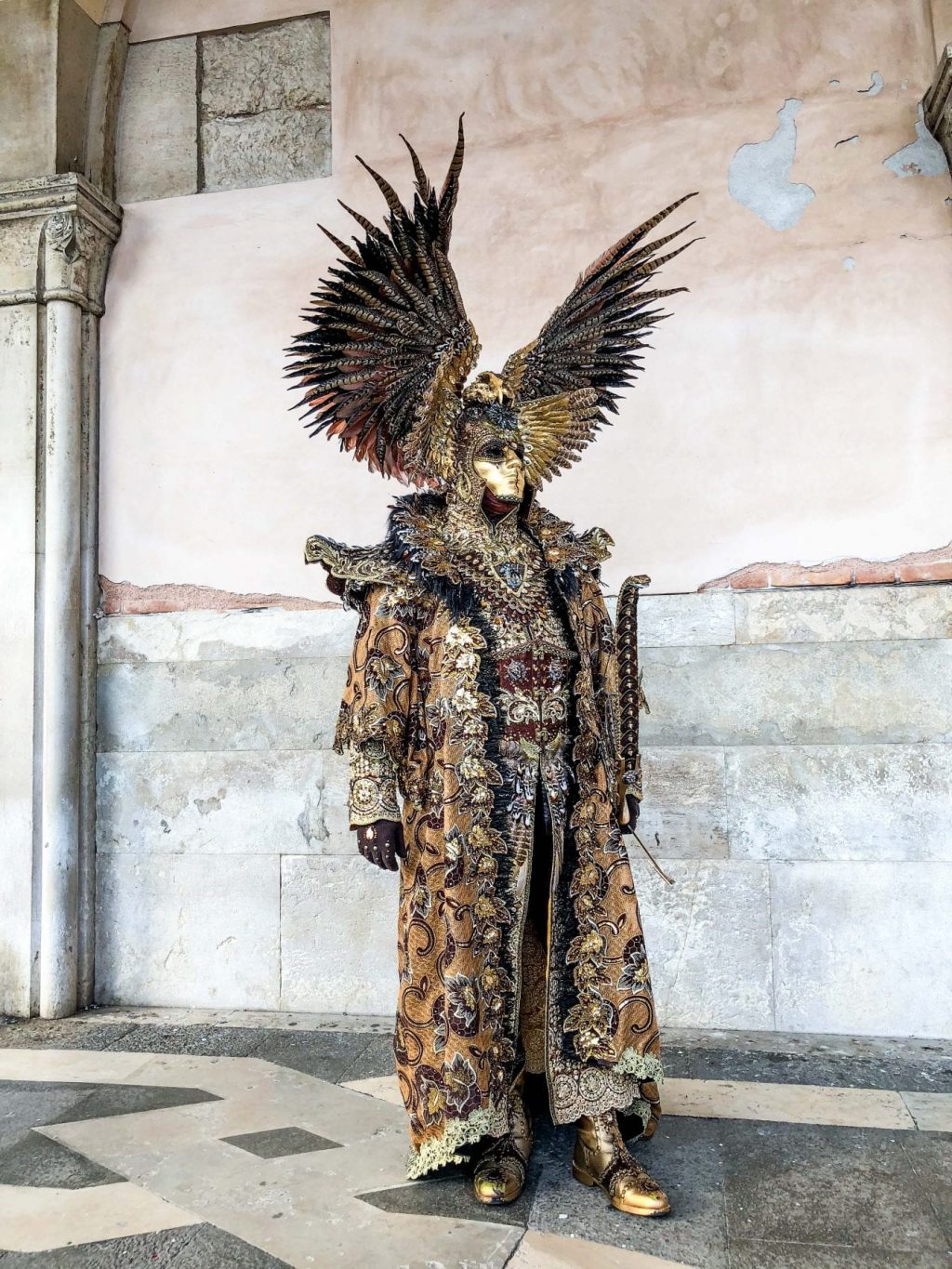 31. Mirror, Mirror, Who's The Fairest of Them All? The mirror responds, "the beautiful shining diamond starring at me."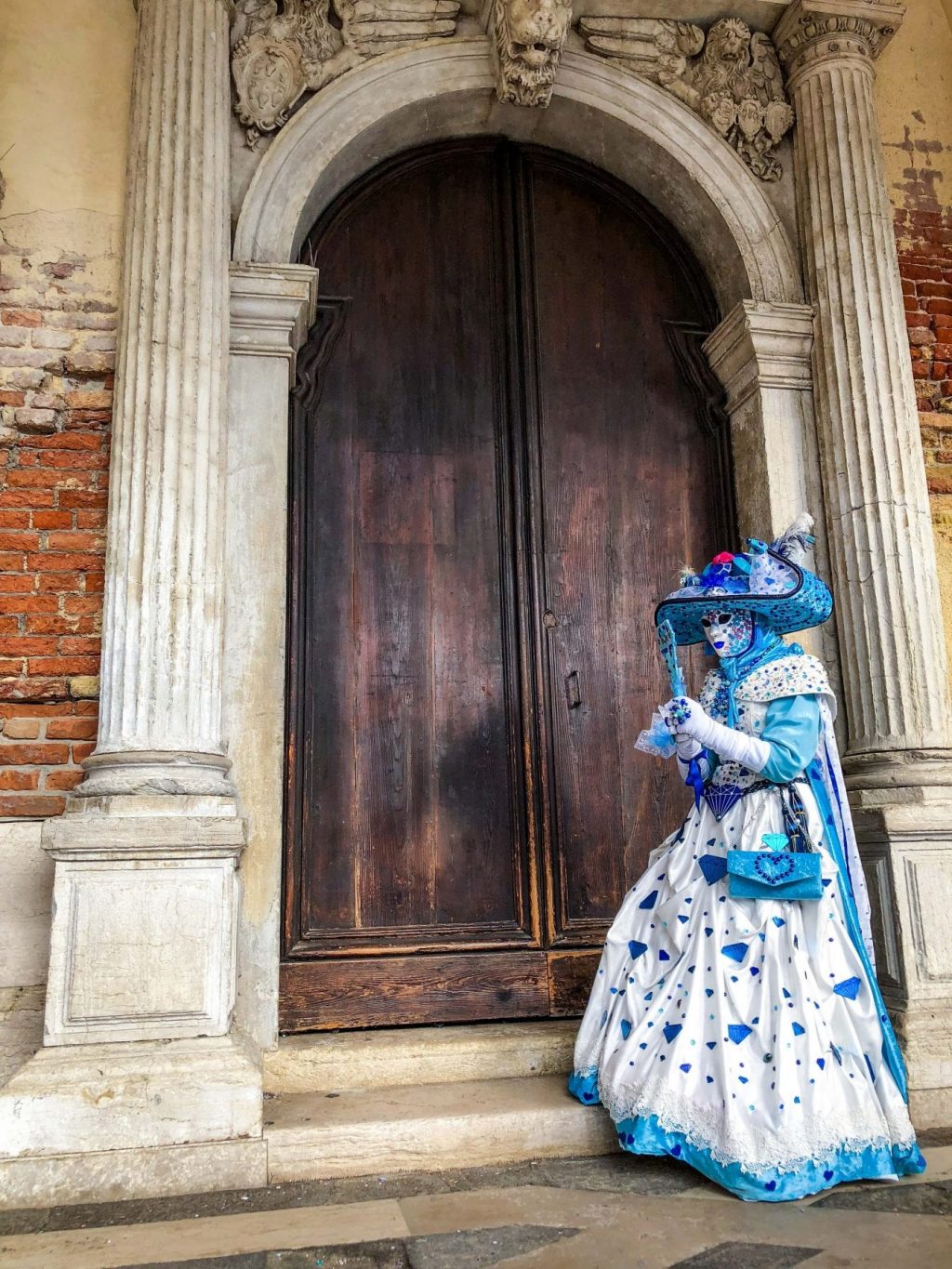 Venice carnival costumes, Venice carnival 2018 photos, Venice carnival, Carnival Venice Italy, Venice Carnival, Carnevale di Venezia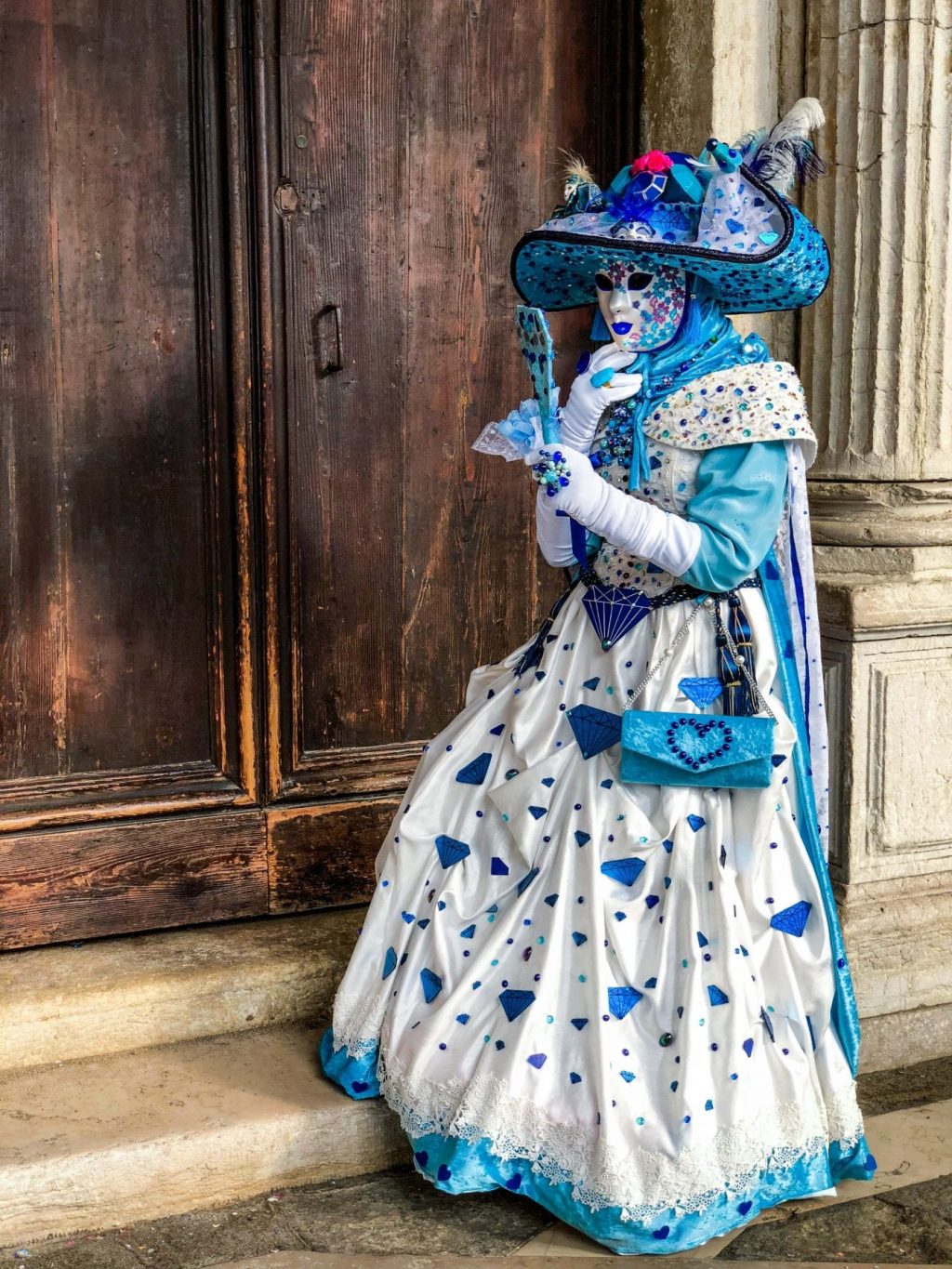 32. Lady Blue. She was enchantingly dressed in fairy tale blue tulle trimmed in hot pinks and peaches mixed with shimmering damasks. She posed with playful ploy.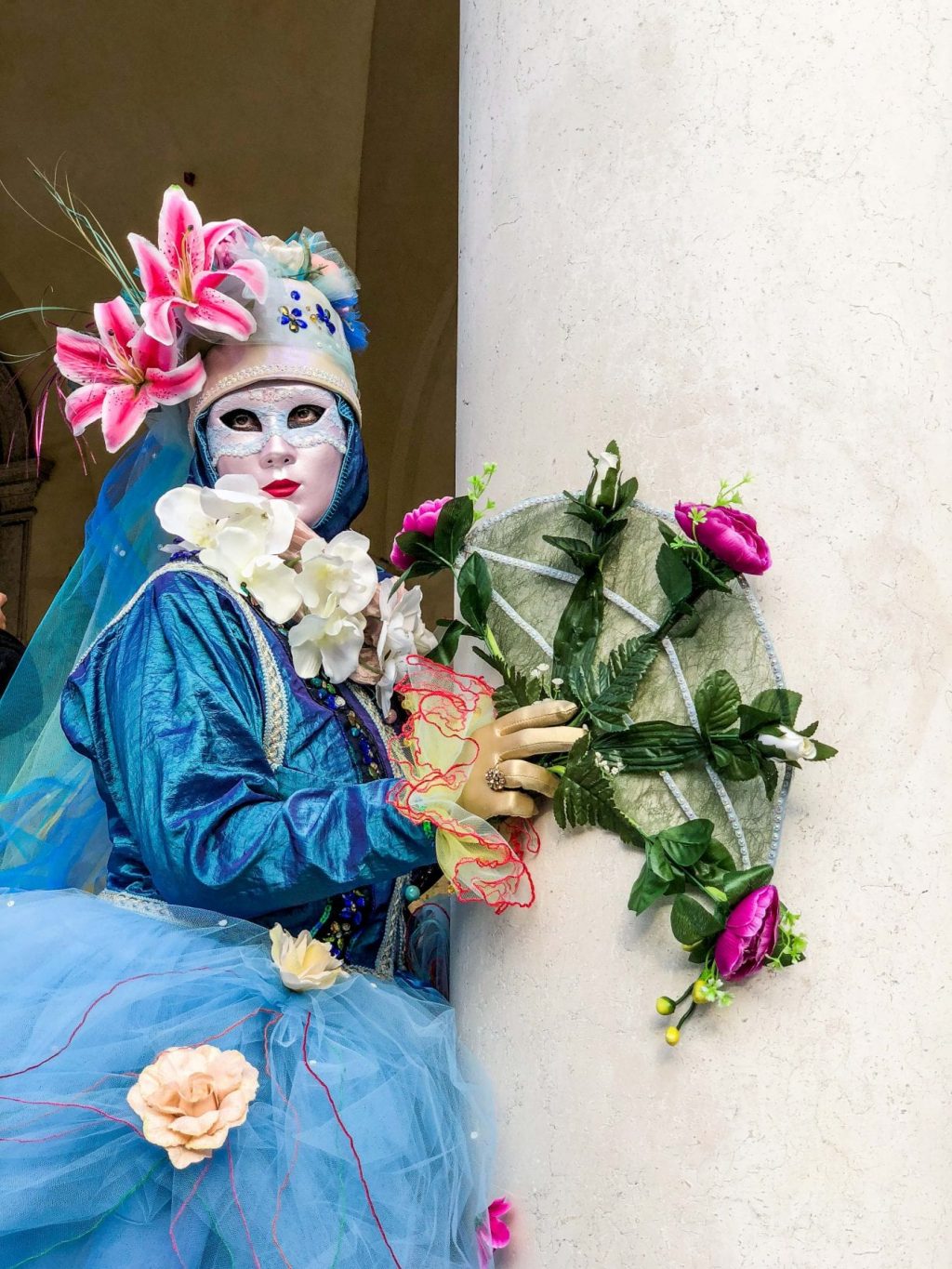 33. The Venetian Martian. This guy or girl reminds me of a heroic martian decked out in lime green and blue satins with delicate banding on the edge.
34. Peony + Pearls. Who doesn't love peonies and pearls? I certainly do! The mixed-use of blush pink brocade, dripping pearls, and artificial peonies and roses were stunning.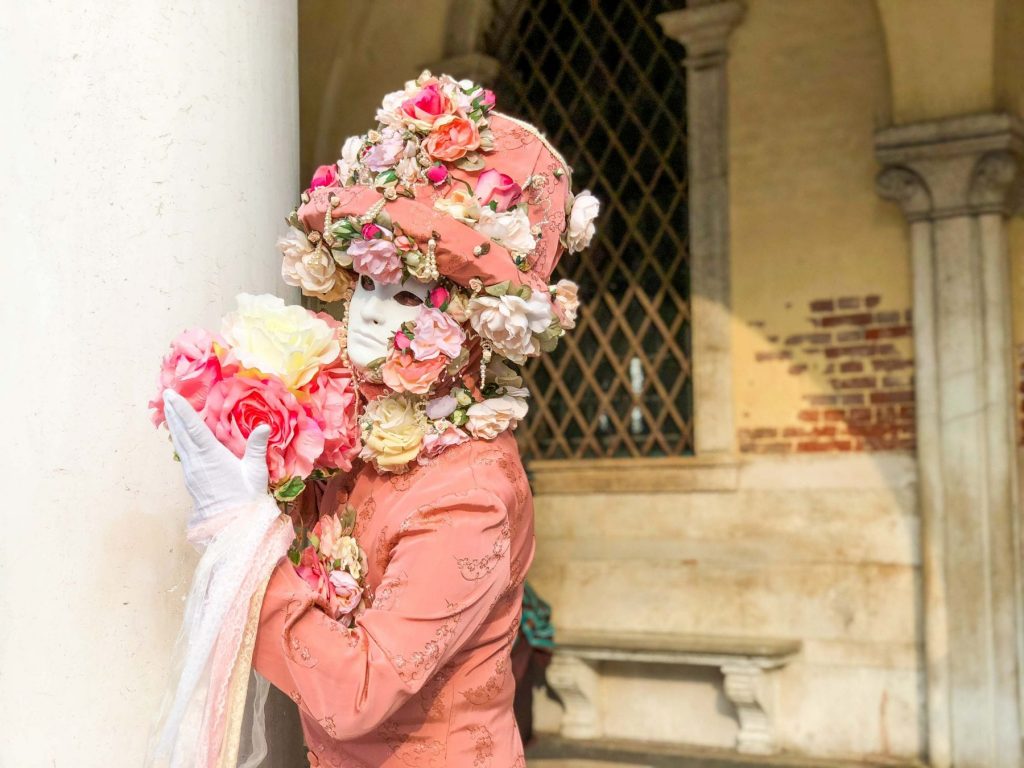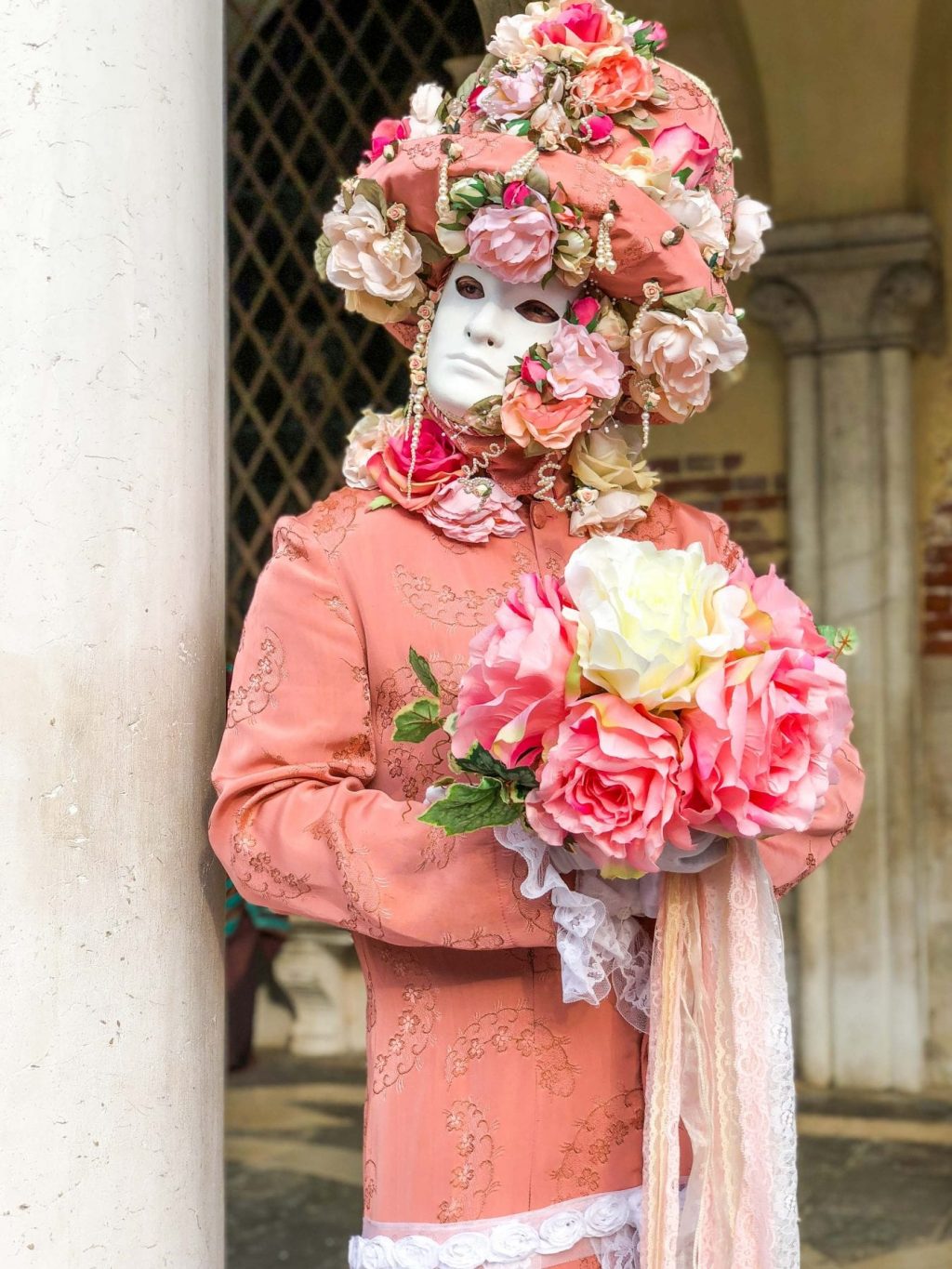 35. Mr. White + Mrs. Black. I love the statement that this couple made. Back in the Victorian era, this interracial relationship may not have been accepted. We were glad to see that times have changed because these two were obviously in love or they need to hop a flight to Hollywood.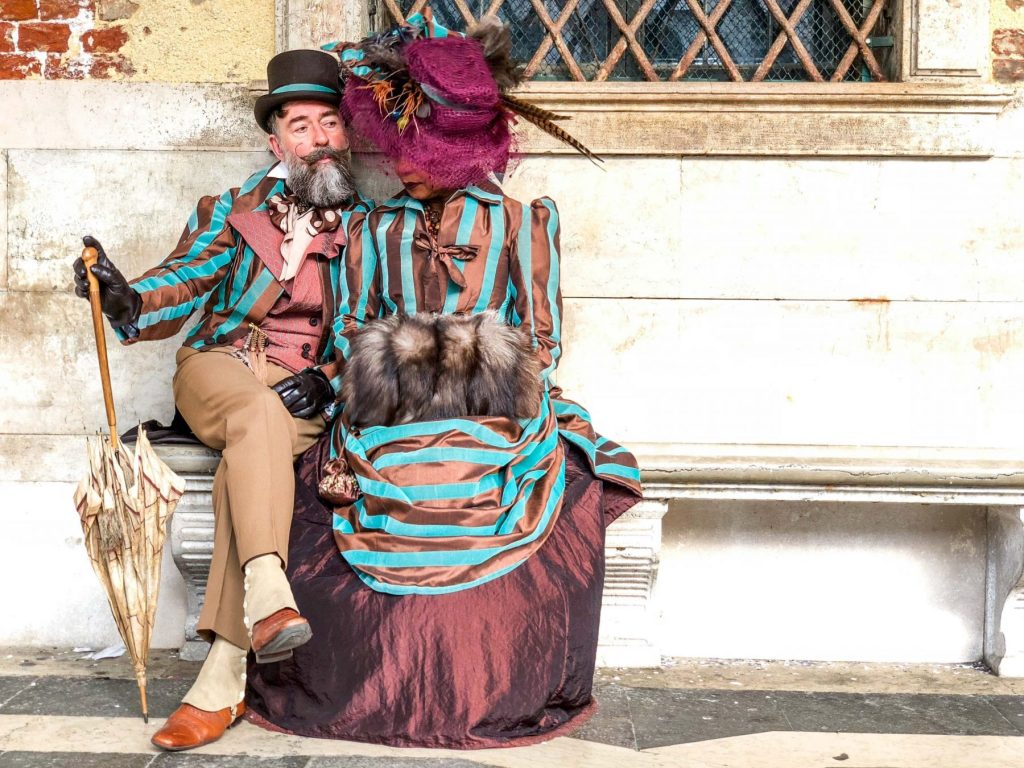 Venice Carnival Costumes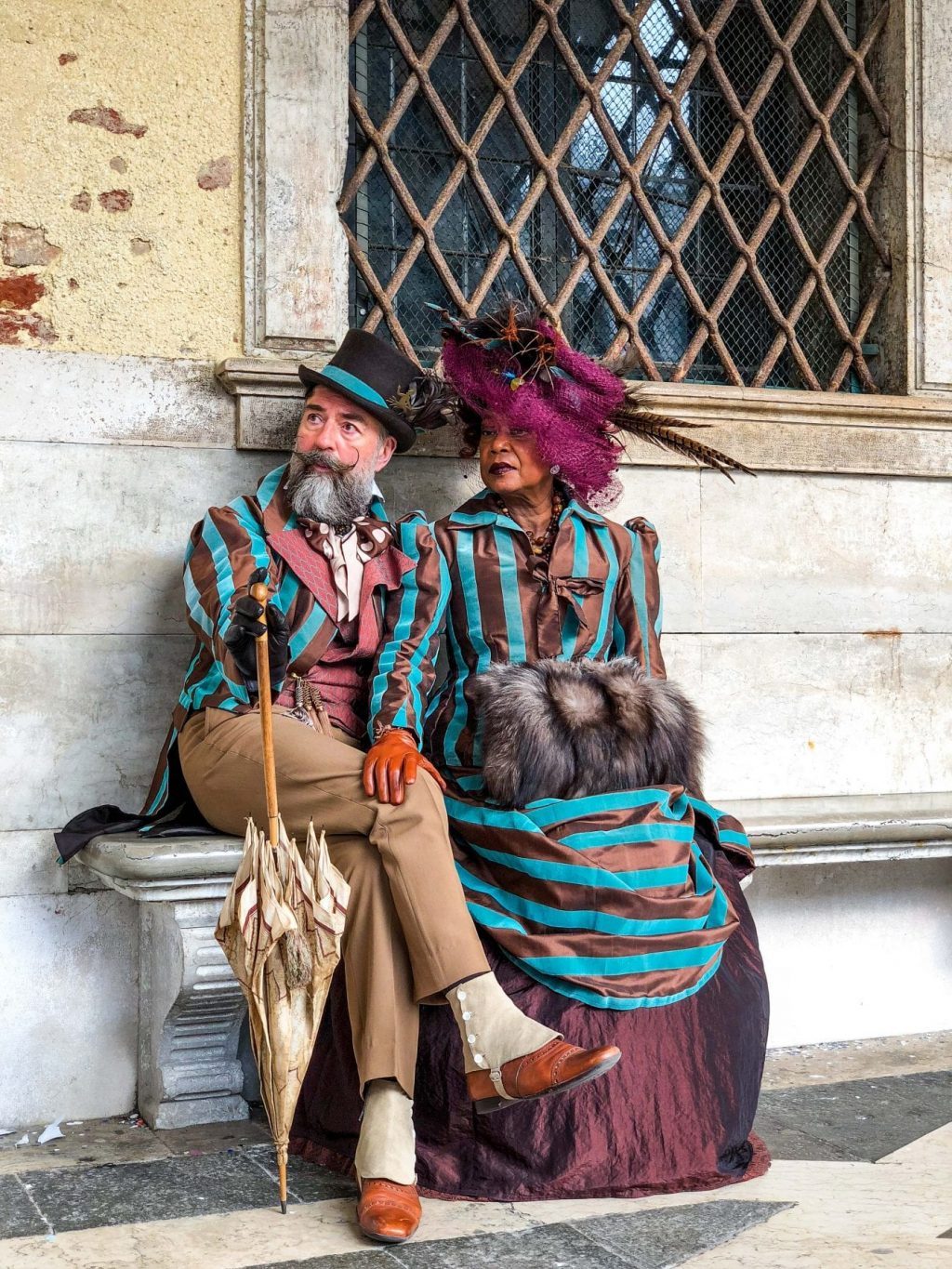 36. Cat + Mouse. The cat mask was the only full head mask that I saw in the two days that we were there. I would love to know the story behind this creator! It was exquisitely handpainted and the accompanying costume is simply befitting.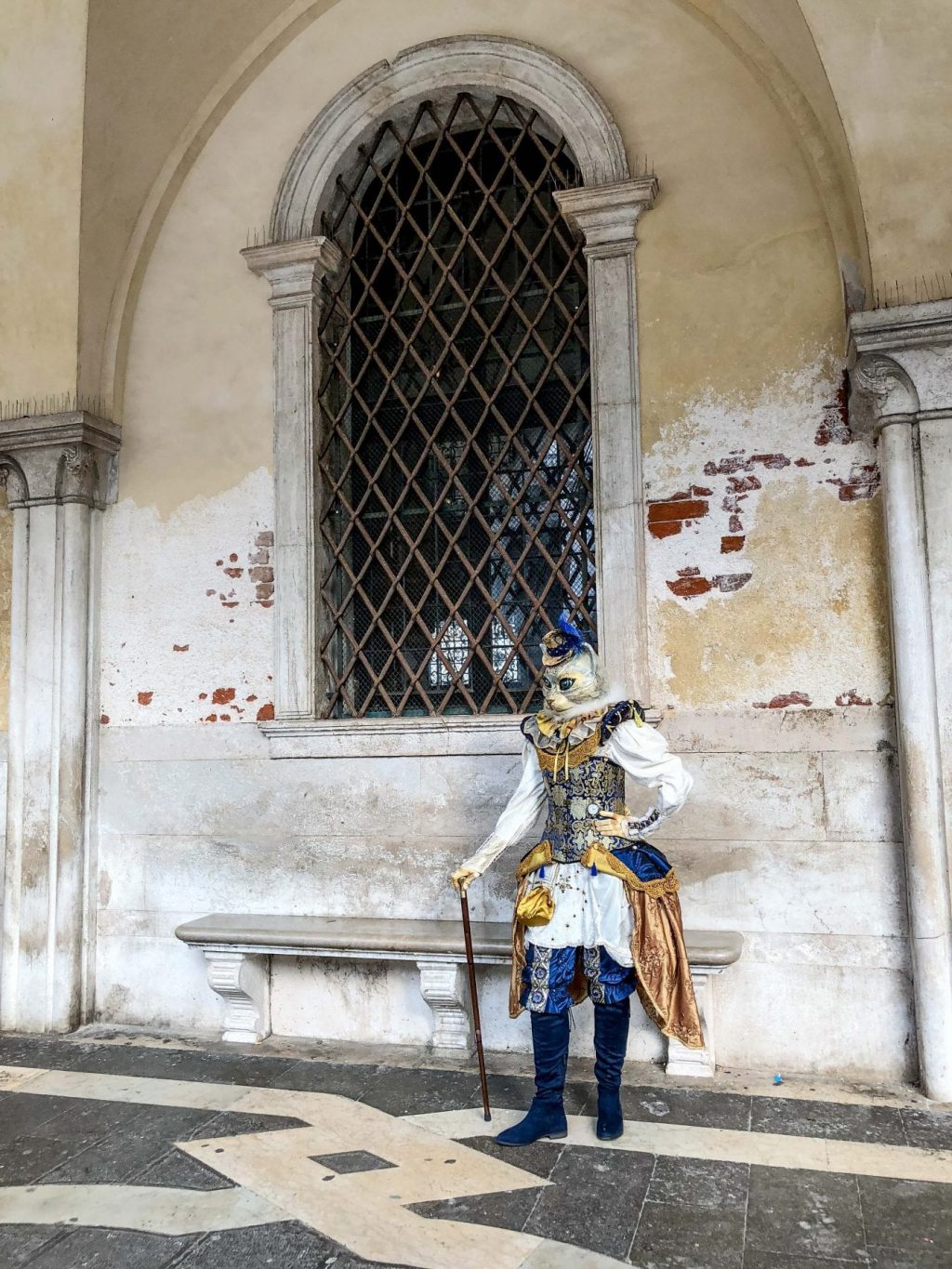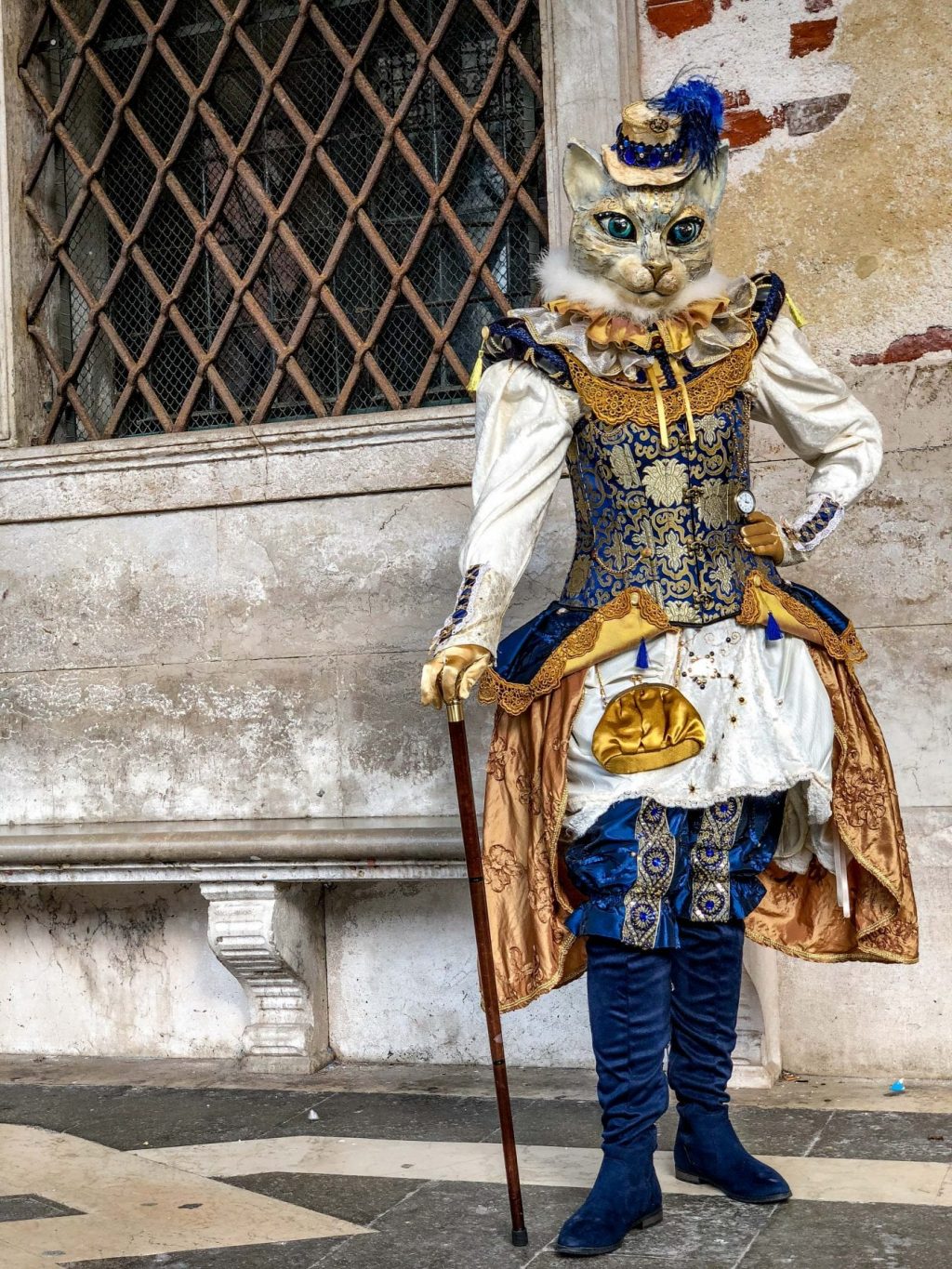 37. Kidding Around. I love, love, love, the eye-catching colors and playfulness of this lady's costume and mask. The assembly includes a tulle skirt, booste over a black balloon armed shirt. Her handcrafted purse, hat, shawl, and magic wand included clowns, light bulbs, Christmas balls, fur balls and even a second Carnival eyemask.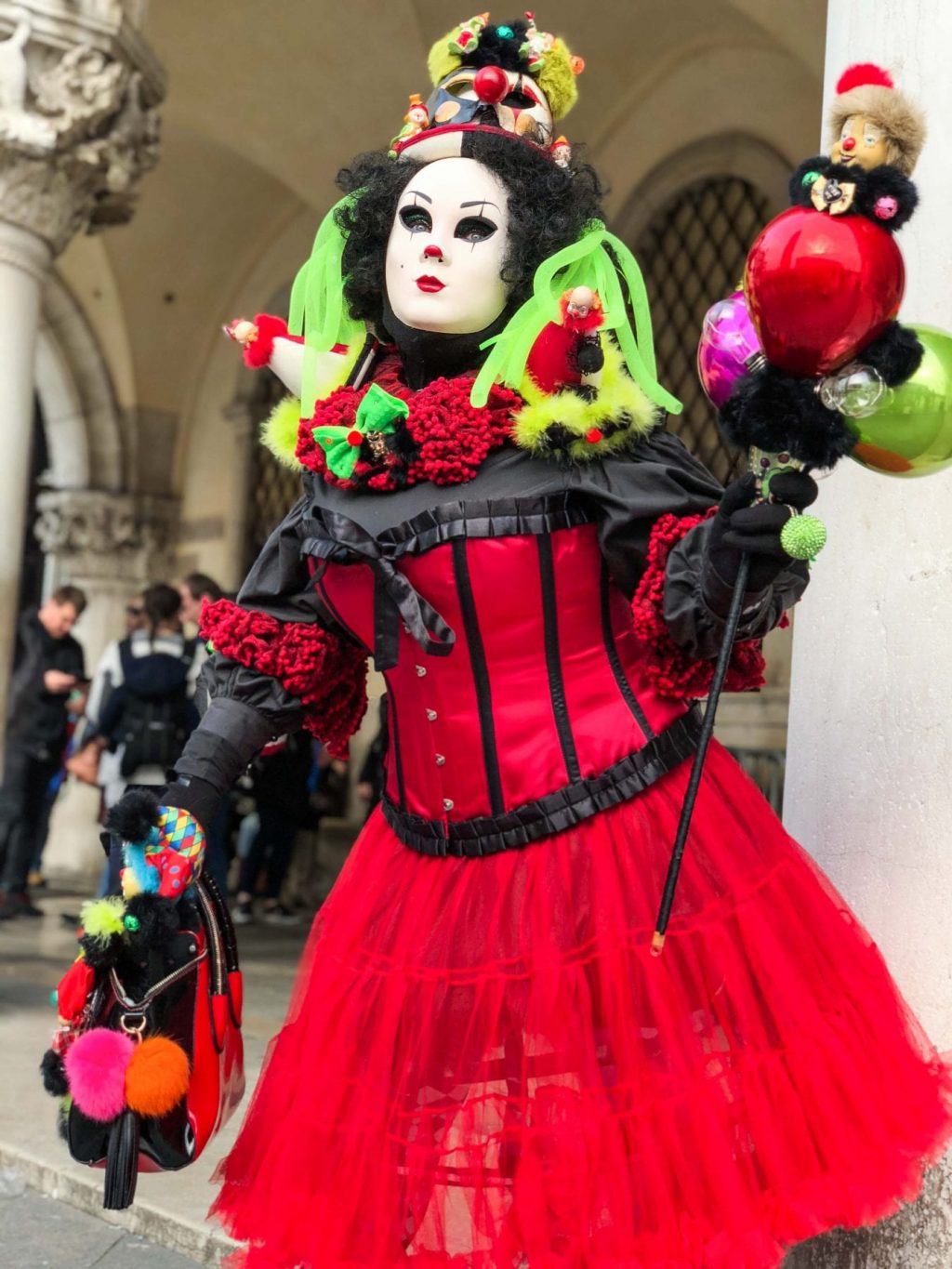 Venice carnival costumes, Venice carnival 2018 photos, Venice carnival, Carnival Venice Italy, Venice Carnival, Carnevale di Venezia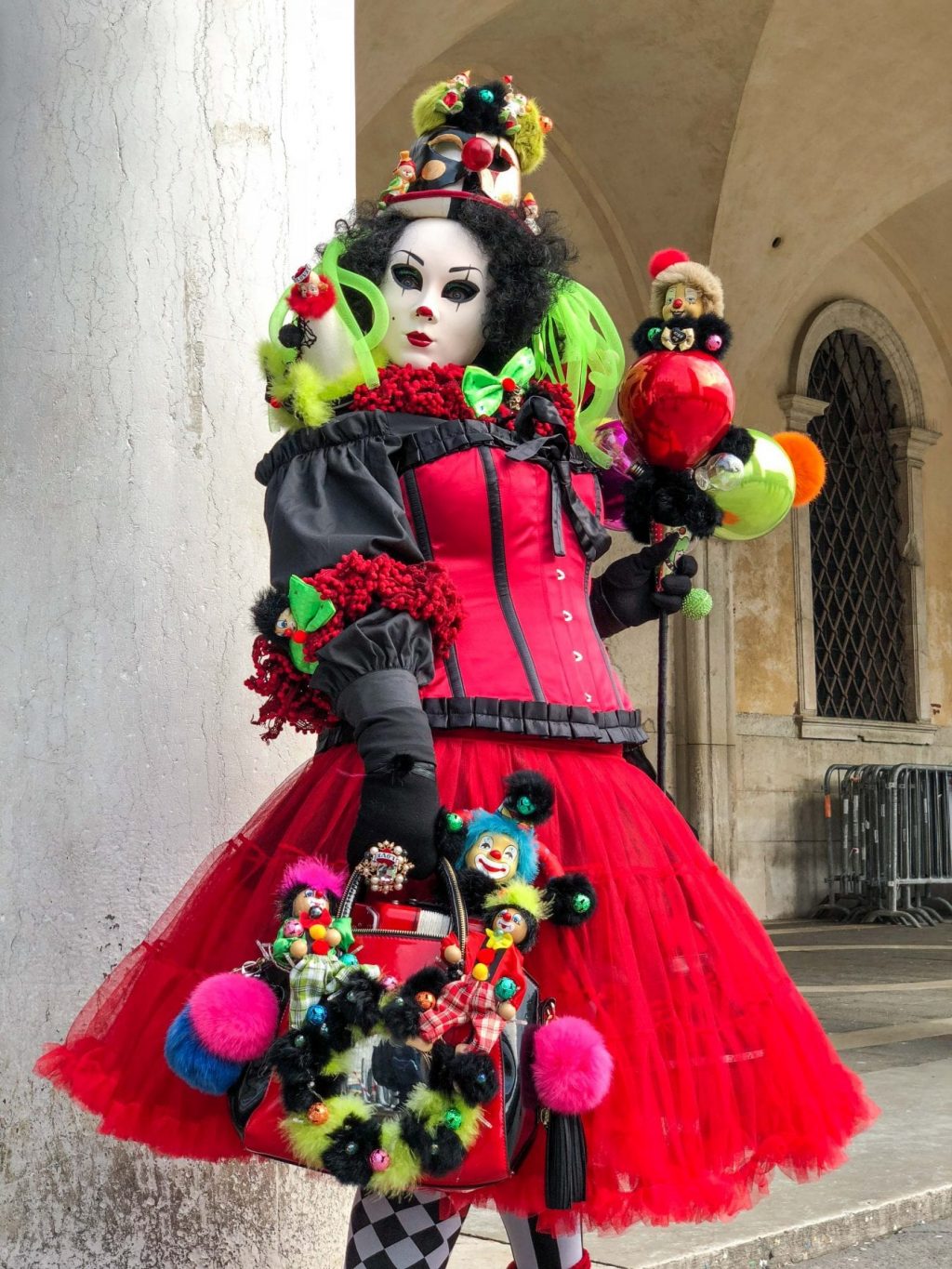 It appears she had on two pairs of stockings – one black and white diamond and the other a black and white stripe.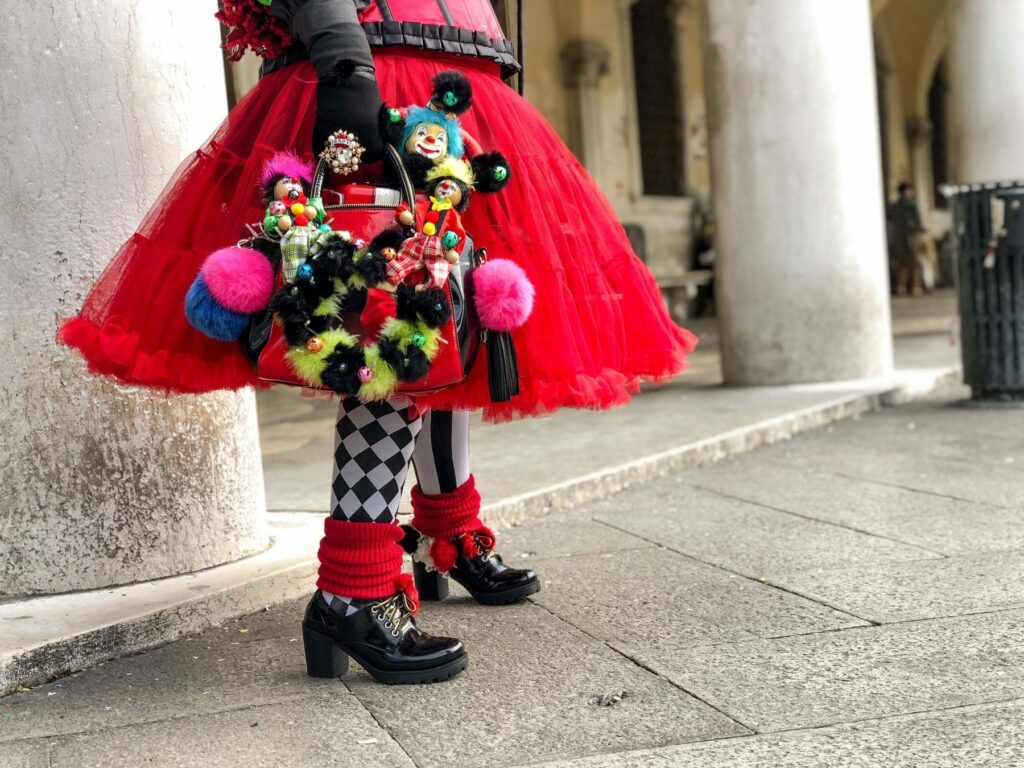 38. Mrs. Peacock + Mr. Purple. In Venetian brocade fabrics and historic fashion, this couple looked merely lavish.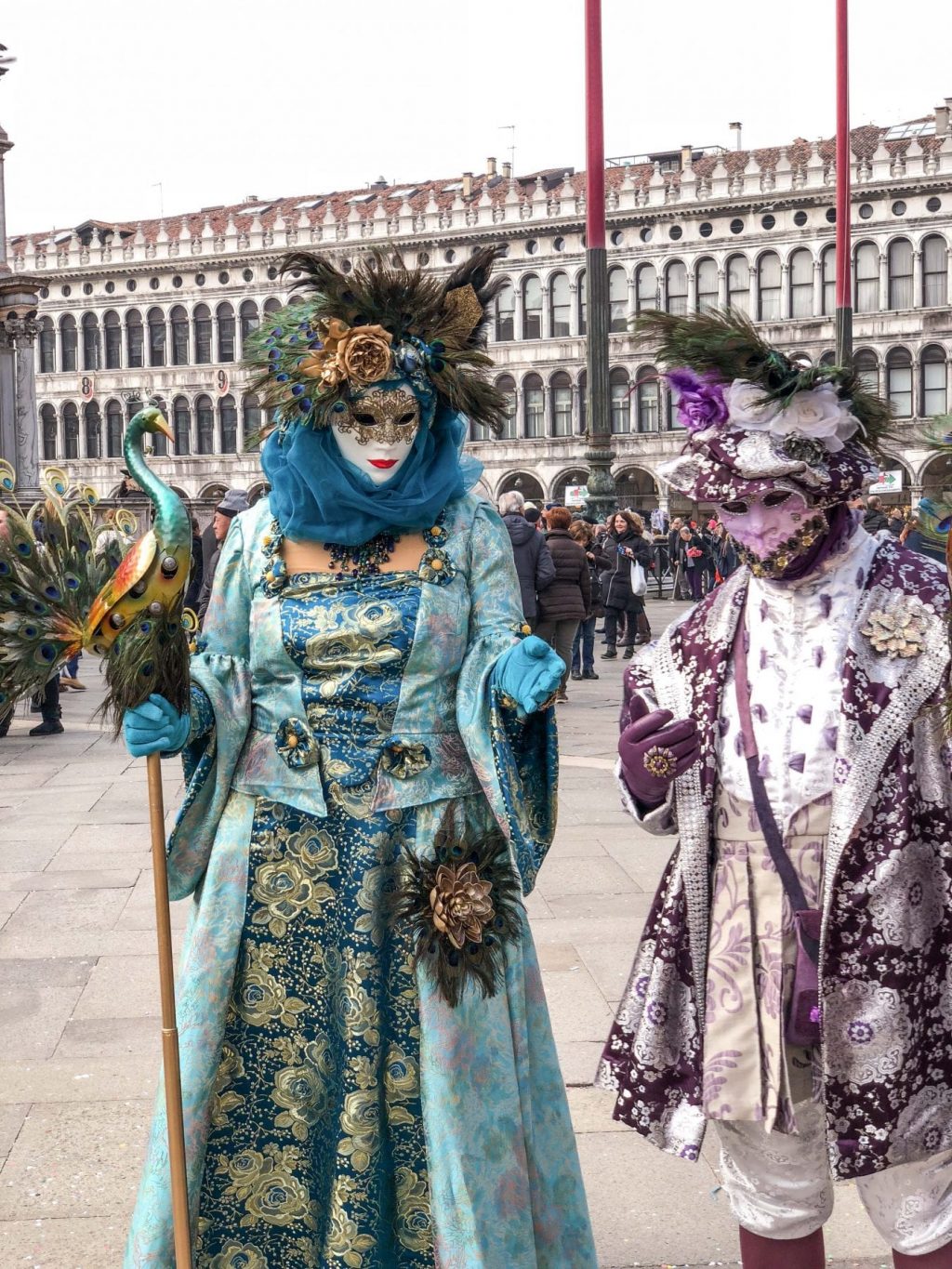 39. The Nice Venetian Cruella DeVille. The lace collar and velvets had me at hello. To top it all off, look at the swirl in the hat. This costume reminds me of a nice version of Cruella DeVille from the movie 101 Dalmations. The Venetian Cruella just needed her dalmatians to complete this look.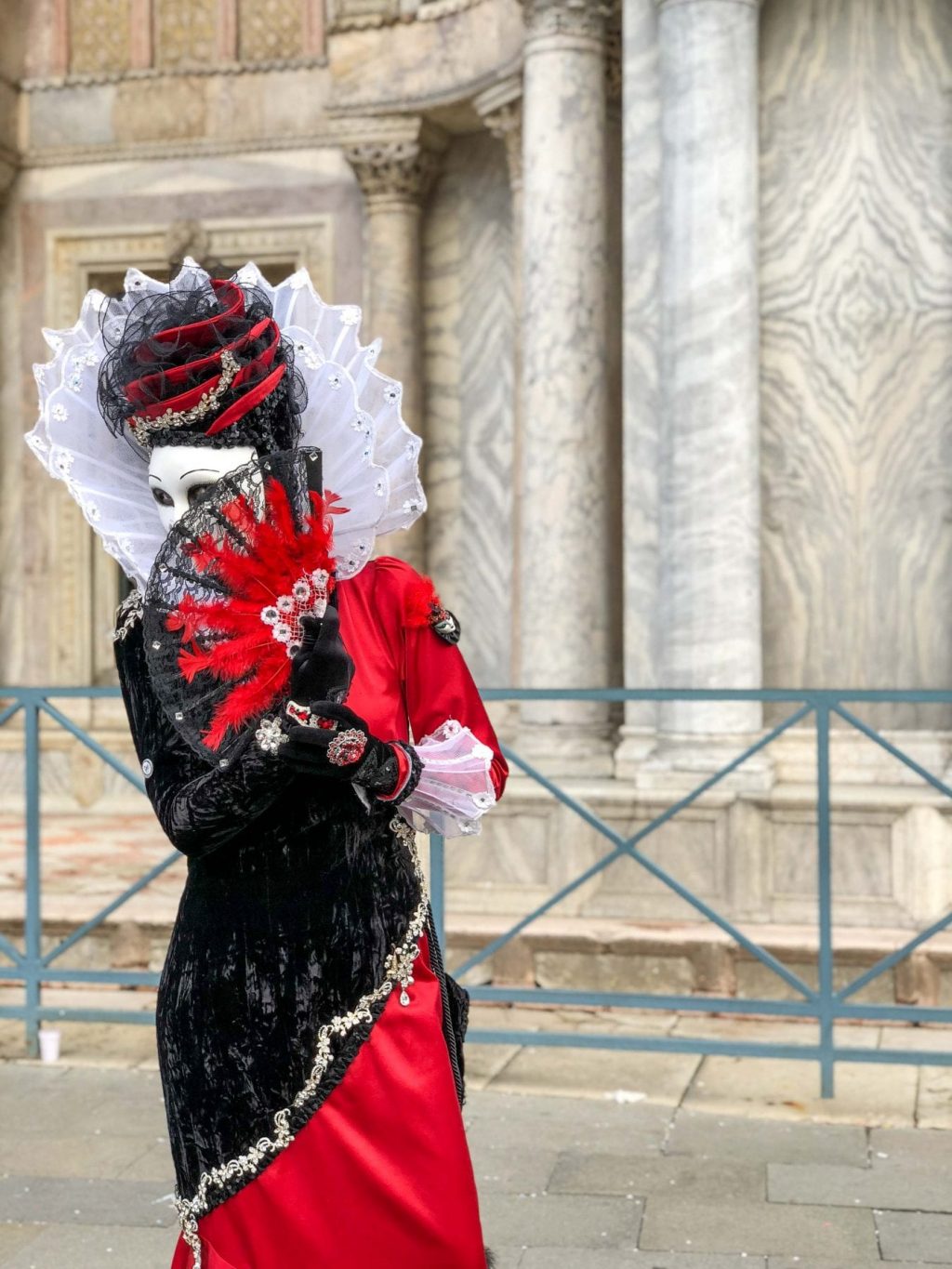 40. Pretty in Peach. It was awesome just walking through the streets of Venice and when turning to look at someone, you see people like this lady dressed so beautifully in peach.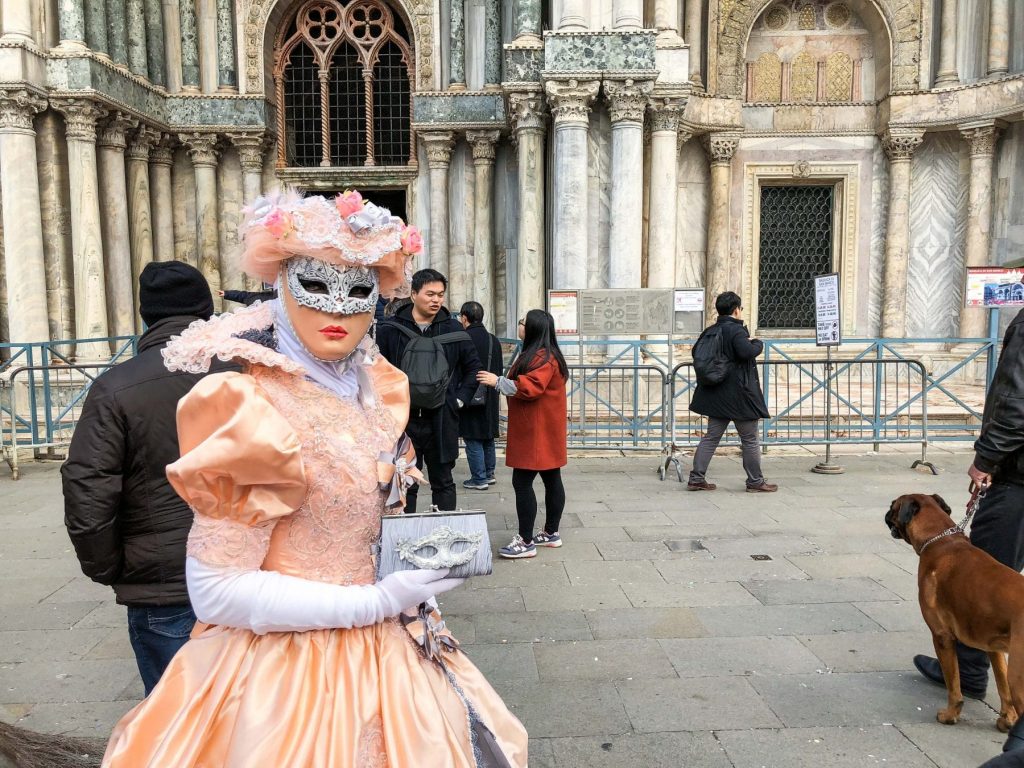 41. Go Red Young Lad. In all of Carnaval, this was the youngest (or smallest) person that we saw. It appears to be a mom and dad teaching their son about real Venetian culture. Remember if you don't teach your kids about culture, especially your own, who will?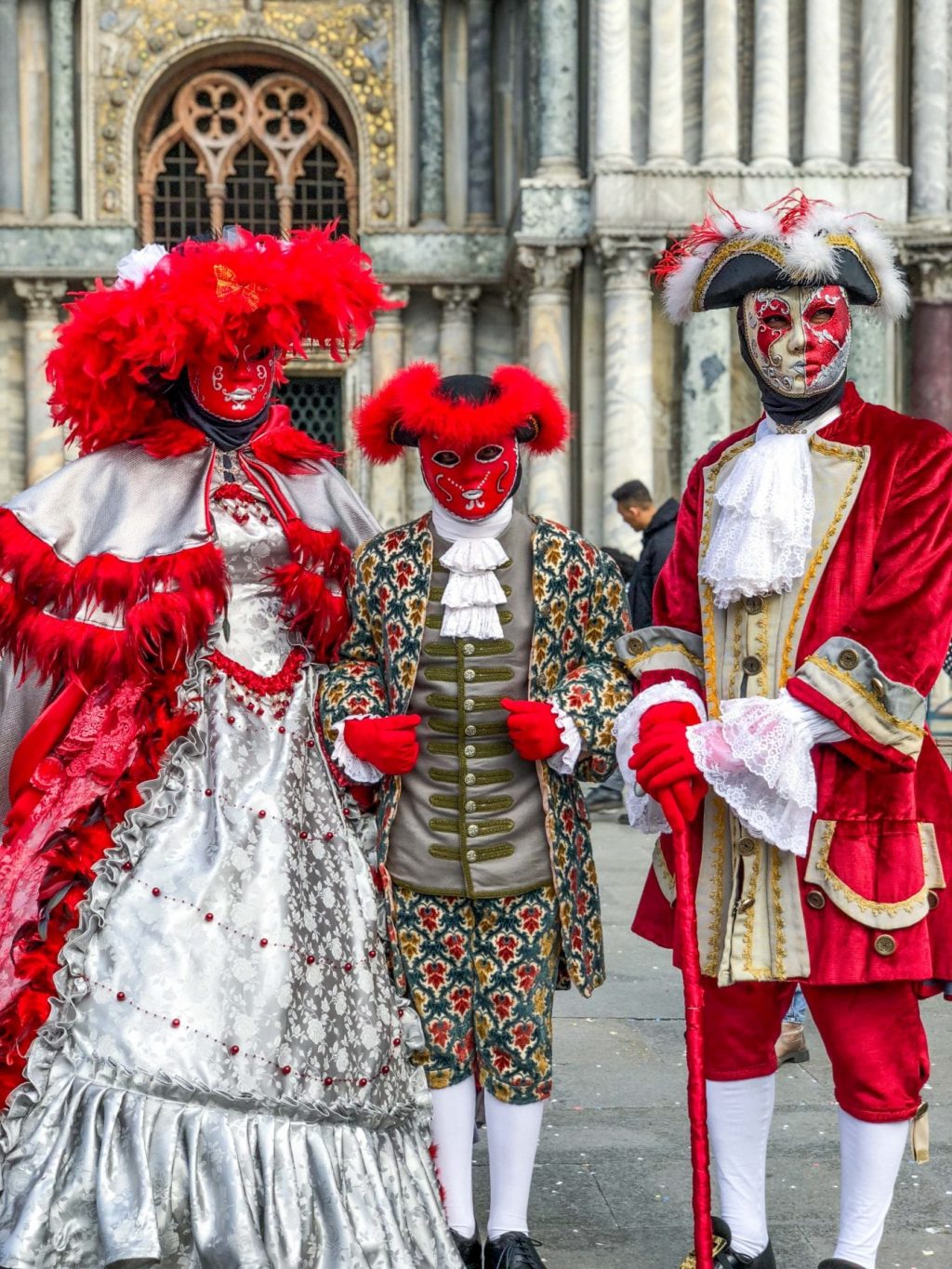 42. Tango in Tangerine. Just comfortably strolling through the passageways and canals, there are costumes, masks, and smiling faces everywhere.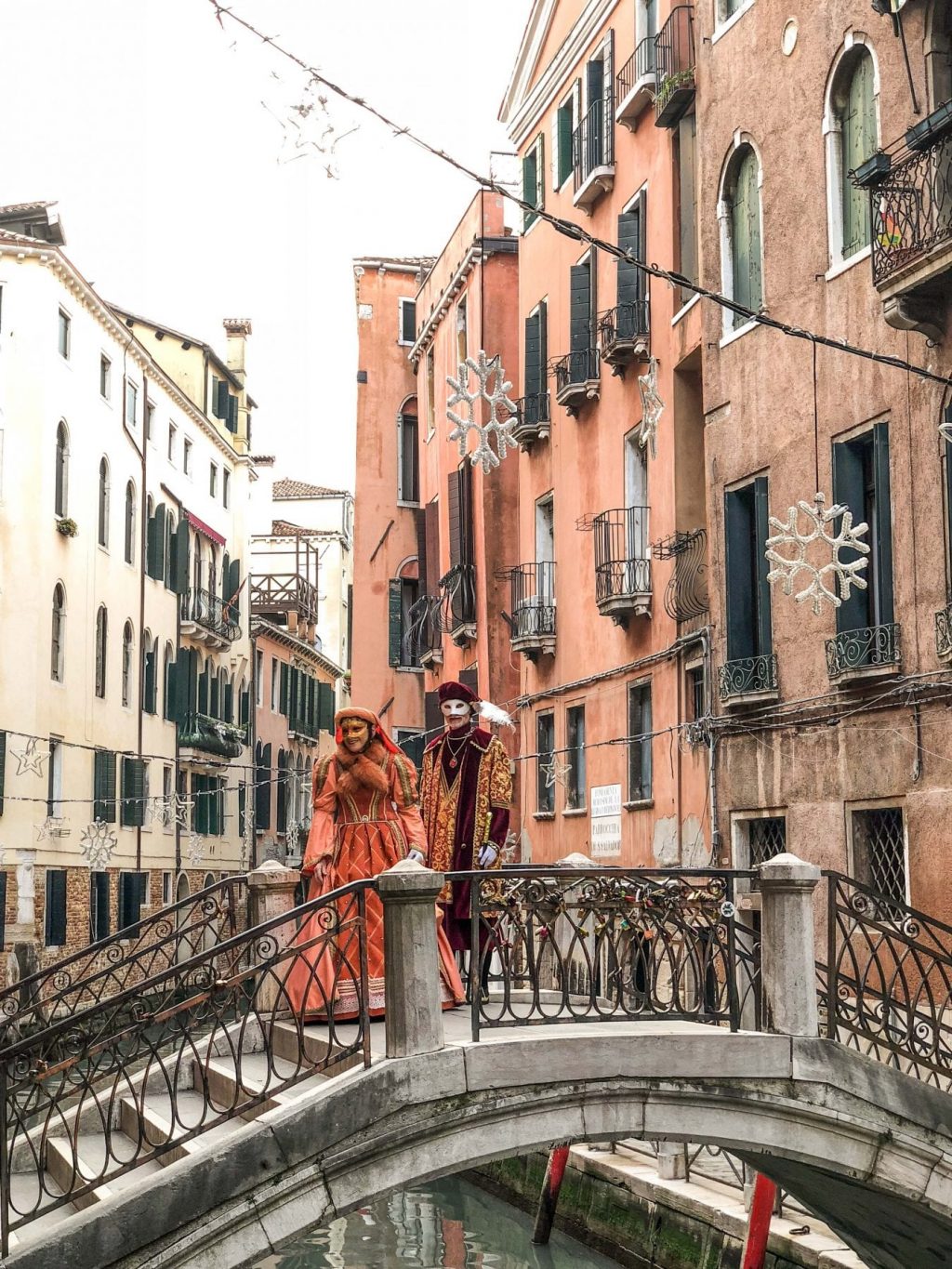 Venice carnival costumes, Venice carnival 2018 photos, Venice carnival, Carnival Venice Italy, Venice Carnival, Carnevale di Venezia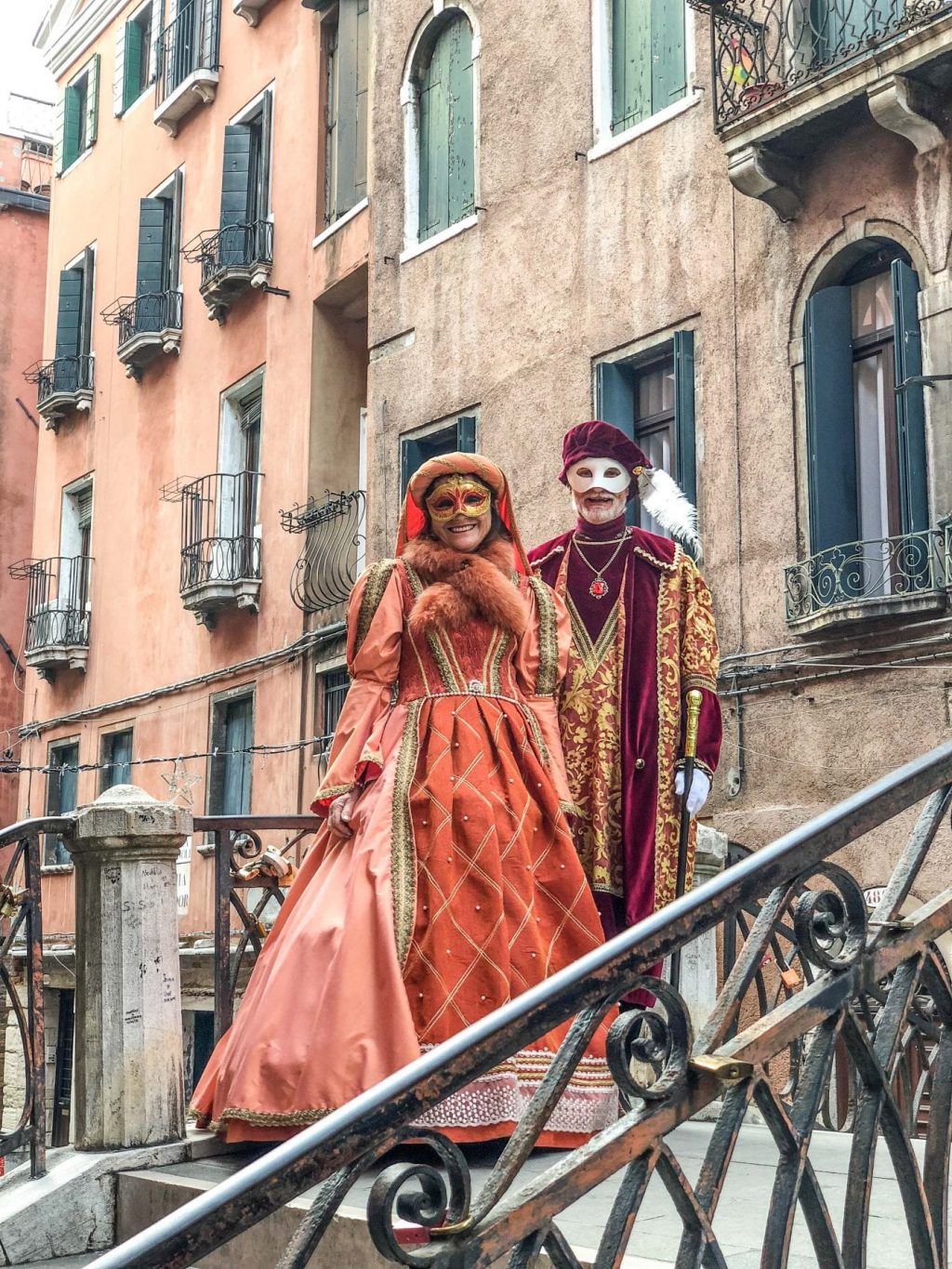 I hope you've enjoyed exploring Carnaval via my blog post even a hundredth as much as I enjoyed being there. The best way I can sum up my first trip to Carnaval was like seeing my daughter, Macy at Disney World for the first time. She wanted to fill her autograph book with Disney characters. I wanted to capture every costume. There were more, many more so I'd like to thank the PuTTin' OuT team for selecting the best photos because I simply could NOT decide.
See our video and travel to Venice with us.
Thank you for reading, watching and taking a part of our travels.
XO- Christi
P.S. I'm not doing anything really fun at all for St. Patrick's Day so if you're looking for ideas, good luck and click here for a four-leaf clover of a St. Patty's Day Bachelorette party idea all the way from my home state of Georgia, Savannah to be specific.
Share & inspire someone else...