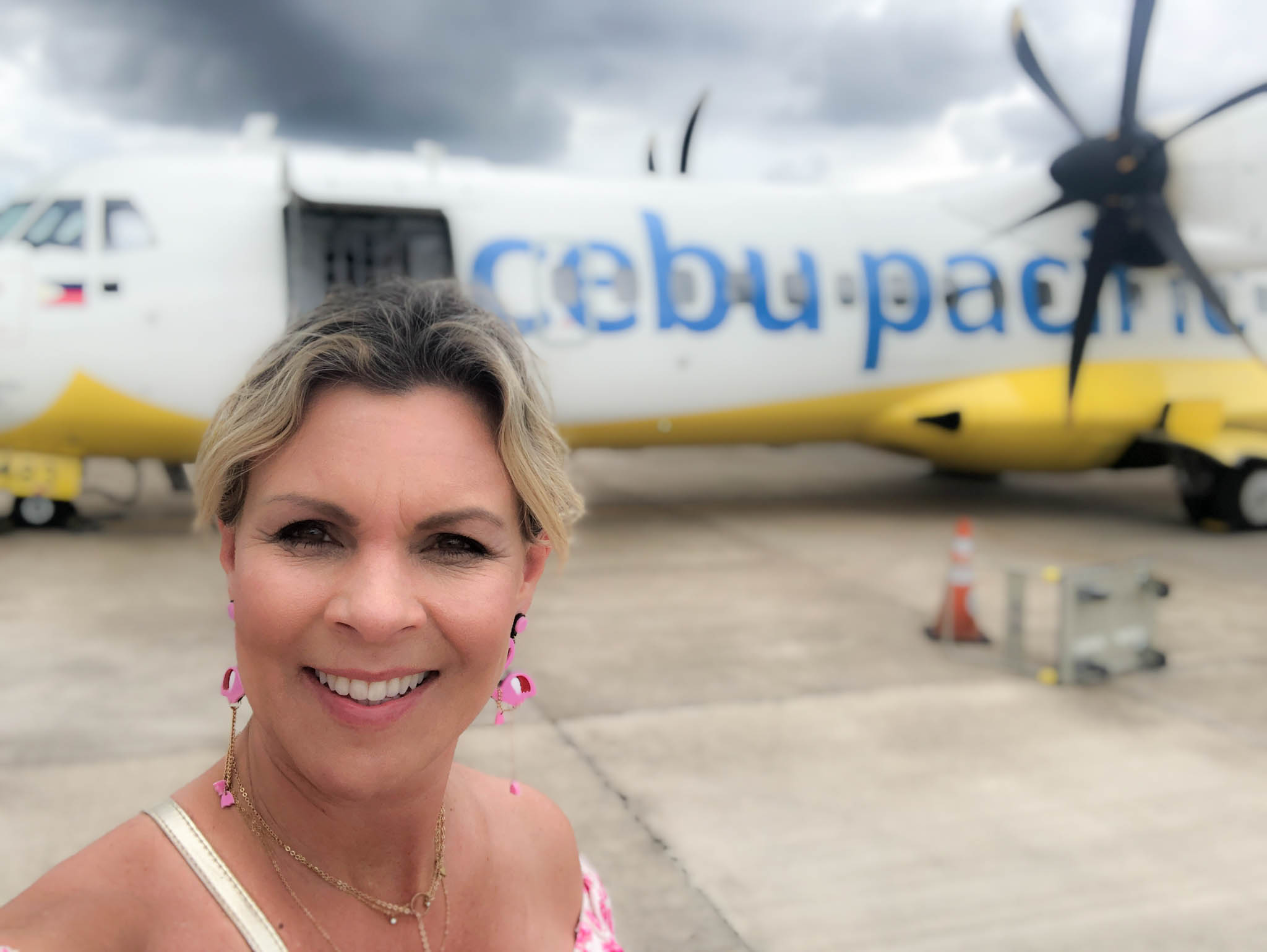 17 Easy & Best Way To Find Cheap Airline Tickets On The Fly
Don't Waste Another Dime on Scotts Cheap Airfare
There is much better and possibly cheaper airfare in 2023 than using Scott's Cheap Airfare. Now that the site is Going.com, it will get right into the hands of the same airlines and travel sites already selling you airfare. Here are some ways to purchase cheap airline tickets without yearly or monthly fees. It's easy to get cheap airline tickets on the fly.
The Easiest & Best Way To Find Cheap Airline Tickets and Avoid Yearly Scott's Cheap Flights
Purchasing airline tickets is worse than watching a yo-yo go up and down. One day the key can be half the price of the day before or vice-versa. Airfare pricing is a complicated game often based on my favorite business measurement tool, but the worst tool for humans- its algorithms! Now that Going has purchased those algorithms, no longer Scotts Cheap Flights.
Costs for airline tickets can change by the minute. Sometimes before checking out! I find that most of my traveling friends often overpay for flights because they don't know how to find the best way to find cheap airline tickets.
Teaching people how to XOGO is the name of my game! I quickly discover cheap airfare all of the time. My travel is often scheduled around airfare costs. Yeah! There are some things I allow BIG CORPS to dictate. Savings is one of them. Follow these golden rules, and you'll be off to check off your travel bucket list in no time.
Here's how to find the cheapest flights to anywhere in the world.
1. Start searching for cheap airline tickets based on your bucket list.
This may seem odd, but it's the best way to get the most bang for your buck.
Prioritize your travel bucket list.
Determine the dates you can vacation.
Go to the cheapest airline ticketing site – it's sooooo good they were sued by United Airlines.
2. Search for the best prices of airline tickets per departing location and your desired bucket list location.
Input your bucket list location and desired travel dates. For instance, if I want to go from Miami to Paris in June and return in July, I input the desired locations, airports and the rough date or month I want to travel. I always extend one month onto another to see the prices in two months simultaneously like this: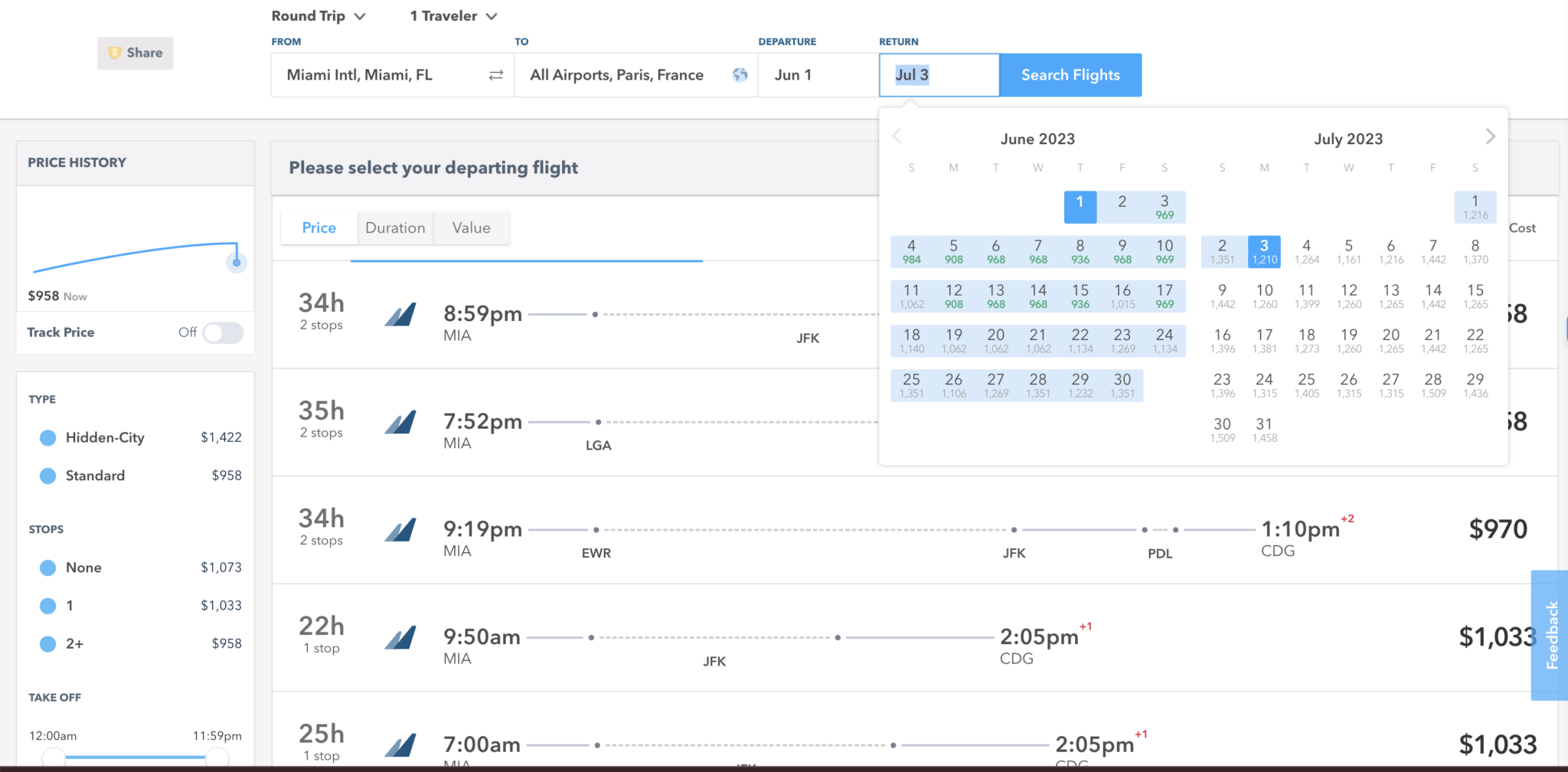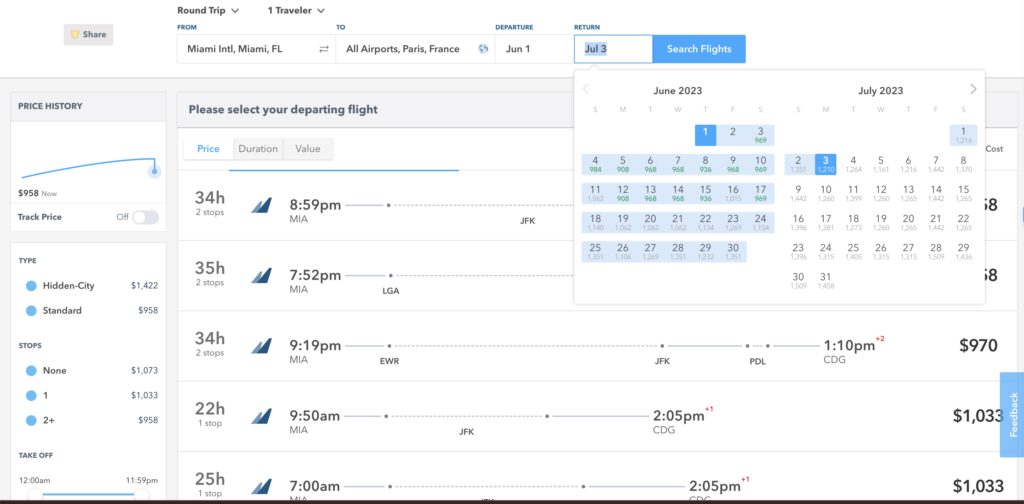 3. It pays to be flexible with vacation travel dates before purchasing airline tickets.
Flexibility is the key to cheap travel.  Where and when to go will be the ultimate deciding factor on the cost of your trip. Suppose your heart is set on a particular destination with a specific time window, vacation, or time off. In that case, you're most likely losing the majority of your flexibility in travel booking. Like cash, flexibility is king to cheap travel.
In business or at leisure, I rarely book airline tickets during peak times. That is, of course, unless I have a meeting to attend or want to be precise. Sometimes I don't know how long I'll need to be in each location, so I often book based on the cheapest flights and hotels. I do not like rescheduling, so I often use 24 cancellation policies and book on the go. I realize this makes most people nervous as it's not a "travel plan."
4. Where to search for cheap airline tickets?
Instead, if getting a cheap plane ticket on just any old airline. is your priority, flip that approach:
See what prices are available via these sites in order:

Skiplagged is my favorite – they are sooooo good at finding cheap flights that United Airlines sued them.
Google Flights  – I often use this site to check out a visual cost of flights based on airports because of the seven airport entries, but I most often book directly on Skiplagged or the airlines' site after searching on Skiplagged.
Momondo  – is always worth checking out for the sake of pricing and new research options.

Decide which of the cheap destinations you'll to you.
Select the dates you like that have cheap fares available.
5. Think of getting to the mainland and then hopping on a budget flight or other means of transportation.
Plus, as we'll discuss below, once you get to one island in the Caribbean or a country in Europe or Asia, you could easily start saving a lot on flights or hotels by simply remaining flexible and booking flights from one airport to another. First it's important to understand:
Why is it soooo cheap to book one-way flights from various airports?
Each airport charges a tax or surcharge that is passed on to each passenger deplaning from the aircraft.
Go to Google Flights
After entering a destination and date click on Date Grid and/or Price Graph to view the cheapest times to fly.
Then adjust your flight date to the one that best suits your budget.
Toggle the Track prices toggles to suit your dates or choose all dates.
Sidenote: If you're looking to book the cheapest flights, be sure to search for more than one date. (Clicking the calendar in Google Flights shows you cheap tickets for two months at a time.)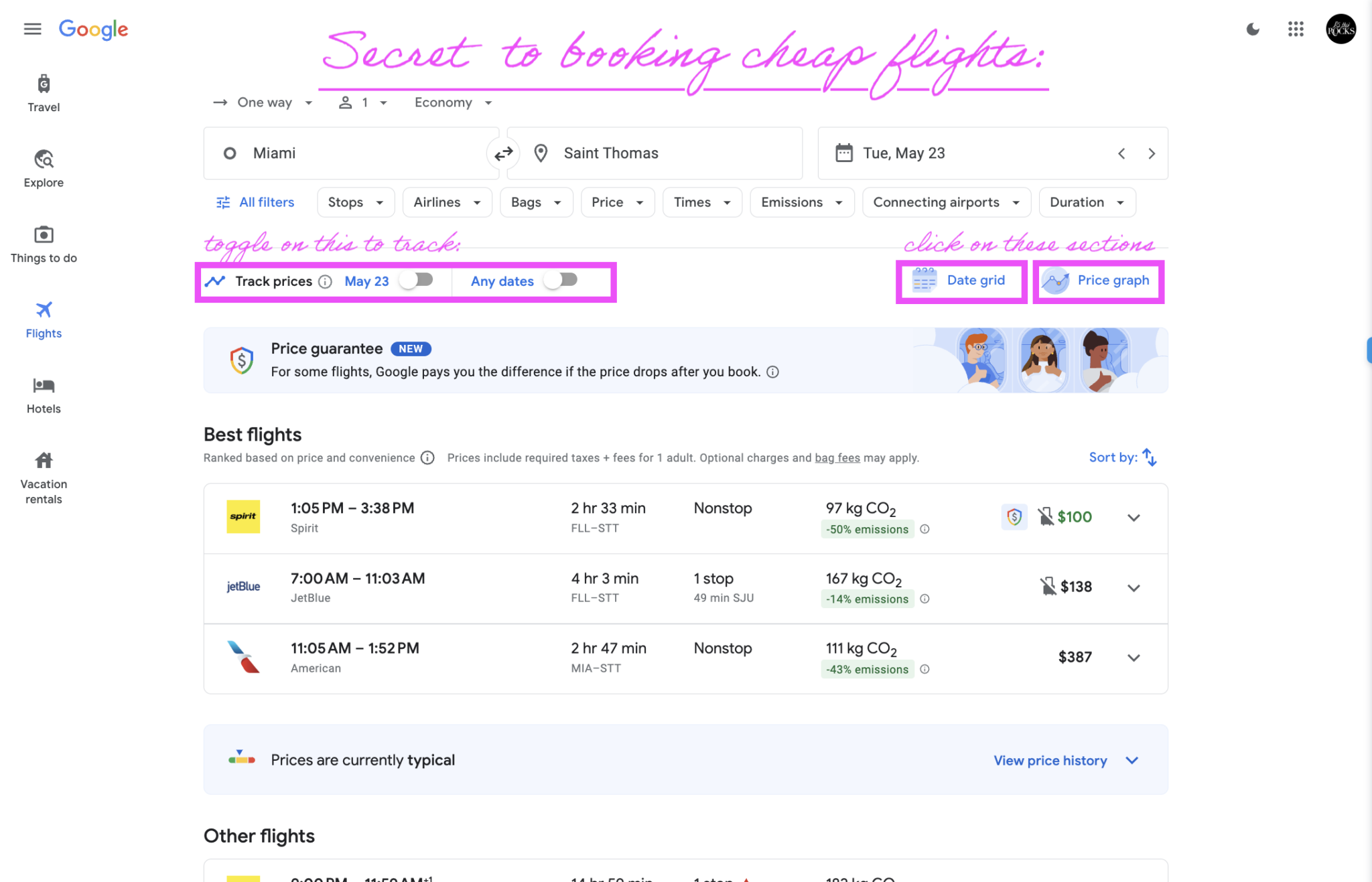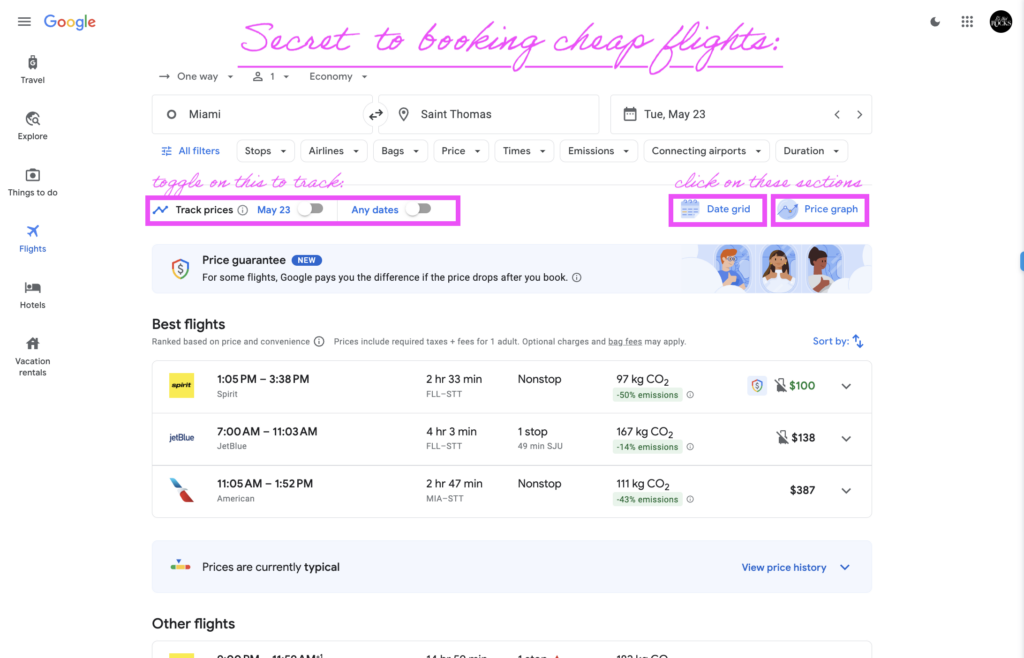 For instance, if I want to go to Puerto Plata in the Dominican Republic (where my hubby and I married), I search airport code POP for Puerto Plata. The other locations shown below populate with costs for those locations:
6. Find the cheapest place to fly with the Google Flights Explore Map
The secret sauce to travel planning for visual lovers is – Google Flights Explore Map. You'll be able to see tons of options first, with pricing for each location.
Additionally, you can input up to seven airports in the departure and your bucket list destinations. Sometimes, it's cheapest to input several known major airports on your coast and then add your bucket list destinations.
For example, if I want to consider going to Paris from my hometown of Miami,  I will just put in the corresponding airport codes and then see the route that'll be the cheapest.
Search-select dates or browse weekend, one-week, two-week or monthly trips available in the next six months with PRICING!
You can use the Google Flights Explore Map for prices and locations. Then be flexible!
‍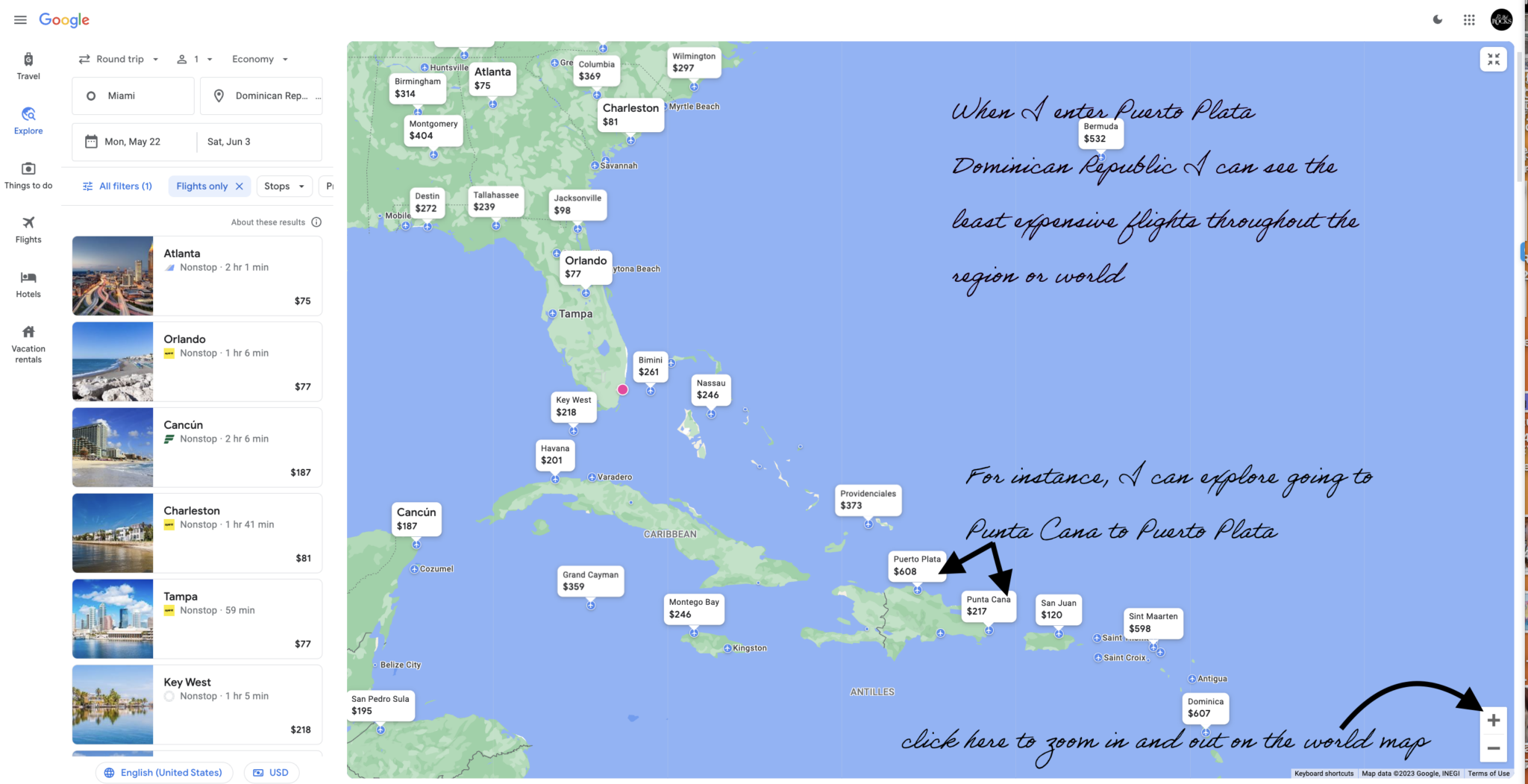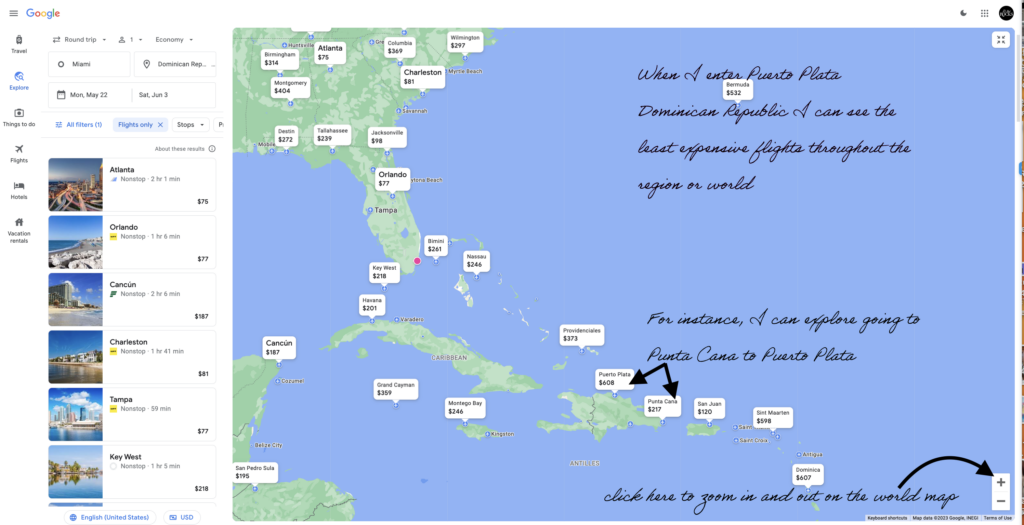 7. Want more complex travel sites to find best flight search sites to find cheap flights?
Note: You are leaving the easy flight searches such as our favorite and easiest like Skiplag or Google Flights.  Ther most complex travel sites could work for you. Check out: ITA Matrix, SkyScanner, and various plugins. Most folks simply like Skiplagged and Google Flights so I advise you go that route first.
8. Does Southwest Airlines appear in flight searches?
No, Southwest Airlines does not appear in MOST flight searches. Go directly to Skiplagged to search for fares of all airlines, then go to Southwest to book on Southwest.
Pay special attention to the Southwest Low Fare Calendar shows you the cheapest days for your route.
You can also find some cheap hidden fares on Skiplagged, but be sure to read up on the basics of hidden city ticketing so you know what you'll be doing.
9. What are the cheapest days to travel or book airline travel?
Tuesday, Wednesday, and Saturday are most often the cheapest days to travel. Friday and Sunday are usually the most expensive days. These aren't always the cheapest days to book—cheap flights can pop up anytime. Flight costs often depend on demand, flight loads, and frequency.
10. If you're traveling with groups or even a partner, book one ticket at a time.
B‍elieve it or not, the cost often goes down for a single traveler vs. a group. Check the costs both ways. Then, if you find the price is cheaper on individual tickets, book your flights individually even if you're traveling together.
11. Avoid the peak travel dates and times of summer and the holidays.
I would think this would be a given, but booking during school let outs or holidays is going to double your travel cost. I advise taking your children out of school and teaching them during your vacation. Here's some of my parenting advice:
12. Set fare alerts to track specific flights
Know exactly where and when you want to travel?  Use the Kayak or Google Flights airfare alert mentioned earlier. Just toggle the switch and wait for the price drops. You'll receive an alert if the fare drops below the current price. This works best if you have a specific destination or dates. Deals come and go quickly so do pay attention and don't expect deals to last long.
Remember Paris is a short train ride to London. Most often my husband and I fly into Paris and take the train or another flight to London and Scotland.
My brother-in-law lives in London but we most often go to Paris first to relax and adapt to the time change before heading to visit family. I strongly advise Paris first, especially if you're dealing with time changes, because hotels in London are extremely expensive.
Don't miss out on an amazing deal to Paris or London – set price alerts for both.
13. Beware of budget airlines.
Budget airlines can be extremely costly in the end. Most budget airlines tack on fees like luggage fees, carry on fees, and some will charge you for carrying on as much as a fanny pack or purse. Others will charge overweight fees. Southwest is the best cheap airline in the United State.
Avelo, Breeze, and PLAY are new airlines that we're giving a try. We'll let you know when we fly them and how they go.
14. Foreign currency airline tickets could be cheaper.
On foreign airlines, it can sometimes be cheaper if you book using the foreign version of their website and use a foreign currency.  If the savings are not worth the effort, as they say in New York "fahhhgetabbboudit".
If you can save $50 or even a hundred dollars or more, so it's worth it. Just make sure you book with a credit card with no foreign transaction fees. Check out our Best Travel Rewards Credit Cards to see if there's something new here for you.
15. Book good fares fast! Mistake airfare prices are still a thing.
Think you've found a great airfare price?  Don't delay! Go – go – go! Really – XOGO~~~~ Buy the ticket now. Mistake fares are rare and God-given~ enjoy your trip!
16. Airlines offer free cancellation within 24 hours.
So you bought airfare and can't take the trip? I hope you're not like me and lose your vacation time and your job if you decide to take a flight.
I always grab great fares when I see them. Why?  The United States has a 24-hour rule that says for flights to or from the US, airlines must allow you to cancel for free within 24 hours.
If you aren't sure you can get time off work, rather than wait to hear from your boss, book the great deal flight! If your boss returns and says you can't go, as long as it's within 24 hours, you can get a full refund.
You can also use this trick if you book a flight and the price goes down within 24 hours. Just make sure you book the new flight before you cancel the old one.
17. Use a schedule change to your advantage.
Airline schedules sometimes change. And when they do, that presents an opportunity. Under US federal law, you're eligible for a full cash refund if an airline cancels or significantly changes your flight itinerary. Rather than give you a refund, airlines would rather just move you to a different flight, which makes schedule changes a valuable opportunity to improve your flight.
Say you originally bought a 6 am nonstop flight because it was the cheapest. If the airline decided to make that a one-stop flight, you could switch to a more convenient time—without having to pay more.
If you had a connecting flight and the airline changed the time, you could see about switching to a nonstop one. And if it's a trip you no longer want to take, schedule changes let you get a full cash refund.
>> Read more about how to use this loophole to change or cancel your flight

I'm Christi Tasker, serial globetrotter, product & interior designer, Glamma Gaga, NBC social media correspondent, podcaster, freedom fighter, brand & business consultant, entrepreneur's best friend, artist & multi-business owner.