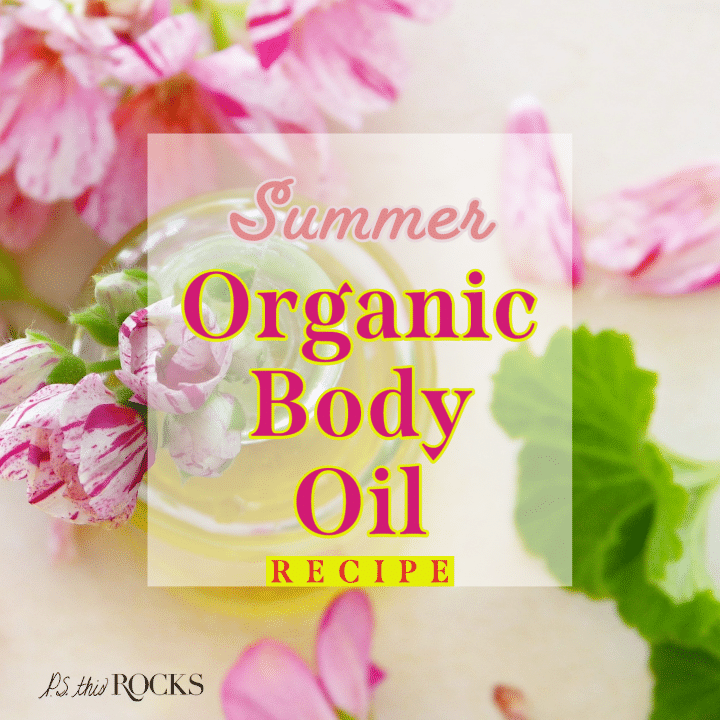 Full Recipe & Shopping List For My Awesome Best Body Oil Recipe With Jojoba
Yes, finally! Here is the full recipe for my French-inspired organic body oil recipe. Seriously – it's the best body oil you'll ever make and it won't leave you feeling like a grease monkey after it naturally absorbs in. It's perfect for aging skin, dry skin, and pregnant women. It's ALL organic with NO filler ingredients.
Below you'll find my complete shopping list with my exact recommendations and the organic body oil recipe. It will take you about 10 minutes to purchase and another 10 minutes to open your boxes, mix and pour the oil into your favorite containers.
The Back Story of How I Began Playing Around With Making My Own Organic Body Oil
After trying hundreds of different body oils, some expensive, others not so much. I found my favorite oil in a little mixologist shop in Paris. Back in the United States, I begin trying to find something similar at Trader Joe's and Whole Foods, and other local mixers. Unfortunately, I didn't find anything I liked as much as the Parisian mixture. When I did find the Lemongrass oil at Trader Joe's, they were sold out for months during the plandemic.
While trying to mix a formula that was organic and perfect in scent, absorption, and consistency. Several of my Miami guests have visited and each one loved the recipe without realizing I mixed it. Recently my little big sis Teresa came to visit from the Jykle Island area. Ever since she's messaged me almost daily asking for the recipe. Her last message was "Don't wait until my skin is crinkled!"
I'm considering producing this for all to purchase without the headache of mixing. Mixing is not difficult but do be careful as it can be messy if you don't follow the instructions. Please Note: The smell or consistency will not be the same without using these exact products. All products are not created equally. Yes, there are cheaper versions of these products because a lot of liquids and oils are watered down or are simply not real at all.
Homemade Body Oil Recipe Ingredients Amazon Shopping List
<
The quality of the ingredients is the most important part of the process. To make it easy for you, I've created a way for you to purchase the items directly from Amazon. If you've got Amazon Prime, they will ship the items directly to your house. In a couple of days, you can start the mixing process to start using the most amazing cost-effective organic homemade body oil your skin has ever had! Seriously – it's that good!
1. First things first. You need something to mix the ingredients in easily pour them out.
Do you have a glass mixing bowl with a pour spout? At least a 36 oz container to pour and mix in? If not, I recommend one of these:
HIWARE 64 Ounces Glass Pitcher with Stainless Steel Lid / Water Carafe
Anchor Hocking 2 Quart Ovenproof Glass Batter Bowl Clear, 2 L
7. Choose a Good Essential Premium Fragrance Oil with my comments on each:
Let the Mixing Begin! 
Grab a glass mixing bowl or better yet, a glass mixing pitcher with a pouring spout.
Mix the quantities of each oil shown below.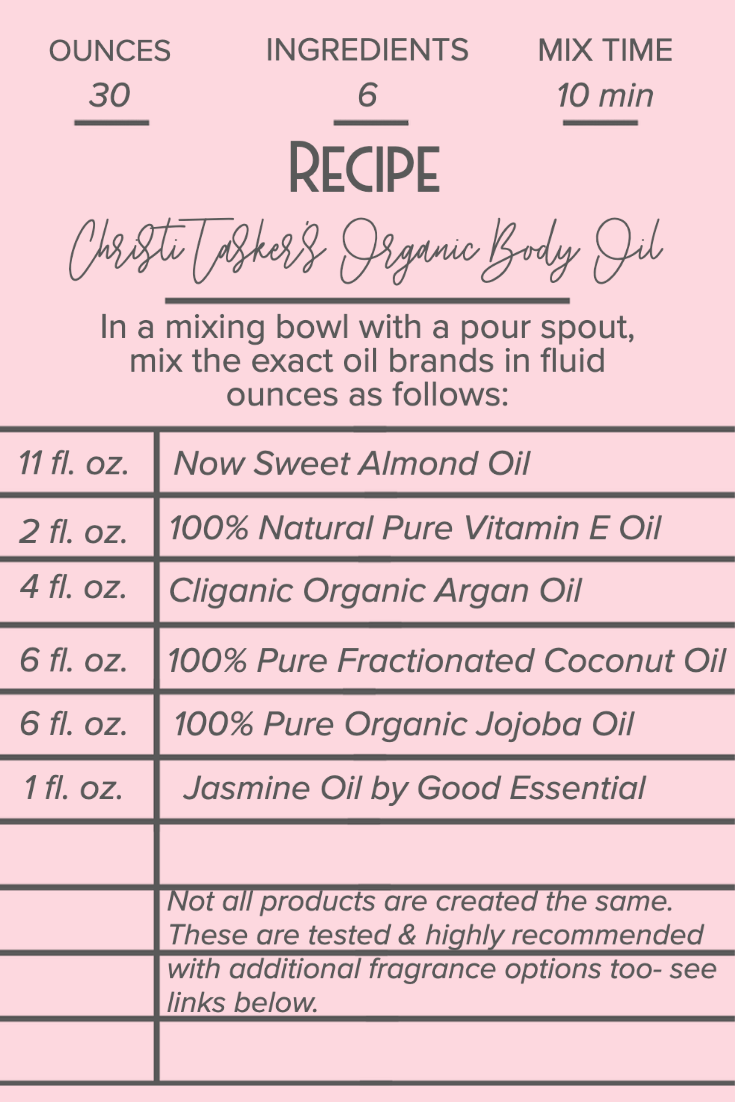 Like This Organic Body Oil Recipe?
Save it for later! Let me know what you think in the comments below.
Don't forget to bookmark this organic body oil recipe…
Bookmark this page or pin the image below to your Pinterest board just in case you forget where you're at.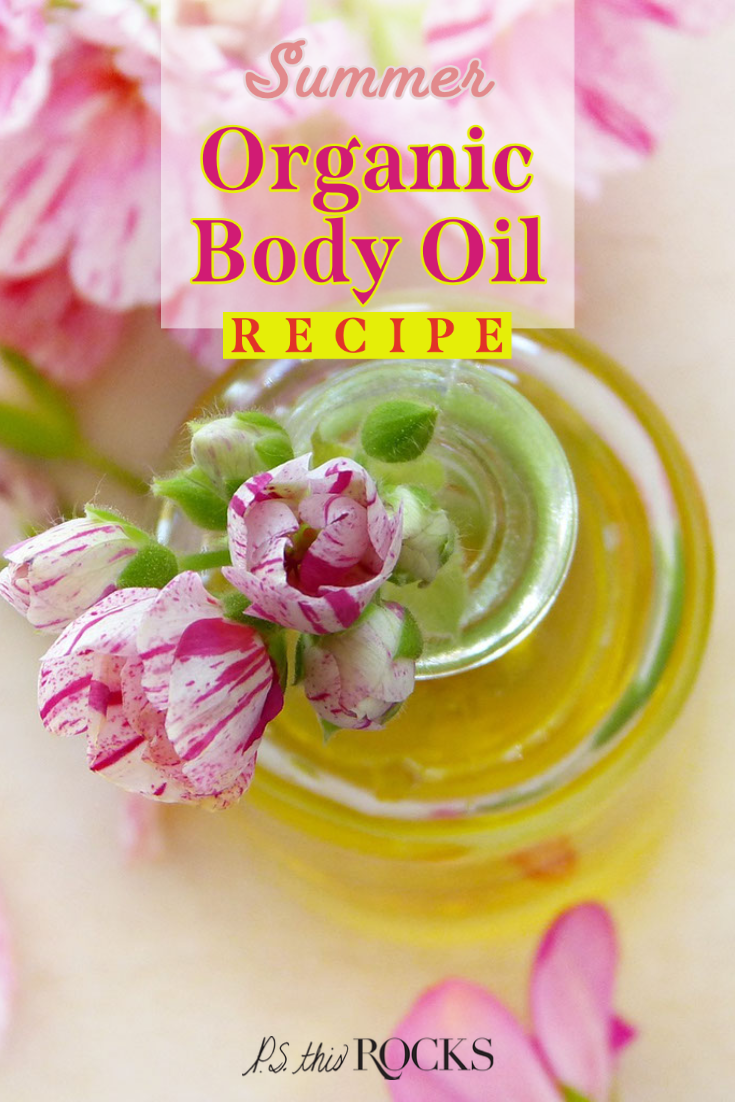 Click here to see my other Inspirational DIY Blogs including Cleaning Tips, & Fashion DIYs,  & more Recipes inspired by my time in Italy, France, Dominican Republic, London, Phillippines, Japan, Guangzhou & more coming soon!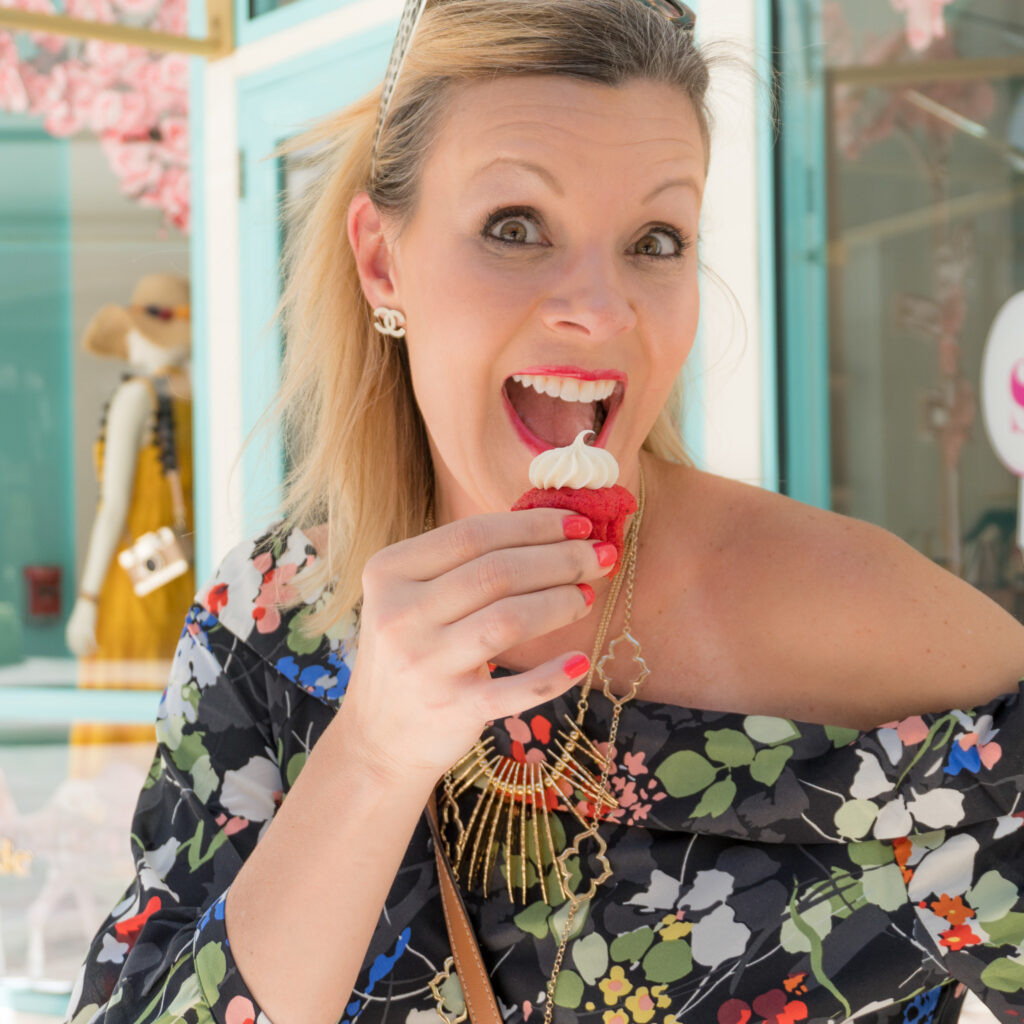 I'm Christi Tasker, serial globetrotter, product & interior designer, Glamma Gaga, NBC social media correspondent, podcaster, freedom fighter, brand & business consultant, entrepreneur's best friend, artist & multi-business owner.